What goes into building a beauty empire? According to Disha Sanghvi, Director of the Good Glamm Group, it's constant hustling, continuous innovation and very strong coffee. And the beauty mogul wouldn't have it any other way! Her day begins at 6 am with a strong shot of espresso. She only takes her first break at 9 am, after three hours of planning and strategic decision making. After that, she hops from one meeting to the next, connecting with her colleagues across various time zones until late evening. Sounds hectic? Not for Disha, who says she enjoys what she does so much that she barely notices the time fly by.
The University of Manchester alum has played a key role in taking the Good Glamm Group from a small on-demand beauty startup to a $1.2 billion unicorn. But this is not her first rodeo. Armed with a master's degree in marketing, Disha's first venture was building the global spa business for L'Occitane en Provence, a French beauty giant. She was responsible for growing the brand from day one until its IPO (initial public offering). Overseeing operations for the spa business in five countries, she expanded the business to 40 spas and is still on the brand's board of members. After her successful stint at L'Occitane, a beauty startup seemed like a natural progression for Disha. 
In 2015, Disha's team launched a home salon services business, but it became difficult to sustain and grow. "We were second to market and that's where we had a competitive disadvantage," she explains. Being the savvy businesswoman she is, Disha decided to pivot to beauty & personal care products. In October 2017, her team launched MyGlamm with only 50 SKUs (stock keeping units). But this time, they had a competitive edge in the market—over 90% of their products were 'first time in India'.  With chic white-and-gold packaging, and innovative, multifunctional products–consumers fell in love and competitors started taking notice. And the rest, as they say, is history.
Today, the company has evolved into the Good Glamm Group, a digital-first house of brands that brings together innovative and fast-growing beauty and personal care brands. The Group has been in the headlines for being on an acquisition spree since last year, and they are just getting started. While the company grows from strength to strength, Disha still reflects on MyGlamm's early days with excitement and enthusiasm. It is telling of the fact that she is truly passionate about her job. "During our early days, the struggle was to convince suppliers for lower MOQs (minimum order quantity) but still give us great costs to be able to have competitive pricing. Now, our orders have grown 10x and suppliers are struggling to cater to our needs. It's a good problem to have!" she says.  When it comes to the future of the Group, Disha has a grand vision. As the next step, she is all set to take the company international. "Hopefully the next 12 months will be revolutionary for us as a group," she says. 
For Disha, beauty isn't just business—she is a true makeup aficionado. In fact, her colleagues rarely catch her with her video turned on during zoom meetings. That's because she is constantly testing new products on herself all day! One scroll through her Instagram feed and you'll notice that fashion and travel are her other two passions. From lounging on a hammock by the sea to driving a snowmobile over a frozen river—she has done it all, and with impeccable style. Her infectious enthusiasm and unbridled passion are admirable, and we are thrilled to feature her on our #POPxoWomenWhoWin series. In a candid chat, Disha spills the beans on her typical workday, the most exciting part of her job and advice for beauty newbies. Lightly-edited excerpts below:
How do you begin your day?
A strong Nespresso shot followed by a workout helps keep me fully charged for the day!
What is the most exciting part about your role as Director of the Good Glamm Group?
Pre-Covid was super exciting to travel to different parts of the world, meet new suppliers, attend beauty exhibitions and lead innovation to bring in new products concepts, formats, textures, colours and cutting edge technology to the market.
Post Covid, it has been full of acquisitions of the media and creator platforms like POPxo, and ScoopWhoop and their integration. Building the content-community-commerce strategy has given us access to millions of users. We are constantly listening to them, engaging with them, understanding their needs and making products exactly as per their needs. With our beauty democracy concept, the product development journey has become so much more insightful and hence more meaningful.
The Good Glamm Group recently became a unicorn. Tell us about your journey
We started out as an on-demand beauty app. Then, we pivoted to beauty & personal care products and are now playing with the content-community-commerce strategy. It has been a journey full of constant learning. 
For the home salon services business, we were second to market and that's where we had a competitive disadvantage. We successfully launched in two cities but it was difficult to sustain and grow. I still remember the early days where we tracked sales on an hourly basis and would get super excited with each sale. 
How has the transformation been from a small team to a digital beauty conglomerate?
During the early days, the struggle was to convince suppliers for lower MOQs (minimum order quantity). Our suppliers then believed in us and supported us along the way. In 2018, we launched a new range of lipsticks called LIT as well as Manish Malhotra Beauty and grew to 400+ SKUs. After that, there was no stopping us. We added 300+ SKUs every year and did not shy away from experimenting and bringing innovative products to India. 
How did the pandemic affect the business?
COVID hit and that's when everything changed. While the whole world was on a sabbatical we struggled and worked super hard to launch WIPEOUT—a full range of germ-killing personal care products. It turned out to be one of our biggest ranges in the OTC market.   
With the pandemic, we also realised people are spending more time on their skin and health and this led us to launch skincare products. I think understanding the current market and needs and being able to turnaround projects super quickly with innovative propositions is what worked for us. 
We all know how things have worked out amazingly well post the acquisitions of the content/community platforms along with other DTC brands, and I'm so excited to see how Good Brands (like MyGlamm, BabyCharka and Organic Harvest), Creators (like Good Creator Co) and Media (like POPxo, ScoopWhoop and MissMalini) have come together to make the Good Glamm Group what it is today! 
A mantra that you swear by in your professional and personal life?
Own your mornings and follow your heart, and there's no stopping you from achieving your goals!
What key skills or qualities do you think helped you succeed?
I think three things
 1) I absolutely love what I do and am super passionate about it. Hence, working 24*7 doesn't feel like work.
2) The passion leads to the excitement to deliver at a crazy speed. Initially, it was all about being first to market and in spite of being a tiny team, we grew the portfolio at a lightning speed. 
3) We managed to establish amazing relationships with our international suppliers who supported us not only with low MOQs at great prices but also with turning around projects quickly.
What would you consider to be your biggest professional accomplishment so far?
Growing MyGlamm from zero to 800 SKUs in just three years has been the most fulfilling part of my career. We're proud of the fact that over 70% of products under MyGlamm were "first-time-in-India' products! I was leading not only New Product Development but also Supply Chain, Forecasting, Design, Marketing and Content. By far, the first three years were a whole different level of achievement!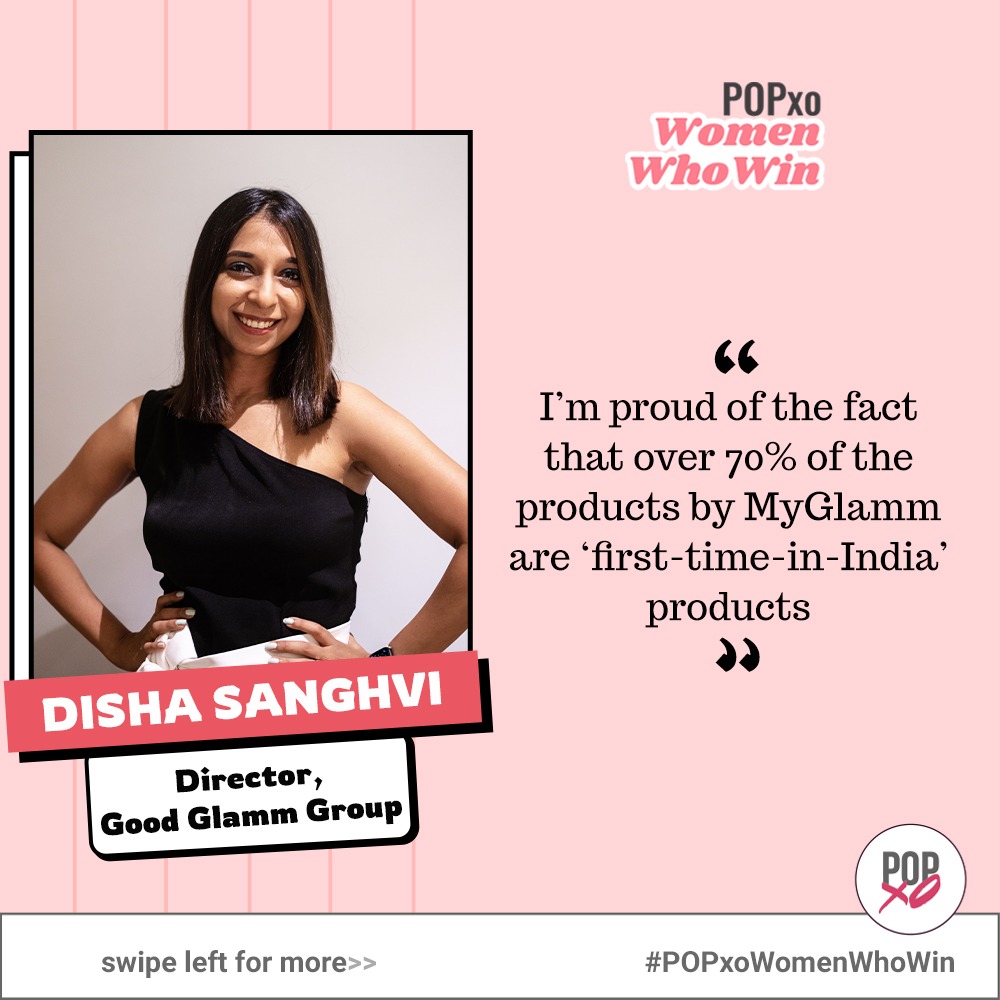 What would be your advice for young professionals who are looking to break into the beauty industry?
Don't emulate but innovate. One of the key learnings is that the best way to climb the ladder is through constant innovation.
What kind of future do you envision for the Good Glamm Group?
I can't wait to take what we have created at the Good Glamm Group to the international market. Hopefully, the next 12 months will be revolutionary for us as a group. Being a start-up, things change by the minute and visions are constantly evolving.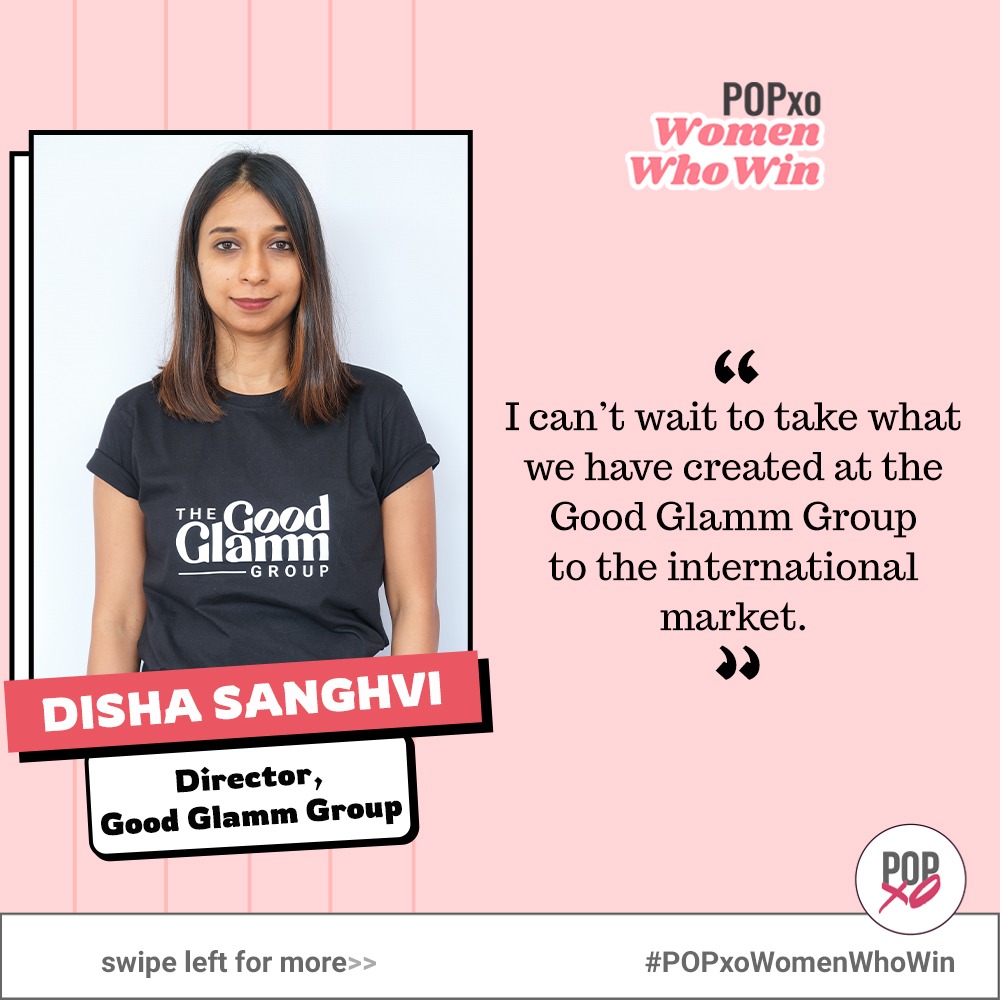 How do you unwind? Any personal passions or hobbies you love?
I love travelling and exploring new cultures, reading a good piece of nonfiction, watching a documentary or rom-com and binging on good food!
Disha lives in Mumbai. Her journey has been inspiring and wholesome. Team POPxo wishes her all the luck in her future endeavours.