Designer garments, exotic shoot locations, exclusive invites, and a ton of freebies. 
On the outside, the life of a content creator seems all fun and glamm. But one look at Digital Entrepreneur & Global Influencer Masoom Minawala's Instagram page will change your mind. Yes, you are sure to be charmed by her beautiful life between India and Antwerp and the gorgeous outfits that she wears. But you will also get to see what happens behind the scenes, the amount of hard work it takes, and the ninja-like skills required to create quality content. "I do not want the glamourous side of fashion to deceive anybody," says Masoom. It is her commitment to keeping it real that has made Masoom one of the best in business. 
From starting Style Fiesta, a hobby blog at 18 to leading a team of 15 now, Masoom has come a long way in the past decade. Her reach continues to grow by the day, and the Cannes red carpet has been witness to it. Masoom made her Festival de Cannes debut in 2019. This year she graced the red carpet for the third time in a row and clinched the well-deserved 'Most Authentic Fashion Influencer' award. Earlier in February, she also became the first Indian content creator to walk the ramp at Milan Fashion Week. We have always seen her championing desi designers and Indian fashion. Arduous but rewarding, it has been an exciting journey for Masoom but the best is yet to come.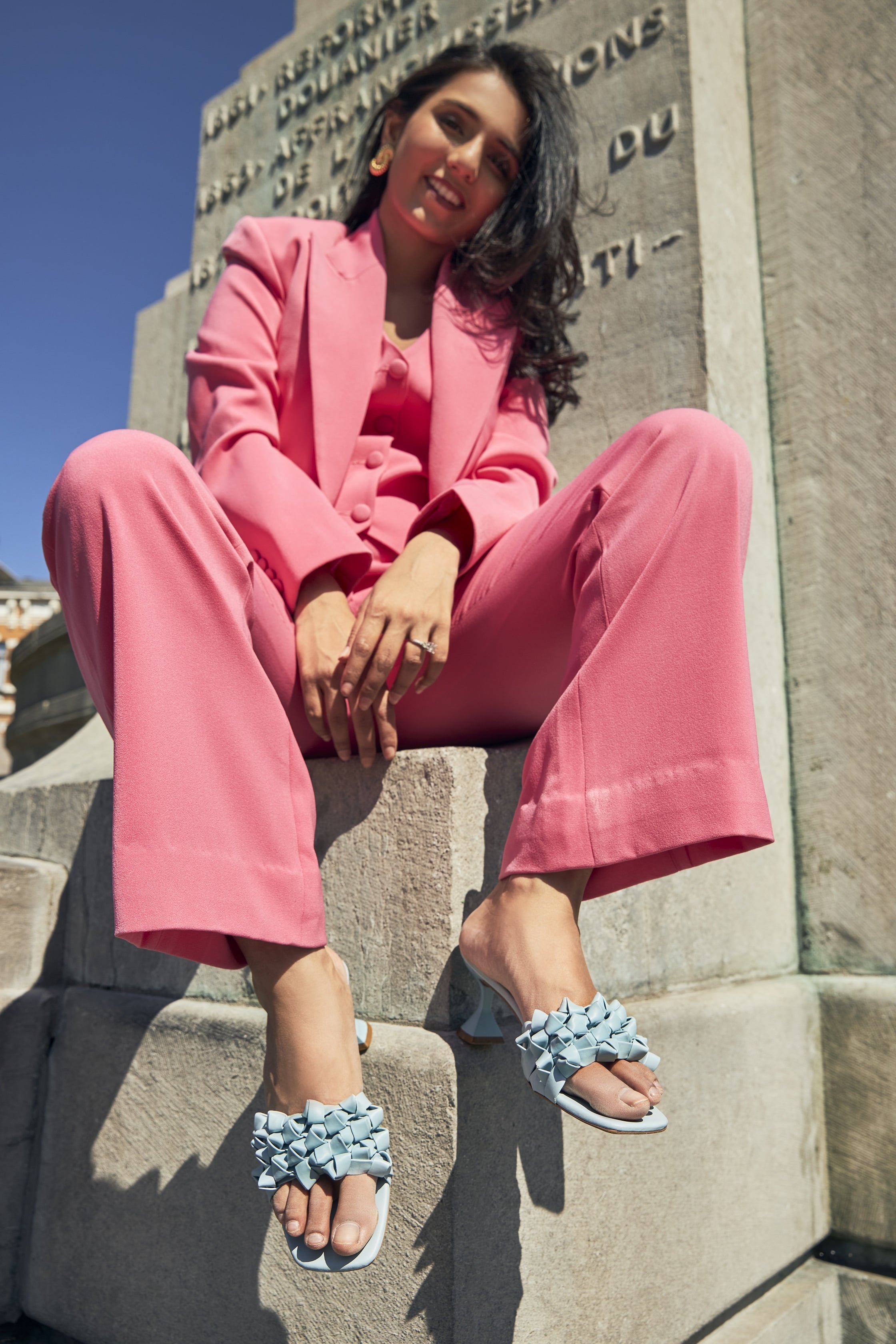 As we enter a new age of influencer-led content, Masoom is now helming this change aka the influencer revolution. It is a full-fledged business now, and easily one of the most viable ones. As someone with access to both audience and brands, Masoom has mastered the art of running it. "I see myself as an entrepreneur. I'm a businessperson, I run a start-up, and I have a team. And my product is content," she explains. 
While expanding her social media territory, Masoom hasn't lost sight of causes close to her heart. She has been leading dedicated initiatives on social media to educate the world about Indian handlooms and handicrafts. Through another venture called Empowher, Masoom has been supporting women-led businesses and professionals with educational content and nifty tips on entrepreneurship.
Masoom has also been actively investing in D2C as well as social-commerce start-ups. She owns a stake in the fast-growing footwear brand called CAI and was recently in India for its store launch.  As someone on the top of the influencer revolution, Masoom Minawala is a great fit for our #POPxoWomenWhoWin series. In a recent chat, she got candid about representing India on global platforms, running a content-led business, and all things fashion. Excerpts below: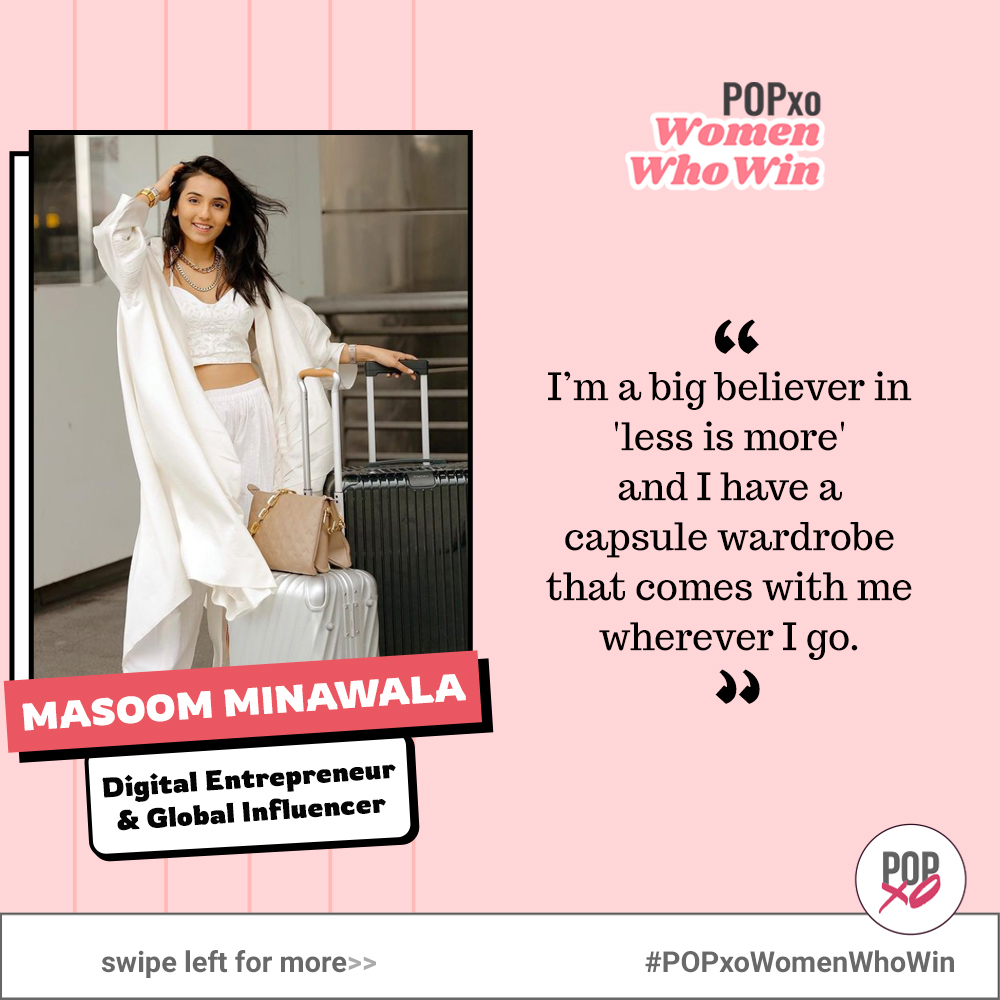 How do you begin your day? What does a typical work day look like for you?
I make a conscious effort to spend the first hour of my day away from my phone. I kick-start my day by penning down words of affirmation in my gratitude journal.
How did you know that fashion and content creation was your calling?
I still remember I was doing an internship when I came across the word 'fashion blogger' at a time when the industry was at a very nascent stage. I recollect going home and telling my mum that I want to build a platform that documents my fashion journey, and she came up with the name 'Style Fiesta'. When I started out, it was only to cultivate my two favourite interests—fashion and writing. But soon, I got an audience. Eleven years later, my love for curating fashion content has only grown.
What would you say was a turning point in your career?
Bearing the loss of my e-commerce start-up. I had the vision to bring global fashion trends to India through my platform and make fashion more accessible to my community. Unfortunately, I had to accept the operational shortcomings of my venture. It was definitely a turning point for me because I switched to content curation full time and it felt like coming home. 
What has been your biggest professional accomplishment so far?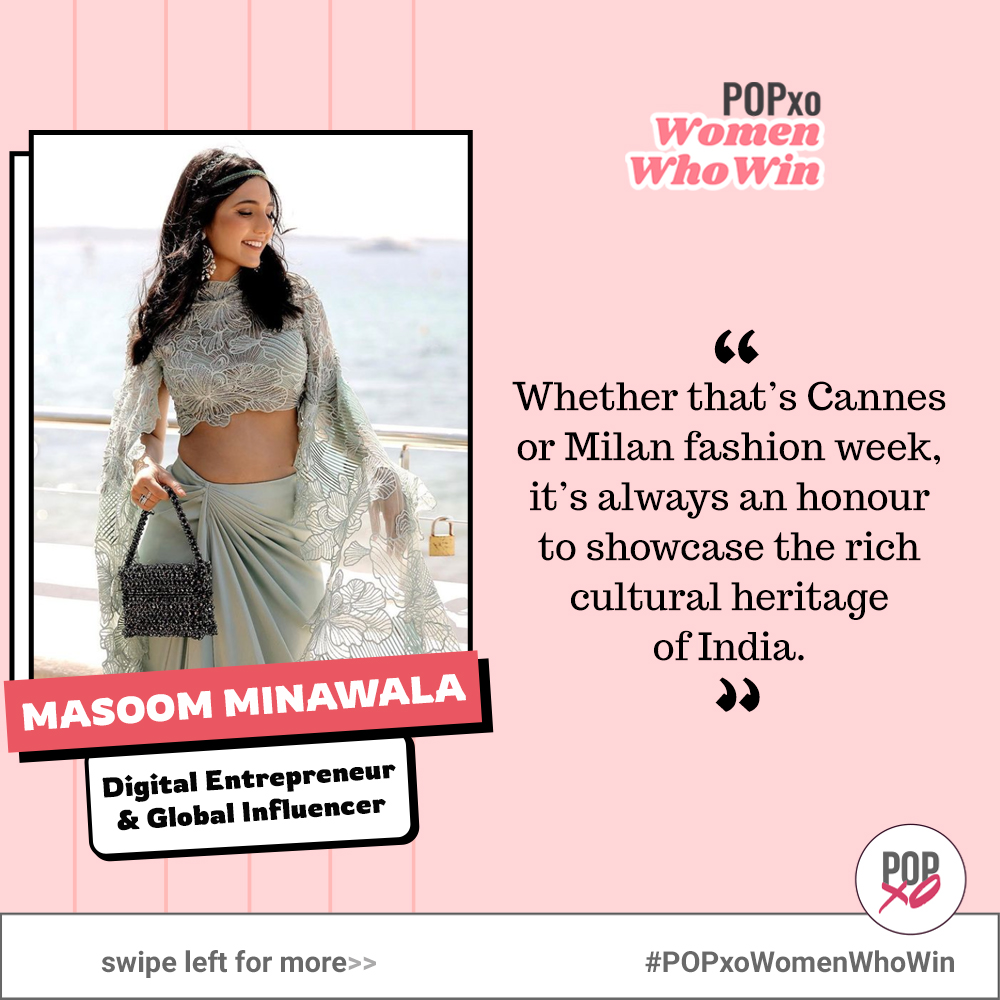 Being able to represent my country and its fashion on a global stage. Be it Cannes or Milan Fashion Week, it's always a matter of honour when it comes to showcasing the rich cultural heritage of India. It both uplifts my community and spreads awareness. In addition to that, I started a non-profit initiative called #SupportIndianDesigners during the pandemic, to sustain the homegrown fashion businesses. We ignited a conversation on homegrown businesses and the hashtag has over 600K posts now.  The impact that the venture has managed to create is a milestone in itself.
A mantra you swear by in your professional and/or personal life?
"Live life as if everything is rigged in your favour." It's my favourite quote by Rumi and it makes sense even when nothing else does.
Let's talk about the lesser-known side of Masoom Minawala. You have stakes in a prestigious shoe brand now. Tell us more about it.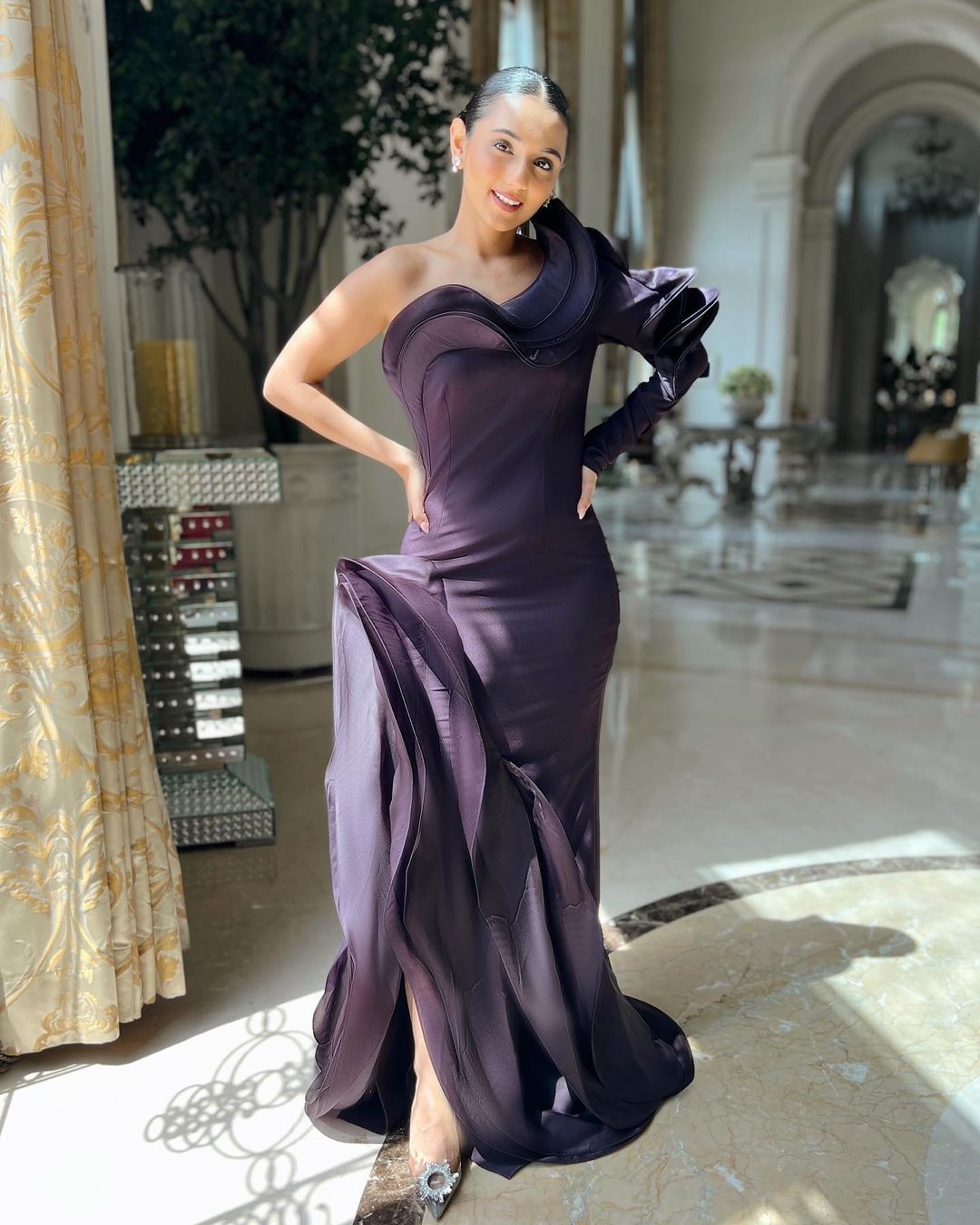 I have been actively investing in D2C as well as social-commerce startups for a while now. My love for shoes is personified through CAI and I'm elated to be a part of their journey, which is currently hitting new milestones. Seeing CAI's physical retail space come to life through the ethos of its virtual personality was truly a vision come to life.
What's  the difference between a content creator and an influencer? Which tag do you associate more with?
The way I see it, the whole world is in the business of influencing and we all have been in it since the very beginning of time.
How would you describe your personal style?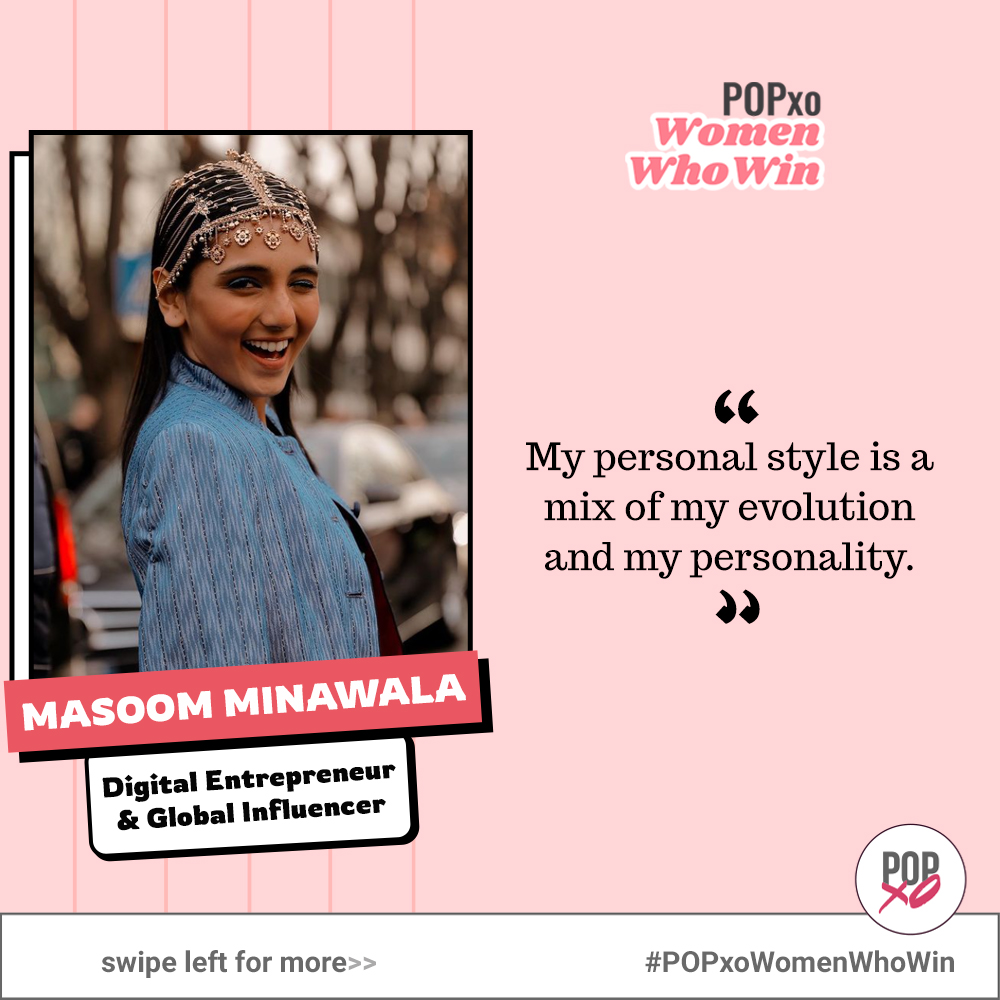 My personal style is a mix of my evolution and my personality. I absolutely love the brilliance of Indian textiles with western silhouettes. I'm a big believer in less is more and I have a capsule wardrobe that comes with me wherever I go.
Closet must-haves that everyone should own?
Everyone should own a white shirt, a well-fitted pair of trousers, a nude pair of heels, a saree, and oversized studs.
Lastly, how do you unwind?
I spend time with my family and friends while consciously trying to stay away from my phone.
Masoom lives in Antwerp. Her journey has been inspiring and wholesome. Team POPxo wishes her all the luck in her future endeavours.