In 2011, Aashni was struggling to find her bridal trousseau in London. She had to move to her parents' Mumbai home for six months to finish the wedding shopping. "Back then I wasn't that much into fashion. I just knew about three designers—Manish Malhotra, Sabyasachi Mukherjee and Rohit Bal," she recollects. But in India, Aashni was browsing through the finest of Indian handicrafts. And voila, it was a brand new world! "I had to share it with the world", Aashni adds. Cut to 2012, Aashni Shah started a fashion revolution with her own multi-designer store, Aashni & Co, in the heart of London. 
You know what's fascinating? Aashni & Co has been a big hit among both the European fashion connoisseurs as well as the Indian diaspora in London. For a year after Aashni & Co's launch, it was mostly the English, French, and Russians who shopped at the store. Just like Aashni, they were in awe! The response prompted the film student in her to play a gamble. In 2015, she booked all the halls in the iconic Dorchester hotel for Aashni & Co's very first wedding show. It was like making an experimental art film and Aashni went all in with a 'big risks, big rewards' mindset. How did it work out for her? The show opened to a rave response with over 1500 ticketed visitors. For the first time, Londoners saw Sabyasachi, Anamika Khanna, and Tarun Tahiliani working together under one roof. It was a fashion extravaganza and the Aashni & Co Wedding Show is an annual event now!
Then 2016 was the year when Aashni & Co segued into the e-commerce space.  With worldwide shipping, everyone across the globe could now access Indian designs in all their grandeur. Aashni retained the spirit of the brand by personally evaluating and approving every single design that went on the website. As the Creative Director of Aashni & Co, she continues to do so. It's an important part of Aashni's curation process. The magic is in the details and everything needs to be perfected to the T. "I am always telling my team to prepare, prepare and prepare. That's how you make it happen," she adds. 
Aashni & Co completed 10 years last month and the new decade marks new beginnings. Aashni has always been a woman ahead of her time and she now has a new venture to support her reputation—Revivify. It is a platform to buy and sell pre-loved South Asian luxury wear. With Revivify, Aashni seeks to encourage better, more conscious buying decisions, and destigmatise pre-loved clothing. 
As someone who has been making Indian couture popular all over the world, Aashni fits perfectly in our #POPxoWomenWhoWin narrative. In a recent chat, Aashni talked to us about her fascination with Indian couture and how she has been sharing this love with the world. Excerpts below:
How do you start your day?
As a mum of two, the day starts when I am woken up by my kids. I try to clock in a bit of exercise after they leave for school and then head to work by 10 am. 
What does a typical work day look like for you?
Our headquarters are based in Bombay which is five and a half hours ahead of us. So, the first task every day is tackling all the emails. Post lunch, I aim to go to the shop floor for an hour. I try leaving for home by 4:30. That's the time when my kids come back from school. But as an entrepreneur, you do not wrap up your days. You just move your physical presence from one spot to another. I start work again at 8 0' clock and generally wrap up by 10 0' clock unless we have some deadlines to chase. 
Let's talk about the inception of Aashni & Co. How did you get the idea?
I wasn't into fashion at all. I was a film student who was working as an assistant director and an editor for ad films and feature films. By the time of my wedding, I had already moved to the UK. Sadly, I couldn't find any stores here that sold decent Indian wear. I had to move back to my parents' home in India and spent a good six months in the country. That was the first time I was introduced to the whole range of Indian designers. When I discovered other designers, I was amazed and thought we should do something in the UK because there was a clear gap in the market. So I put my film career aside thinking it would be a temporary break and opened Ashni + Co at the age of 26. 
Tell us about the process of curation. How does it work?
Curation decides the tone of the entire brand. So, literally, every piece that's on the website, and we sell thousands of them, has to be approved by me. In the beginning, it used to be a bigger process. We'd go to fashion weeks, meet the designers, and ask them for lookbooks. But once I understood the pulse and aesthetic of the business, we started making our own lookbooks. 
Has starting your multi-designer store changed the way you look at fashion now?
Absolutely! Back when we opened, it was a business call. That said, I was obviously in awe of the creations.  I wanted to share them with the world. This is why I chose to open in Notting Hill while it would have been easier for me to open in Wembley or South Hall. The call to open in the heart of London was 'coz the designs needed to be shown to everybody. It wasn't just for the Indians or South Asians. It was for everyone. In fact, the first year we opened it was more of the Russians, French, and British who were buying from us. Over time, I  learnt so much about the craft, and what goes into the making of each garment, and have fallen in love with the entire process. 
What would you say has been the biggest turning point in your career so far?
It would be the first wedding show which we organised after starting Aashni & Co. We took the bold step of booking all the ballrooms of Dorchester and flew in the top Indian designers to showcase their collections. Nearly 1500 ticketed customers made it to the event. I think that was a turning point for us. It took the brand to new heights. 
What are the skills and qualities that have helped you succeed?   
I'd be honest. At 26, I started Aashni & Co because I didn't do market research. In the past decade, I have heard of so many people who thought of opening a store. But they looked at the numbers and decided not to. I think I had the youth to my side. I could take risks. I thought if it fails I'd do something else. So it's not like I went with a three or five-year plan. In my head, it had to work because there was no store. It was about solving a problem that I faced as a bride. I have always been a quality over quantity person and Aashni & Co started with that mindset. That said, the most important thing you need as an entrepreneur is your people skills.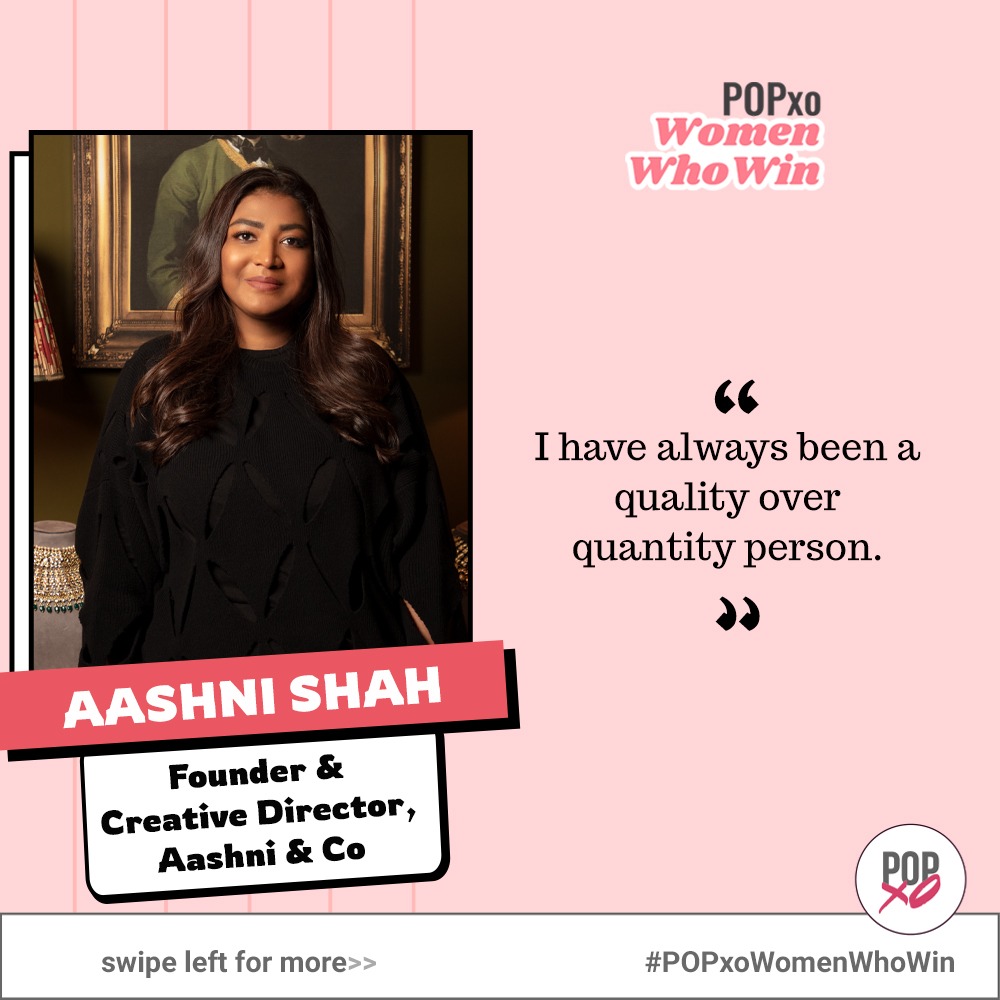 What has been your biggest professional accomplishment so far? 
I would say the recognition. I just wanted to put up a store and give a platform to these lovely designers. There was no vision of expanding.  But the fact that it has been so well received organically, is something else. It helped me think of expansion and that's why we moved on to the e-commerce business. We started off with just two people and are a team of almost 50 now. It is only now we are planning more stores and trying to open one in India and Dubai each. The journey is only starting for me after a decade. 
What's next for Aashni & Co?
Definitely an expansion on the e-commerce side of things and more brick-and-mortar stores. Besides this, we are working hard on Revivify right now. The pandemic gave us some time to pause and ponder. This led to the birth of Revivify—a curated destination for pre-loved Indian designer wear. It is a platform where you can both buy and sell pre-loved Indian wear. With Revivify we are trying to dive into a more sustainable way of living. 
A mantra that you swear by in both personal and professional life?
I tackle the most difficult task first thing in the morning 'coz I believe that well begun is half done.
Plus, I keep telling my team 'You gotta prepare prepare prepare'. I'll give a film analogy here. The actual work in a movie is your pre-production. Shooting doesn't take more than two months. And as a film student, I am used to prepping before going on for a kill. The second mantra is if I ever have an idea, I tend to work on it within 24 hours.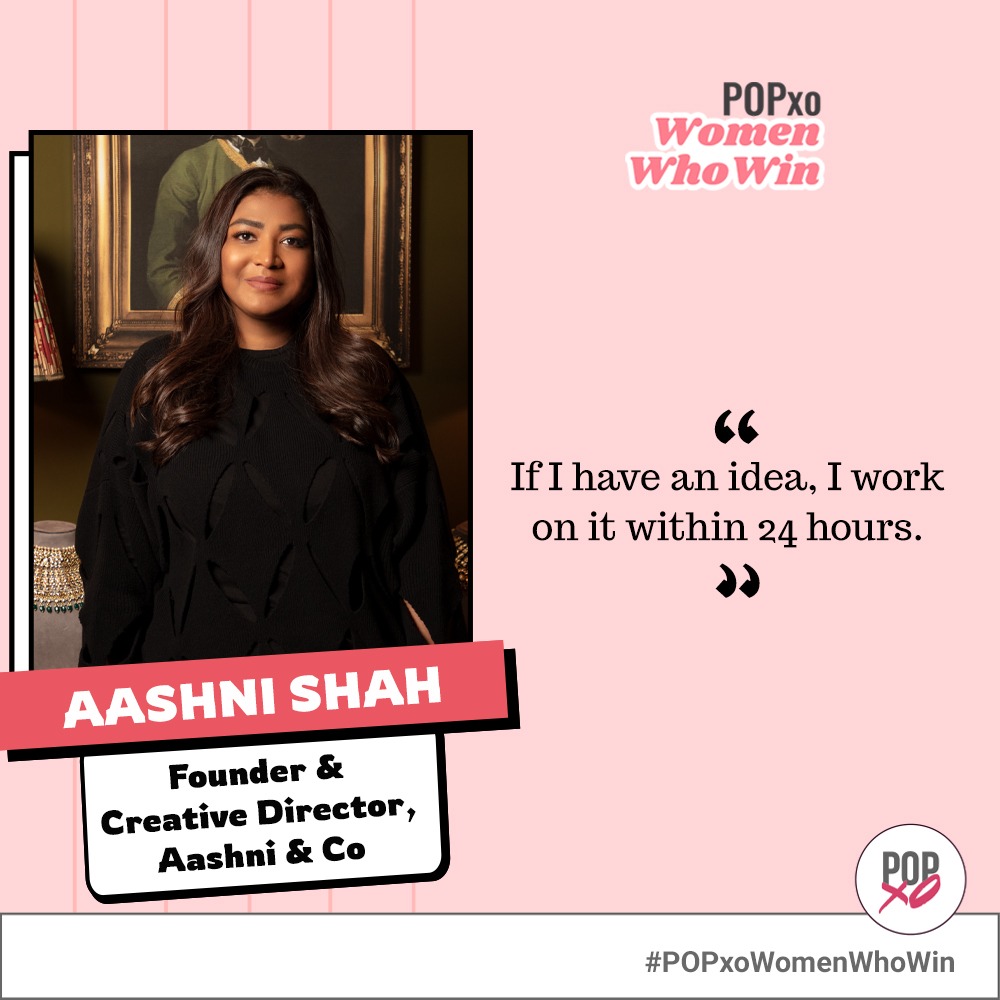 How would you describe your personal style?
I am more into smart casuals. You will rarely find me in heels or party dresses. It's always going to be more of boxy shirts, leggings, and cool loafers for me. Oh, and I love my bags. 
What advice would you give to someone trying to make a career in fashion retail?
I feel I could have seen success five years before I did if I had some experience in the field. So yes, experience is key!
Lastly, how do you unwind? 
If I am overstressed, I like to go for a sound healing session. Or I just read a good book. 
Aashni lives in London. Her journey has been awe-inspiring. Team POPxo wishes her all the luck in her future endeavours.
Featured Image Courtesy: Aashni Shah