At 22, Kanika Tekriwal, the CEO of JetSetGo Aviation Services Pvt Ltd, had only started developing her business model when she was diagnosed with stage-2 Hodgkins Lymphoma, a type of cancer that affects the lymphatic system. However, while most saw it as a setback, Tekriwal looked at it as a window to slow down, analyse, plan, and structure her vision. The question wasn't "Will I recover?" The question was, "Who will I be when I do recover?," she recollects. A true visionary, Kanika knew the answer—the CEO of India's first plane aggregator startup that operates, manages, and flies chartered planes and helicopters.
The tenacious Tekriwal then started her company in 2014. She had just 100 dollars in her pocket but a mighty vision. Impediments came but these roadblocks were no deterrents to her resolution to touch the sky. In 2012, when Tekriwal started talking about creating the 'Uber of Skies', most laughed at her. Some said, "Beta, why don't you open a boutique instead". But she was just getting started.
 JetSetGo saw a major win in 2015 when Yuvraj Singh's startup fund YouWeCan Ventures decided to fund the company. She quickly impressed more investors and the business was soaring. Suddenly, all eyes were on Tekriwal—the woman who had achieved what looked impossible two years ago. 
Success for Tekriwal didn't mean making money. It meant making a positive impact in the aviation industry. She changed the rigid, exploitative system by giving more attention to innovation than profiteering. In less than a decade, this high-flying entrepreneur has transformed the chartered plane sector in the country. Tekriwal now owns 10 private jets, manages almost 80% of India's private jet fleet, and offices across Delhi, Mumbai, Bengaluru, Dubai, and New York. This 'small town girl with a massive dream' has successfully captured over 21% of the market with JetSetGo being the single largest market shareholder currently. The most impressive bit? JetSetGo has been profitable since its inception and has demonstrated double-digit compounded growth year-over-year. 
JetSetGo is now pioneering air taxis in India. The company is using intra-city connectivity for electric vertical take-off and landing (eVTOL) aircraft. It employs a mix of unique maintenance procedures, tech, and SMART (Specific, Measurable, Attainable, Relevant, and Time-bound) management. All these systems are maintained by proprietary properties of JetSetGo. With air taxis, Tekriwal seeks to enable urban air mobility in congested cities of India. "We firmly believe that everyone should be able to use an air taxi at a price similar to that of an Uber. We are working towards turning this vision into reality with JetSetGo's 'Sky Shuttle' service. This service enables the user to book a ferry ride at the cost of an uber and reach their destination with same-day return without any wait time at all," she shares. 
As someone who has changed India's jet-setting ways, Tekriwal becomes the perfect fit for our #POPxoWomenWhoWin series. In a recent chat, she talked to us about the vision behind JetSetGo and what it took to put India on the aviation map. Excerpts below:
How do you begin your day?
 I begin every morning with only my goals for the day on my mind. From there, it's just about knocking out those deadlines and soaring above everyone's expectations.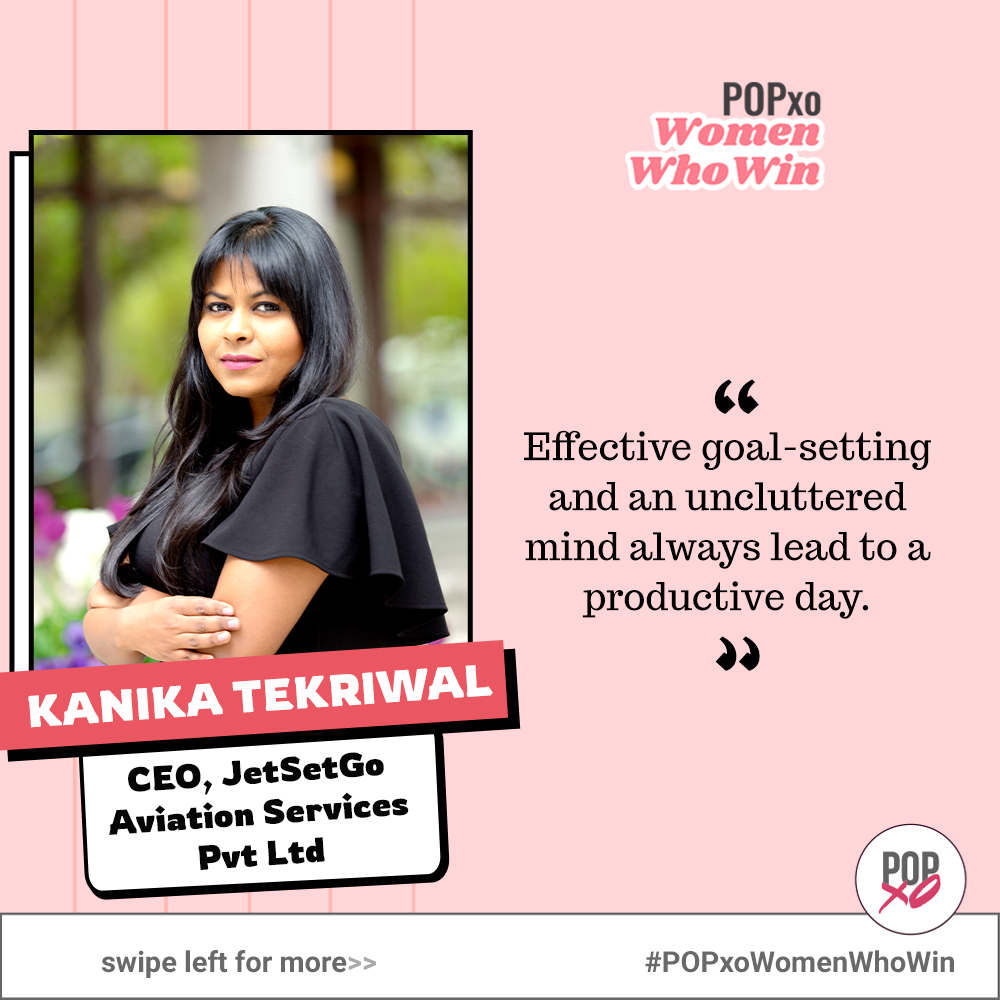 What does a typical work day look like for you?
I love what I do; and when I'm worried about something in my personal life, you can always find me working at my desk. In other words, JetSetGo is my balance in the larger picture. Work-life balance for me is more like what my priority is at that moment. If it's work, it will be work 24/7, and if I wish to relax and rejuvenate, I just cut off myself from everything else. I truly believe that effective goal-setting and an uncluttered mind always led to a productive day.
How did you know that the aviation industry was your calling?
Ever since I was a child, I wanted to embark on an entrepreneurial pursuit. I can say that I've achieved that dream thus far but there's always more to come. When I first entered the industry at the age of 17, I was passionate and driven and envisioned a future for India's private aviation market.  I always knew this is the space where I needed to be. Belonging to a Marwari family, all my family members are involved in various businesses in some form or the other, so I chose mine which was Private Aviation. Analysing the market, I identified the two main concerns of jet owners across the nation: inconsistent service and the lack of return on investment. I was able to recognize an opportunity here and started JetSetGo to make private jets profitable and simultaneously reduce the costs. I started my journey with only a hundred dollars in my pocket. I  have been lucky to be surrounded by people who have believed in me and my idea and dreams, and because of them, I got the confidence to reach this far. 
JetSetGo is the face of luxury travel in India now. How did you get the idea?
Well, the initial idea for JetSetGo came up in a conversation with a colleague in the UK. I narrated an idea that I had about setting up a thriving aviation company, born out of India. He laughed. Being Indian and adamant, I was determined to prove him, and everybody else that thought along the same lines, wrong. 
What would you say was a turning point in your career?
I battled my diagnosis, one small, optimistic visit to the hospital at a time. I'm a strong believer in the power of the mind. Once I believe in something, my actions automatically work towards achieving it. My brief yet very real brush with the concept of mortality led to the idea that this life that we are so miraculously granted is to be used for dreaming bigger and achieving more. And that's how cancer inspired JetSetGo's manifestation. I spent eight months of treatment structuring my vision and I made it happen. In the end, it's all about making it happen.
What has been your biggest professional accomplishment so far? 
 Start-ups like JetSetGo are built on a very different outlook: To redefine a new model of entrepreneurship where innovation is given more importance than profiteering. So, success wouldn't just mean profiteering. Success for me would be the ability to make a positive change in the aviation industry, and JetSetGo is the cornerstone to achieving that. We're not very far from accomplishing that. We've already captured over 21% of the market and are currently the single largest market shareholder.
What are the skills or qualities that have helped you succeed in your career?
A never give in attitude, determination, and perseverance have got JetSetGo today to operate India's largest fleet of private jets. JetSetGo controls the single largest market share, employs over 200+ people and has been profitable since inception having demonstrated double-digit compounded growth YOY. 
The ability to understand the nitty gritty of the business demands and precisely address those to achieve the objectives has helped me too. My approach is not only to fulfill the current demands but also to work proactively on the new aspects which can meet the futuristic demands of the industry.  
Is there a mantra that you swear by in your professional and/or personal life?
I work on five fundamentals and I do not hesitate to advocate to anyone who aims to make it big. 
1. Successful businesses were not built on money, but on great people and great ideas. 
2. Never hesitate to apologise to an unsatisfied customer. 
3. Turn every no into a yes through your journey and use every no as a stepping stone to success. 
4. Watch every expense and focus on getting more than what you spend. 
5. Be transparent with your team, customers, and suppliers. 
These five values sum up my working style.
What would be your advice for aspiring entrepreneurs who are hesitant to take the plunge?
When stepping into the world of business, have a calculated vision. Why are you doing what you want to do? Do you have a passion for it? If you don't, find something else that makes you want to wake up in the morning and bolt to the office. Tears, blood, and sweat are all part of the game. No one said it was going to be easy, no matter how much you believe in your mission. Stay curious. Keep learning. Don't lose your drive.
According to you, what is the biggest challenge that start-up founders face in India?
Strategizing has to be the strength that you play to most often. it's easy for someone to leap at every business "opportunity" they come across, but I have learnt about the value of planning JetSetGo's next move. It's a competitive industry and no one cannot afford to lose out because of a poorly constructed strategy. 
To the women trying to make it in the big bad world of business: it may seem impossible, but it's kind of fun to do the impossible, isn't it? Don't give up. As I always say, use every "no" as a stepping stone to success.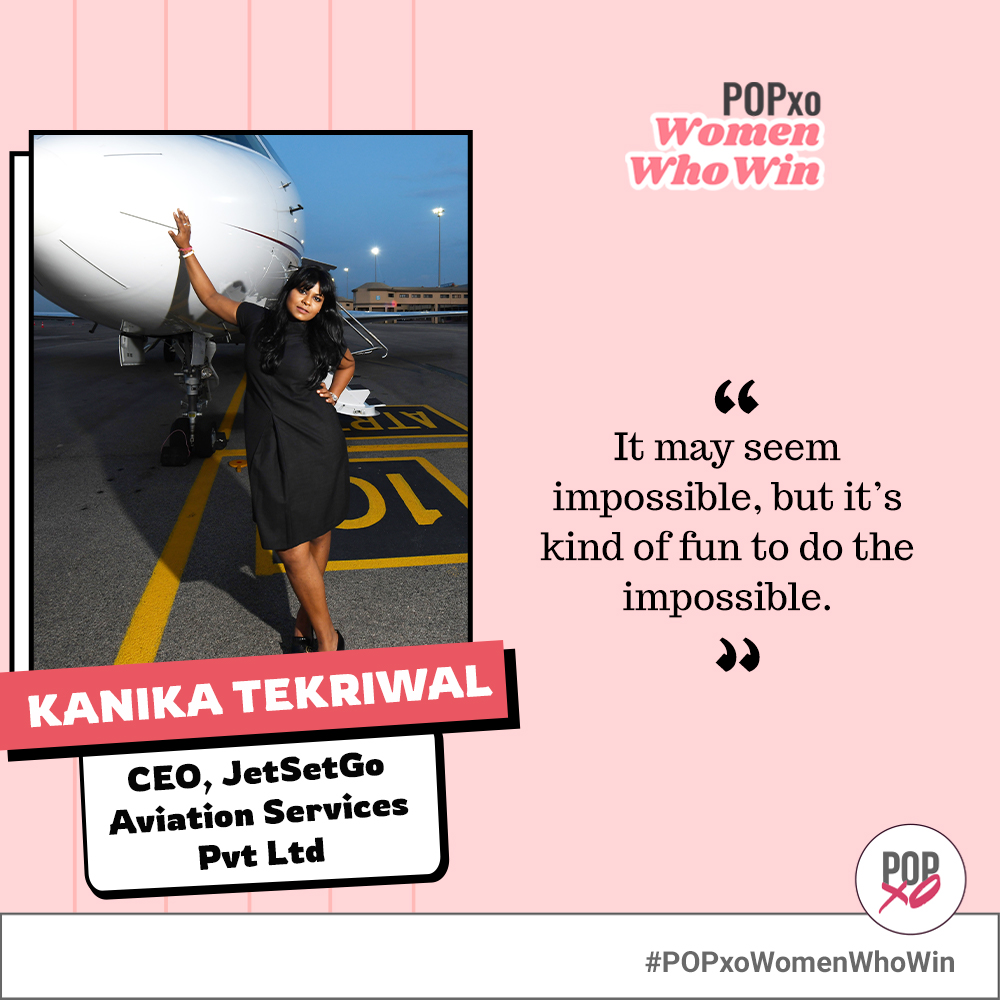 What's next for JetSetGo?
JetSetGo will continue to focus on the upper end of the market, with greater play in either the mid-sized or the larger long-range private jets. We already have an aircraft financing and leasing arm at Gujarat's GIFT city and are in the process of acquiring pre-owned aircrafts. This is a fully-owned unit of JetSetGo and we will be beefing up the activity on this front in the months to follow. Our two aircrafts, have already been imported into India through a lease of IFSC, GIFT City, marking a historic event in India's aviation history. Additionally, our focus is on enabling urban air mobility in congested cities of India by using eVTOLs.
Lastly, how do you unwind after a tough day?
I turned my hobby into a passion and other than flying I really to travel and visit the most beautiful places in the world. I am obsessed with learning about new cultures and ethnicities and meeting all kinds of amazing people across the world. When I want to relax and break away from work, I find a peaceful corner all to myself and read a good book along with black coffee.
Kanika lives in Delhi. Her journey has been awe-inspiring. Team POPxo wishes her all the luck in her future endeavours.