In 2021, Namita Thapar,  Executive Director at Emcure Pharmaceuticals Limited, gave India a golden investment mantra. 'This is not my expertise. For that reason, I am out,' she said for several pitches during her stint on Shark Tank India. It summarised her approach to business and life—believe, take risks, but never jump into anything headfirst. There is more to Thapar's business strategy though. According to her recently launched book, she is both "The Shark and the Dolphin." She explains, "It's about balancing aggression (shark) and empathy (dolphin). It's a simple philosophy, but that's what makes it so perfect. The approach has made her the 'Pharmaa' aka the 'Pharma Queen' of India. 
Thapar joined Emcure as the Chief Financial Officer in 2007. She had just returned to India after six years at Guidant Corporation, San Francisco. The biggest challenge? She was still seen as the boss's daughter. If she asked a question, the management looked at her father and answered. Thapar decided she will let her work do all the talking and started managing multifunctional portfolios like finance, home advertising and marketing, and HR. She intermingled the old with the new and played a crucial role in making Emcure a billion-dollar empire. As the business's dependence on her surged, she was appointed the Executive Director of Emcure in the same year. Emcure was a Rs 500-crore company when she started and today, the company has grown past Rs 6,000 crores. Thapar now manages pan-India operations of over 3,000 medical representatives that contribute to over Rs 1,000 crores in sales.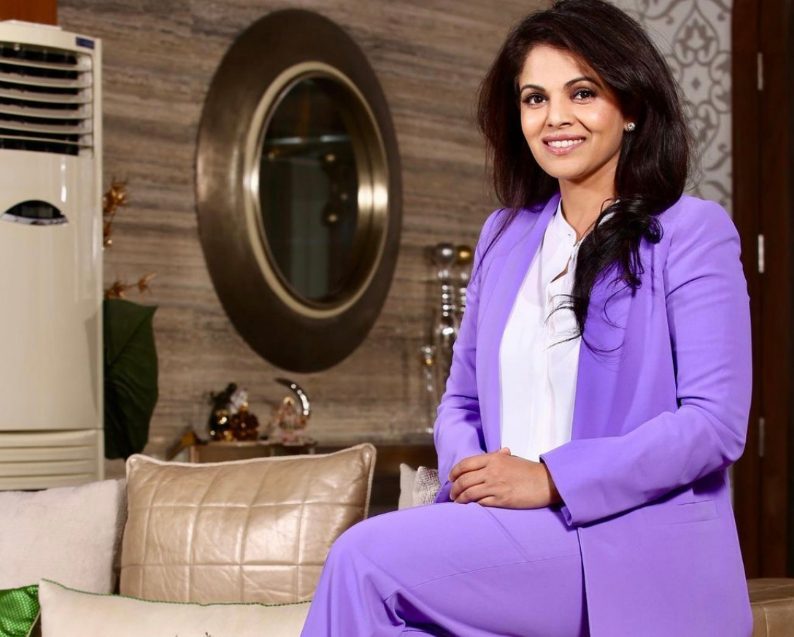 Thapar managed to drive Emcure's exponential growth by creating a culture of dissent. Her work in the US taught her the importance of system-driven organisations. "We expect leaders to speak up, to give contrary views, and challenge each other," adds the Fuqua School of Business, North Carolina graduate. The ethos is embraced in everything that she does. As an entrepreneur, Thapar is interested in India's flourishing startup ecosystem. She is always up for hearing a great idea and investing in it if it strikes a chord. This is why Thapar readily agreed to do Shark Tank India where she evaluated around 170 pitches and invested Rs 10 crore in 25 businesses.  Before the reality show, Thapar had also founded Incredible Ventures Ltd. in 2017 to promote youth entrepreneurship. The education company grooms enthusiastic students aged between 11-18 years into problem-solving entrepreneurs.
The mother of two is equally passionate about healthcare and women's empowerment in India. During the pandemic, she mixed the two and launched a YouTube show, titled Uncondition Yourself With Namita Thapar. The aim was to provide women with a safe platform to discuss mental, menstrual, and sexual health. It's no surprise that she is now a part of many initiatives by the government of India including NITI Aayog's 'Women's Entrepreneurship Platform' and 'Champions of Change'. 
Namita's unwavering commitment to her causes and the constant pursuit of the next big thing, make her the perfect fit for our #POPxoWomenWhoWin series. In a recent chat, she talked to us about her passion for entrepreneurship, healthcare, and women's empowerment. Excerpts below:
What does 'power' mean to you?
Power is the ability to use your voice to bring change, talk about uncomfortable topics, impact, and inspire.
Who is your inspiration?
I grew up in a conservative Gujarati family where expectations were conventional. But my mother taught me to dream big. She is my biggest inspiration. My second biggest inspiration is my father! I consider him a visionary and always wanted to learn from and work with him. When we were young, he used to introduce me to his business colleagues and I was always intrigued by the discussions that took place. I have seen him going through so many difficulties, early on in business, but they never dented his enthusiasm and positivity.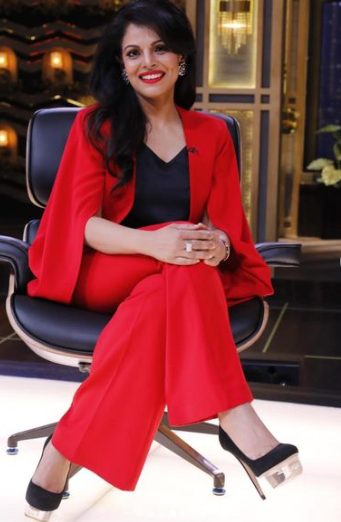 What would you say has been the most exciting phase of your career so far? What are some of the biggest challenges that you have faced?
Challenges make life exciting and ensure you keep growing. So from completing CA at 21, being the first girl from a conservative Gujarati family to heading Encure's India Business while managing 17 therapeutic areas, a 6,000 people field force and over 2 lakh doctors, all phases have been challenging and exciting. I have picked three purposes for myself which are: Healthcare, Entrepreneurship and Supporting women. They drive everything that I do like my YouTube channel on women's health—Uncondition Yourself, Shark Tank India, Thapar Entrepreneurs Academy and making Emcure a purpose-driven organisation.
What do you think is the biggest challenge women face today?
Women's workforce participation has gone from 27% to as low as 19% during the pandemic. This stat needs to improve. What is needed is for more women to speak up, for their voices to be heard, and for their opinions to be highlighted. 
Second, India is ranked 155th out of 156 countries in a World Economic Forum report. The statistics regarding women's health are dismal and we need to work towards changing these.  
I also feel women are terrible at guilt management, asking for help, and making themselves a priority. 
How do you define yourself as a leader?
Every leader has their unique style of leading a company and their mantras for success. The principles that I follow include:
-Define your Purpose: Having a purpose that the entire organisation is aligned with is extremely important. At Emcure, we outline a purpose budget as a part of the annual budget exercise, where we work on healthcare initiatives that don't get addressed in our normal course of business.
-Less is more: It's all about narrowing your focus, no matter what you take up. 
-Hire teams smarter than you: A secure leader will always hire teams that are smarter than him/ her. Such teams will always challenge the leader and create a culture of dissent. Then you empower them, be a coach when needed and watch the magic happen.
-Execution is most important: Strategy is good but flawless and rigorous execution is what builds large businesses.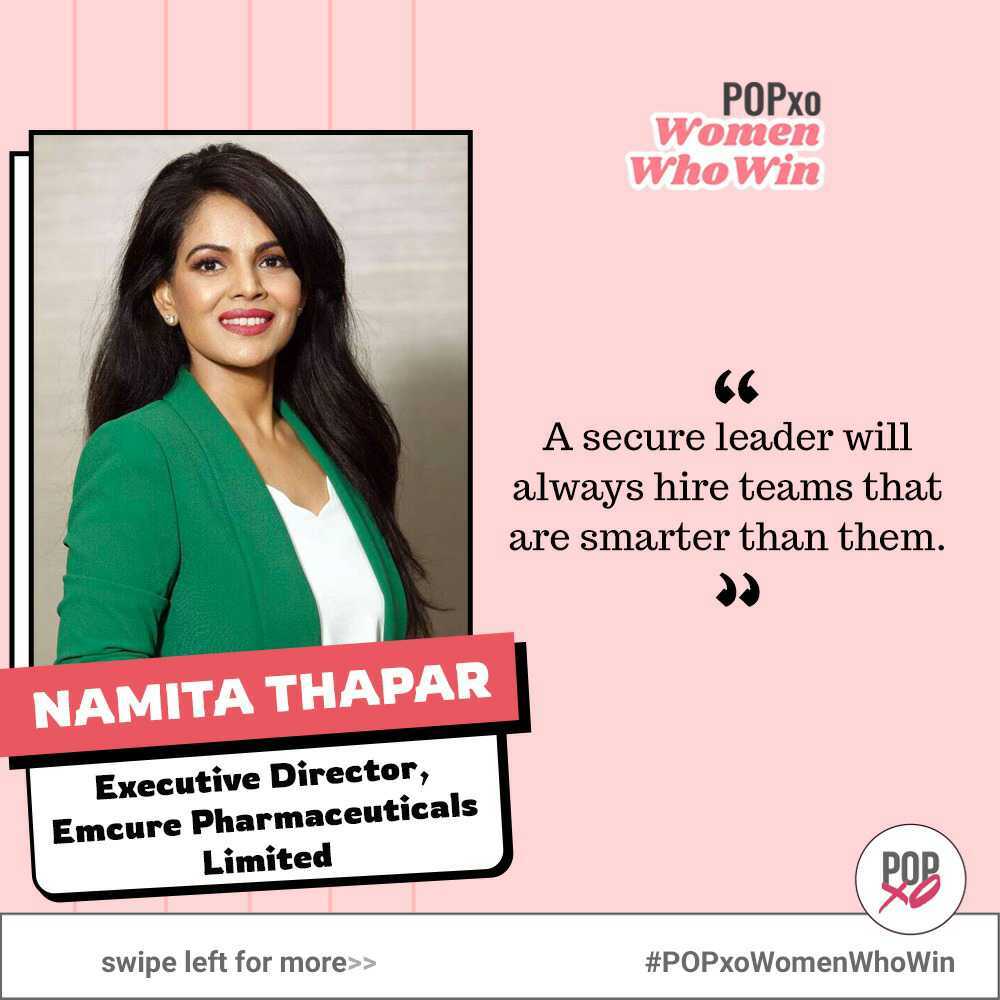 As a woman in a leadership role, how have you built a work culture that supports them?
We encourage women to take up leadership roles, give them opportunities, and guide them to be the best at it. Emcure is proud to have such women leaders who rose through the ranks, be it sales and marketing, finance, HR or manufacturing and R&D. We encourage healthy debates on ideas and give ideas precedence over whose idea it is. In fact, at Emcure, I have deliberately and carefully cultivated a culture of dissent in my team.
At Emcure under the banner of "PRERNA" a large number of women empowerment initiatives are conducted, exclusively for women, which include 'Speaker series' by prominent women personalities, training programs, and networking lunches with senior women leaders.
I believe changes need to be made at the recruitment level. I have told our HR team that if a position needs to be filled, 3 out of 5 CVs sourced need to be those of women. This will help build women leaders.
Did you face any biases or judgements in your career?
During my early days at Emcure, if I asked a question regarding some issues, the people responsible used to look at my father and answer. I would find this very irritating as I was the one asking questions. Further to this, I was often told to speak softly during meetings as I have a loud voice. I ignored such stereotypical advice.
During Shark Tank, I was labelled and trolled on social media in multiple ways. These judgements didn't stop me from making the right decisions and investing in companies that I believed in.
You have also been running Incredible Ventures Ltd, to teach the nuances of entrepreneurship to the youth. Let's talk about the importance of exposing countries' youth to business skills.
We have had many young students in their teens who went on to build successful startups. Thapar Entrepreneurs Academy teaches 11- 18-year olds as well as adults on their first entrepreneurial venture. Entrepreneurship helps youth develop 3 primary skills: a problem-solving mindset, being comfortable with failure, and softer skills like communication and creative thinking.
Let's talk about Shark Tank India. From boardrooms to a reality TV set, what was the experience like?
Amid an IPO, a pandemic and a brutal 10th ICSE exam for my older one, saying 'Yes' to Shark Tank wasn't an easy decision. I accepted to do this show to support an important cause—celebrating the entrepreneurs of our country!
I wasn't sure if the shoot would be easy. We are used to deciding our schedule and moving between offices and meetings. Here, we were expected to be at a studio in Film City for 14 hours a day every single weekend for two months. I am so happy I did it. I have learned so much from that experience. It is so wonderful to see that Shark Tank has now become a part of dinner table conversations.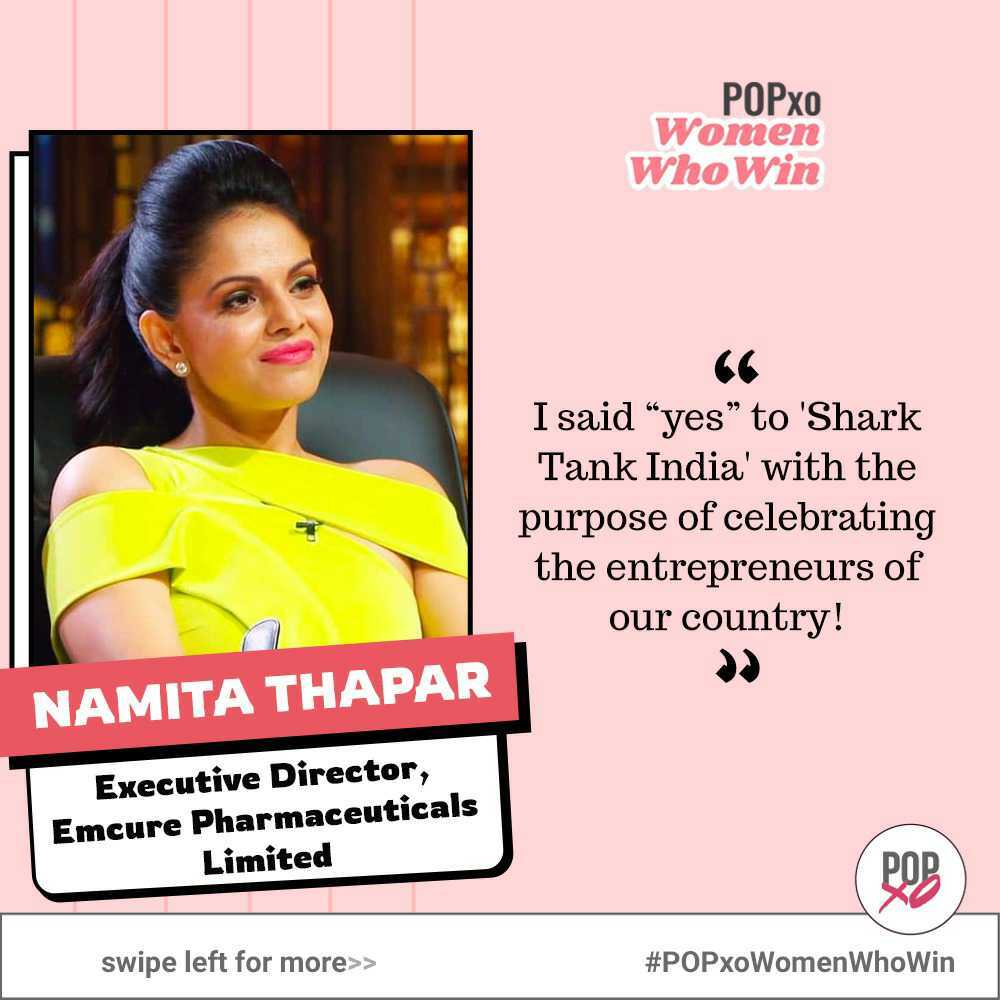 A business skill that came in handy at Shark Tank sets?
My acumen for numbers. Understanding the numbers and business plan is important to make a sound decision regarding investment. Plus, you are ultimately betting on people, and my strong intuition came in handy in choosing which founders to back. 
Can you name the Shark Tank pitch that left you the most impressed and why?
Thinkerbell Labs. Current social and educational systems do not have the proper methods and solutions to educate visually impaired kids. Thinker bell addressed this social issue and is working to solve it by partnering with schools, NGOs, and CSRs. India is home to one-third of the world's blind population, only 29% have access to education and most don't have adequate access to healthcare and employment.
Prathamesh Sinha, a visually impaired exuberant 10-year-old, was the highlight of the pitch. His pitch and the way he fielded our tough questions with confidence were much beyond his years. He was concise, clear and confident. 
What would be your advice to someone who is trying to get into entrepreneurship?
Do not bother about labels and external validation. Just listen to your inner voice. 
Be comfortable with failures. Do not think about why it happened to me, think about what I can learn from it.
Three qualities that you think are vital to make it big as an entrepreneur in India?
Become a domain expert, have fire in your belly, know your numbers, and maintain a positive outlook despite failures.
What's next?
 I will keep moving the needle on my three purposes—healthcare, entrepreneurship, and supporting women. 
Thapar lives in Pune. Her journey has been awe-inspiring. Team POPxo wishes her all the luck in her future endeavours.