Raju ki mummy. Guddi bhabhi. Zeenat. 
With an interesting assortment of alter egos, Dolly Singh's Instagram feels like an anthology film. Each character and story transports you to a different world. Our fave one so far? The story of a small-town girl who went from emceeing at shady Delhi weddings to becoming a pop culture icon! 
In 2011, Dolly left her hometown Nainital to pursue her BA Honours and big fashion dreams. "I wanted to be a stylist," she recollects. Delhi wasn't the most affordable city to live in. This prompted Dolly to take up part-time jobs—emceeing at malls, corporate events, and weddings. Dolly's big break came in 2015 concealed as a writer's position at iDiva. Although eyeing a career in fashion, she said "yes" to the opportunity with no idea that her life was about to change. As Dolly says, "it all happened accidentally" with a video project from Amazon. She offered to pitch in and the rest as they say is history. Dolly's portrayal of South Delhi girls and characters like Raju ki mummy catapulted her to overnight success. By 2017, she was ready to part ways with iDiva and independently create quality content.
Today, Dolly Singh is a brand of her own. Her content is hilarious yet nuanced and takes on challenging conversations about the issues women face in India. This has made Dolly one of the most relatable digital creators in the country with a following of over 1.5 million on Instagram. How has she managed to stay relatable all this while? "If you are honest and show things as they are, most people will relate to them," answers Dolly.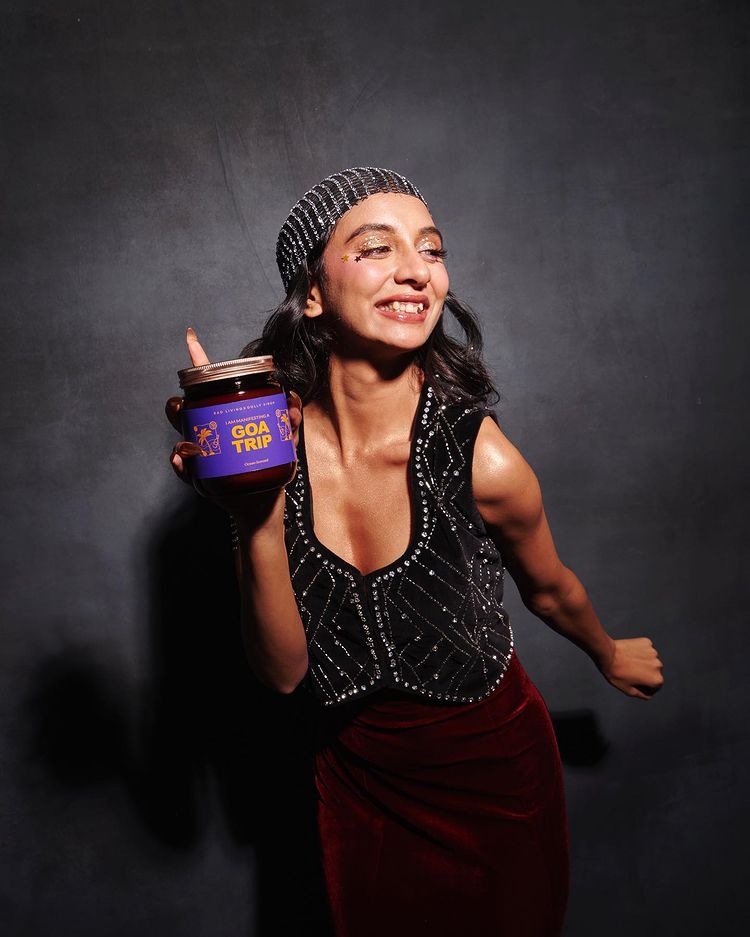 In December 2020, Dolly made her OTT debut as Kapi in Netflix's Bhaag Beanie Bhaag. This was followed by her critically-acclaimed appearances in Modern Love Mumbai and Lionsgate Play's Feels Like Home. It is safe to say that Dolly is currently riding a career-high and just added another feather to her hat. Earlier this month, Dolly made her entrepreneurial debut by launching a quirky candle line with Rad Living. From her parent's little candle shop in Nainital to her collaboration with Rad Living, life has indeed come full circle for this content creator.
As someone who is constantly showing the country's youth that dreams do come true, Dolly fits perfectly into our #POPxoWomenWhoWin narrative. Recently, she talked to us about what it means to be one of the most relatable digital creators in India. Excerpts below:
How do you begin your day?
It's simple. I wake up, freshen up and have my bed tea. After this, I either start with my shoot or do some writing work which involves putting down concepts and scripts and getting back to my manager. 
What does a typical workday look like for you?
I usually start shooting around 10:30 am or 11:00 am. The shoot continues until at least 5 pm to 6 pm, till daylight is there. After I finish shooting, I respond to all the queries my manager has sent. I follow this with taking a tea break and then it's time to work on my scripts again and some editing work. My typical workday usually does not end early but I make sure to take breaks.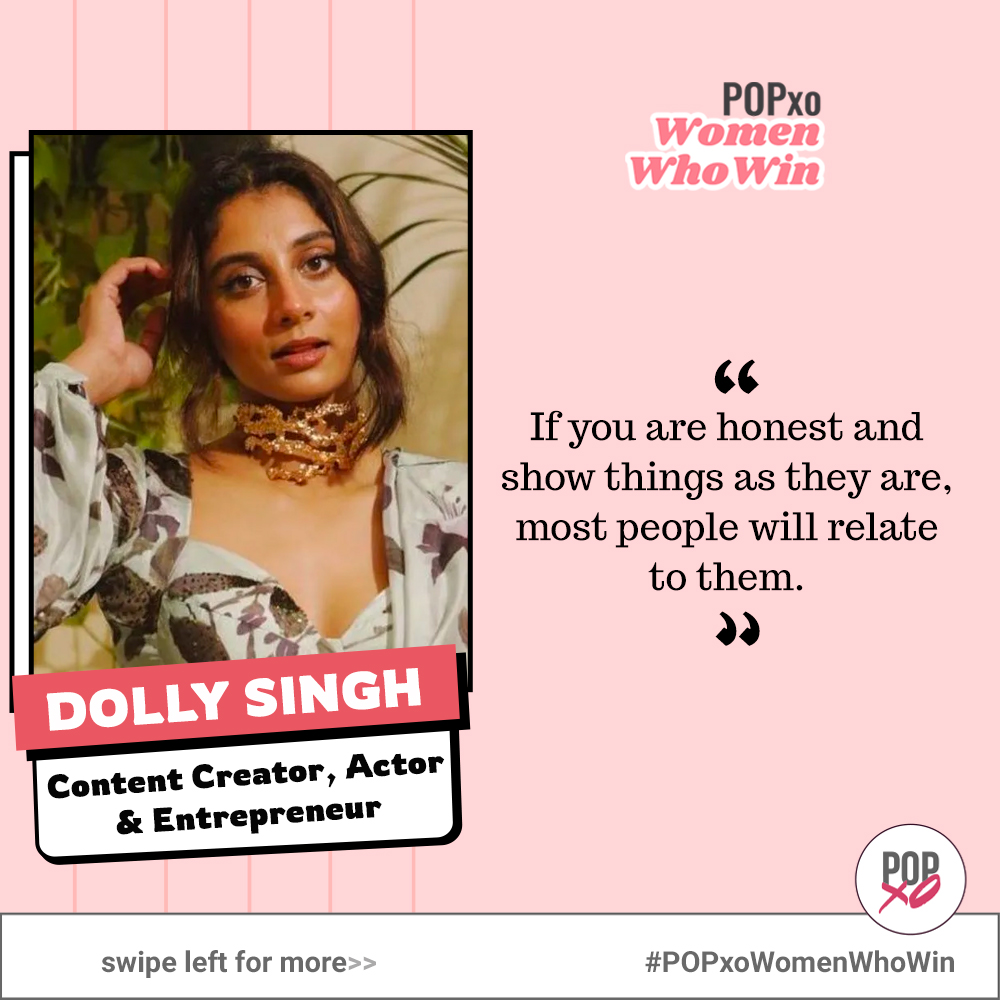 How do you stay relatable on social media? Tell us about the process.
I think it is easy to stay relatable. Till the time you are honest and show things as they are, they will be relatable to most people. That is what I try to do. Of course, it is also very important to know what is happening in the world.
What inspired you to try blogging? Let's look back at your career trajectory.
When I started, I used to read a lot of blogs. I also saw a few creators from Mumbai and Delhi who were blogging on Instagram. They were writing and posting on Instagram. Then when my friend Komal started and we discussed how much we both enjoyed fashion. Following that, I also created a website and decided to call my blog Spill the Sass, for some reason I really wanted the word Sass in it, (haha). I would write a blog twice a week on my website and post about it on Instagram. All of this was happening while I was in college. Then I joined iDiva as a styling and writing intern. After I finished college, they offered me a writing job which I took. Within the first week, we started making videos. This was quite a surprise since none of us knew how to make any but it started. It was a happy accident.          
What would you say has been the biggest turning point in your career?
As I said I joined iDiva as a writer but suddenly the videos happened. That changed my life for the good. I never thought I could do any kind of comedy or write a script or anything like that but that whole accident really pulled it out of me and I started to enjoy the process. I loved being in front of the camera. Sometimes behind the camera as well as a producer or a director, sitting on videos for edits for hours and leaving the office late around 1 am. I could see that I was really passionate about it and that was definitely my turning point.
What has been your biggest professional accomplishment so far?
Honestly, I think everything because you know where I come from, and the kind of childhood that I have had. Not even in my wildest dreams did I ever think that I would be able to do any of the things that I am doing right now. Whether it is simply making an Instagram video or working with a brand like Colgate and being featured in an advertisement or acting with Bollywood celebrities, things like these were like a very crazy dream. Sometimes I still feel like I will wake up someday and realise that none of this is true but I am absolutely grateful.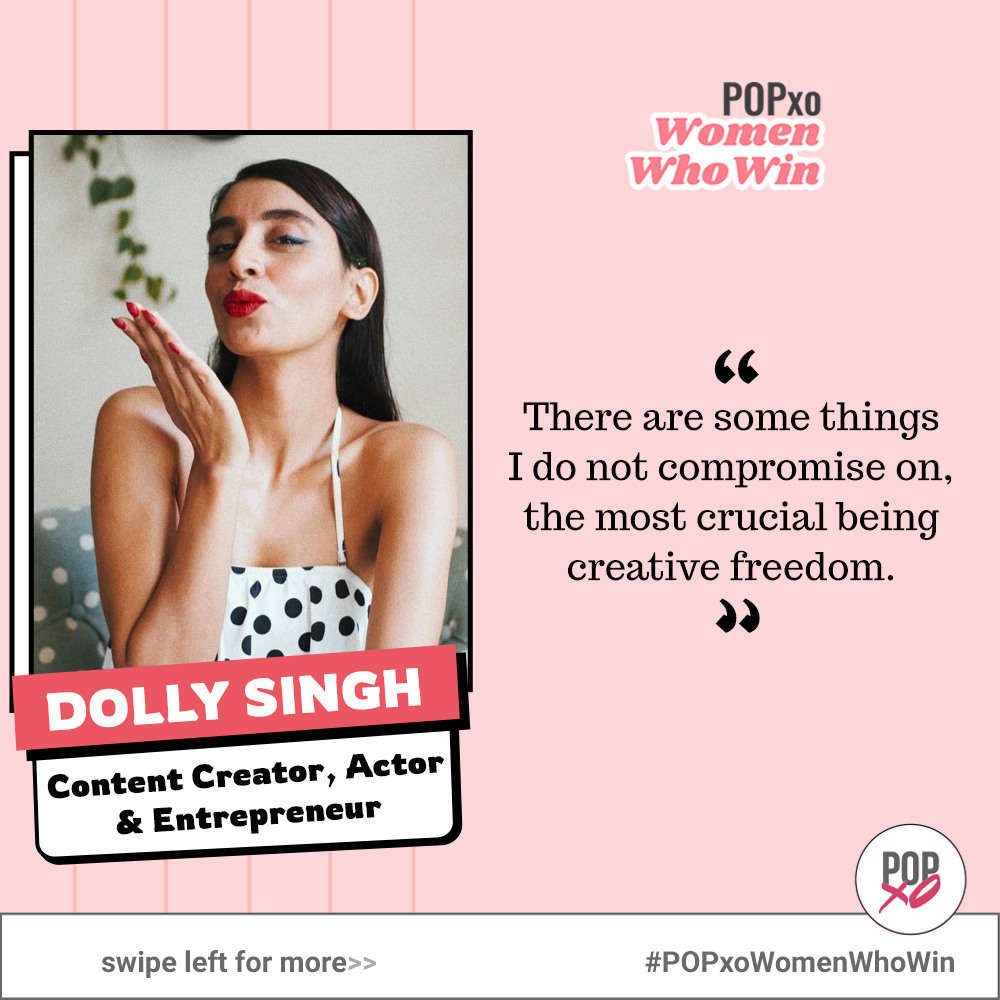 What are the skills or qualities that have helped you succeed?
There are some things I do not compromise on, first would be my creative freedom. I ask all my brands or anyone that I am working with to allow me that freedom to come up with ideas. Often brands come with their own ideas and concepts. I tell request them to work on my own concepts because I know they work on my channel. Also, my first priority is always my audience. That is something I always remember and work with. Plus, am quite disciplined and hardcore. 
A mantra that you swear by in your professional and/or personal life?
When it comes to life mantras, I feel like the basic ones are the most effective ones. 'Live and let live' is one such mantra. I definitely just want to focus on myself, do my own thing and move ahead, rather than spend my time thinking about what everybody else around me is doing. Whether it is in my professional or personal life, that is very important for me.      
You just made your entrepreneurial debut? Please tell us more about it.
It was serendipity. I made a video about candle names and a lot of candle brands started reaching out to me. Rad Living was one of them. I had already shopped from them during the pandemic.  I got a little excited and for the first time I wanted to go ahead with a collab and it worked out.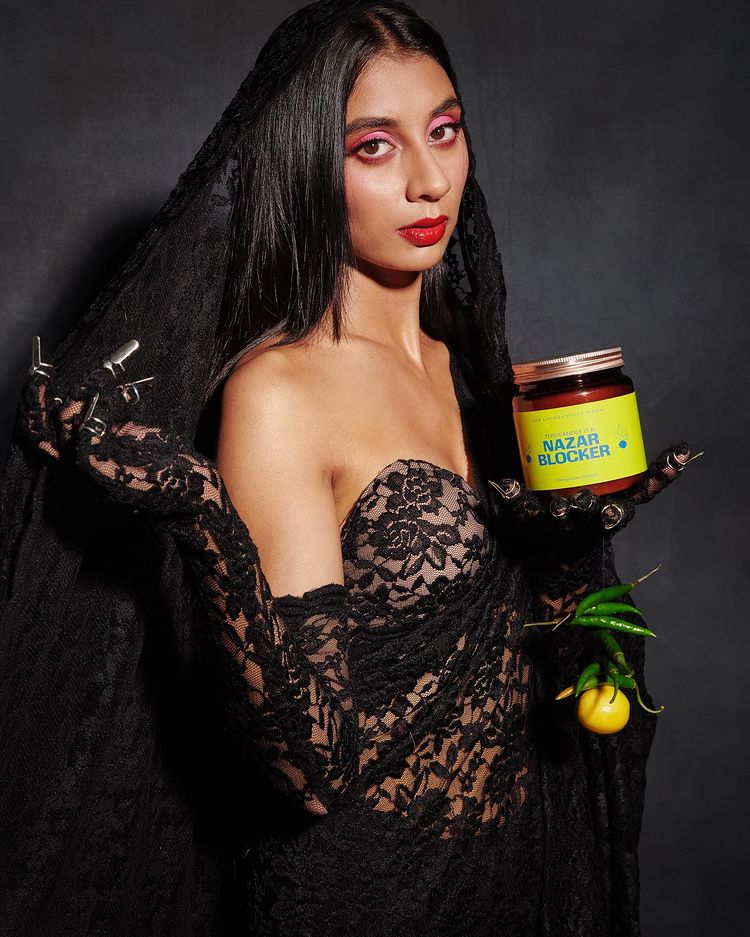 Why candles? Is there a story here?
As a toddler, I often woke up to the smell of candles and wax because my mom used to make candles and my dad used to sell them. My father still sells them but my mom does not make them anymore. This is why I felt like my life had come full circle with this collaboration with RAD Living and it feels good to have that. I definitely enjoyed the process of naming the candles and coming up with a theme. I really wanted to play on affirmations and manifestations. So we came up with a full series on it. Like there is a candle named Saccha Pyaar and there's one that's called Goa Trip. I just want it to be something that people can laugh at and enjoy. 
What would be your advice for someone who is just starting a career as a content creator?
It is very important to be consistent. I also think this is the best time for content creation because small creators are being pushed a lot. All you need is a phone and wifi or some sort of internet service. The one thing that I always tell youngsters is that there are a lot of trends that come and go. You feel the urge to participate in them. So do I. But I also tell them it is very important to retain a little bit of yourself in it. Mixing originality with trends is very important.         
And lastly, how do you unwind?
I sleep and I watch a lot of movies or shows. 
Dolly Singh lives in Delhi. Her journey has been awe-inspiring. Team POPxo wishes her all the luck in her future endeavours.