57 Hand Tattoo Designs For Women To Inspire Your Next Ink!
Well, it looks like hand tattoos are gaining a lot of fans lately. While we do credit many A-listers, including the likes of Rihanna, Ariana Grande, we gotta admit, they look super cool. Now, if you are also planning to get one, you can either go OTT with hand tattoos or opt for subtle designs. Either way, it's a great way to express yourself and your personality. For your ease, we have compiled some beautiful hand tattoos for women that will help you make the right decision!
Simple Female Hand Tattoos
When choosing a design, most girls pick-up a simple one that is cute, dainty, and eye-catchy. So, if you are also looking for a simple design, then take a look at our list of simple female hand tattoo designs below.
1. 'Be Kind' Finger Tattoo
Getting a side finger tattoo is a great idea for those who want to get inked, but don't necessarily wish to flaunt it all the time. Getting something as simple as 'be kind' on your side finger could serve as a constant reminder, and won't be visible to others unless you move your fingers in a certain way! Not only do side finger tattoos look cool, but they also have a mysterious, intriguing appeal to them.
2. Multiple Finger Tattoos
Getting multiple symbols or patterns inked on your fingers gives a unique and cool look! They are prominently visible, and look like dainty jewellery pieces. 
 3. Intertwined Branch Leaf Tattoo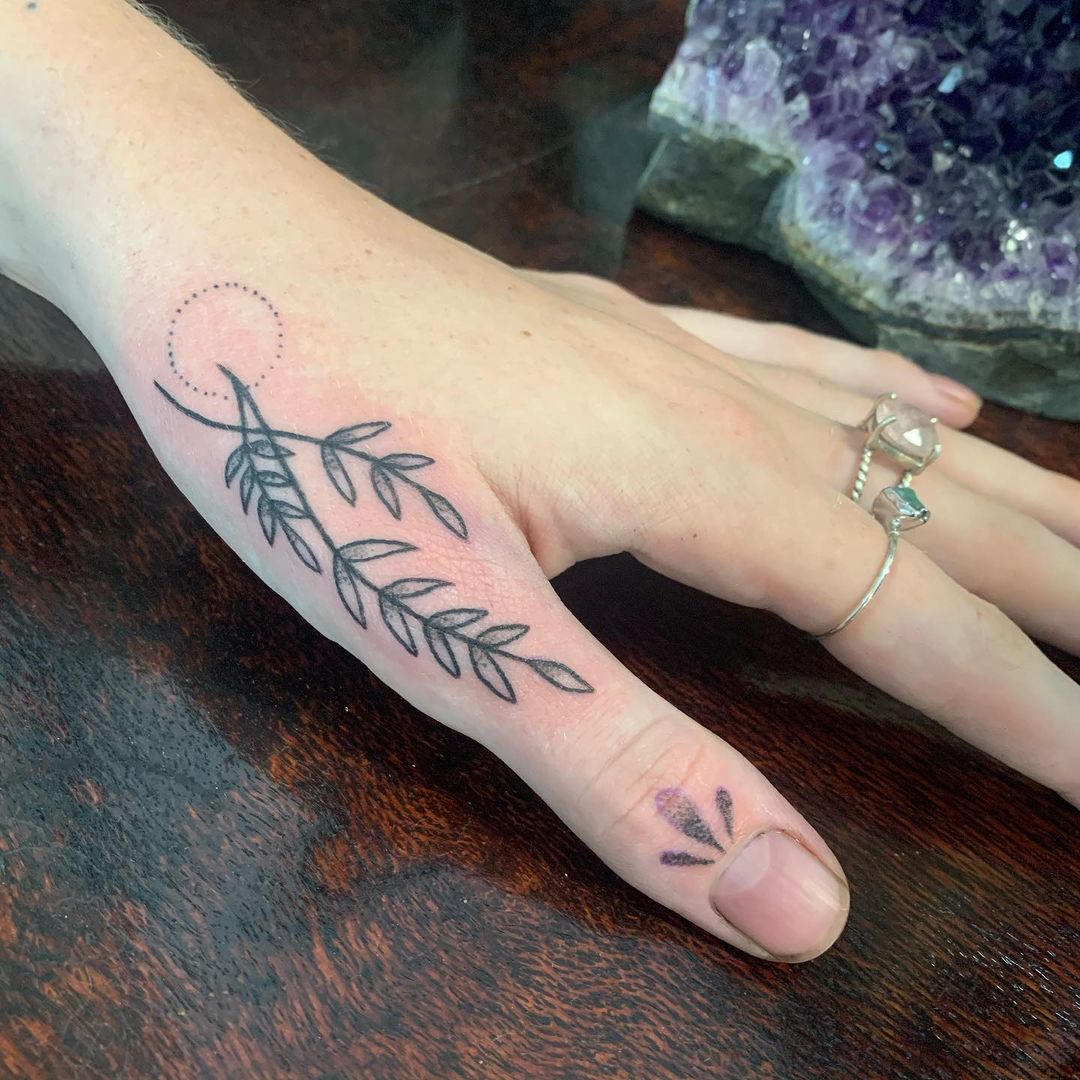 This simple hand tattoo for women looks simple yet eye-catching! The side of your thumb is a beautiful place to get a tattoo, and this horizontal design is perfect for it.
4. Curved Quote Hand Tattoo
You can also have a quote of your liking inked along the curve of your thumb and index finger. It emphasizes the shape and looks really cool and out-of-the-box!
5. Full Hand Tattoo Design
If you still have second thoughts about getting inked, let this design convince you otherwise. We are obsessing over the dainty design, which will definitely leave people spellbound.
6. Ornamental Finger Tattoo Design 
This ornamental finger tattoo design is quirky yet so chic, right? And can we talk about the middle finger tattoo placement, smart move!
7. Rose Tattoo Design
There's something about rose tattoo designs that make them a classic and popular among many ink collectors. And this simple rose design on hand definitely takes the cake.
8. Floral Motif Tattoo Design
This matching floral tattoo on both hands looks absolutely beautiful. The simple and minimal design is chic for sure, so if you are considering getting a tattoo on your hand then we suggest this one.
Small Hand Tattoos For Ladies
Though OTT tattoos have their own charm, small tattoos designs look cute AF too. So, from symbols to meaningful words, you can pick whatever you like from our list of small hand tattoo for ladies.
1. Heart Tattoo
This small heart tattoo is too cute! While it may be small and simple, it definitely makes a statement! This tattoo is monochromatic, but you can also add some colour to it.
2. Birth Year Tattoo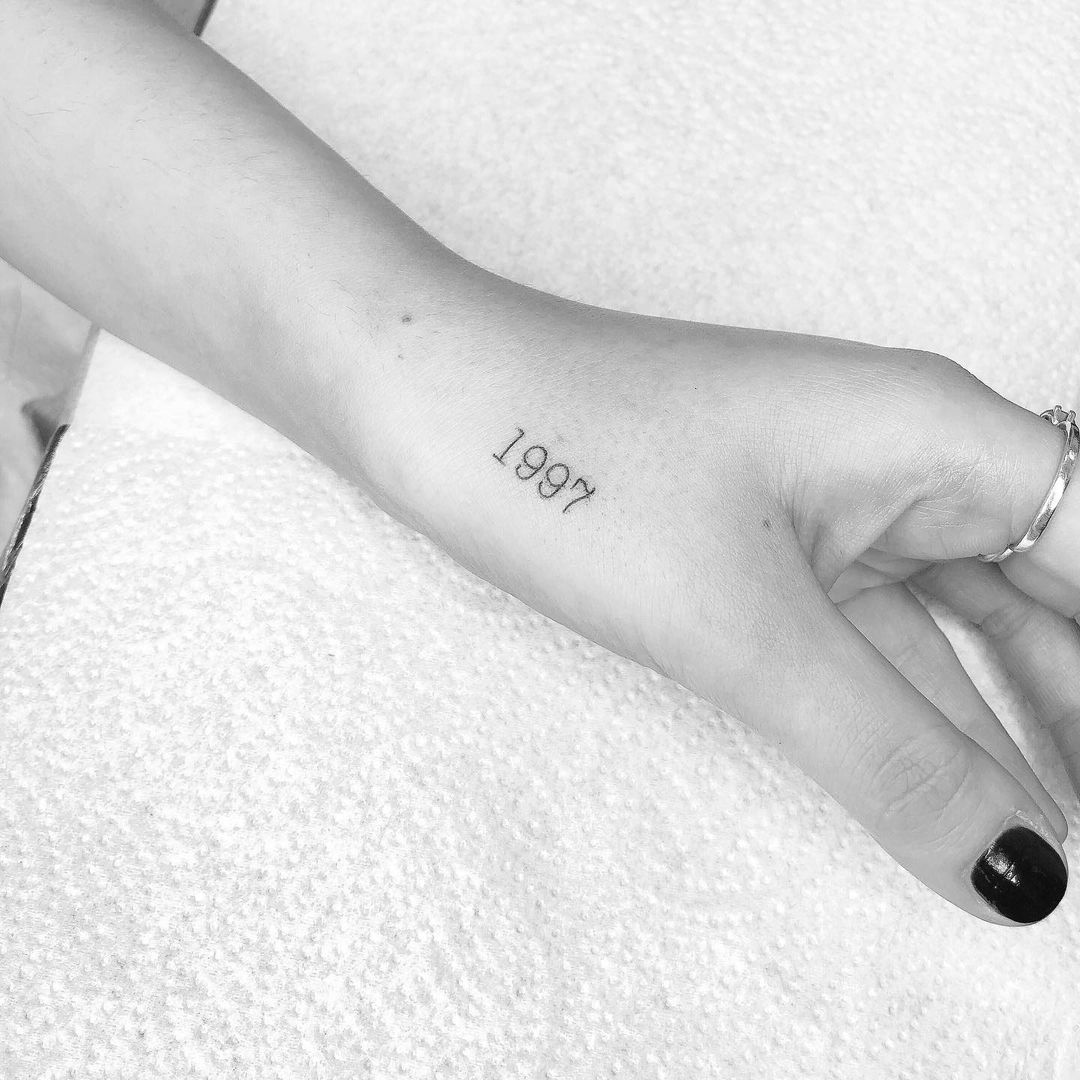 A lot of people get birth year tattoos on their hands. It could serve as a reminder of the beginning of your journey, all the experiences you've had, and how far you have come since then.
3. Zodiac Tattoo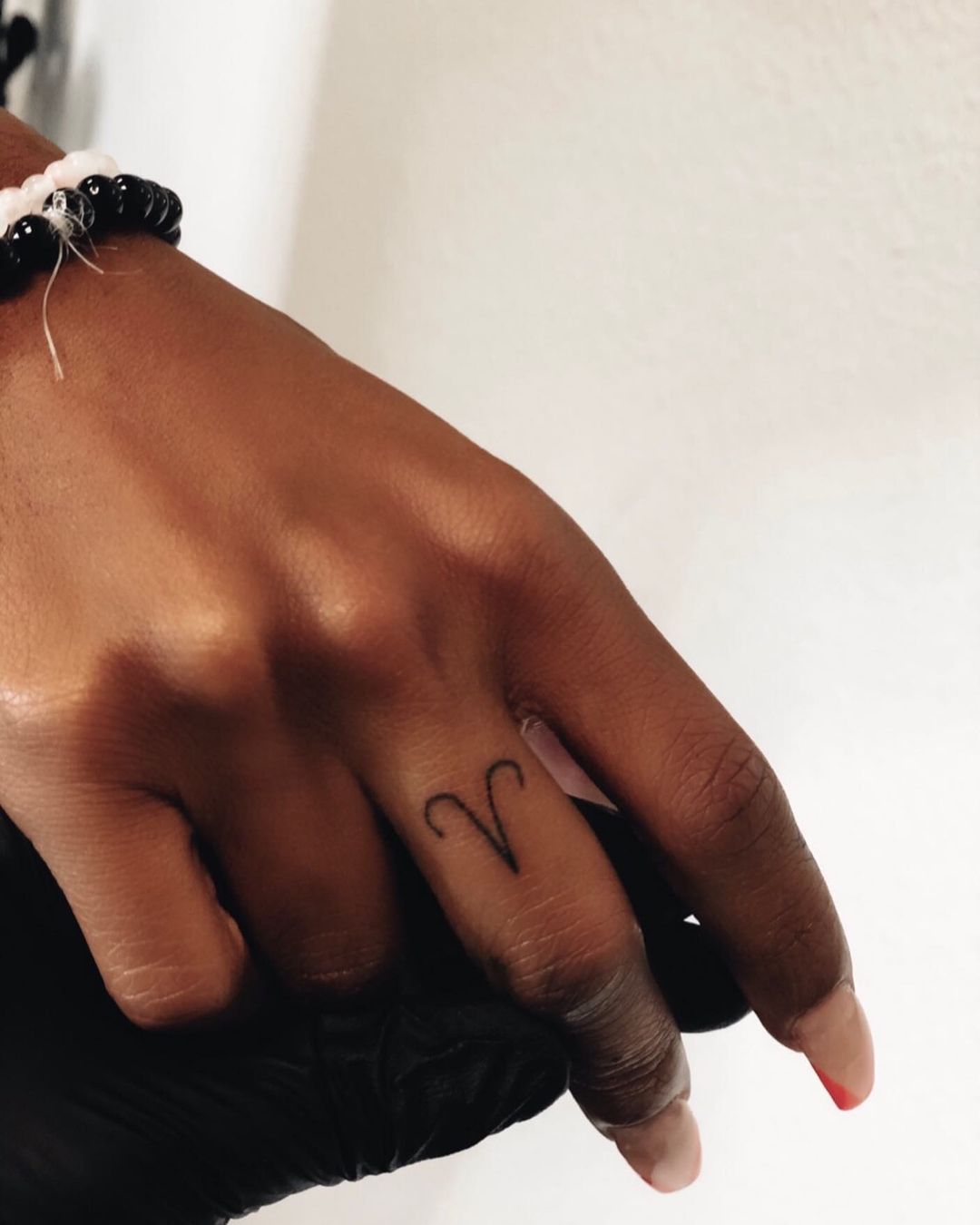 Zodiac signs look really cool! They are unique, subtle, minimalistic, and they show the world a bit about your personality. 
4. Small Quote Tattoo
If you want to get a particular word inked, below the thumb is a good place for it, as there is ample space to work with. This tattoo reads 'patience', and it's a really common word that people get tattooed. You can either recreate this, or choose another word that captures your personality.
5. Inspirational Tattoo Design 
Do you always find yourself in sticky situations? And 'do I or do I not' always run through your mind? Then this small 'why not' tattoo design should totally be in your saved files. 
6. Autumn Leaf Tattoo Design 
How cute is this leaf finger tattoo? If you are all set to get your first tattoo then we recommend starting with something small. And if minimal tattoos are your thing then this dainty little leaf design is definitely for you.
7. Small Star Tattoo Design 
We are totally obsessed with this small star tattoo design! The small design is an apt choice for those on the hunt for a small and simple design that looks chic too.
8. Horseshoe Tattoo Design
This horseshoe tattoo design is really unique and definitely worth your love. The design, apart from being not-so-common, is also a of good luck, success, and good fortune.
Latest Hand Tattoo Designs For Women
Tattoo trends can keep on changing, but you gotta be careful when choosing a design. Well you don't want a design that you regret later. So if you are wondering what tattoo designs are trending currently, below are some of the latest hand tattoo designs for women that you can take inspiration from.
1. Dotwork Ornamental Tattoo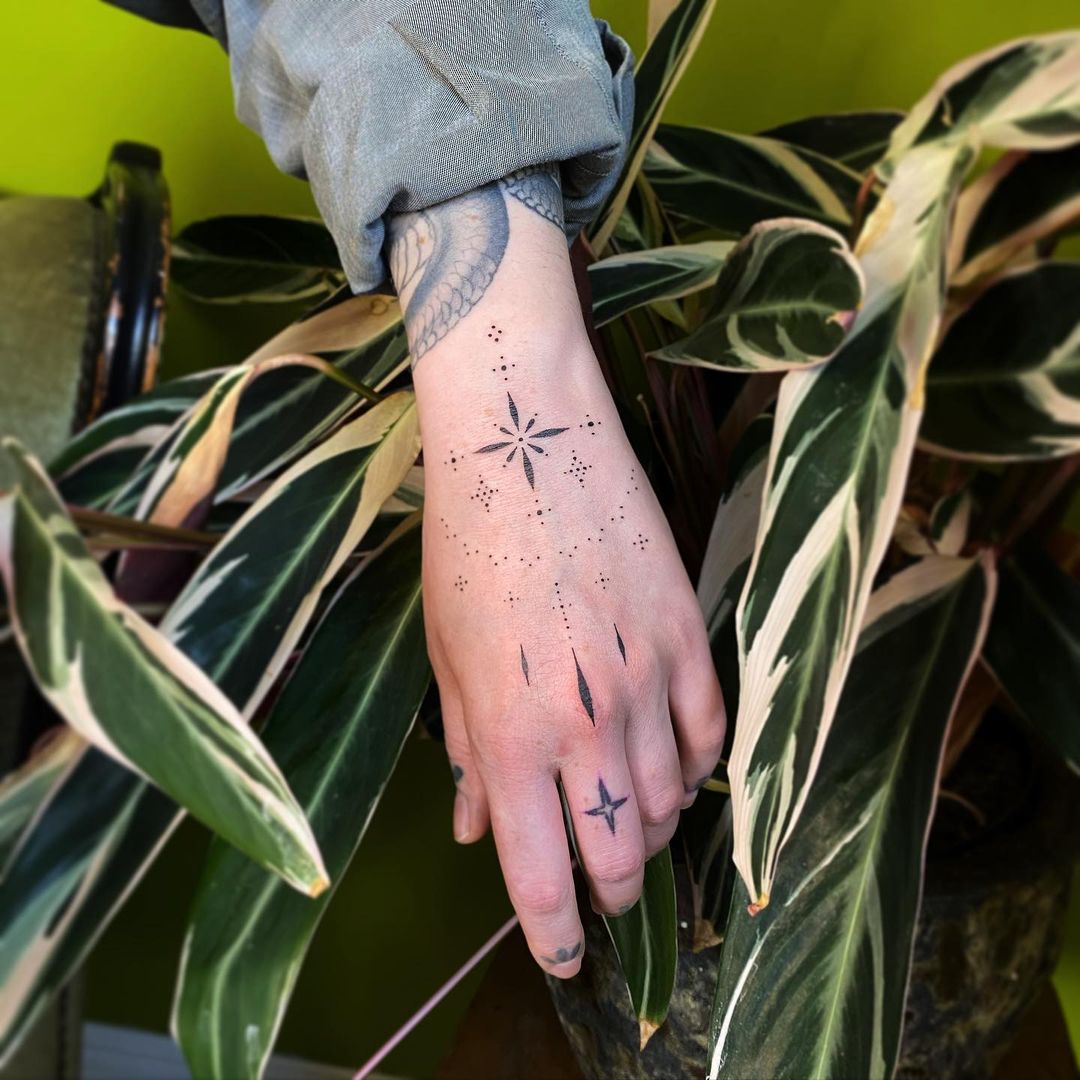 This tattoo looks beautiful majorly because of the dotwork. It looks like a delicate jewellery piece resting on your hand, and makes for a beautiful hand tattoo for women! 
2. Half Mandala Tattoo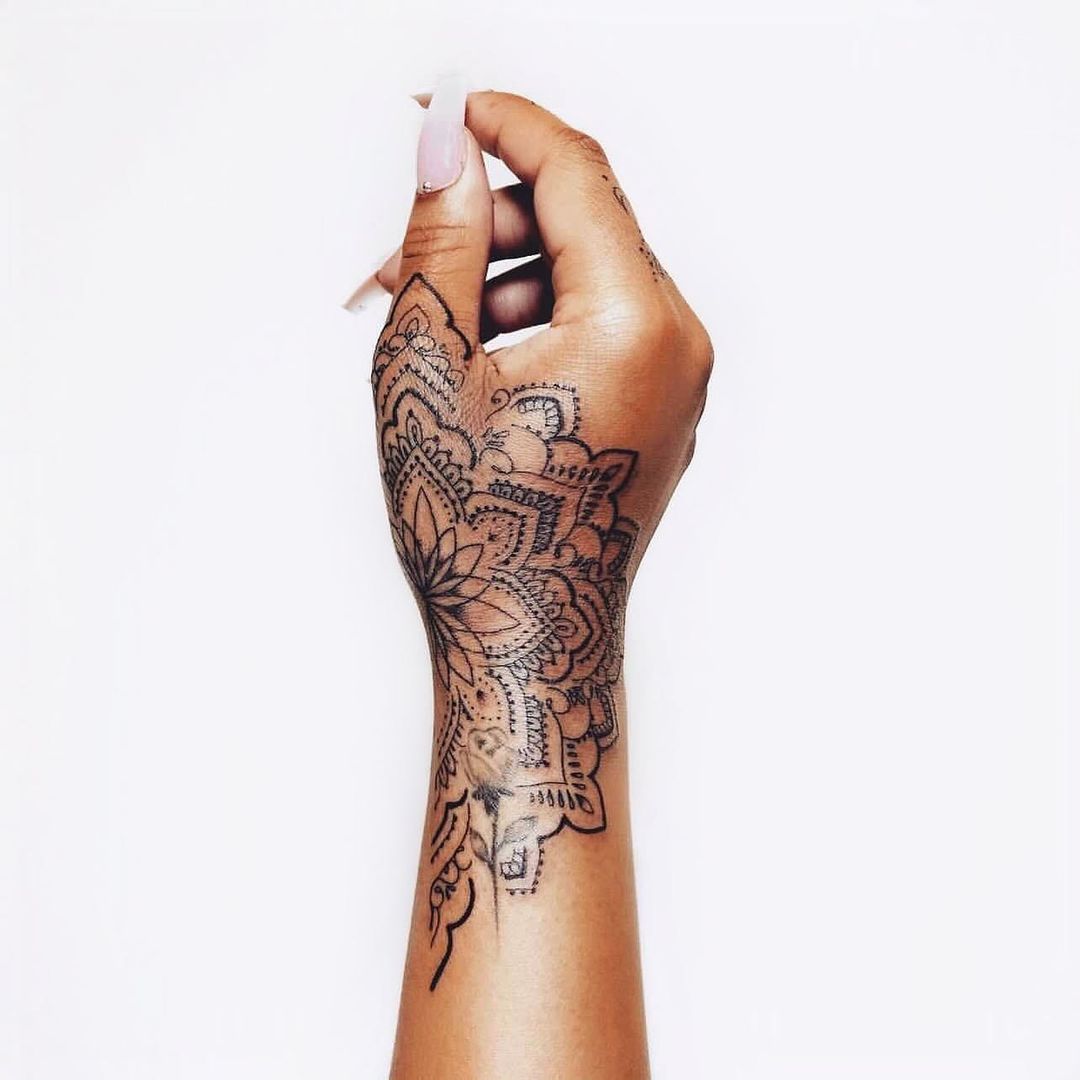 Mandala designs have taken over our Instagram feeds, and are also among the latest hand tattoo designs for women. This intricate mandala design looks simply beautiful!
3. Fine Line Floral Tattoo Design
This tattoo design for women looks pretty and stands out mainly due to the fine lines. The dainty flowers, and their placement have left us impressed!
4. Dove Tattoo With Olive Branch
Nothing says 'peace' quite like a dove holding an olive branch. It represents hope, love, harmony, peace, and we're loving this minimalistic tattoo design! 
5. Hand Ornamental Tattoo Design
If you are a big Rihanna fan, you must have noticed her hand tattoo. Well if you have been wanting to get one, here's a design that you can draw your inspiration from. Enough to make you talk of the town! 
6. Leaf Tattoo Design
Leaf tattoo design like this one is gaining a lot of popularity lately. The wrap-around style is surely stylish and chic. And that floral motif on the hand adds an extra oomph factor for sure. 
7. Leaf Around Arm Tattoo Design
If you are really into the leaf wrap-around tattoo design, then we have another one for you. The design gives an illusion of a bracelet and looks absolutely stunning. So cool, right? 
8. Small Mandala Tattoo Design
How stunning is this hand tattoo design? Mandala tattoos are trending now more than ever and we are totally here for it. This simple design with 'loyalty' on the side is unique for sure.
Female Cute Hand Tattoos
What can be better than flaunting that adorable tattoo in your manicure selfie. It is sure to grab attention and make people go crazy. So, if you're looking for cute hand tattoos for females, here are a few ideas for you.
1. Floral Ring Tattoo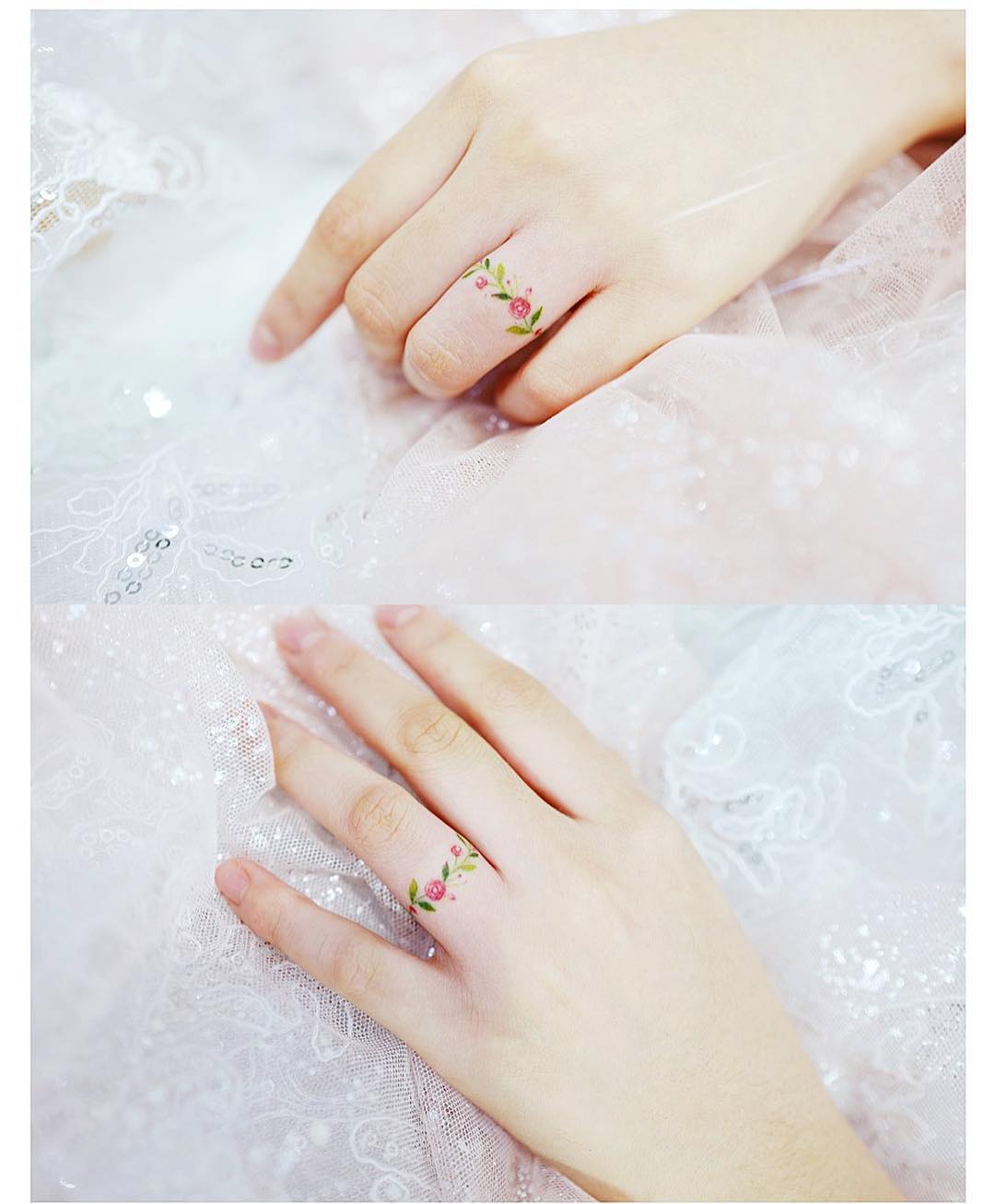 This dainty design is too cute for words! Jewellery design tattoos are not going out of style anytime soon, and are perfect for those who want a minimal look. The bright colours add to the beauty of this cute hand tattoo for females.
2. Crown Wrist Tattoo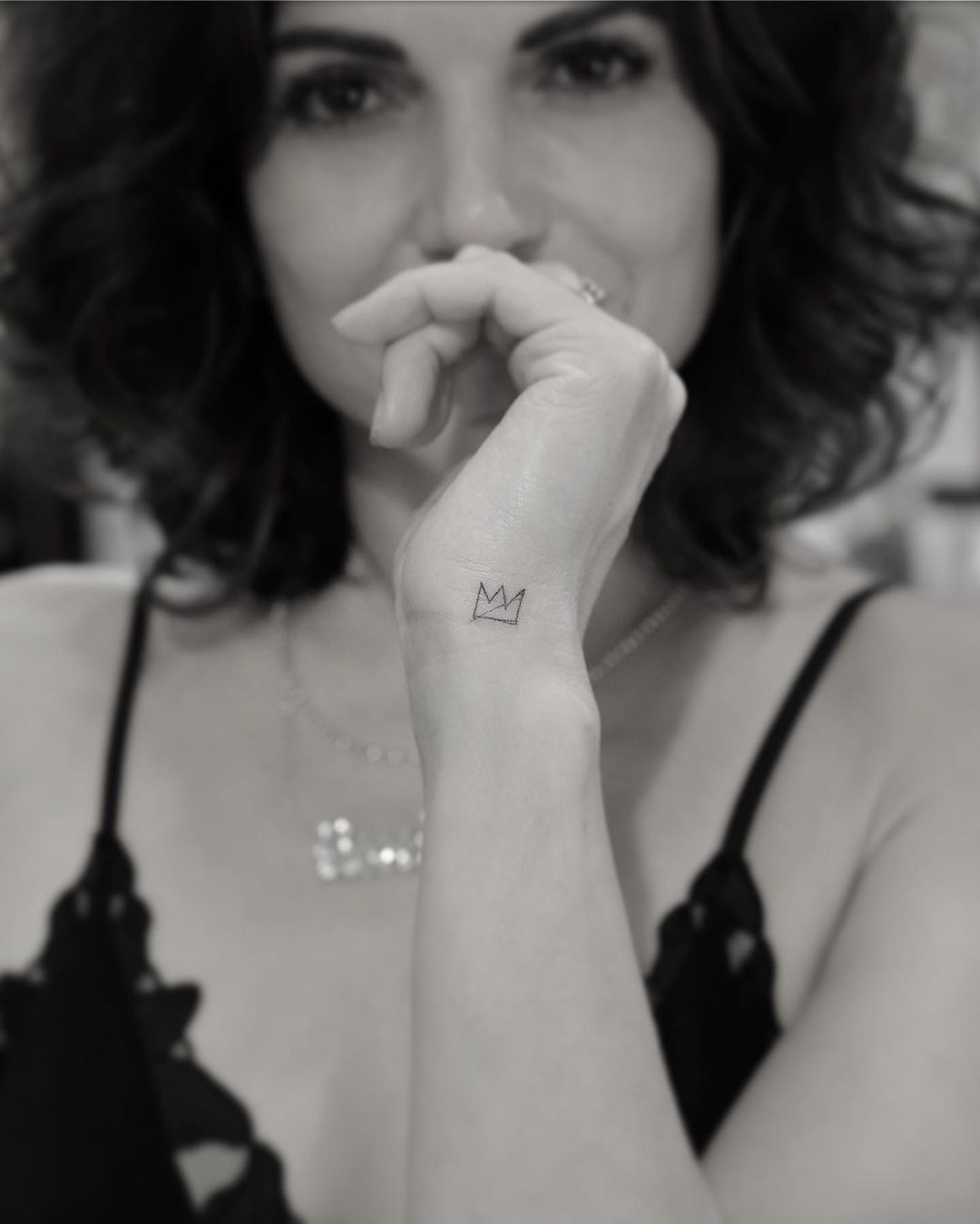 Show them you're the queen of your world! This crown tattoo design is too cute for words. We're loving the placement and the minimalistic crown design. 
3. Side Finger Rose Tattoo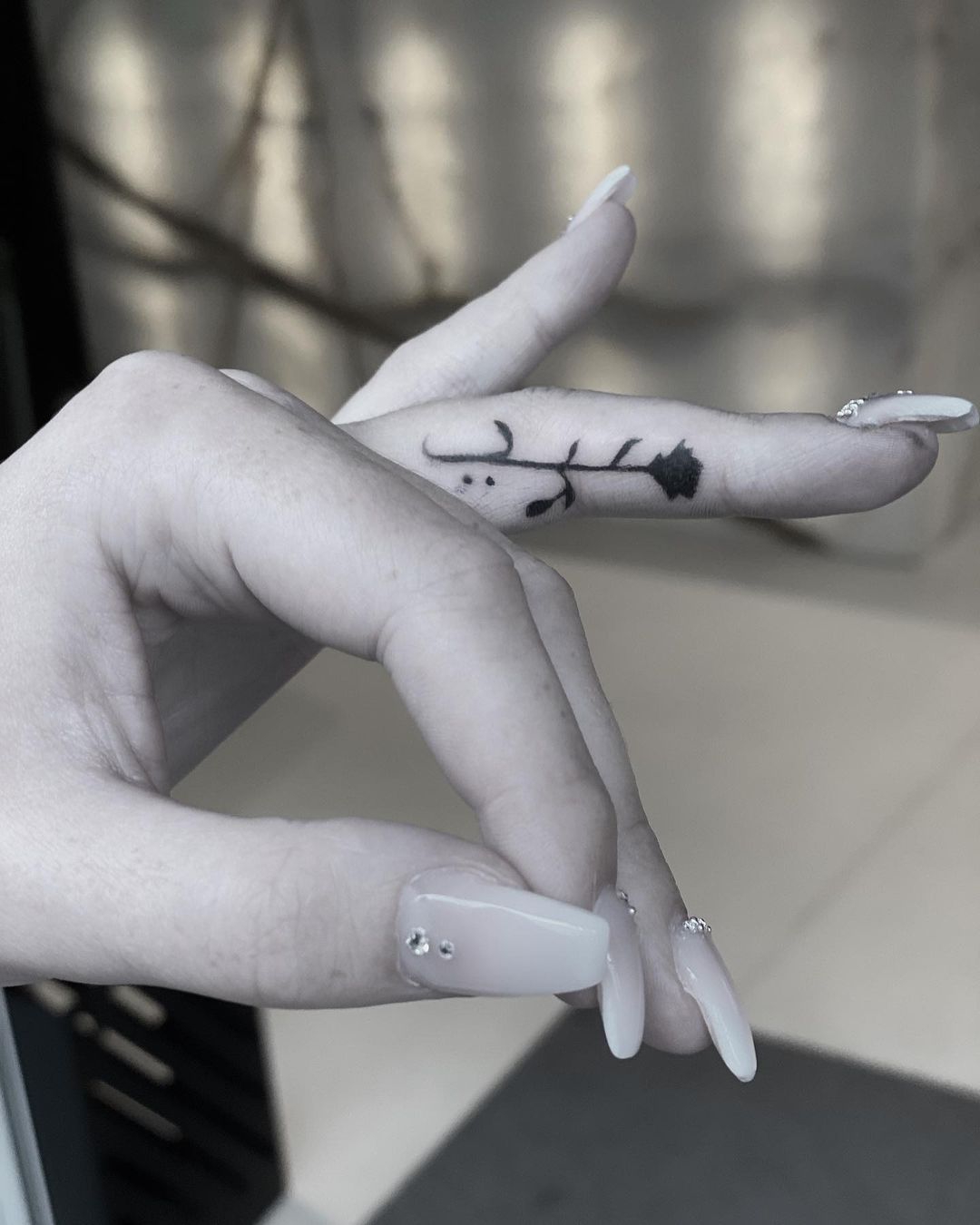 The best thing about side finger tattoos is that you can flaunt it when you want to. This rose silhouette on the side of the finger looks really stylish!
4. Coffee Tattoo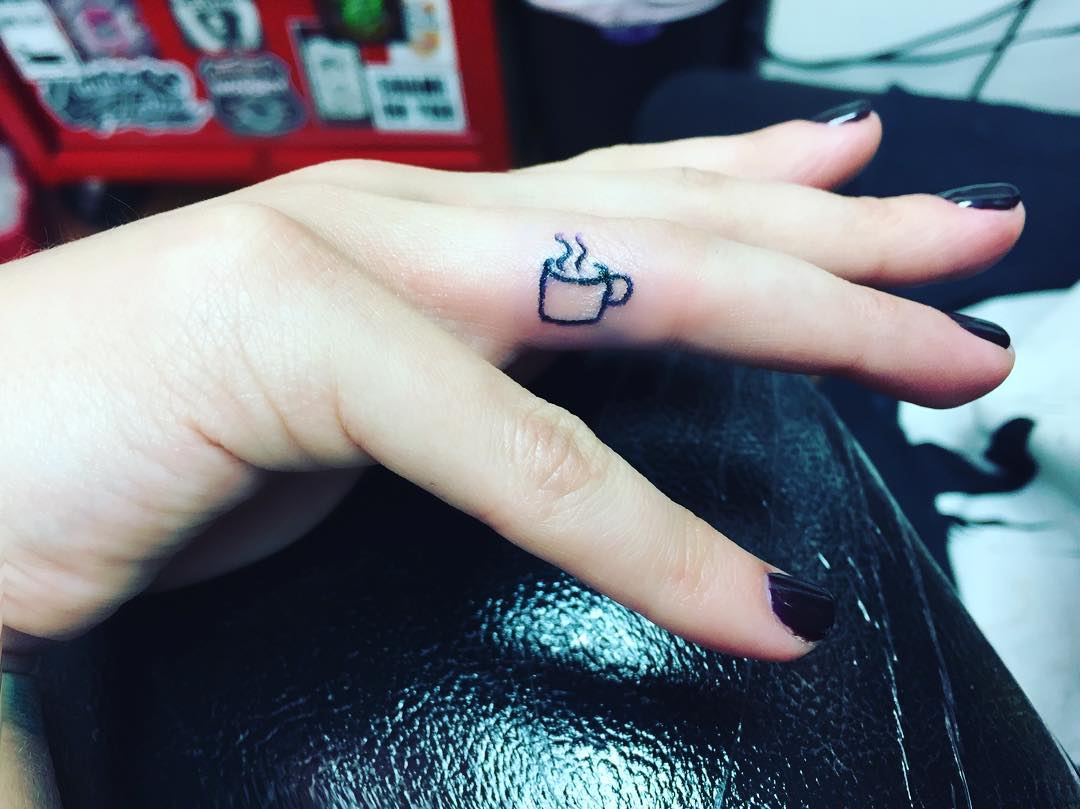 Show your love for coffee with a cup of coffee inked on the inside of your finger. It's cool, quirky and a rather unusual choice!
5. Kitten Female Hand Tattoo
Cuteness and kittens go hand-in-hand and nothing can change our minds. This cute kitten tattoo will definitely make everyone go aww. Best way to pay homage to your furry little baby! 
6. Butterfly & Flower Tattoo
Cuteness overload! We are in awe of this butterfly and rose mini tattoo on the finger. And that heart beat detailing connecting the two is already making us go gaga!
7. Fire Finger Tattoo Design
Are you a baddie but also a softie at heart? How about flaunting it with this finger tattoo design? The design has a fiery element to it but looks so chic at the same time. Save it now!
8. Butterfly Tattoo Design
Already in love with this tattoo design! The cute little butterflies with stars and other mini elements all-over makes it hard-to-miss. And did you notice those ace and hearts on the finger?
Unique Hand Tattoos For Women
Tattoos automatically make you stand out of the crowd. But that's not it, picking a design that no one has seen before comes as a bonus too. Here, check out our reccos for unique hand tattoos for women to make your own statement.
1. Finger Ornaments
Get your hands decked up with these beautiful finger ornaments that basically look like rings and jewellery pieces. 
2. Vine Ring Tattoo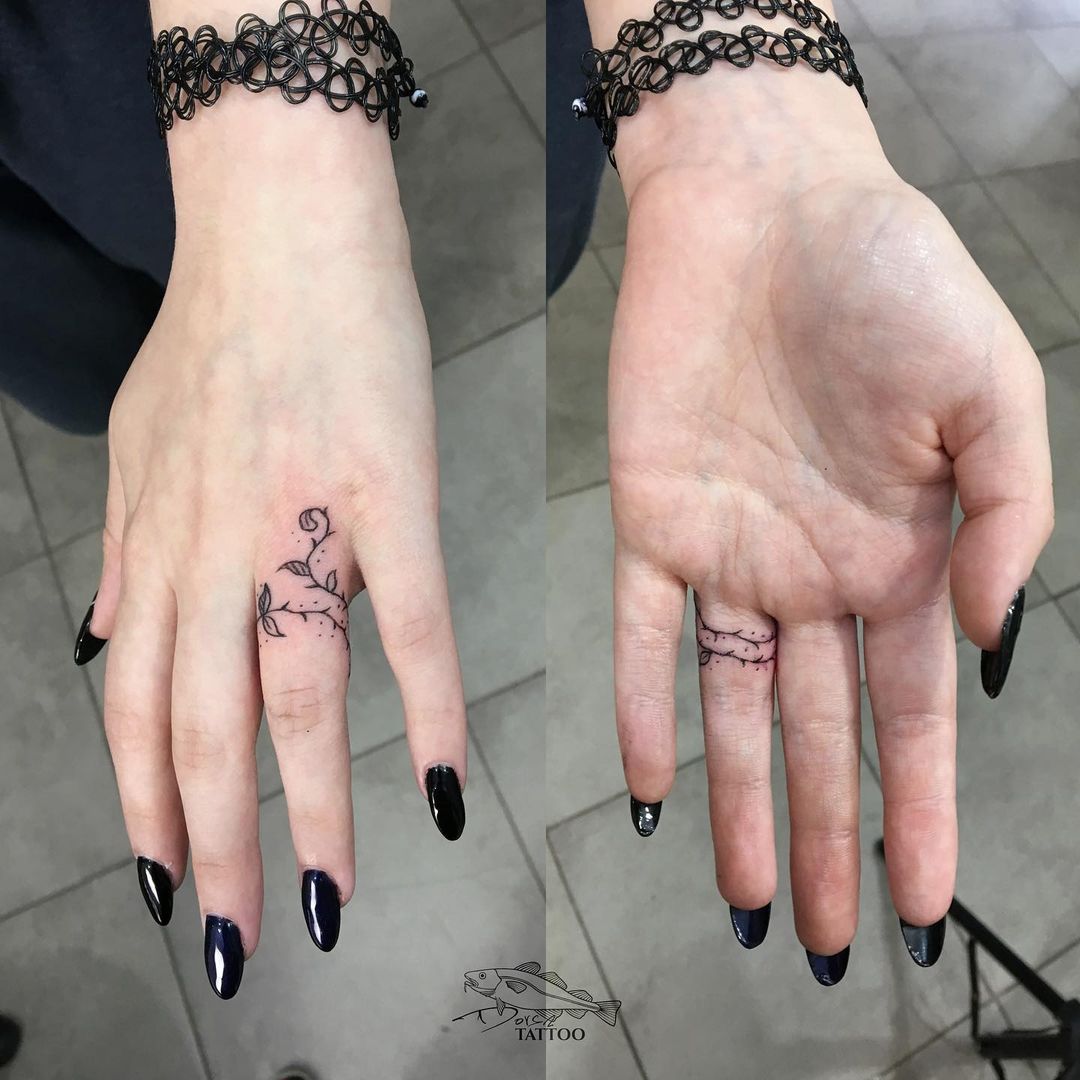 Wraparound tattoos always look cool, but if you don't want to opt for a tattoo that covers a large chunk of your hand, you can opt for this vine ring tattoo instead!
3. Knuckle Tattoo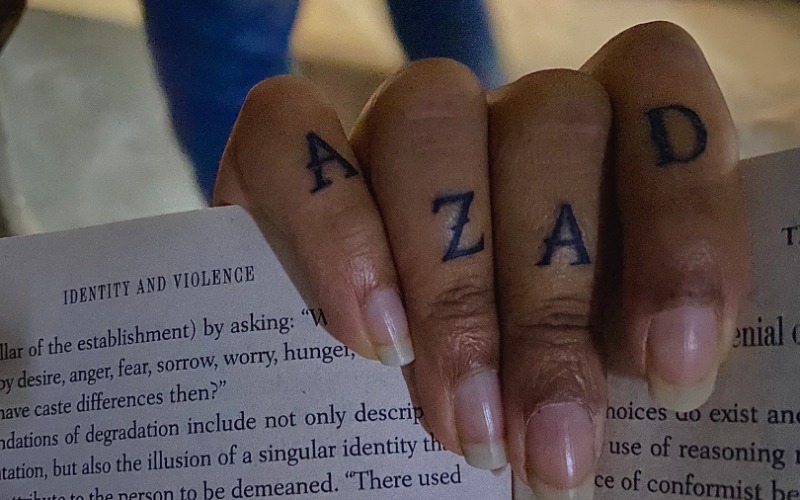 Bigg Boss OTT's Muskaan Jattana has this knuckle tattoo that looks oh-so-cool! While her tattoo reads 'Azad' to remind herself that she is free, you could also have another word tattooed on your knuckles!
4. Outer Edge Hand Tattoo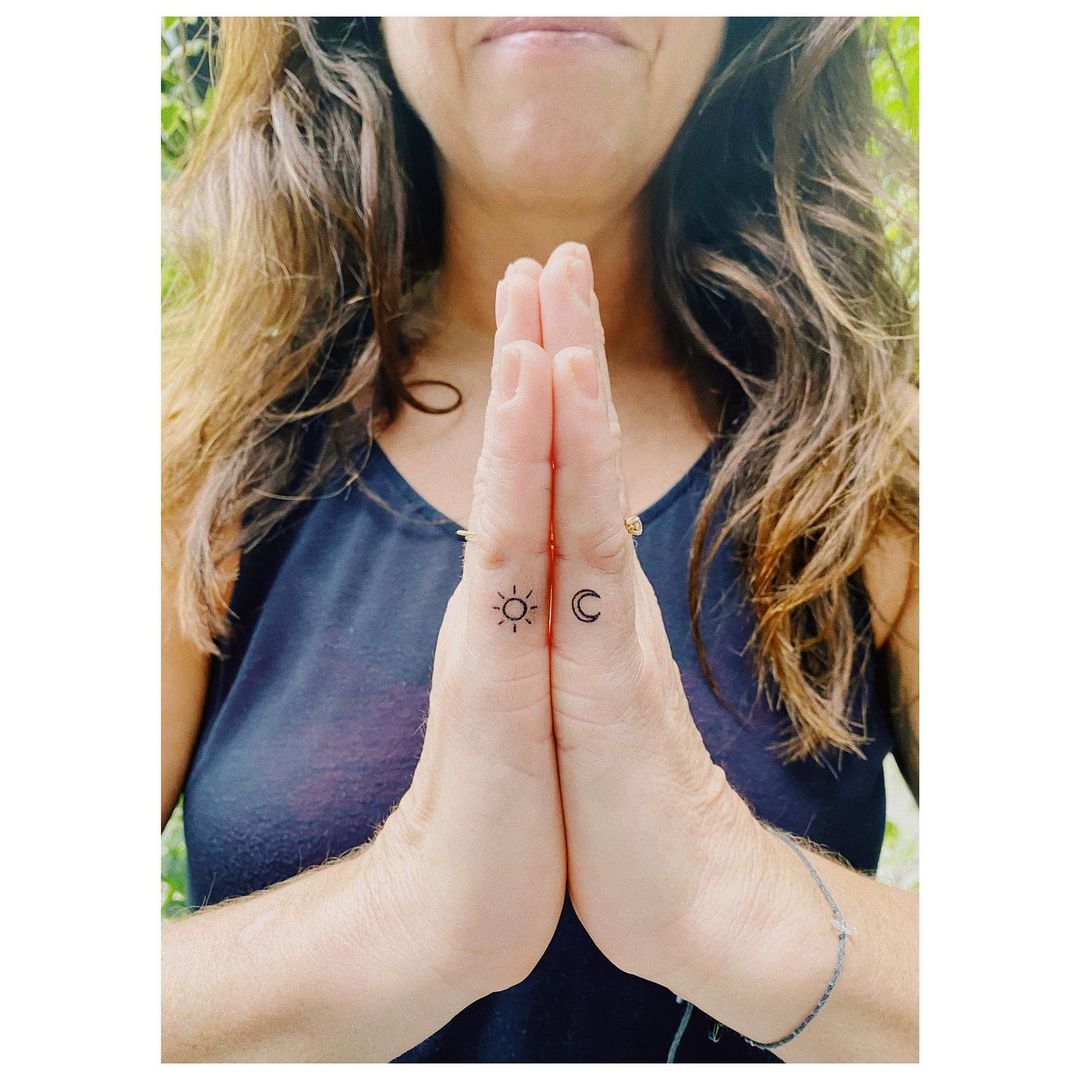 The placement of this sun and moon tattoo is quite unique, and we're loving it! It's dainty, pretty and looks really cool.
5. Chain Detailed Tattoo
If you want a hard-to-miss tattoo that is hard-to-miss that's not too OTT, then this delicate chain detail tattoo is what you need. The clean dotted design mixed with dainty details in between is unique to say the least. 
6. Butterfly Mandala Tattoo 
Our list will be incomplete without a full-fledged hand tattoo design, and this one definitely takes the cake. The butterfly with the mandala effect around, clubbed with other small detailing, will totally make you stand out.  
7. Flower Tattoo Design 
How interesting are those white petals of the flower? At a glance, this might look like a regular floral design, but the white shading inside the flower totally makes it unique. Interesting, isn't it? 
8. Sun Tattoo Design
Sun tattoos are always a go-to choice as a tattoo design for many women. But hands down, this is one of the best ways to get it down. How amazing is that illusion of a circle given by clean straight lines as rays?
Stylish Hand Tattoos For Women
If you love all things fashionable, then you are totally gonna love our reccos of stylish hand tattoos for women. These tattoo designs are absolutely voguish and attention magnate. 
1. Rose Hand Tattoo
A rose design does not have to be overly complicated and filled with shaded parts. In fact, minimalist designs like these that look even more eye-catching. This design looks best above your thumb as there's more space for the it to stand out!  
2. Elaborate Floral Tattoo
This floral hand tattoo for women looks absolutely stunning! However, it's a huge tattoo to have on your hand permanently, so make sure you really do want a large one, and won't regret it later.
3. Henna Inspired Thumb Tattoo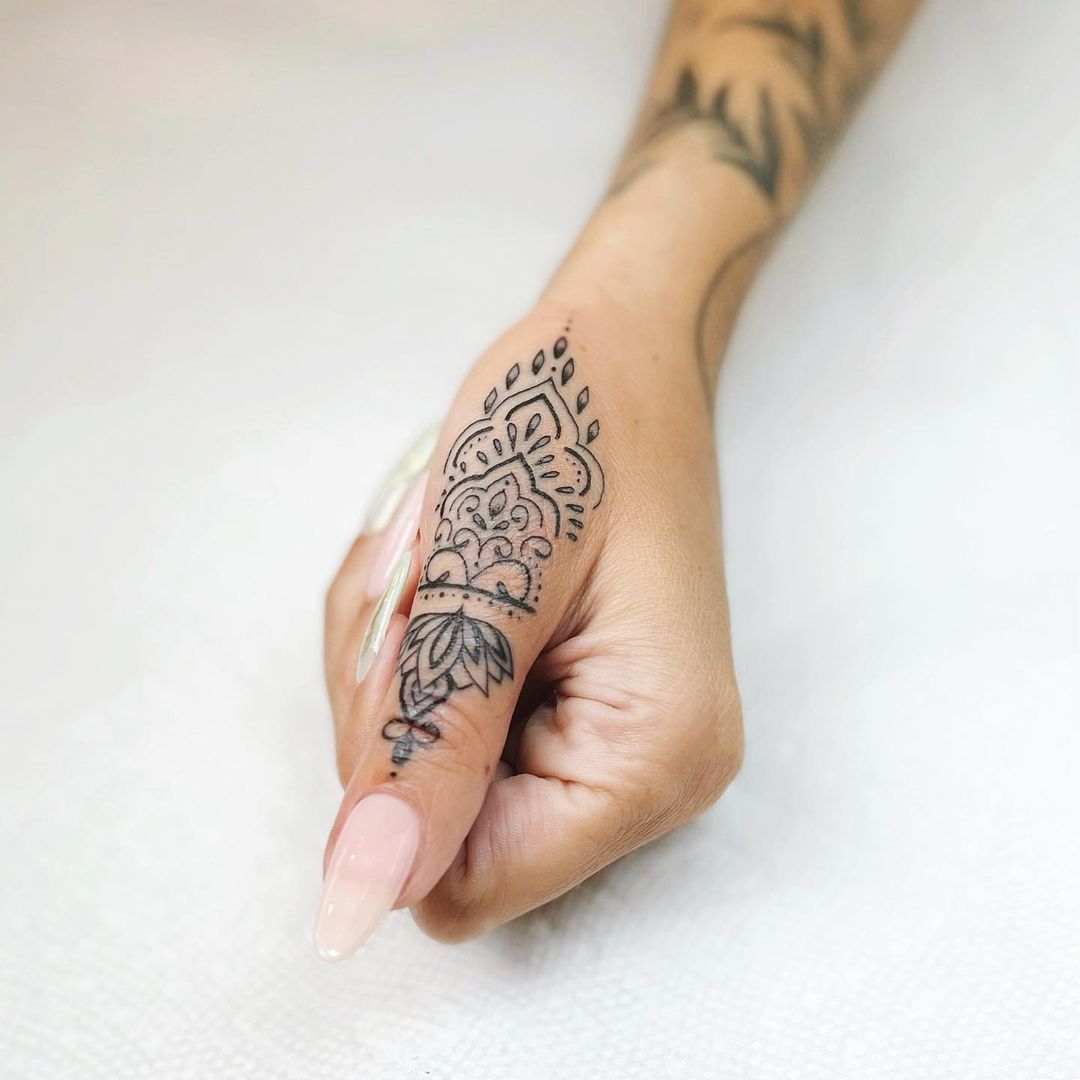 This thumb tattoo design is quite similar to a traditional mehndi design, but is permanent. It gives an artistic look, and we're loving it!
4. Moon Phase Tattoo
This is a really cool hand tattoo idea for women! The phases of the moon on each finger not only look stunning, but they also symbolize ever-changing life.
5. Butterfly Tattoo Design
This matching butterfly tattoo design is what we are living for. Get this one with your bff or your sister. Super duper stylish! 
6. Daisy Tattoo Design
Flaunt your delicate personality with this delicate daisy tattoo. The grey shading mixed with subtle white detailing in the petals is definitely unmissable. 
7. Incense Stick Tattoo
We can all feel our stress melting away with the fragrance and the purity of an incense stick. So why not transform that feeling into a tattoo like this one. 10/10 for the thinking and the design! 
8. Sword Tattoo Design
A cool personality of yours deserves a tattoo like this one. The sword tattoo surrounded by butterflies and the mandala design on the top is giving a cool girl vibe, right? 
Tattoo Designs For Women's Hands With Meaning
Historically, people used to get tattoos as a symbol of their pledged allegiance or of something significant to them. And this is still valid today. So if you are also looking for designs that are significant is meaningful, then we have some designs for you. Take a look at our tattoo designs for women's hands with meaning.
1. Hamsa Hand Tattoo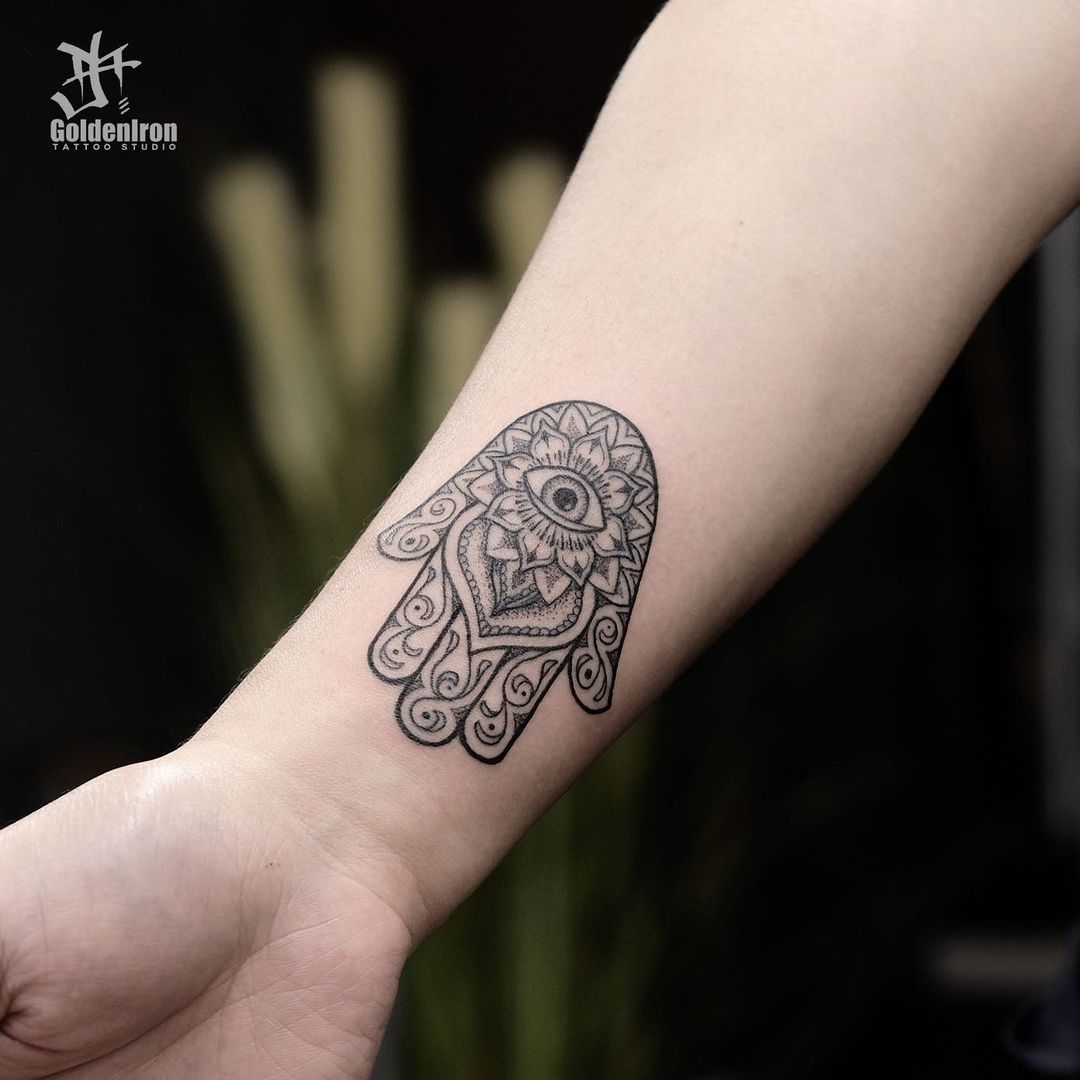 Hamsa hand tattoos have been gaining a lot of popularity lately. It is considered to be a symbol of the 'Hand of God' and is believed to ward off evil eye, and provide luck, health, and good fortune. It is shaped like a palm with an eye in the center. 
2. Lion Tattoo Design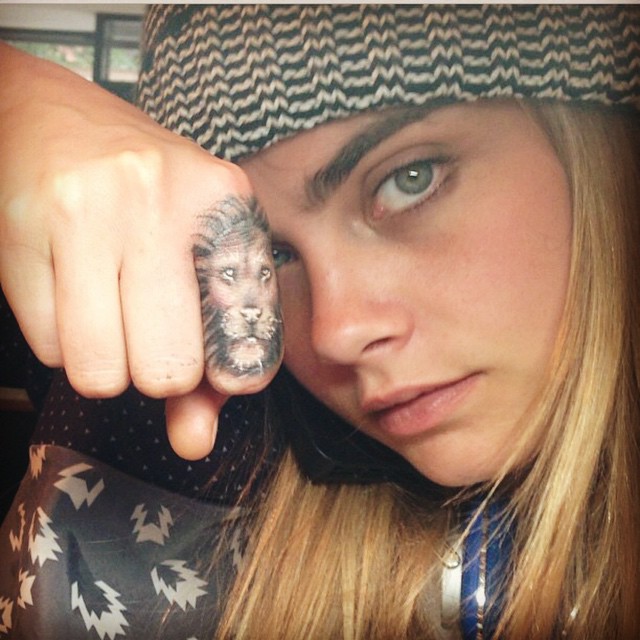 While Cara Delevingne got this lion tattoo on her index finger to represent her zodiac sign Leo, lion tattoos usually represent bravery, courage, and strength. You can get it to remind yourself of the challenges you've faced with utmost courage. Or you could simply get it inked because it looks so fierce and powerful!
3. Snake Finger Tattoo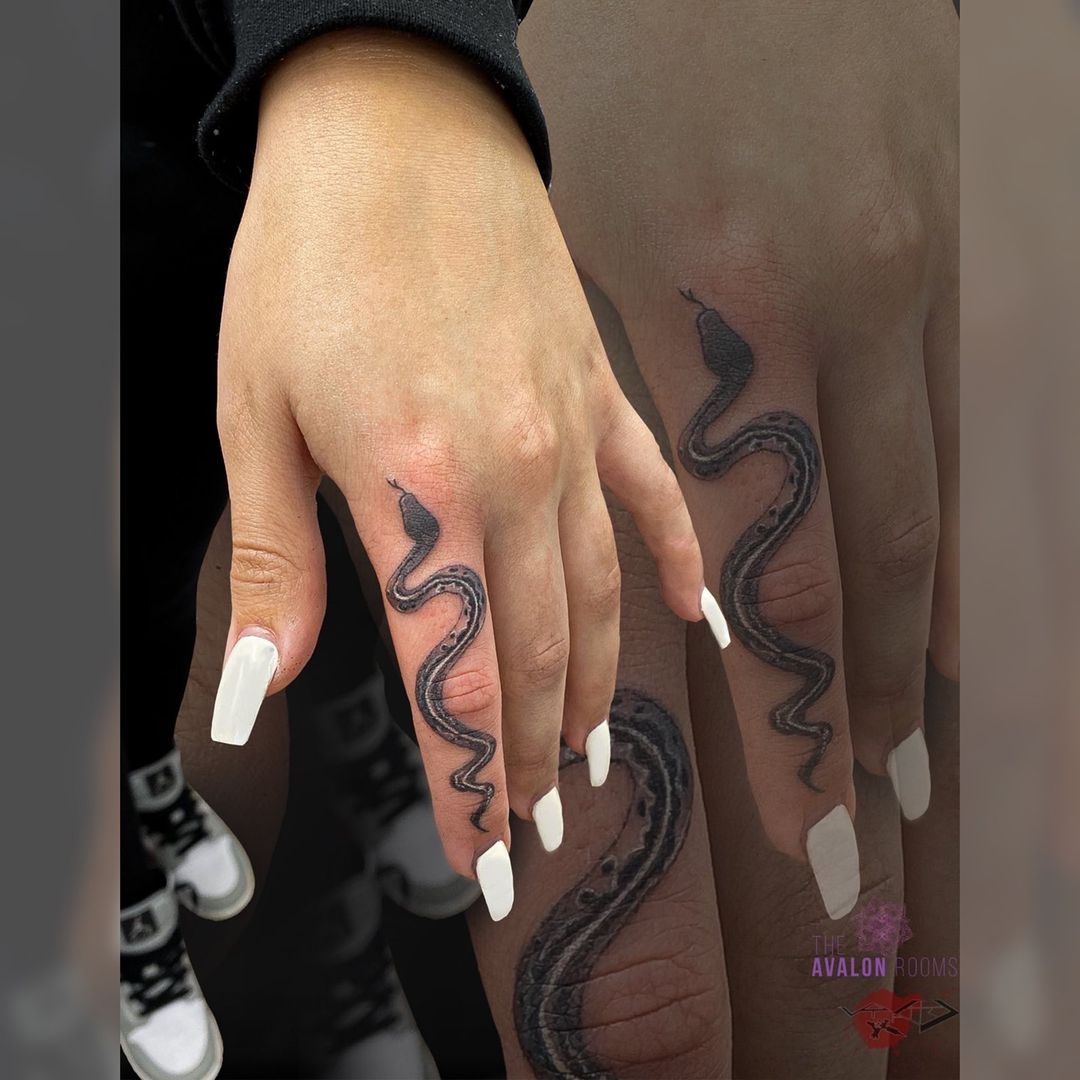 Snake tattoos have gained a lot of popularity lately because of how versatile they are! They give a badass look, and this finger placement is perfect if you want the tattoo to be prominently displayed. Snake or serpent tattoos have various meanings across different cultures. But they are generally a symbol of rebirth, temptation, power.
4. Bird Tattoo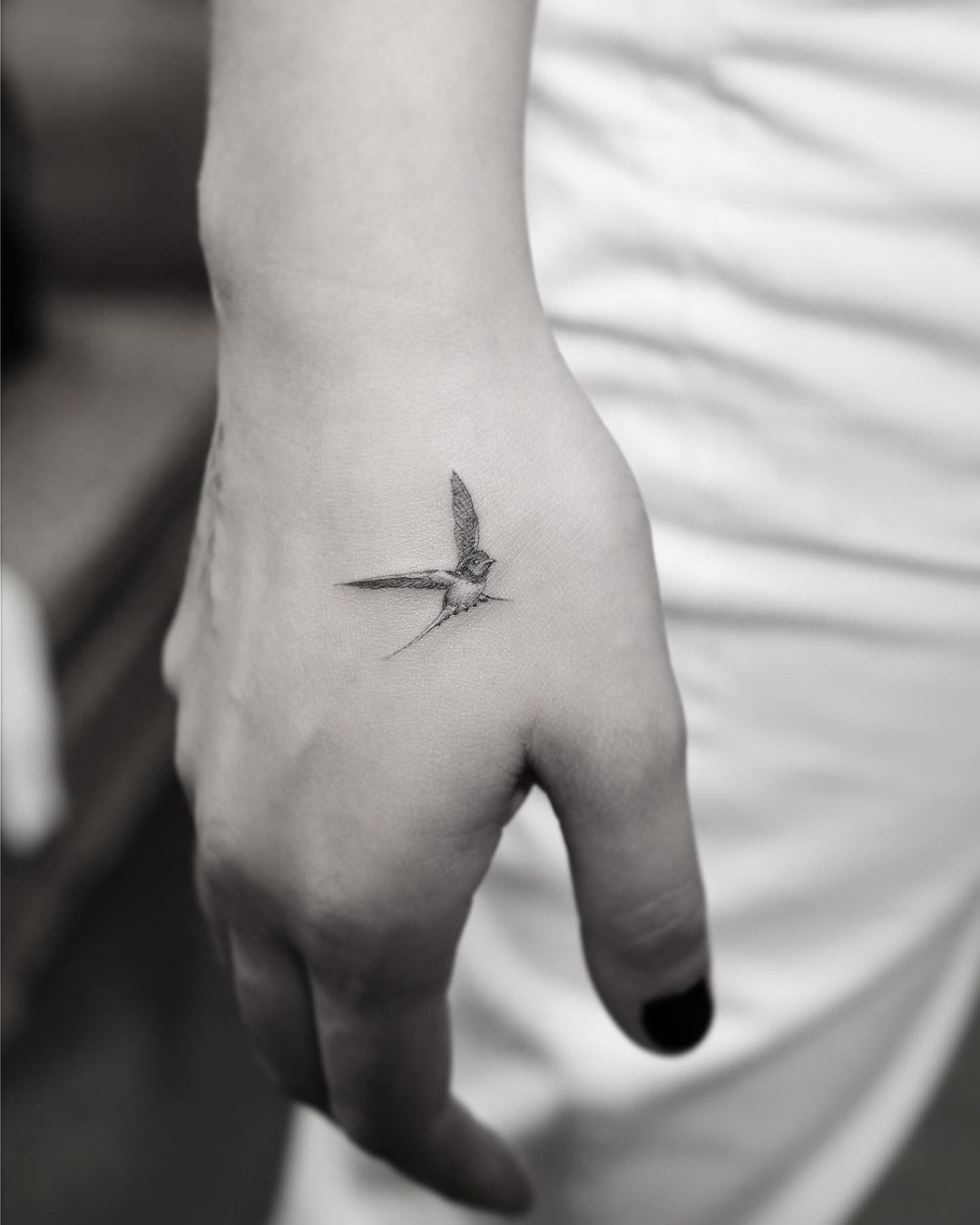 Bird tattoos are extremely popular for two reasons. First, because they are versatile and can be designed in various ways. Secondly, because it has a beautiful meaning! Bird tattoo symbolizes independence, freedom, and is an excellent hand tattoo design for women who value these qualities! 
5. Anchor Tattoo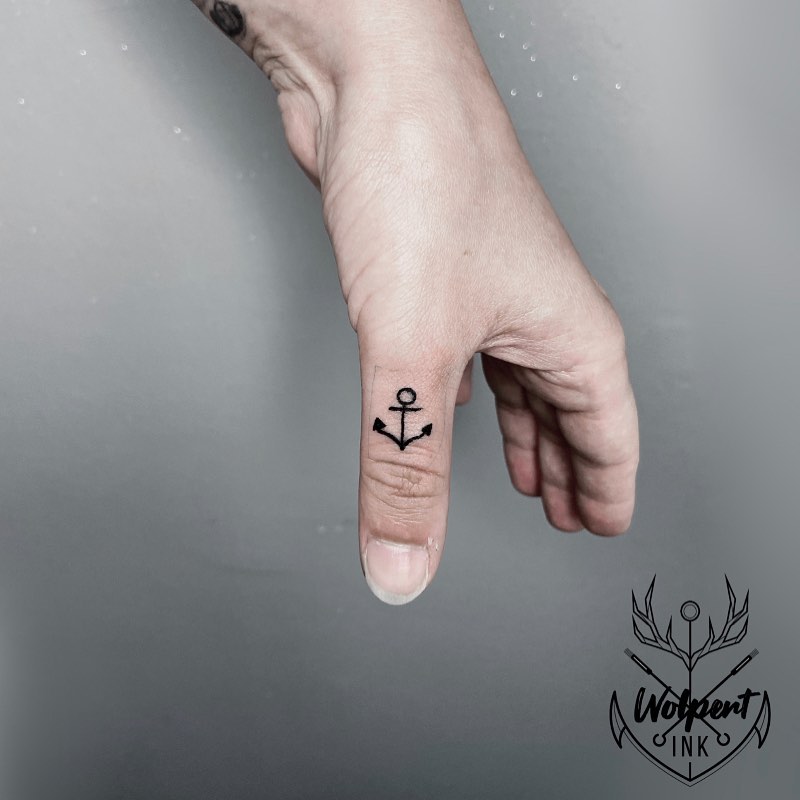 The anchor tattoo symbolizes stability, strength, determination and passion, and makes for an eye-catching design too! If you're looking to get an anchor tattoo on hand, get this tiny symbol on the thumb, or below the thumb. 
6. Scorpio Tattoo 
A scorpion tattoo is seen as a symbol of strength. Moreover, it also represents one's ability to control and protect oneself, loyalty, toughness, and strength. Though the design and the meaning might appear masculine, a design like this makes it worth getting inked. 
7. Luna Moth Tattoo
Went through a major life transformation or going through a change right now? Express it with a luna moth tattoo. The tattoo represents metamorphosis in someone's life, quest for knowledge, and self acceptance.  
8. Medusa Hand Tattoo
Lately, medusa tattoos have become a sign of power, strength, and protection. It is also a way to depict overcoming assault of any sorts. Though the design is a unique one, you can get this one for its actual meaning or even the aesthetic part of it. 
9. Dragonfly Tattoo Design
A dragon tattoo signifies power, bravery, and strength along with good fortune, courage, and prosperity. Though it is the clean and delicate design that makes it a popular choice among many people. 
Don't let that stop you from getting something you really want. Hope you have bookmarked some from our list of hand tattoos for women. 
More Tattoo Designs
Best Neck Tattoos For Women: Thinking of getting a tattoo? We have some great reccos for you. Here are some fab neck tattoo designs that you can check out.
Finger Tattoos For Women: Feeling enticed by the idea of getting a finger tattoo or planning to get one? We have curated some amazing finger tattoos for women for you to choose from!
Tattoo Designs For Women: Looking for some tattoo design inspiration? Here are some beautiful designs that will convince you to get inked.
Fashion Tattoo Ideas: Whether you are looking for a small tattoo, or a large one, check out some of the most stunning tattoo designs here! 
Couple Tattoo Designs: Matching couple tattoos have been gaining a lot of popularity! If you're looking for couple tattoo designs, check out some of the best ones here. 
Tattoo Aftercare Tips: Tattoos require extensive aftercare! If this is the first time you are getting inked, check out this article for some tattoo aftercare tips.
Tattoos For Girls: You've gotta check out these simple, yet awesome tattoo design ideas that will convince you to get one!   
Things People With Tattoos Are Tired Of Hearing: Here are some of the most ridiculous things that people with tattoos have heard at least once! 
Back tattoos for women:: Back tattoos are hands down the sexiest of them all! If you're looking to get one, check out some amazing back tattoo designs here! 
Featured Image: Instagram
© 2022 THE GOOD GLAMM GROUP