70+ Tattoo Designs For Women That'll Convince You To Get Inked!
Tattoos have been gaining a lot of popularity lately and we know why. They are undeniably sexy and give a sense of individuality. Now that you've prepared yourself for a tattoo, it is choosing the appropriate design that's hella tough. Well, if you have ever watched Tattoo Nightmares, then you know how a bad tattoo decision can be a real pain. But ladies don't worry, we've got your back. Here, we have scoured the internet for some of the best tattoo designs for women. Get ready to get inked!
Best Female Tattoos
Tattoos don't necessarily have to signify anything. You can get inked simply because you loved the design. However, you have to be careful with the type of design you choose, because that tattoo is going to be there forever. Don't worry, we are here to make your work easier with our list of the best female tattoo designs.
Flower Bracelet Tattoo
This simple floral bracelet design looks simply beautiful! Who needs jewellery when you can just have this amazing tattoo instead?
Delicate Dreamcatcher Tattoo
Dreamcatcher tattoos have been quite a rage lately. Dream catchers are associated with protection from bad spirits and dreams, and are believed to keep you safe. Even if you don't believe in this, you can get a dream catcher tattoo simply because it looks oh-so-beautiful! We're loving the delicate, simple design of this tattoo.
Also Read: Back tattoos for women
'Believe' Angel Wings Tattoo
Wings are among the most common tattoo designs for women. But we are specifically loving this design! The spread-out shape makes perfect use of the broad upper back area. Given its placement, you can flaunt it when you want to, or even choose to cover it up with high neck tops, if need be.
Flying Birds
Remember the collarbone tattoo that Taapsee Pannu's character had in the film Pink? Back when the film released, this tattoo design became quite popular. Birds signify freedom and independence, and we are loving how this design highlights the collarbone.
Sternum Tattoo Design
Sternum tattoos are painful but when done perfectly, they look absolutely beautiful! This leafy and floral design is simple, yet stunning.   
A Foliage of Dreams 
An unconventional spot for a delicate tattoo! If you want a tattoo just for yourself and not for others, this is the one for you.
Tulip & Pots
This Tulip vase tattoo is hella different and interesting. Ditch the regular flower motif and instead opt for this kind of design.
A Sunflower Stem
This single stem of sunflower looks so delicate and chic. And did you notice how the stem is made of words and not just a line? Interesting!
Cool Tattoos For Women
If you're getting inked for the first time, we recommend that you start with something small. The design could be a symbol, a flower, or an abstract form of something that you love. Even the smallest of tattoos can grab a lot of attention if the placement is right! Confused what design to pick? Check out these cool tattoo ideas for women that are hard-to-miss.
Floral Moon Tattoo Design
This simple yet stunning tattoo design for women exudes feminity, and we're loving the placement of the tattoo! It can also be easy to cover up in a professional setting.
Musical Note Tattoo
Behind-the-ear tattoos look really cool! Get these dainty musical notes inked and show your love for music. One of the perks of getting behind-the-ear tattoos is that they can easily be hidden behind your hair when you don't want them to be visible.
Book Tattoo
This one is for the bibliophiles! A book tattoo is a great way to show your love for books. The side of your wrist is a great place to get a simple design tattooed.  
Airplane Tattoo
If you are a passionate traveler, this tiny airplane tattoo is just perfect for you!
Stars Tattoo
If you want a really small tattoo with minimal fuss, then opt for this design. It gives a funky look, and we're loving it!
Pinned Heart
We love this unique take on the conventional heart-shape design. Instead of getting a regular heart, try this interlocked safety-pin in the shape of a heart.
The Mandela Effect
This small and sweet design is definitely hard-to-miss because of the unique placement. Hope this tattoo convinces you that you don't have to go OTT to make your tattoo noticeable.
The Abstract Design
We are in awe of this tattoo's simplicity. The design is minimal yet attention grabbing. It'll look totally beautiful on your ankle… Trust us!
Popular Tattoos For Women
It's often the minimalist tattoo designs that stand out, as opposed to ones that have too much intricate detailing. However, choosing stand-alone and popular tattoo designs can be a daunting task. Though the design options are endless, we have picked some of the best minimalistic and aesthetically pleasing tattoos for women that you've got to bookmark.
Ballerina Tattoo
This simple tattoo design for women looks really elegant, and is perfect for ballet lovers!
Sun & Moon Tattoo
Sun and moon tattoos not only look stunning, but they also signify the merging of two opposing powers and highlight their unity instead of conflict.  
Cat Tattoo
Are you a cat person? Show your love for cats by getting this minimal tattoo. We love how simple, and beautiful it looks on the wrist!
Zodiac Inspired Tattoo
Getting your zodiac sign inked is always a safe bet. This simple tattoo design for women looks beautiful, and can be inked either behind your ear, your ankle, or on your wrist.
Wave Finger Tattoo Design
Love the ocean and the waves? Then this simple tattoo design for women might be the right choice for you.
Flower Tattoo Design
How awesome is this simple flower design on the arm? The subtle 3D effect and clean lines makes it bookmark-worthy. Am I right?
 A Palm Tree
Nothing says beach lover like a small palm tree tattoo on the nape of your neck or the ankle. The palm tree symbolises finding your own paradise and we're here for it!
Couple of Kittens
This kitten tattoo is super duper adorbs! If you are a cat lover or wanna pay homage to your furry little friends then you should definitely consider getting this tattoo.
Sexy Tattoo Ideas For Women
Nothing screams sexy like a well designed tattoo. However, the level of sexiness of these tattoos is also directly proportional to the placement. Be it your collarbone, or your belly or the upper thigh, there's just so much you can do. Scroll ahead and take a cue from these sexy tattoo ideas for women that you need to try ASAP!
Angel Tattoo
This sexy tattoo is done beautifully, and it is the shaded details that add to its elegance. The tattoo occupies the upper back area and is definitely a beauty enhancer! Wear a tube top to show off this sexy tattoo that is sure to fetch you compliments.
Floral Collarbone Tattoo
What makes this tattoo design for women stand out is that it curls beautifully around your collarbone, highlighting them! The delicate details and the usage of colours enhances the tattoo design. Flaunt this tattoo every time you wear an off-shoulder top or dress!
Fierce Dragon Tattoo
We are loving this sexy tattoo design! While the tattoo itself is stunning, its upper thigh placement is what adds to the beauty.   
Floral Back Tattoo
This floral tattoo couldn't have had a more perfect placement! It is inked smack in the center of the shoulder blades, and beautifully decorates your back. Wear a backless dress, flaunt this sexy tattoo, and make a statement!
Floral Creeper Side Tattoo
Side tattoos are undeniably sexy! If you love delicate floral designs, opt for something that flows along your curves and looks beautiful. Side tattoos can be painful, but if you can handle that, the result is worth it!
Back Thigh Abstract Tattoo
 The Oh-So-Sexy Style
This under bust sternum tattoo design is hella seductive and alluring. And does it not remind you of Rihanna's tattoo? If you've been wanting to get a tattoo like her, then take this as your sign.
Moons & Stars
Nothing says sexy like a tattoo on your thigh… higher than anyone can expect! And we love the unique take on the moon and star design.
Hot Tattoo Designs For Females
We all have those days when we feel low and lost and need a little motivation. How awesome would it be to have a constant reminder of how amazing life is, right? An inspirational tattoo can be a quote, a symbol or a visual representation of something that gives you strength. Scroll down for ideas on inspirational tattoos for females.
Be Brave Tattoo
We could all use a constant reminder to be brave in tough situations. If this simple quote motivates and empowers you, go get it inked!
C'est La Vie Tattoo
This famous French expression translates to 'that's life' in English, and is all about accepting your situation, and moving on no matter what. Not only does it have great meaning, but the tattoo also looks amazing when done neatly.
Phoenix Tattoo
Phoenix has great symbolic significance and this mythical bird is associated with immortality, resurrection and rebirth. Phoenix is known to be reborn from the ashes, and a phoenix tattoo signifies strength and overcoming challenges in the face of adversity.
'Things Change' Script Tattoo
Doesn't this tattoo look amazing? Not just that, it can also serve as a reminder that things really do change over time. Also, the placement of this script tattoo is perfect!
Fighter Tattoo
This tattoo is a great reminder to keep fighting when the going gets tough. The sunflower at the end of the word is what adds beauty to this tattoo.
Good Things Take Time
You Are Enough Tattoo
Indeed you are enough, and in case you think you are not, then this is the tattoo that'll constantly remind you of your worth.
Do It Anyway
Are you indecisive and an overthinker? Well, this tattoo will be a reminder that you don't have to think about it so much and just do it anyway. 
Unique Tattoos For Female
Some tattoo designs have become far too cliché and common. While there's nothing wrong with that, they don't always reflect your personality. Instead, you can opt for something that's unique and resonates with you. If you need some inspiration, do check out these unique tattoo ideas for women that might steal your heart.
Anime/Manga- Inspired Tattoo
Show your love for anime and manga through your tattoos. There are many options for anime/ manga-inspired tattoo designs, and needless to say, they look so badass and stunning! Go ahead and pay tribute to your favourite anime series and films.
Medusa Tattoo
This one is an unconventional tattoo design for women. While some consider the Medusa tattoo as a feminist symbol, some associate it with rage. Some get the tattoo simply because it is so fierce-looking!
Lion Tattoo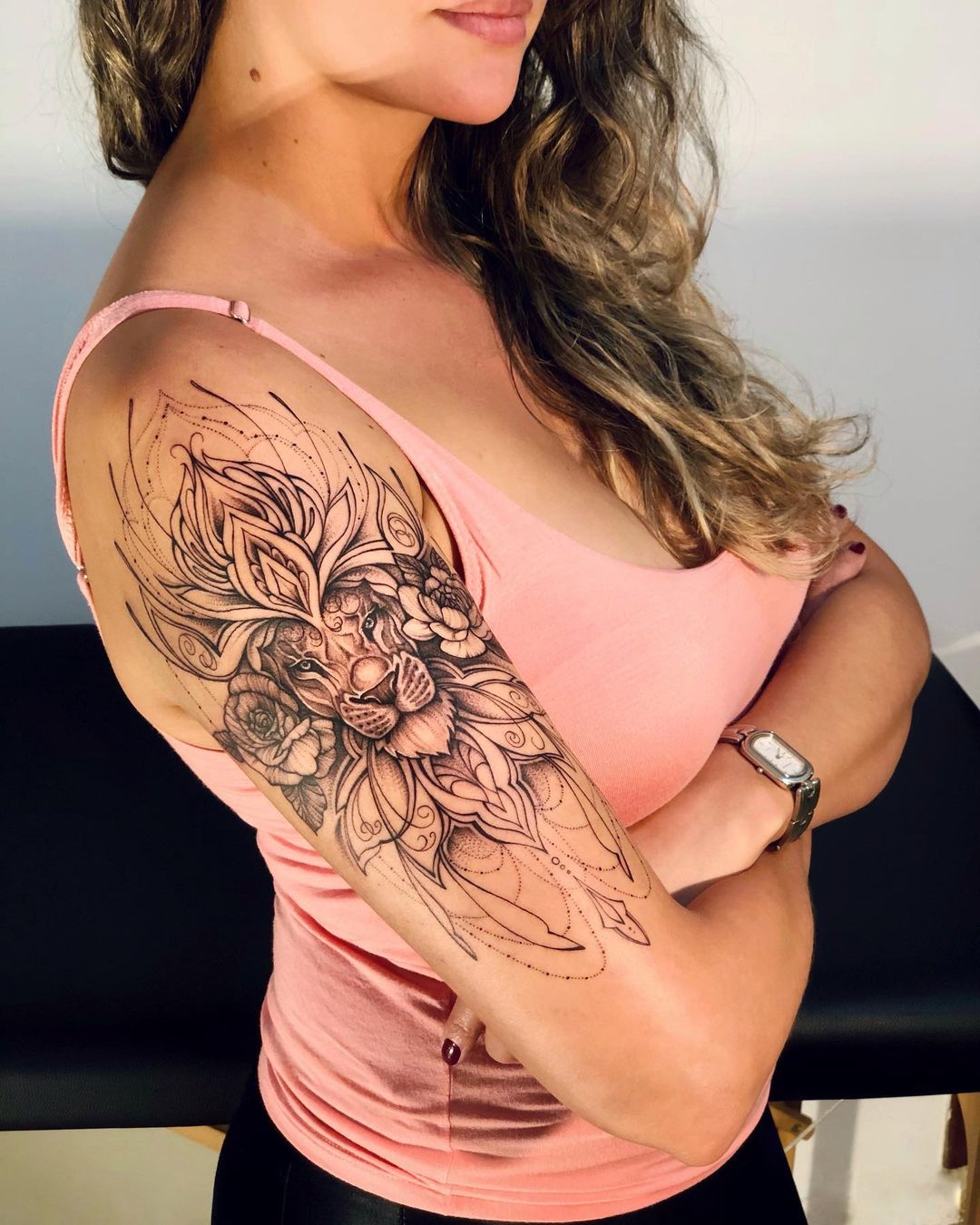 Lion tattoos signify strength, bravery, courage and fearlessness. An elaborate lion tattoo like this one can make a powerful statement about your personality!
Wrist Bracelet Tattoo
Jewellery inspired tattoos are currently in trend. This beautiful wrist tattoo is sure to garner a lot of attention, without it being too flashy.
Constellation Tattoo
Constellation tattoos have gained popularity in recent years, and this is a great tattoo design idea for all those who love science, horoscopes, and stars!
For Friends & Family
Honour your friends and family in a unique way like this tattoo that marks all the special years of your life. Not only is it different, but minimalistic and chic too.
Fine Line Tattoo
Unique, simple and elegant, you can never go wrong with finger tattoos. However, do know that a tattoo on your finger tends to fade away a lot quicker than other areas of your body.
Geometric Tattoo
Trendy and unique, we bet you haven't seen a tattoo design like this. For maths enthusiasts, Sci-Fi lovers or the unconventional kinds, this design is one to bookmark.
Beautiful Tattoos For Women
Tattoos are not only a way of decorating your body but also a symbol of your individuality. Getting inked is a lifetime commitment and there's no going back. Needless to say then, the design has to be beautiful. We have found some very beautiful tattoos for women that are worth your time!
Sternum Lavender Tattoo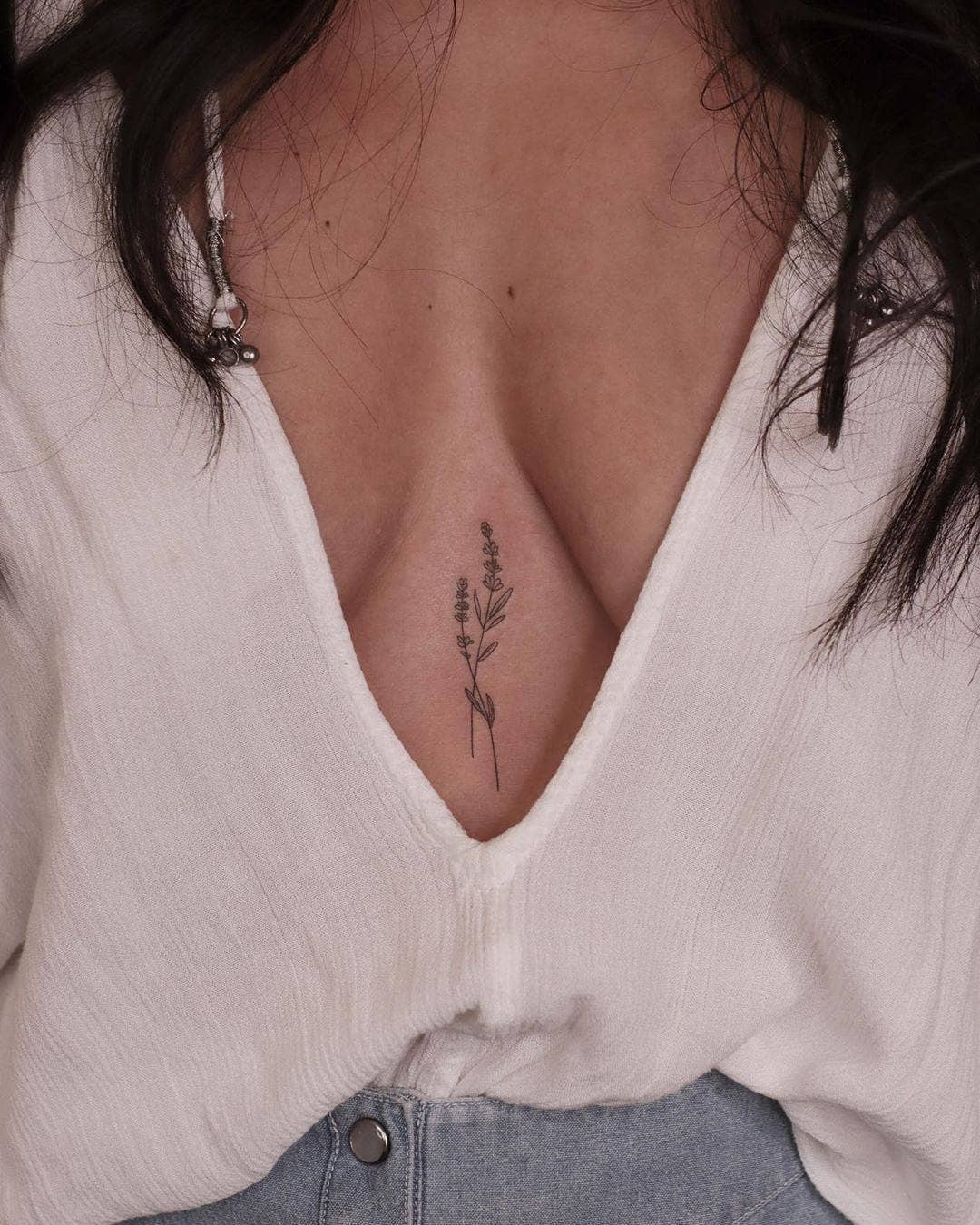 The simpler the tattoo designs are, the more beautiful they look! This lavender tattoo design proves just that. Wear a top or a dress with a plunging neckline, and show off your sexy tattoo.
Floral Shoulder Tattoo
Floral tattoos are never going out of style, mainly because of how beautiful they look! While florals are associated with femininity, it is perhaps due to the placement of this tattoo that this design looks striking and bold.
Floral Crescent Moon Tattoo
What's not to love about this tattoo? Neither basic nor over-the-top, this crescent moon tattoo design is simply beautiful!
Dragon Dotwork Tattoo
How stunning does this dragon tattoo look? It's the beautifully shaded areas made through dot work that make this design stand out!
Shaded Rose Tattoo
A single rose with leaves can make for a beautiful tattoo design when shaded as flawlessly as this!
Abstract Grass Tattoo
Clean, delicate, and sleek….this abstract grass tattoo is simply beautiful and will definitely make you run to your nearest tattoo parlour. 
Fairytale Tattoo
Have your own fairytale moment with this fairy tattoo which is totally adorable. And we love the star detailing that makes it oh-so-special.
Butterfly & Rose Tattoo
Not able to decide between a floral and a butterfly design? Well, take a look at this tattoo and get inspired to combine them both for one beautiful design.
Latest Ladies Tattoo Designs
There are some really cute tattoo designs for women that we came across, and couldn't resist sharing with you guys. Your tattoos don't always have to be badass and sexy, they can also be delicate and adorable. Scroll down for our selection of latest ladies tattoo designs for women.
Moon and Leaves Bracelet Tattoo
This tattoo design for women has a symmetric design and is eye-catching! It gives a bracelet-like appearance and its thin outlines make the design look really cute and delicate.
Moon Phases Tattoo
The phases of the moon signify your ever-changing life and highlight that whatever you're going through right now, will pass eventually. Not only does this tattoo design look cute, but it also has a beautiful meaning behind it.
Golden Snitch Tattoo Design
Potterheads are going to love this cute tattoo for women! The golden snitch tattoo is minimal and simple and is sure to grab a lot of attention, especially from Harry Potter fans.
Shell Design
If you are a true beach lover, you can get this cute little seashell tattoo inked. It will bring back some fun memories every time you look at it.
Tiny Avocado Tattoos
These cute avocado tattoos are perfect if you and your BFF are looking for fun and goofy tattoo ideas!
Cupid Tattoo
We can't stop gushing over this super cute tattoo of two cupids in love. Share it with a friend or get this design done yourself.
Hearty Heart
Want a heart tattoo but can't find the perfect one? How about this one? This double tattoo is clean and minimalistic and tots adorbs.
Teddy With Wings
Nothing says cute like a teddy tattoo. And if you add wings and a halo to it, then its a total mush fest!
Meaningful Tattoos For Women
A meaningful tattoo can speak a lot about your personality. It can give a sneak-peek into the kind of person you are, your interests, choices, and a lot more. Check out our list of some meaningful tattoos for women that you can get!
Symbolic Tattoo
In case you didn't realize, the tattoo reads 'God is greater than the highs and the lows.' We love how creatively the few symbols have been used to make a meaningful sentence in short. You can also try and create your own version, with a quote or sentence you like!
Wolf Mandala Tattoo
A wolf tattoo looks fierce and it signifies loyalty, love and unity. It can reflect the importance you give to your loved ones and your family.
Butterfly Tattoo
Not only do butterfly tattoos look really cool, but they also signify metamorphosis, rebirth and change. We are especially loving the placement of this tattoo. It looks simple, yet uber-cool!  
Deer Antler Tattoo
The deer antlers are a very popular tattoo design all over the world. Symbolically, deer is associated with beauty, grace, nobility, and power. This tattoo design for women looks great on the back and will look equally amazing on your wrist.  
Anchor Icon Tattoo
The side of your wrist is the perfect place to get this anchor tattoo! The anchor symbolizes stability, strength, determination and passion.
Phoenix
Phoenix symbolises overcoming challenges and attaining victory. We all have overcome some kind of hardships in one way or the other. So if you wanna honour your brave soul, then this is the tattoo for you.
Together Forever 
The tattoo symbolises strength, intimacy, peace and comfort in a relationship. If you are looking for a design that matches this description, then you've found the one. 
Name & Date Tattoo
Lost a loved one or gained a new family member? This tattoo is what you can get to honour that person. 
Related Stories
Best Neck Tattoos For Women: Thinking of getting a tattoo? We have some great reccos for you. Here are some fab neck tattoo designs that you can check out.
Shoulder Tattoos For Women: Whether you are getting a tattoo for the first time or are looking for your next set of ink, these tattoo designs will surely appeal to you.
Finger Tattoos For Women: Feeling enticed by the idea of getting a finger tattoo or planning to get one? We have curated some amazing finger tattoos for women for you to choose from!
Tattoo Aftercare Tips: Tattoos require extensive aftercare to avoid any infections or complications. Check out these aftercare tips! 
Couple Tattoo Designs: Are you and your partner planning to get couple tattoos? Then you must check out these amazing, quirky designs. 
Fashion Tattoo Ideas: Take a look at some famous celebrity tattoos, symbolic tattoos and more! 
Best Tattoo Artists In Delhi: So you've decided which tattoo you finally want! The next step would be to choose a tattoo artist. For your ease, we have compiled a list of the best tattoo artists in Delhi. 
List Of Best Tattoo Artists & Studios In Bengaluru: You've got to check out this list if you're looking for the best tattoo artists in Bengaluru! 
Hygienic Tattoo Parlours In Goa: Here's a list of the 5 best tattoo parlours in Goa that are safe, and hygienic. 
Hand tattoos for women: If you're looking to get a tattoo, hit the link for some amazing ideas on hand tattoos for women!
We hope this list of tattoo designs for women helped inspire your next ink! 
Featured Image: Pexels
© 2022 THE GOOD GLAMM GROUP