Thinking of getting a tattoo? Well, whether it is your first or fifth, the feeling of getting inked is always thrilling. It's not just about aesthetics, it is also about defining yourself, your passions and your interests.
Well, if you agree with us and if you're planning on getting inked, then we have some great reccos for you. Here are some fab neck tattoo designs that you can check out. They're super cool, really stylish and hella chic. We're sure you are going to love it so here are the best neck tattoos that you need to bookmark STAT!
Best Neck Tattoos For Women
Whether you are looking for something cool, funky or meaningful, we have got you covered. From the back of the neck to the side of it, these designs will help you in whatever style of tat you're planning on. Here are some neck tattoos for women that you can get or suggest to someone who's looking for amazing options.
Small Side Neck Tattoo Designs Female
If we are being completely honest, neck tattoo designs might hurt a little if it's your first time getting inked. The skin on the neck area is thinner than the rest of your body and hence the process will pain a little more than you expect. But wait, we are not trying to scare you off. On the contrary, we have a perfect solution for you. Here are some awesome small side neck tattoo designs for females that you can get before you for the big ones.
Words That Matter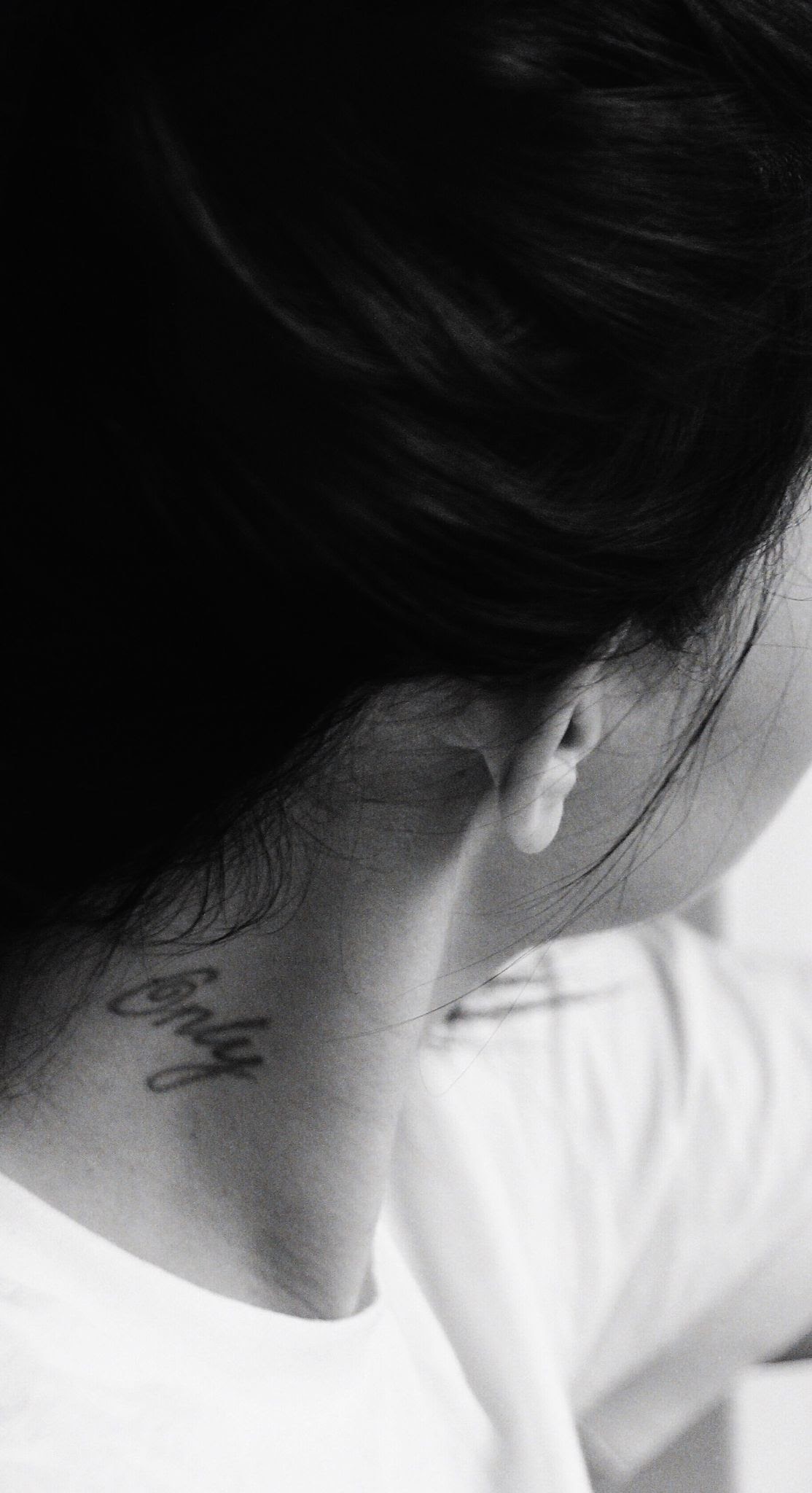 A perfect idea for a neck tattoo design that won't hurt much and would look classy as well is to get a word inked. It can either be your name, that of your parents, partners, or a loved one. It can also be a meaningful word that holds a lot of importance in your life.
Beach/Mountain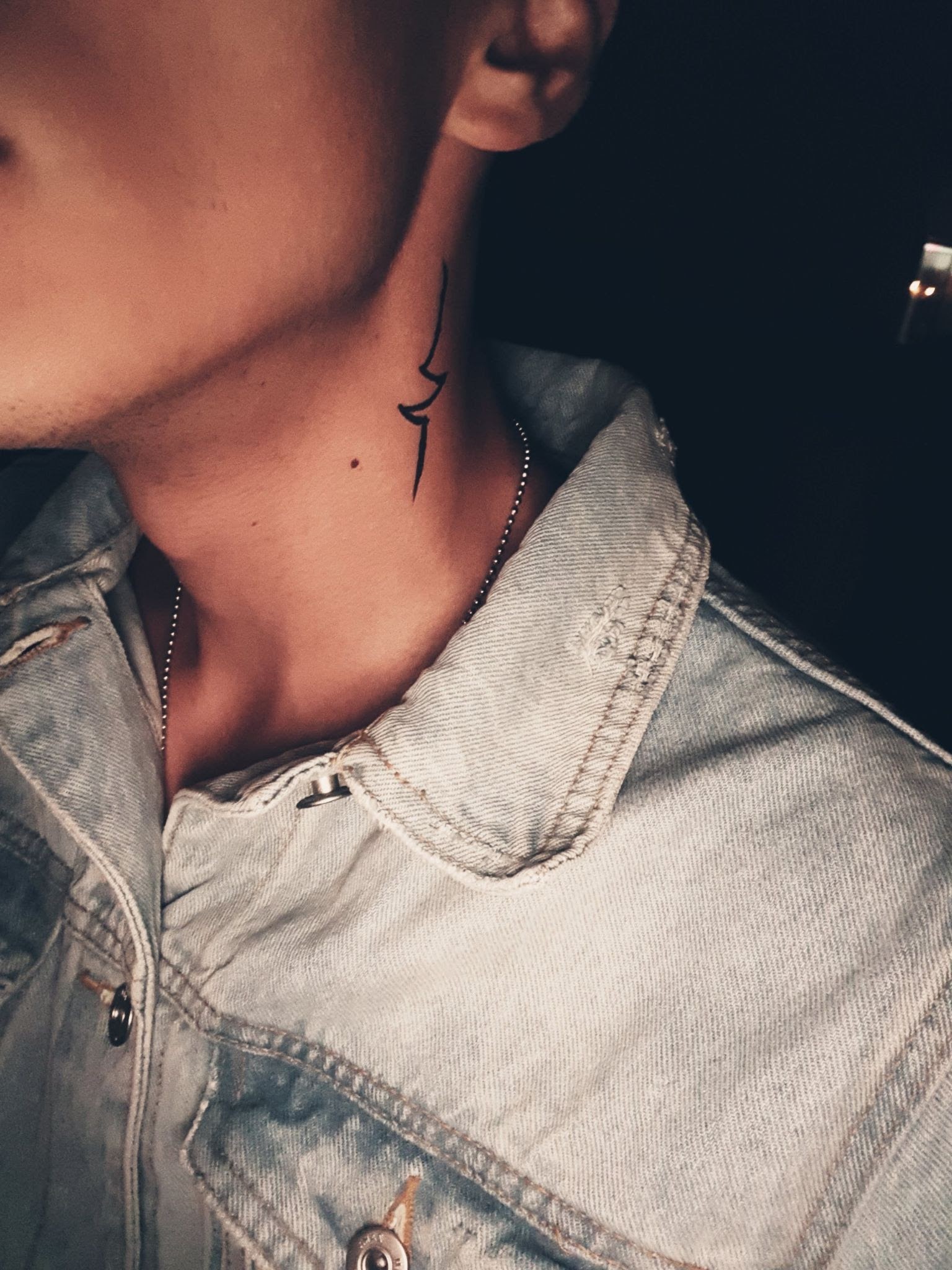 Whether you are a beach baby or a mountain monk, you can dedicate your love to nature with this stunning neck tattoo design.
Butterflies & Stars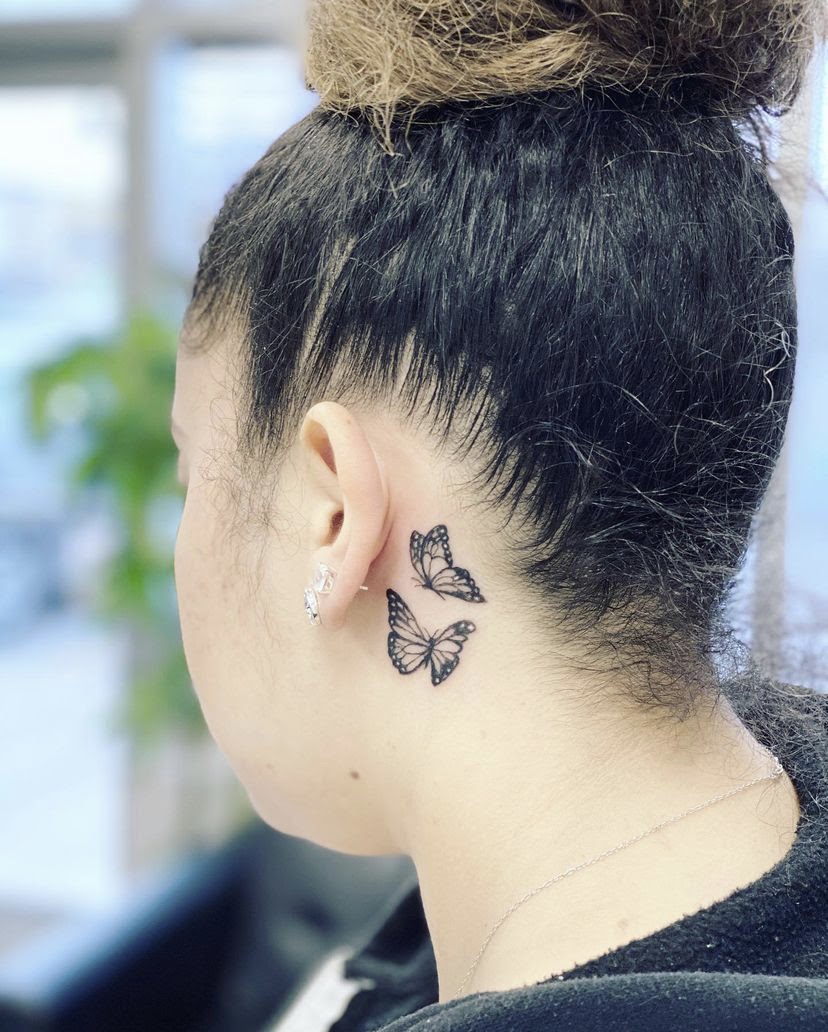 If you are someone who loves cute neck tattoo designs then we suggest that you close your eyes and get something similar to this. Instead of butterflies, you can get stars, a moon or a bird of your choice inked as well.
Cute Neck Tattoos For Females
If you are someone who does not love bold or dramatic designs, then you need to check these cute neck tattoos for females. They are intricately designed with precision and quite remarkable.
Li'l Birdie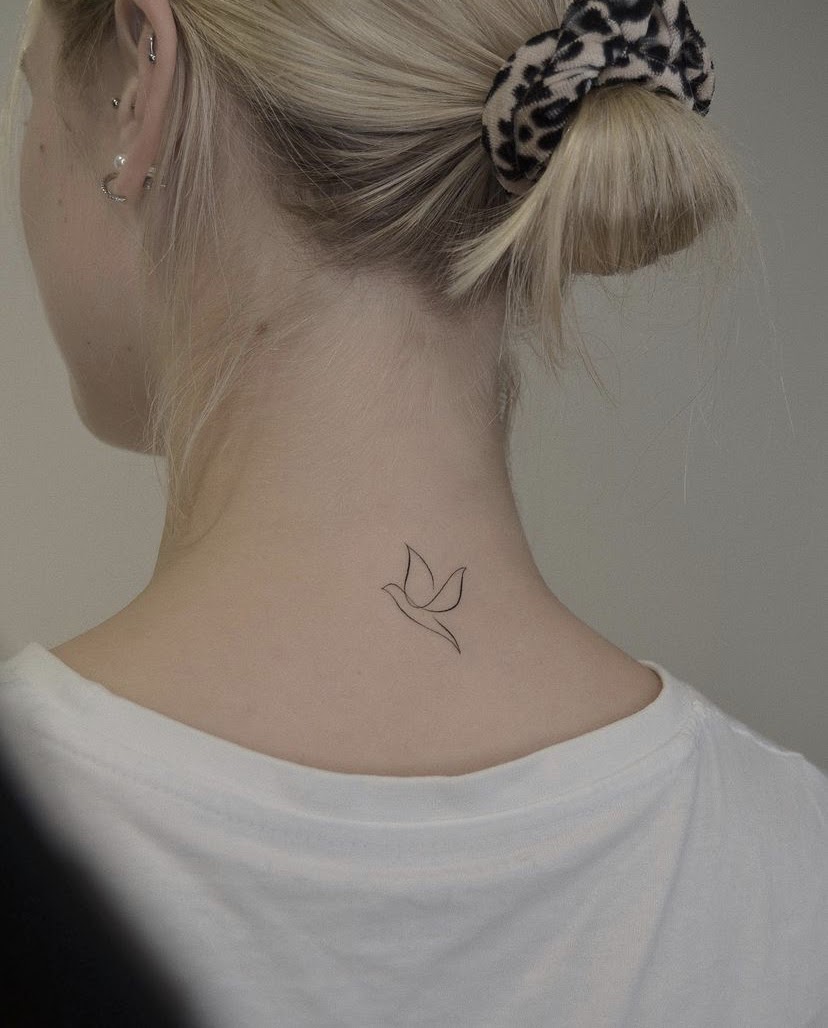 You can get the outline of a bird tattooed on your neck as it looks delicate and extremely clean plus cute.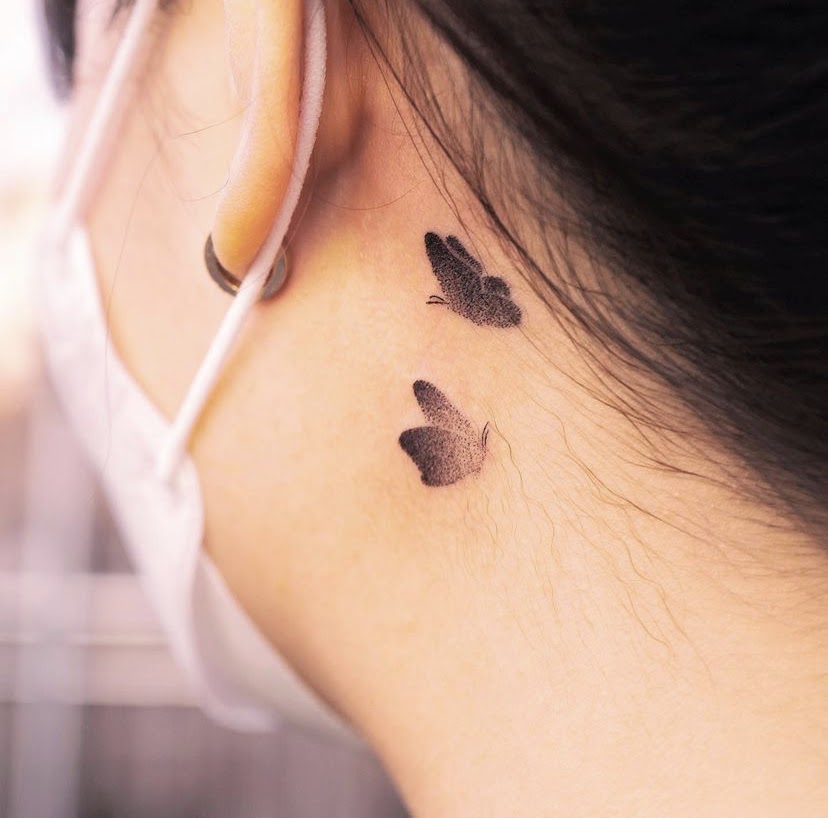 Another way to make your neck tattoo design remarkable is by filling it up. Get a small-sized tattoo of butterflies or an object of your choice, and fill it with shading.
Trees & Nature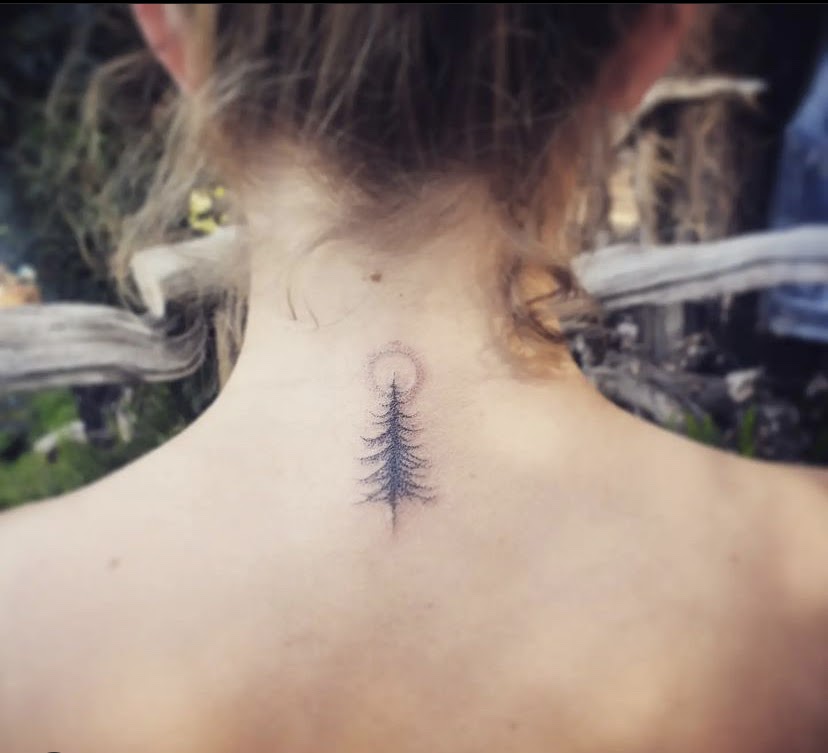 Apart from mountains and beaches, you can also get these cute trees and sun tattooed on your neck as they look extra chic.
Side Neck Tattoo Designs For Females
Here are some more side neck tattoo designs for females that you can bookmark STAT!
Big Butterflies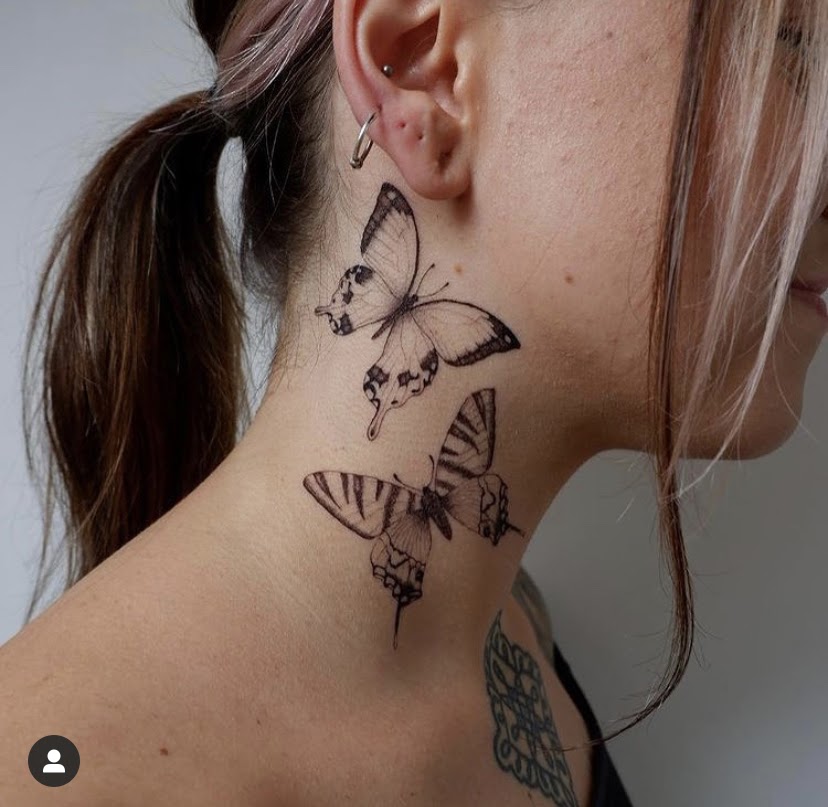 Another awesome way to make your cute neck tattoo design visible from afar is by enlarging its size. If you are someone who has ample experience with getting inked, then you can defs go ahead with this tat that covers your nape completely.
Hello Tigress!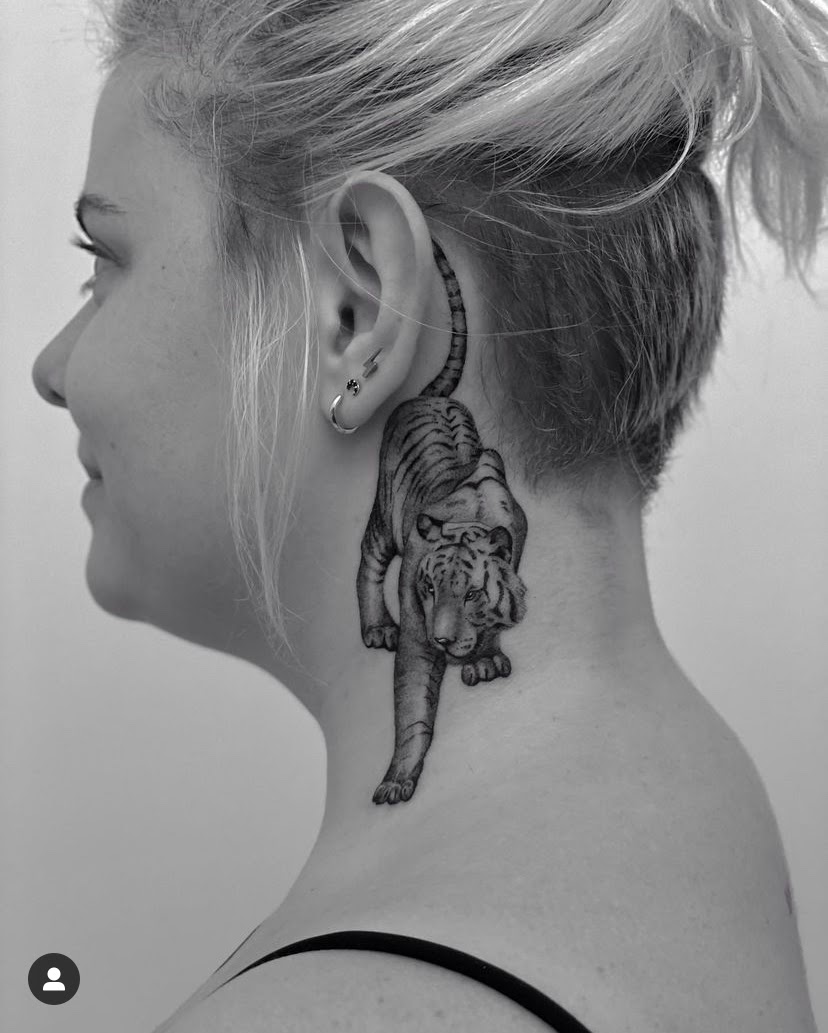 If you don't want to go with anything cute and delicate and instead want to try something bold, then this side neck tattoo design for females can be ideal for you. While in the pic it's a tigress, you choose your spirit animal as well.
Add A Pop Of Colour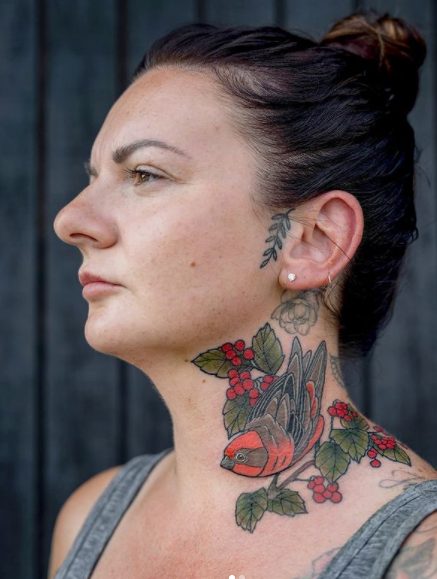 You can always make your neck tattoo design stand out in the crowd by filling it up with colours. While it may require several sessions with your tattoo artist, it is going to be worth it!
Back Of Neck Tattoos For Females
If you are someone who loves tattoos but is apprehensive about getting one, then we have a solution for you. Here are neck tattoos for females that you can get on the back of your neck.
Cute & Minimalistic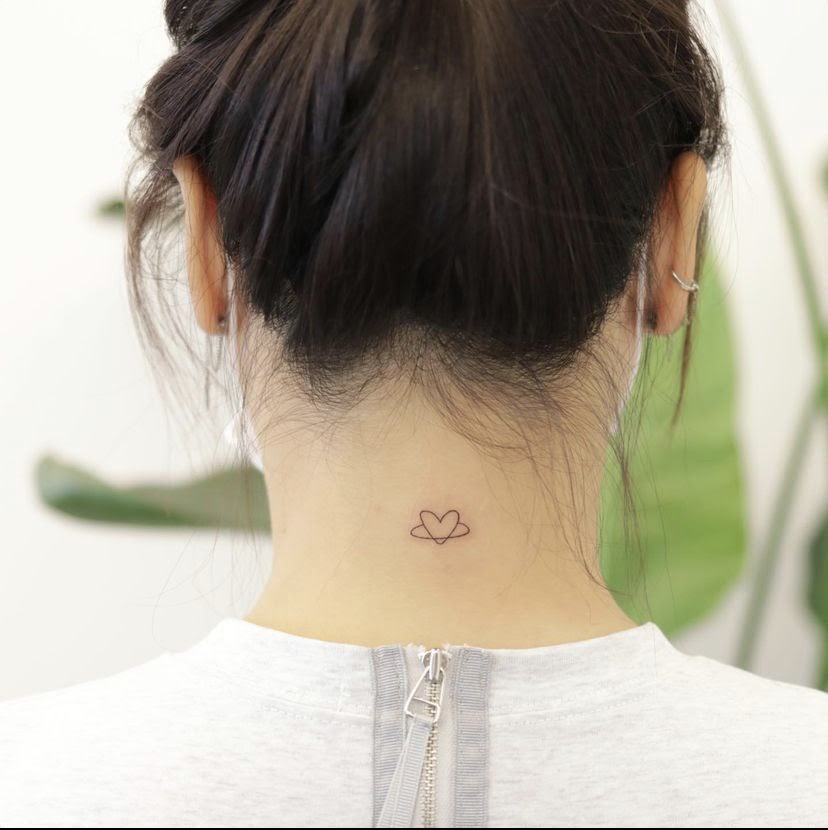 Choose a minimalistic design if you're someone who likes to keep things simple and casual. You can hide it by letting your hair loose and flaunt it by tying up your tresses. Isn't that a win-win?
A Little Spiritual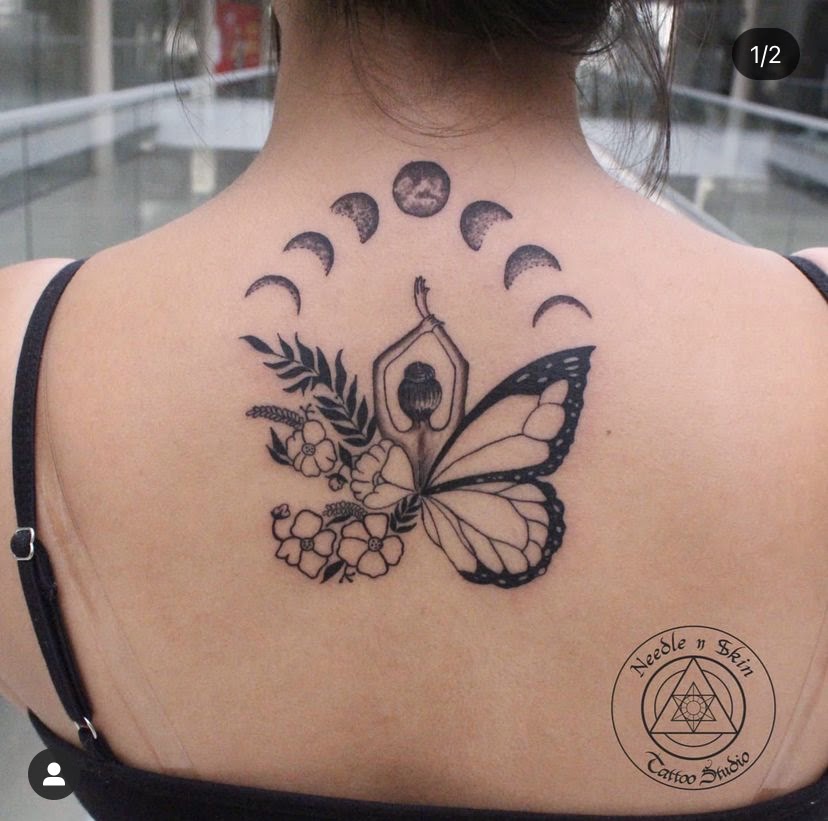 If you are someone who believes in the concept of evolution and the power of the universe, then you can go with this tattoo. The phases of the moon and the free-spirited butterfly depict different aspects of life.
Horizontal Tats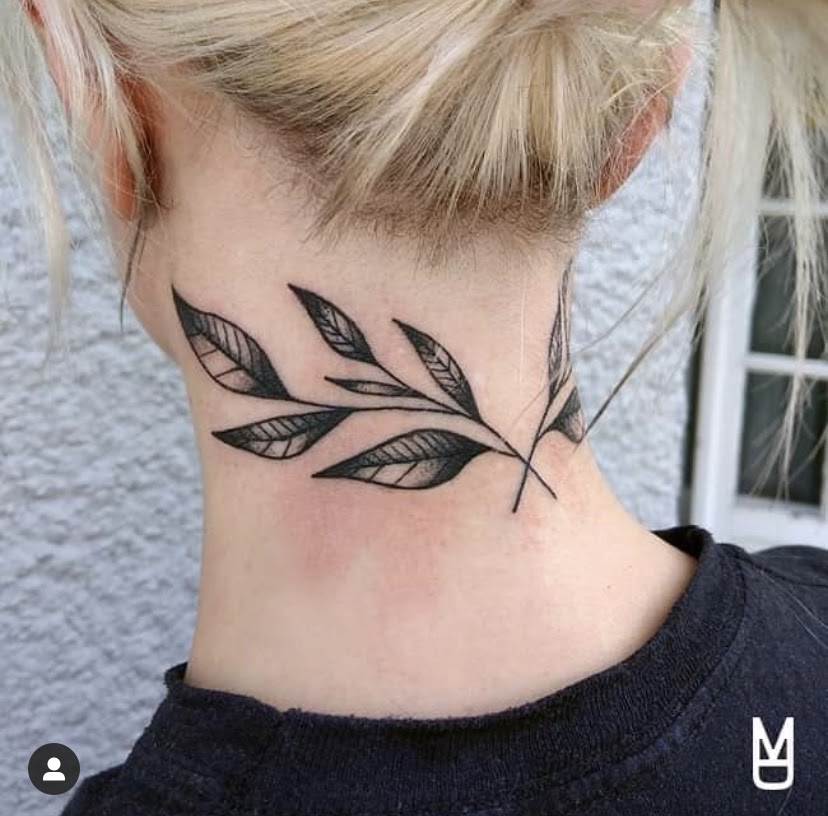 Instead of going with a neck tattoo design that's in a vertical alignment, choose something that is horizontal. It will cover the width of your neck and will look different from most neck tattoos. 
Front Neck Tattoo Designs Female 
Front neck tattoo designs for females can be a little tricky. But, if you are sure that you can ace this look with ease, then we have some really bold options for you.
Layer It Up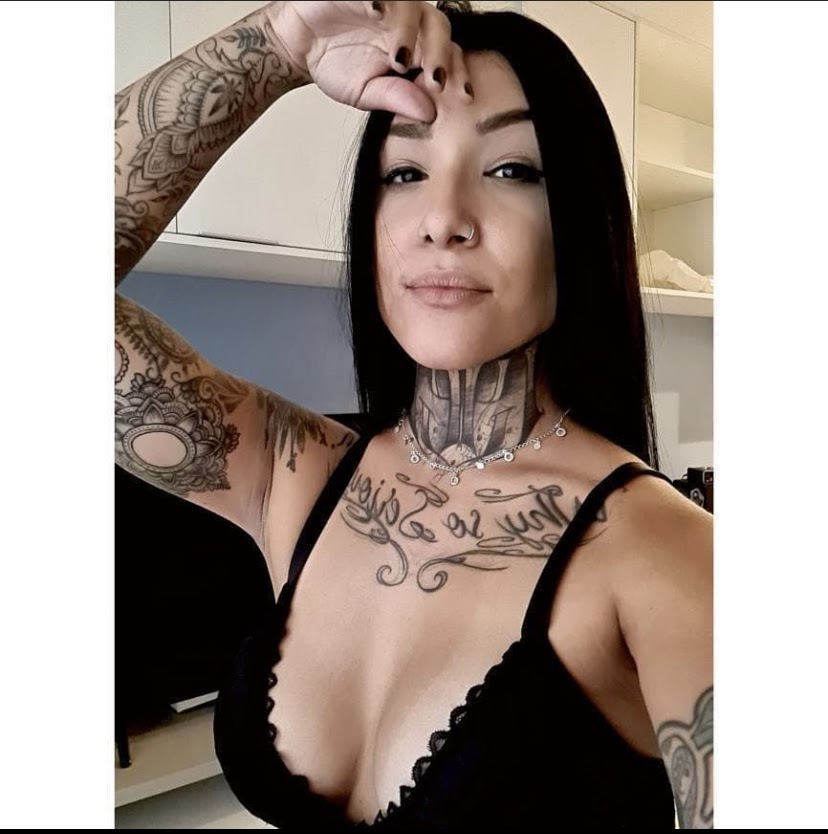 Instead of covering just the front portion of your neck, layer it up by getting designs below your collarbone as well. It will make your tattoo look even fuller.
Coloured Ink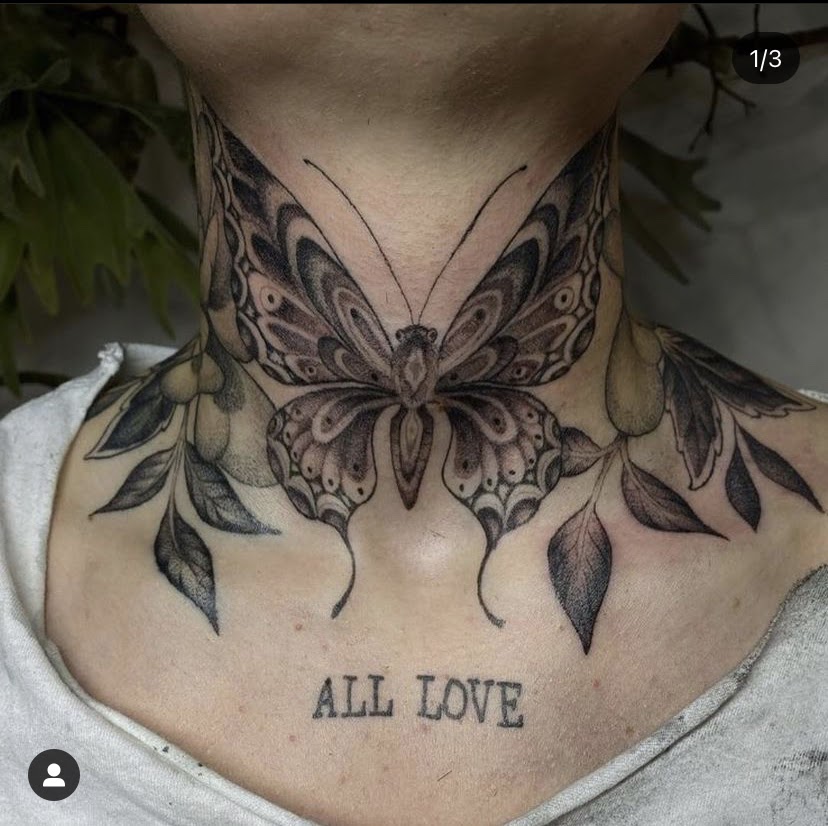 Front neck tattoos for women look even more appealing when there's a bit of colour added to them. You can go for subtle shades as they will go with every outfit.
Throat Mandala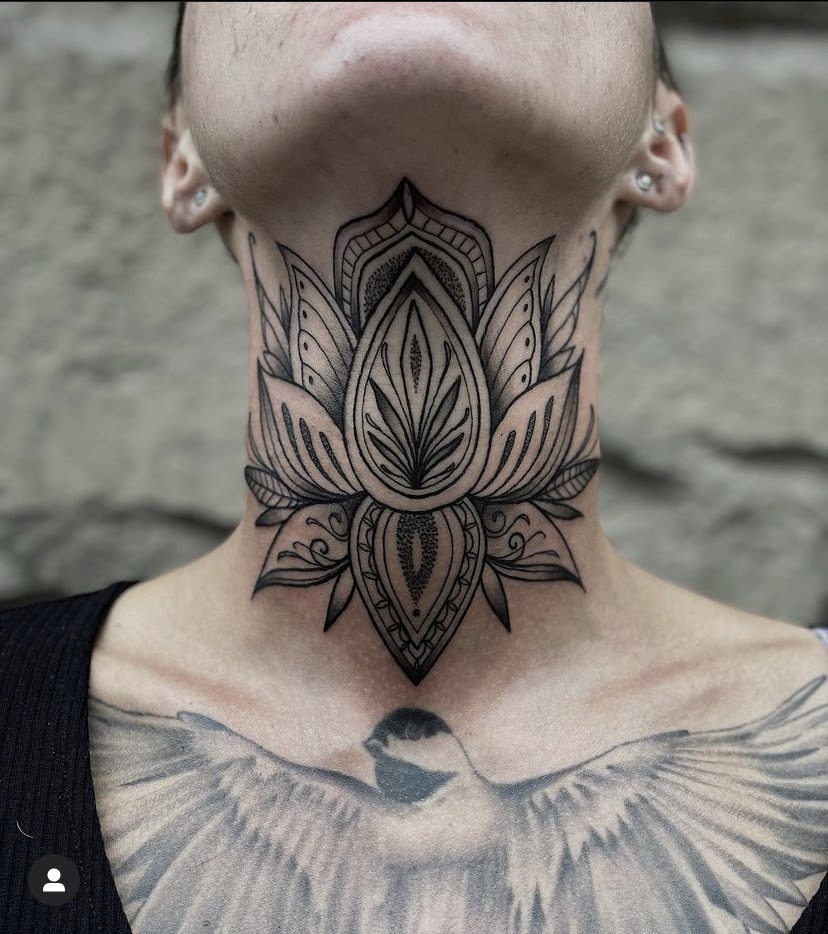 You can unleash the artist in you by going for an intricate mandala inked all over your throat. It will give you a boho and chic look.
More Tattoo Designs You Will Love
If you loved these neck tattoo designs, then here are some more options for you to bookmark right away:
Tattoo Designs For Women It can be difficult to decide which tattoo to get since it is going to be on your body for the rest of your life. If you're looking for some tattoo inspiration, then we have compiled our favourite tattoo designs for women that you can check out. 
Hand Tattoos for Women Hand tattoos have been gaining a lot of popularity in recent years. Here we have compiled some beautiful hand tattoos for women that will help you make the right decision!
Couple Tattoo Design  If you and your partner are planning on getting inked, here are a few couple tattoo ideas you'll love. With so many options available, every couple is sure to find something they like.
Stylish Tattoo Ideas If you are planning your first tattoo and are confused about what tattoo to get, here are some ideas to get inspired. These tattoo ideas right here will get you excited about getting inked.
Tattoo Ideas for Instagram If you've been thinking of getting inked, then here are some awesome tattoo ideas to get you started! You can flaunt these on Instagram and make so many heads turn!
Minimalistic Tattoo Ideas Do you like tiny tattoos that mean a lot but are hidden in tiny little corners of your body? Well, it has benefits as you can choose exactly when to reveal them and when to hide them. It's like your body is a canvas and the tattoos are the art you choose to put on it. So here are some minimalistic tattoos options for you.
Hope these neck tattoo designs inspired you to get inked right away!
Featured Image: Instagram