Tattoos are not going out of style anytime soon! In fact, they are more popular now than they have ever been. While some see it as a way of expressing their individuality, others are more inclined towards the aesthetic side of getting inked. Off late, finger tattoos have been on the rise among young women, and it is undeniable that they look really cool! Feeling enticed by the idea of getting a finger tattoo or planning to get one? You've come to the right place. We have curated some amazing finger tattoos for women for you to choose from!
Also Read: Back tattoos for women
Classy Women's Finger Tattoos
Choosing the perfect finger tattoo can be quite a challenging task, especially since there are so many tattoo designs available online. To make your work easier, we have compiled some of the best, and the classiest women's finger tattoos to inspire your next ink. Take a look! 
Name Finger Tattoo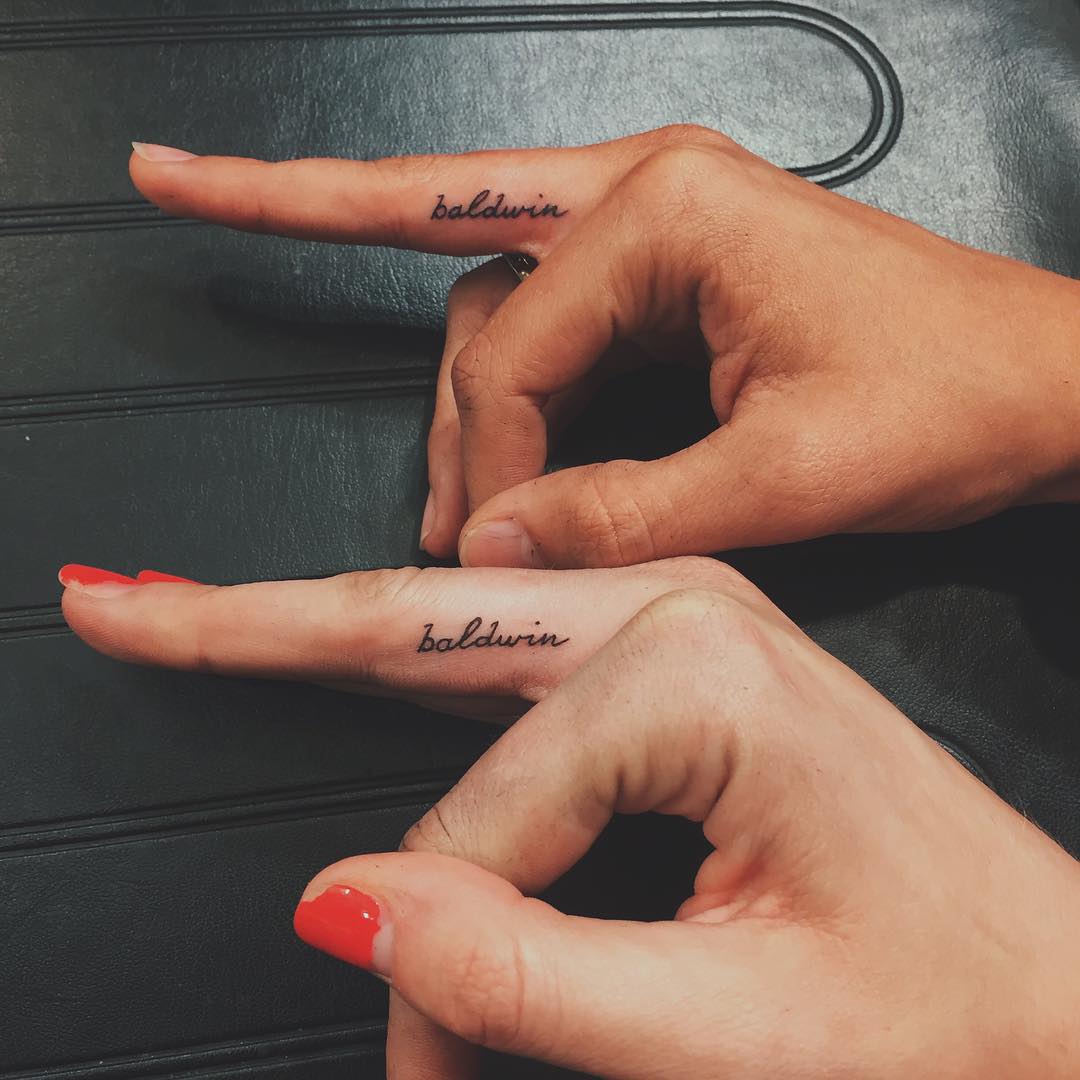 The side of your finger is a great place to get inked. You can flaunt it when you want to, or keep it hidden partially when you choose to. Hailey Baldwin and her cousin Ireland got matching finger tattoos with their last names, and we gotta say, it looks simple yet stunning! 
Floral Side Finger Tattoo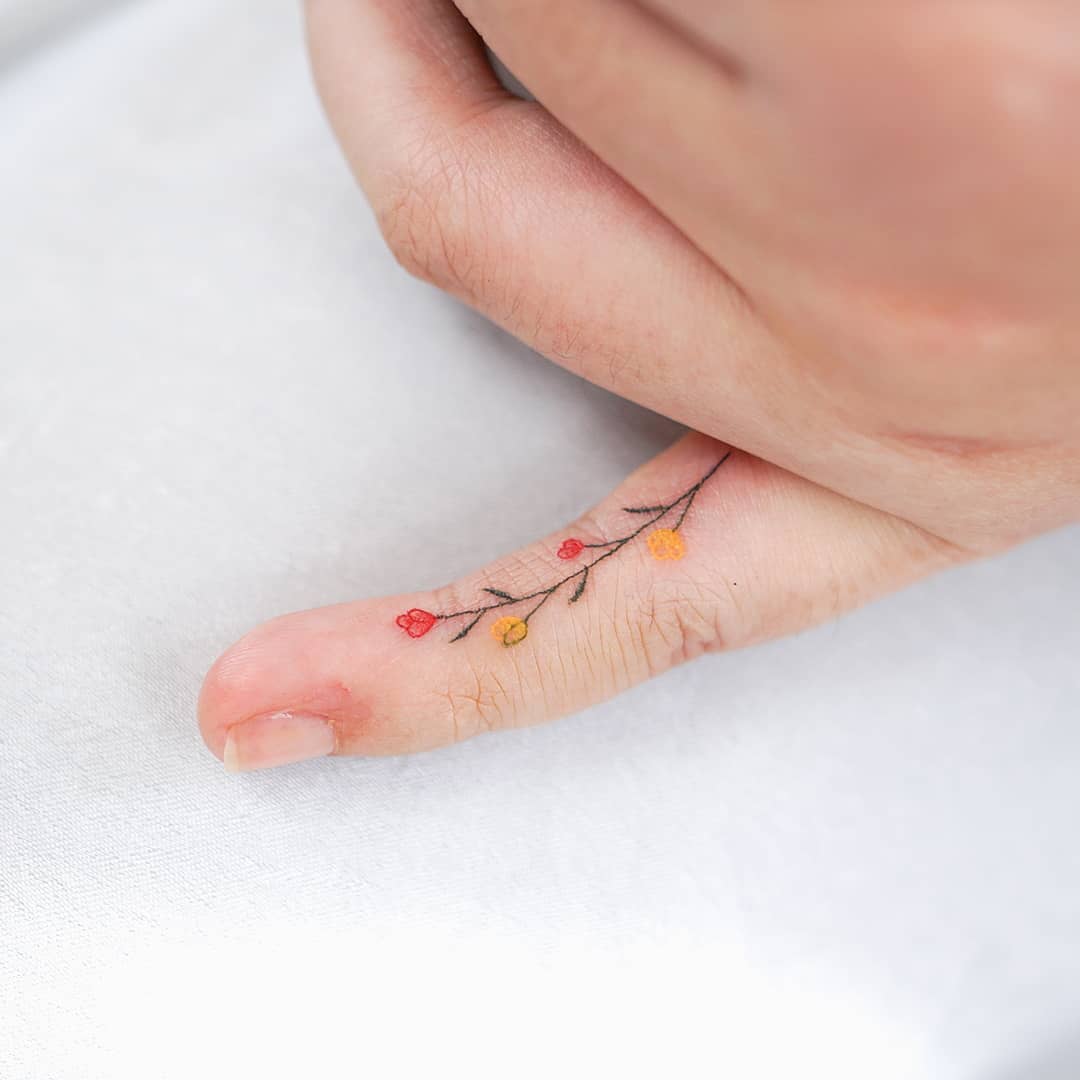 It's amazing what a huge difference a pop of bright colours can make, especially in floral tattoo designs. This classy women's finger tattoo is perfect if you're looking for something pretty and feminine. 
Lion Tattoo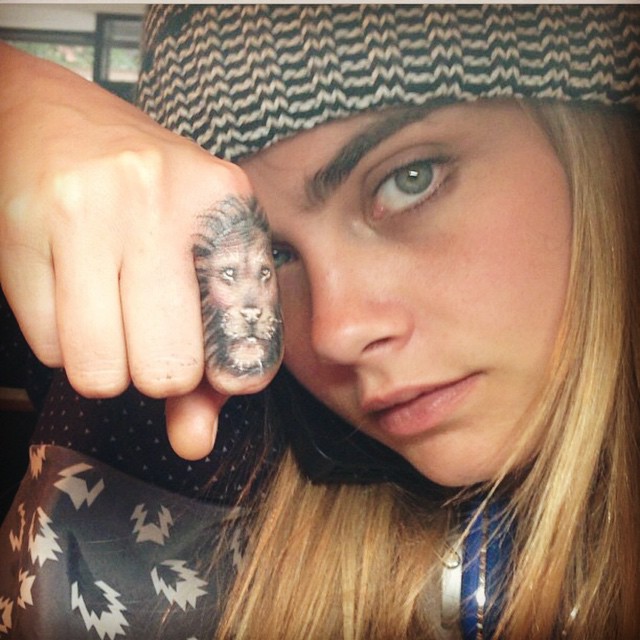 Lion tattoos signify courage, bravery and power. It's a meaningful tattoo and while it may be a common one, it isn't going out of trend anytime soon! 
Snake Finger Tattoo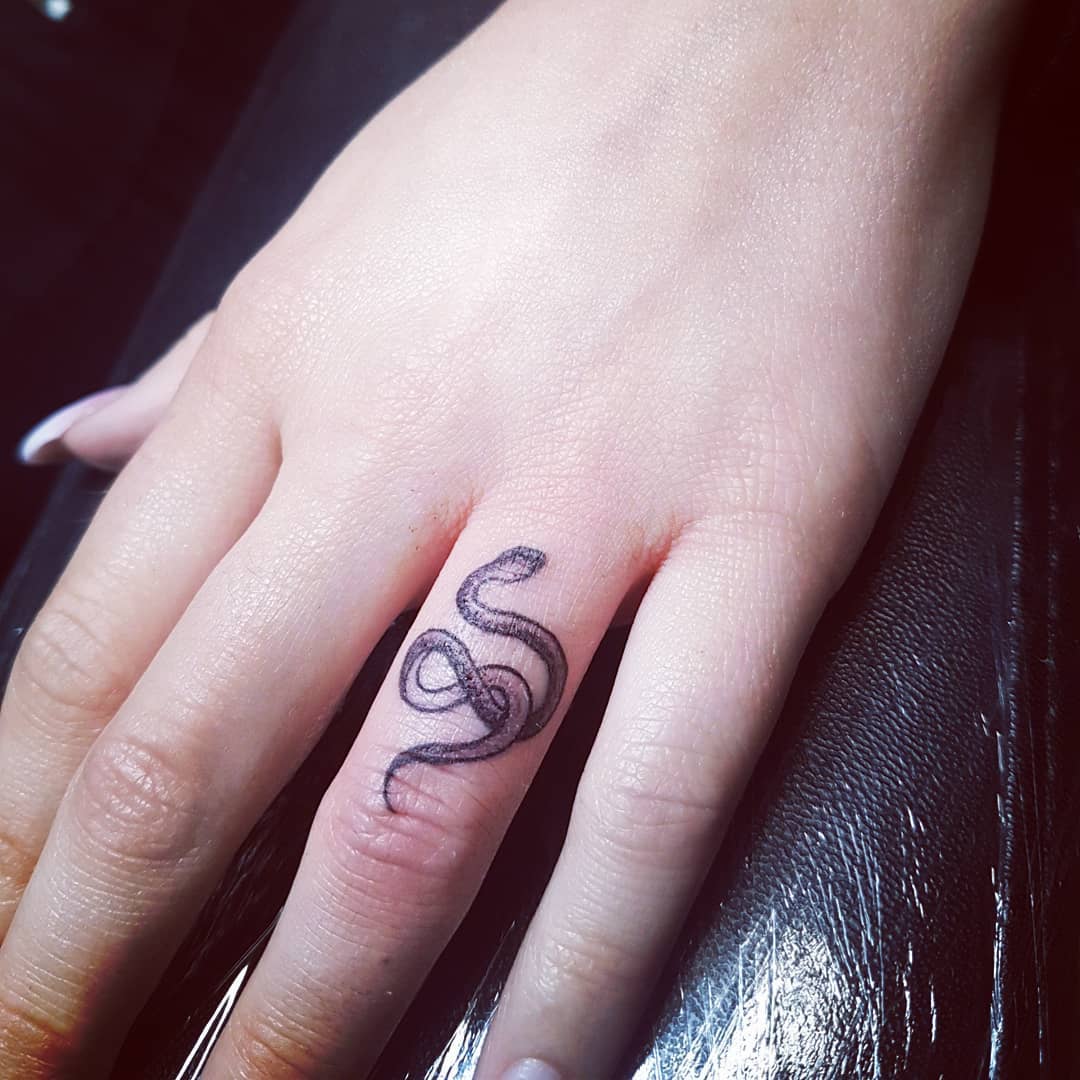 Snake tattoos look really sexy, no matter what the placement is! However, when it comes to finger tattoos for women, snake tattoos can add fluidity and look really cool at the base of the ring finger.
Sun Tattoo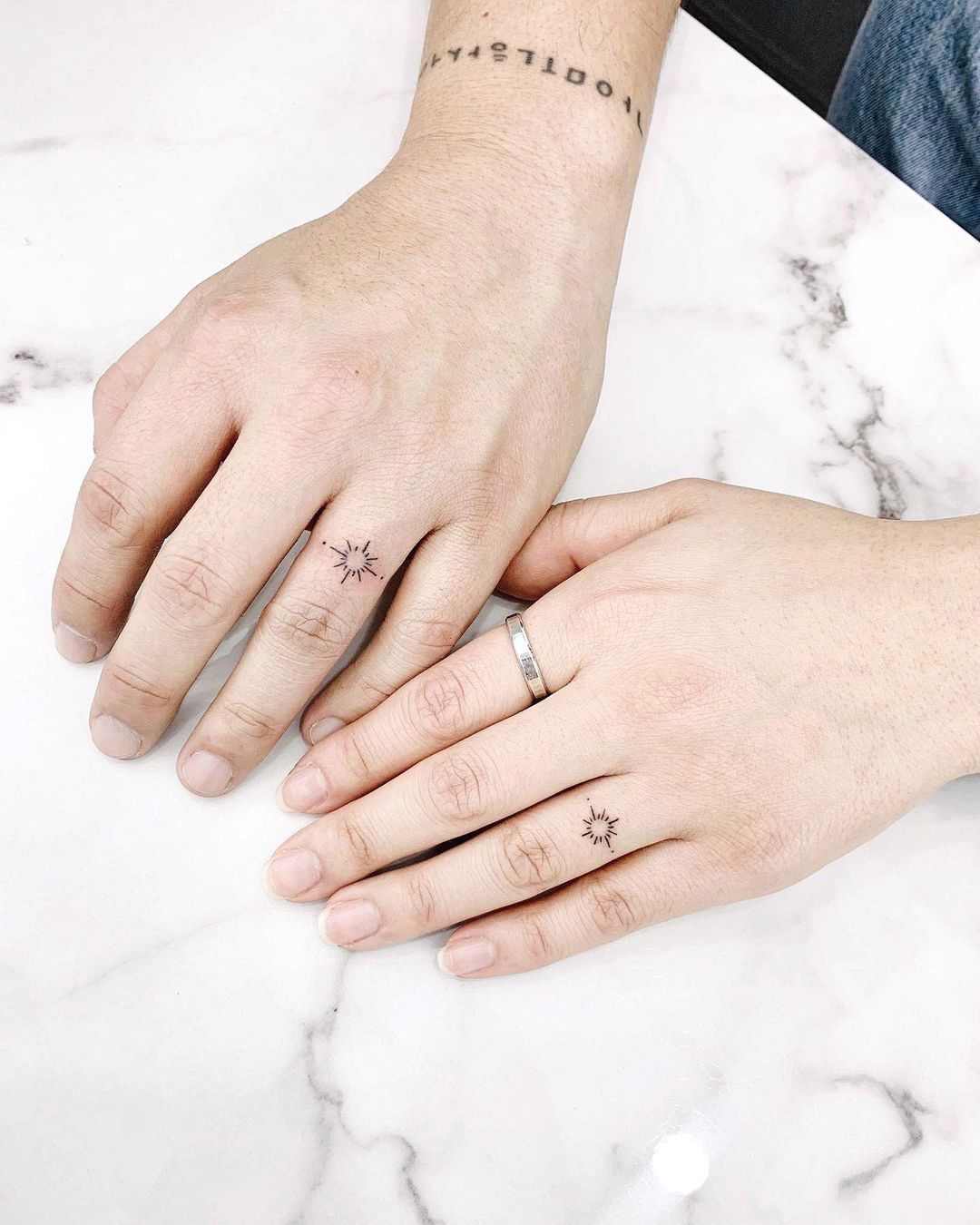 The sun represents source of life, light, and vitality, and it is due to this significance that it is a really common tattoo design. However, instead of opting for huge sun tattoos that cover up your arm, you can instead opt for a minimalist sun design at the base of your finger so that it looks really classy and cute.
Rose Tattoo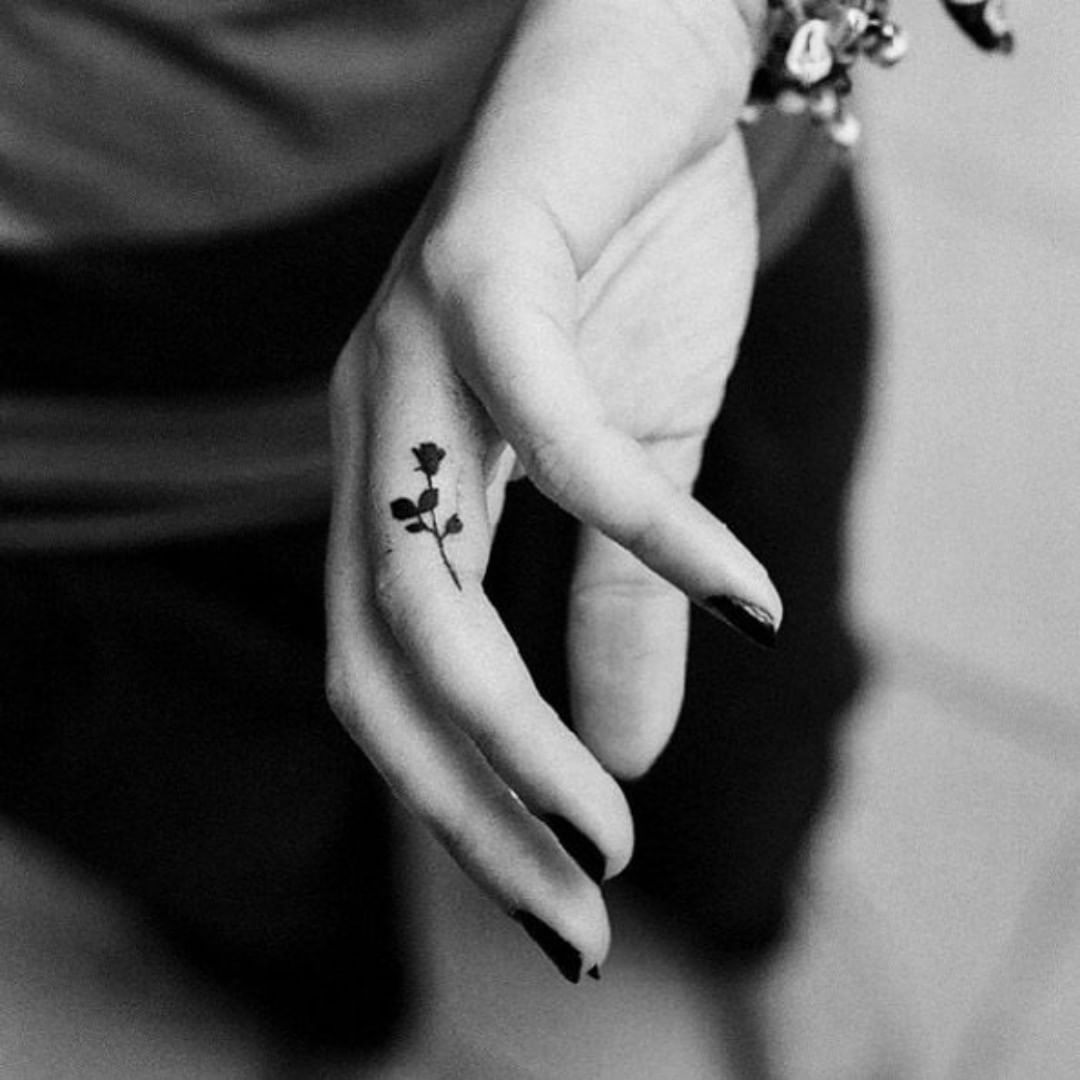 There's no better placement for a rose tattoo than the side of your finger! Rose designs are vertically aligned and perfectly fit the side of your finger. Needless to say, they look really beautiful too! 
Women's Unique Finger Tattoos
Bored of the same old tattoo designs, and want to opt for something unconventional instead? Below are some really amazing and unique women's finger tattoos that are sure to grab attention!
Knuckle Tattoo Design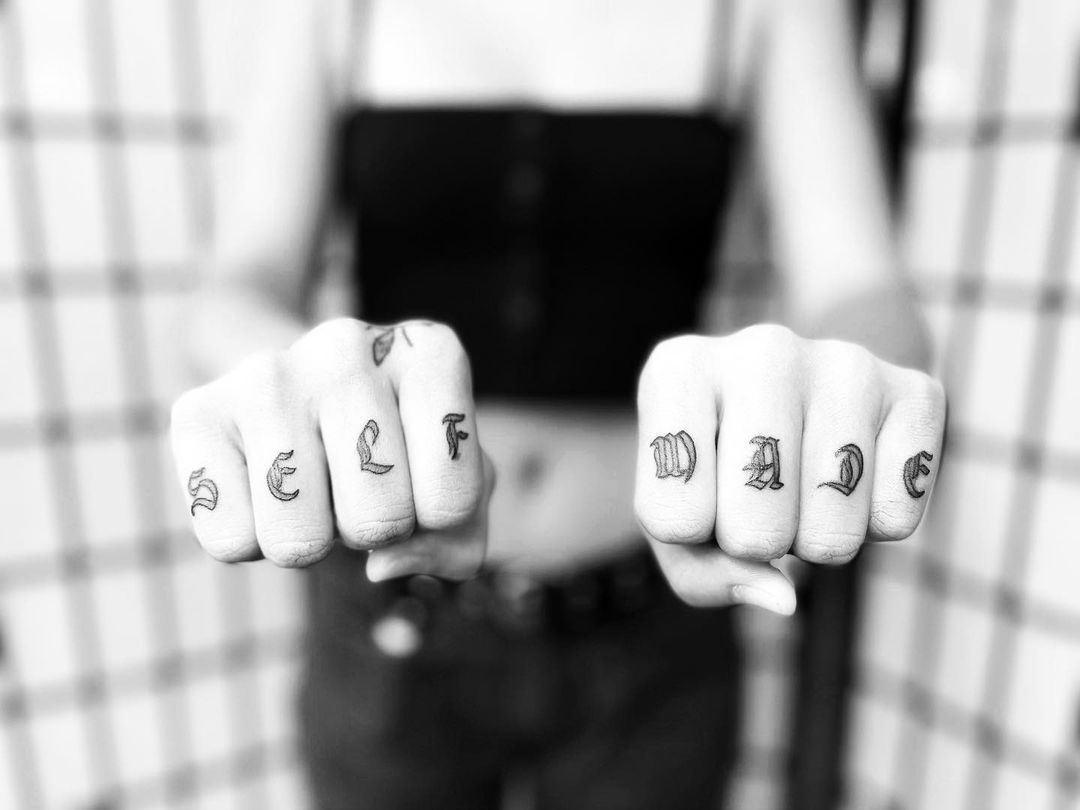 It is undeniable that knuckle tattoo designs look really cool! Just make sure you get something meaningful inked over your knuckles, and don't regret getting it later, as your knuckles are among the most visible parts and cannot be easily covered. 
Flame Tattoo Design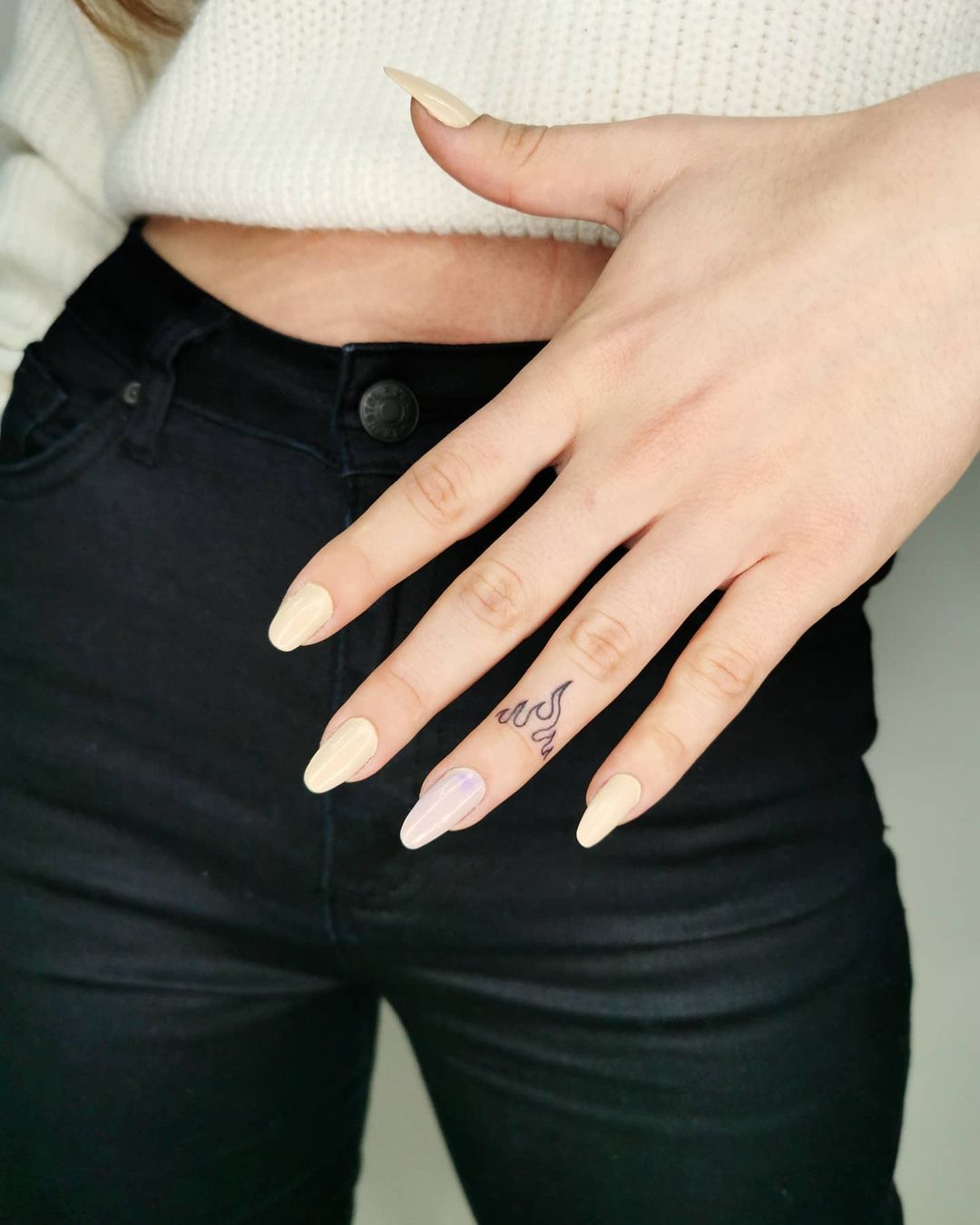 This simple finger tattoo is eye-catching despite being really small. While flame tattoos are quite common, it's the unique placement of this flame tattoo design that makes it stand out. 
Moon Phase Tattoo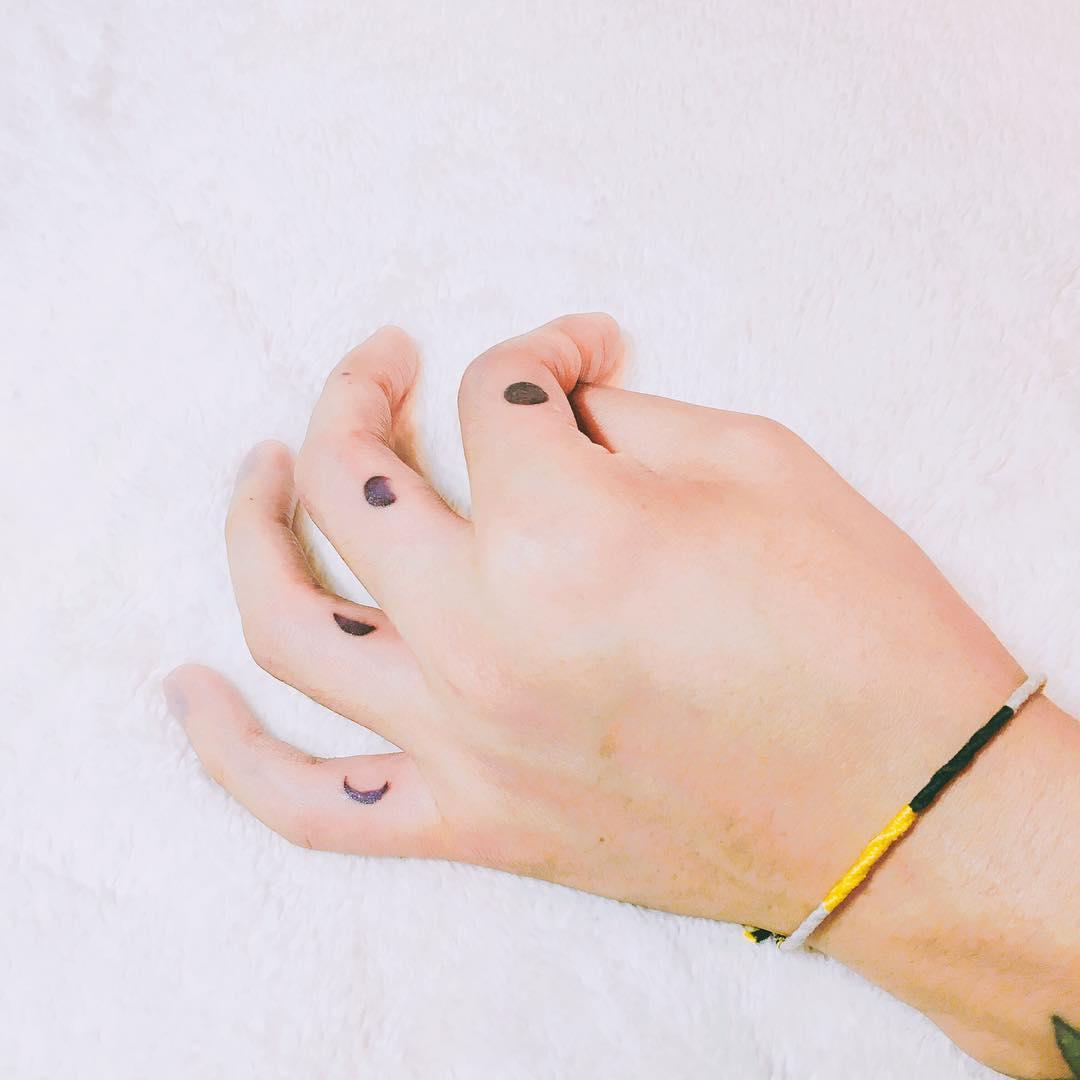 Moon phase tattoo designs not only look really mystical and cool, they also represent the changing phases in a person's life. 
Finger Adornments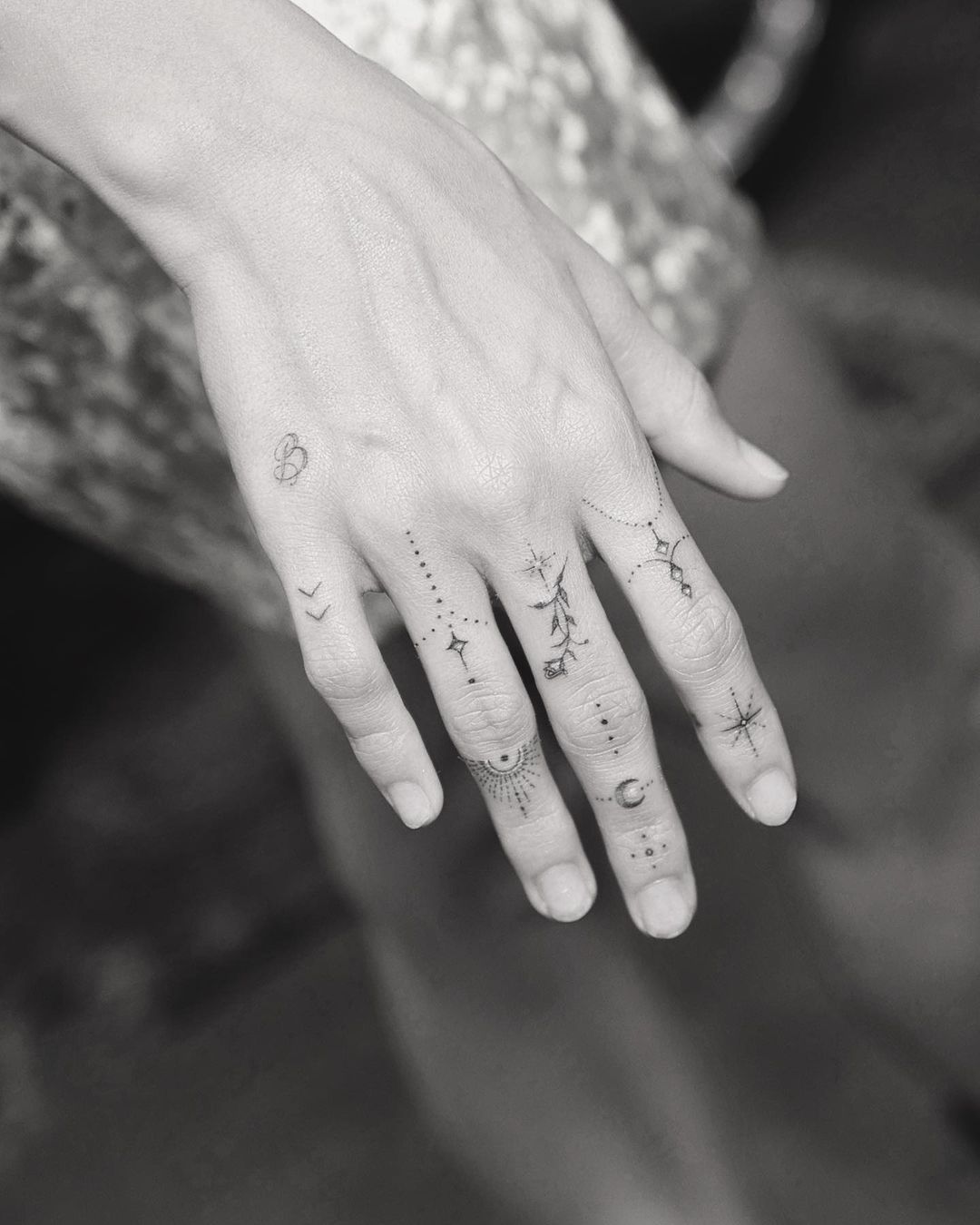 These unique finger tattoos give a bohemian vibe and we're absolutely loving it! From arrows to flowers to dotted symbols, you can personalize this ornamental design by adding little symbols or designs that mean something to you. 
 Zodiac Symbols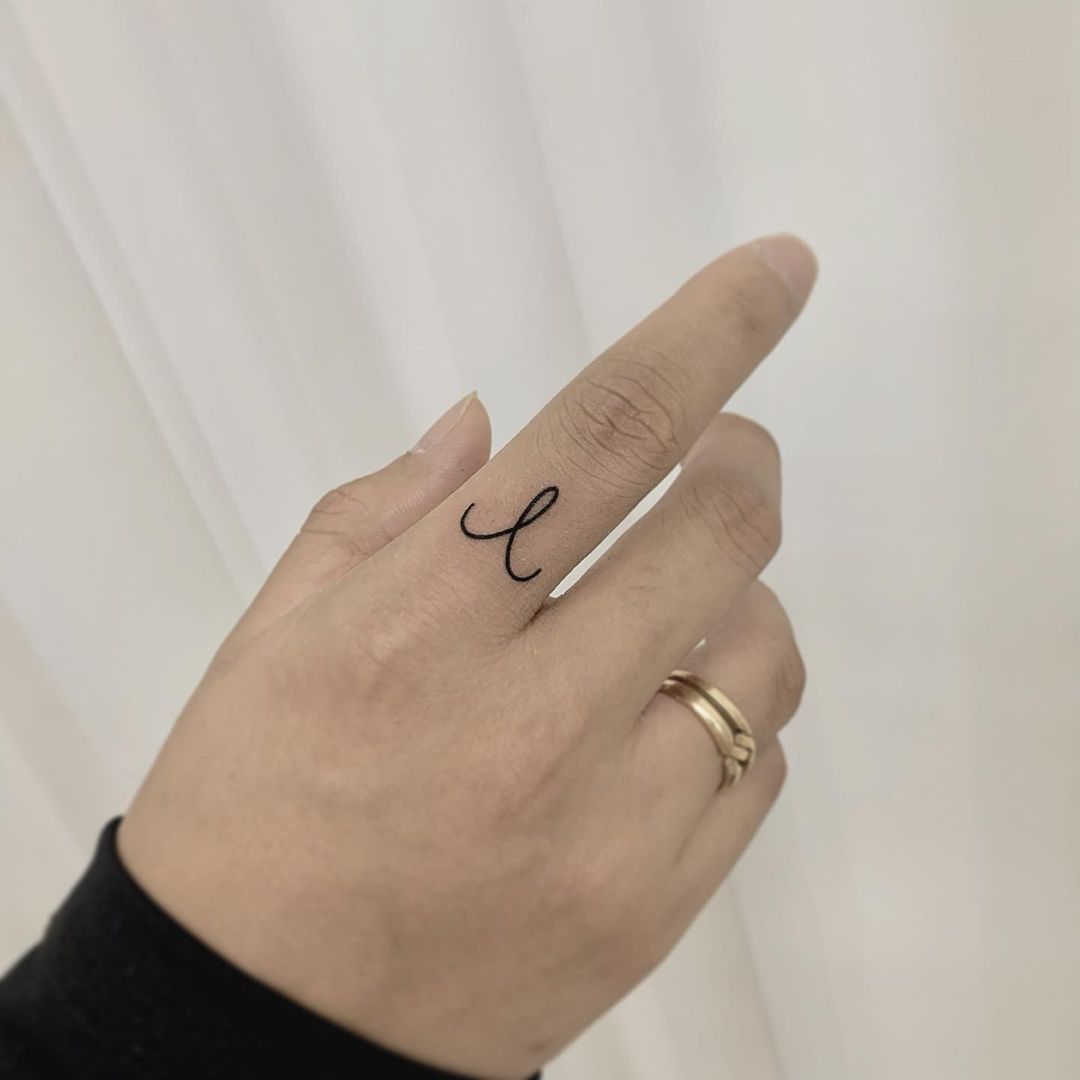 Zodiac symbols make for a unique finger tattoo design, and are a great way to represent your personality! 
Unique Ring Tattoos
Jewellery-inspired tattoos are all the rage these days, and ring tattoo designs are among the most popular ones. The best part about ring tattoos? They look like you've adorned your fingers with jewellery without actually having to! Ring tattoo designs are really versatile and diverse. Check out some really unique ring tattoos that you can choose from.
Simple Band Tattoo
This simple women's ring finger tattoo looks really classy. If you're not big on wearing rings all day, everyday, you and your partner can instead opt for simple wedding band tattoos like these! You can either opt for a minimalistic continuous band with a fine line or with dotted patterns like this one.
Vine Ring Tattoo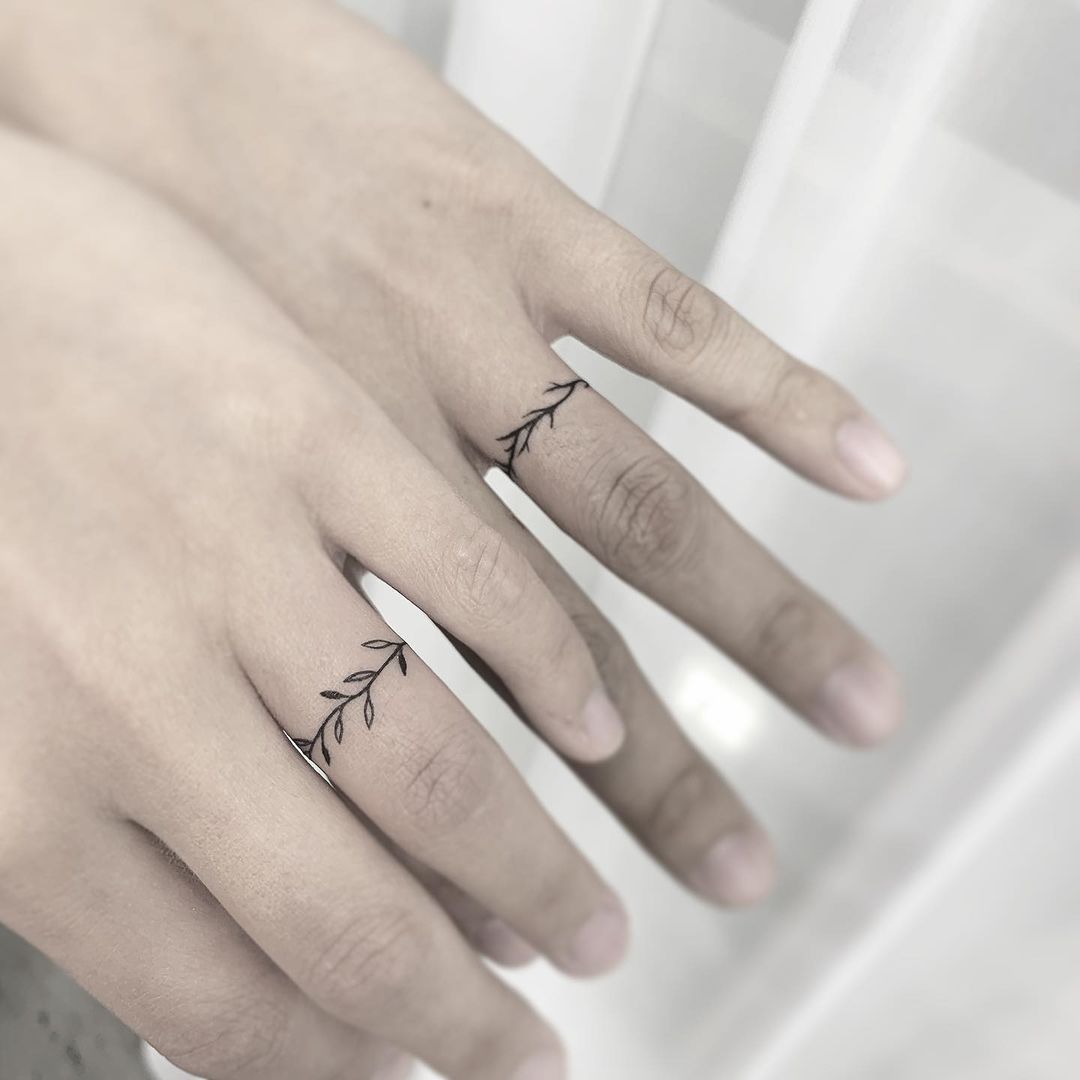 Looking for something more than just a simple band tattoo on your ring finger? You can opt for this delicate leafy vine wraparound finger tattoo that looks really simple yet stylish. 
Ribbon Ring Tattoo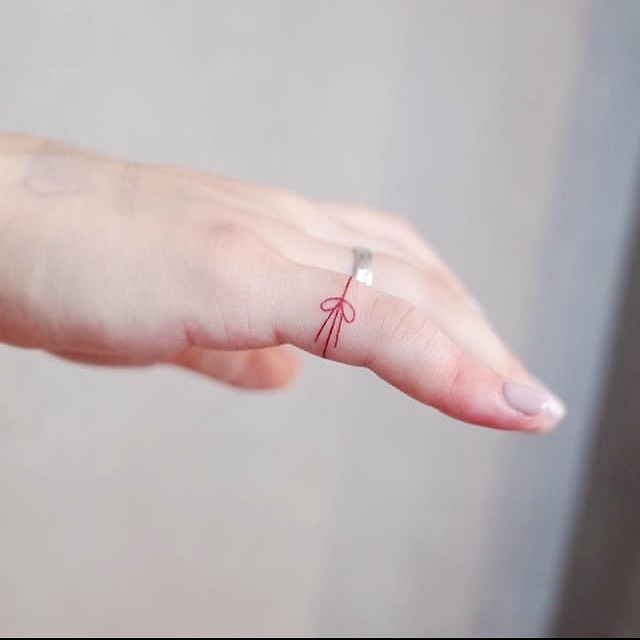 If you're looking for a dainty, delicate ring tattoo design that isn't over-the-top, then this design is a great option. It looks like a small ribbon wrapped around your pinky finger, and it's too cute for words!
Numbered Ring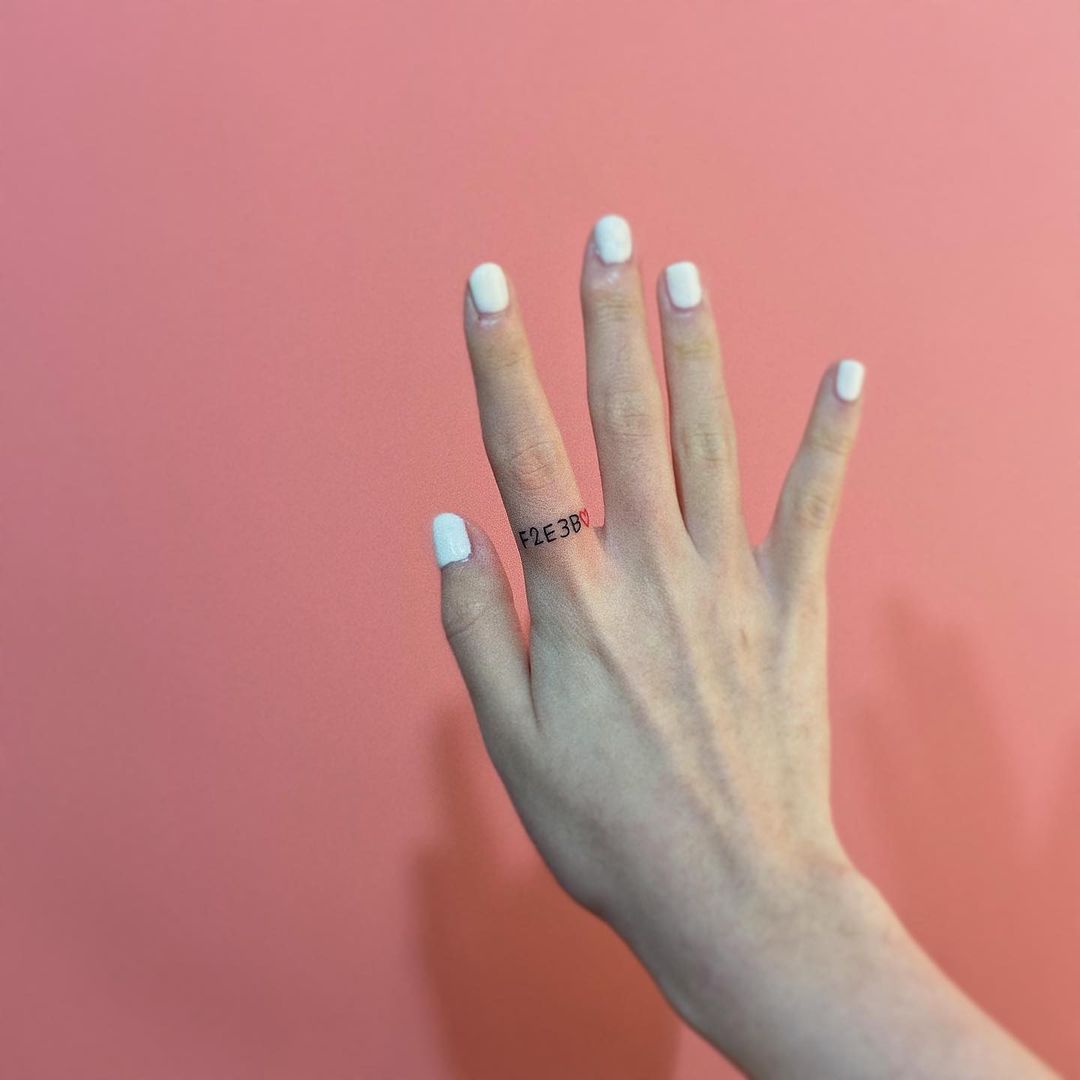 Want to get special numbers, dates, or letters inked? Instead of simply getting the symbols or numbers tattooed on your hand horizontally, you can opt to wrap the design around your finger to make it appear like it's a ring!
Dotwork Accessory Tattoo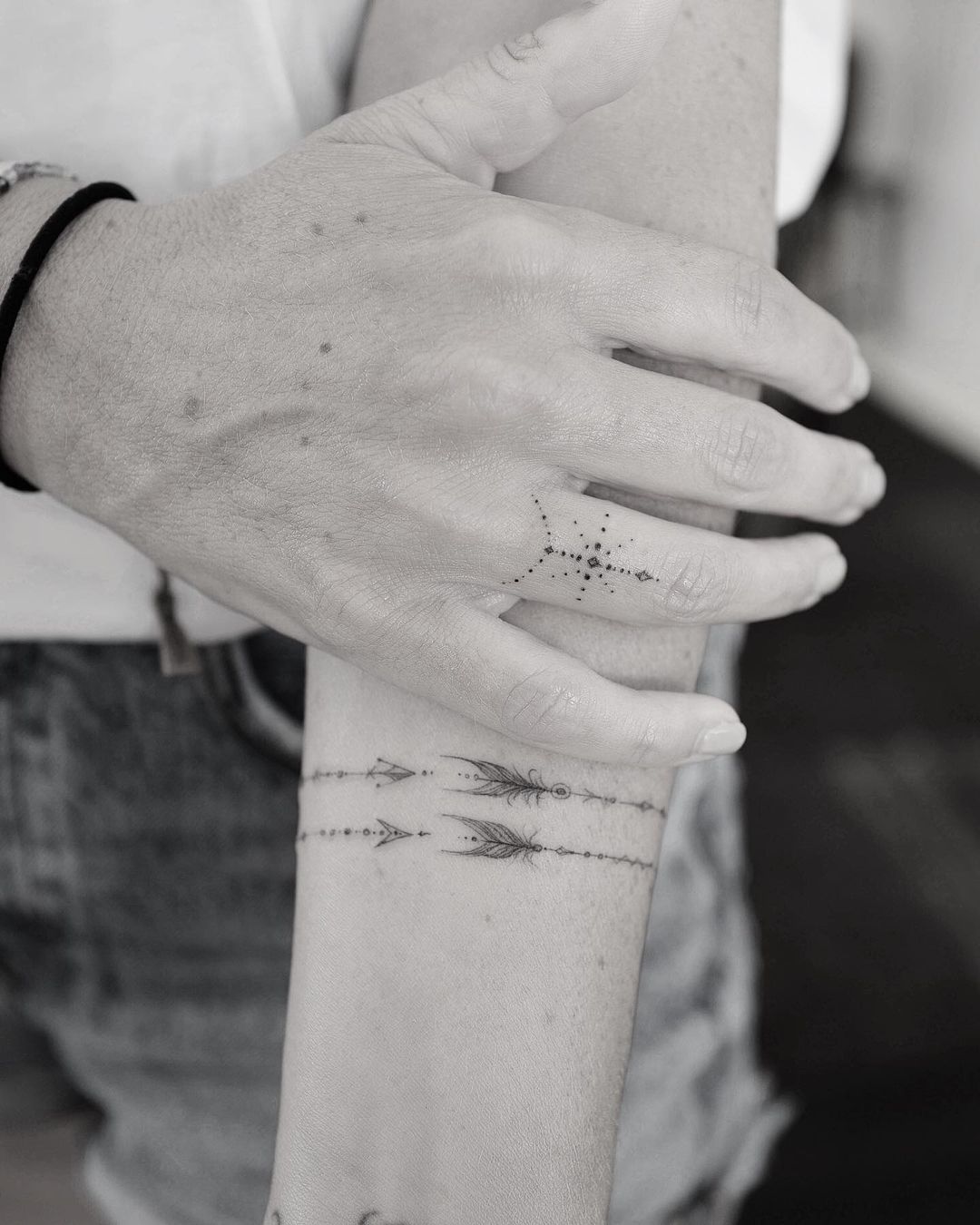 Isn't this ornamental tattoo oh-so-gorgeous? This finger accessory design is perfect for those looking for an intricate women's ring finger tattoo design.
Floral Ring Tattoo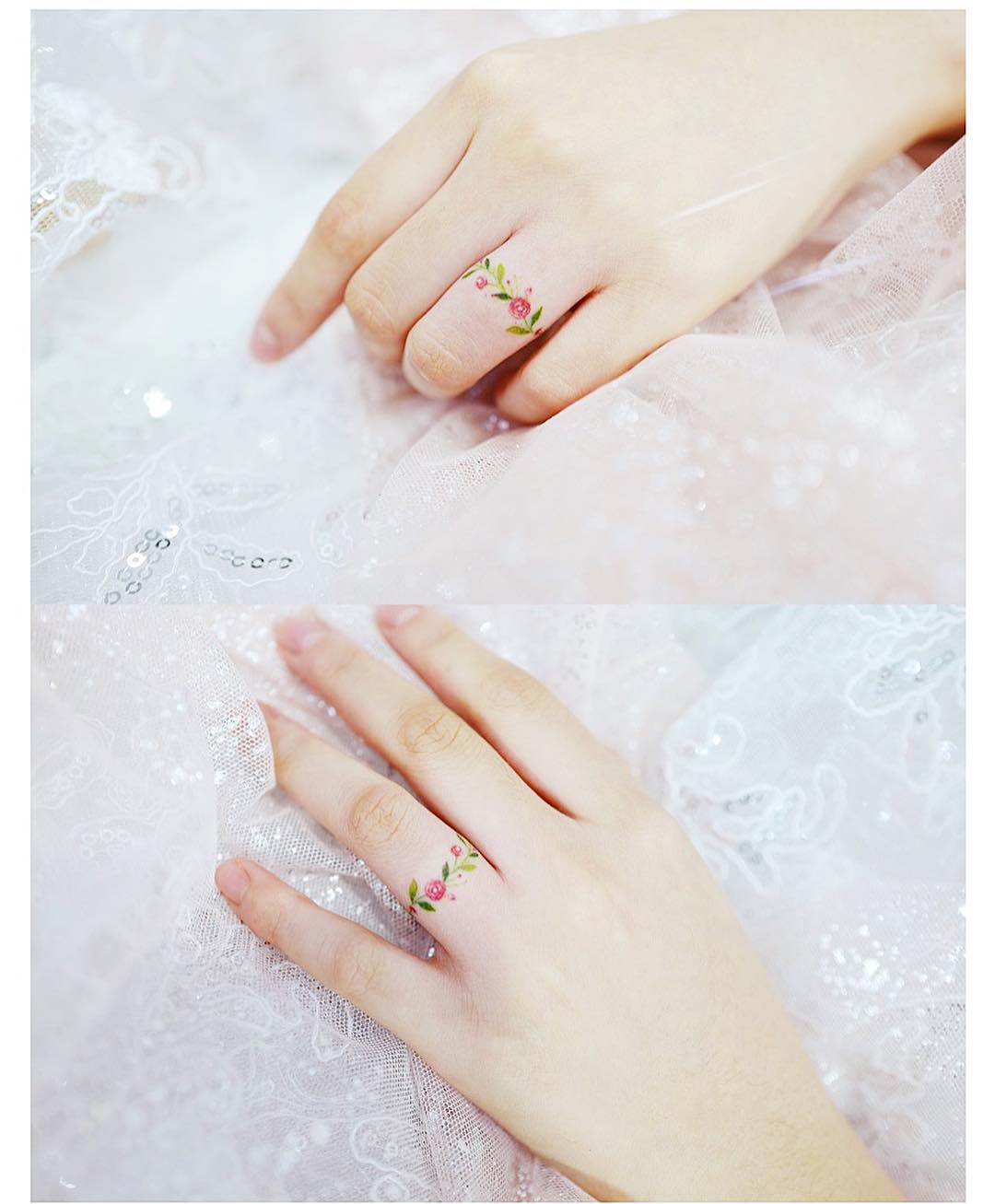 This beautiful women's ring finger tattoo is dainty and is perfect for those who love all things floral. The colours added to this tattoo makes it look really unique and pretty.
Rainbow-Coloured Dotted Tattoo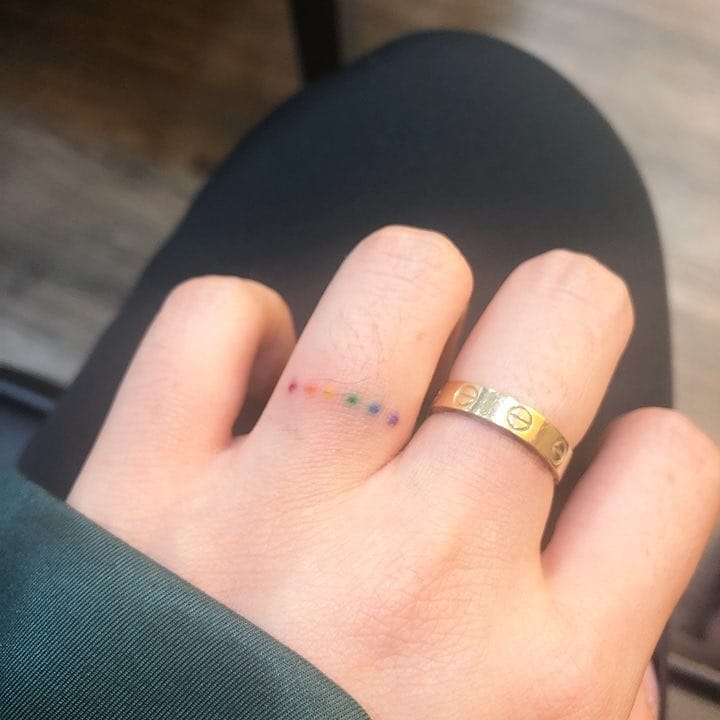 This rainbow dotted tattoo gives a fun, quirky and playful look! Despite being minimal, this ring finger tattoo design is sure to grab attention.
Heart Ring Tattoo Design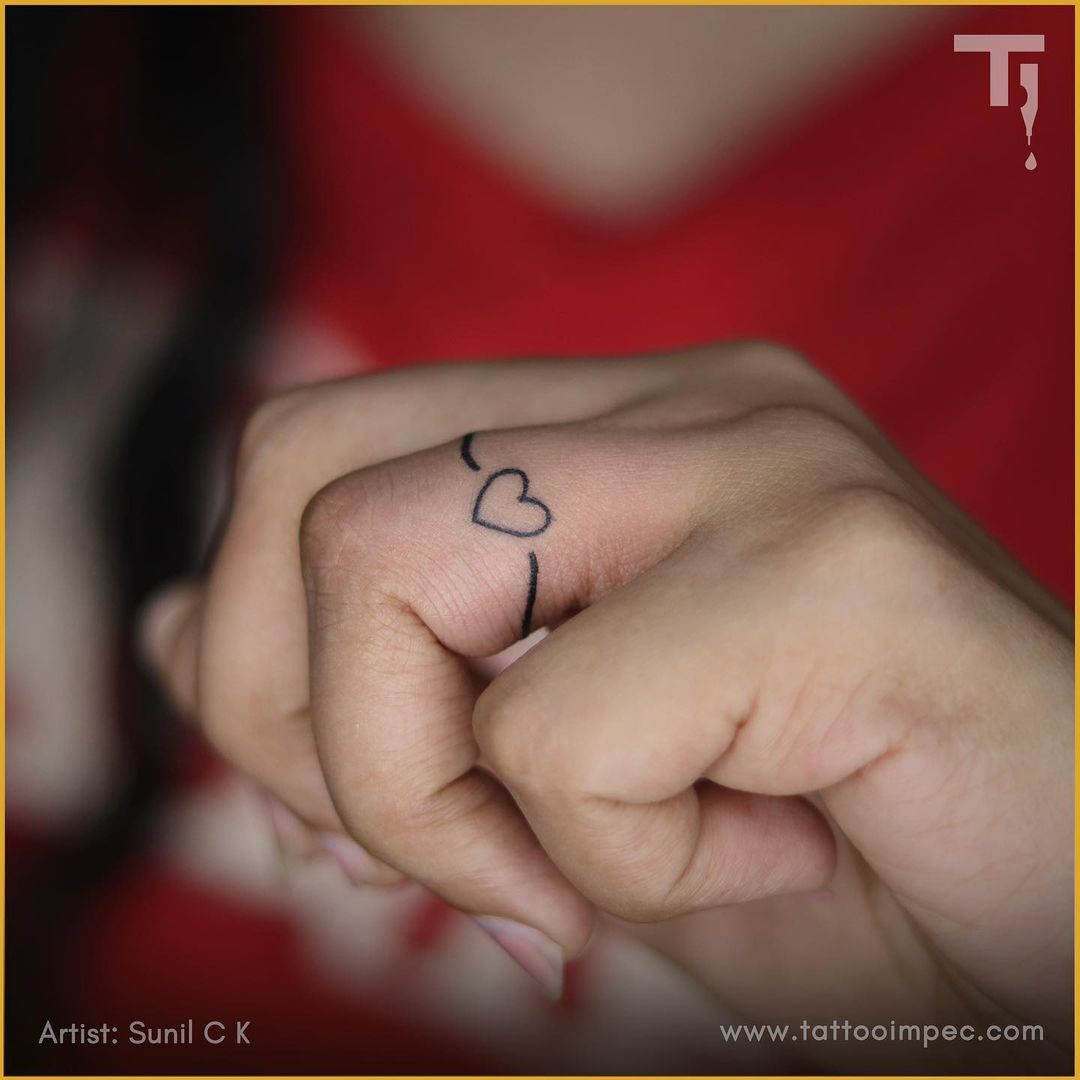 If you're looking to get a heart finger tattoo, then the ring finger is a good spot to get it done. 
Simple Finger Tattoos
Do you love all things minimal and cute? We've got something for you too! Tattoos don't necessarily have to be bold and sexy, but can instead be simple, yet eye-catching. Below are a few simple finger tattoo designs that you might wanna check out. 
Butterfly Tattoo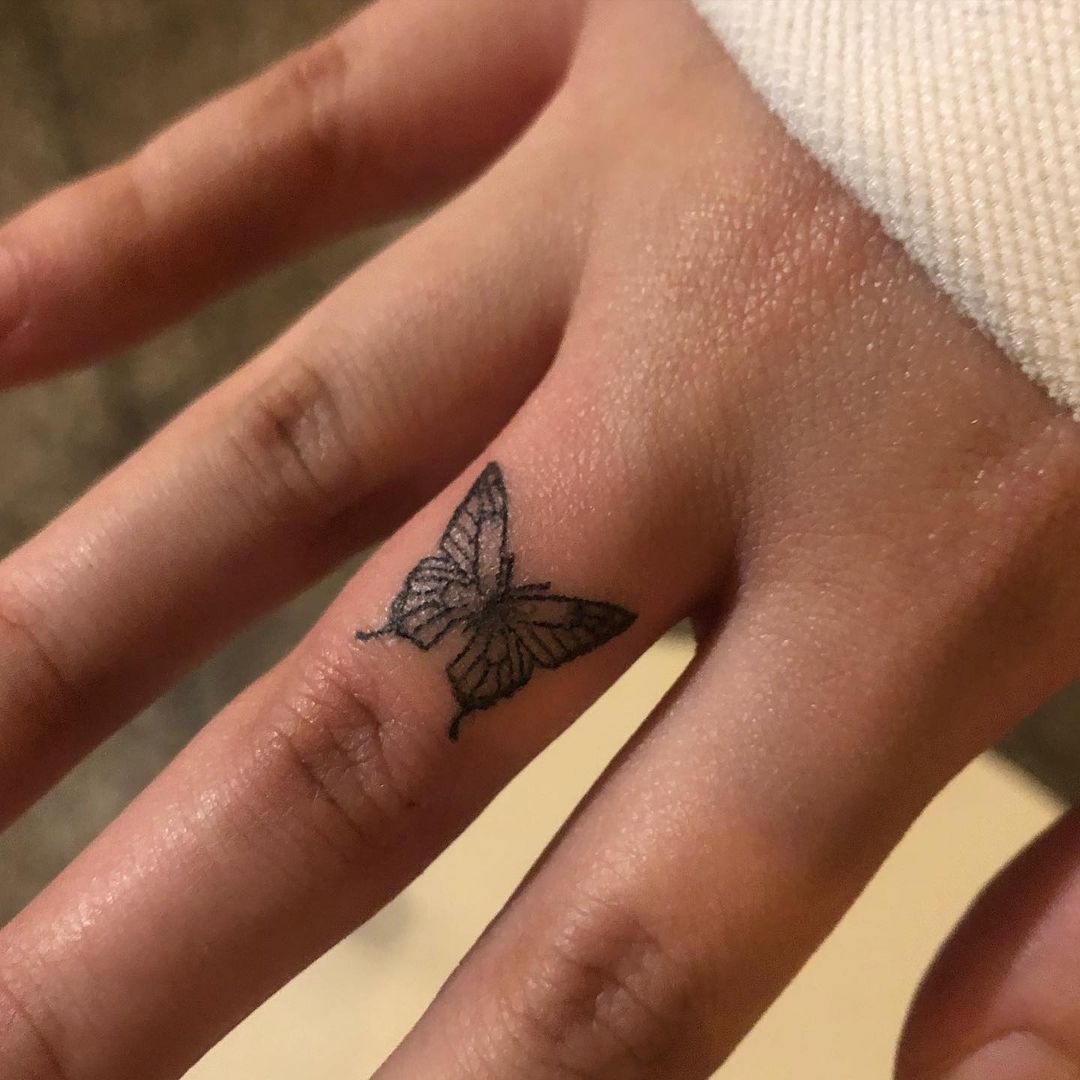 Despite being one of the most common tattoo designs, it is undeniable that butterfly tattoos look really pretty and graceful. We're especially loving the placement of this simple finger tattoo, and its placement is what makes it stand out. 
Musical Note Tattoo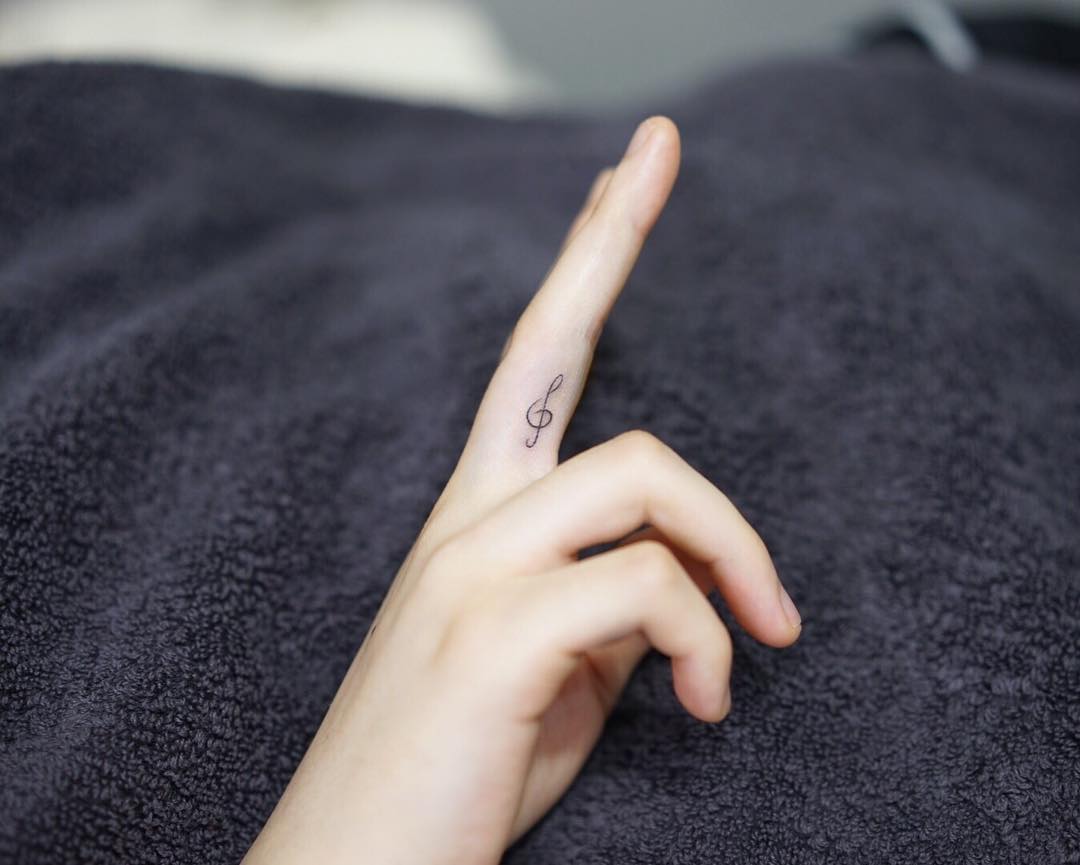 Flaunt your love for music by getting a musical note inked! When it comes to musical notes, many people get it inked behind the ear, but the side of a finger also makes for a great spot to get this inked.
Moon Ring Finger Tattoo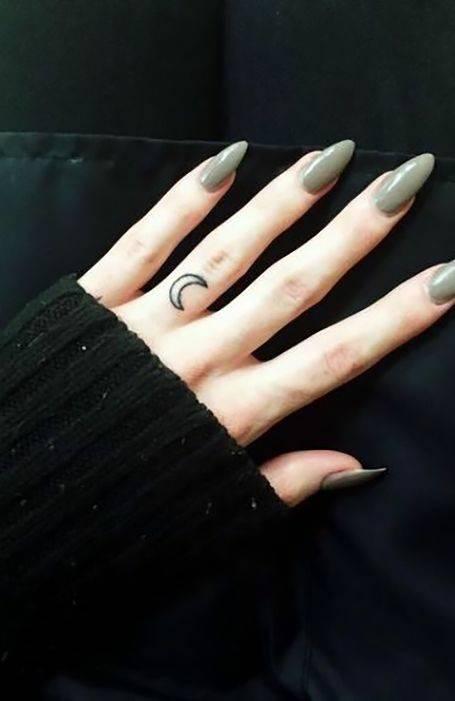 This little crescent-shaped moon design will look really stylish and elegant on your ring finger. This is a unique ring finger tattoo design that is sure to fetch you compliments!
Wraparound Leaf Finger Tattoo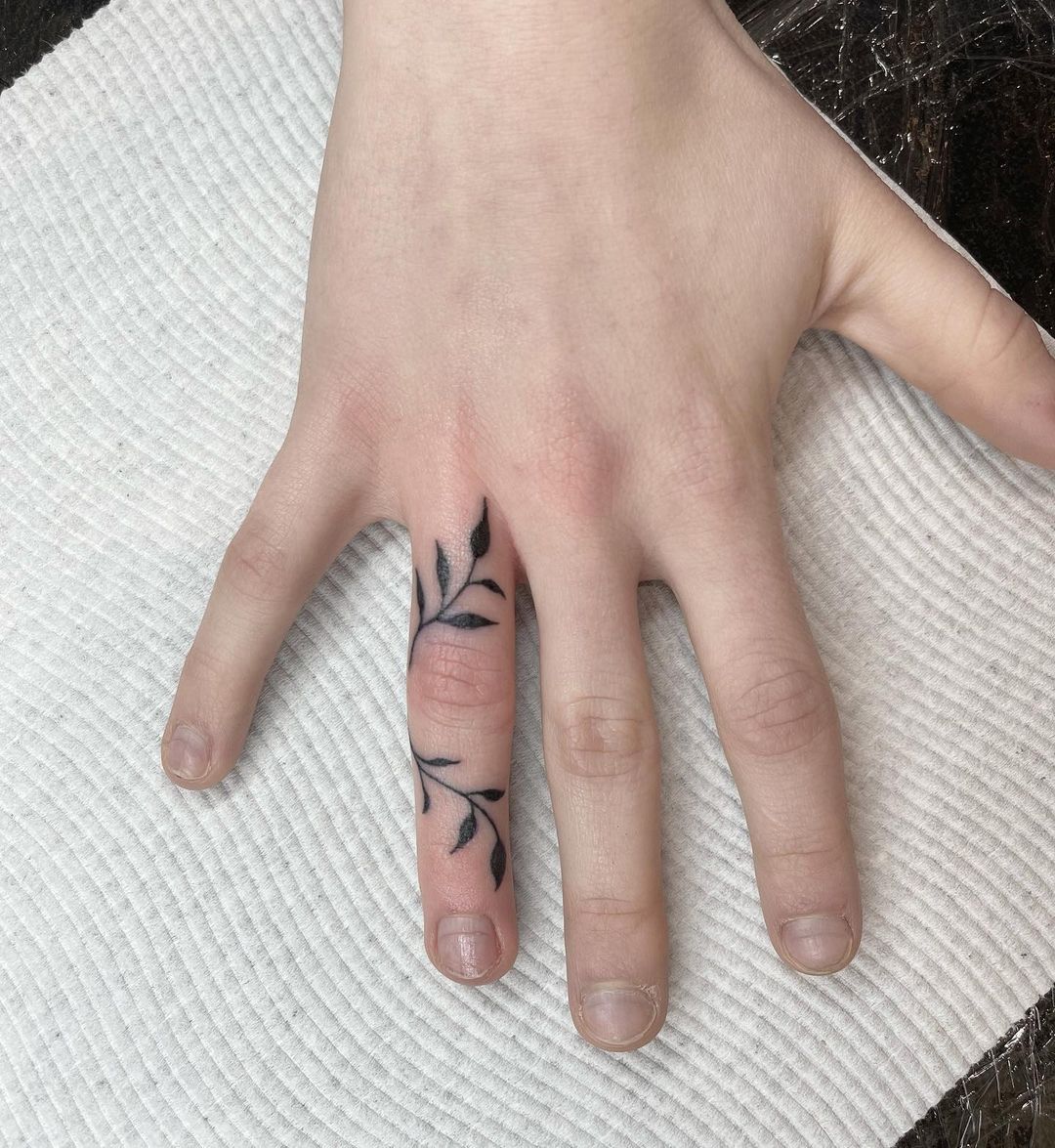 Leaf designs look feminine, and can enhance the beauty of your hand. If you love florals, and want a tattoo design that will be prominently visible, then go for this simple finger tattoo design! 
Smiley Tattoo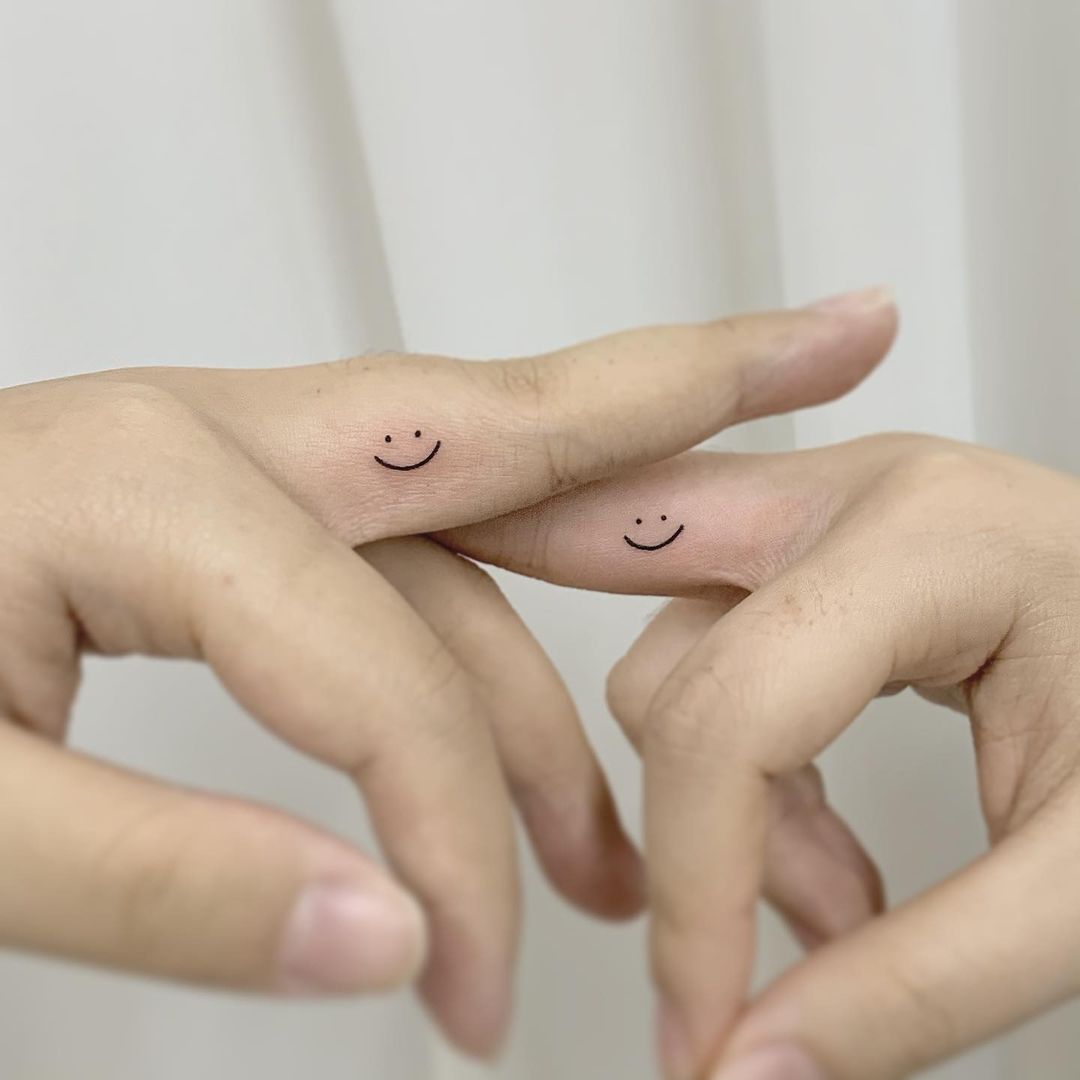 Smileys have a way of making your day brighter instantly! So why not get an emoji of your choice inked on the side of your finger? 
Minimalist Dog Tattoo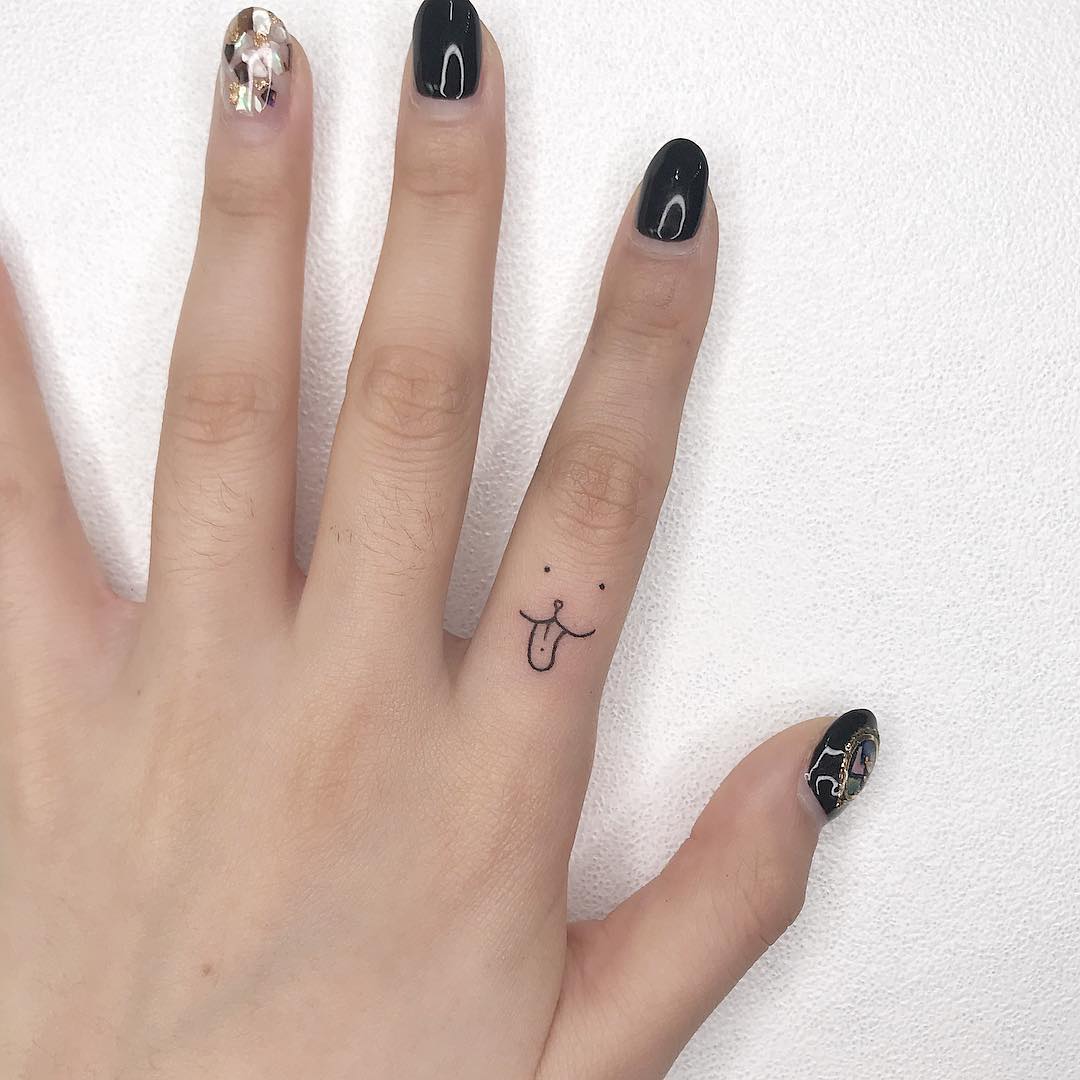 Want to showcase your love for your furry friend? While there are many dog tattoo designs out there, we're loving this one in particular. It's cute, minimal and quirky! 
More Tattoos For Women
Small Side Neck Tattoo Designs Females: Admit it, side neck tattoos are really sexy! If you're looking to get one, check out these amazing small side neck tattoo designs for inspiration. 
Best Neck Tattoos For Women: Thinking of getting a tattoo? We have some great reccos for you. Here are some fab neck tattoo designs that you can check out.
Shoulder Tattoos Females: Whether you are looking for some dainty shoulder tattoo designs or bold and sexy shoulder tattoos, take cues from these unique shoulder tattoos for women. 
Hand Tattoos For Women: From latest hand tattoo designs to cute and unique hand tattoos for women, these tattoo designs are unmissable. 
Tattoo Designs For Women: Looking for meaningful, inspirational tattoo designs that look really cool? You might wanna check out these stunning tattoo designs for women.
Fashion Tattoo Ideas: Still haven't found the perfect tattoo design for yourself? Check out amazing symbolic tattoos, celebrity tattoos and more! 
Couple Tattoo Designs: Couple tattoos have been gaining a lot of popularity! Check out some matching tattoo designs that you and your partner can get inked. 
By now, we must have convinced you that finger tattoos for women look really cool! Just know that finger tattoos can be really painful and also fade sooner than most other tattoos. But hey, if you've found the perfect finger tattoo for yourself, don't let these hindrances hold you back! 
Featured Image: Instagram