50 Shoulder Tattoos For Women That'll Convince You To Book An Appointment Right Away
There's something so sexy and appealing about a shoulder tattoo. Whether you opt for a bold design or choose a minimalistic one, you can hardly ever go wrong with this one. The best part? With shoulder tattoos, you get to decide when to show off or hide your body art as they can be covered easily. So if you've been considering getting a shoulder tattoo, I have come up with 50 interesting options. Ahead, find some super-trendy shoulder tattoos for women.
Name Tattoo With A Twist
Take self-love to a whole new level with this shoulder tattoo design inspired by Shruti Hassan. Pro tip: get your name inked in your native script for a hatke feel.
Coordinated Shoulder Tattoos
Why just go for a tattoo on one shoulder when you can get it done on both? Here's a superb idea inspired by actress Esha Deol. Tell your story with an attractive graphic on one shoulder and a quote on the other. Brilliant idea, we say.
XOXO Shoulder Tattoo
All the 90s kids will love this Gossip Girl-inspired shoulder tattoo design. More so, because the second season of the show couldn't replicate the magic of Blair and Serena. But we hope this gives you the feels. XOXO
Puppy Shoulder Tattoo
What's cuter than getting your cute doggo's picture inked on your shoulder? Nothing!
Anchor Shoulder Tattoo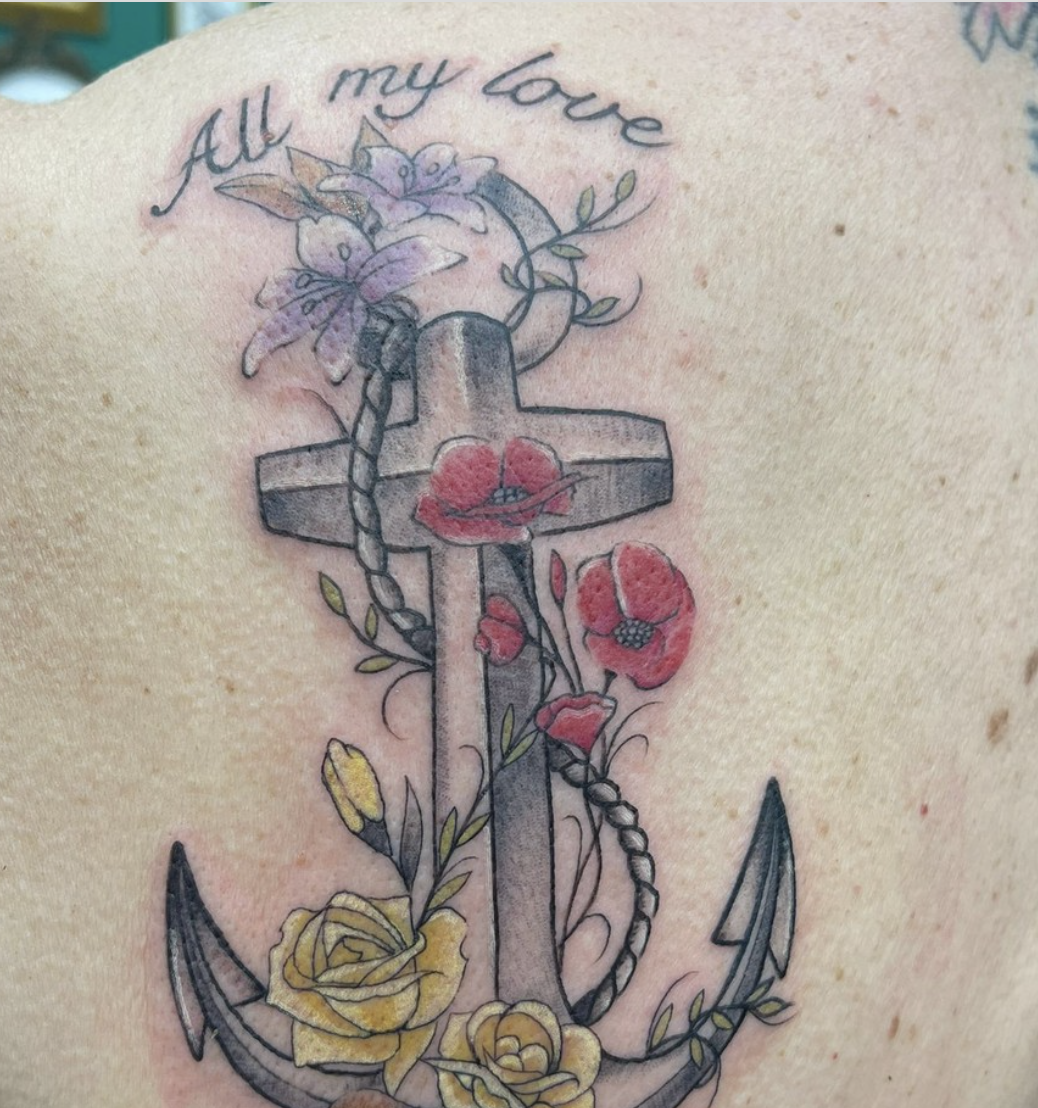 The anchor shoulder tattoo design is a great symbol of hope, travel, and positivity. This is surely one of my top favourite shoulder tattoo designs.
Cross Shoulder Tattoo
Looking for a gothic shoulder tattoo design inspiration? Look no further. This minimalistic design will give you all the gothic vibes without being in the face. What say?
Oyster Shoulder Tattoo
An oyster is a symbol of prosperity, reincarnation, protection, fertility, and femininity. Getting it tattooed on your shoulder can defo make you feel all of it.
Dream Catcher Shoulder Tattoo
This symbol of positivity, big dreams, and hope will look fab when inked on the arm. You can go for an elaborate design or a simple one like this.
Diamond Shoulder Tattoo
Diamonds never disappoint. So get one for your finger and well–your shoulder. This diamond shoulder tattoo design will look fab, we promise.
Lollipop Shoulder Tattoo
If you're a fun-loving kinda girl with funky taste, you're going to love this shoulder tattoo design idea. A lollipop is just the chip you need on your shoulder, right? 
Evil Eye Shoulder Tattoo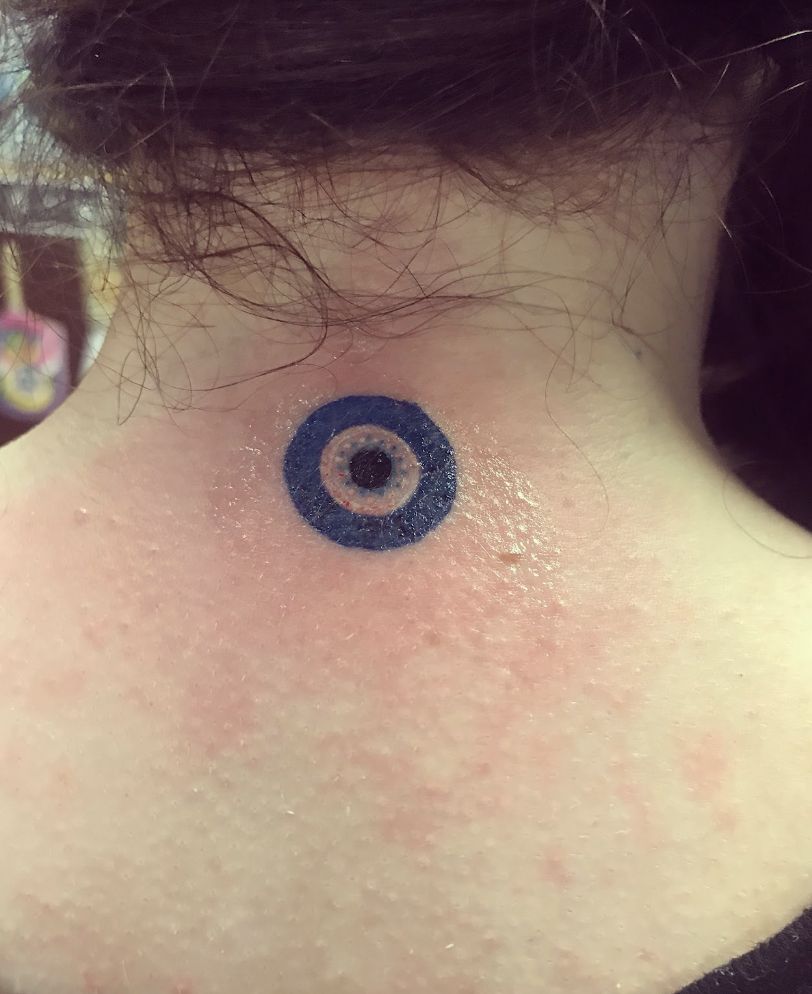 Nothing can ward off buri nazar more stylishly than an evil eye shoulder tattoo. Flaunt one in tank tops while staying protected too. Win-win, I say.
Snake Shoulder Tattoo
Channel your inner naagin with a snake shoulder tattoo. You can cash in on some flower power to accentuate the snake design and make your tattoo strike out.
Shloka Shoulder Tattoo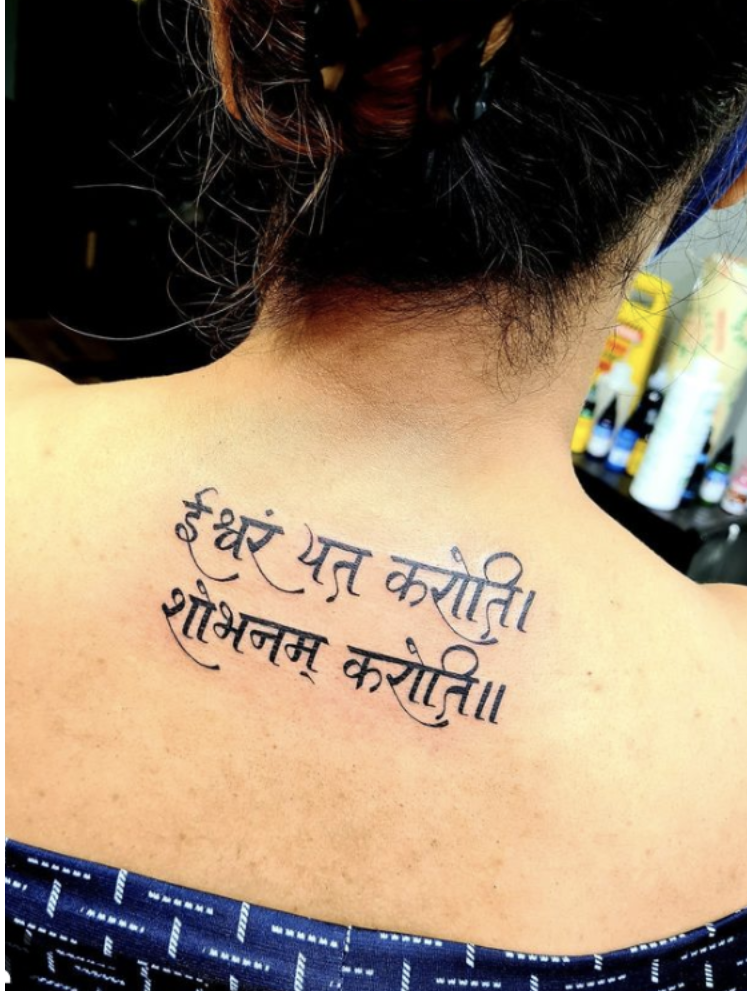 A religious shloka tattooed on your shoulder? A delight for both–your inner Pooh and Parvati, we say.
Geometric Shoulder Tattoo
Simple, minimalistic, and futuristic–a geometric shoulder tattoo design is a minimalist's dream come true. Simple, sophisticated, and head-turning!
Rose Shoulder Tattoo
A rose tattoo on your shoulder is sure to grab eyeballs when you step out in those cutesy tube tops and tanks. You must consider this tattoo design if you're keen on getting one on your shoulder. 
Yin Yang Shoulder Tattoo
Yin and yang is a Chinese philosophical concept that represents opposite but interconnected forces. It's a perfect idea for a shoulder tattoo design if you're looking for a unique design.
Bird Shoulder Tattoo
A colourful bird inked on your shoulder to symbolise freedom is a great tattoo design idea. Looking at this one's definitely going to bring a smile to your face every morning. 
Lioness Shoulder Tattoo Design
A lioness is free, fierce, and fearless. So how about getting it inked on your shoulder to represent all that you are?
Ornamental Shoulder Tattoo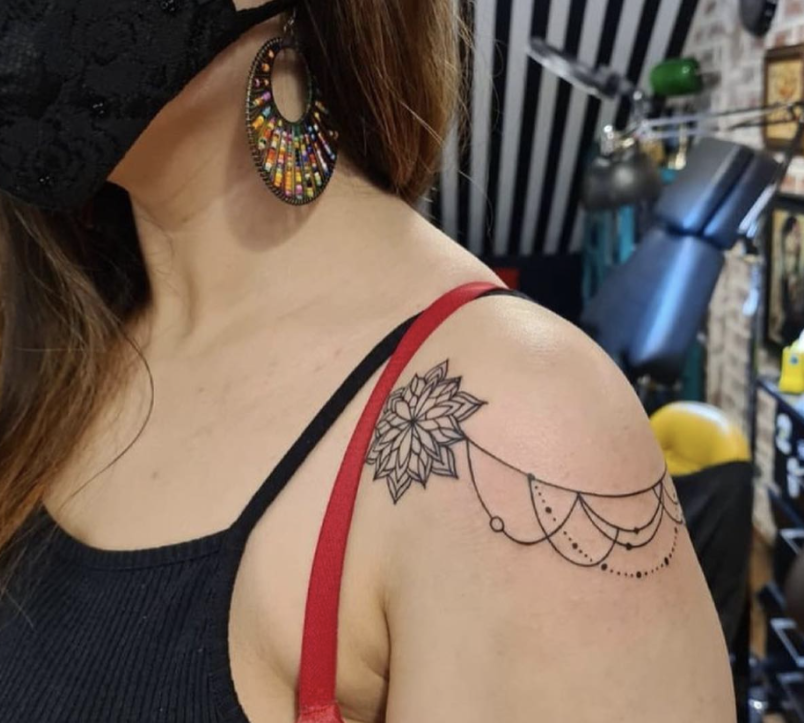 Get over shoulder accessories. This shoulder tattoo design can serve as your in-built accessory for life. Don't you agree?
Botanical Shoulder And Arm Tattoo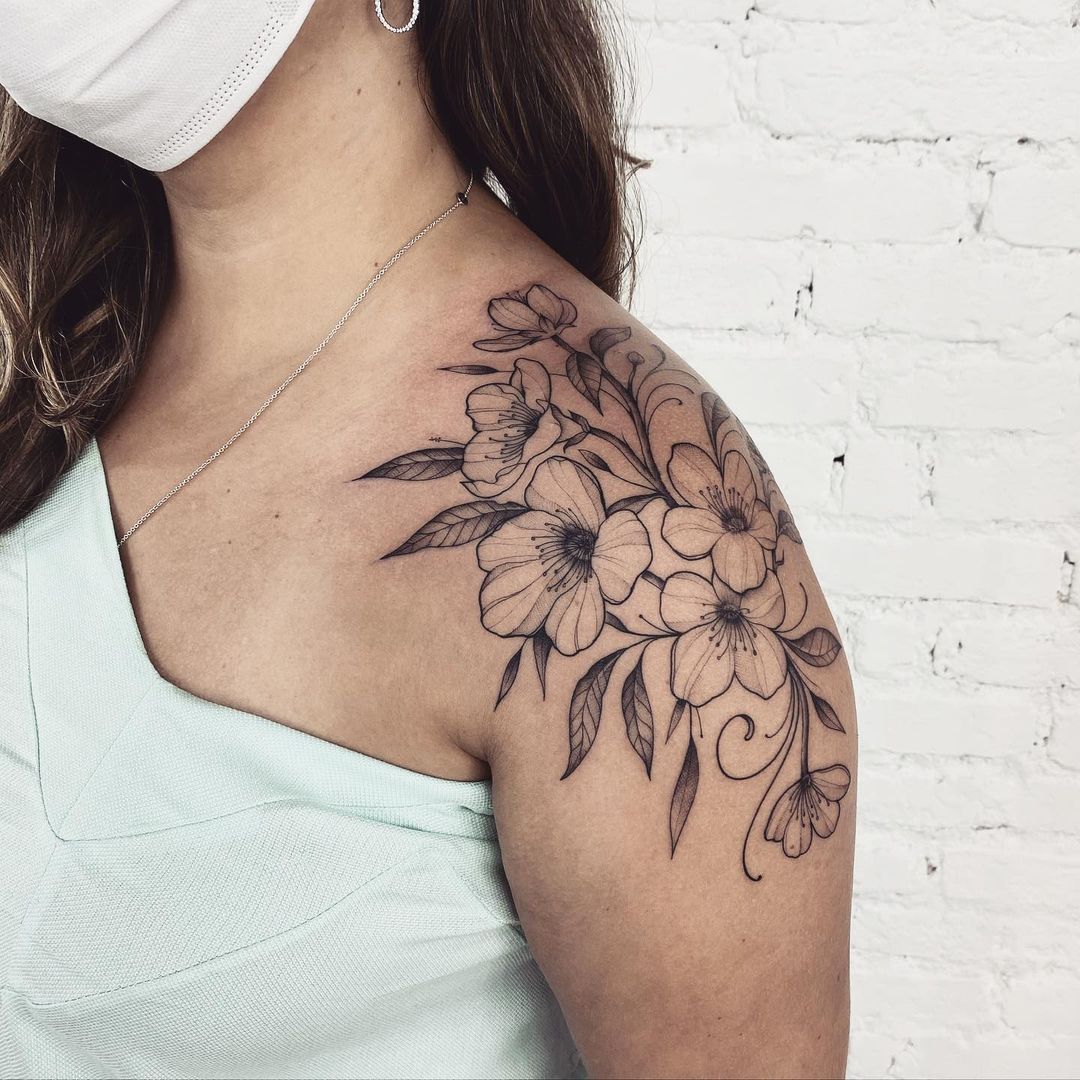 Most shoulder tattoos for women look great when they continue down your arm, back, or chest. Here's one example of a floral shoulder tattoo that also covers a part of your arm, and we're loving this beautiful design! 
Script Tattoo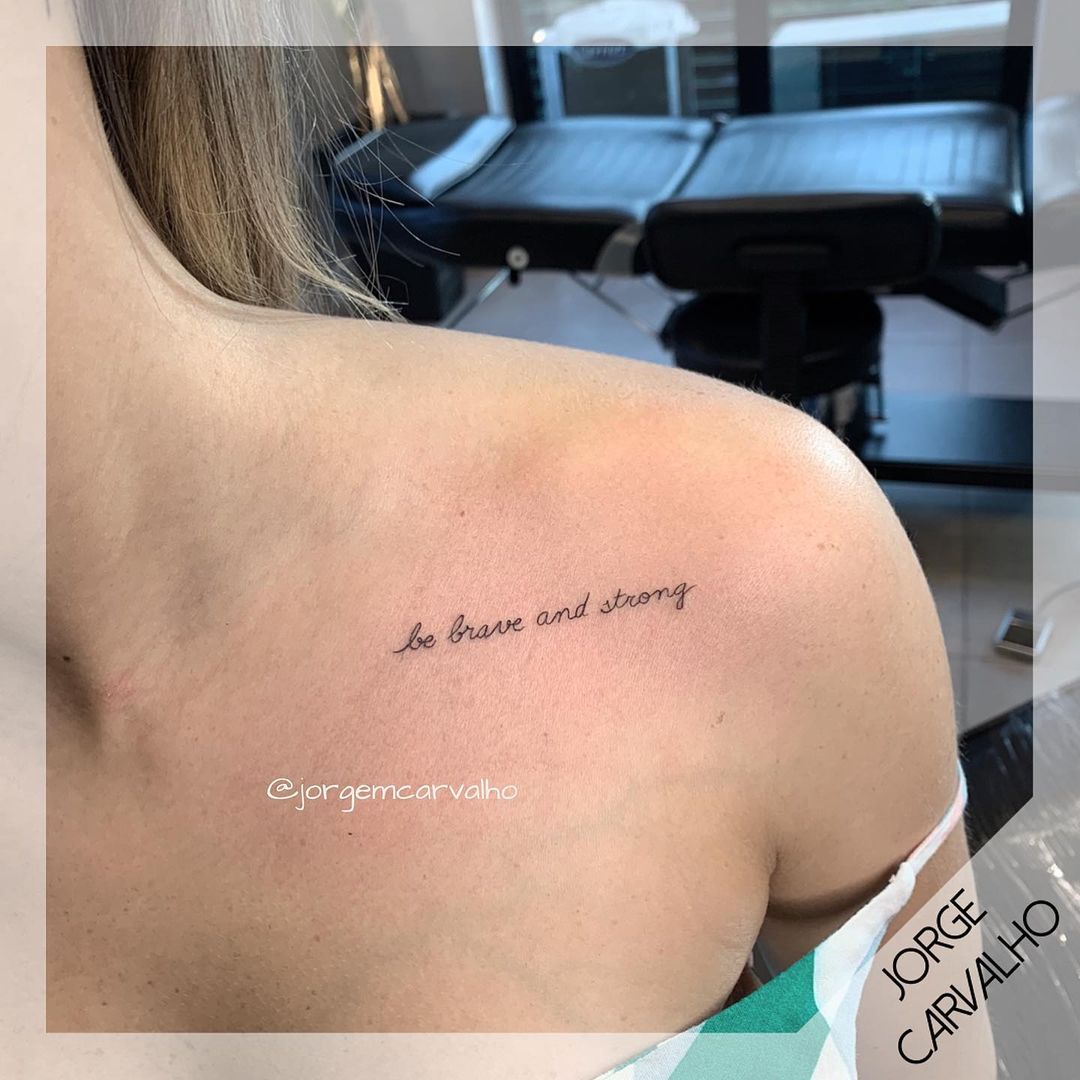 This tattoo design looks simple, yet stunning! If there's a phrase or a few words you always wanted to get inked, then your shoulder is the right spot to get one. There's ample space horizontally, so you can get creative with the design, and add a design element around the script too! 
Also Read: Back tattoos for women
Leaf Tattoo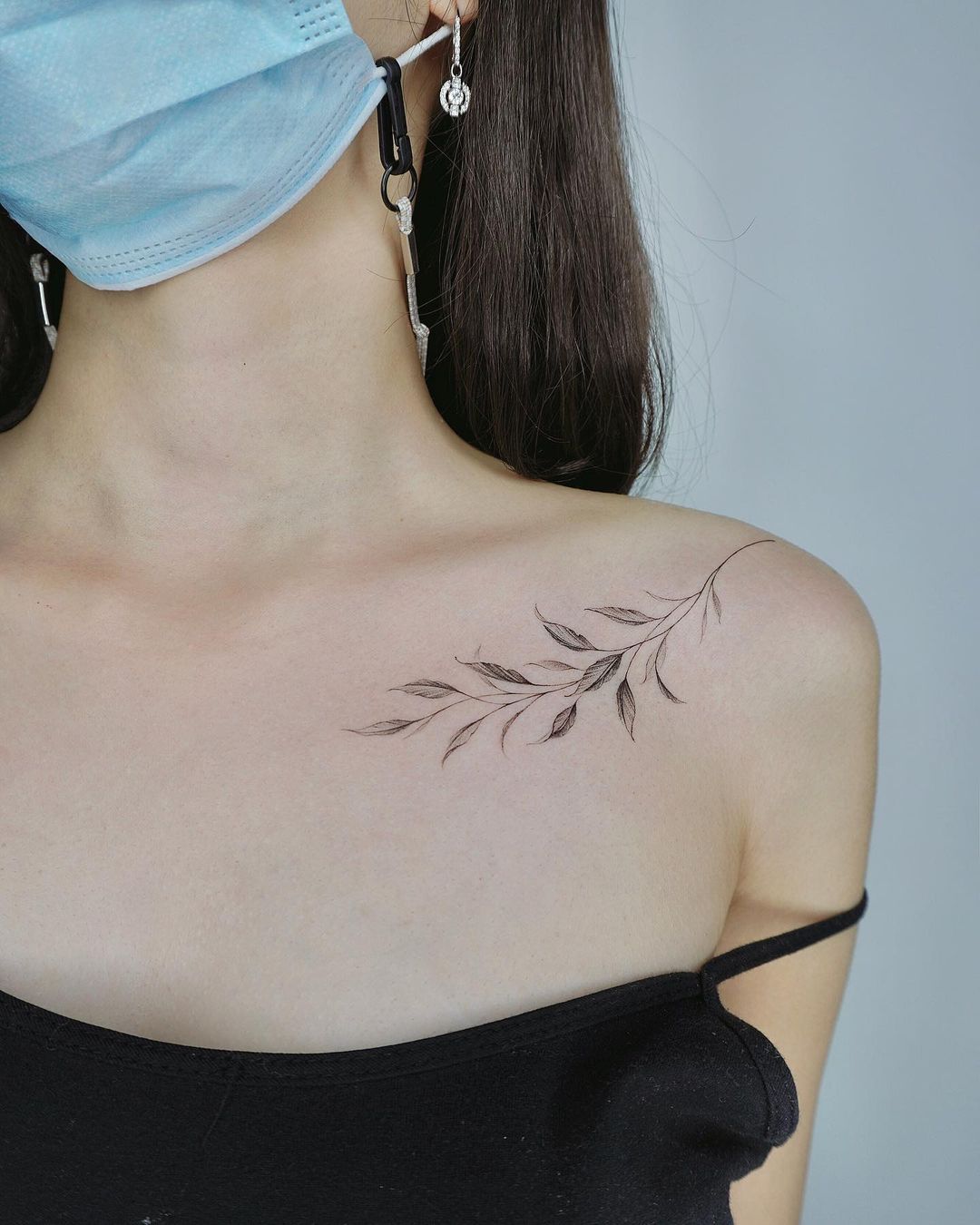 Leaf tattoos look graceful especially at this spot, and the curve gives a sense of movement. If you aren't a huge fan of flower shoulder tattoos, you can opt for something like this instead! 
Sunflower Shoulder Cap Tattoo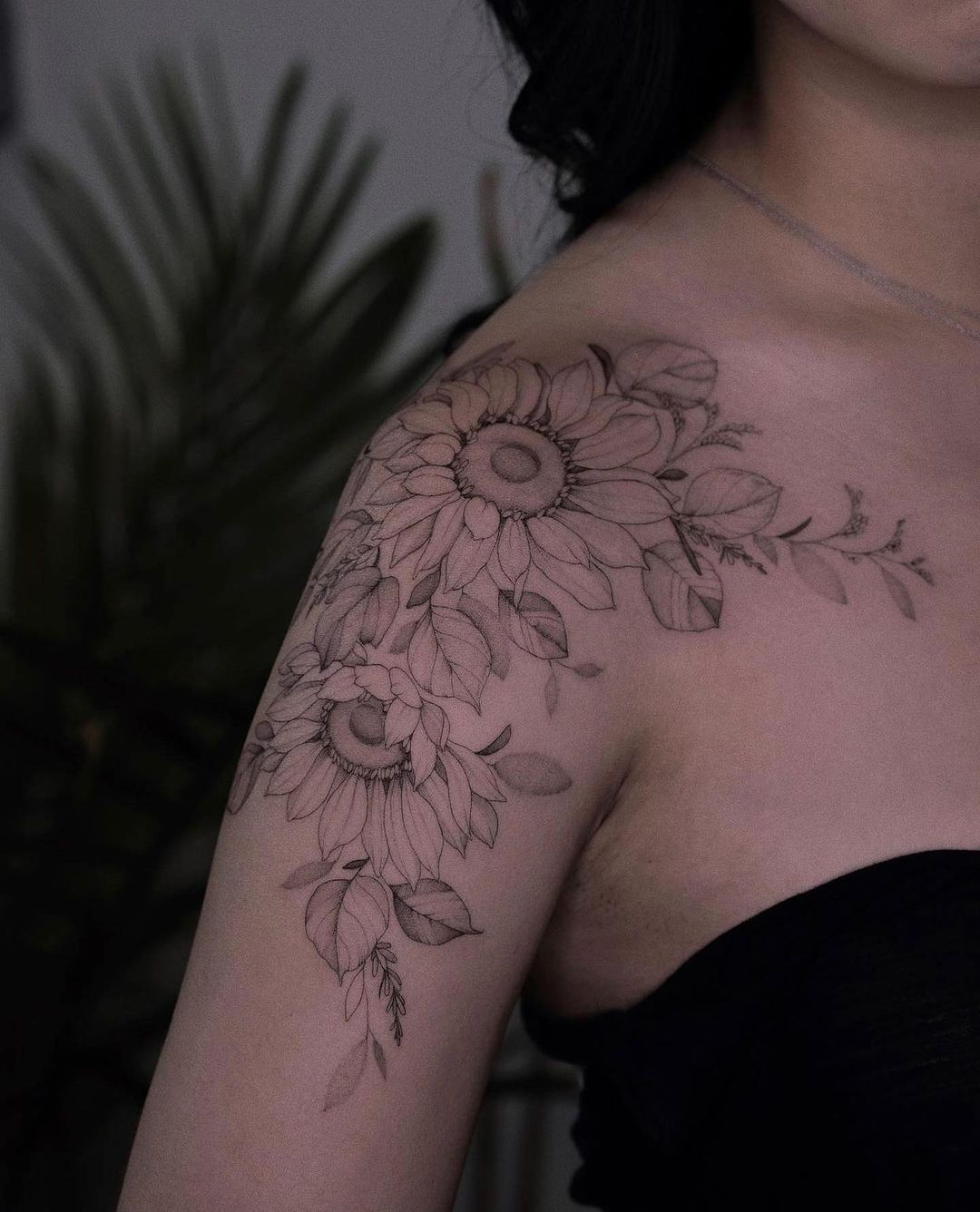 Shoulder tattoo designs that stretch from the top of the shoulder down your arm look really appealing! This sunflower tattoo design is intricate, but when done precisely and neatly, it looks really beautiful.
Circular Floral Tattoo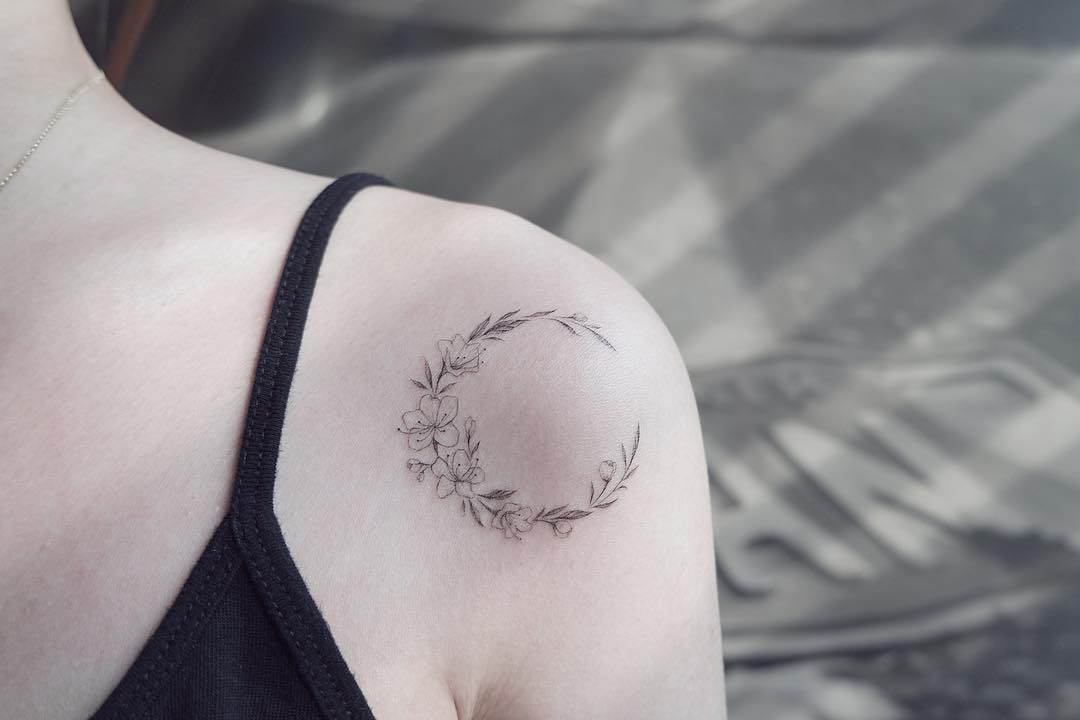 This tattoo looks really pretty and its placement is such that it mimics and highlights the shape of the shoulder. 
Around The Socket Shoulder Tattoo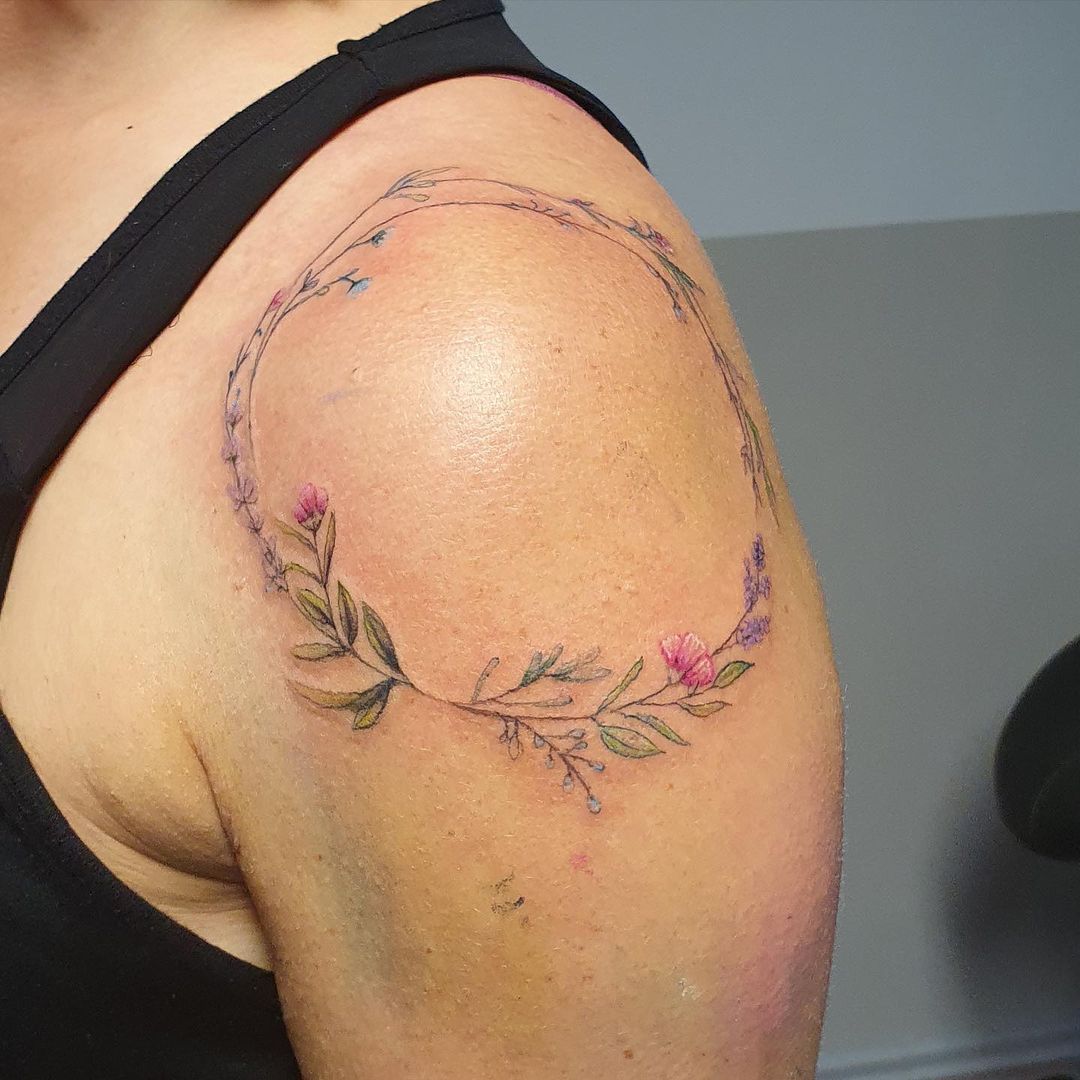 Around the socket floral tattoos have been gaining popularity lately. They look delicate, beautiful, and go along with the shape of the shoulder socket. The addition of a few colours takes the tattoo design up a notch!
Lotus Tattoo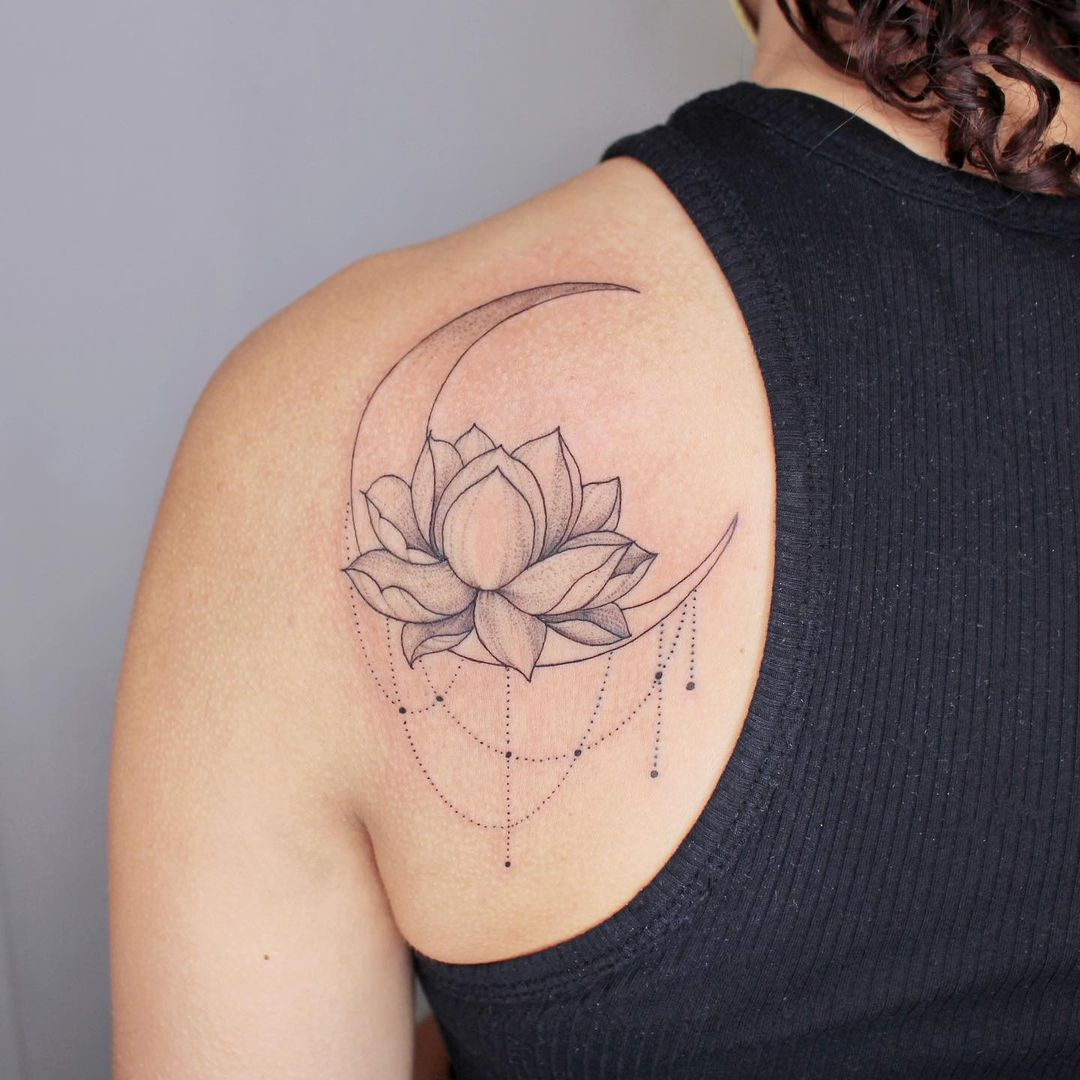 The beauty of this lotus tattoo design is enhanced by its appropriate placement. This back shoulder tattoo design can be flaunted when wearing racerbacks or tube tops, and can also be easily covered when you want to. 
Floral Moon Tattoo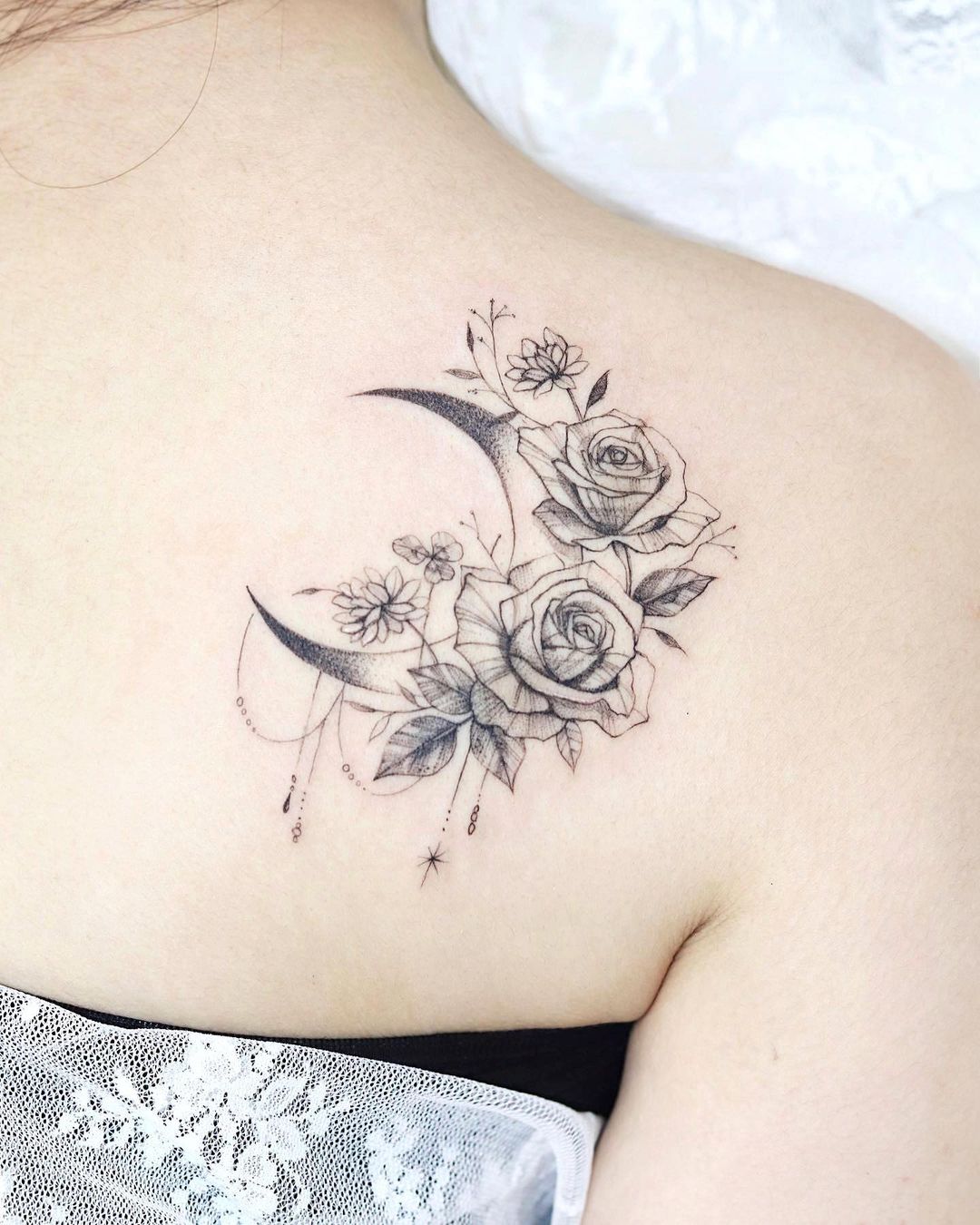 The design, the shading, and the overall look of this tattoo are just perfect! The shaded parts add to the depth of this tattoo, and it makes for a great back shoulder tattoo design for women. 
Heart Freesia Back Shoulder Tattoo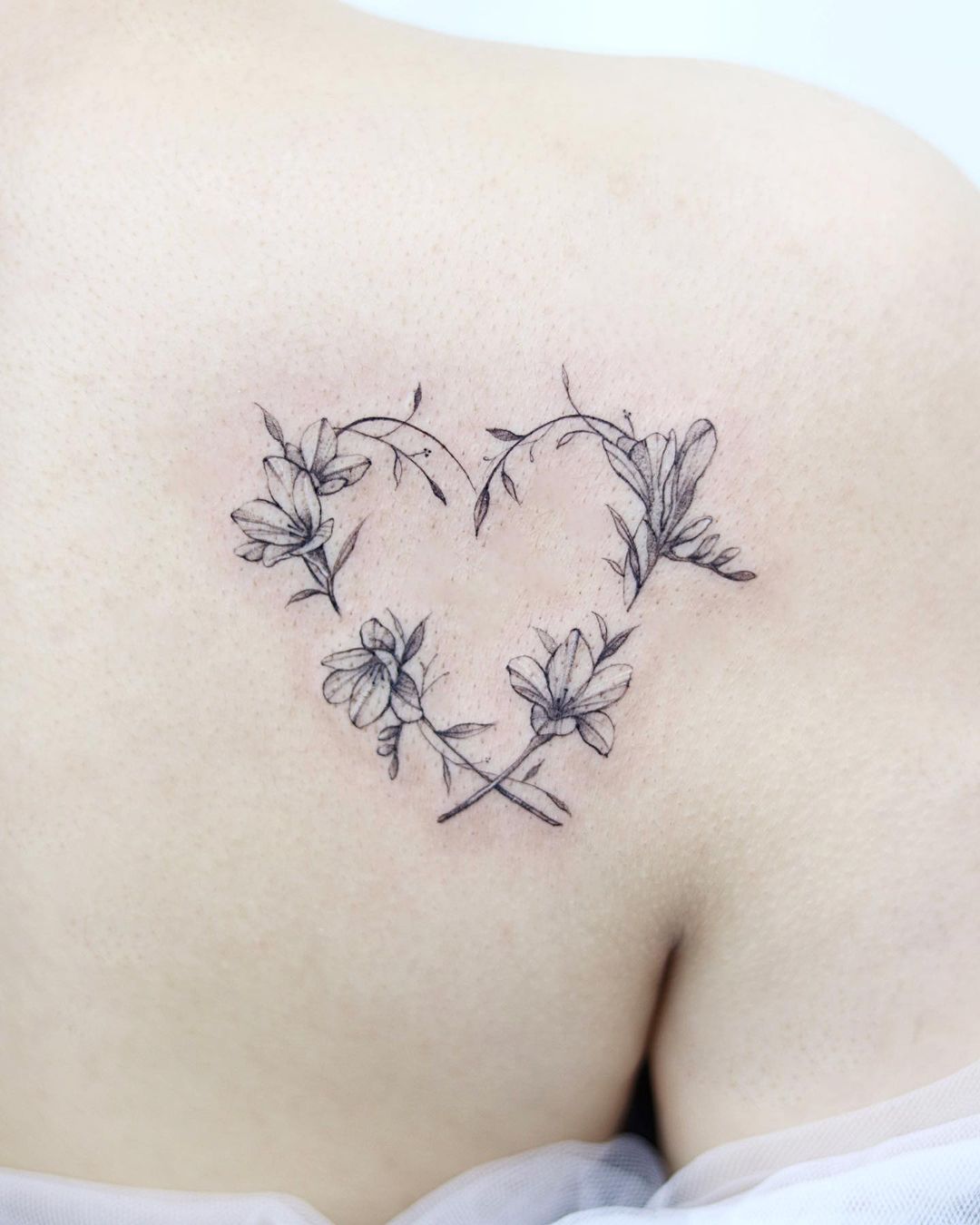 Heart tattoos on the back of the shoulder look really sexy! You can either go minimal by having just the heart outlined, or you can also add some floral elements as shown in this picture.
Dragon Tattoo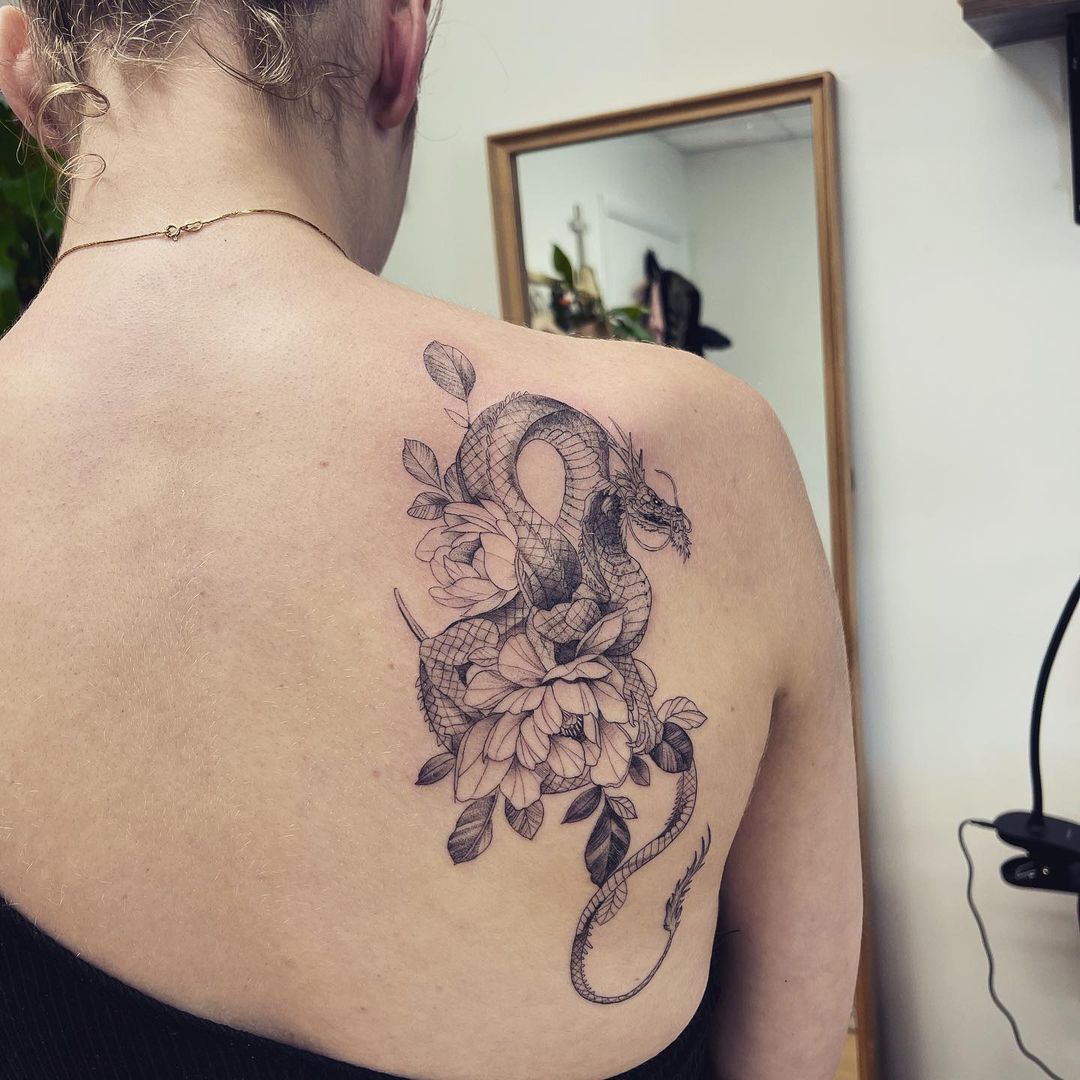 There's no denying that dragon tattoos look really amazing. The back of the shoulder is perhaps one of the most appropriate spots for this design as there's a lot of space to work with. What makes this tattoo stand out is the minute detailing in it!
Heart Tattoo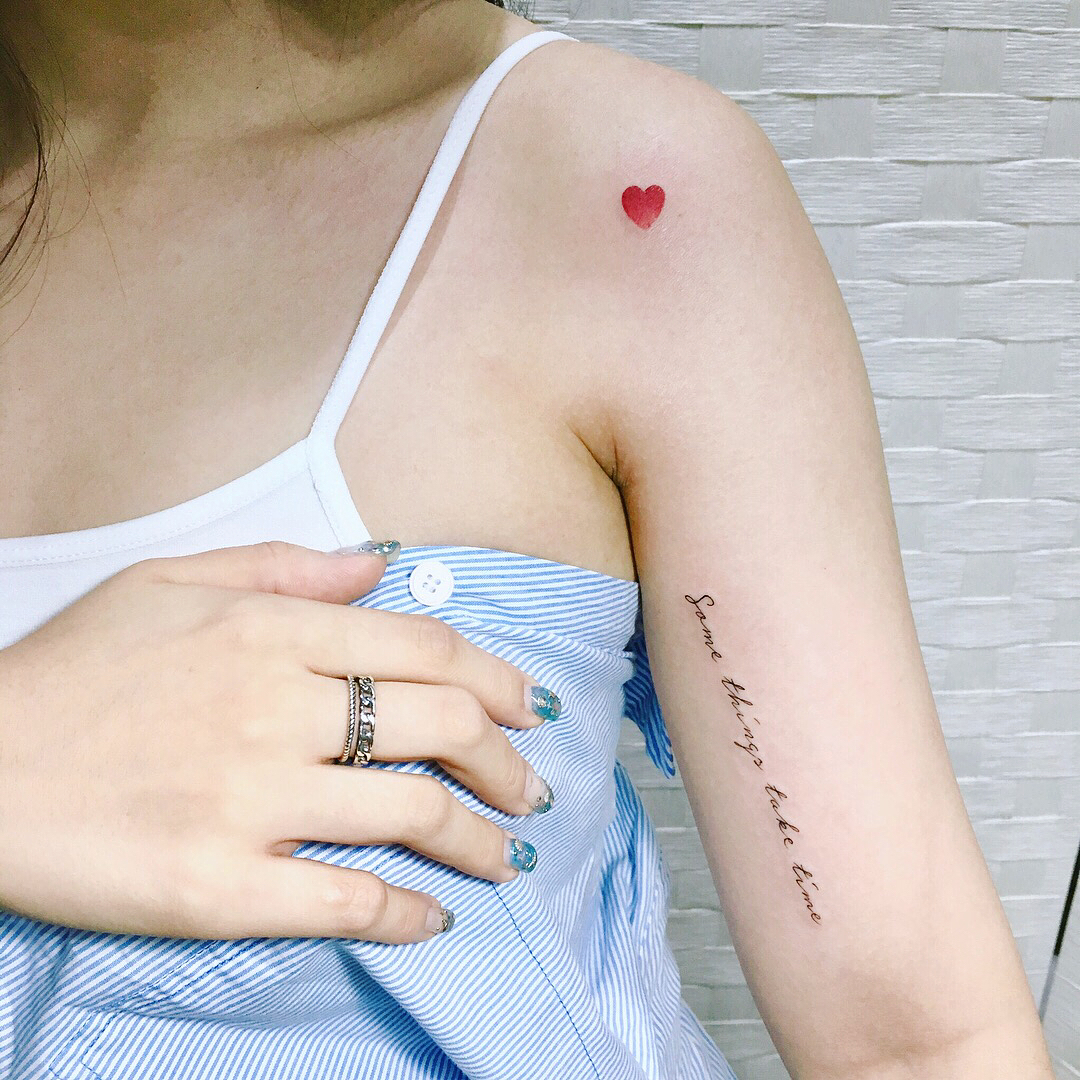 Heart tattoos are an all-time favourite! They look great no matter where you get them. But we're especially loving the placement of this tiny heart tattoo design, and you can flaunt it every time you wear a sleeveless outfit.
Wave Tattoo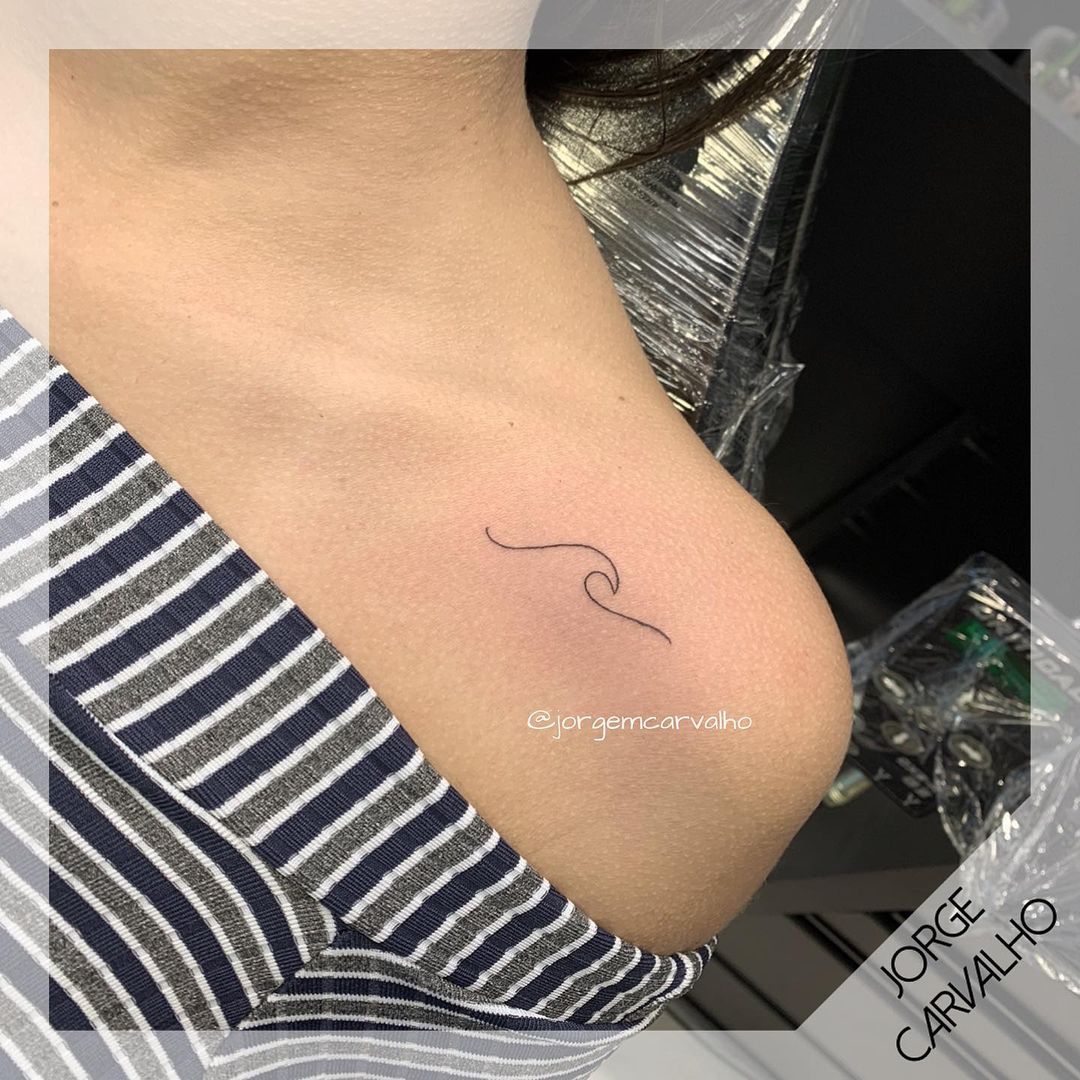 We're loving the use of the minimal curve to depict waves. This small shoulder tattoo design is perfect for those who love the ocean and the waves.
Hummingbird Tattoo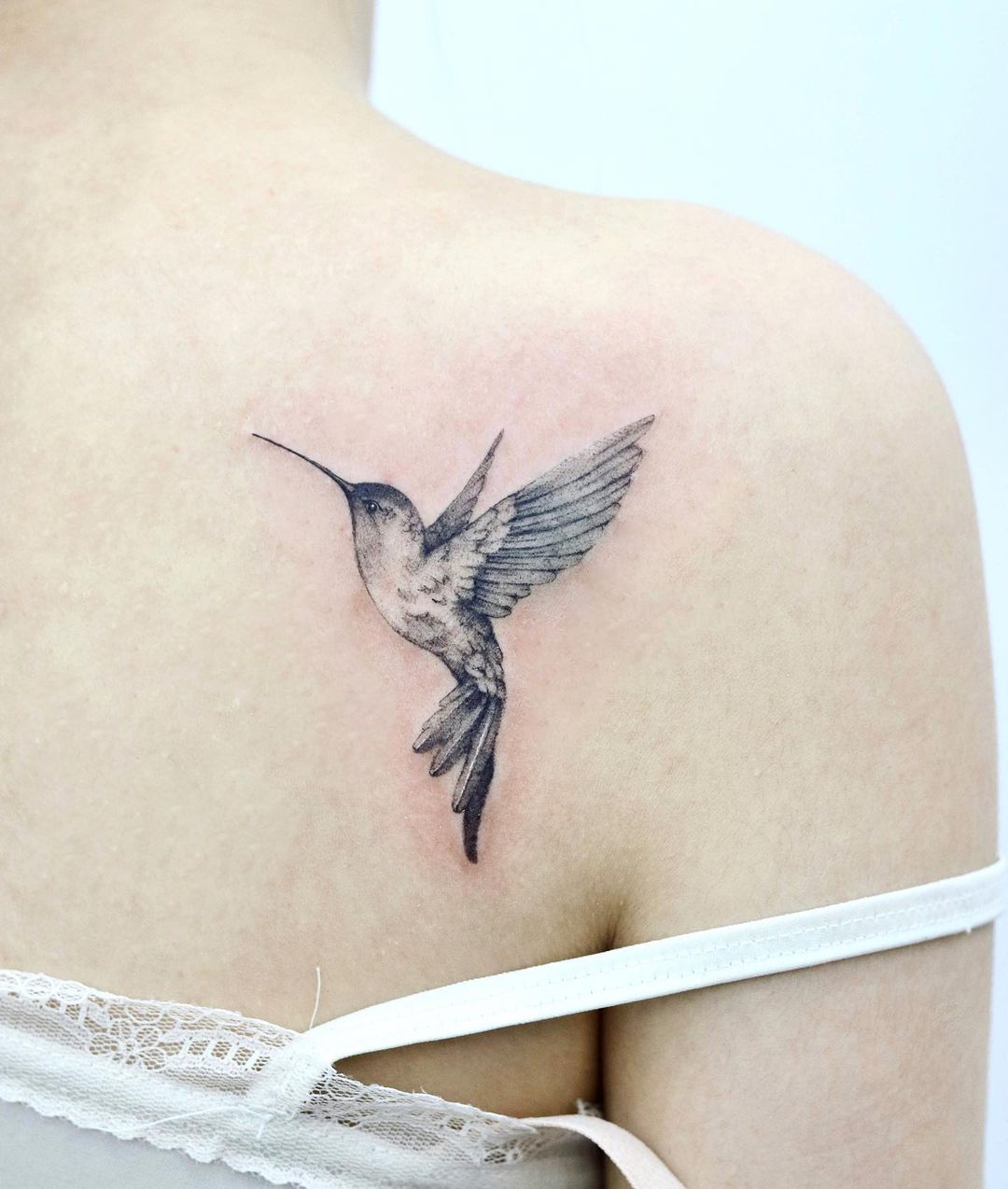 Hummingbirds are among the most popular tattoo designs and they can represent freedom for some, joy and beauty for others. Despite being a small shoulder tattoo design, it's really striking and noticeable. 
Constellation Tattoo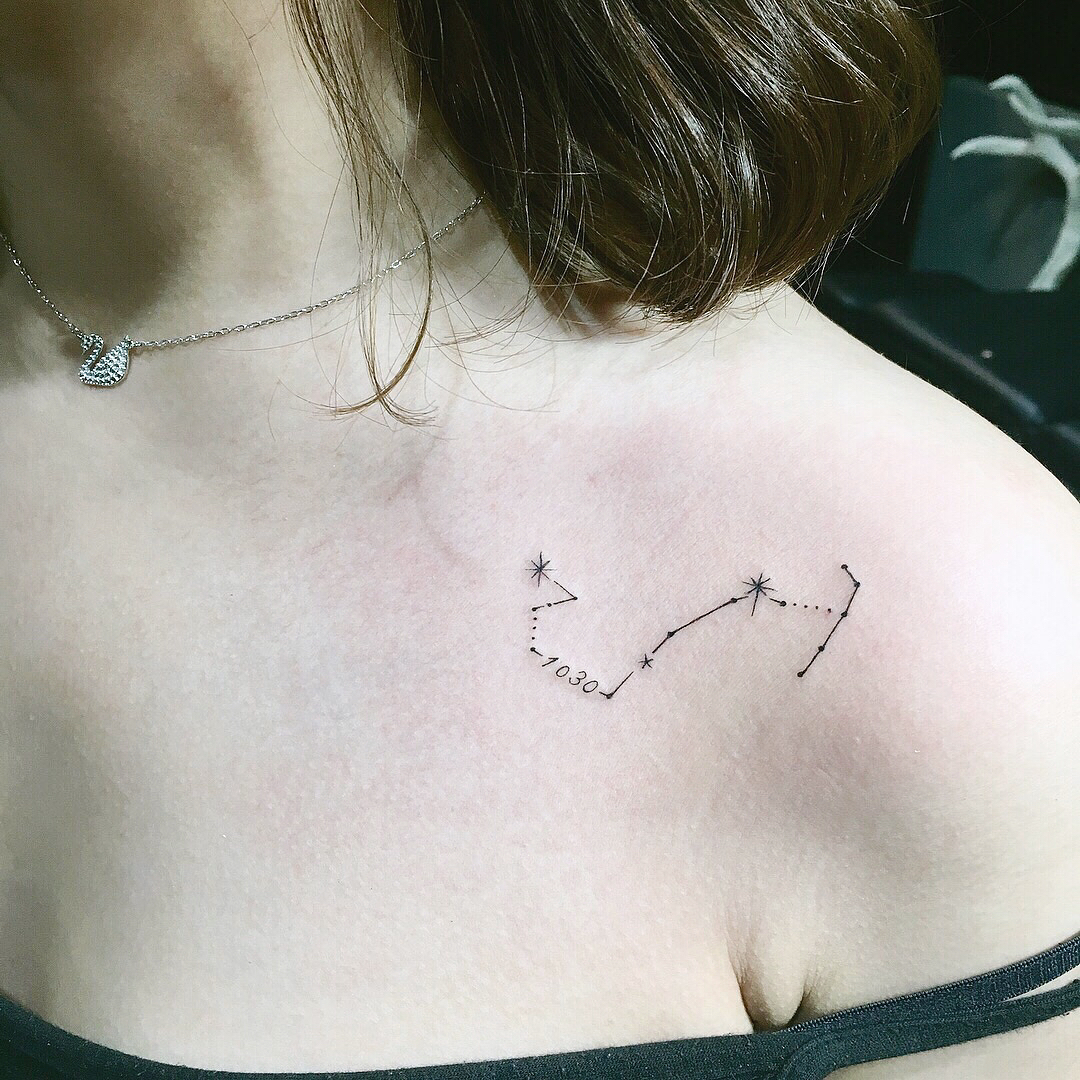 Constellation tattoos are quite unique, very much in vogue, and are perfect for all those who love the cosmos, stars and outer space. 
Coloured Flower Tattoo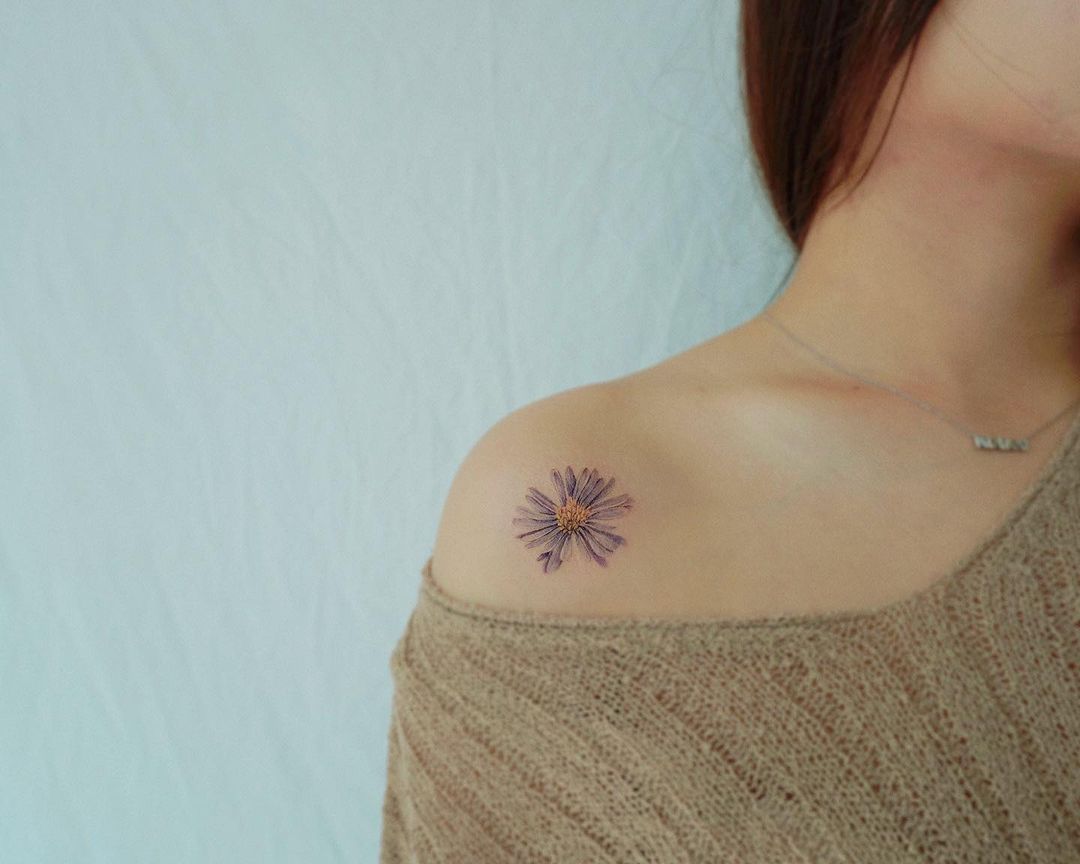 This is the perfect example of 'beauty in simplicity'. We're loving how simple yet striking this small shoulder tattoo design is!
Lunar Tattoo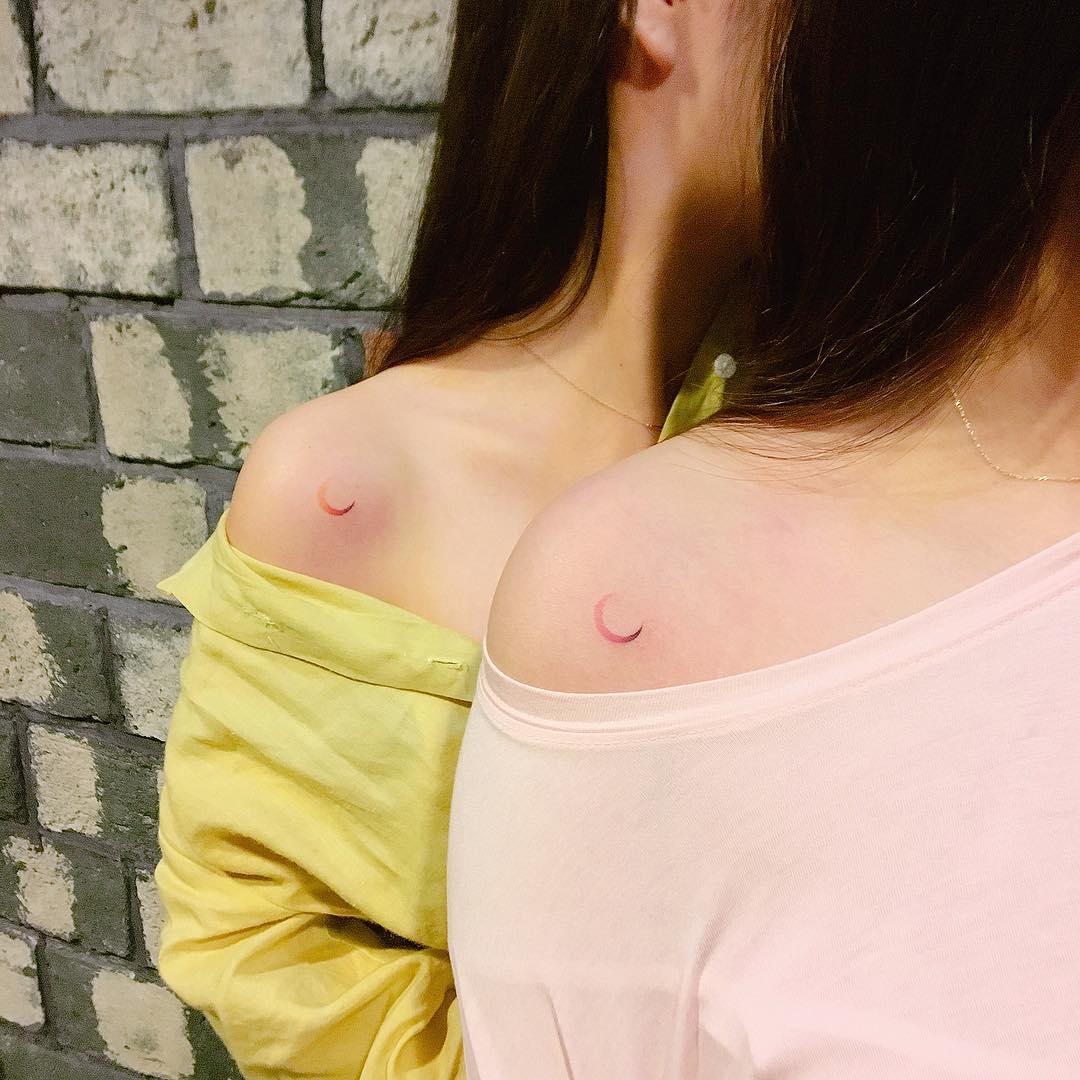 Crescent-shaped moon tattoos look really cute, especially ones inked on the shoulder. They can be really small, but are enough to grab attention. 
Sun And Moon Shoulder Tattoo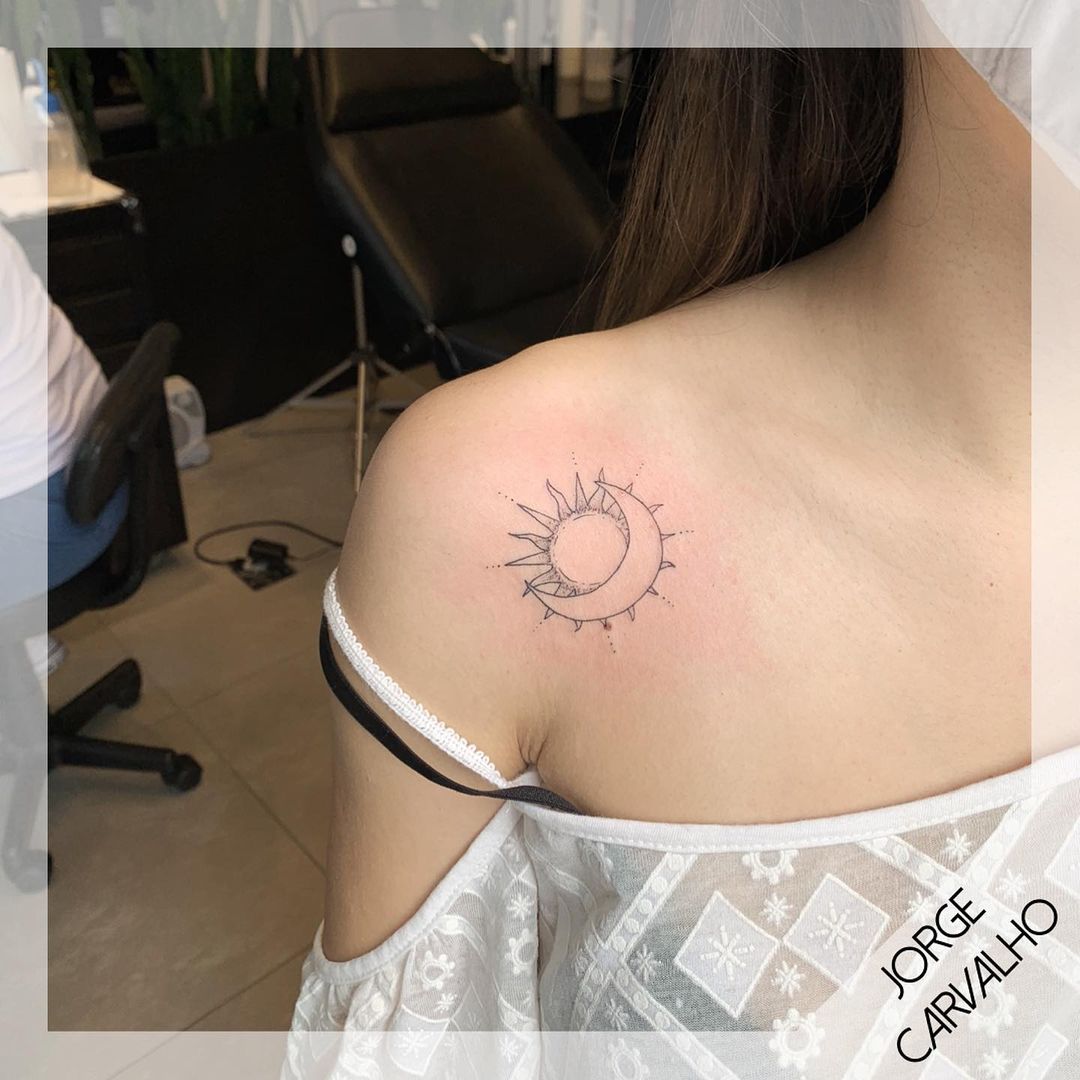 Sun and moon tattoos are really popular, not just because they look really aesthetic, but also because they have a beautiful meaning. Sun and moon represent the merging of opposites, and how everything in life has a dark and bright side. 
Pink Butterfly Tattoo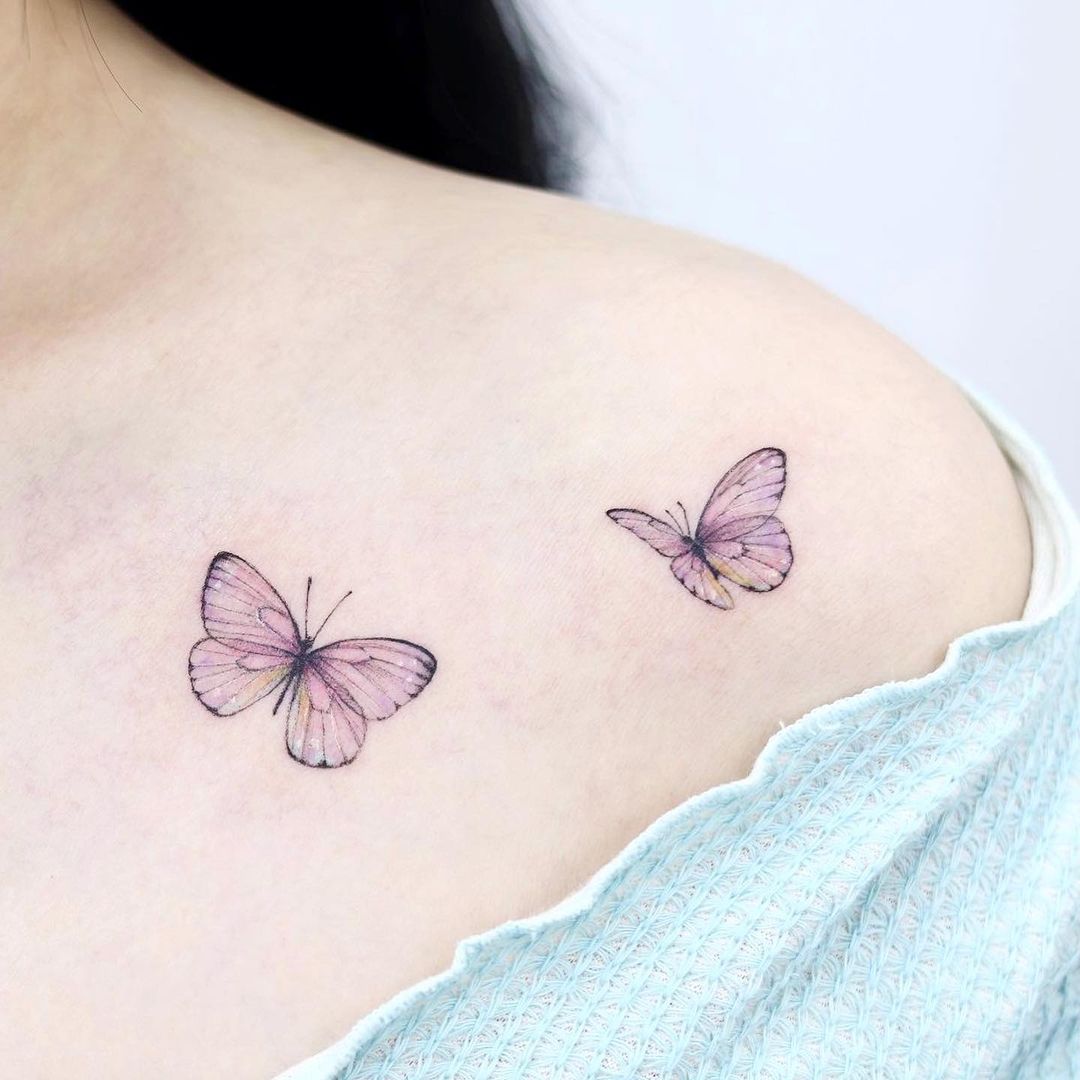 Butterflies are associated with transformation and freedom and it is due to its beautiful meaning that butterfly tattoos are very common. The front of your shoulder provides plenty of space to ink flying butterflies, making it the perfect spot for such a tattoo. 
Leaf And Lettering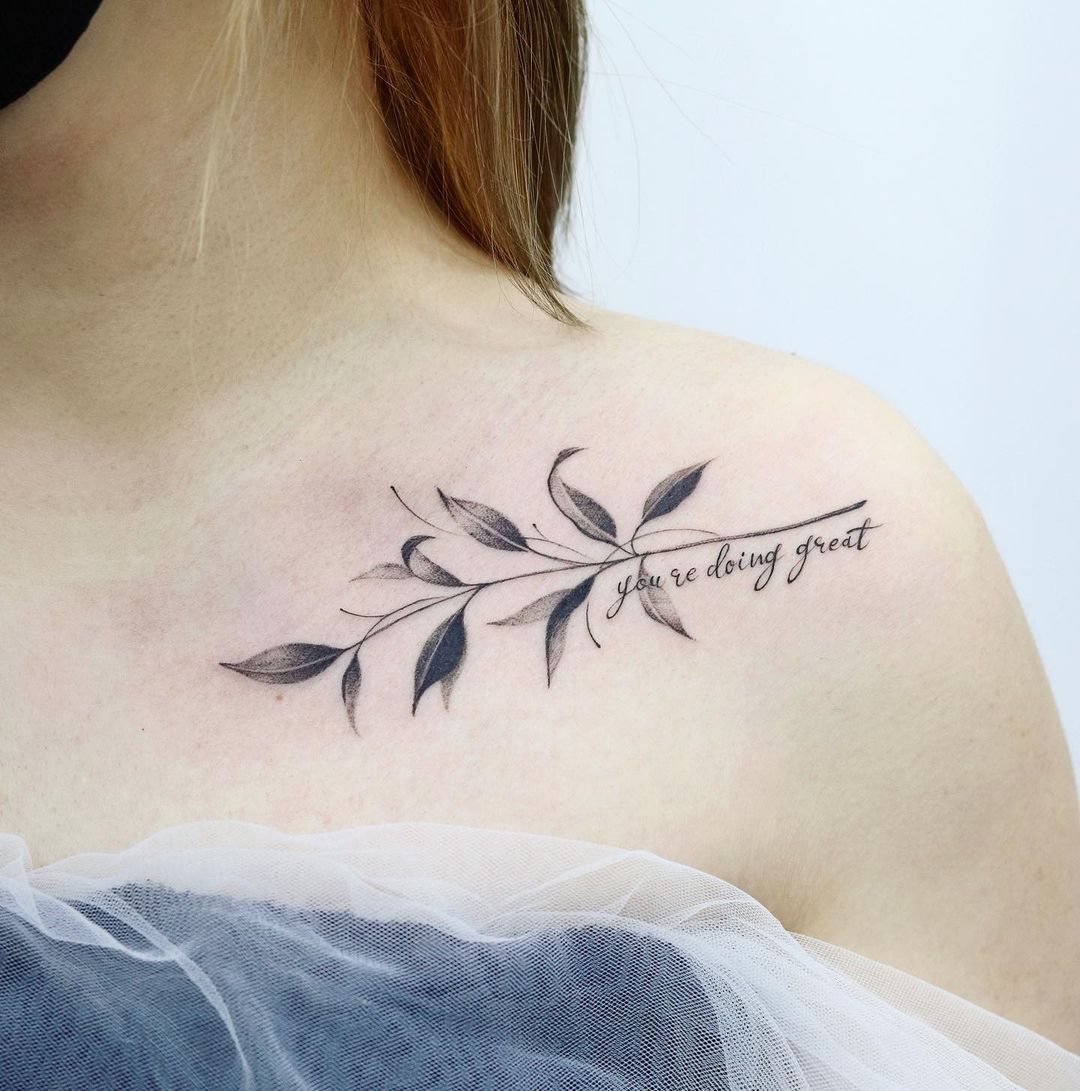 Given the horizontal space around the front of your shoulder, you can not just get a phrase inked, but can also have a beautiful design around it! Here's one such example of front shoulder tattoo design where a beautiful shaded leaf design has been intertwined with the lettering. 
Dreamcatcher Inspired Shoulder Tattoo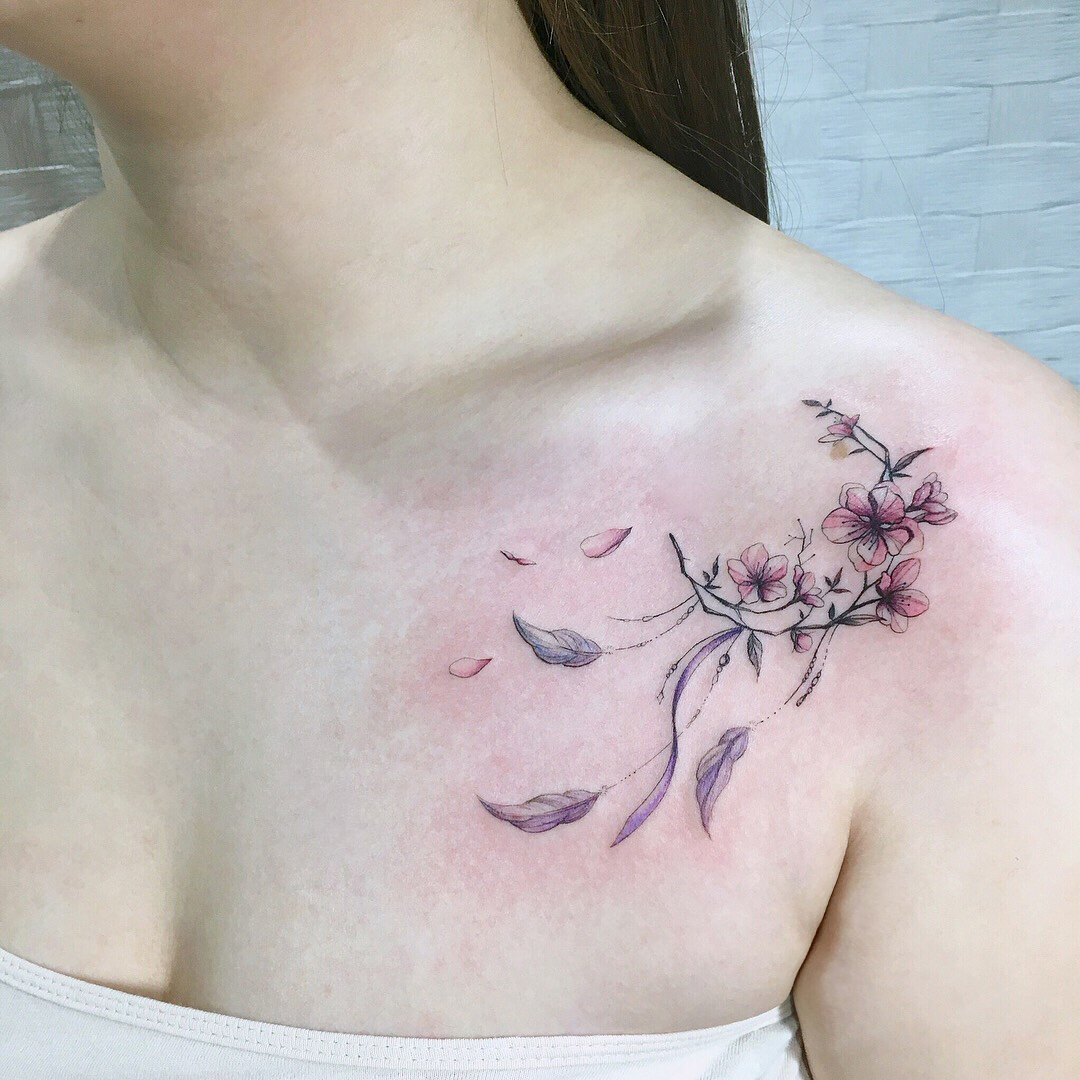 Dream catcher tattoos have been all the rage lately, and they also look really pretty. We're loving this cherry blossom themed dream catcher tattoo, and how artistic it looks. 
Shaded Floral Shoulder Tattoo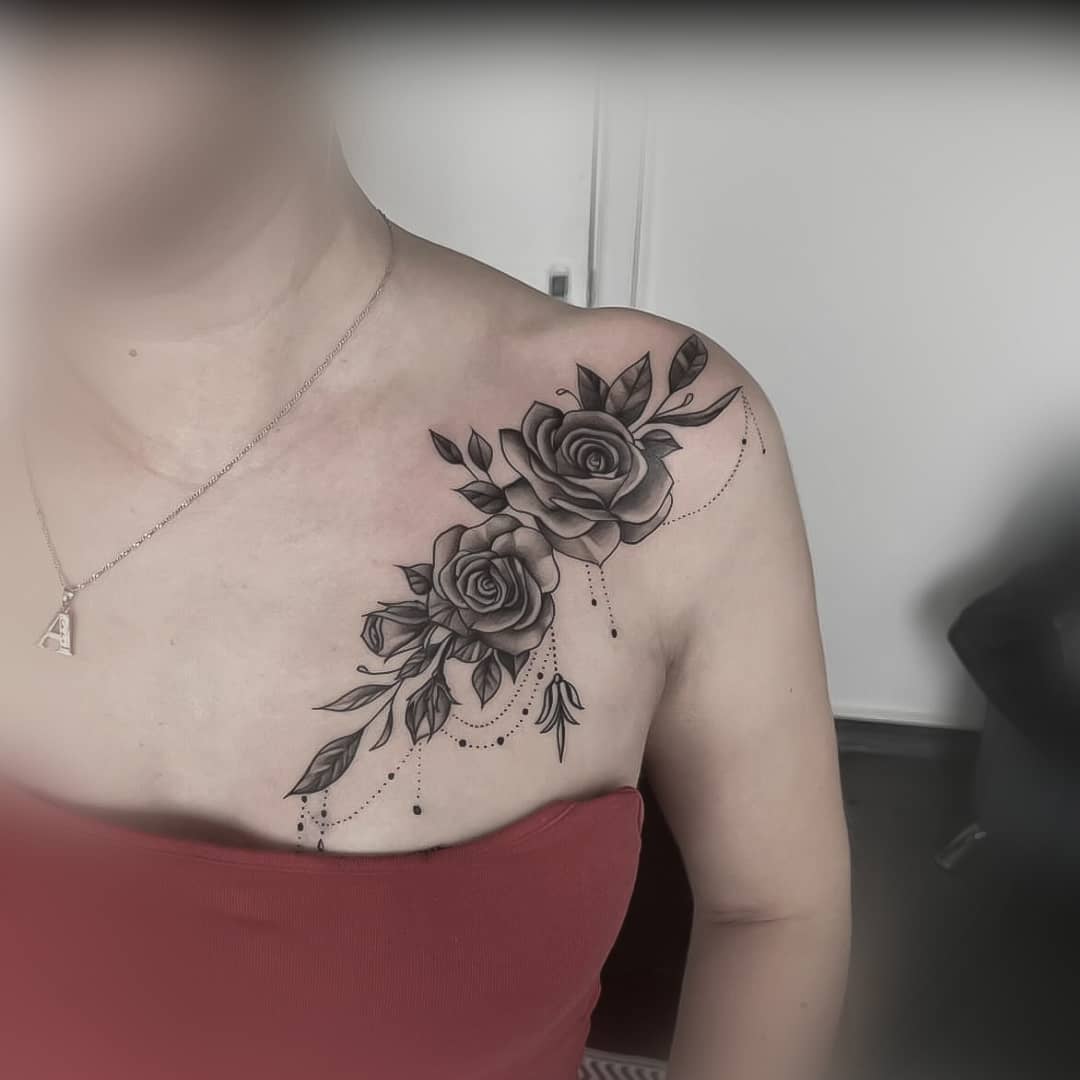 It takes a skilled tattoo artist to perfectly ace the beautifully shaded areas, but when done right, this tattoo design can look really alluring.
Floral Creeper Tattoo Design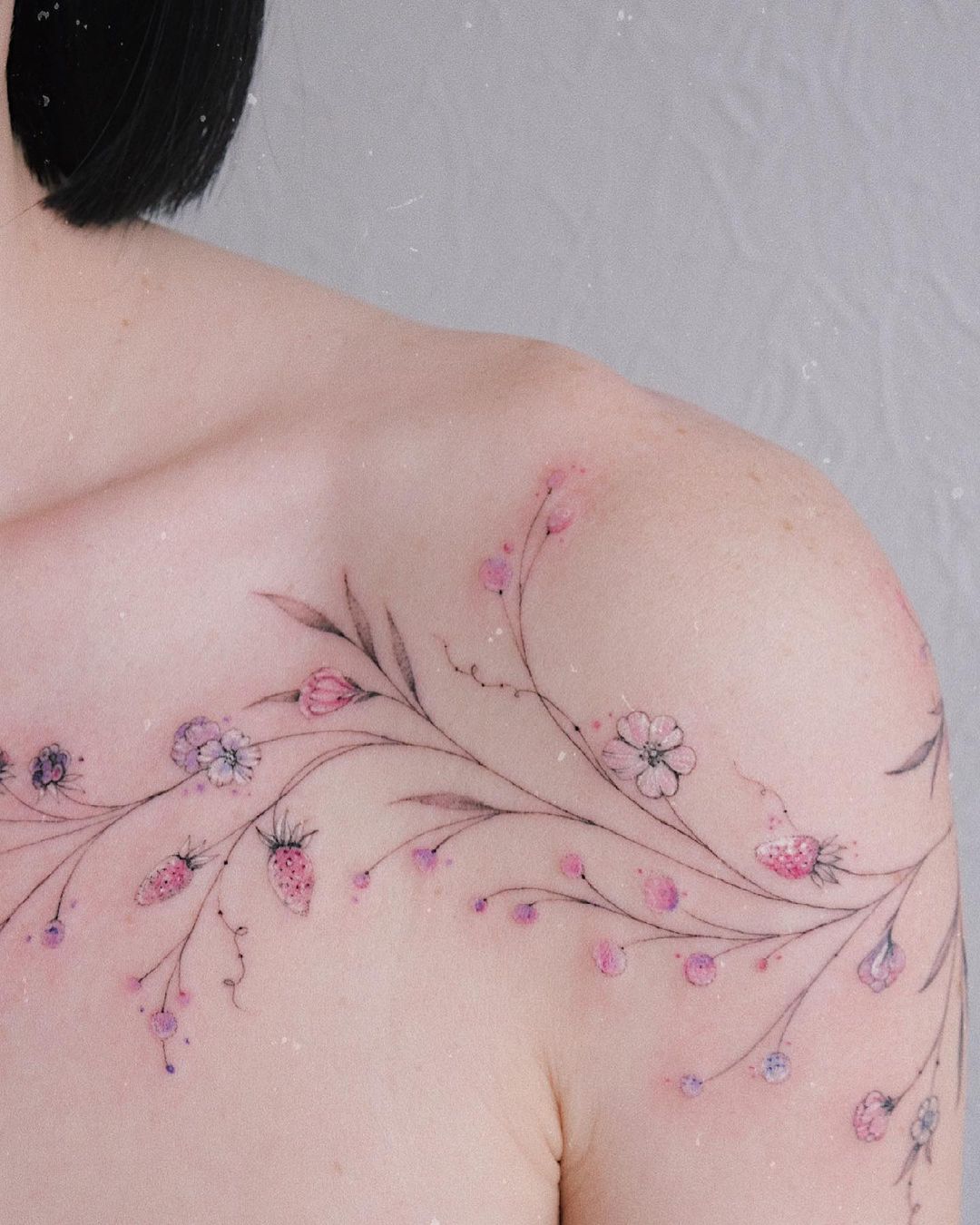 If you're looking to get a delicate-looking floral tattoo design, then this is perfect for you! We're loving how the design uses the shape of the shoulder to its advantage in this design. Gorgeous, isn't it? 
Roman Numeral Tattoo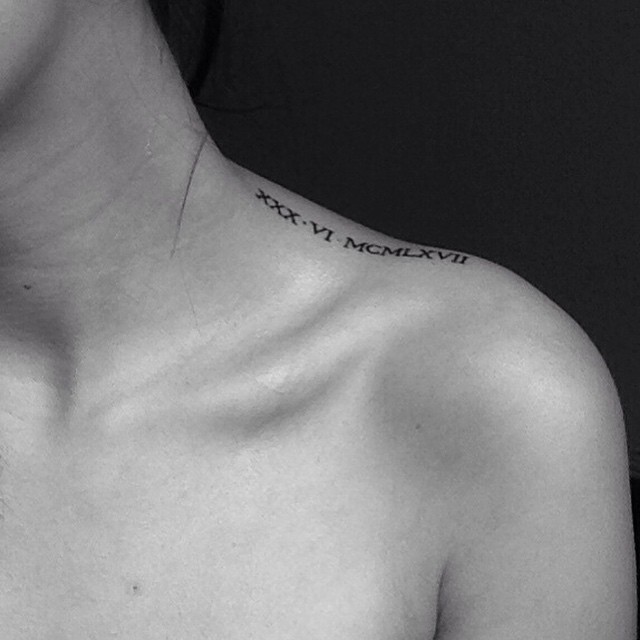 When it comes to top shoulder tattoos for females, Roman Numerals tattoo design is one of the most popular ones. You can get a particular date tattooed, something to signify an important event in your life that took place on that date.  
Cherry Blossom Tattoo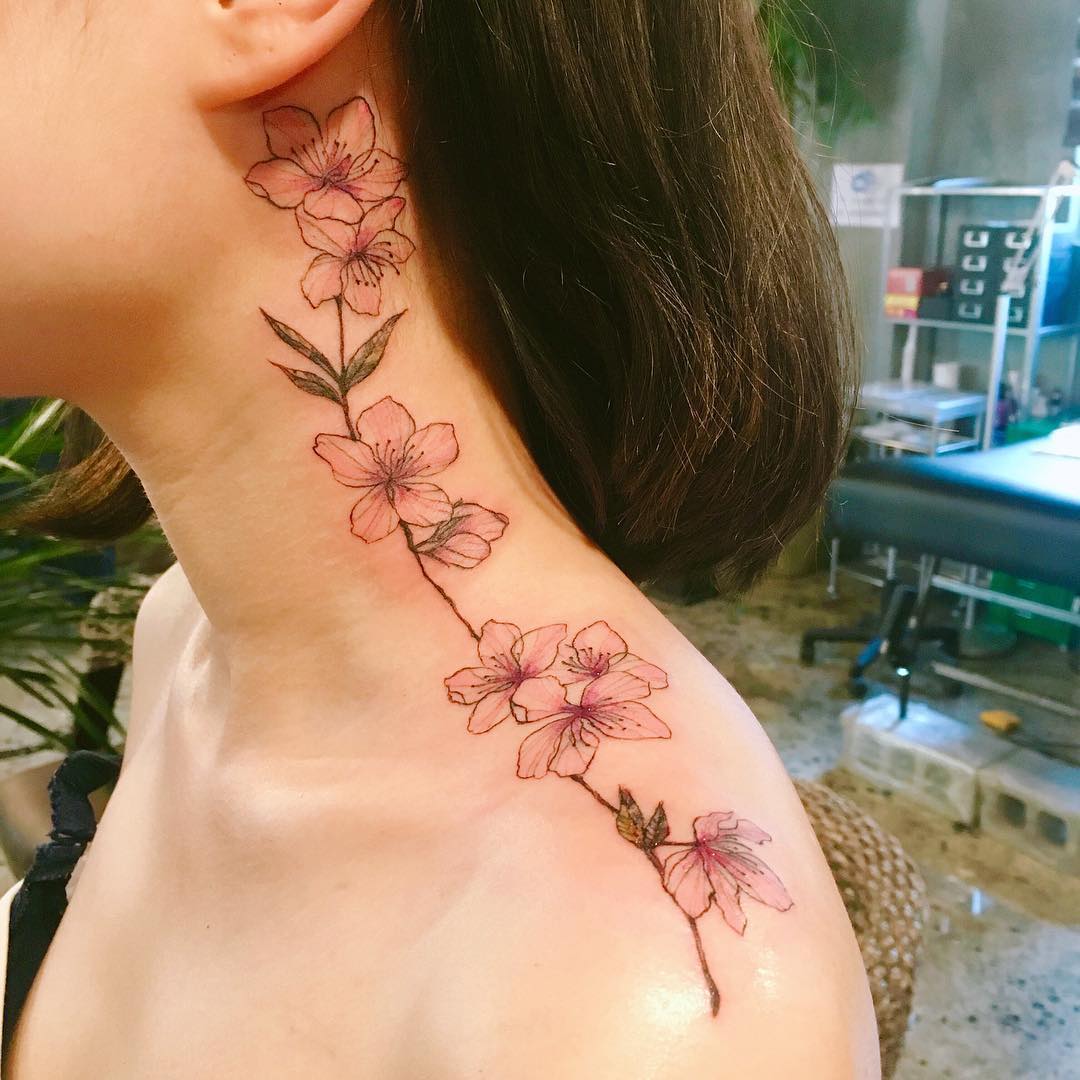 This tattoo starts at the top of the shoulder and continues until the back of your ear. The best part about this tattoo is that the design extending from the shoulder will always be partially visible, making it really intriguing! 
Moon Phase Tattoo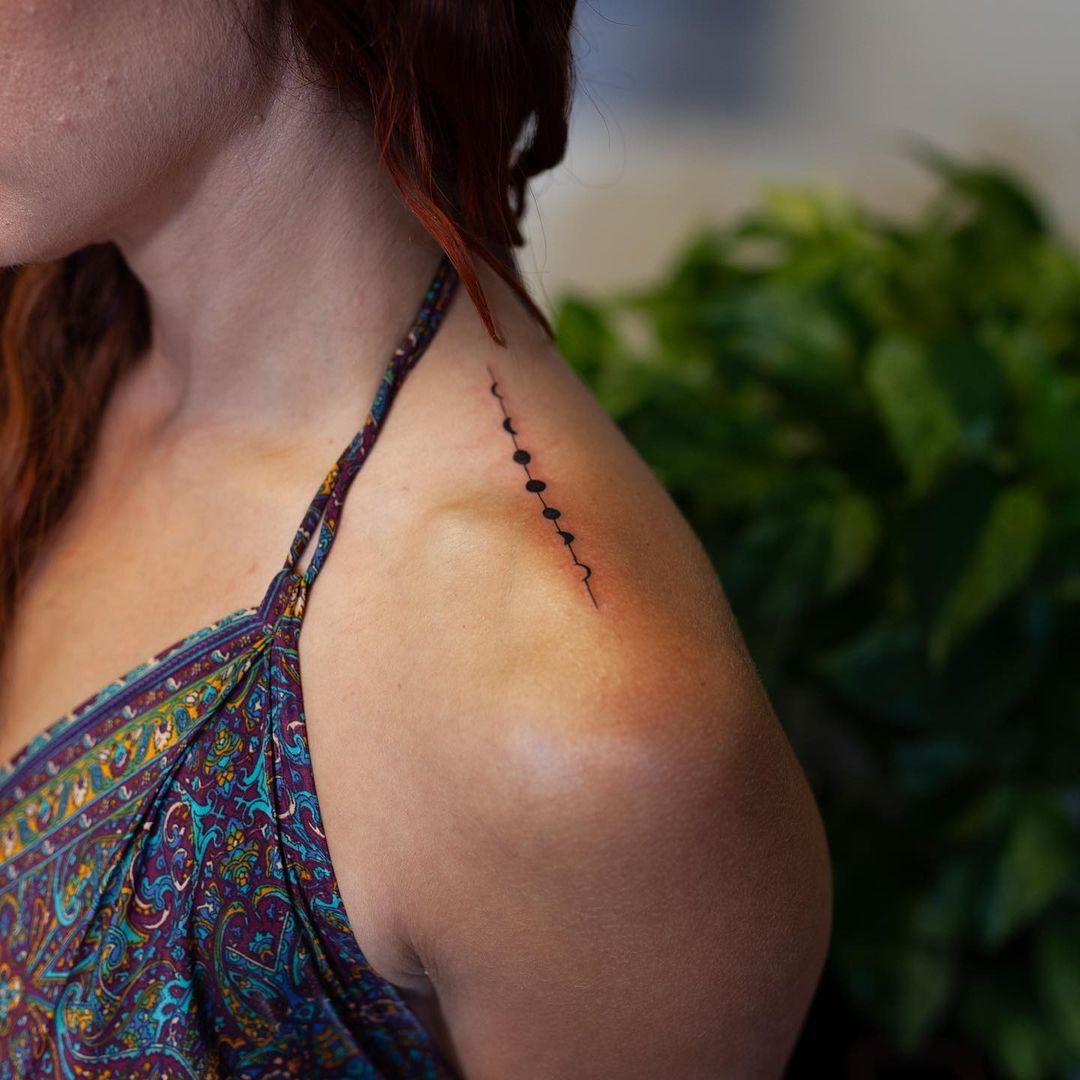 Moon phases make for really popular tattoo designs and depict the ever-changing phases of life.
Top Shoulder Leaf Tattoo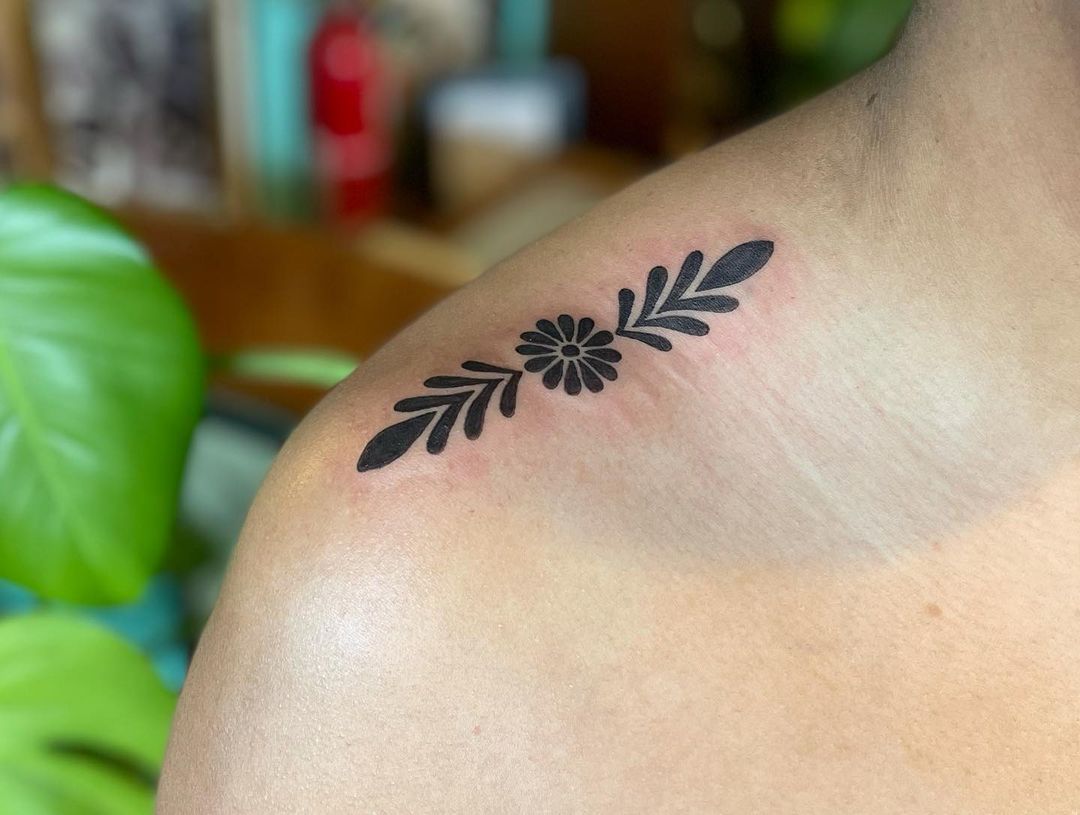 Top shoulder tattoos for women are usually small, and run along the width of your shoulder. This simple floral design sits perfectly on the shoulder and looks really pretty. Filling in the design with black ink makes it more prominently visible.  
Ornamental Tattoo Design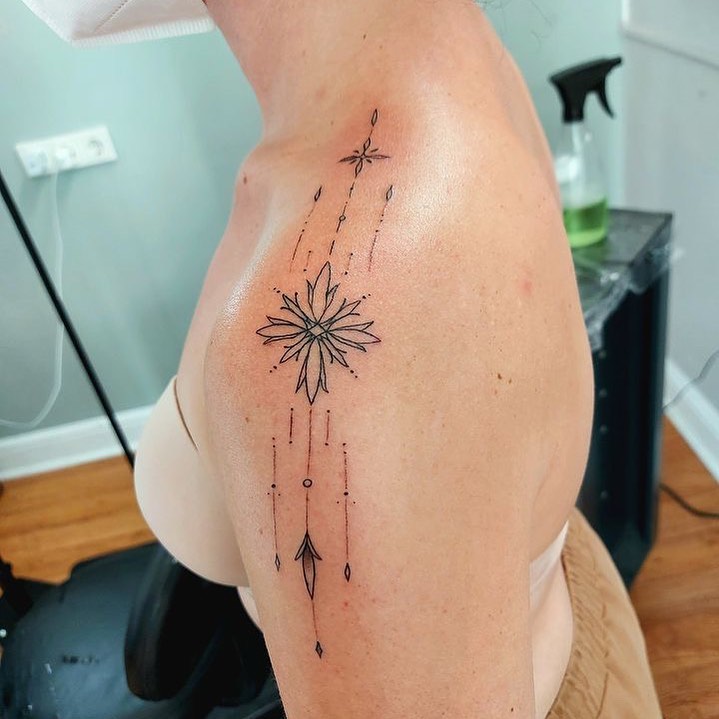 Ornamental and geometric designs like these look amazing as top shoulder tattoos for women. The lines used in this design give it a dynamic look. 
Feather Tattoo Design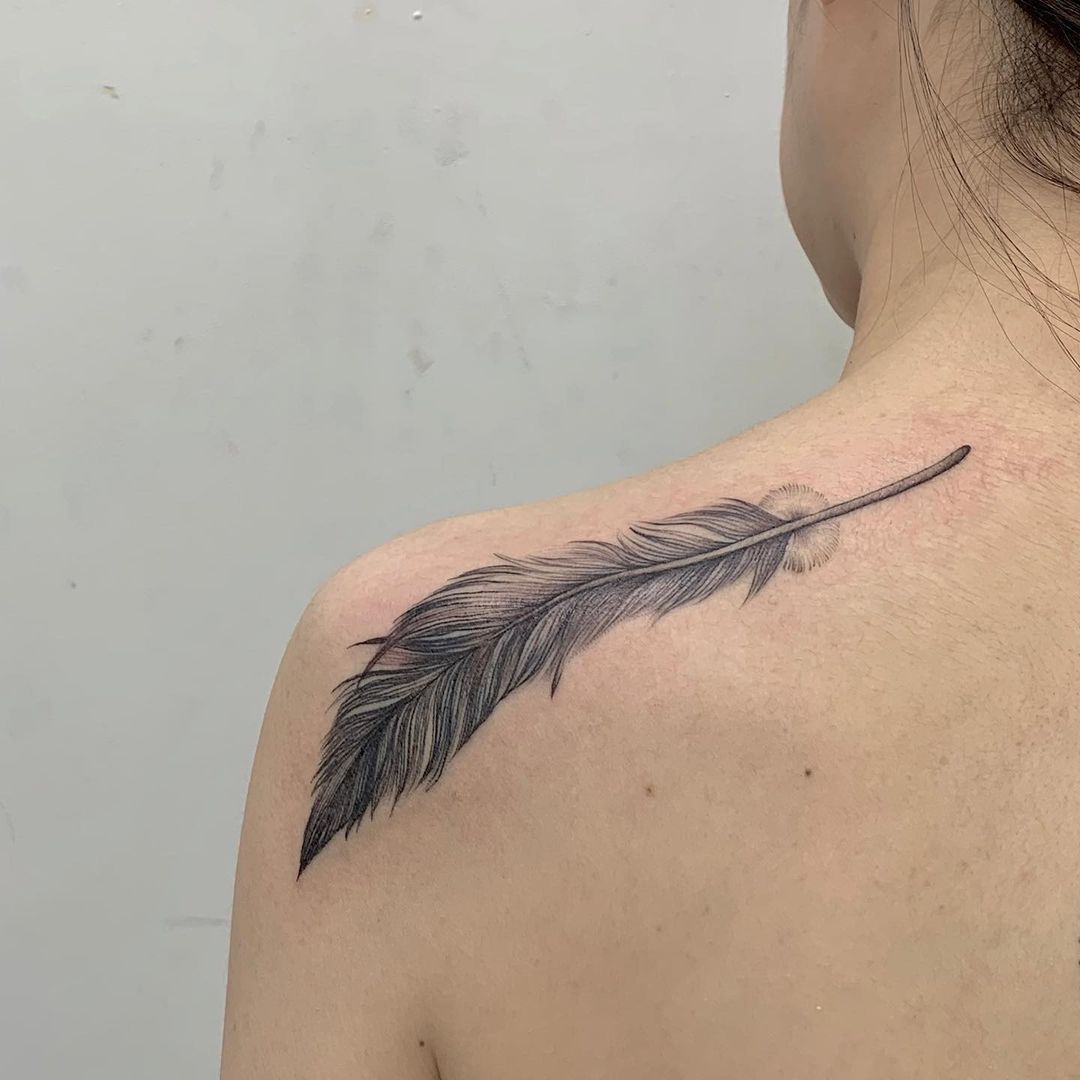 This upper back shoulder tattoo for women looks really attractive. The curve of the feather follows the natural shape of the shoulder, and we're loving the result!  
Falling Petals Tattoo Design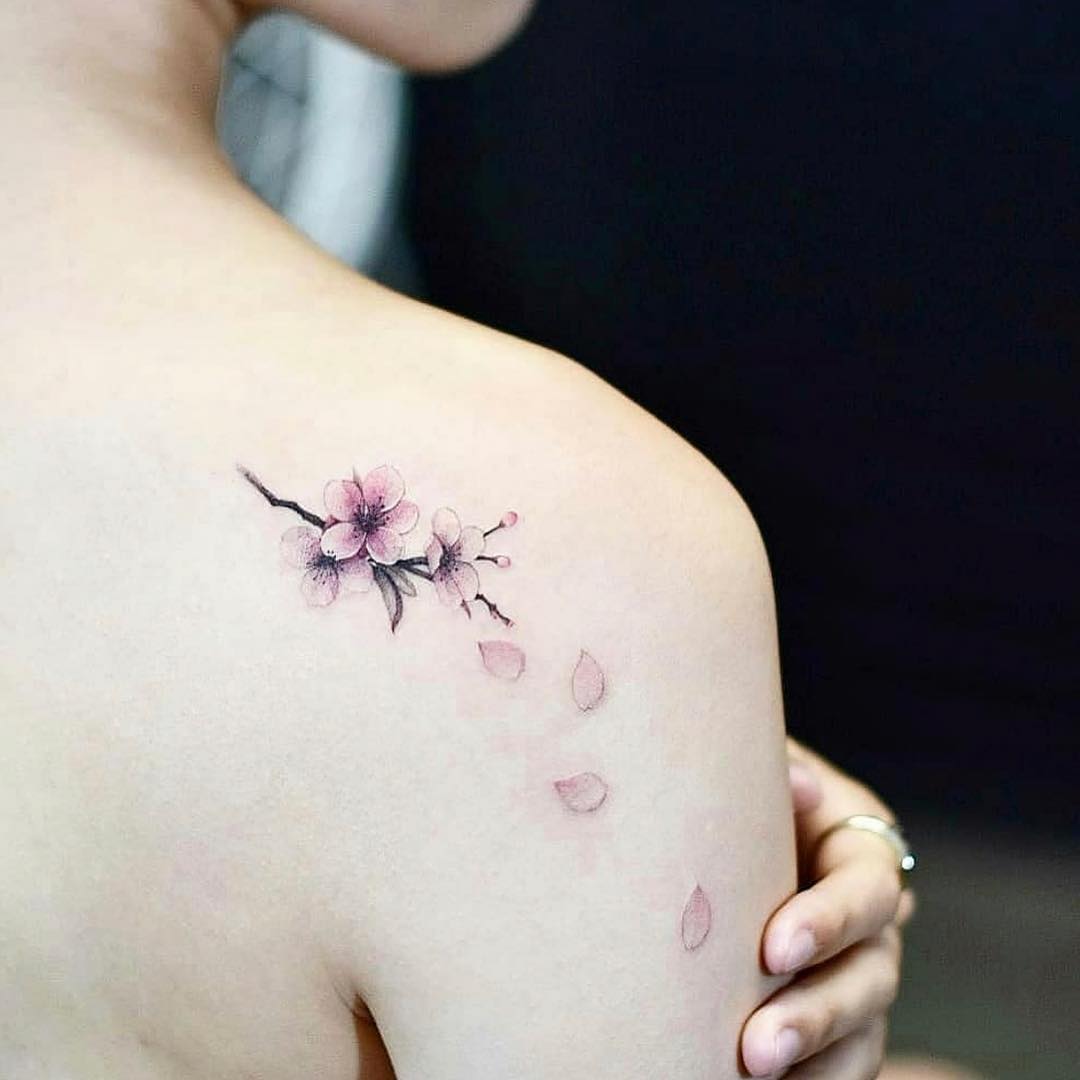 Adding a bit of a subtle colour can make your tattoo pop, and this design is proof! The placement of this tattoo is spot on, with the flowers on the upper back shoulder, and the falling leaves down the arm. 
Mountain Tattoo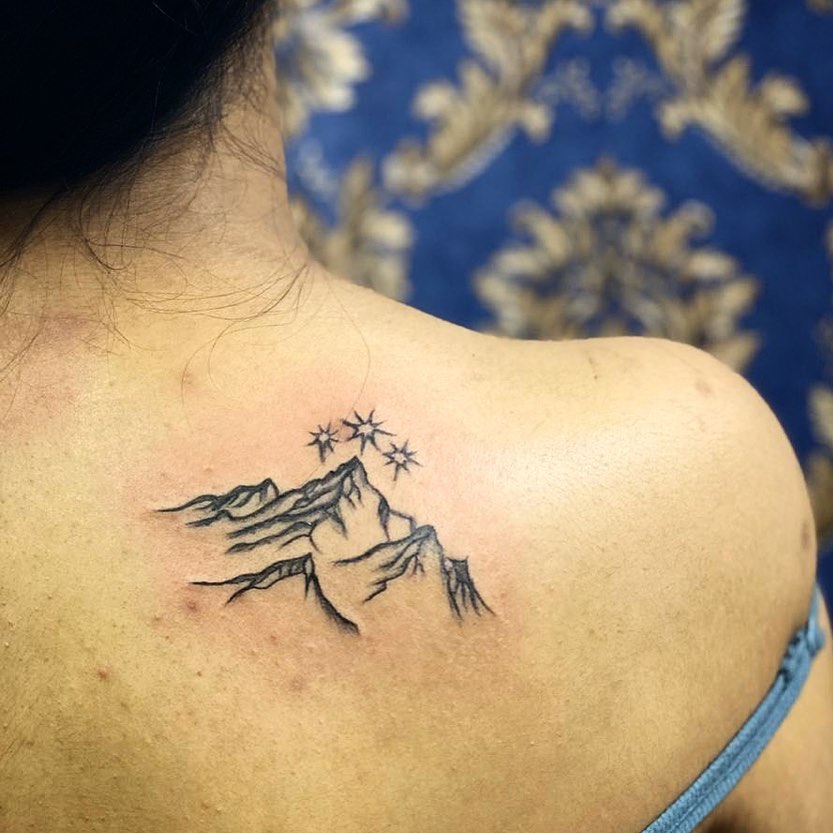 A mountain tattoo can represent achieving goals, overcoming obstacles. This makes for a great tattoo design for all those adventurous souls who love mountains and have an affinity for the outdoors. 
More Tattoo Designs
Best Neck Tattoos For Women: Thinking of getting a tattoo? We have some great reccos for you. Here are some fab neck tattoo designs that you can check out.
Hand Tattoos For Women: Hand tattoos are small, cute, and can enhance the beauty of your hand. Check out these designs that we are sure you'll love!
Tattoo Designs For Women: Have you been considering getting a tattoo but are apprehensive about which one to choose? These amazing tattoo designs for women will convince you to get inked!
Couple Tattoo Designs: Couple tattoos are a great way to show your love for each other! Here are some really creative couple tattoo designs that you must check out.
Neck Tattoos For Women: Whether you're looking for tattoos for the back of your neck or the side, there's something for everyone!
Finger Tattoos For Women: Finger tattoos look cute, dainty, and can be really appealing despite being small! Here are some finger tattoos for women that you've gotta check out.
By now we've established that shoulder tattoos for women look really cool! Which one are you getting inked? 
 Featured Image: Instagram
© 2022 THE GOOD GLAMM GROUP