Bigg Boss OTT 2 TRPs are over the roof because of the ongoing family week. The viewers are excited to see the contestants' family members enter the house and the fun task has already begun. Amid all the anticipations, they were also expecting to see Alia Bhatt enter the BB house to support Pooja Bhatt but that didn't happen. Instead, Mahesh Bhatt showed up to support his daughter and what happened next left the viewers feeling very very uncomfortable.
A lot of videos from Mahesh's BB house visit are going viral on social media as people discuss his antics in the house. They are furious with his touchy-feely act with all the women contestants.
It started the moment Mahesh set foot in the house and met Manisha Rani. He instantly grabbed the influencer after seeing her and said "Khamosh…dekhiye meri aankhon mein dekhiye. Dekh nahi pa rahi aap meri aankhon mein. (Keep quiet and look into my eyes. You are not able to look into my eyes.)" He then went on to caress Manisha's hair as well.
But it didn't stop just there. When Manish requested him to have a chat, he immediately replied, "Main to tumhara hi hu, tumhare liye hi aya hu. Tumhara kuch mere paas tha, tumko dene aaya hu (I am all yours. I came here just for you. I had something that belongs to you with me and I am here to return it)."
The weird dialogue has left the netizens scratching their heads as no one has been able to decode what the filmmaker was trying to insinuate.
Well, it did not stop at just Manisha. He was equally creepy with Bebika. In a viral clip, he can be seen casually fondling and rubbing her hand while chatting with the rest of the housemates.
In a video that has now been taken down from most of the social media pages, Mahesh can also be seen sitting with Jiya Shankar and tightly holding onto her shoulder.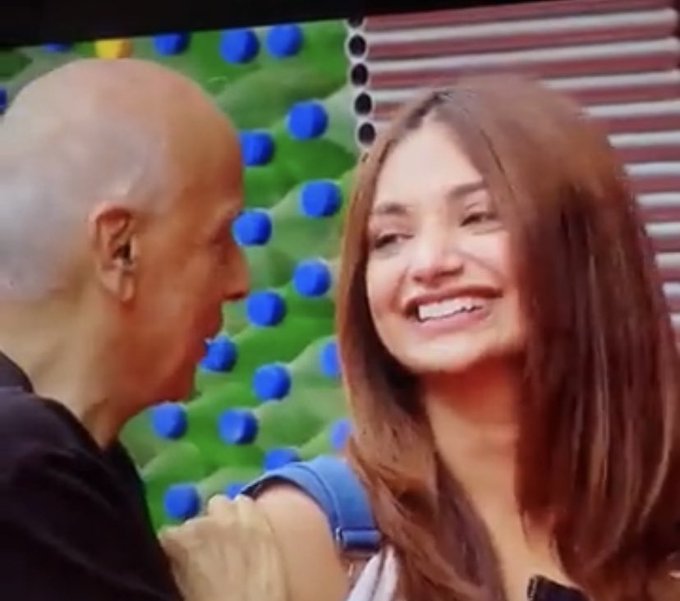 The BB viewers are shocked after watching these videos and #MaheshBhatt is trending on Twitter as they call him out. NGL, if it's actually what it looks like then our heart goes out to the contestants who had to endure all this just 'coz he is a big filmmaker!
Featured Image: Twitter