Everybody loves cakes and yes fellas, your girlfriend does too! Have you been scratching your head, wondering what to give your lady love on her birthday, or on the anniversary of your first date, or maybe even just randomly surprise her for no particular reason? Answering that question is a piece of cake! Or actually, a whole cake! There's no better way to surprise your girlfriend than with a stunning cake. If you need ideas for romantic cake designs for your girlfriend, look no further! To help you impress your bae, we have curated the best cake designs for you to choose from.
Birthday Cake Designs For Girlfriend
A romantic birthday cake can go a long way in making your girlfriend's birthday special. While everybody expects the usual chocolate or truffle cake on their birthday, showing up with an extraordinary cake will bring a wow factor and is sure to make her birthday a memorable one. We have selected a few amazing ideas to help you find the perfect birthday cake design for your girlfriend.
Tiered Princess Cake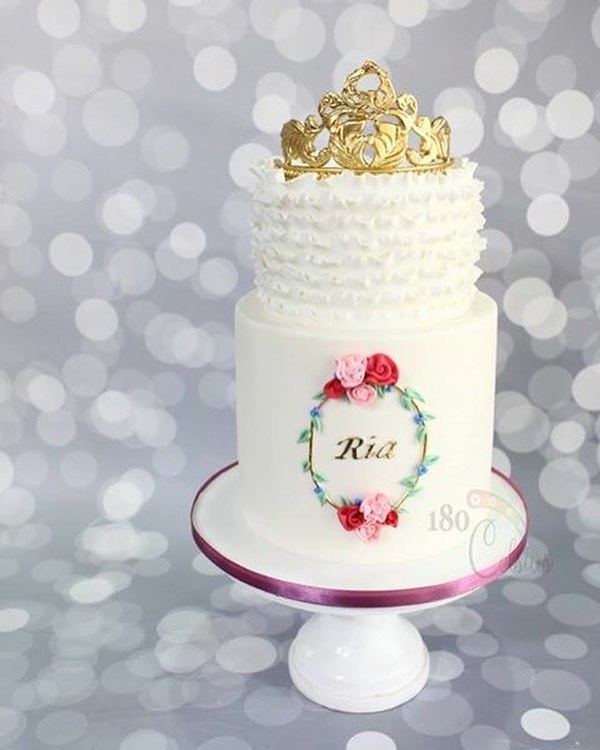 What better way to make your lady love feel like a princess than to show up with a princess-themed cake for her? This two-tiered cake will add a royal vibe to her birthday celebrations. We're loving the beautiful tiara on top, and the circle of flowers and leaves around the birthday girl's name!
Dripping Chocolate Truffle Cake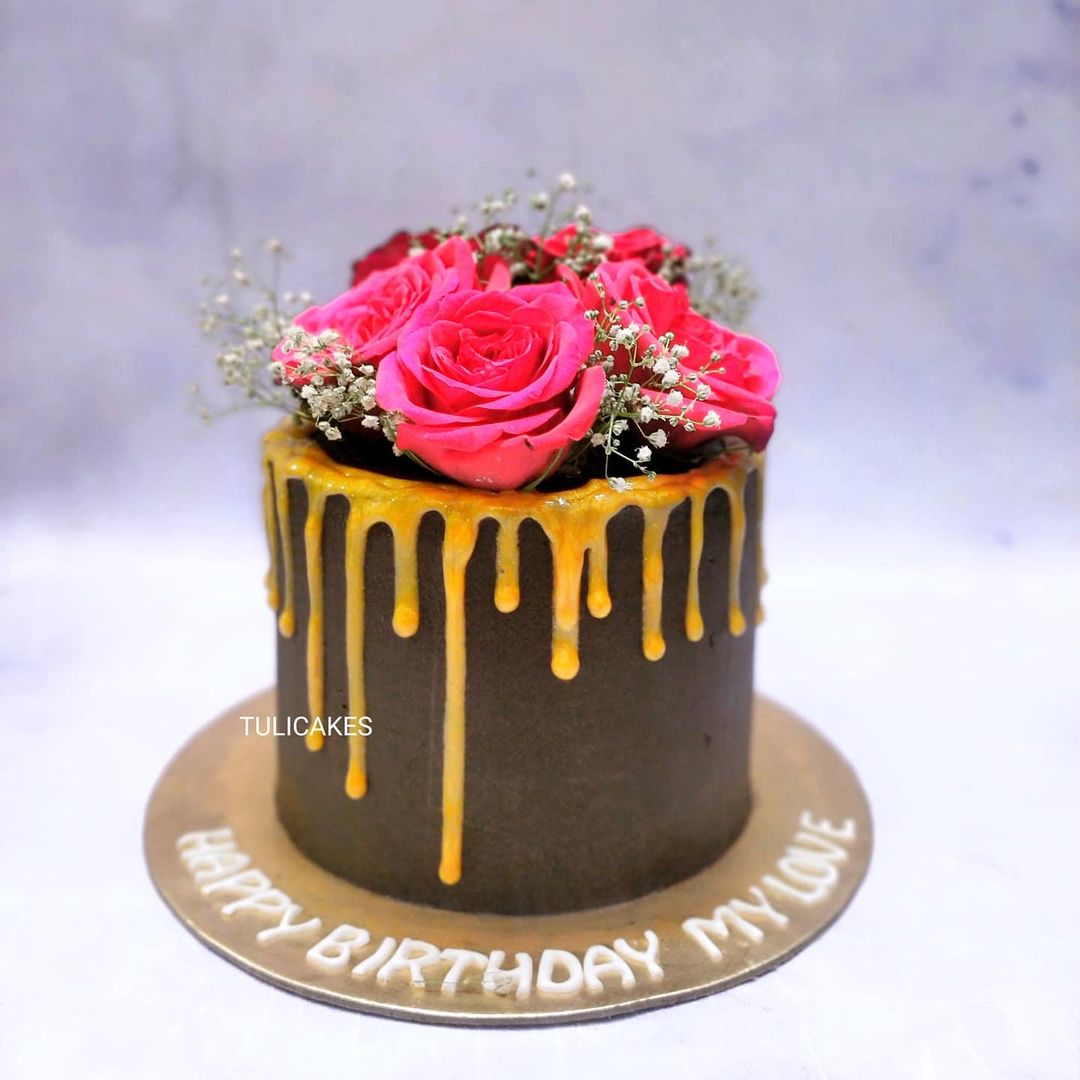 How stunning does this cake look? Topped with beautiful roses, this cake is a perfect choice if your girlfriend loves chocolate-flavored cakes. This scrumptious birthday cake for your girlfriend will surely leave her impressed.
Tiered Rose Birthday Cake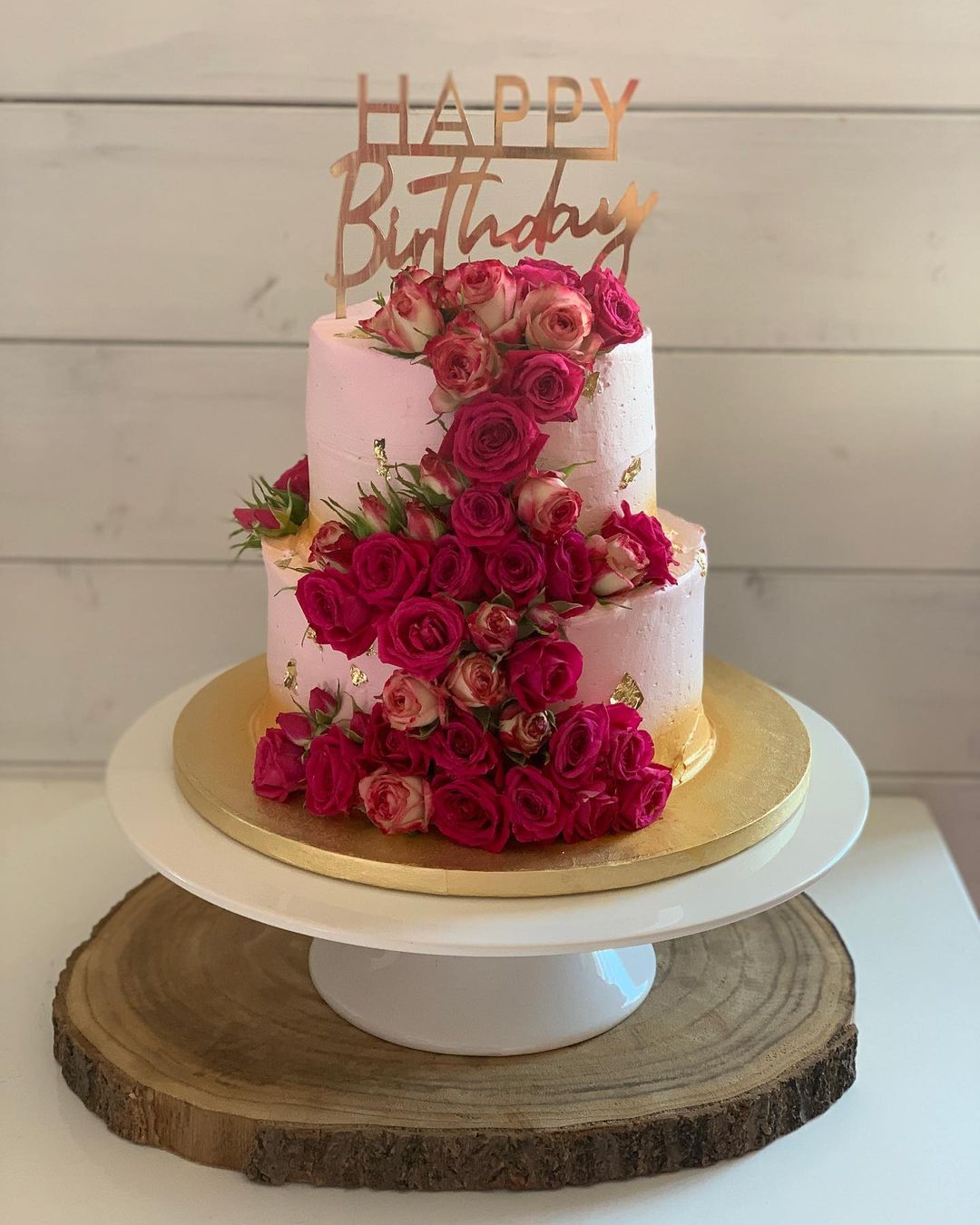 Express your love for your girlfriend by surprising her with this stunning two-tiered birthday cake with roses. Roses are a symbol of love, and are one of the best ways to show your affection for someone special!
Hearts Fondant Cake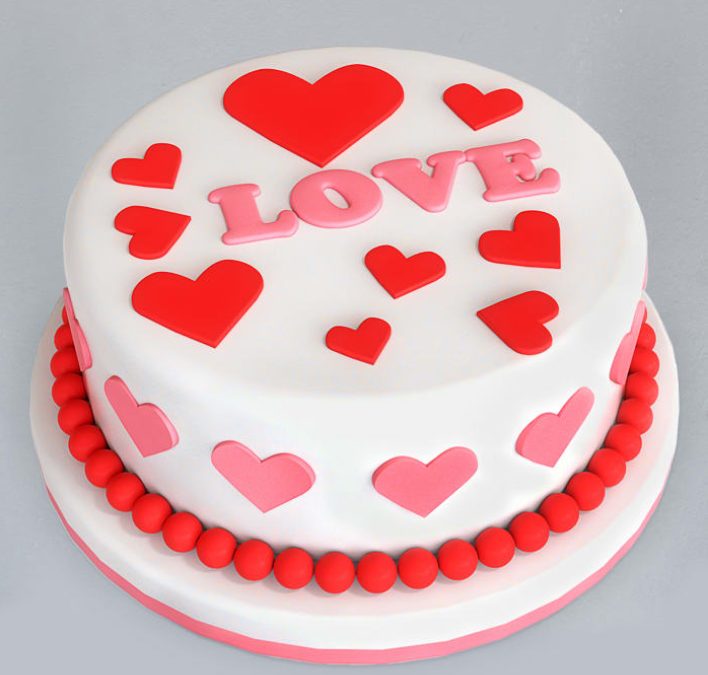 For the unversed, fondant is a play dough-like sugar paste that is used as a coating for cakes. This simple hearts fondant cake perfectly conveys your affection for your ladylove. It makes for an excellent choice of birthday cake design for your girlfriend.
Unique Birthday Cake Ideas For Girlfriend
A special occasion calls for a unique cake! If you're looking to wow your girlfriend with a cake for her birthday, make sure it's extraordinary.  Below are some unique cake ideas for girlfriend that you can take inspiration from!
Square Textured Cake With Roses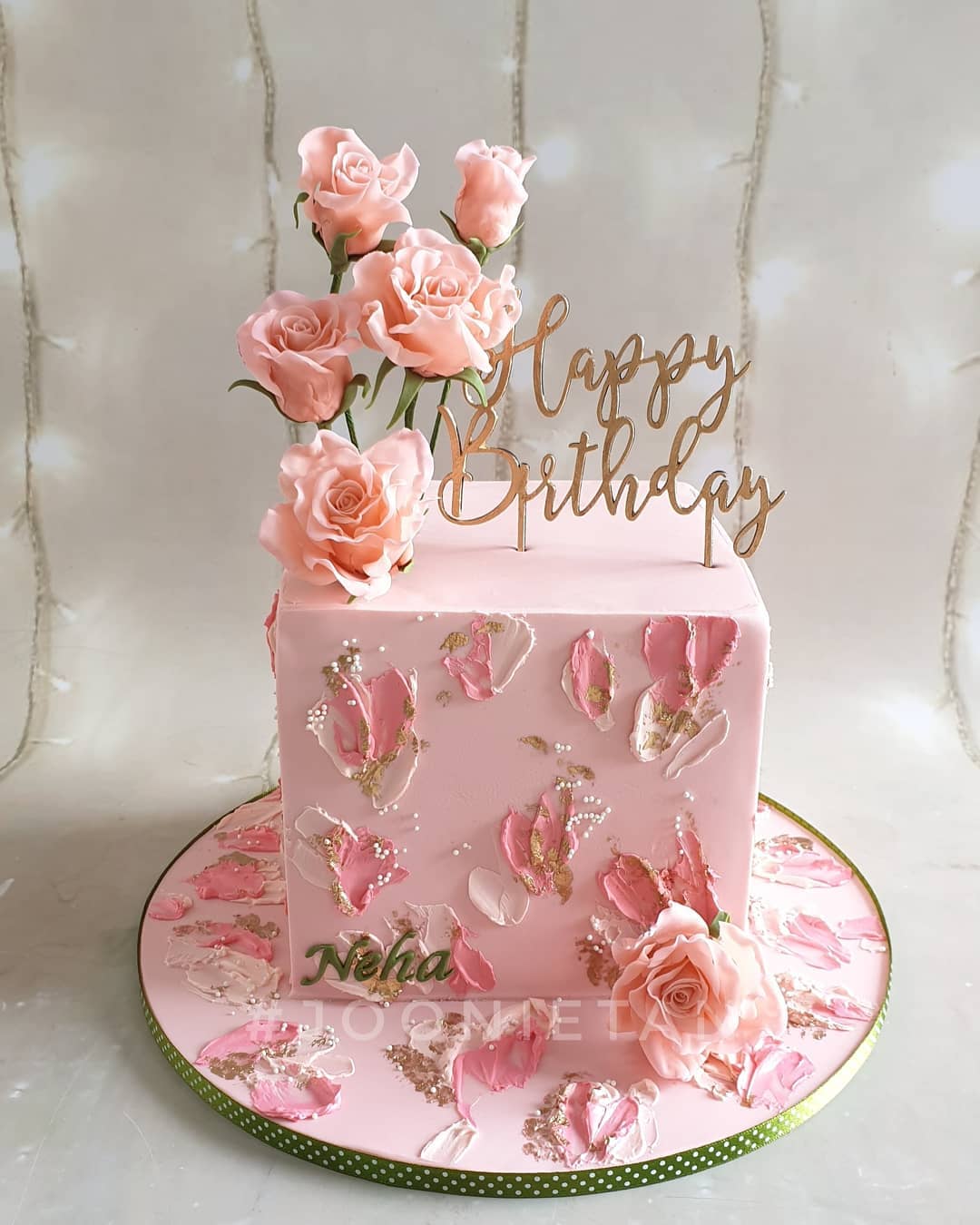 Circular or heart-shaped cakes are quite common. Instead, opt for a different shape to stand out! What makes this beautiful cake eye-catching is the perfect cubical shape! The pastel shades and the gorgeous roses add to the overall beauty, making it one of the best cake designs for girlfriend.
Pinata Cake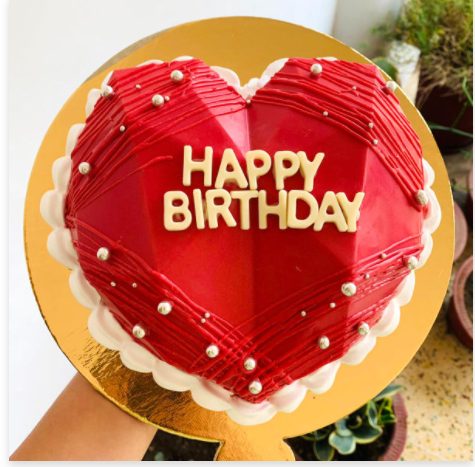 Pinata cakes or 'Smash' cakes have totally rocked the Internet this year. These cakes are 3D cakes made with a rich chocolate cake exterior shell. A small hammer accompanies this cake, and the idea is to smash the exterior shell to get to the real cake inside. This faceted diamond heart cake looks absolutely stunning, and will undoubtedly make your girlfriend's birthday celebration more special.  
Fault Line Birthday Cake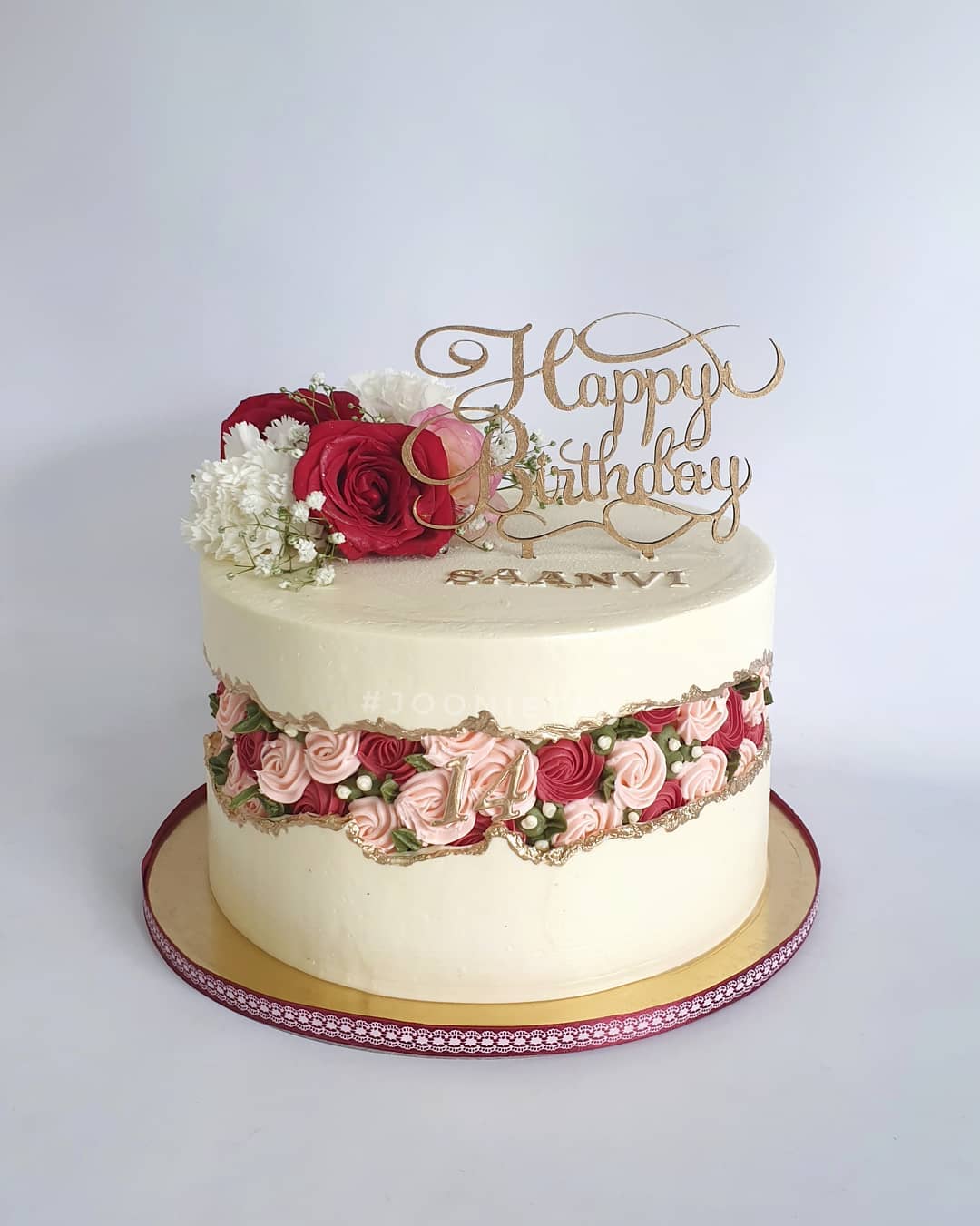 Fault line cake is another unique birthday cake that gives an illusion that a part of the outer chunk of your cake is missing. Ideally, you can usually see fruits, cookies, or sprinkles in the cake's interior, however, this design uses beautiful roses instead! This cake looks beautiful, tastes delicious, and has a unique concept- what's not to love?
Birkin Bag Fondant Cake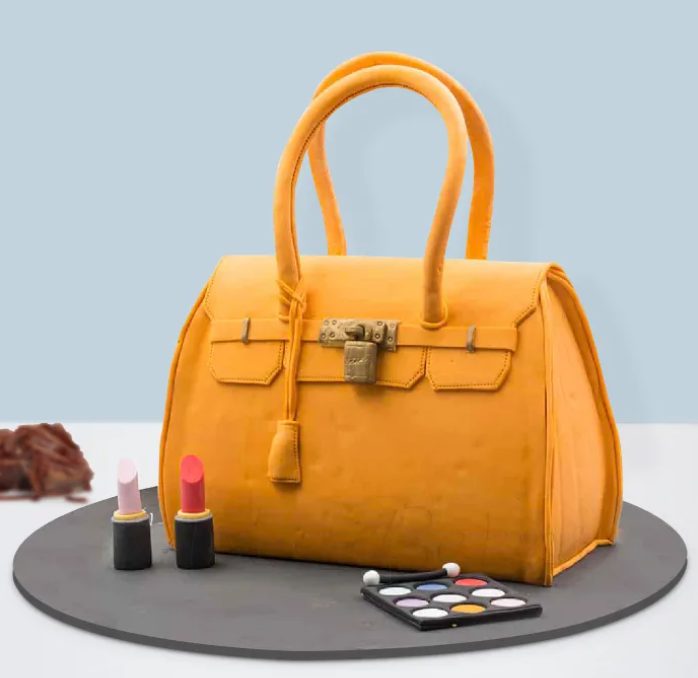 If your girlfriend is crazy about fashion and designer handbags, this Birkin-shaped fondant cake will definitely bring a smile to her face! This realistic-looking cake is sure to be a huge hit at your girlfriend's birthday bash, and will leave everyone impressed.   
Pink & Silver Striped Fondant Cake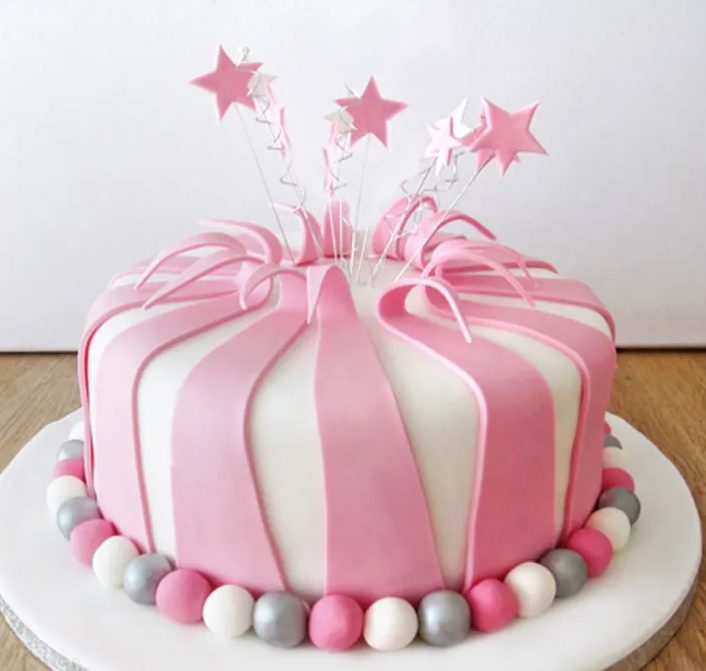 This beautiful pink and silver striped fondant cake looks oh-so-elegant! We are loving the colour scheme and the minimal yet stunning design.  
Romantic Cake Designs For Girlfriend
Thematic cakes have been a trend for quite some time. You can now order cakes that are not only scrumptious but also emanate the feeling of love and romance very well. Count on these sweet delicacies to make your date nights or anniversaries extra special while also conveying your affection and admiration for your significant other. Below are a few romantic cake designs for girlfriend that you might wanna check out!
Red Velvet Heart Cake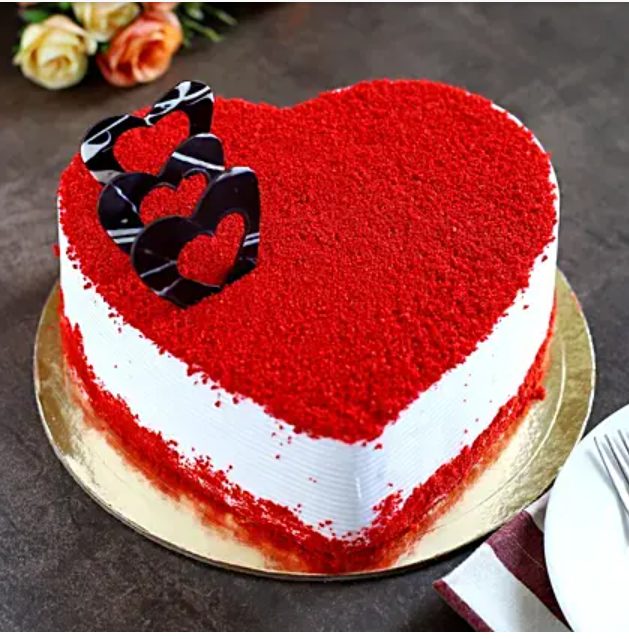 It doesn't get any cuter than a crimson-coloured cake in the shape of a heart. Red Velvet cakes have a fluffy, moist texture with a mild chocolate flavour and a creamy frosting, sure to make your girlfriend's heart and taste buds filled with joy.
Geometric Heart Theme Cake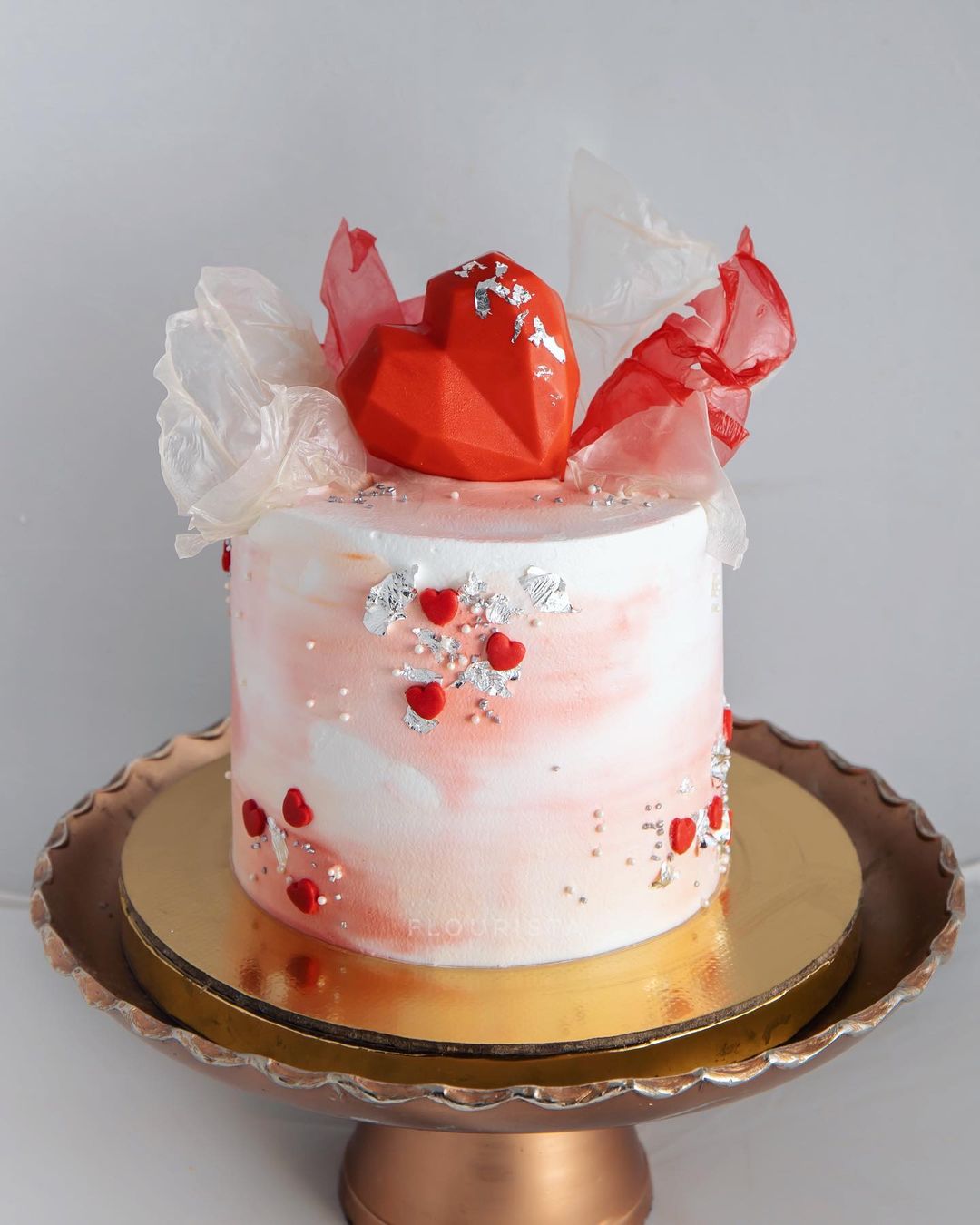 A beautiful romance-themed cake is guaranteed to leave your girlfriend awestruck. Whether you're celebrating your relationship anniversary or your girlfriend's birthday, this stunning cake is just perfect for both occasions.
Bouquet Cake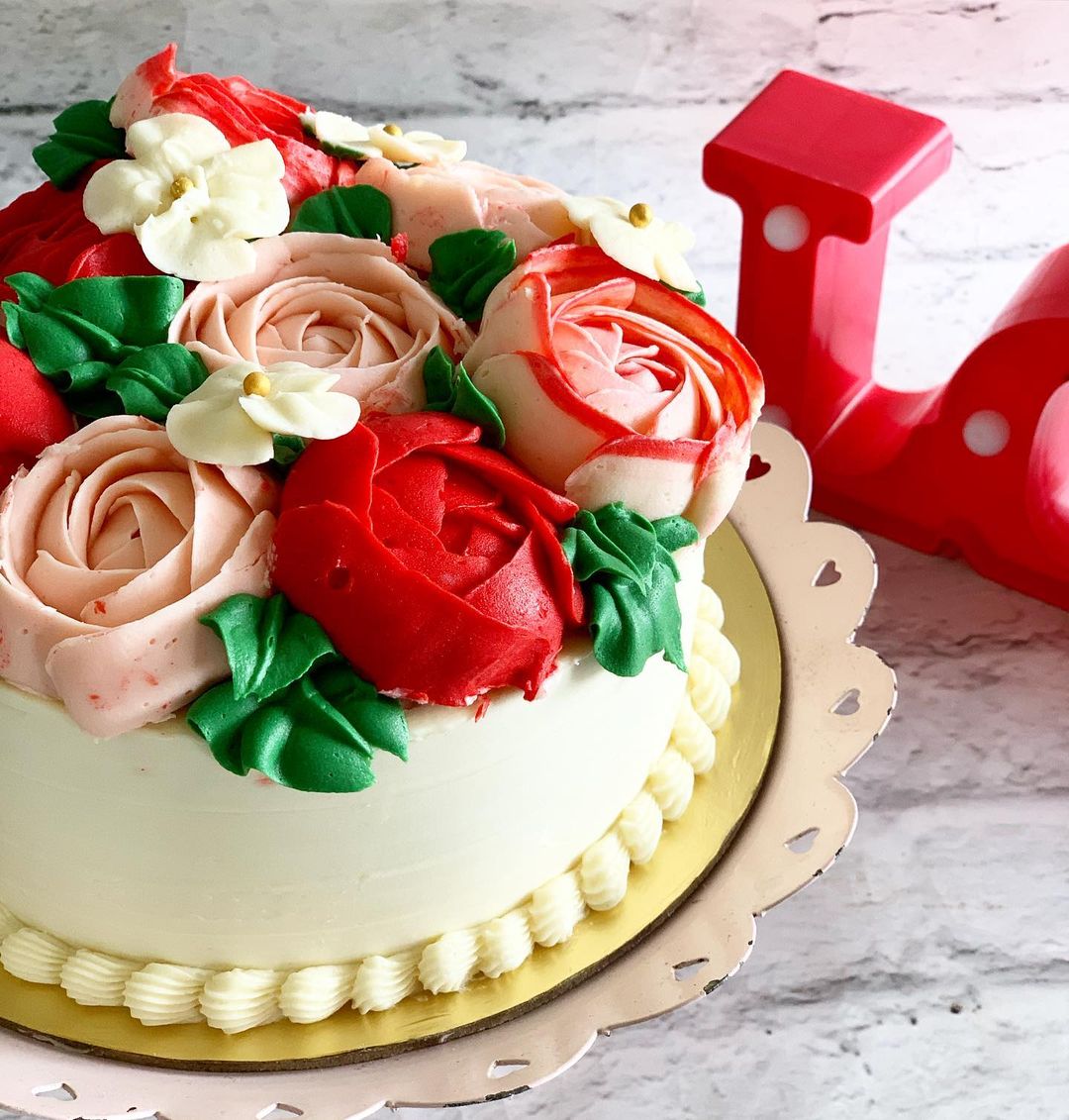 If you think it is cliche to give your ladylove a bouquet, why not go with a cake that's in the shape of one! A delicious cake decorated with intricately designed edible flowers will make for a yummy dessert and some priceless memories with your girlfriend.  
Top Forward Cake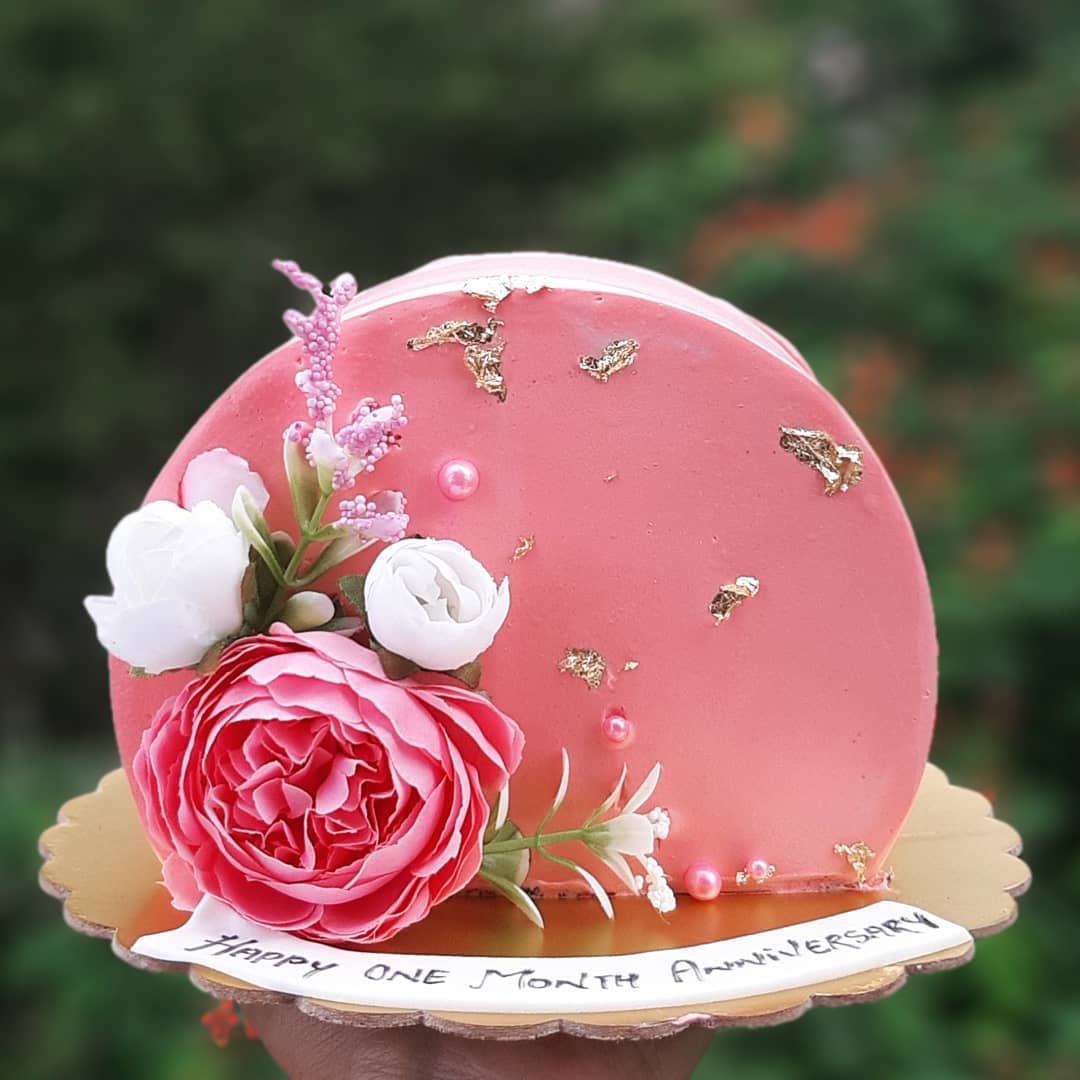 The top forward cake is a new trend that gained popularity this year, and it makes for a great cake idea for your girlfriend! Unlike conventional cakes, this cake is placed on its rounded side, thereby prominently featuring the top of the cake. Hence the name 'top forward'. If you're looking to surprise your girlfriend by giving her a unique cake, then this is a great option.
Mini 'I Love You' Cake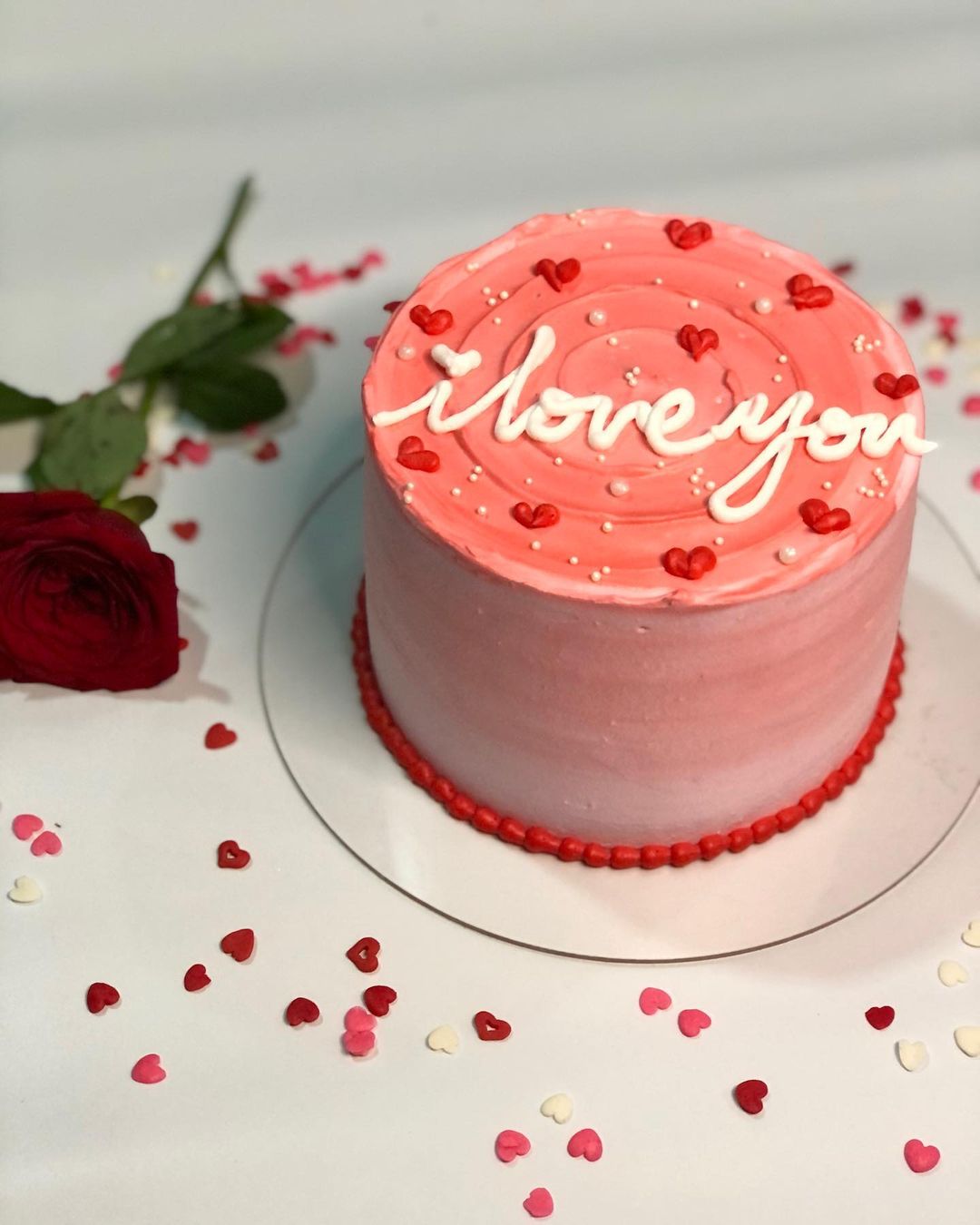 This beautiful cake is the perfect way to express your feelings. Let your girlfriend know how much you love her by randomly surprising her with this gorgeous cake. After all, you don't really need a special occasion to eat cake!
Calendar Cake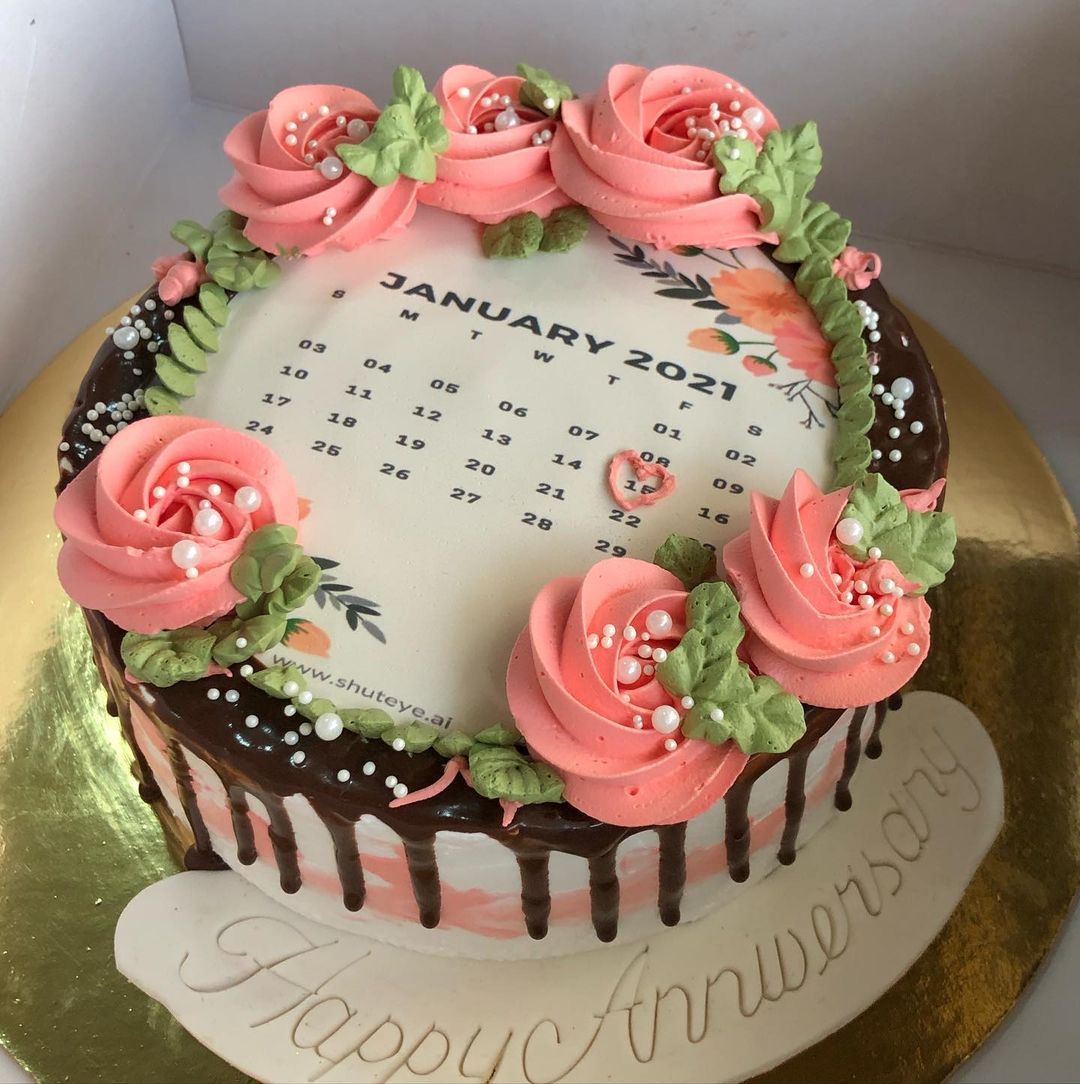 Make your special days even more special with this calendar-themed cake! Whether you are celebrating your girlfriend's birthday or your relationship anniversary, this minimalistic cake is apt for both occasions as it signifies how special and memorable that date is. The beautiful rosettes and the dripping chocolate add to the beauty of this cake. 
Best Cake Designs For Girlfriend
Still haven't found that one cake that will make your girlfriend ecstatic? Perhaps you're looking for something classy and out-of-the-box? Below are some of the best cake designs for girlfriend that you should check out!
Rose Floral Cake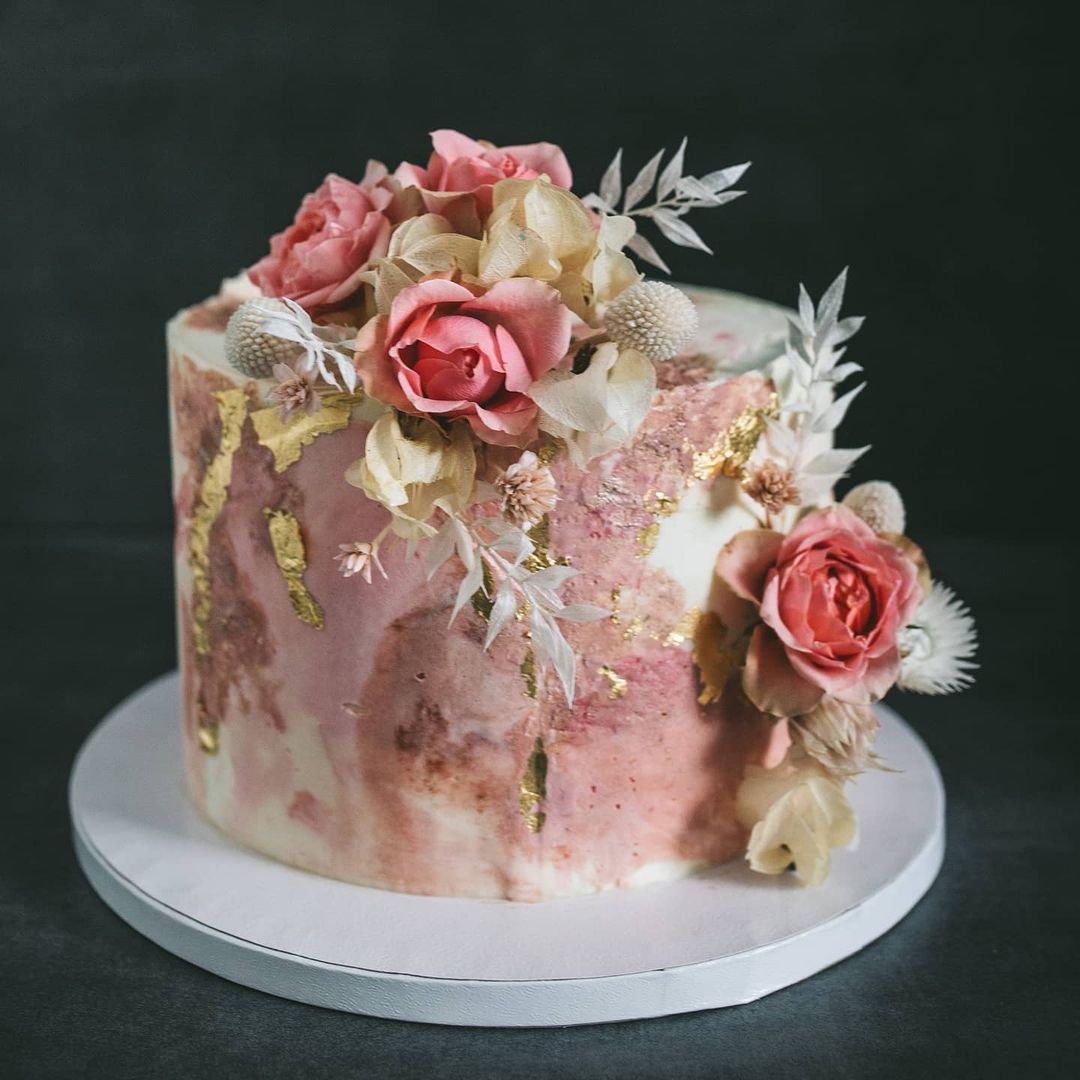 This cake is hands down Instagram-worthy! It is picture-perfect and looks absolutely stunning. Topped with pink roses, this cake can brighten up any celebration!
Cupcake Bouquet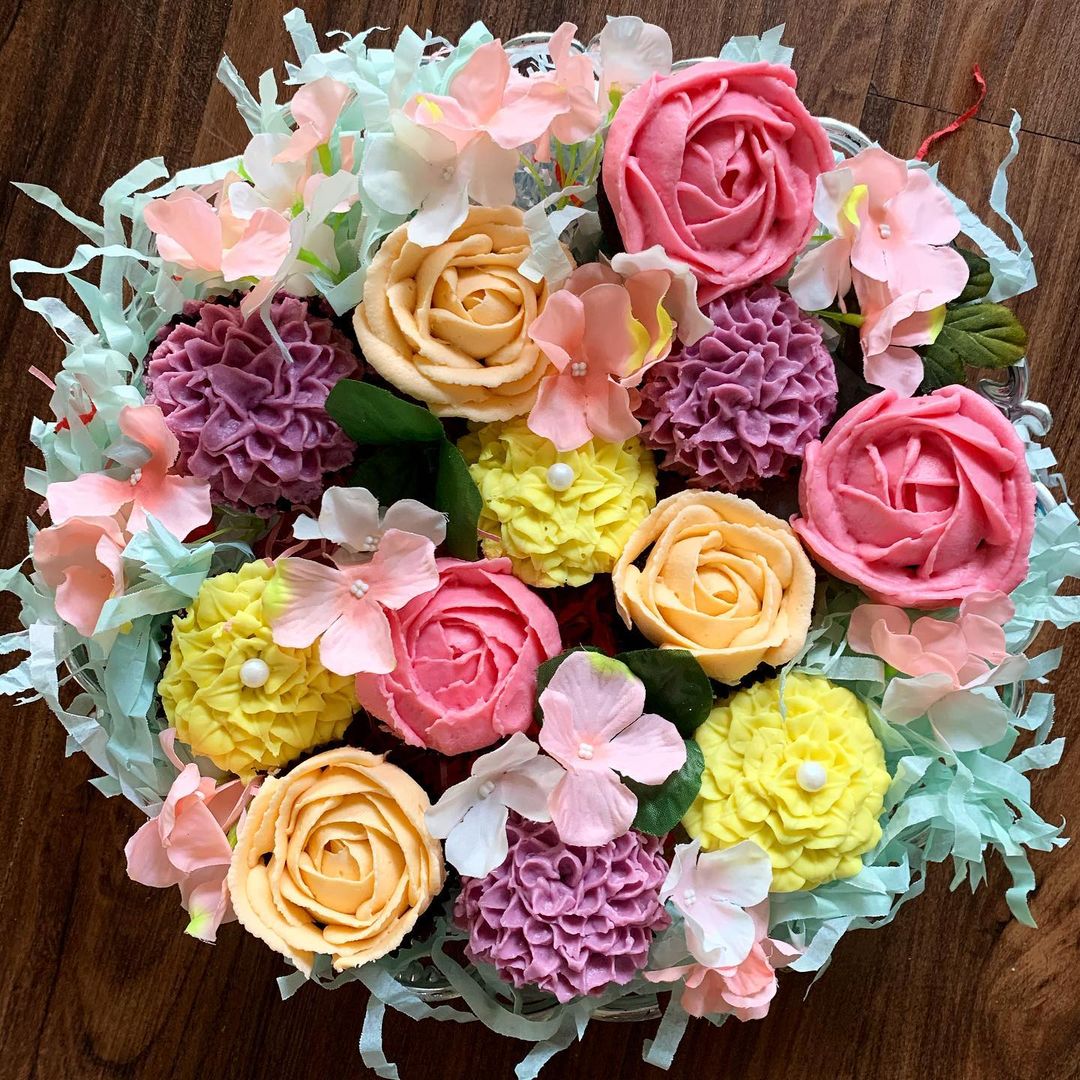 How about opting for this gorgeous cupcake bouquet instead of a cake? Not only does it look stunning, but it also saves the fuss of having to cut the cake into many pieces. We're loving the beautiful colours and patterns of the buttercream frosting!  
Tiled Cake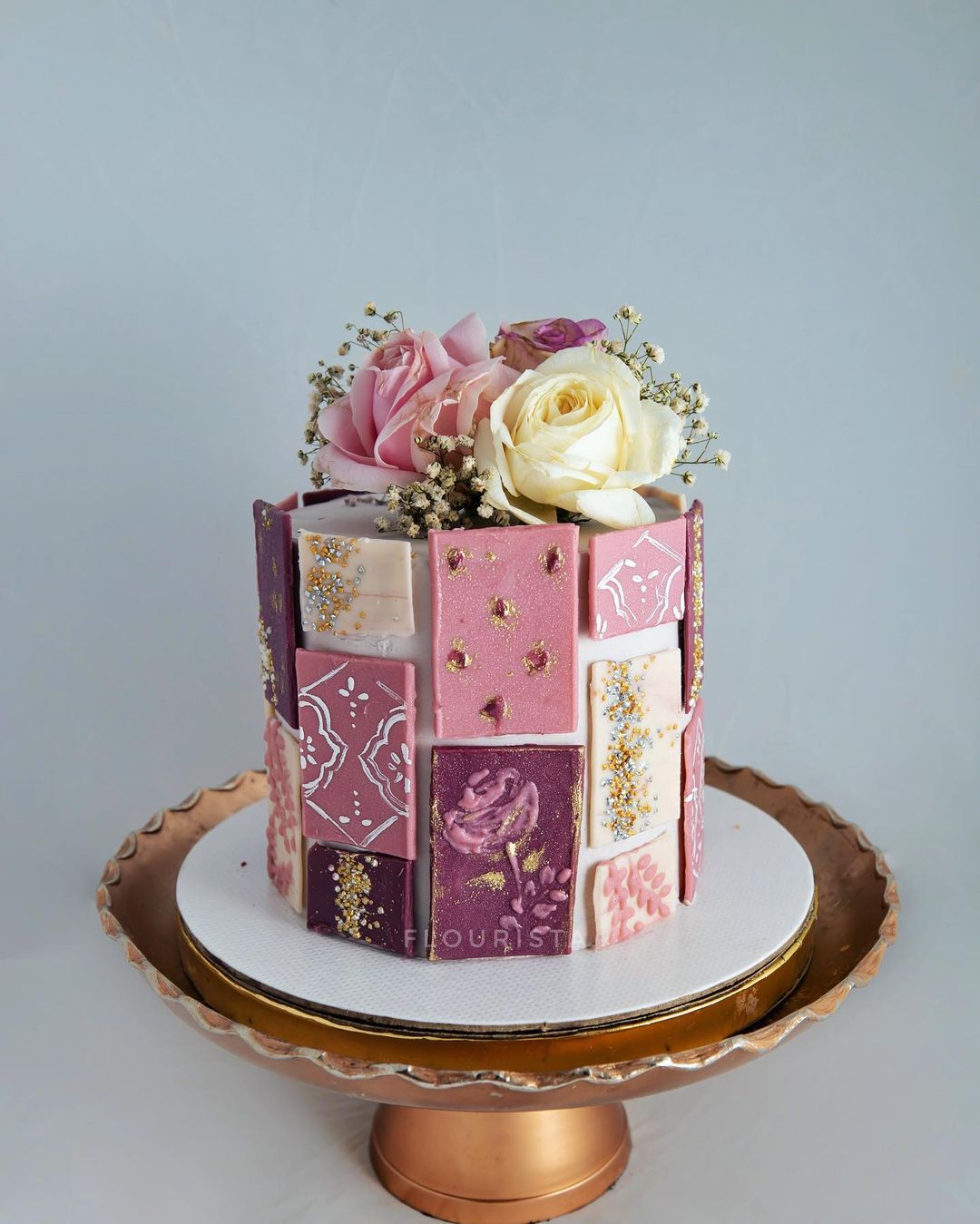 This is another unconventional cake design, and it consists of fondant tiles placed on the periphery of the cake. What makes it one of the best cake designs for your girlfriend is that you can customize the design over each tile, and have something significant made or written over it.
Makeup Theme Cake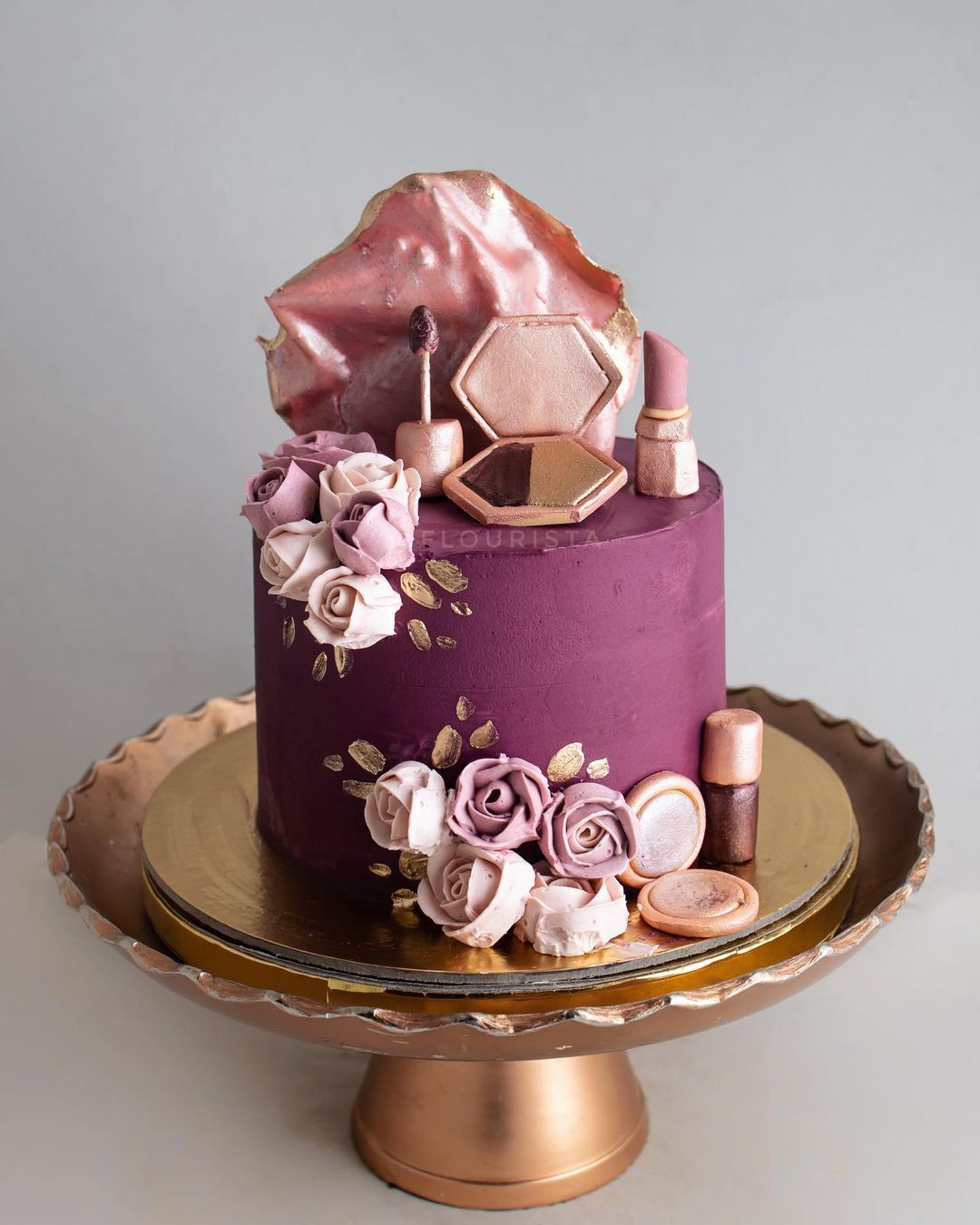 Makeup theme cakes have gained a lot of popularity, and come with fondant makeup decorations and roses. This cake is perfect if your girlfriend is a makeup lover!    
Ombre Wave Ruffle Cake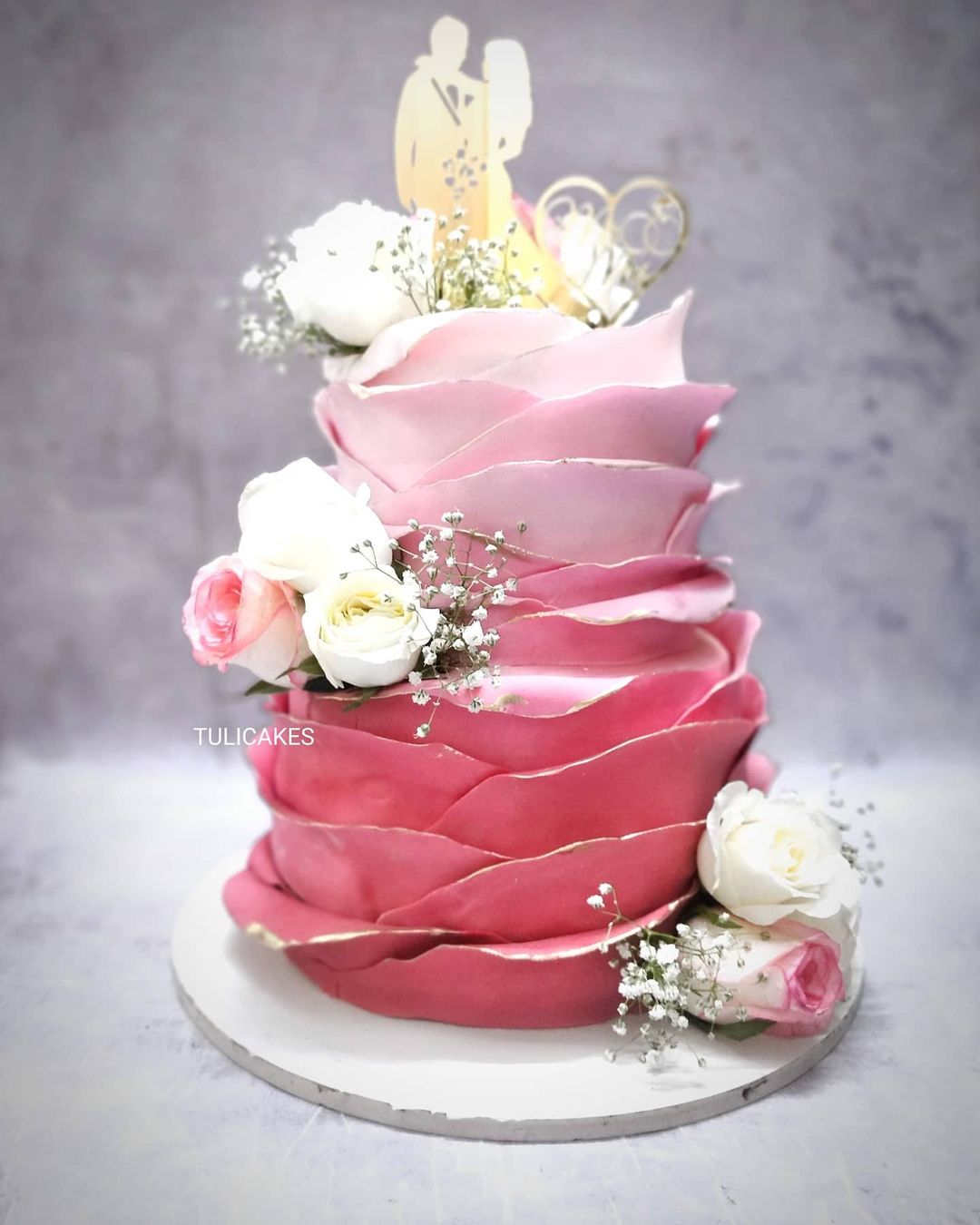 This wave ruffle cake looks gorgeous, doesn't it? This delightful cake design is Insta-worthy, and is perfect for any special occasion- whether it's your first date anniversary or your girlfriend's birthday!
Half Year Unicorn Themed Cake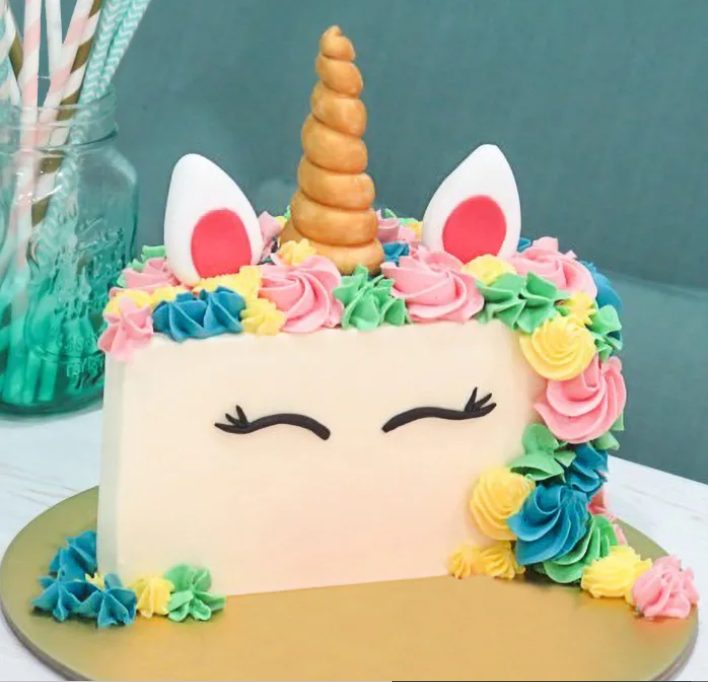 Want to celebrate 6 months of your blissful relationship? Opt for this adorable unicorn cake design! It's the perfect choice of cake design for your girlfriend if she loves all things cute.
More About Cakes
Wedding Anniversary Cake Designs: Your wedding anniversary is a special occasion, so just a simple chocolate cake won't do. That's why we have compiled some of the most amazing anniversary cake designs that are sure to wow your bae!
Easy Breakfast Recipes: We've rounded up some of the best easy vegetarian breakfast recipes that you're gonna love. Go ahead, and have a look!
Different Types Of Cakes: Here's everything you need to know about the different types of cakes that you will likely see in a cake shop!
Wedding Cake Bakers To Follow On Instagram: If you're a bride-to-be looking for some inspiration for your wedding cake, then you've gotta follow these bakers on Insta right now! 
Beautiful Wedding Cakes: You're going to adore these stunning wedding cakes! Check out some of the most elegant wedding cake ideas here.
Unique Wedding Cake Designs: Don't wish to opt for a basic tiered cake at your wedding? Take a look at some really unique wedding cake design ideas!  
Cake Designs for Girlfriend: Are you planning birthday surprise for your gf & searching a perfect birthday cake design? Here's are list of cake design ideas to impress your gf.
Wedding cake designs : You need to try these wedding cake designs for your any family wedding cake. Hit the link.
After scrolling through so many cake designs for your girlfriend, you must have a fair idea of which one you'd like to surprise her with. Go ahead, get a cake for your girlfriend and let her know how much you love and appreciate her! 
Featured Image: Instagram