You don't need us telling you that breakfast is the most important meal of the day. But, just because you're aware that it's a crucial meal doesn't mean that you always have the time to whip up something healthy and delicious. Between squeezing in an early morning workout and trying to rush to work, mornings can get quite hectic. And of course, grabbing a packaged bar for breakfast doesn't count as nutritious. Which is why we decided to list down a few easy breakfast ideas that won't take too long to prepare. From instant breakfast recipes to healthy egg breakfast ideas, we've got you covered. Go ahead and check it out!
Easy Breakfast Recipes – Easy Vegetarian Breakfast Recipes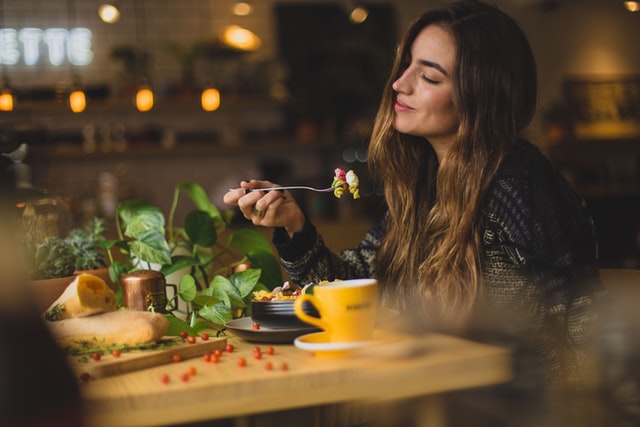 NGL, we like our food quick and nutritious but it has to taste good too. And if you're just like us, then you're in for a treat. We've rounded up some of the best easy vegetarian breakfast recipes that you're gonna love. Go ahead, and have a look!
Caramalised Banana Dark Chocolate Oatmeal 
1 cup water
½ cup rolled oats
Olive oil spray
½ medium banana, sliced
1 tablespoon dark chocolate chips
Instructions
In a small saucepan, bring water to a boil. Stir in oats and reduce heat to low. Simmer until oats have absorbed all of the liquid, 3-5 minutes.
While oats are cooking, spray a small non-stick skillet with olive oil. Add sliced bananas in a single layer and cook over medium heat until caramelized, about 3 minutes per side.
Spoon oatmeal into a bowl and top with caramelized bananas, and chocolate chips.
Also Read: Christmas Cookie Recipes
Chickpeas Pancakes
Ingredients
1 cup chickpea flour (or besan/garbanzo flour)
1 cup water
1 tsp turmeric
½ tsp salt
½ tsp pepper
3 spring onions
1 tbsp olive oil 
Method
Add the flour, water, turmeric, salt, pepper, and chili flakes (if using) to a mixing bowl and give it a quick blend using a food processor or blender. Leave it to settle for a few minutes while you heat up the oil or ghee in a non-stick pan. The batter needs to look very runny!
Dice the veggies finely and add them to the mixture.
Use a tissue or similar (a spray oil would work wonders here) to ensure the bottom of the pan is coated well in oil.
Add about a ladle of the mixture and veggies when the pan is hot – medium heat should be just right.
Cook for about 3 minutes – the mixture will quickly start to firm. If you're using two pans, you can make two pancakes at the same time.
Use a large spatula to help you flip the pancakes, adding more oil underneath if necessary. After another 2-3 minutes your pancake will be ready!
Keep it somewhere warm while you repeat with the second pancake, adding more oil when necessary. Enjoy warm! 
Sabudana Khichdi 
1 cup sabudana
2 medium-sized potatoes
½ cup roasted peanuts
Crushed ginger garlic paste
Curry leaves
Jera powder
½ tsp of oil
Salt to taste 
Method
Soak the sabudana for at least 4 to 6 hours or you can leave it overnight as well. 
Heat some oil in the pan at medium heat. Add cumin seeds once the oil is hot and let it sizzle for a few seconds. 
Add the diced potatoes and cook for another 3-4 minutes. Make sure the potatoes are cut into small pieces as it helps to cook quickly. 
Once the potatoes are done, add the raw peanut and let it be there for 3-4 minutes. 
Add the drained sabudana along with salt and mix it well until it's all well combined. 
Cook for another few minutes until the sabudana pearls become translucent and don't forget it stir once or twice during the intervals. 
Remove the pan and check if it's cooked and serve hot with yogurt.
Rawa Upma 
A cup of fine rava (sooji),
1 medium-sized chopped onion
 1 green chilli
A spoonful of chana dal
 1 teaspoon of urad dal
Grated ginger
Mustard seeds
Cumin seeds
Curry leaves
 2.5 cups of water
Ghee or oil
Salt to taste
Method
You must first roast the sooji (rava). Take a pan or kadhai and start roasting the rava with small stirs every once in a while. 
When the sooji becomes fragrant and starts to look dry, separate and crisp—switch off the flame. Don't let your rava turn totally brown. Keep it aside for a while.
Take another pan, add some oil in it and heat it on medium flame. Add 1 tsp of mustard seeds and curry leaves. 
Once you hear the crackling sound of mustard seeds, add ½ tsp of cumin seeds along with 1tsp of urad and chana dal. 
Next, add chopped onions and sauté for few minutes and add ginger paste and chilly. 
Add 2.5 cups of water and salt. Leave it on a medium flame and wait for the water to start boiling up.
Once the water comes to a rolling boil, slowly start adding rava in the pan. Keep stirring the whole time. Keep stirring even after you have added the rava for another 3-4 minutes. 
You'll notice the water getting all soaked up which means your Upma is ready. Serve hot with coconut chutney or any chutney of your choice.
Instant or Quick Breakfast Recipes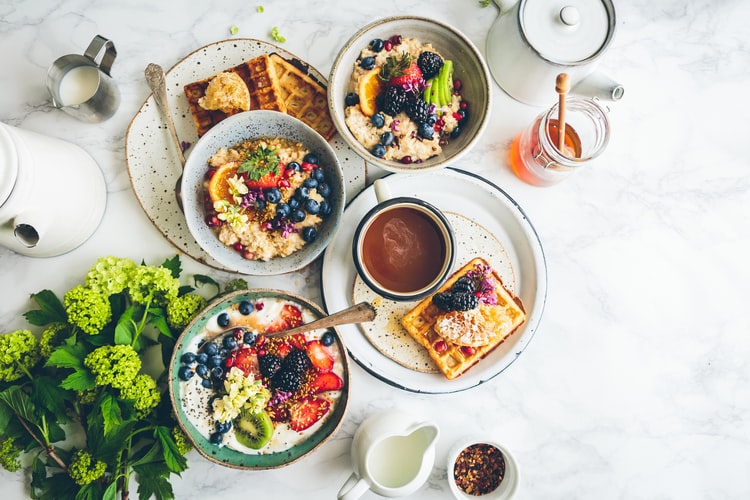 Need instant or quick breakfast recipe ideas that you're fam will love? We've got your back! Have a look at these amazing and easy breakfast recipes ASAP! 
Poha
A cup of Poha (flattened rice)
1 finely chopped onion
Green cillies
1 spring curry leaves
1 diced medium-sized potato
 ½ cup peanuts
¾ tsp mustard
 ¾ tsp cumin
 ¼ spoon of turmeric
Salt to taste
Method
Put the poha in a strainer or bowl. Rinse quickly with water. Don't soak the poha and drain the water completely. 
Once washed, keep it aside to turn soft.
Take another pan, add oil, and heat it on medium flame. 
Take peanuts and fry them first. Once they turn brown, take out all the peanuts and keep them aside to be used later.
Similarly, fry the diced potatoes and keep them aside.
In the same pan, add cumin, jeera, and mustard. Once they begin to pop add the hing, chopped onions, and curry leaves along with green chilies. 
Saute until the onions turn pink. Add turmeric and your softened poha. 
Mix well and keep cooking it on low flame while stirring it once in a while. 
You'll notice that everything is mixed up well and the poha smells heavenly. 
Turn the flame off, add some coriander leaves, garnish it with fried peanut and potatoes and eat hot.
Dhokla 
1 cup besan  
1 ½ cup of semolina (rava)
3 ½ tsp of sugar
 1 tsp of green-chili paste
 ½ tsp of citric acid
Lemon concentrate
1tsp oil for greasing
 Curry leaves
1 tsp mustard
1 tsp sesame seeds
A pinch of hing (asafoetida)
Curry leaves and chopped coriander
Method
Combine all the ingredients together i.e., besan, rava, sugar, chilli paste, lemon concentrate, oil, and mix well using water (approximately ¾ water) to make it a thick batter. 
When the bubbles form, mix gently. Pour batter in an oil greased thali and shake the thali to spread it evenly. Steam it for 10-15 minutes or till the dhoklas are cooked.
Take another pan, heat the oil on medium flame. Add mustard seeds, and when they start to crackle, add sesame seeds, green chllies, hing, and stir properly. Remove it from the flame.
Take a plate. Remove dhokla from the steam utensil. Cut it into square pieces. Add mustard seed tampering over the cut pieces of dhokla and savour it with the choice of chutney.
Also Read
Easy Pav Bhaji Recipes: If you wanna try cooking every Mumbaikar's favourite Pav Bhaji at home, here are some easy recipes that you can try!
Fun Recipes: Here are five recipes from the 'gram that helped us create our very own private restaurant during the lockdown.
Easy Red Velvet Cake: We are here with an easy recipe for making red velvet cake. Try it out and tell us just how much you liked it!
Bread Pizza Recipes: We have rounded up some of the best and quickest bread pizza recipes for you. 
Fruit Custard Recipes: Wanna try a bowl full of happiness? We'd recommend that you try your hands on our trusty fruit custard recipe.
So fam, all set to get started with these delish breakfast recipes?
Featured Image: Unsplash