25 Leg Mehndi Designs You Need To Bookmark For The Wedding Season!
Are you someone who loves scrolling through every possible mehndi design on the Internet before you finalize the one you want to apply? While you must have come across many bridal mehndi designs for hands, mehndi designs for legs or feet are found rarely. Which is why, we decided to compile the best leg mehndi designs that you can take inspiration from. Whether you're looking for simple leg mehndi designs that you can recreate easily or want to choose bridal leg mehndi designs for your big day, we've got something for each one of you! 
Simple Leg Mehndi Designs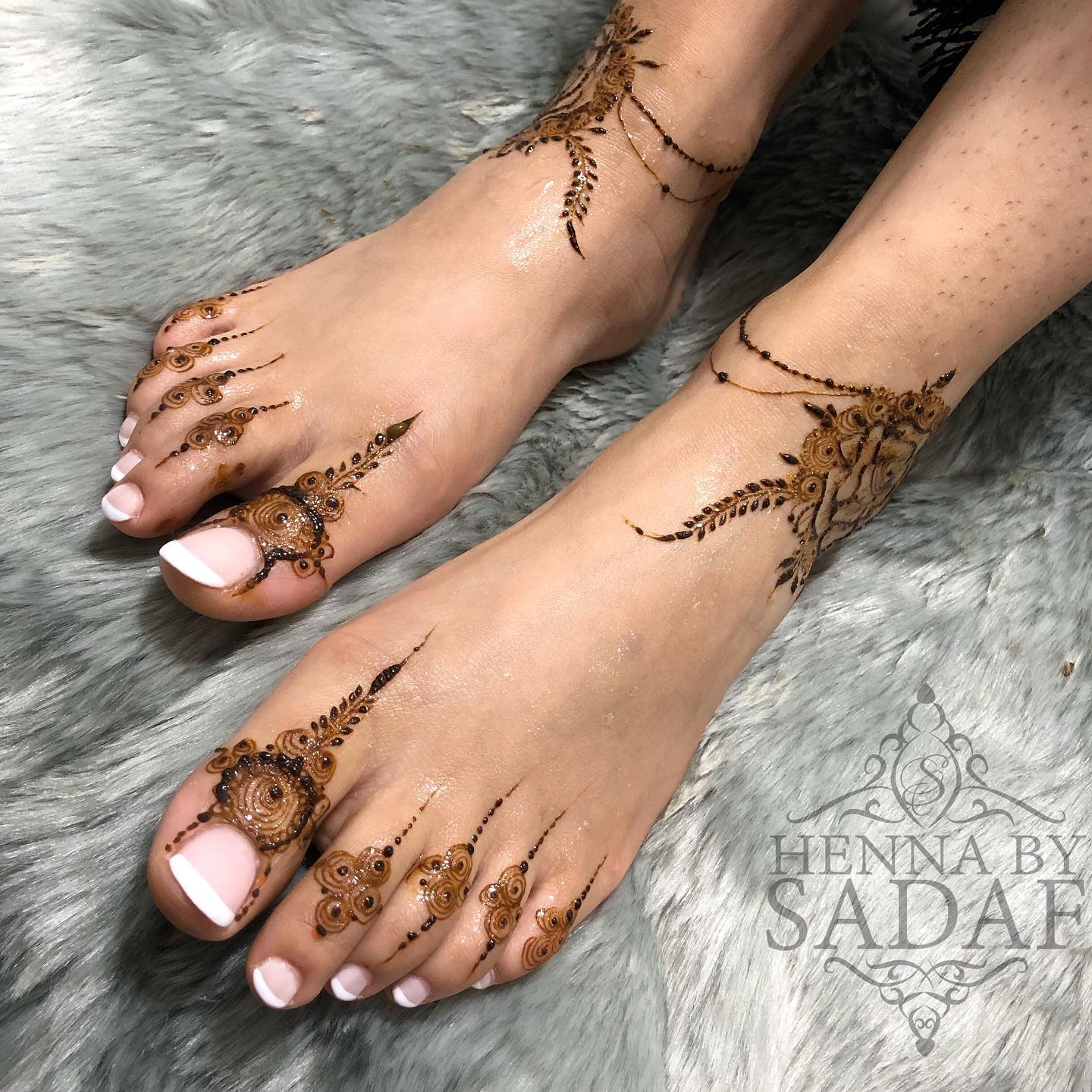 Simple leg mehndi designs such as these look oh-so-beautiful! Even though this design is pretty simple, it highlights your feet, without taking up a lot of time and effort. It features a rose design near the ankle, and some swirl patterns on the toes. Despite being minimal, this design is really eye-catching.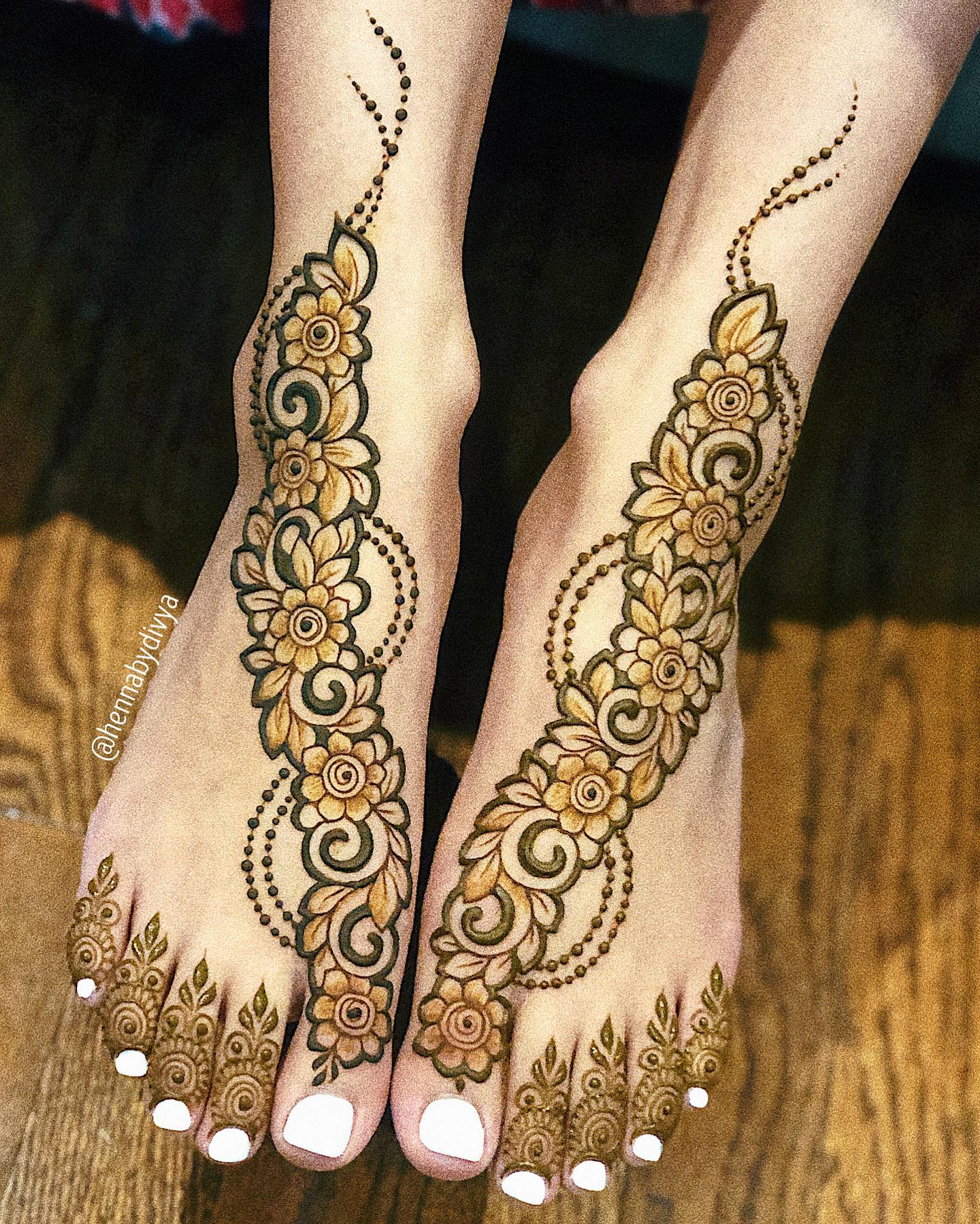 If you're someone who loves Arabic mehndi designs, you're going to love this simple leg mehndi design! The design features floral patterns running diagonally across the feet, and looks simply gorgeous.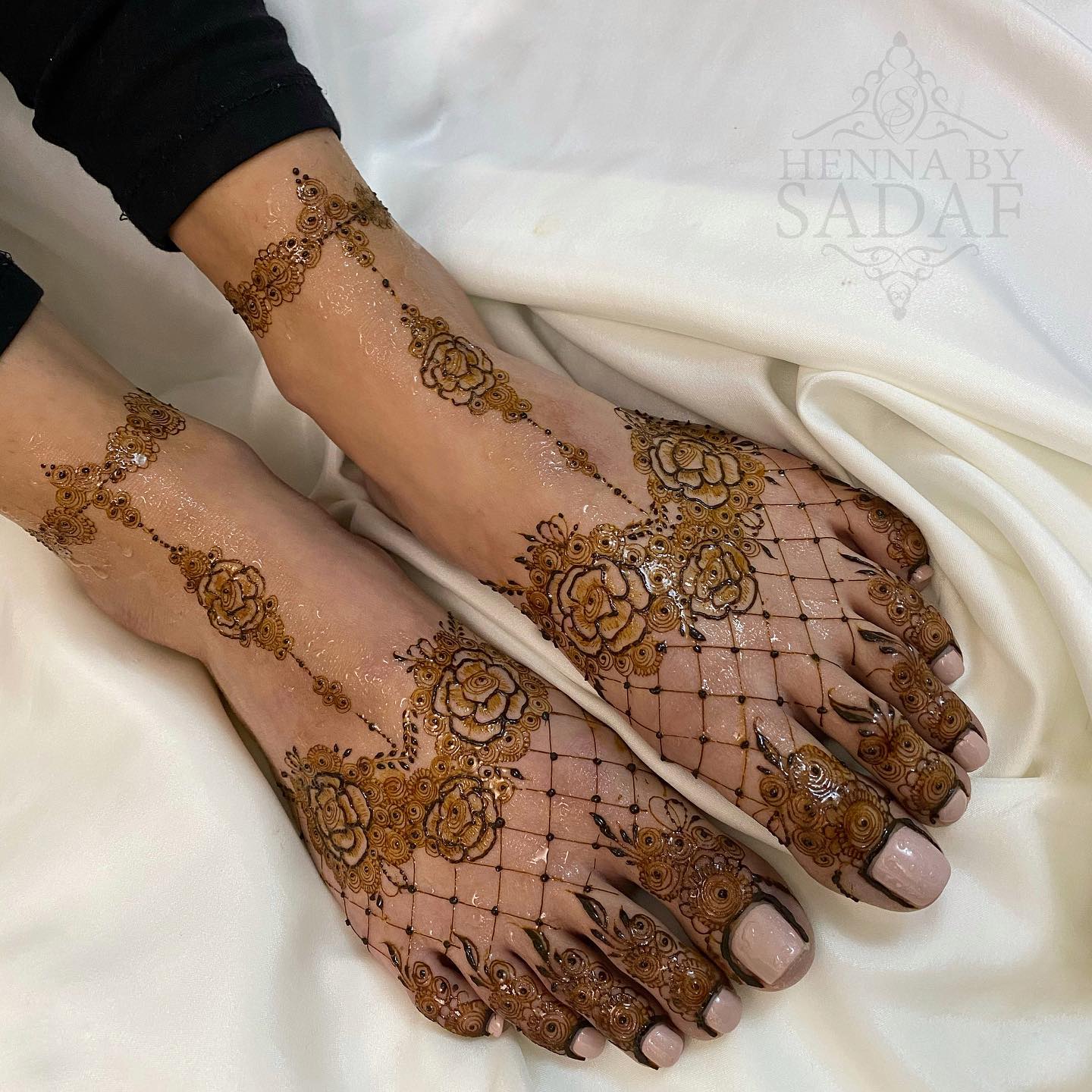 We're absolutely crushing over this stunning leg mehndi design that includes florals, and swirls, with a lattice pattern in between. It lends a dainty look to your feet, and makes them look really beautiful.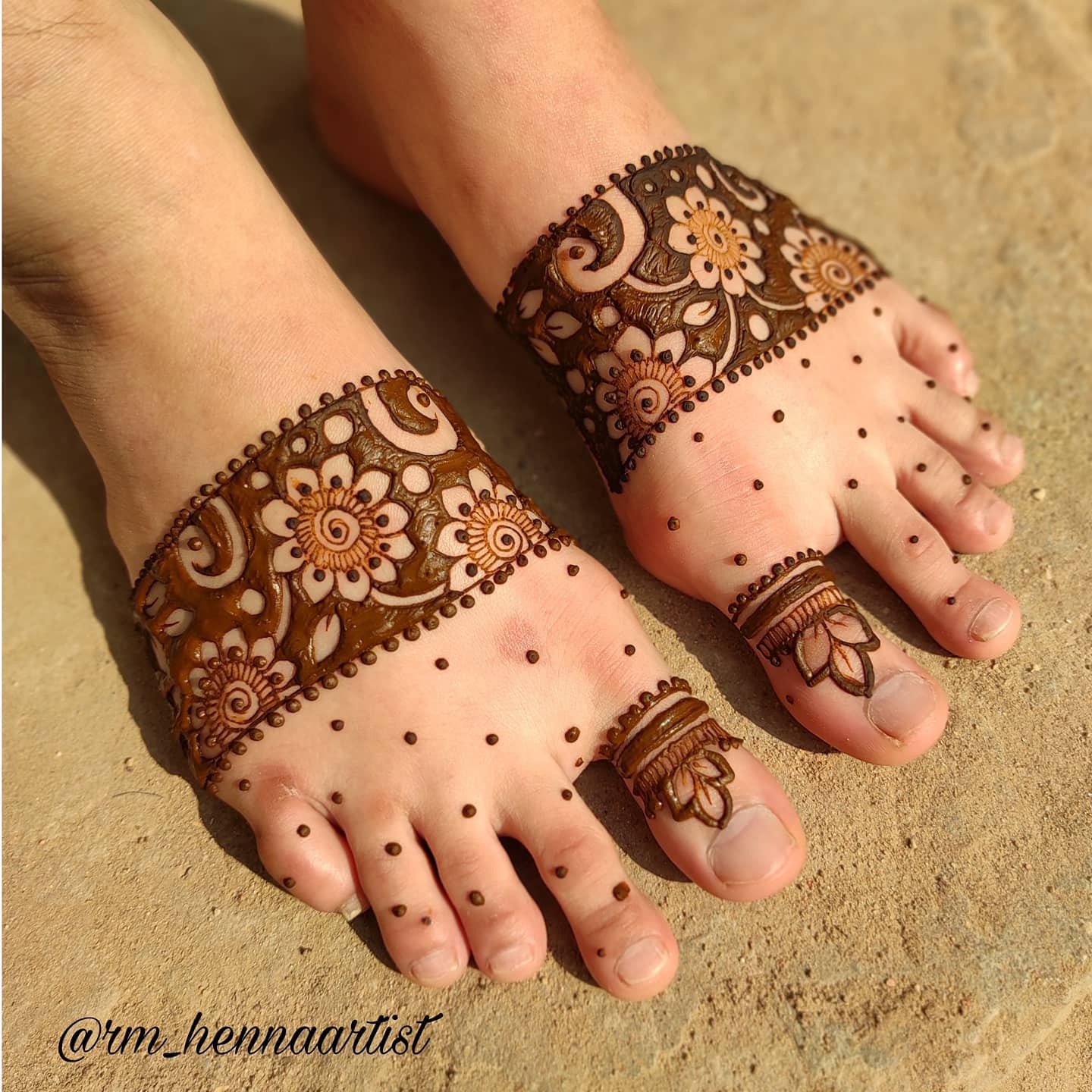 If you're looking for a minimal leg mehndi design that doesn't occupy a lot of space, then this is a great option! This simple leg mehndi design features a horizontal band with floral patterns. The negative spaces inside the band are completely filled with mehndi, making the floral design more prominent.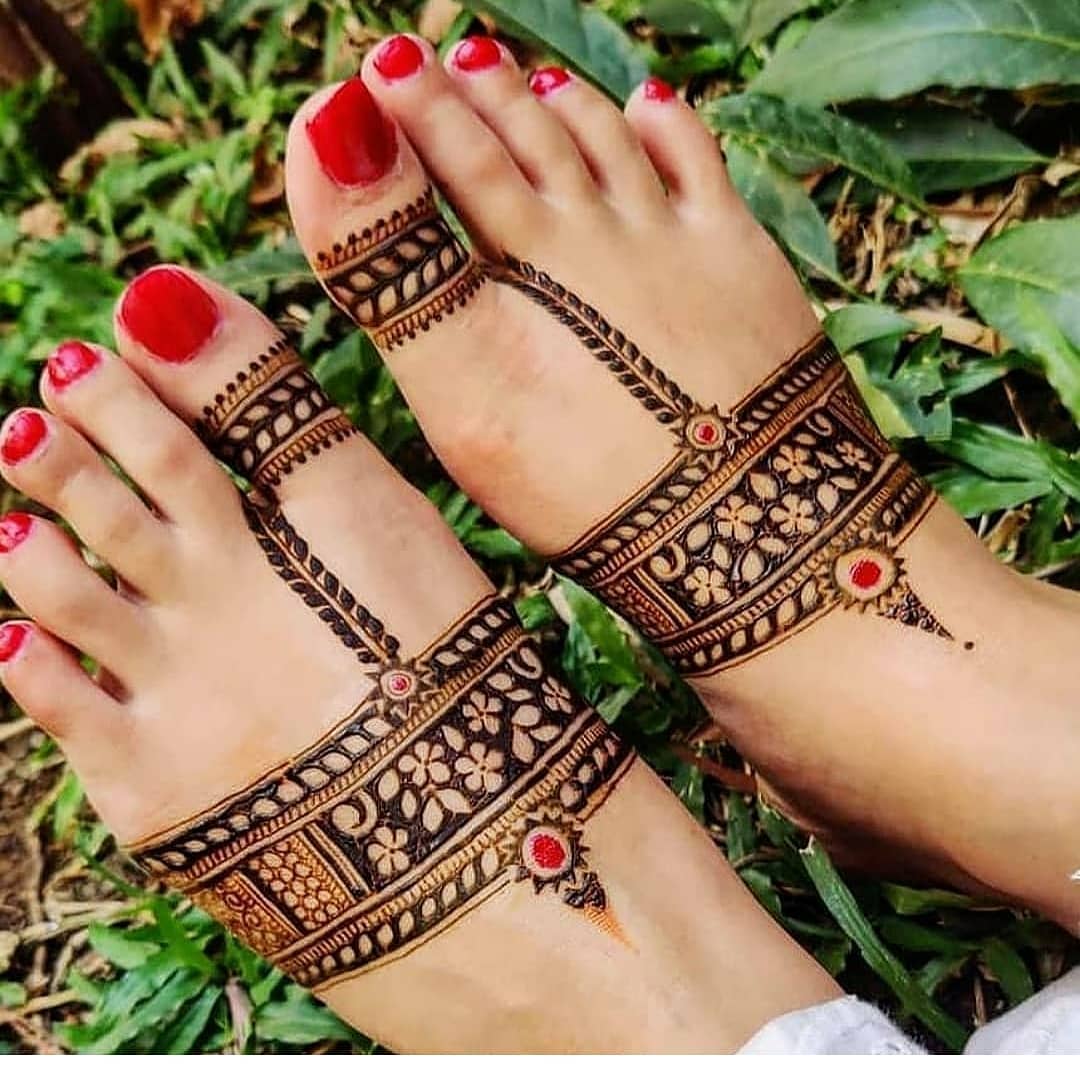 Here's another simple leg mehndi design that consists of floral patterns within a horizontal band, and despite being so simple, the design really stands out! 
This simple leg mehndi design gives a dainty look to your feet, and we're loving it! It features simple, traditional mehndi patterns that aren't too difficult to recreate. So go ahead, and give this a try!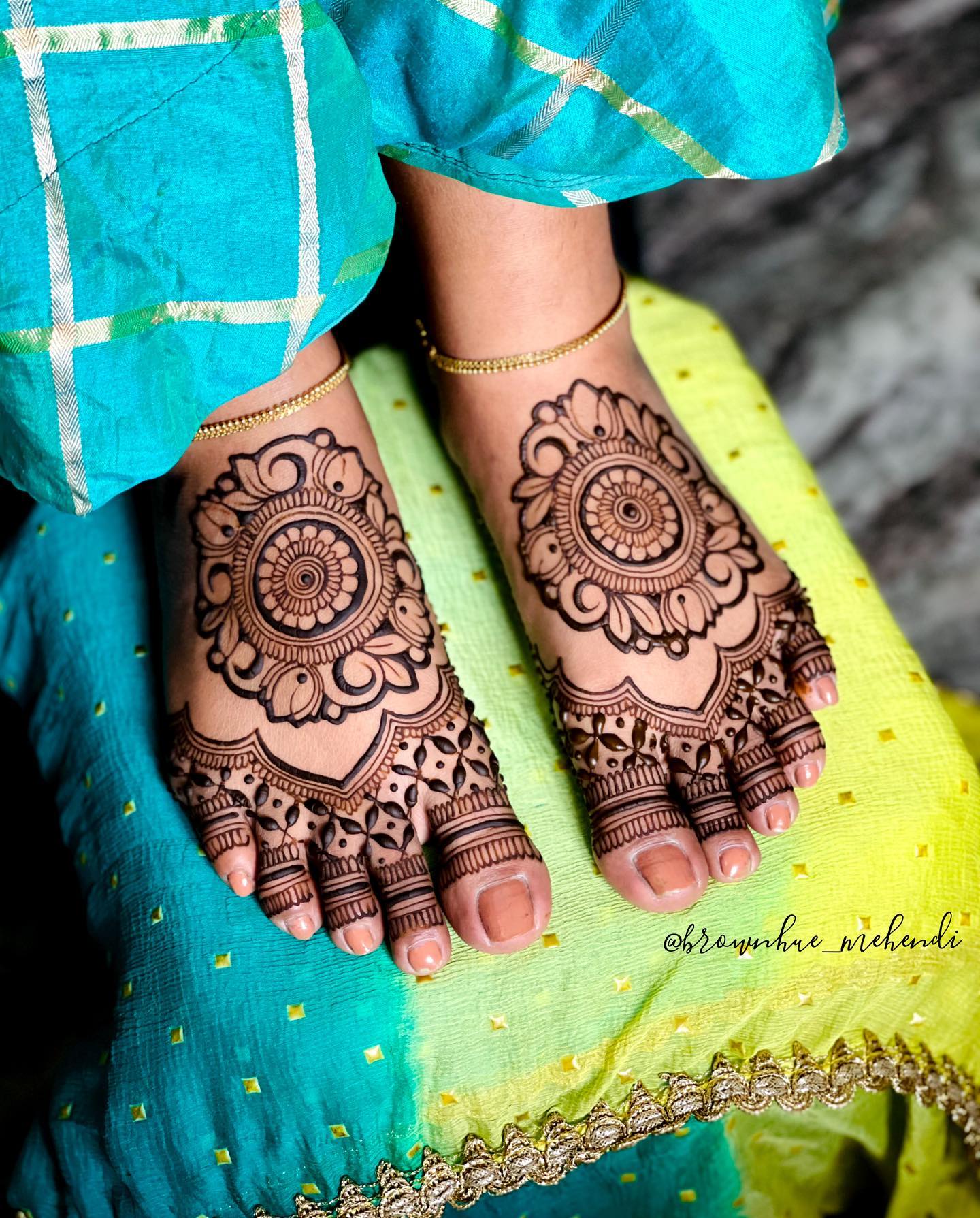 This leg mehndi design consists of a mandala in the center, with a floral design surrounding it. The intricate details of the mandala and the thick bold outline make this design stand out!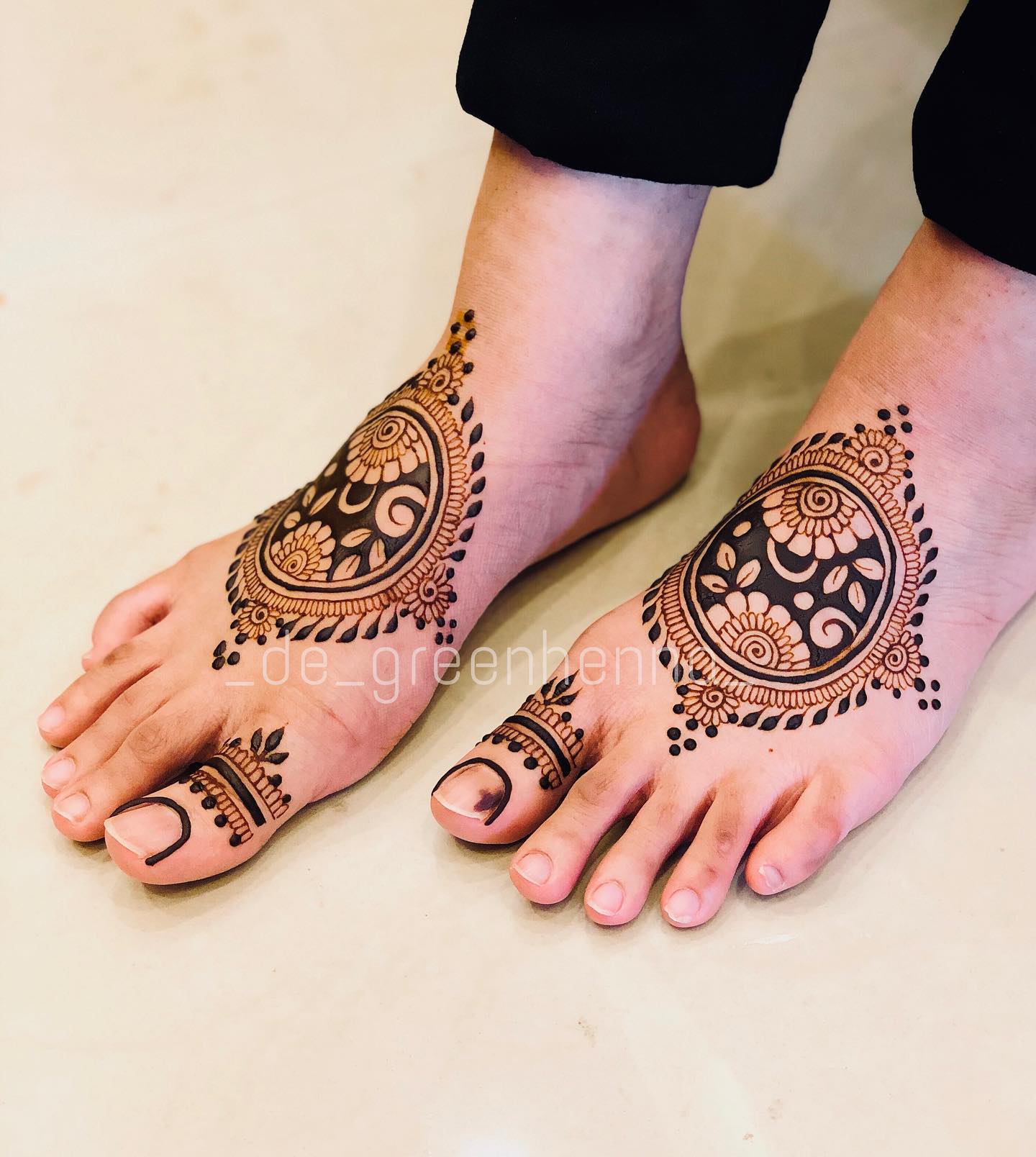 A circular leg mehndi design like this one also looks amazing if you're looking for something simple to recreate. The filled negative space highlights the floral pattern more prominently and makes it stand out.
Easy Leg Mehndi Designs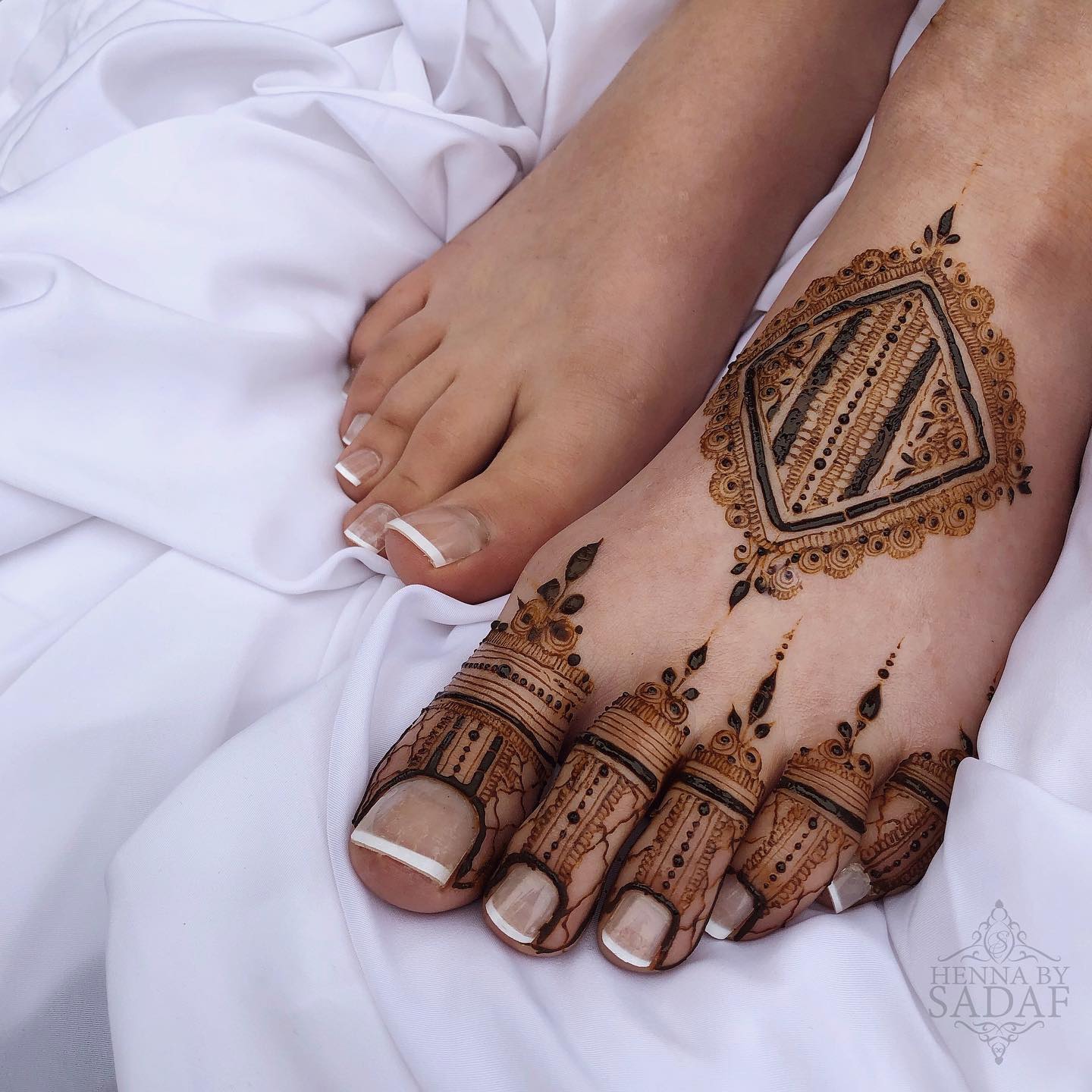 Moroccan mehndi designs feature geometrical shapes and patterns and look really trendy! We're loving how minimalistic and elegant this leg mehndi design looks, and the best part is that they're quite easy to make.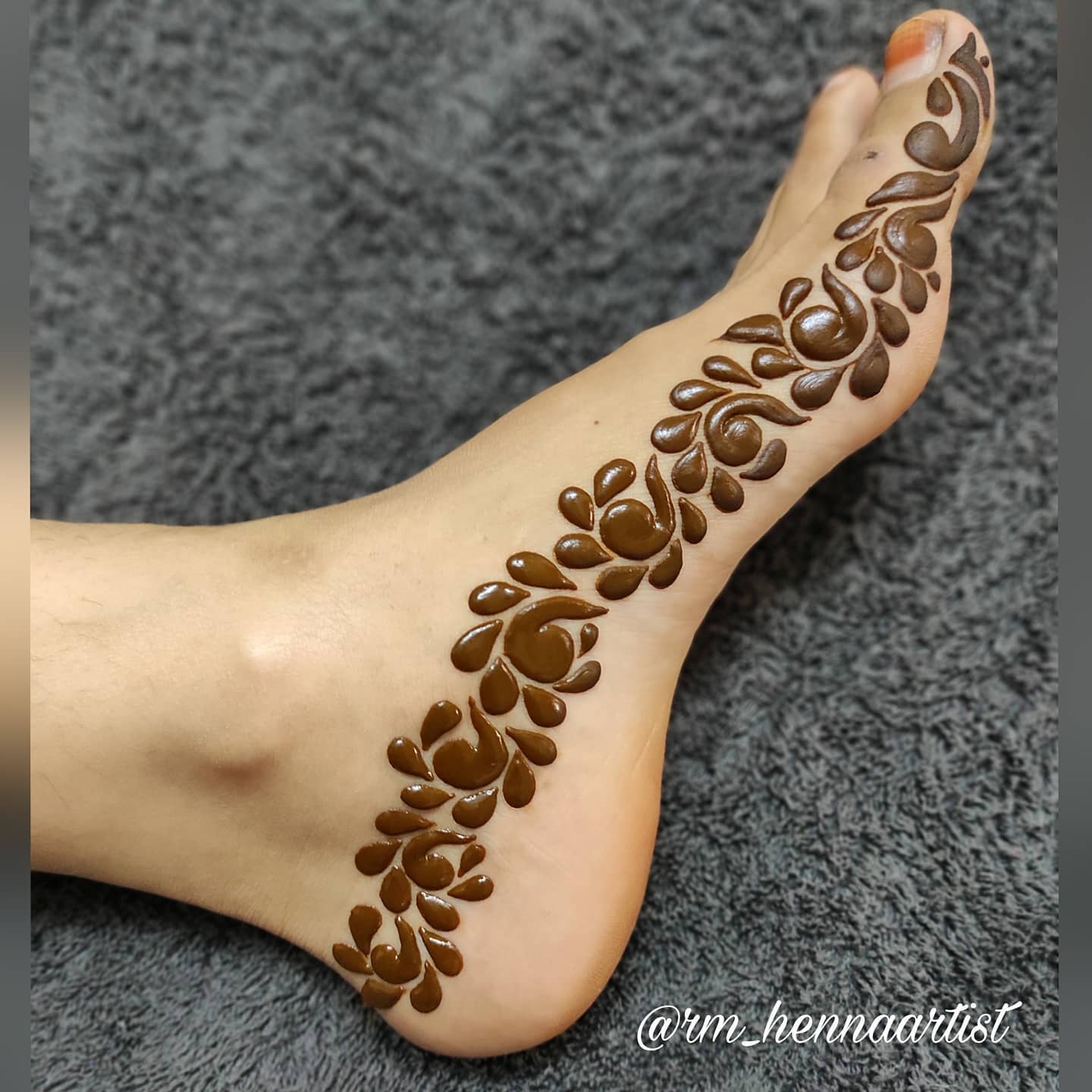 Leg mehndi designs don't necessarily have to take up a lot of space on your feet, or cover up your entire foot. Instead, you can choose to have a side band pattern like this one that highlights the sides, while leaving the rest of your feet empty.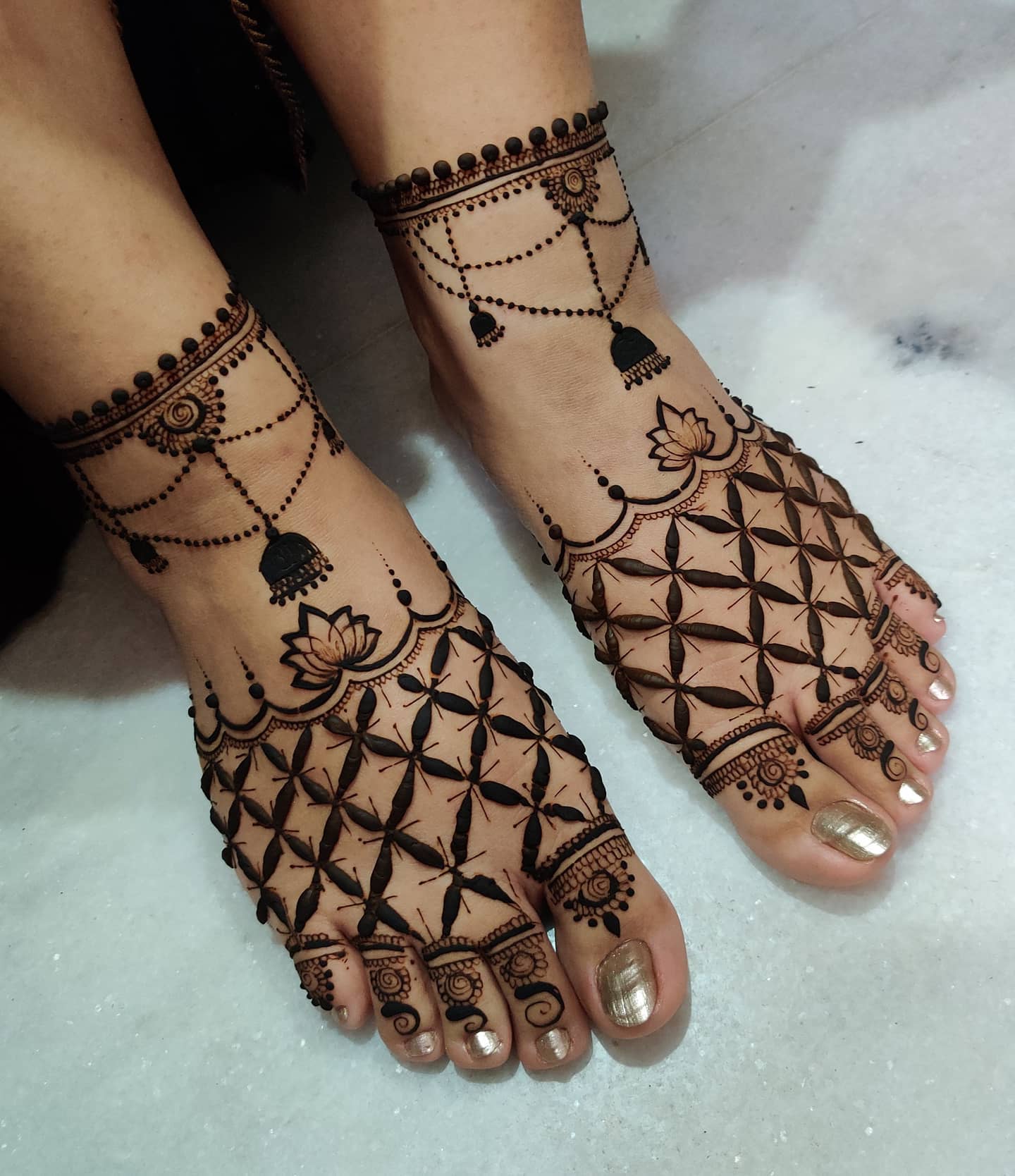 Here's a simple leg mehndi design that covers your feet entirely and makes them look really pretty. While it may look difficult, this design is very easy to recreate. It mainly features a checkered pattern, with a jhumka design in the center.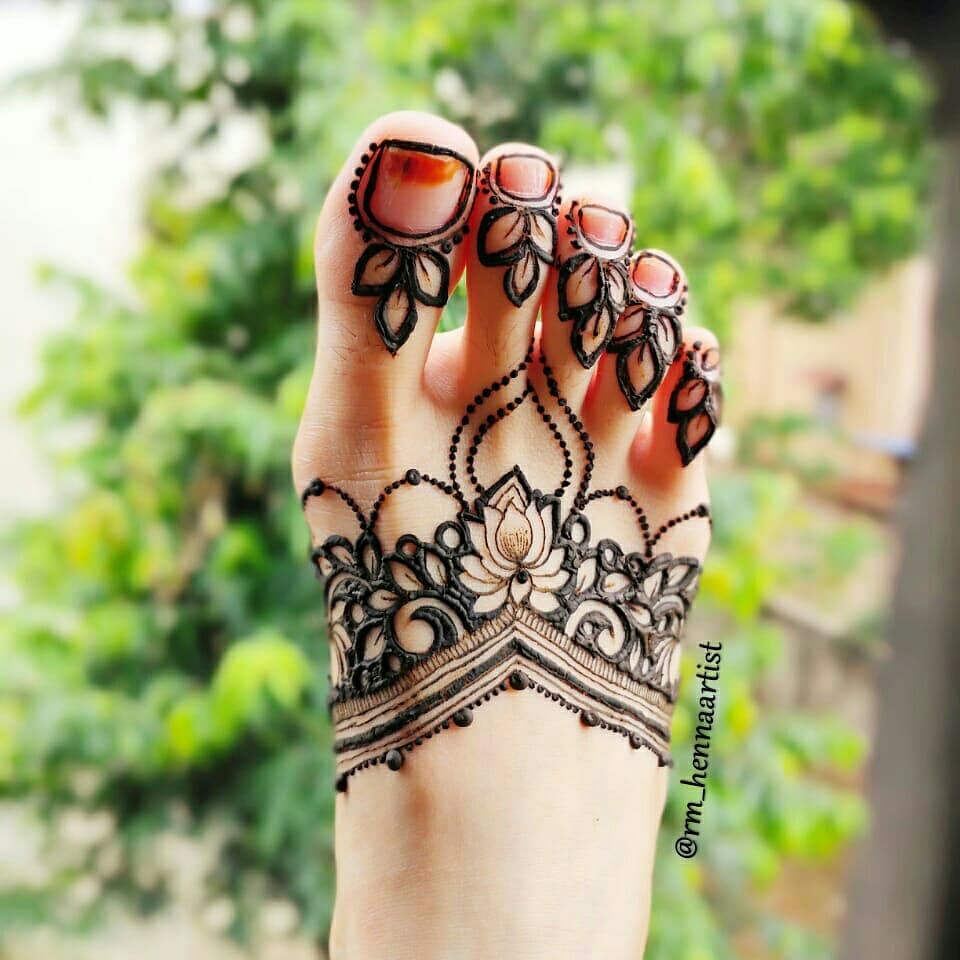 Lotus designs look absolutely beautiful, especially when they are minimal, and make the lotus element the highlight of the design. This easy leg mehndi design has the lotus at the centre, with leafy patterns surrounding it. The addition of dot work and geometric patterns enhances the beauty of this simple design.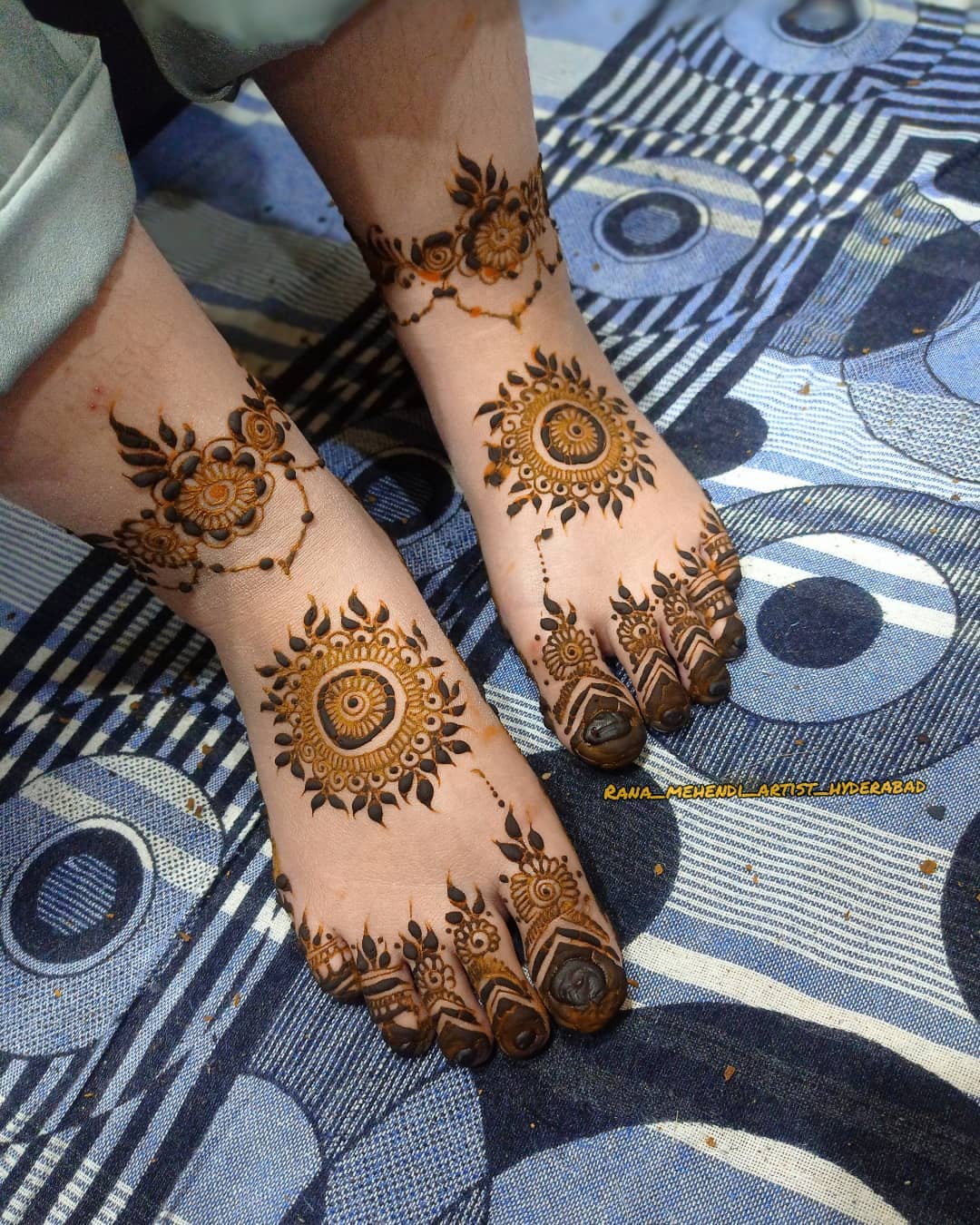 Circular patterns surrounded by leafy designs are quite easy to make, and also look stunning! This simple leg mehndi design is perfect for when you want a heavy look, but also don't want the design to be too time-consuming or difficult. 
Latest Leg Mehndi Designs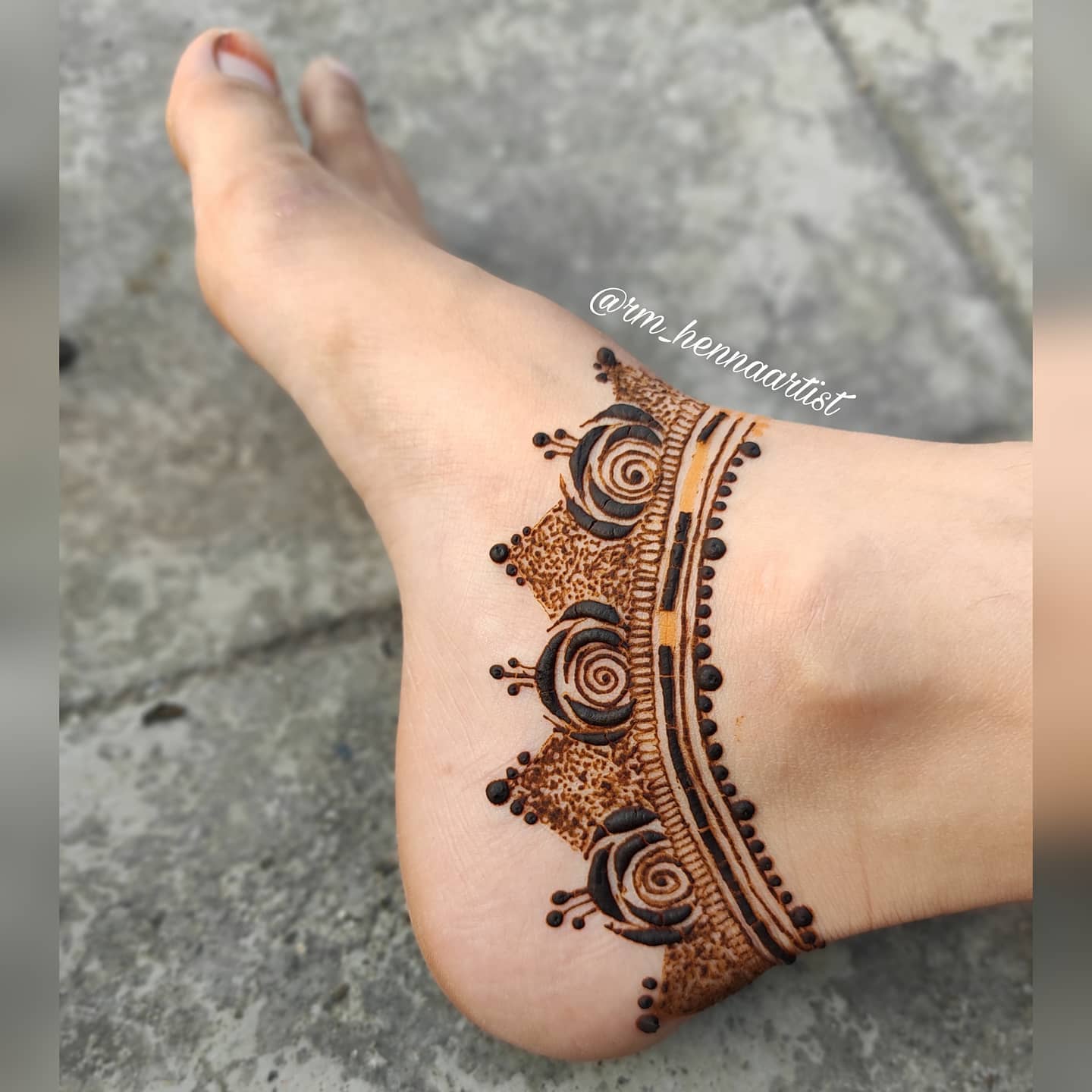 Jewellery-inspired mehndi designs are all the rage these days, and we gotta admit they look quite impressive. This latest leg mehndi design takes inspiration from payals and anklets, and the result is beautiful.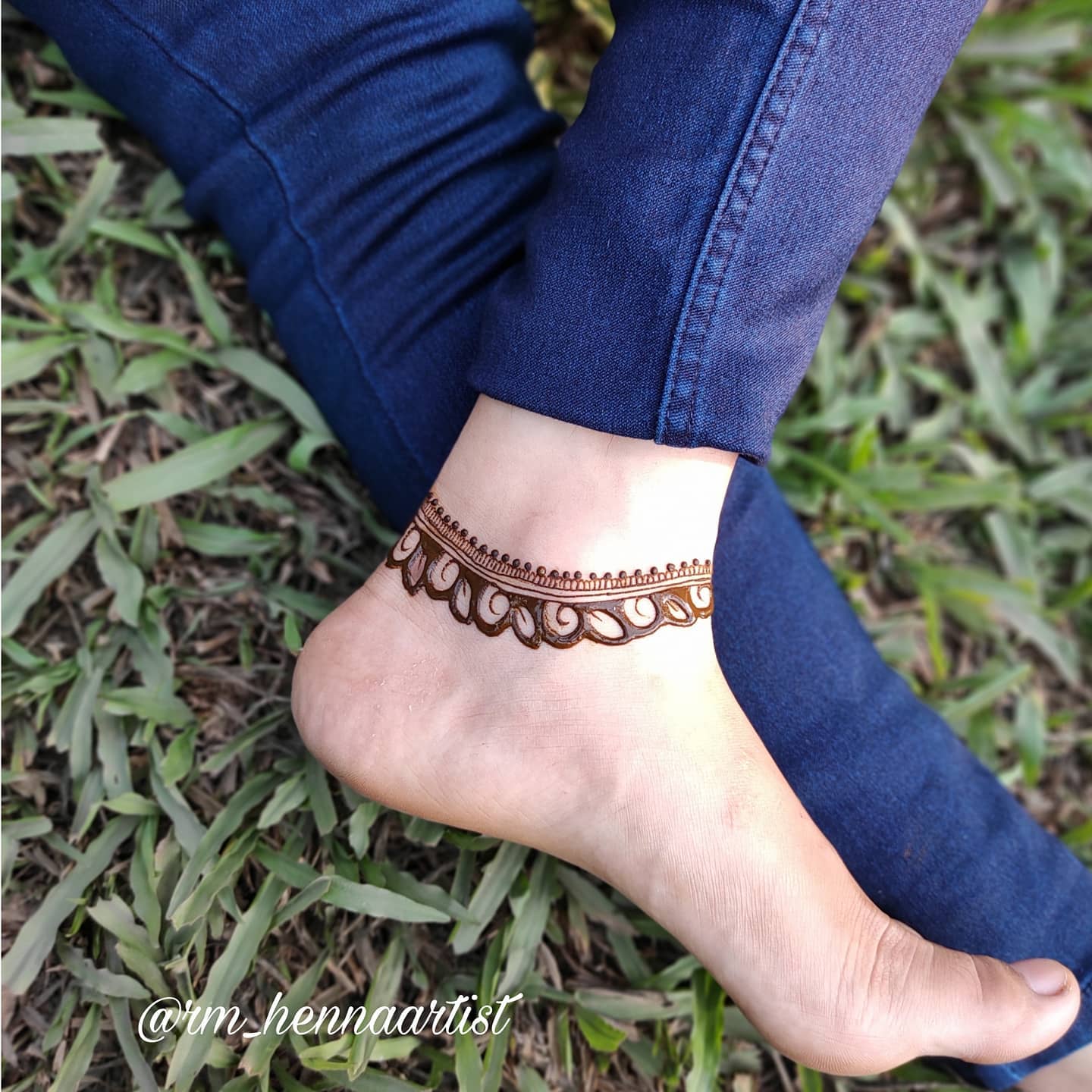 Loved what you saw above? Then you're also going to love this minimal anklet-inspired leg mehndi design that simply features some leafy elements that run horizontally. It is easy to make, and is also sure to garner a lot of attention.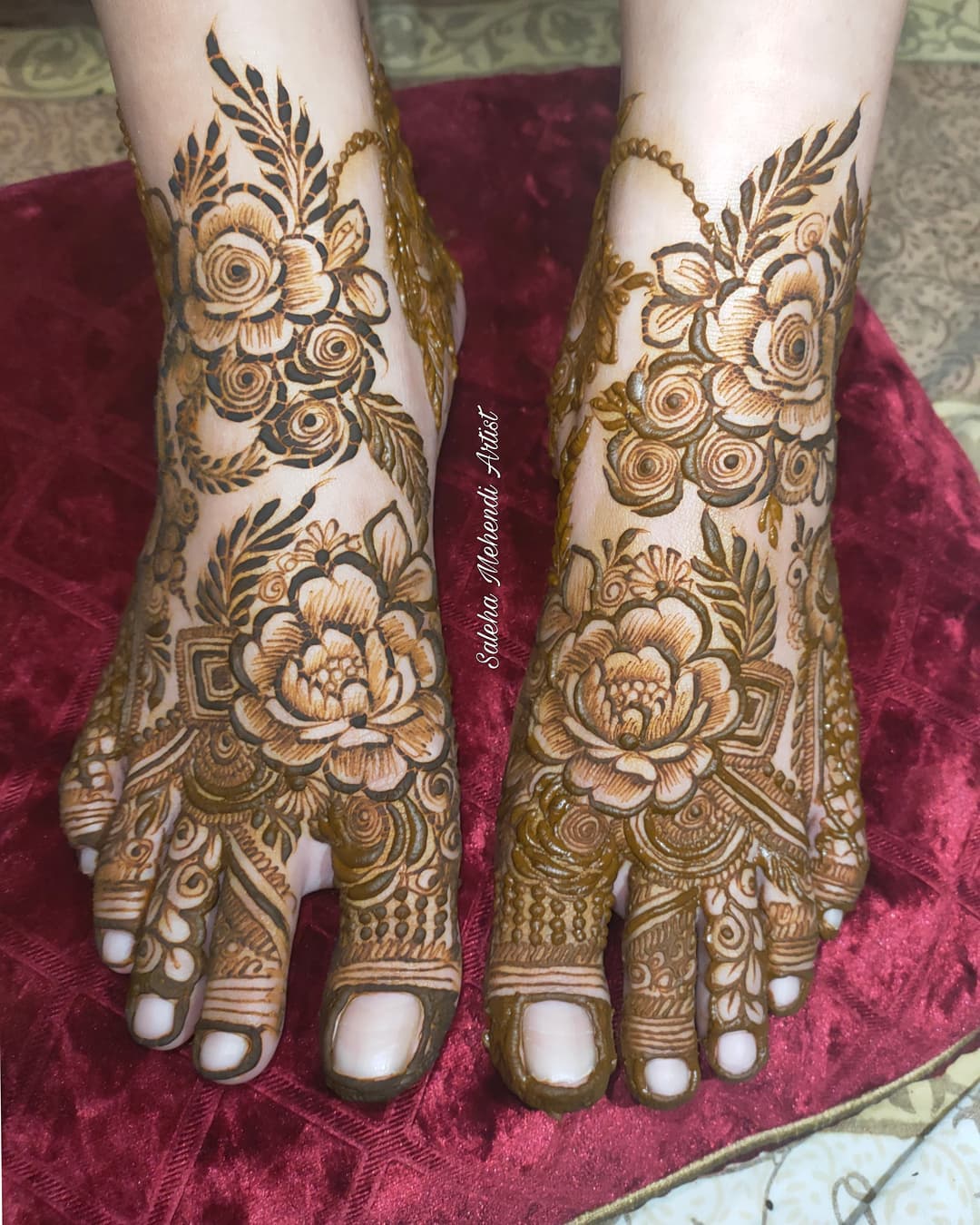 Shaded flowers look amazing in leg mehndi designs, but need a lot of precision and skills to ace them! The bold outline makes this floral mehndi design look neat, and it is amazing for those who want a heavy mehndi look on their feet.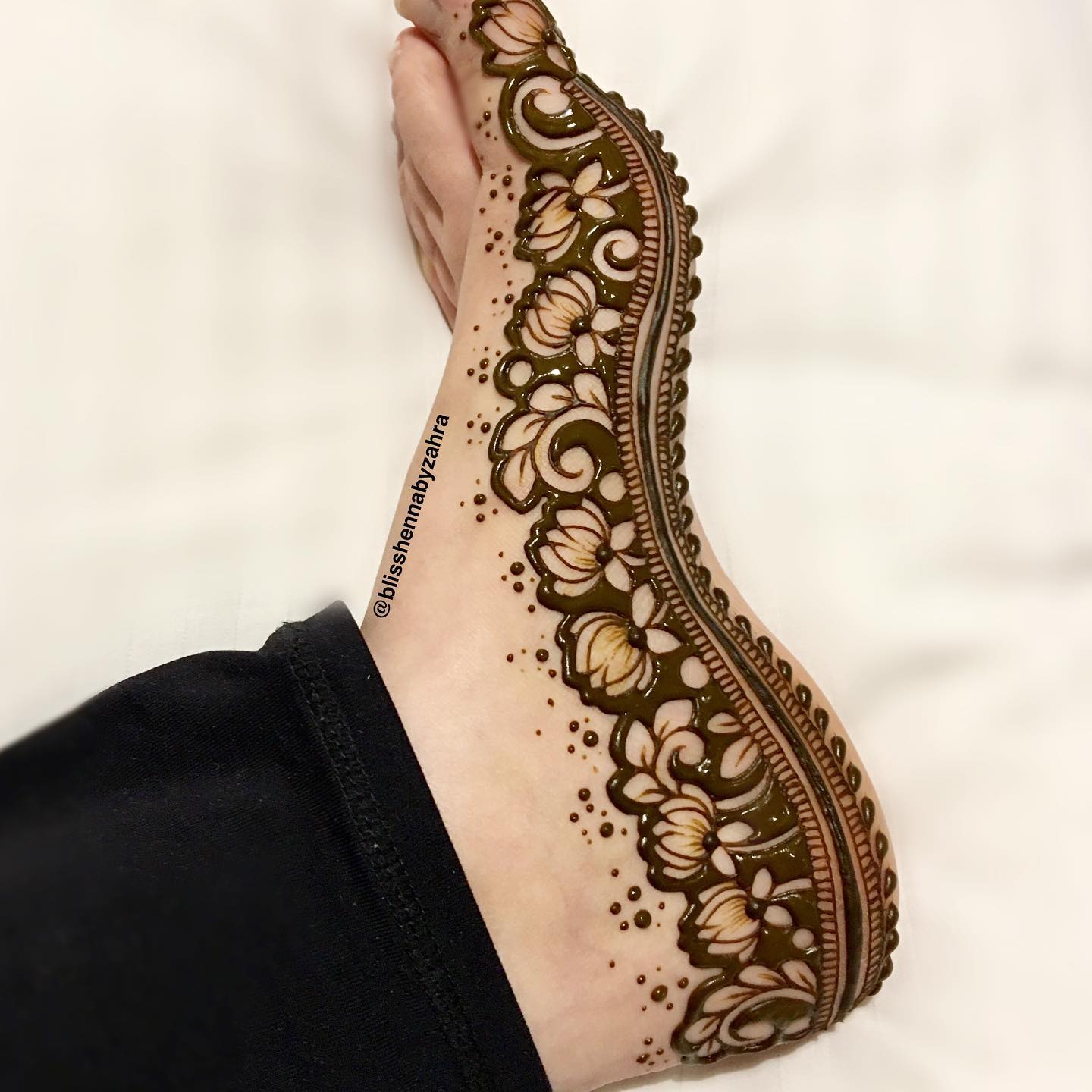 We're loving the look of this beautiful floral design that runs along the side of the foot. If intricate designs aren't your thing, you can opt for something like this instead!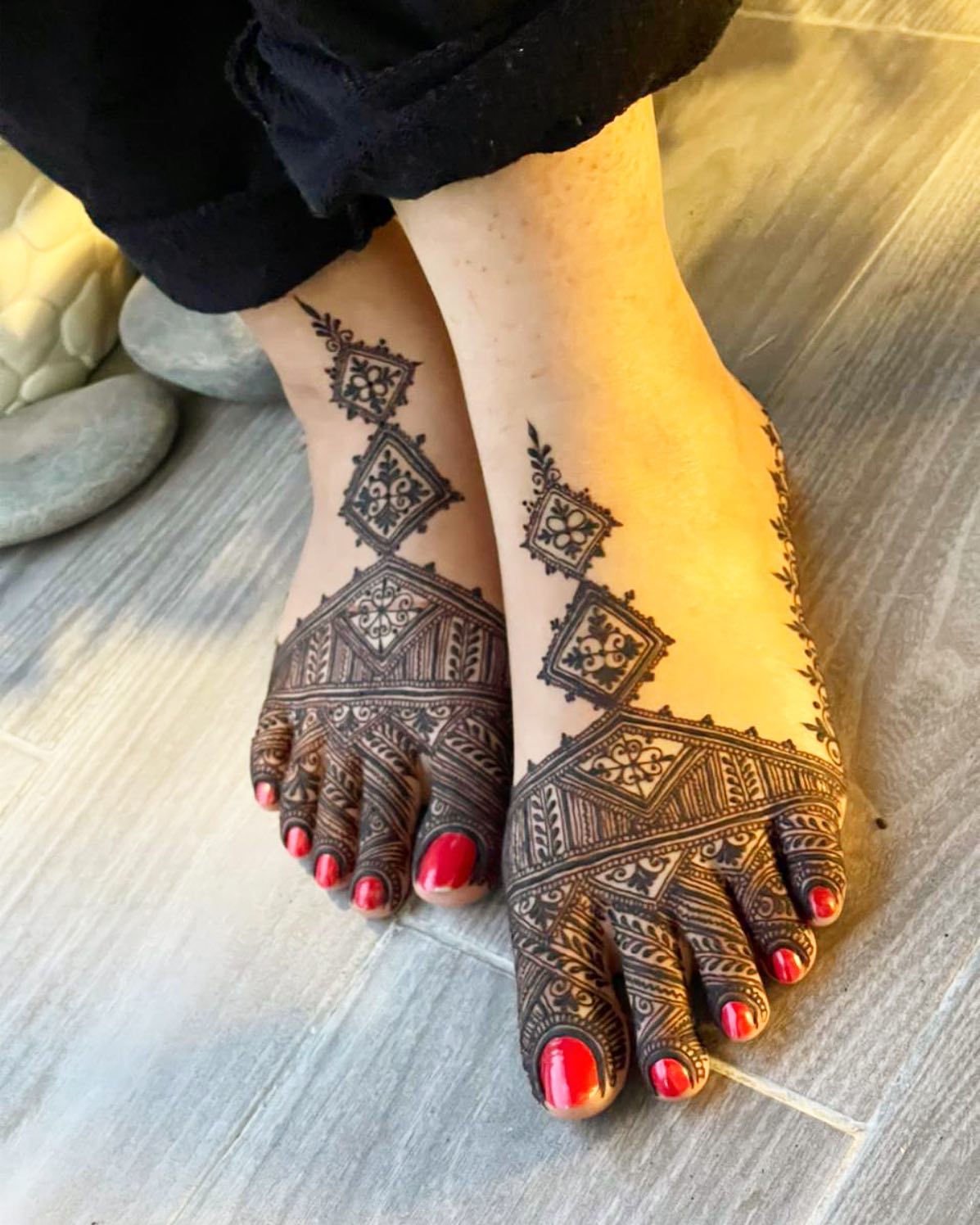 Moroccan designs with geometric patterns look unique and trendy. If you're not very skilled at applying mehndi, but wanna give an easy design a try, go ahead with this simple leg mehndi design! It's also a great option for those who aren't very fond of floral and traditional patterns in mehndi designs.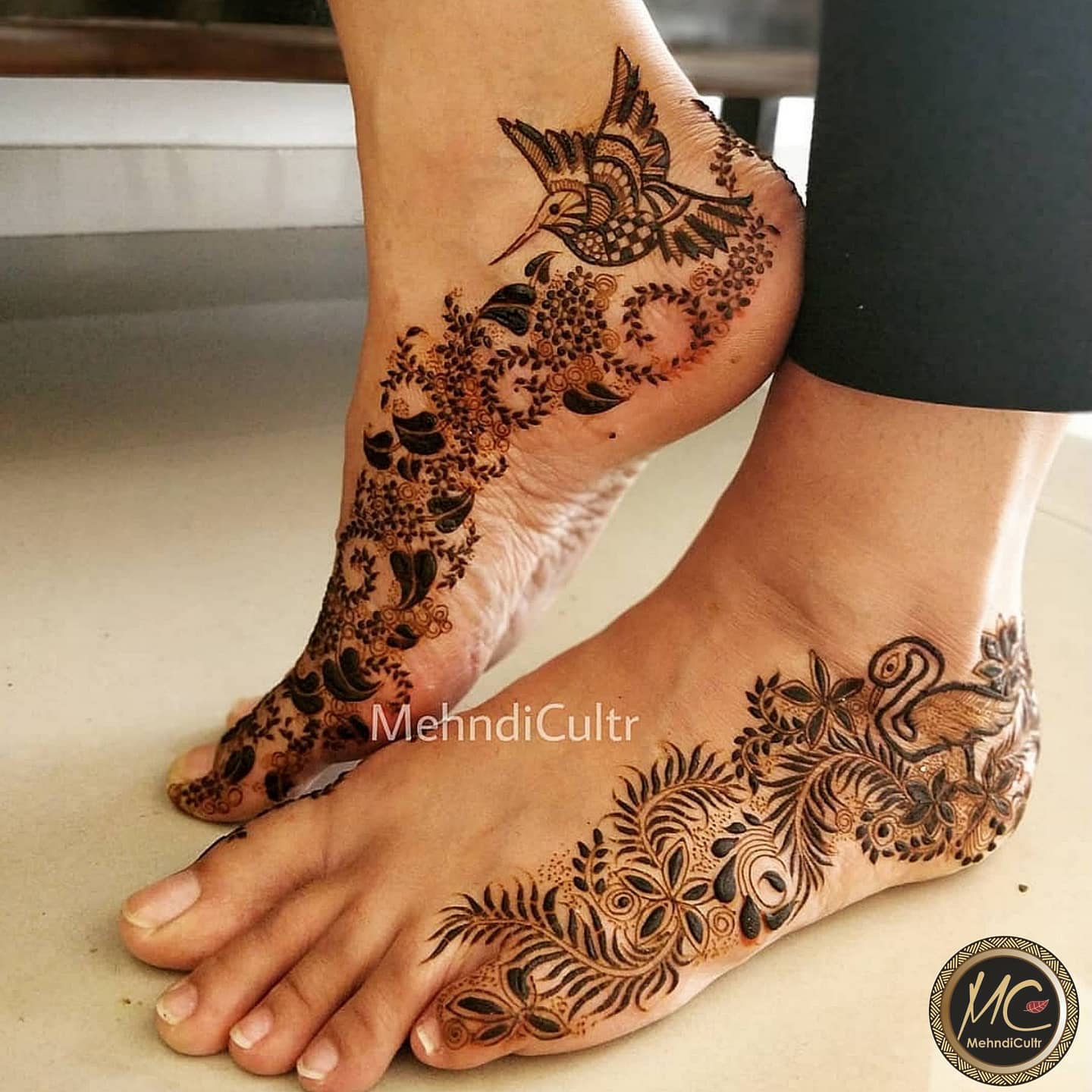 If you've been looking for a leg mehndi design that looks like a trendy tattoo, then this is a great option! We're loving the clean look of this design, and it is perfect for minimalist lovers.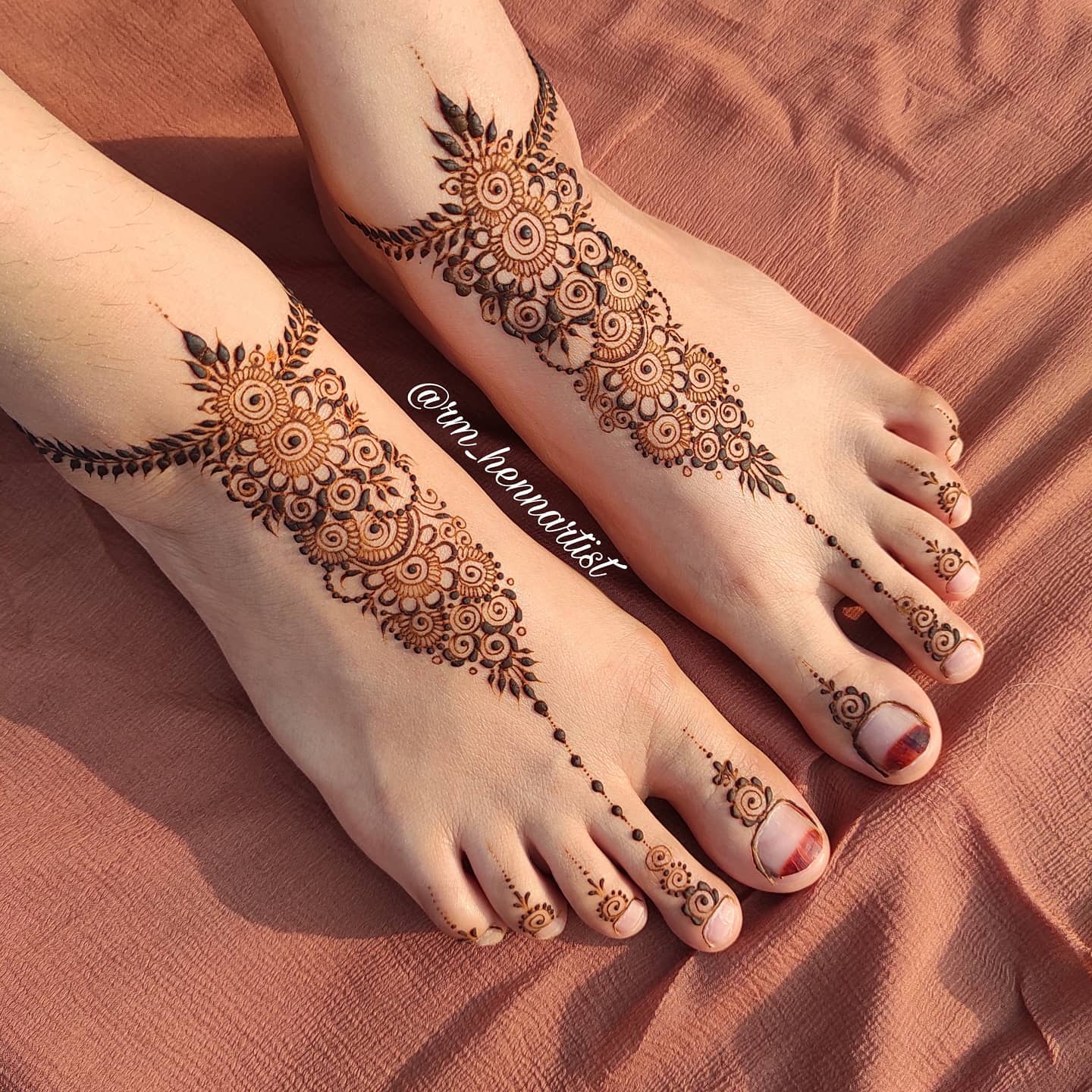 This leg mehndi design features traditional floral motifs, and the precision with which the design has been made, is what makes it stand out. If you can ace the fine, intricate design, it is sure to look stunning.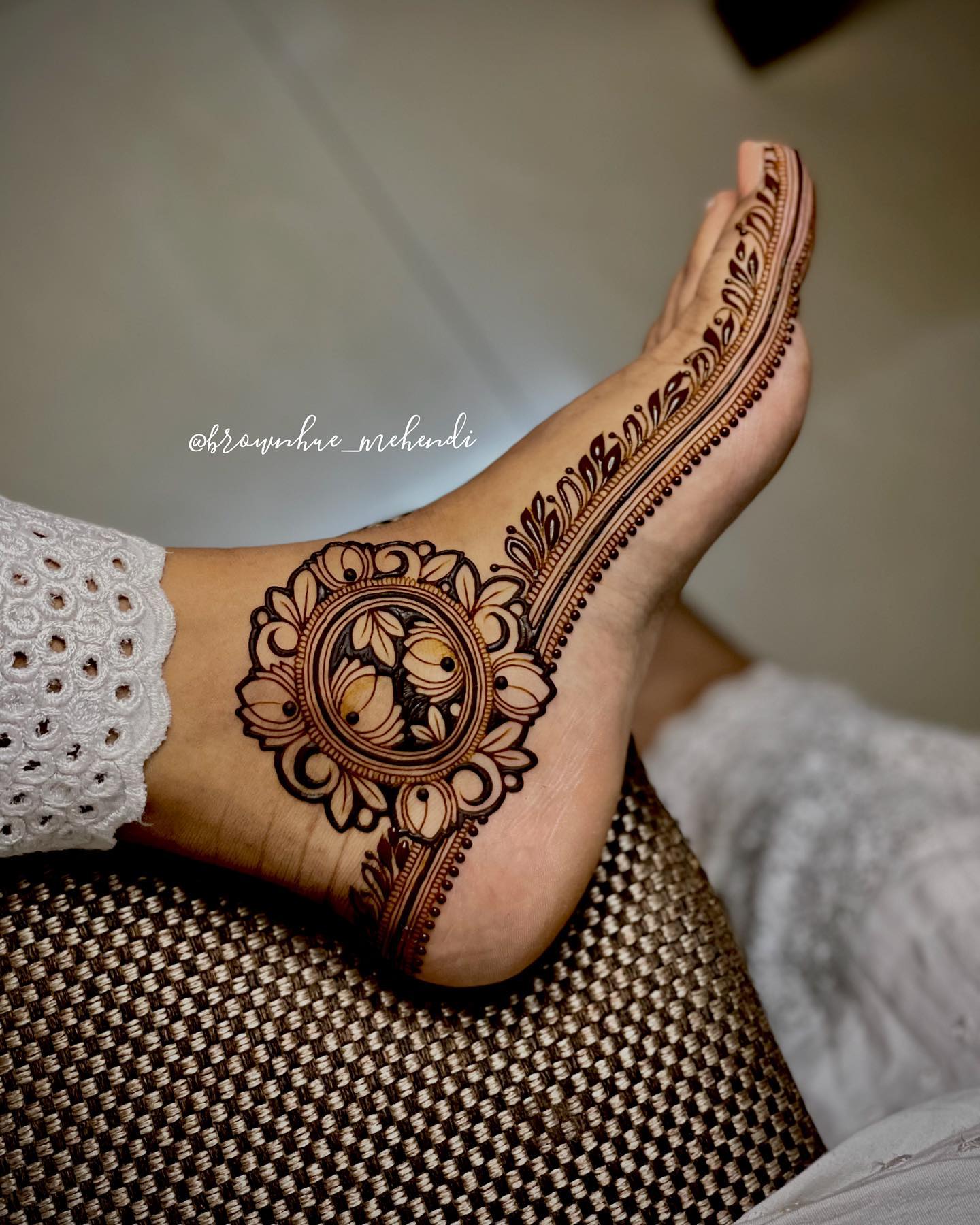 It's very common to find mandalas in the center of mehndi design, but what makes this leg mehndi design stand apart from the rest is the use of the mandala over the ankle. It gives a unique, quirky look, and we're loving it. 
Bridal Leg Mehndi Designs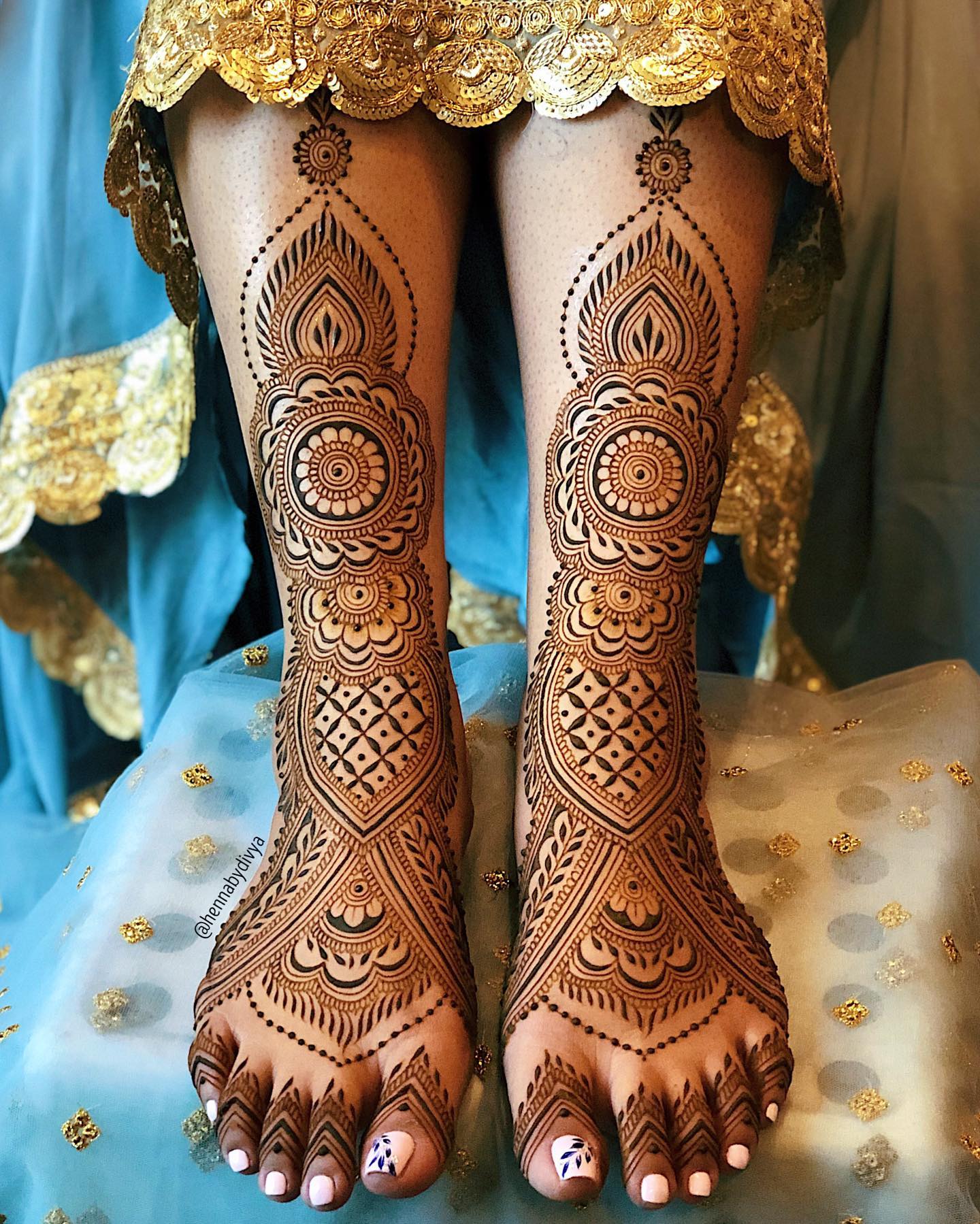 When it comes to bridal leg mehndi designs, symmetric and traditional patterns look really amazing! From floral motifs to jaalis and mehndi beads, this design looks intricate, yet neat. Gorgeous, isn't it?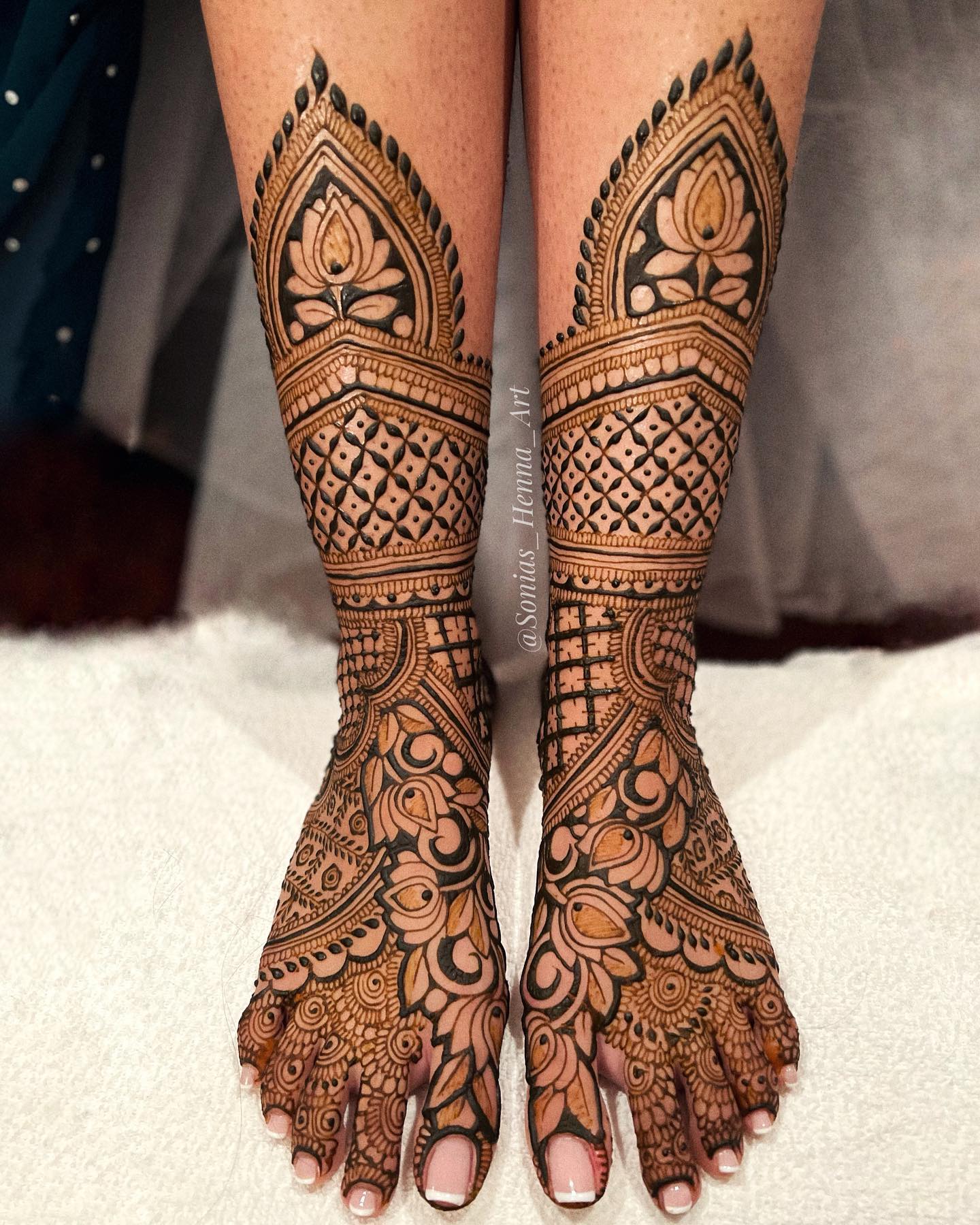 This beautiful bridal leg mehndi design is a fusion of traditional Indian and Arabic elements, and is perfect for a bride-to-be who isn't a big fan of very fine intricate details in her mehndi design.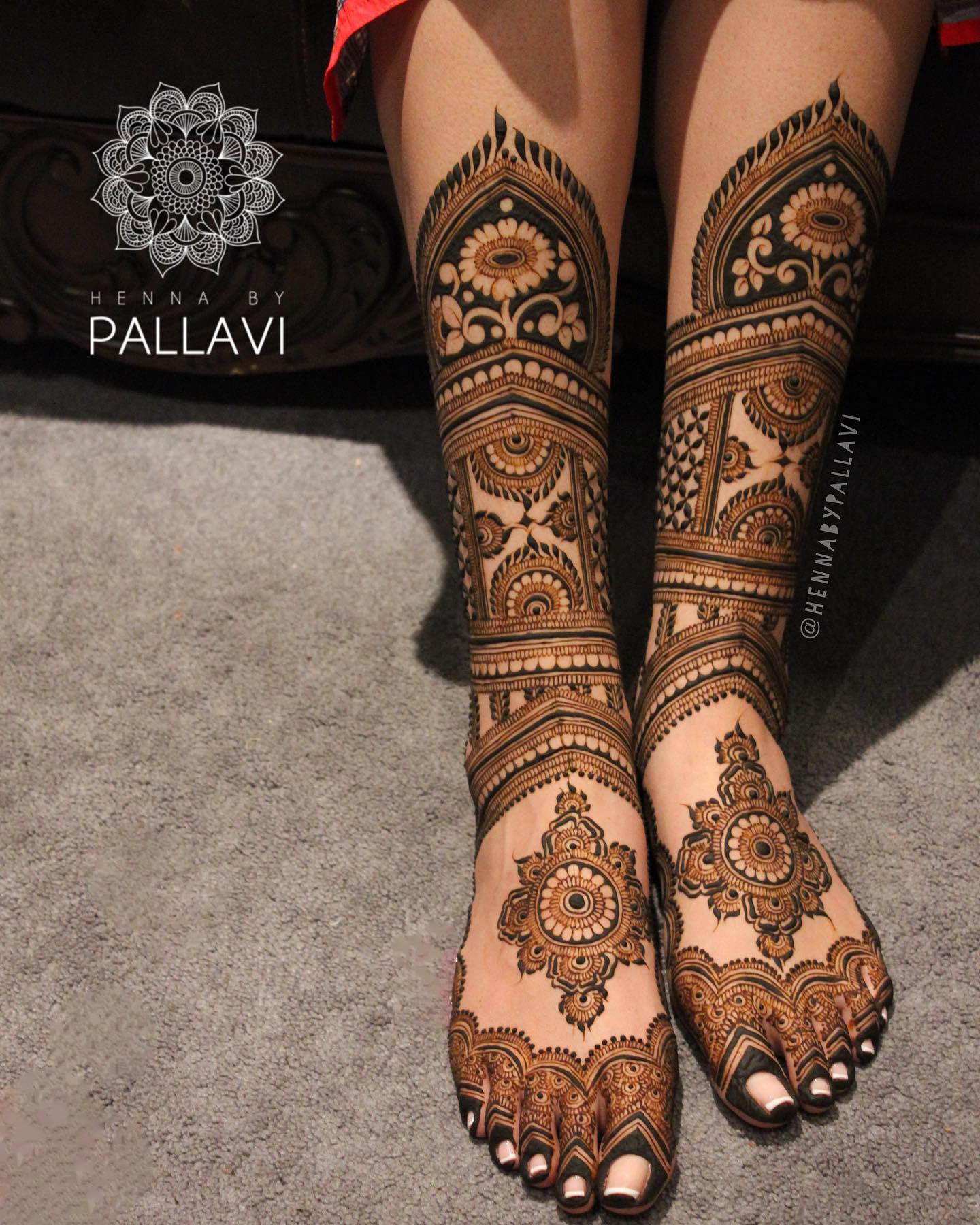 Love mandalas and want to incorporate them in your bridal leg mehndi design? No problem! We came across this beautiful mehndi design that has a mandala in the center, while the rest of the space is filled with traditional motifs and geometric patterns. This design has the perfect balance of filled and empty spaces, making the mandalas stand out.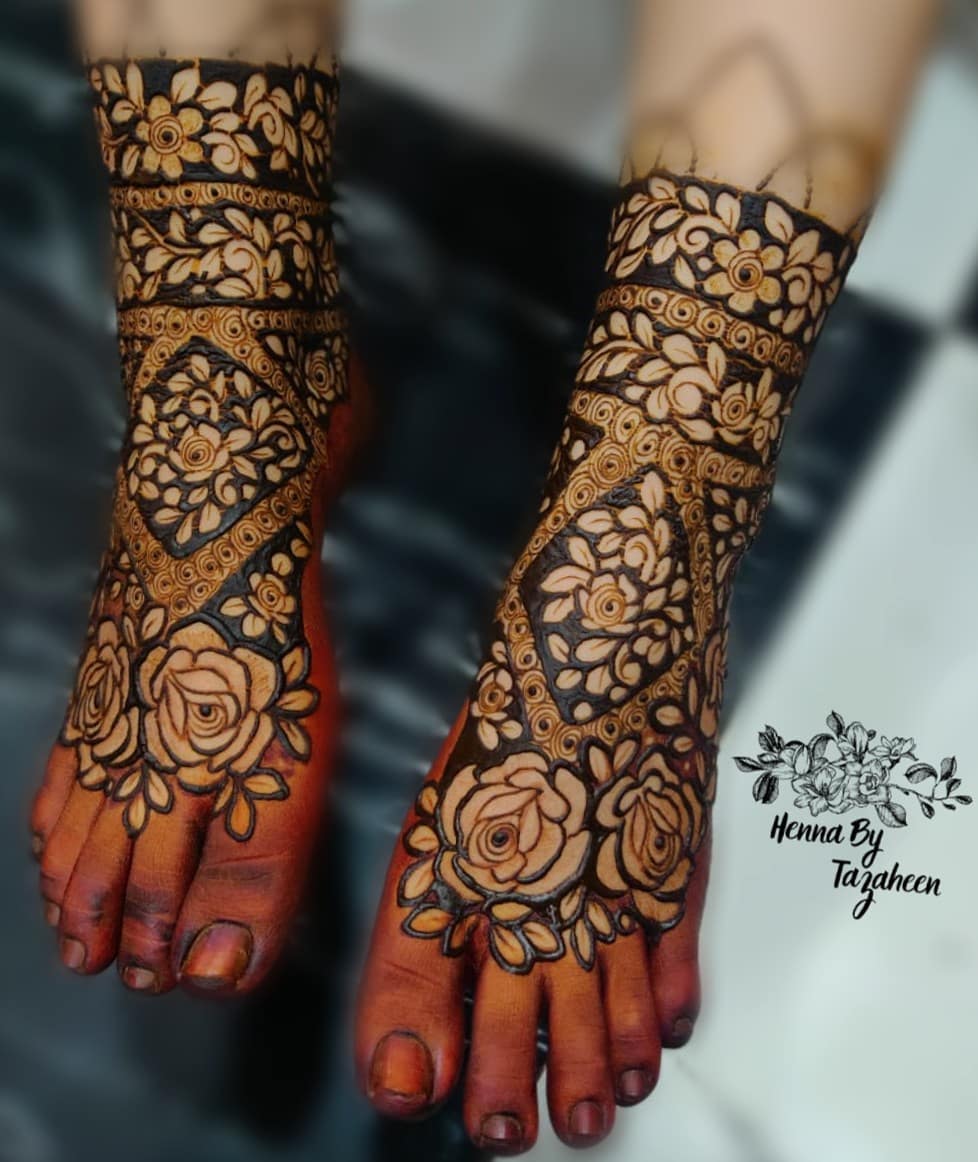 Want to opt for a unique bridal leg mehndi design? Then this is a great option! Roses aren't often the main theme of bridal leg mehndi designs, which is what makes this design so unique and trendy. We're loving the thick outlines, and the neatly filled spaces in this design.
Go ahead and bookmark these leg mehndi designs right away!
More Mehndi Designs
Finger Mehndi Designs – For festive occasions, many people opt for mehndi designs that focus mainly on just their fingers, instead of the entire hand. Finger mehndi designs look stylish and trendy, and if you're looking for some design inspiration, then check out this article! 
Back Hand Mehndi Designs – Looking for some creative back full hand mehndi designs to draw inspiration from? You've come to the right place! We have compiled some of the best back hand mehndi designs that will inspire you to create your own henna masterpiece to flaunt at the next wedding or event you go to!
How To Make Bridal Mehndi Dark – Here are some easy tips that you can follow to make your bridal mehndi dark and last longer.
Featured Image: Henna by Sadaf on Instagram
© 2022 THE GOOD GLAMM GROUP