Just like any other art form, mehndi designs and patterns keep evolving continuously. While intricately filled mehndi designs are evergreen and always in trend, there are also some minimal mehndi designs that are gaining a lot of popularity. These include the trend of finger mehndi designs! For festive occasions, many people opt for mehndi designs that focus mainly on just their fingers, instead of the entire hand. Finger mehndi designs look stylish and trendy, and if you're looking for some design inspiration, then you've come to the right place. We have lined up some of the best finger mehndi designs that you can take cues from.
From stylish finger mehndi designs to easy and beautiful finger mehndi designs- we've got something for everyone!
Stylish Modern Finger Mehndi Designs in 2022
Over the years, minimalistic and modern mehndi designs have gained a lot of popularity. They're easy to create, take less time and effort, and also look quite aesthetic! If you're looking for some stylish modern finger mehndi designs, we have narrowed down a few that you might wanna check out.
Jewellery Inspired Single Finger Mehndi Design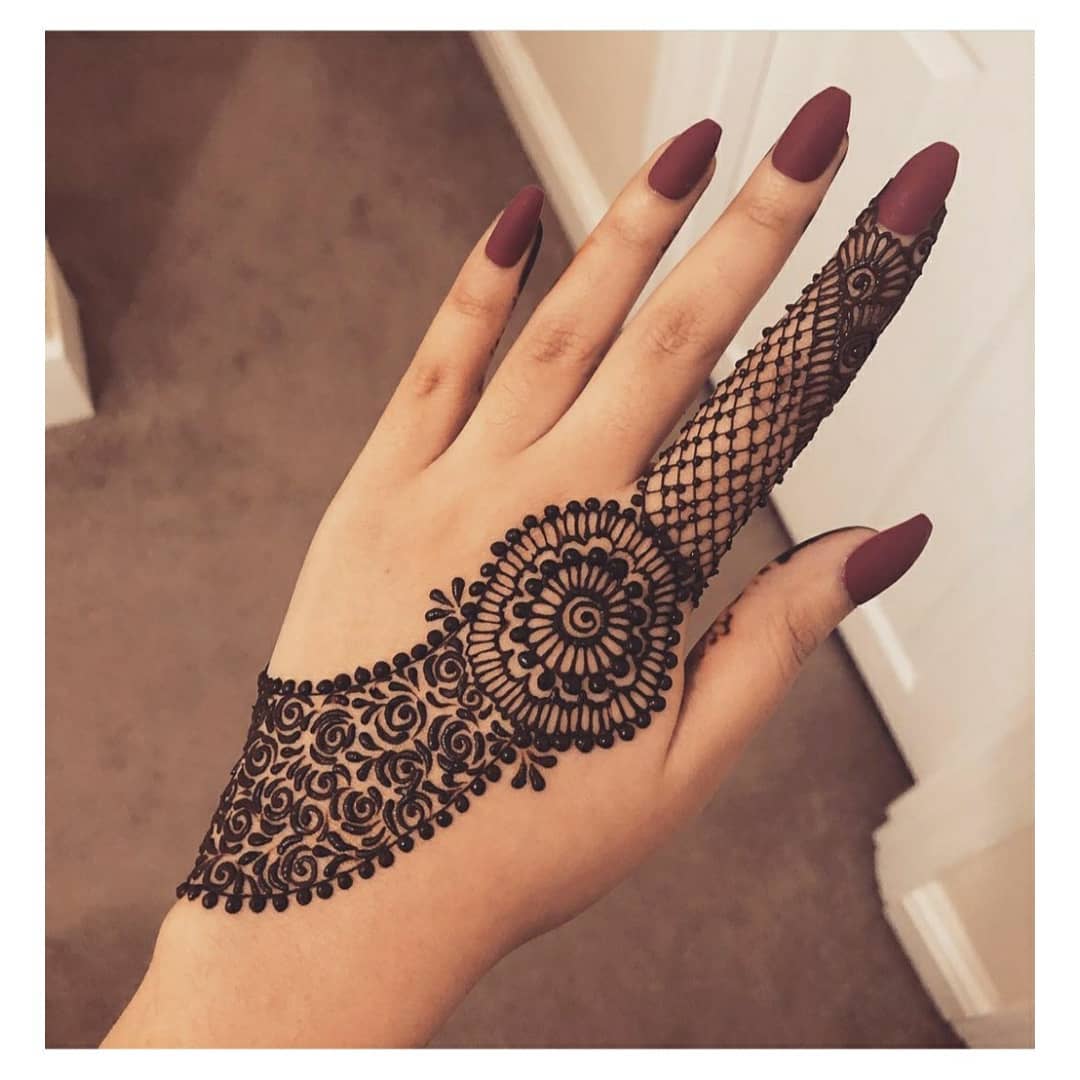 This single-finger mehndi design extends down to the wrist, making it appear like a jewellery piece on your hand. It looks stylish and elegant, and is not too difficult to recreate. Bookmark this simple finger mehndi design for the next festive occasion! 
Lace Glove Finger Mehndi Design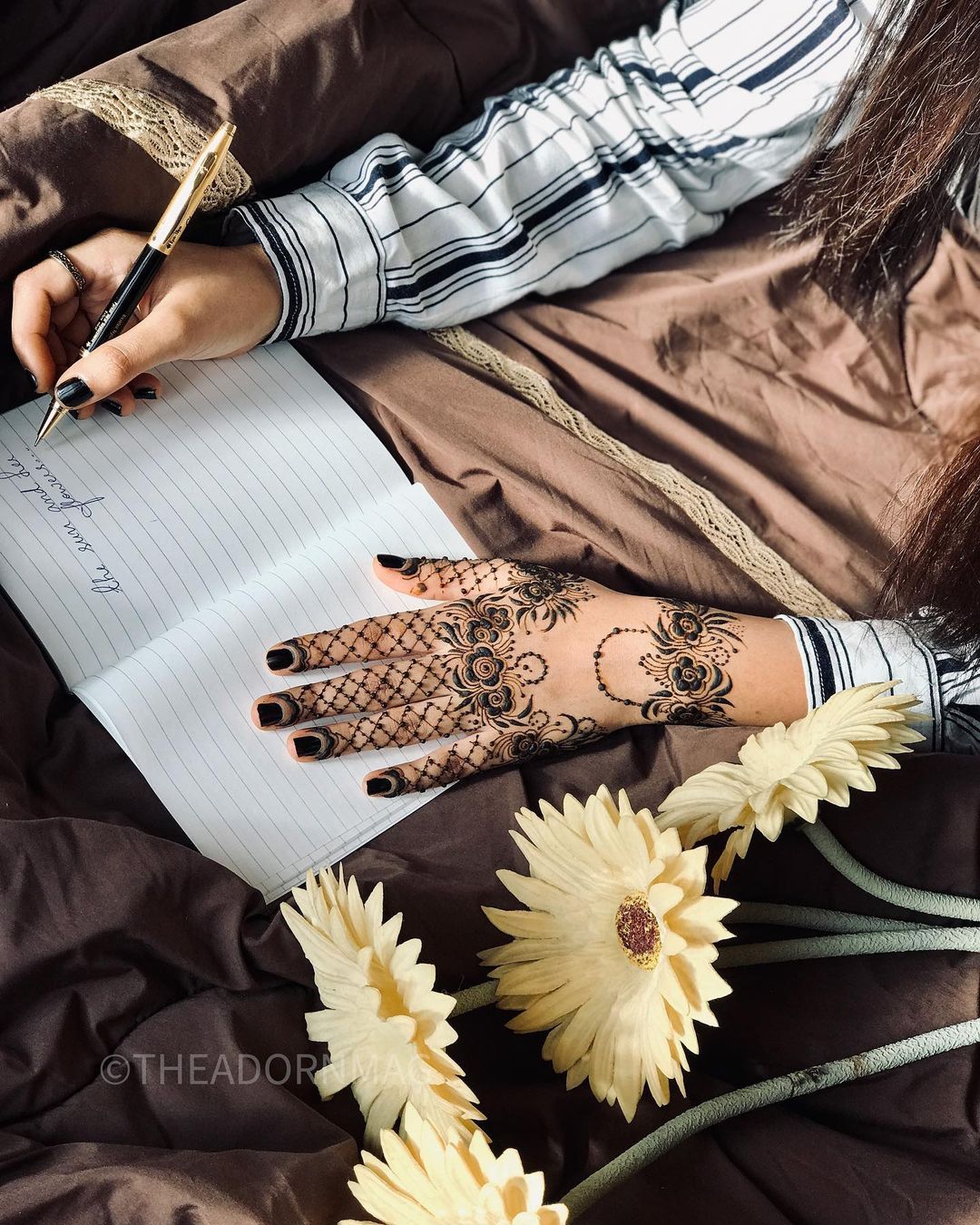 The lattice pattern on the fingers and the rose pattern on the knuckles make it appear like a delicate lace glove worn on your hand. If a modern look is what you're aiming for, then opt for this stylish finger mehndi design!  
Thumb Henna Design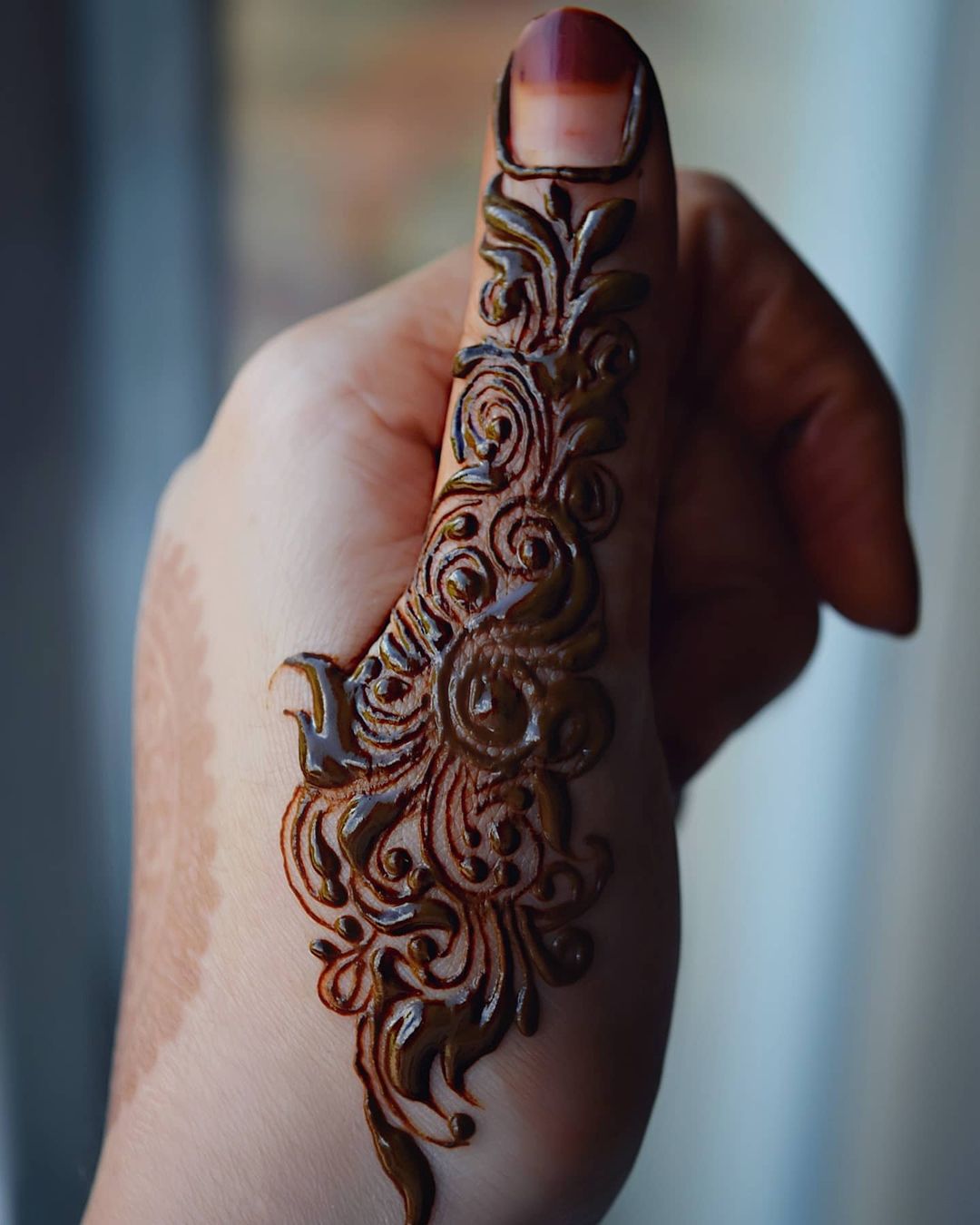 Another modern finger mehndi design that's all the rage on social media, is the thumb henna design. This design is created using curves and leafy patterns and is oh-so-beautiful! 
Chequered Mehndi Design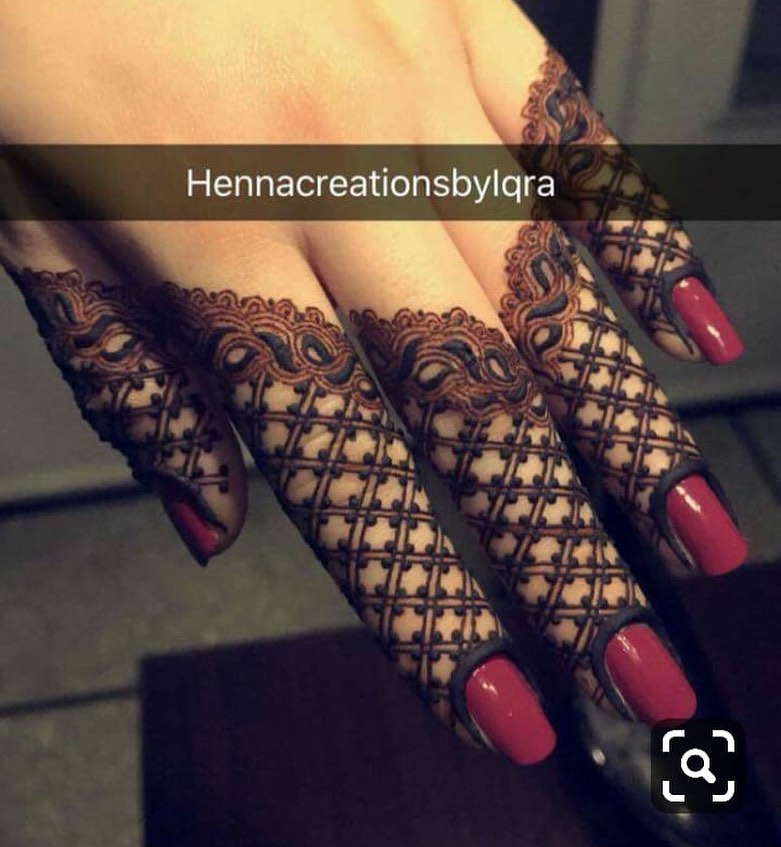 This stylish modern finger mehndi design features chequered pattern over the fingers with intricate floral elements outlining the design. Despite its simplicity, this finger mehndi design looks elegant and stylish.
Rhombus Mehndi Design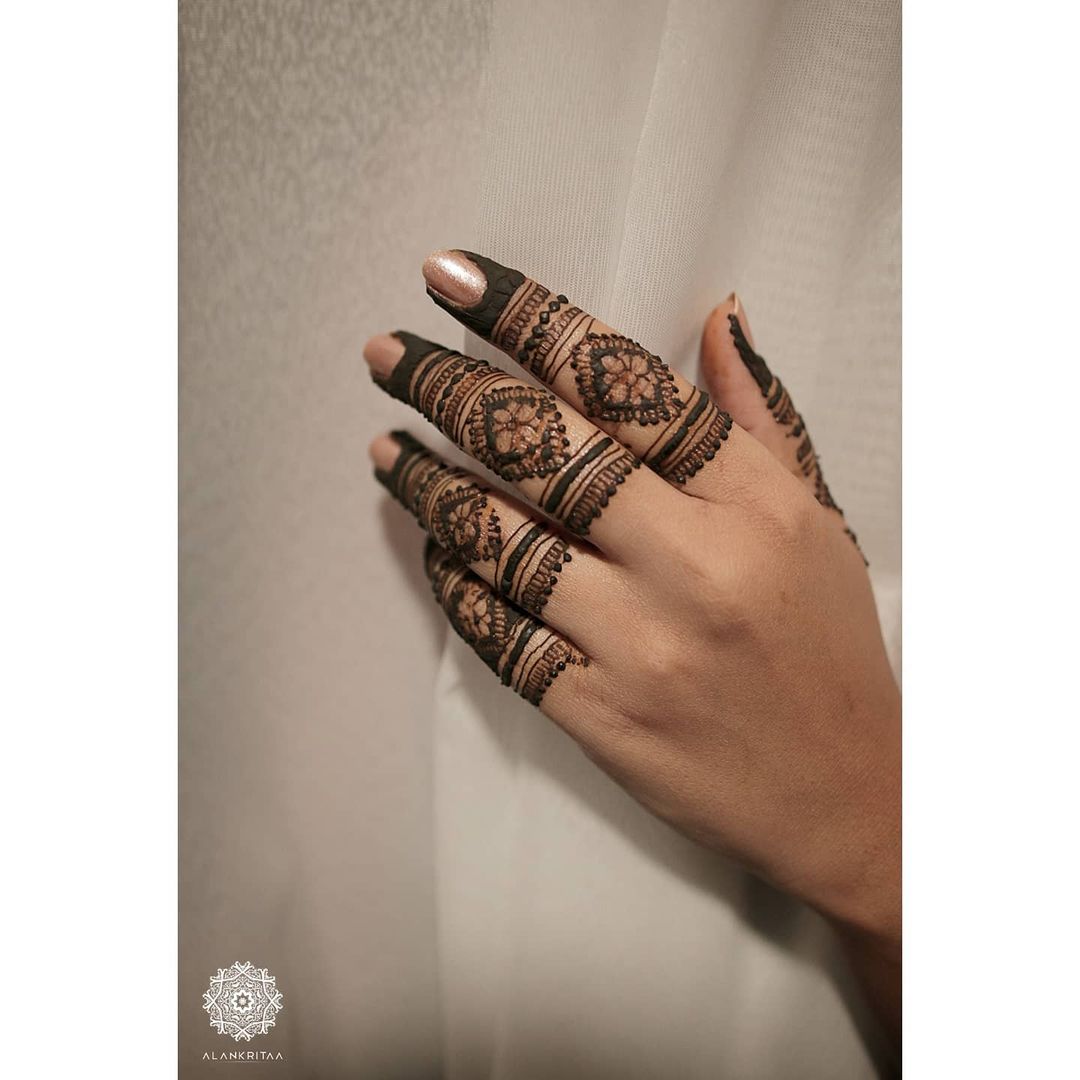 This minimalistic yet elegant finger mehndi design features a rhombus on the centre of the fingers, with a floral design inside. Below and above the rhombus are horizontal lines of various thicknesses that define the end prominently. You can also choose to extend this design downwards by using similar elements if you wish to.
Finger Adornments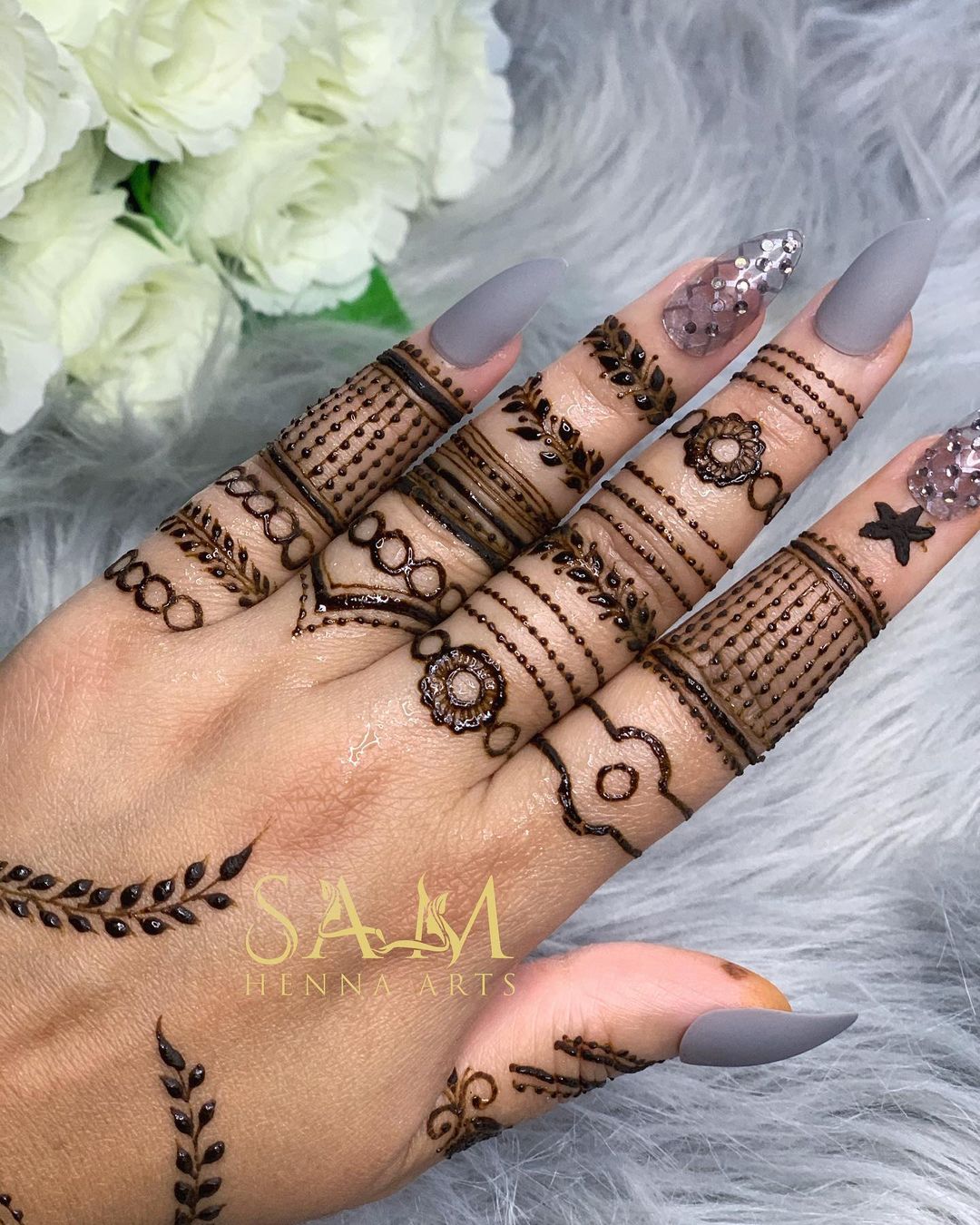 If an unconventional design is what you're looking for, then this finger mehndi design makes for an excellent option. Unlike traditional mehndi designs, this one makes use of numerous different design elements such as stars, circles, dotted lines, floral bands to decorate each finger. 
Henna With Jewellery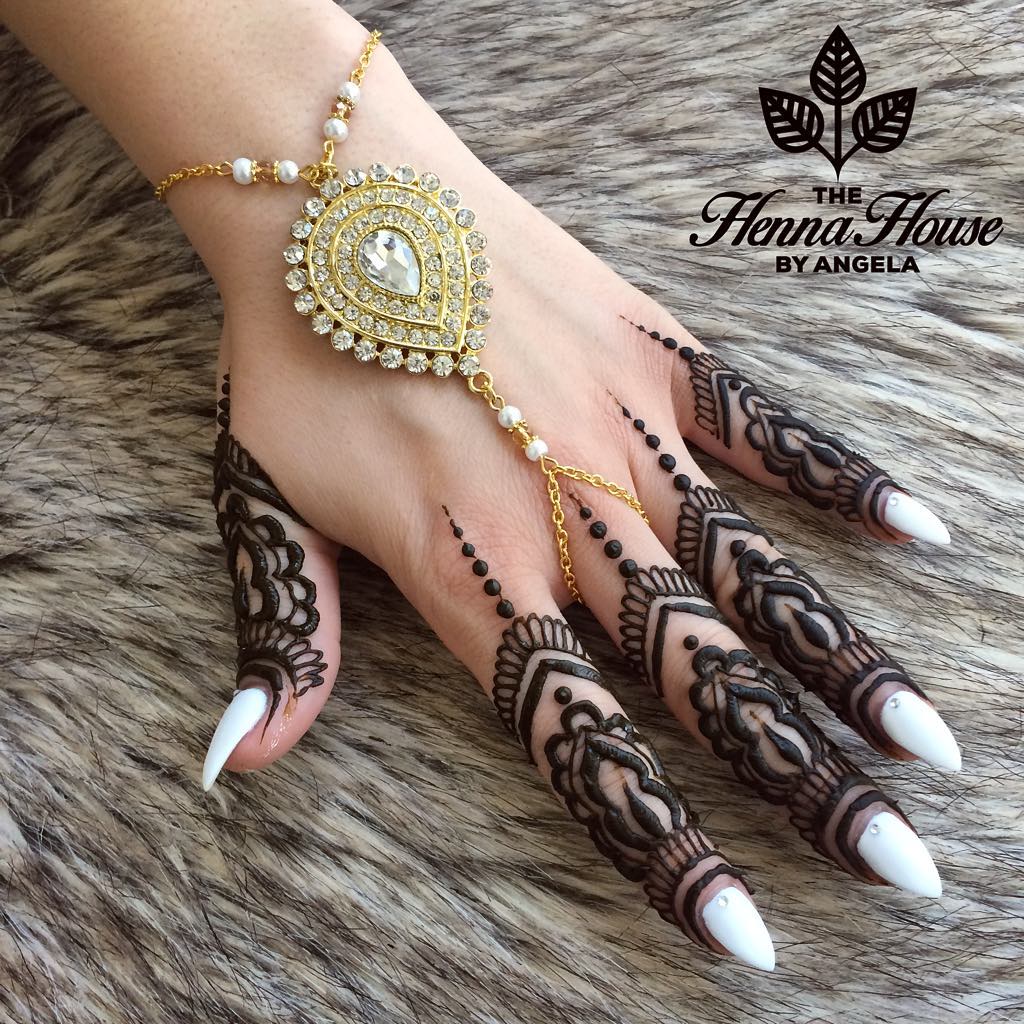 When it comes to finger mehndi designs, you can also especially create a design that complements your hand jewellery! Take this design for example! The finger mehndi design does not interfere with the jewellery, instead makes it stand out even more prominently. 
Finger Mehndi Designs Front Side
Leaf patterns were once among the most common traditional finger mehndi designs on the front side. However, mehndi designs have evolved since then, and today we see some really interesting and varied mehndi patterns and designs on fingers that look unique, and modern. If you're looking for finger mehndi designs for the front side of your hand, then look no further! We have compiled a few designs below.    
Partially Filled Finger Mehndi Design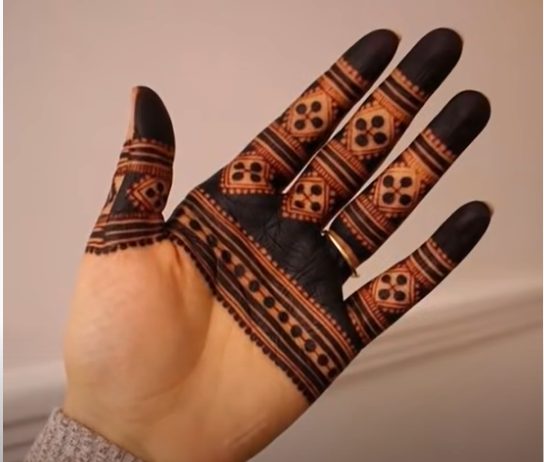 While mehndi-filled fingertips look really beautiful, this finger mehndi design also includes a portion of filled mehndi just below the fingers. This highlights the design on the fingers, and makes it stand out even more prominently. This front side finger mehndi design is minimal and beautiful!
Moroccan Inspired Finger Mehndi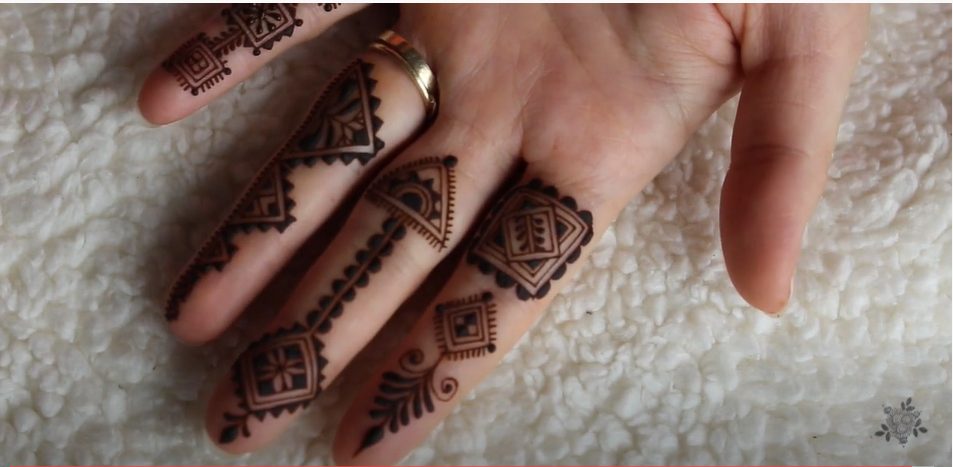 We're loving how simple yet unique this Moroccan-inspired mehndi design looks! If an unconventional mehndi design is what you're looking for, then go for this beautiful front side finger mehndi design.   
Wraparound Finger Leaf Design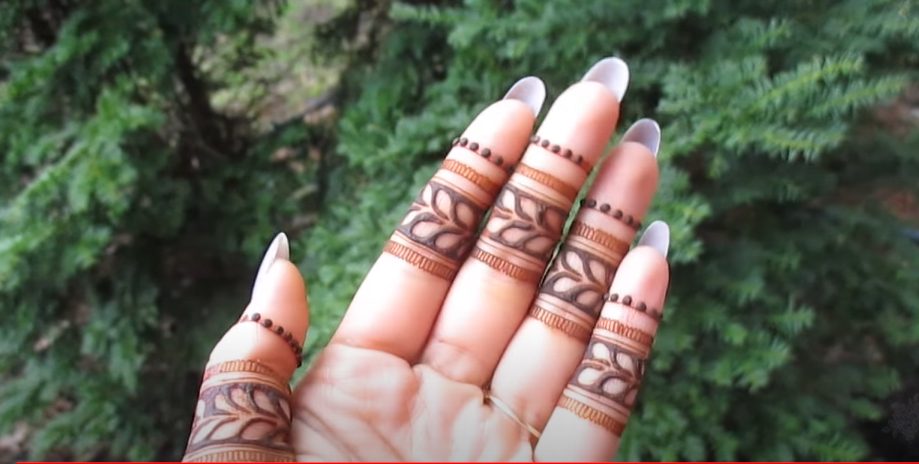 Who said your front side finger mehndi design cannot continue to the back of your hand as well? Wraparound designs look beautiful because of the seamlessness! This wraparound finger leaf design is fuss-free and doesn't contain too many elements. You can easily recreate this finger mehndi design even if you're a beginner.  
Leaf Fingertips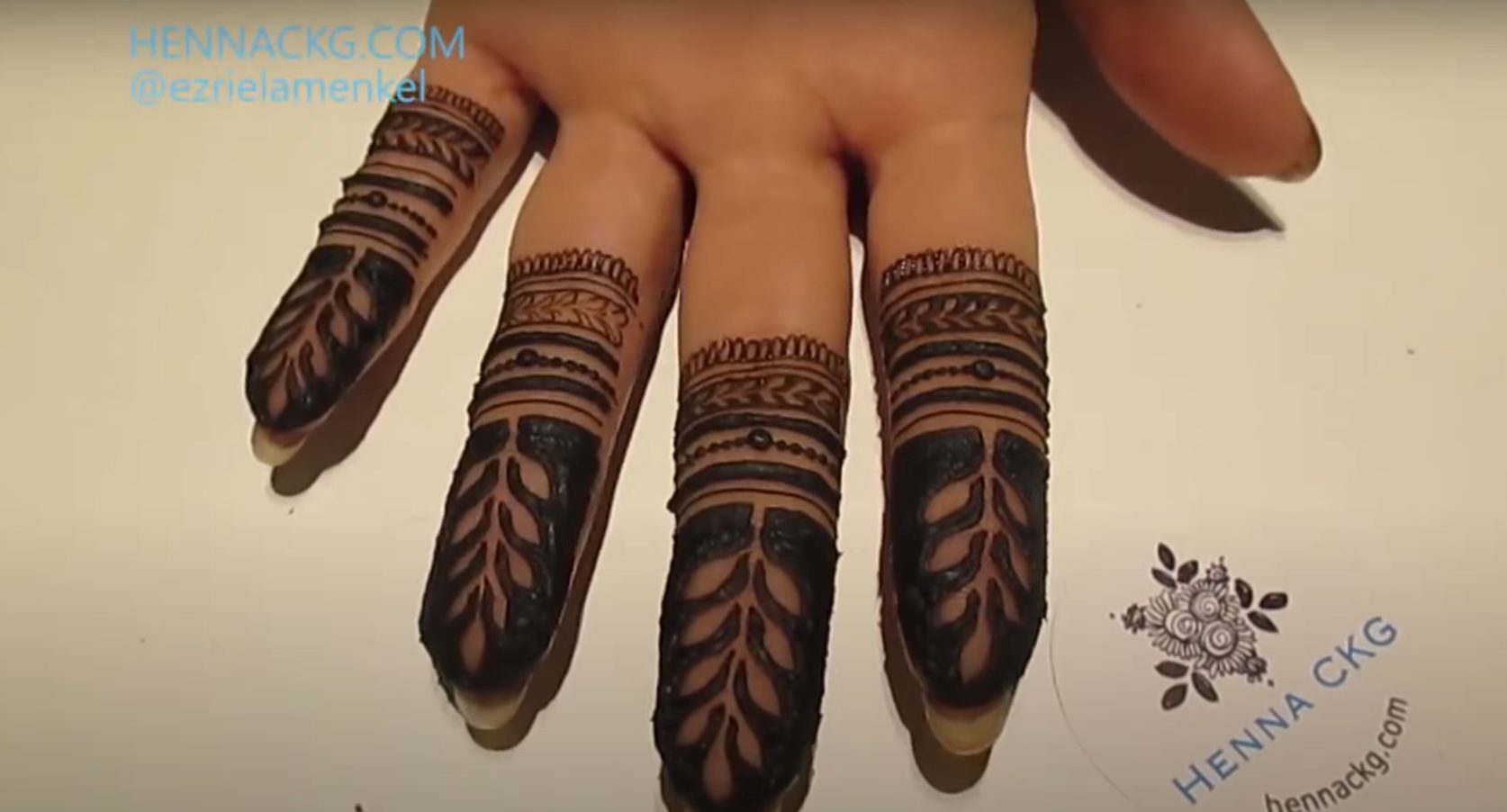 Wanna add a fun twist to the mehndi-filled fingertips? Opt for a leaf design like this one on the tips of your fingers.  
Geometric Mehndi Design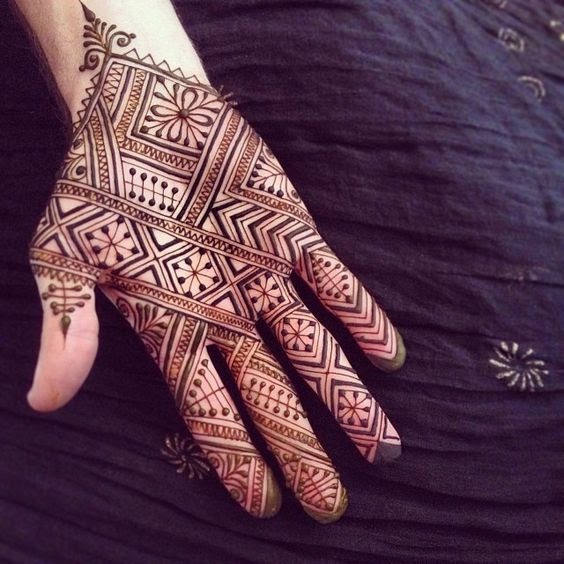 If you don't like the idea of completely filled fingertips, then you can also opt for a finger mehndi design such as this one! Geometric lines and patterns are used for the fingers, and the same patterns also continue down the palm.
Finger Mehndi Designs Back Side
We came across some really stylish finger mehndi designs for the back of your hand that you've gotta bookmark for the next occasion. From minimal and modern finger mehndi designs to beautifully intricate finger mehndi designs, check out all the gorgeous henna art below!  
Floral Motif Finger Mehndi Design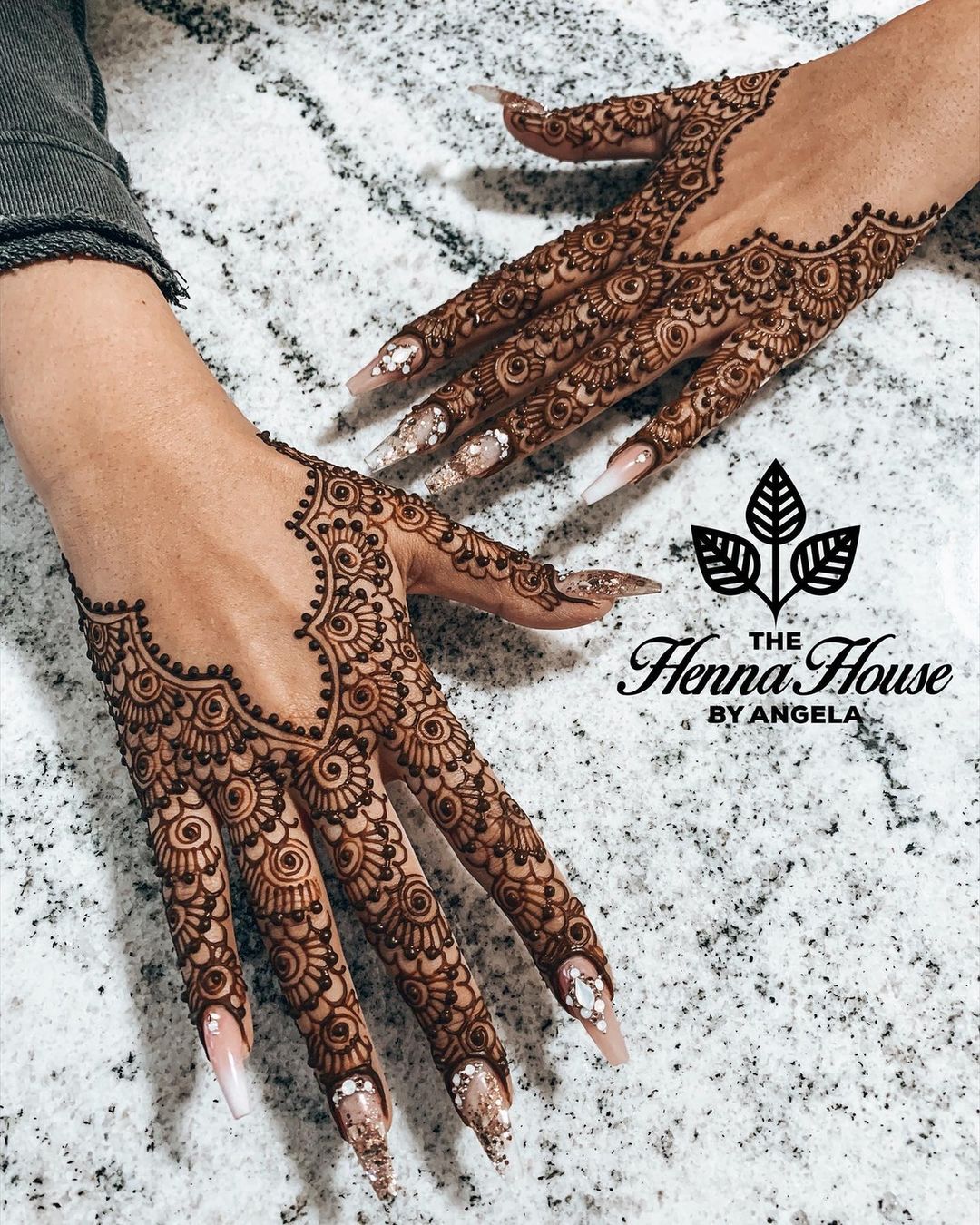 This finger mehndi design isn't as complicated or intricate as it looks. The same floral motif is used throughout the design, and the result is stunning! 
Sunflower Mehndi Design For Fingers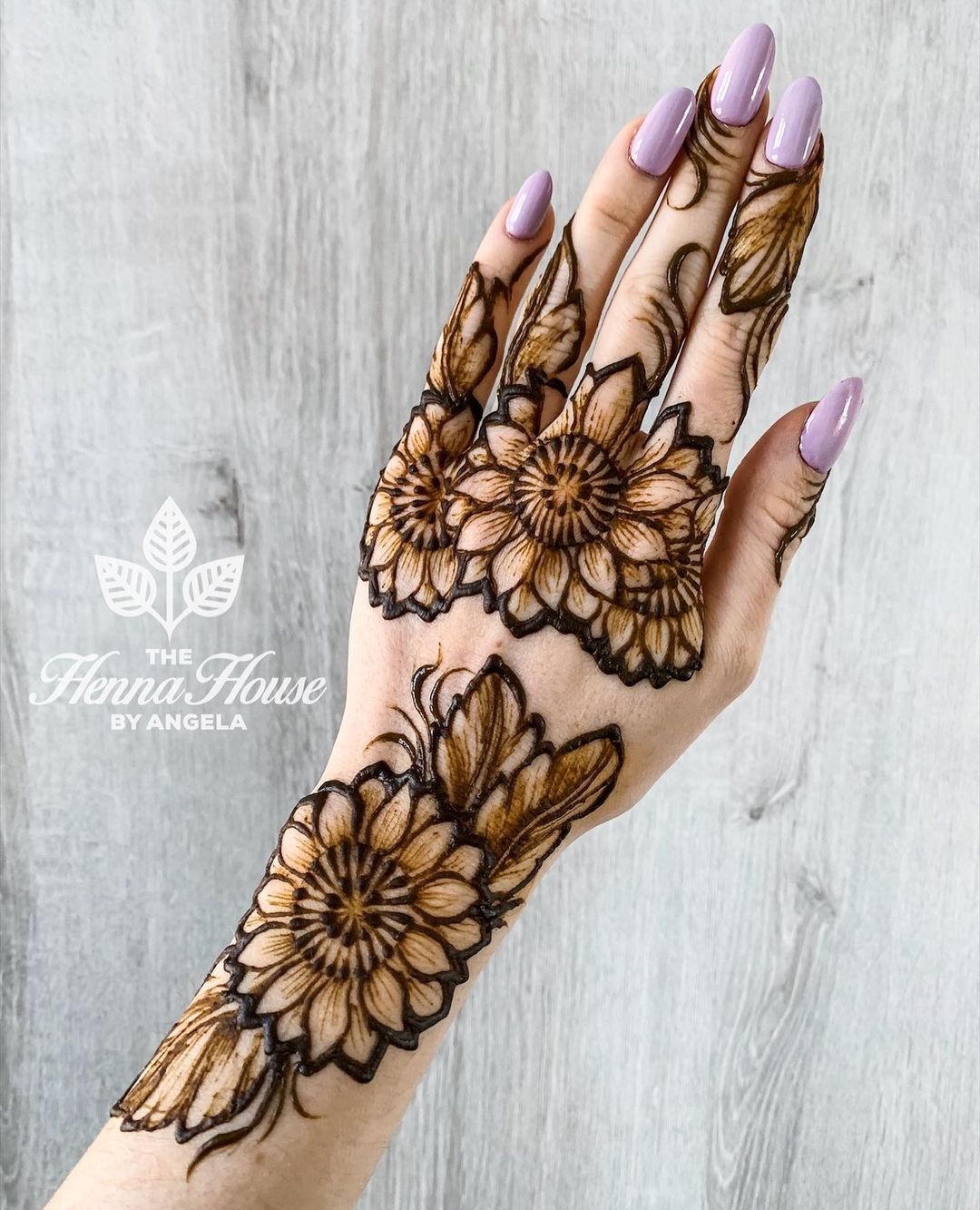 If you aren't a huge fan of intricate details in mehndi designs, then you can opt for something as simple as this sunflower design. It's fuss-free, and looks really beautiful thanks to the gorgeous, shaded portions and thick outlines. The sunflower design rests around the knuckles, while the leaves extend to the fingers. 
Intricate Ring Design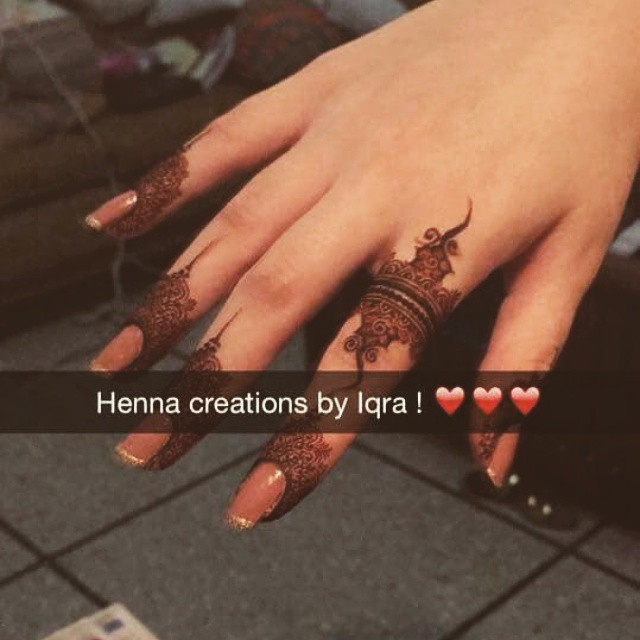 When choosing finger mehndi designs for the back of your hand, you can opt for jewellery-inspired or ring designs like these as well! The intricate ring is the highlight of the design and gives a dainty look to your fingers. This finger mehndi design occupies only a little space on your hand but is really eye-catching.  
Triangular Henna Pattern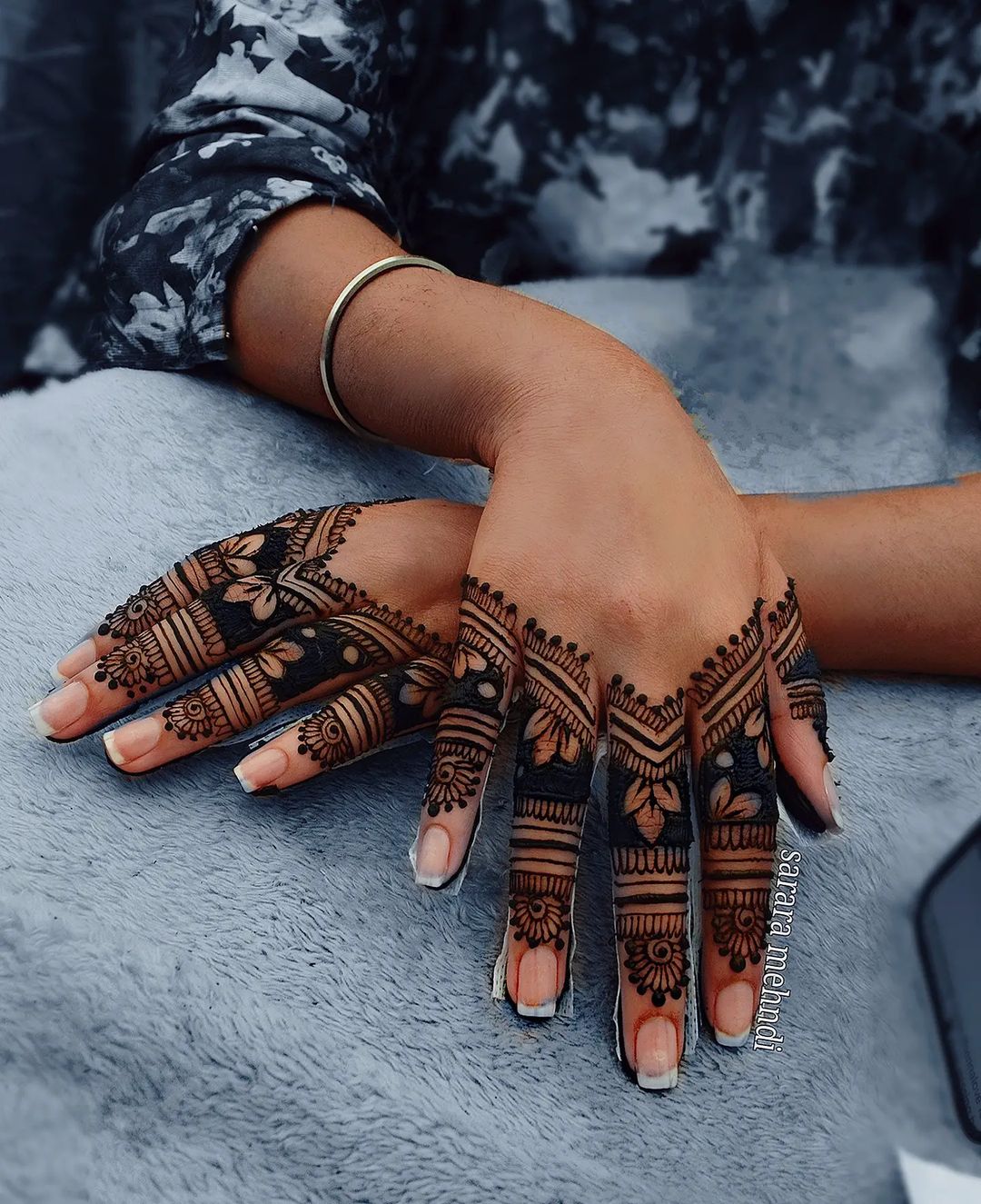 While simple elements such as leaves, flowers, lines and dots have been used, what makes this finger mehndi design stand out is the triangular shape near the knuckles. It gives a stylish and unique edge to the design, and we're loving it!  
Diagonal Henna Design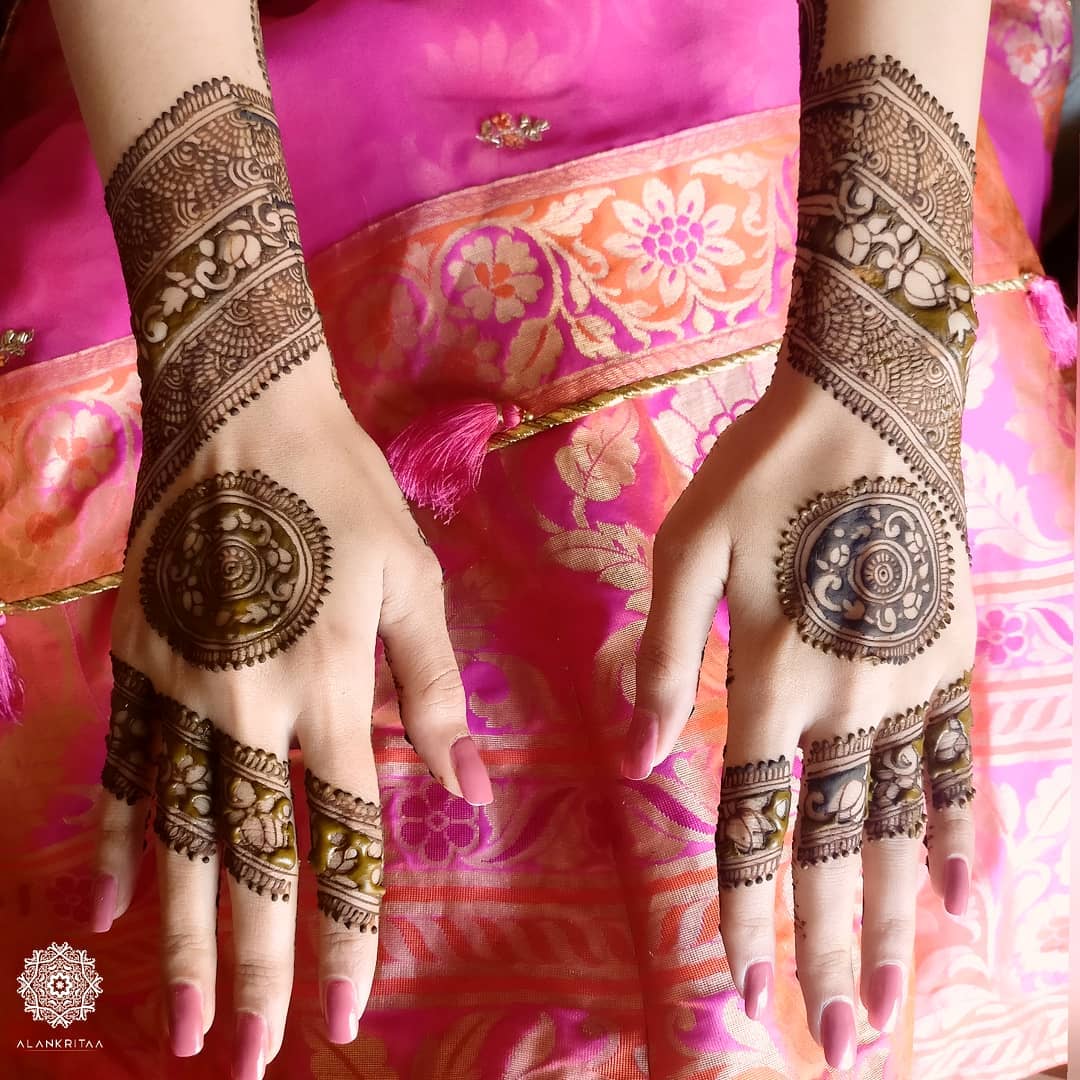 This contemporary mehndi design is perfect for all those who don't want a completely filled mehndi design, yet want a few intricate portions. The diagonal band of patterns on the fingers look really eye-catching, and gives an unconventional, modern look.
Circular Floral Mehndi Design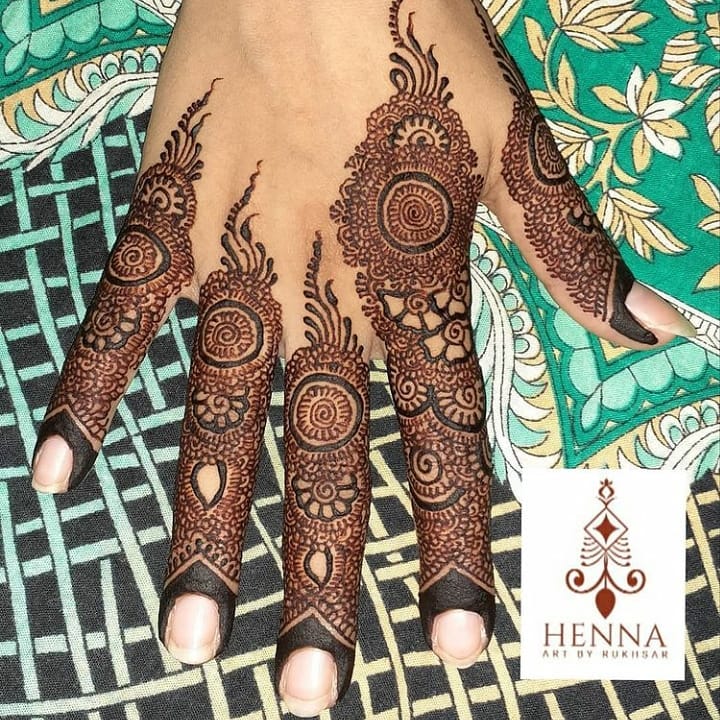 Decorate your fingers with this intricate finger mehndi design that looks stylish and elegant. 
Swirl Mehndi Design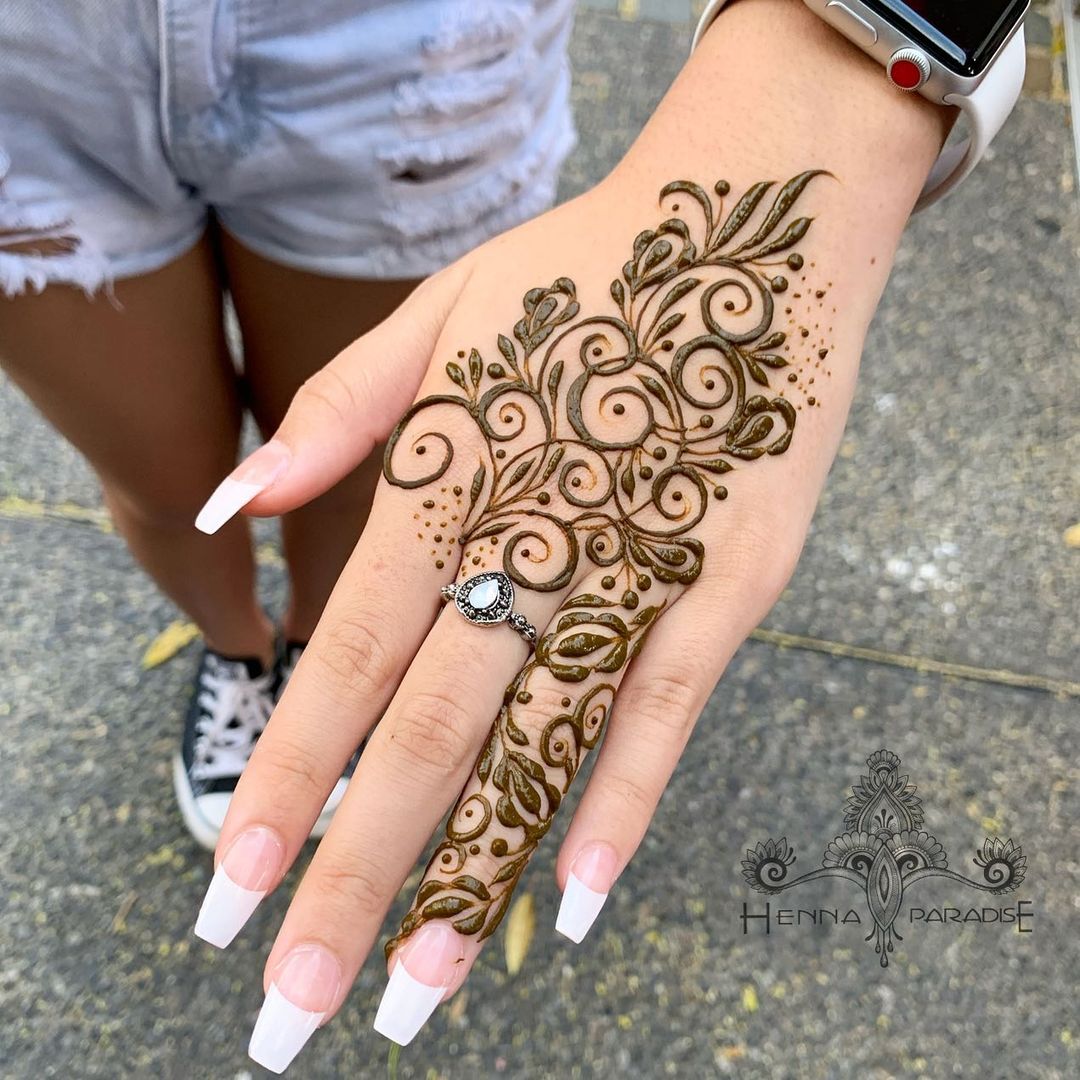 This gorgeous mehndi design is made using swirl and leaf patterns! It begins from the ring finger and extends down to the wrist seamlessly through beautiful curves, and we're loving this design. 
Easy And Beautiful Finger Mehndi Designs
Applying intricate mehndi designs is a skill that comes from years of practice. But just because you aren't a pro at creating mehndi doesn't mean you can't apply it! Looking for some easy and beautiful finger mehndi designs to recreate? We've got you covered. Here are some finger mehndi designs that are quite easy to make.
Simple Geometric Henna Design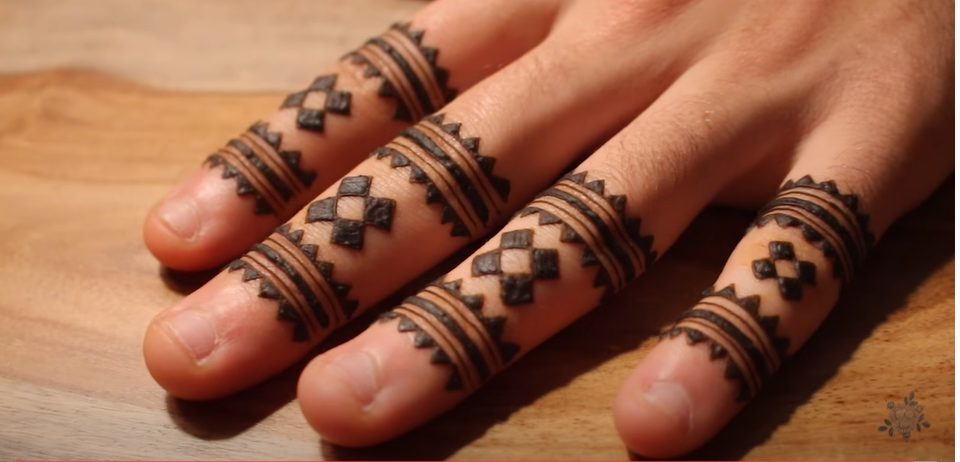 When it comes to finger mehndi designs, there's nothing simpler than using geometric lines and patterns for the design. We're especially loving the composition of this easy and beautiful finger mehndi design that is made using lines of varying thicknesses and triangles.
Mehndi Design Over Knuckles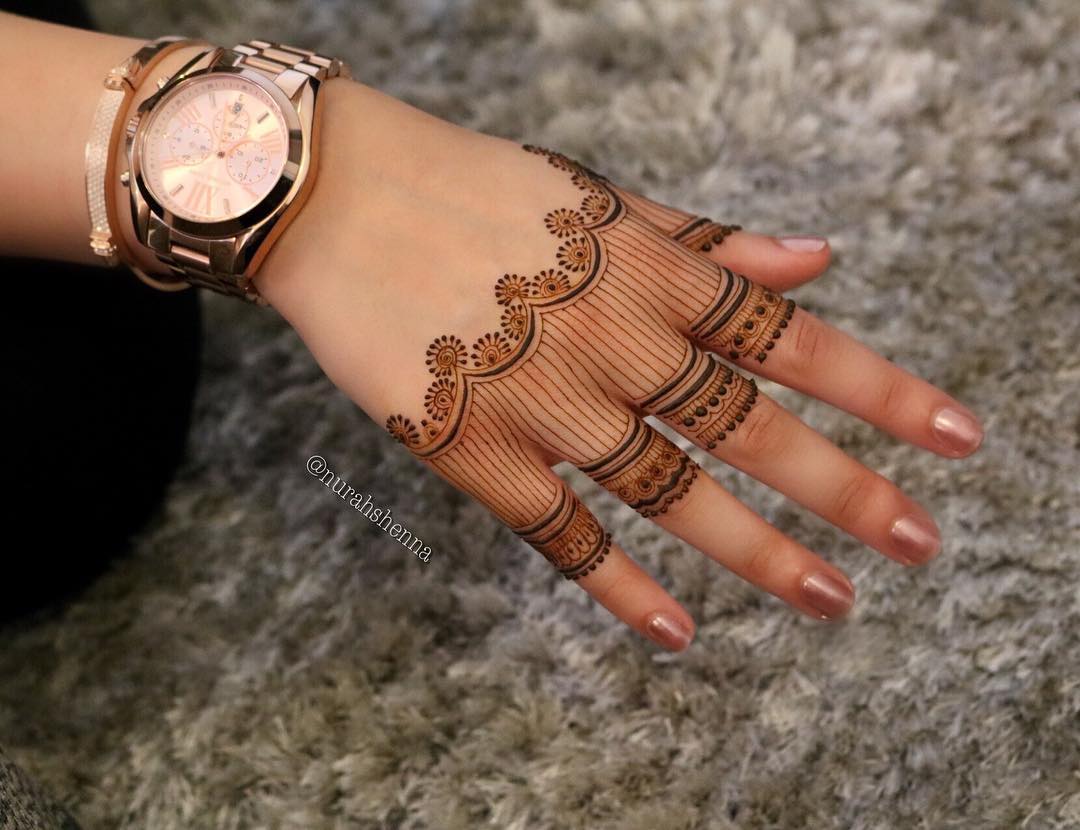 Here's another easy and beautiful finger mehndi design that gets a huge thumbs up from us! The simple yet beautiful design surrounds the area around the knuckles instead of the length of the fingers. Despite using simple elements such as lines, florals and scallops, this finger mehndi design looks incredibly beautiful. 
Index Finger Floral Mehndi Design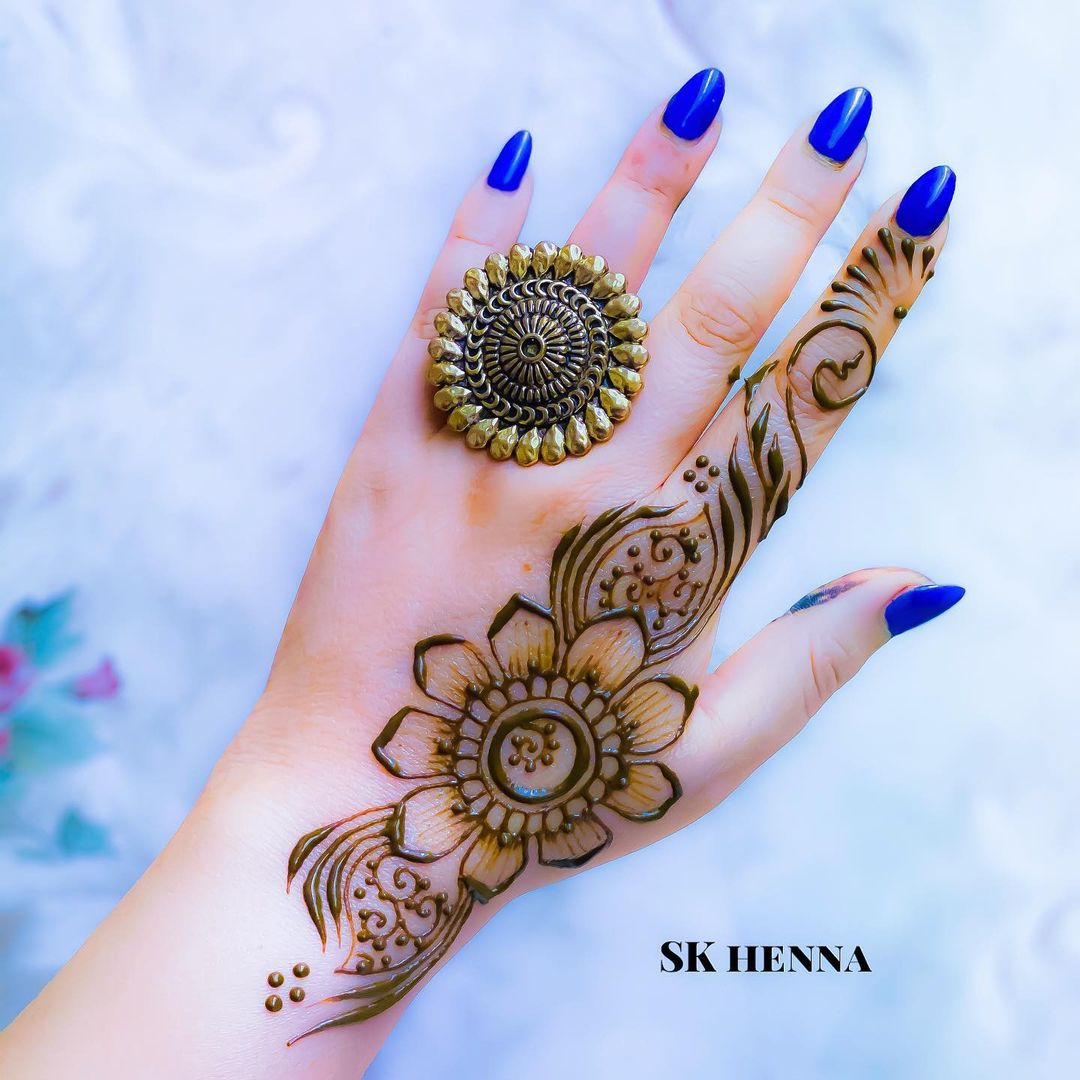 This finger mehndi design runs down the index finger, and looks really stunning. As seen in the picture, the huge ring complements this mehndi design, and enhances the beauty of your hand. 
Simple Curvy Lines
This finger mehndi design is as simple and uncomplicated as it can get! This design fills the upper half of your fingers using curvy lines and dots, leaving behind ample empty space to flaunt your jewellery if you wish to.
Leaf Bands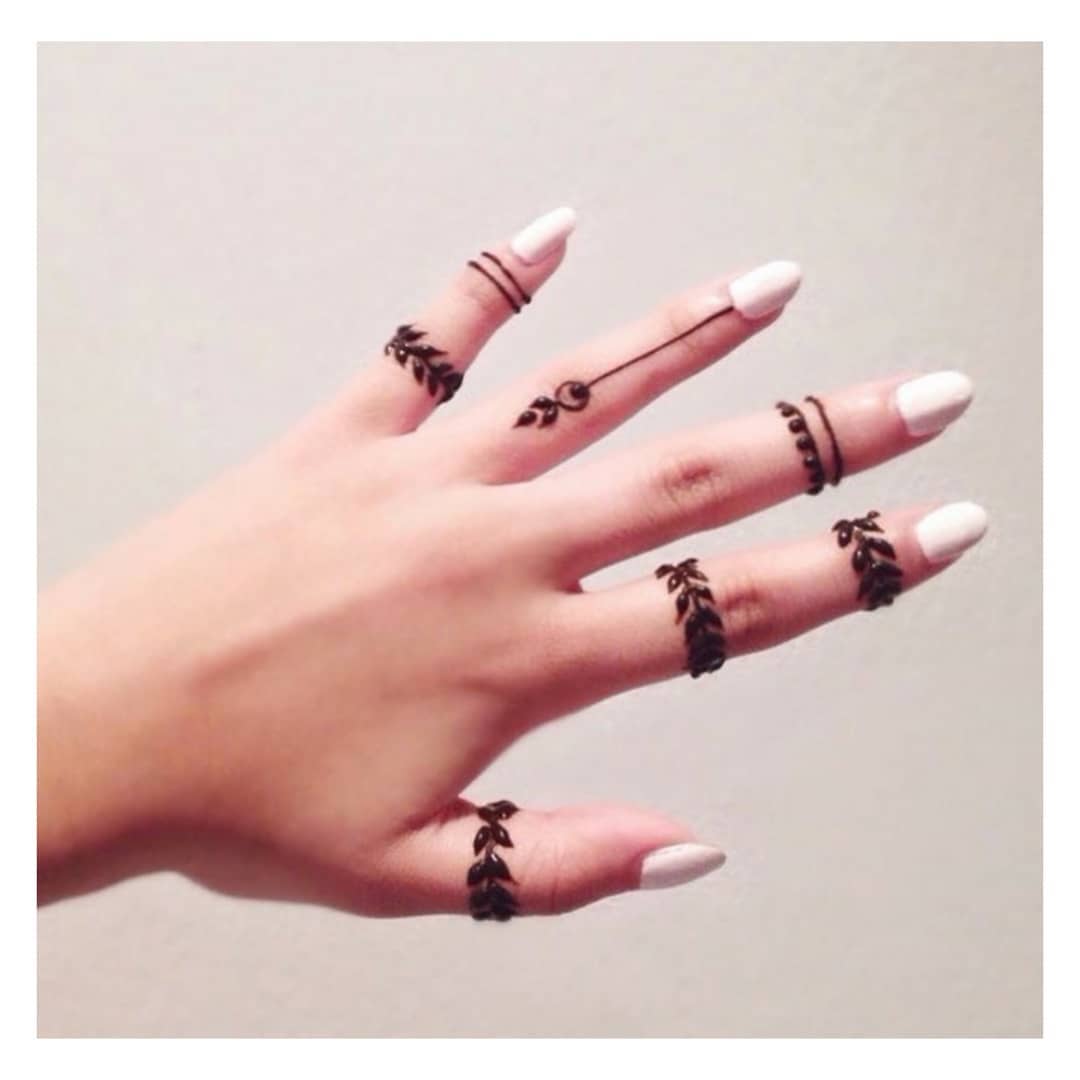 You can also choose to decorate your fingers by simply using these easy elements such as the leafy bands, horizontal and dotted lines. It's an easy and beautiful finger mehndi design that you can try even if you aren't skilled at applying mehndi.
Foliage Mehndi Design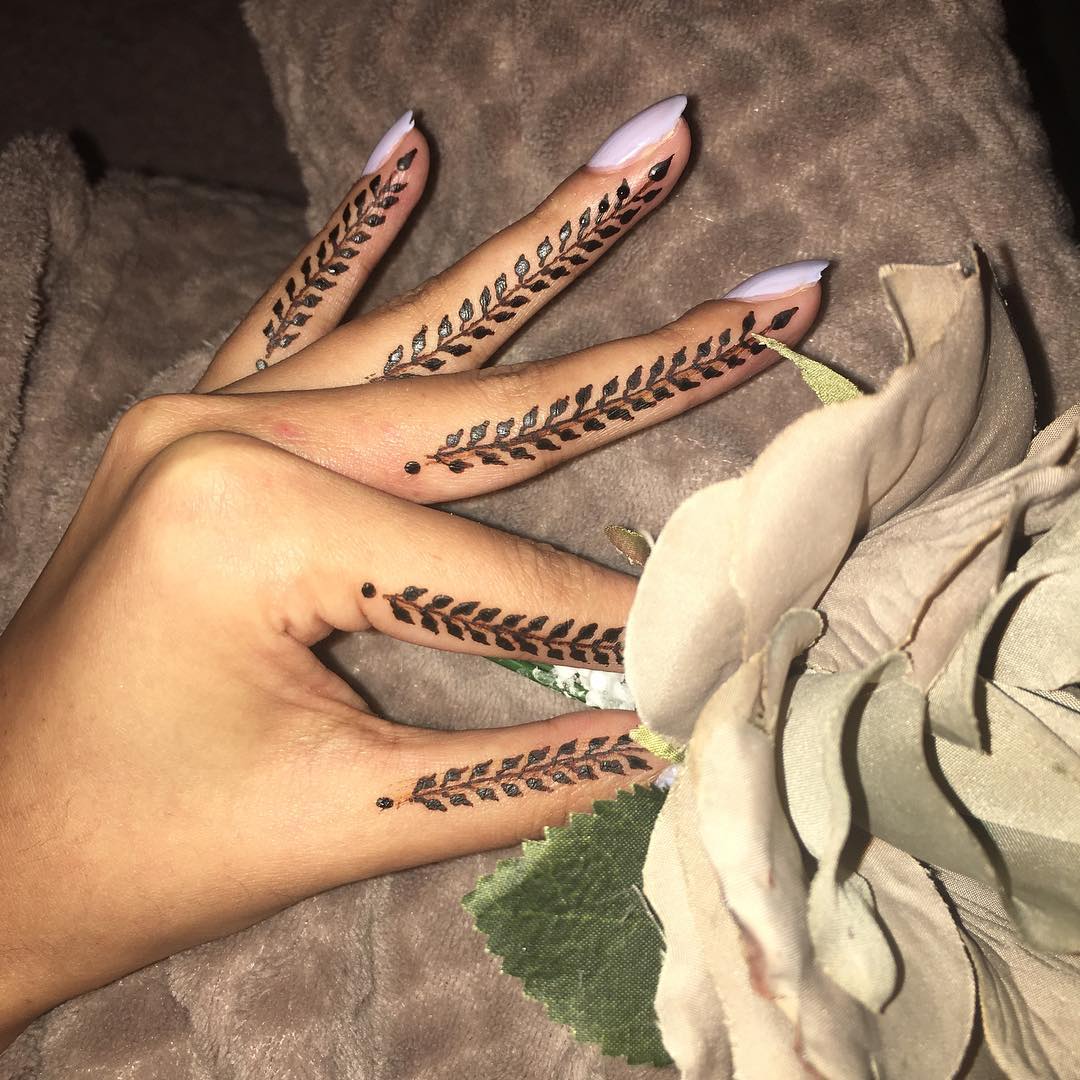 Love trying out new designs? Then you can opt for a side finger mehndi design like this one! While it is simple, it looks artistic, and the placement gives a modern edge to this design.
More Mehndi Designs
Bridal Mehndi Designs: Are you a bride-to-be looking for some unique bridal mehndi designs? You've come to the right place! From minimalistic to quirky designs- you're going to love our collection of bridal mehndi designs. 
Mehndi Designs For Your Feet: From jaali designs to traditional mehndi designs- here are our 7 favourite mehndi designs for your feet!  
Back Hand Mehndi Designs: We have compiled some of the most creative back hand mehndi designs for you to draw inspiration from. Take a look! 
How To Make Your Mehndi Dark: Did you know that there are various ways that you can make your mehndi darker, apart from applying the traditional nimbu juice-sugar combination? Read this article to find out how you can achieve darker mehndi.
Arabic Mehndi Designs: Here are a few new arabic mehndi designs that you're going to want to flaunt this season.
It's undeniable that finger mehndi designs look really stylish! So what are you waiting for? Go ahead and try applying one of these beautiful finger mehndi designs.
Featured Image: Sarara Mehndi Artist and The Henna House by Angela on Instagram