Whether or not you're a jewellery enthusiast, you definitely own at least a dozen earrings. Regardless of size, style, and material, earrings never fail to make one feel put together and dressy. This is why we decided to round up some trending earrings that you need to get your hands on ASAP. 
Trending Earrings For Lehenga
Confused about what earrings to wear with your lehenga? Let us help you out! Check out these trending earrings that will go well with Indianwear. 
Classic Cut 
These pearl-drop jhumkas with intricate meenakari work from Chaotiq by Arti will go well with your embellished lehengas and even sarees. 
Geometric Delight 
If you want to make a statement with your earrings, then you need to opt for these stunning two-toned interlinked earrings. They're modern, bold, eye-catching and perfect to wear with a lehenga.
Simple & Elegant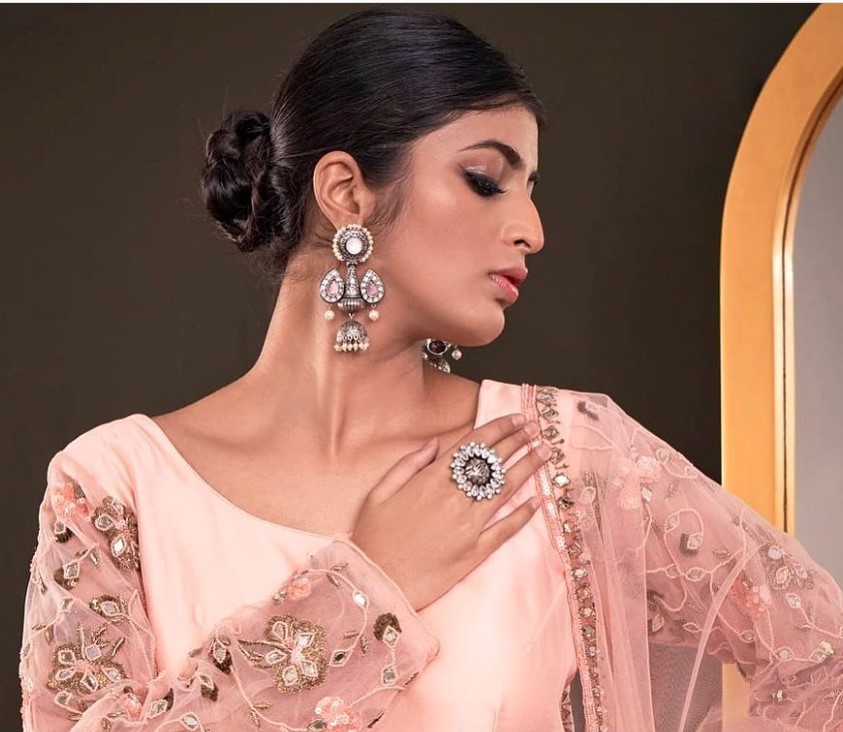 Whether you're building your trousseau or shopping for the wedding season, these statement earrings will prove to be the ultimate showstoppers. Made out of white metal with imitation diamond stones, these gorgeous earrings will last you for years to come. 
Trendy Earrings For Saree
It's no secret that the right earrings can take any saree look from drab to fab in seconds. However, hunting for the right pair is no easy task. We have curated a list of trending earrings for sarees to make things easy for you. Have a look: 
Bling, Baby, Bling! 
Want a break from the regular jhumkas? Try these long drop diamond earrings. The best bit? They're incredibly lightweight and you can easily wear them for long hours. 
Vintage Beauty 
Coin jewellery is back on our radar, with an even edgier take on the trend. Fashion enthusiasts seem to be obsessed with the trend and for all the right reasons. Coin jewellery does have an old-world charm to it, but also looks incredibly modern. Take these gold coin drop earrings from Inaya accessories, for instance! We love how Vidya Balan has kept the look simple and fuss-free with just a vintage ring and matching earrings. 10/10! 
Gilded Rose Studs 
Aren't these floral pearl-drop studs absolutely stunning? Style them with a floral chiffon saree and an embellished clutch. Doesn't get any easier than that! 
Trendy Earrings For Jeans
If we've learned anything from Deepika Padukone, Ananya Panday, and Khushi Kapoor's latest outings, it is that the best earrings aren't those that stand out, but the ones that tie an entire look together. We love how these celebs style their denim looks with trending earrings that add a pop to their otherwise basic outfit. If you happen to love that too, you're in for a treat! Here are a few trendy earrings for jeans you must check out:
Evil Eye 
We're currently crushing on these studded hoops with cutesy drop evil eyes that are ideal for any jewellery enthusiast who has a keen eye for detailing. These charming earrings will prove to be the perfect addition to your closet and will help elevate your basic outfits. You can style them with a tank top and skinny denim, add braided flats, and you're all set for your next coffee date with bae. 
Enamel Studs 
These trendy earrings will complete your white blouse and dark blue skinny denim look. Finish the look with black sunnies and a big tote! 
Heart It! 
Aren't these the most adorable earrings ever? We love the heart shape and the engraved words add an interesting touch. You can easily wear them with most of your denim looks. 
Interesting Twist 
These incredibly chic chain link hoops can be worn to work, to dinner and beyond. Style them with your denim or with your blazer and get ready to receive compliments! 
Trendy Earrings For Suits
Looking for trending earrings for suits? We got ya! Check out these charming trending earrings that will go well with your Indianwear. 
Work Of Art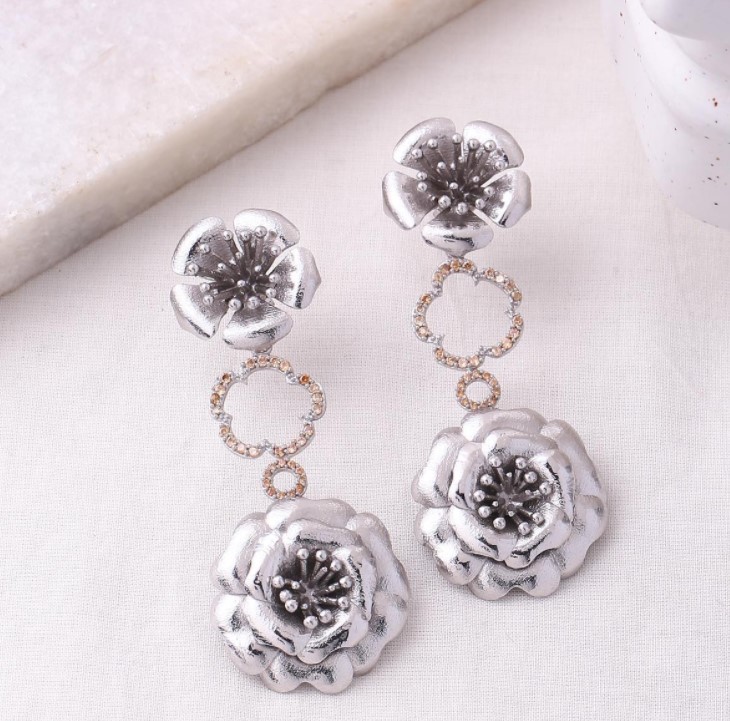 That jewellery needs to cost a fortune to strike a statement is a myth and these floral earrings with a touch of crystals are proof. You can easily style this versatile pair with an everyday chikankari kurti in a fresh mint colour or wear it with a beautiful velvet anarkali at your friend's wedding.
Pretty Baubles 
Chaandbalis make for one of the easiest ways to upgrade your ethnic outfits and this one here is a clear winner. These vibrant earrings will instantly pop up your outfit. Featuring coral, turquoise, chalcedony, carnelian and pearl stones, these one-of-a-kind earrings can easily be styled with anarkalis, shararas and velvet suit sets. 
Trending Gold Earrings
Trending gold earrings seem to be all over our Insta feeds these days and we totally love them. Here are the season's hottest earrings that you def need to get your hands on RN! 
Chunky Hoops 
To say that hoops are having a hot fashion moment would be an understatement! Instagram is proof that the fashion girls are obsessed with these trendy earrings and for all the right reasons. These small chunky textured hoops should be a must-have in your jewellery box and you'll find that they'll easily take you from AM to PM. 
Trending Oxidised Earrings
Why limit yourself to gold jewellery when you can show off scene-stealing silver pieces too? Check out these trending oxidised earrings that are perfect for everyday wear. 
Intricate Detailing
If intricate oxidised earrings aren't for you, may we suggest these sharp geometric earrings that will instantly jazz up your casual wear? We especially love the contrasting rough uncut citrine that adds a contemporary touch. 
For The Love Of Boho
These silver-toned earrings are perfect for the millennial girl who is all about style. Accessorise your whites with these multi-coloured funky earrings. 
Tribal Inspired Art 
These tribal-inspired intricate motif studded silver earrings are perfect for the ones who do not mind some OTT in their OOTD! 
Versatile New Trending Earrings 
Let's admit it, we've all purchased earrings that we hardly ever wore only because they don't match with most outfits. Perhaps this is why it's best to invest in versatile earrings. This list of trending earrings will have you shopping right away!
Half Hoops 
If you're looking to invest in pieces that will go well with both your Indian and western outfits, here's one that fits the bill. These half chunky earrings can easily be worn with a satin mini as well as an emerald anarkali. In fact, if you've been wondering how to style the bright-coloured pieces in your closet, these toned-down golden earrings will prove to be a great choice to bring out the vibrant hues without going OTT. 
Floral Fantasy 
Astha Jagwani makes timeless pieces that still pack a statement, without being too over-the-top to wear every day and these half hoops are proof! Whether it's a traditional Banarasi weave or a mini summery dress, these floral trending earrings will perfectly complement your ethnic and western wear. 
Dazzling Danglers 
Do you really need a reason to add these beaded tassel earrings to your jewellery box? We don't think so! These trendy earrings can easily be worn with your suit sets as well as your beachwear. Talk about being versatile!
Also Read
Supersize Your Earrings: 7 extra large pairs of statement earrings that you need in your accessory drawer, RN.
Hoop Earrings: 13 gorgeous hoop earrings that'll jazz up your look – instantly!
Statement Earring: Whether you go with a bejewelled pair for a party or a vibrant green with your work outfit, Bollywood celebs show you how!
Featured Image: Instagram