40 Trendy Blouse Designs For Silk Sarees That Will Spice Up Your Festive Look!
For years, silk sarees have been associated with luxury and richness. They exude royalty and are known for their beautiful luster, luxurious fabric, variety of designs, and vibrant colours. It's the go-to traditional attire whether you're heading to a festive occasion, or to someone's wedding. While silk sarees look stunning no matter how you style them, a good blouse design can take your fashion game to another level altogether! From blouses with golden borders to heavily embroidered blouses- there's a huge variety of blouse designs for silk sarees that can elevate your entire look. If you're looking for some inspiration, scroll down for some beautiful silk saree blouse designs! 
Simple Blouse Designs For Silk Sarees
Silk sarees are precious heirloom pieces that are often passed on from one generation to another. Their beauty is timeless, and the best thing about silk sarees is that they look elegant even with the simplest of blouse designs. If you have been looking for some simple blouse designs for silk sarees, we've got you covered! 
Simple Sleeveless Blouse With Dori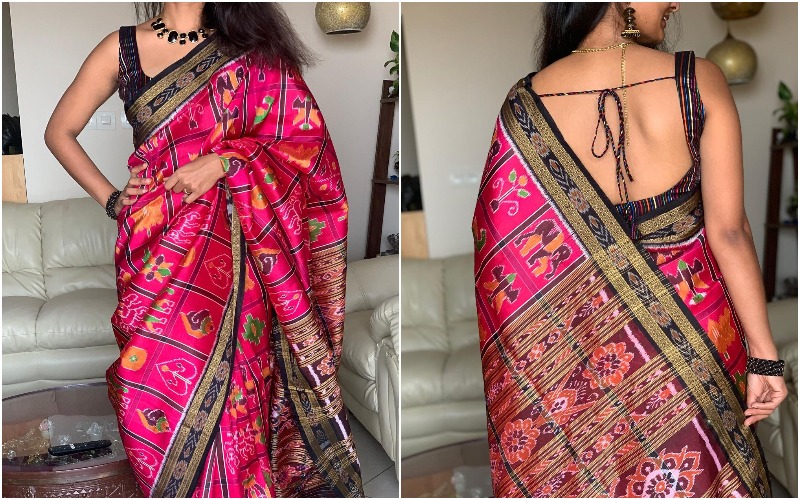 A simple sleeveless blouse with a dori tie-up at the back can spice up your silk saree! This blouse design looks simple, yet beautiful. It's the use of contrasting colours- magenta pink and black- that we're really loving.  
Brocade Blouse Design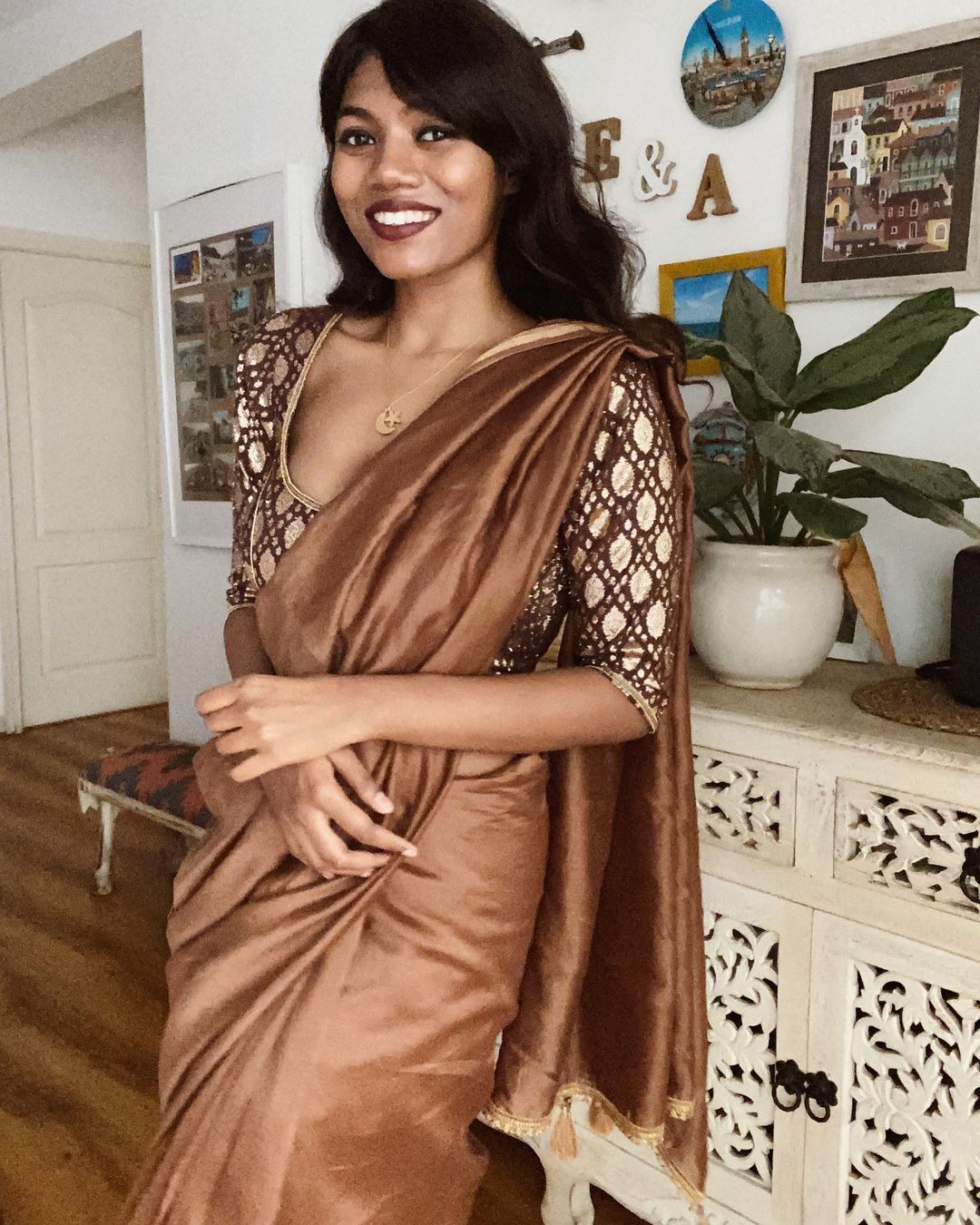 This entire look is oh-so-gorgeous! We're loving everything about it- the beautiful Chanderi silk saree with a metallic sheen, the colour of the saree, and above all, the dark brown brocade blouse! You can also try out this look in other colours if brown isn't your thing (although we think it looks beautiful!). Just remember to use a slightly darker shade for your brocade blouse, and you're all set! 
Also Read: Neck Designs for Kurtis
Collared Neckline Blouse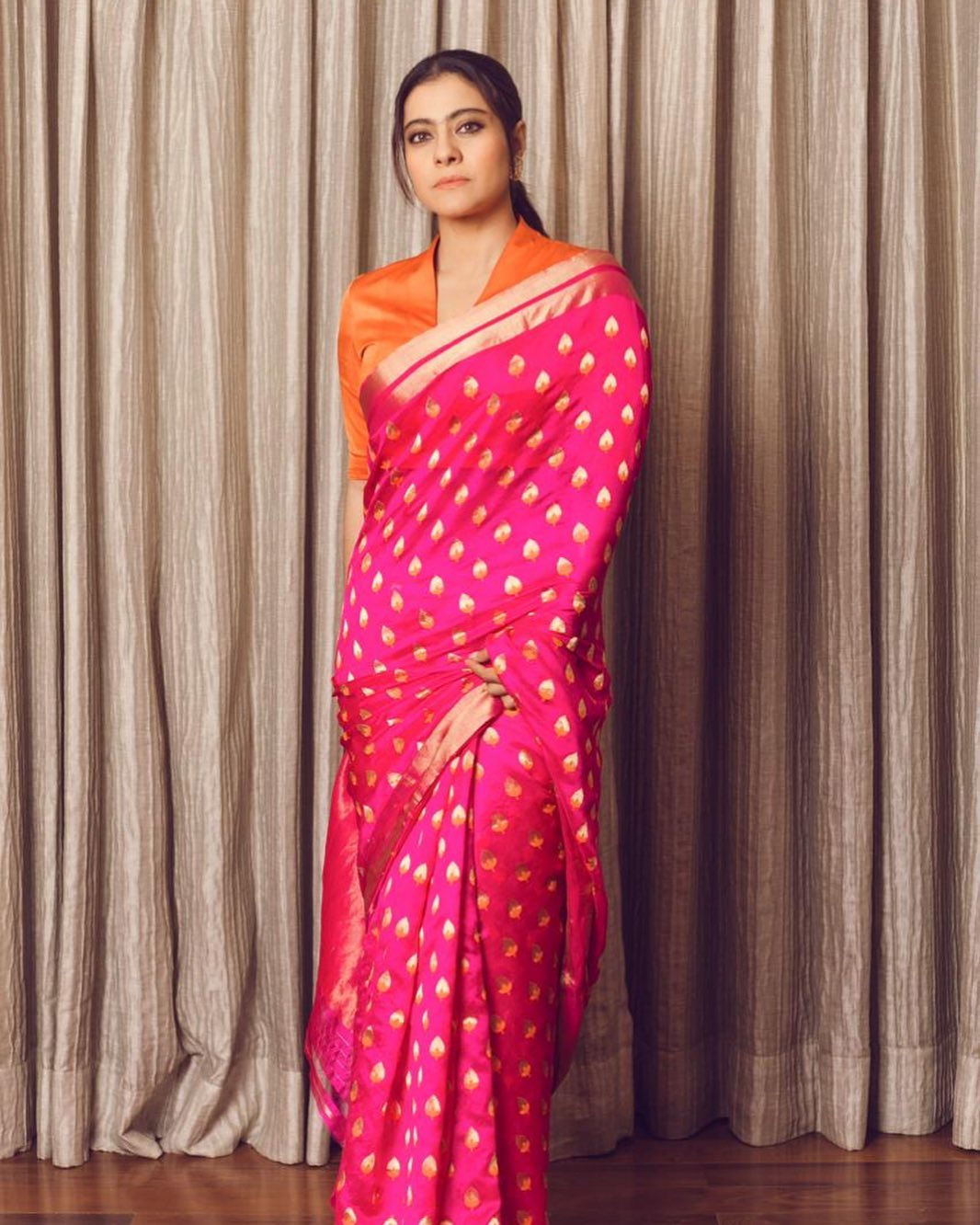 Kajol once paired her bright pink silk saree with an equally beautiful orange blouse, and she looked absolutely stunning! The blouse with a collared back and a V-neck at the front looks classy and gives a formal look to the attire. When using such bright colours in your outfit, it's important to balance your overall look. Kajol did so beautifully by keeping her makeup and hairstyle minimal. 
Ajrakh Print Elbow-Length Blouse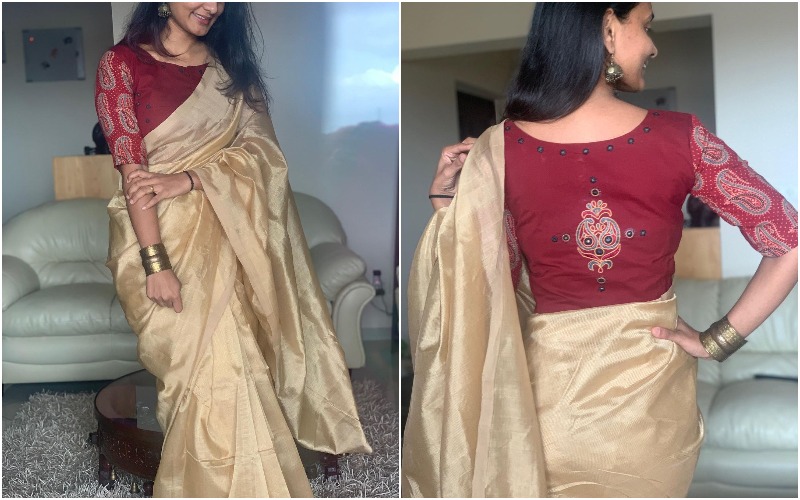 It's always a lot of fun to style plain silk sarees! The possibilities are endless but we're particularly loving this beautiful Ajrakh printed blouse that features Kutch mirror-work. It looks effortlessly classy, and what makes the look pop is the use of complementary colours.
Classic Black Full Sleeve Blouse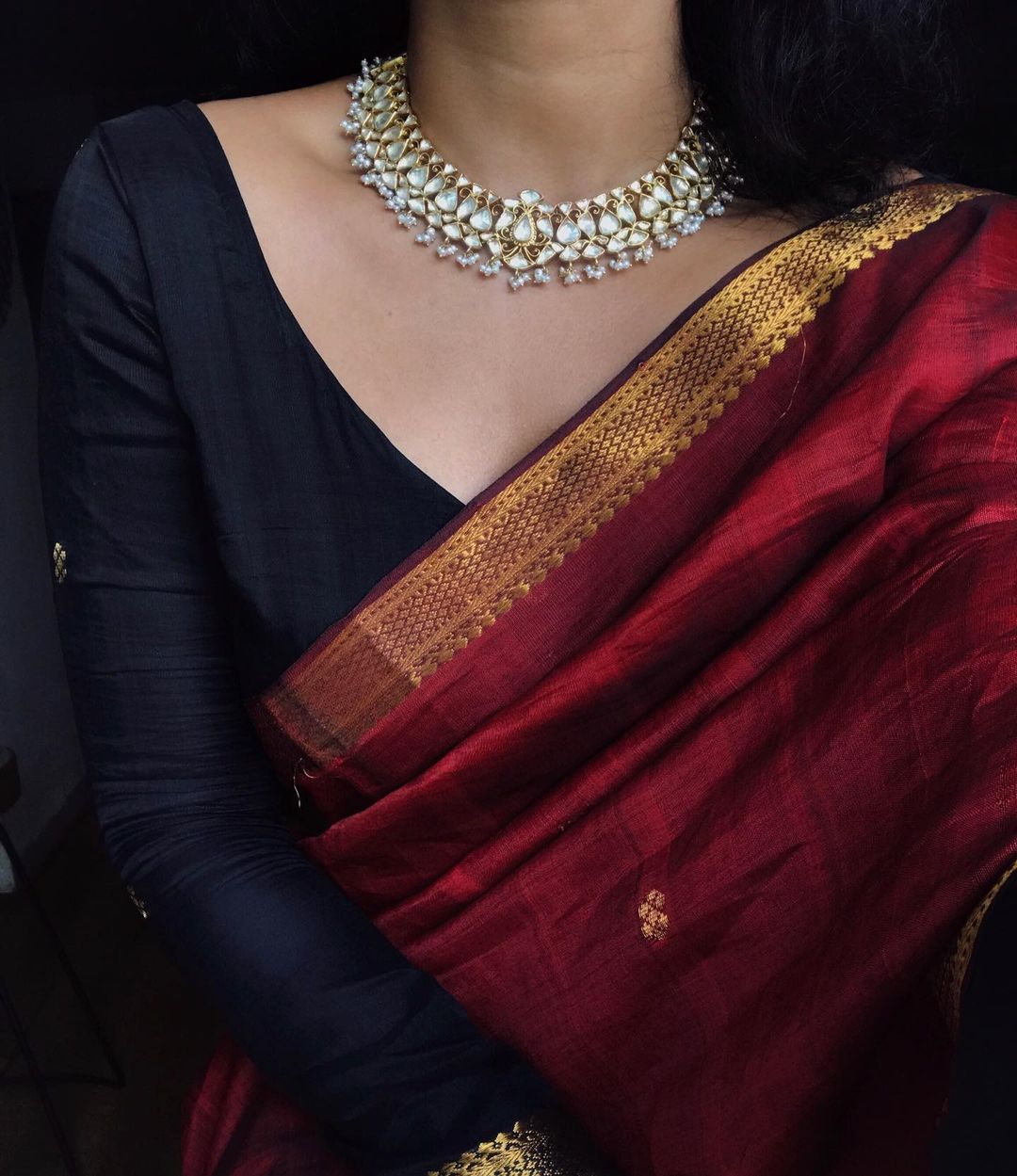 You can never go wrong with a solid-coloured full sleeve blouse! Especially when you are pairing it with a heavy silk saree. A black full-sleeved blouse looks elegant, without drawing attention away from your beautiful saree.
High Neck Printed Blouse Design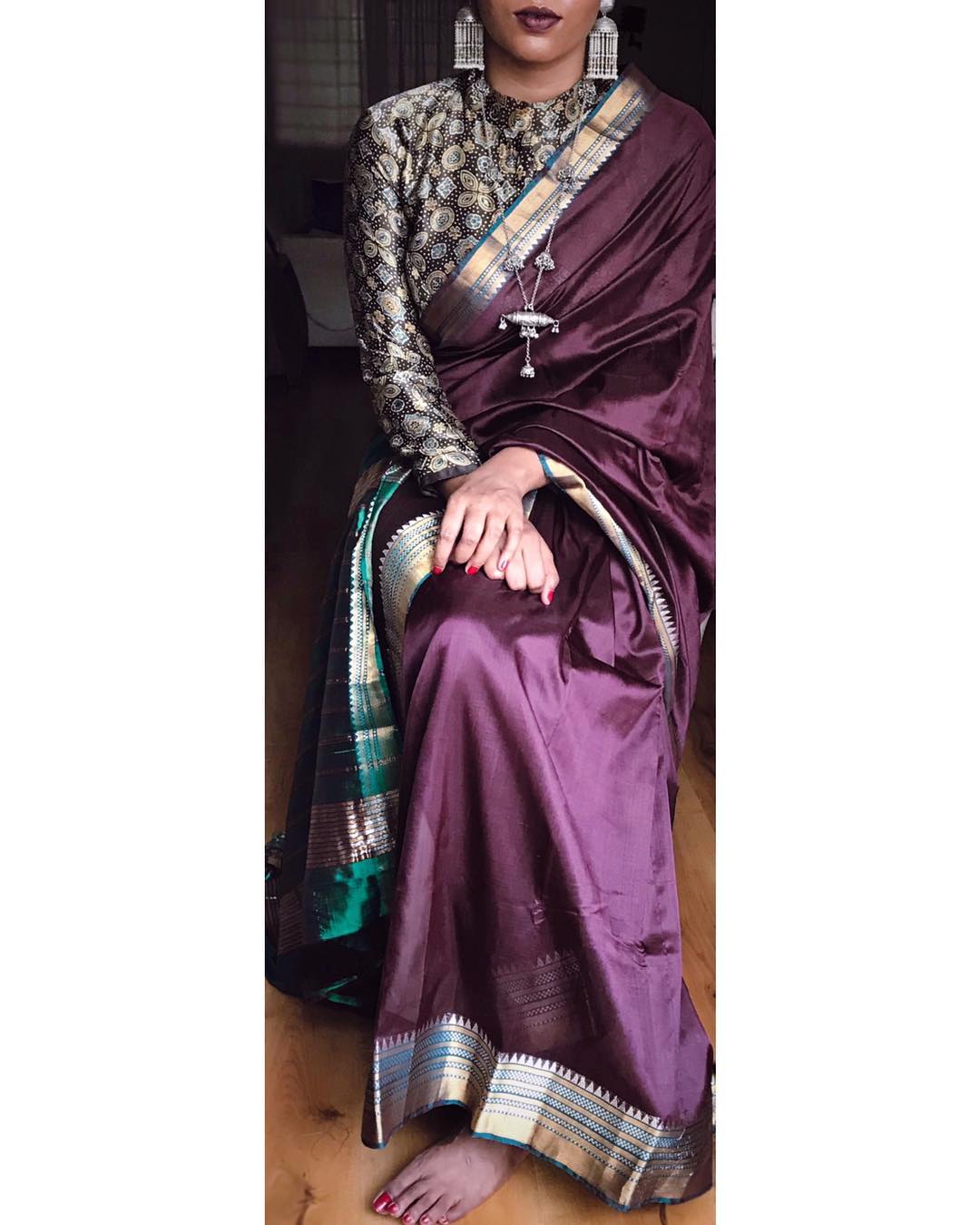 We're falling head over heels for this royal, vintage look! Silk saree paired with a silk blouse gives a really luxurious look, and the high-neck, full-sleeved blouse design adds to the royal vibes. It's the contrast of a fully printed blouse with the plain wine-coloured saree that we're absolutely digging. 
Blouse Back Designs For Silk Sarees
There's nothing wrong with a basic round neck back blouse, but adding creative elements to the back of a blouse can instantly add a glam factor to your look. Below are some blouse back designs for silk sarees that'll take your breath away! 
Stylish Back Blouse Design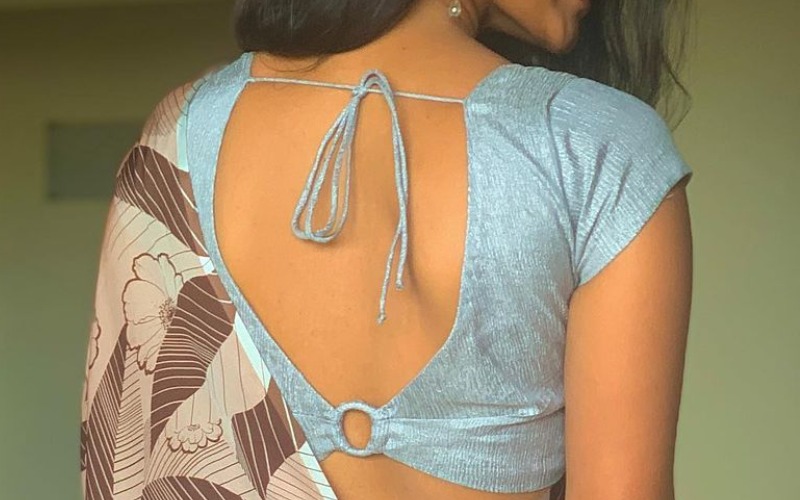 A stylish back blouse design such as this one is sure to grab eyeballs! While the dori tie-up looks beautiful, it's the hoop at the centre that adds to the oomph factor of this blouse design for silk saree. 
Sequinned Deep Back Neck Blouse Design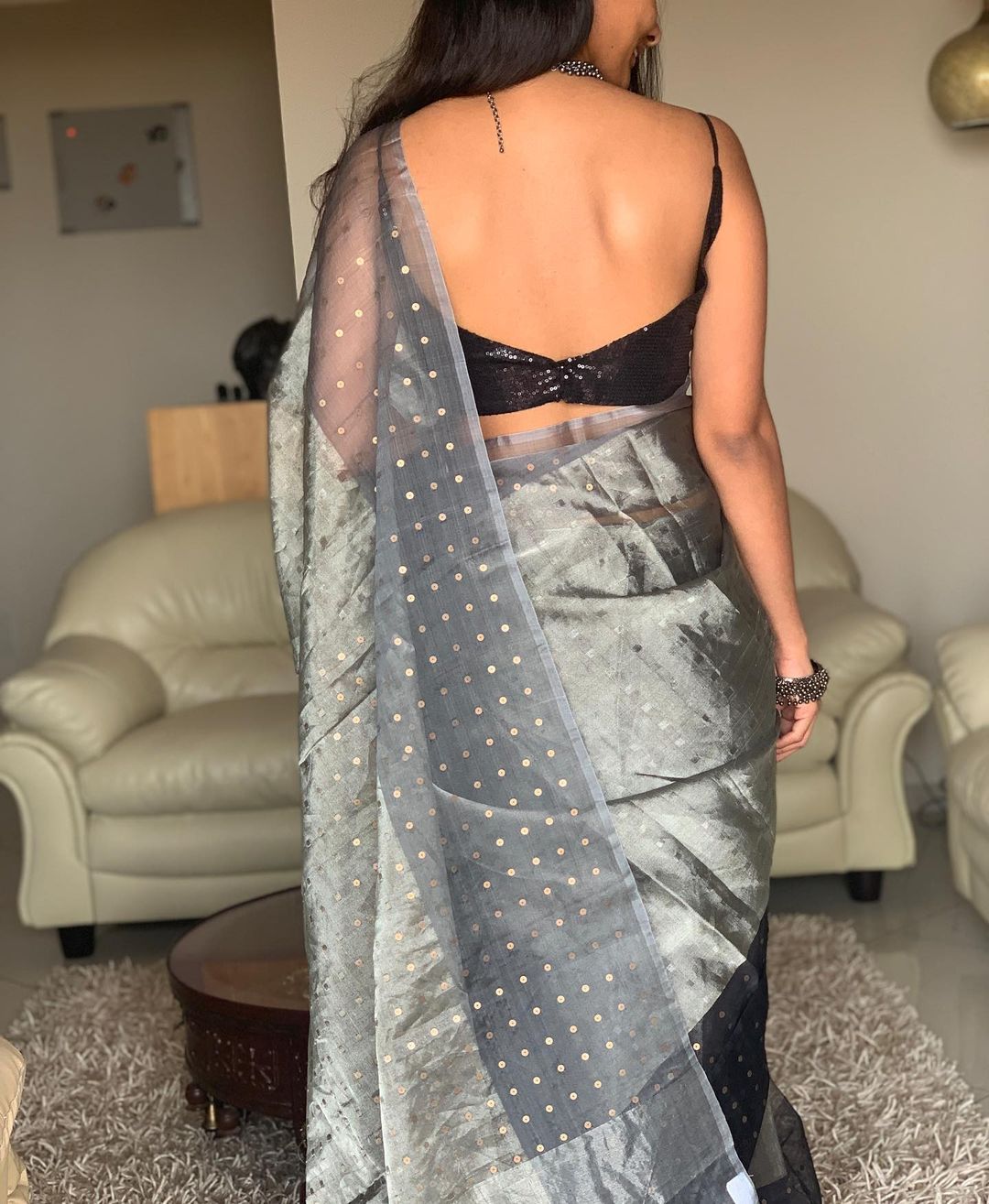 A sequinned deep back neck blouse design is all the chic you need to take your silk saree look to another level! A deep back neck gives a sexy twist to your blouse, without being over-the-top. 
Also Read: Banarasi Blouse Design
Backless Blouse Design With Fringes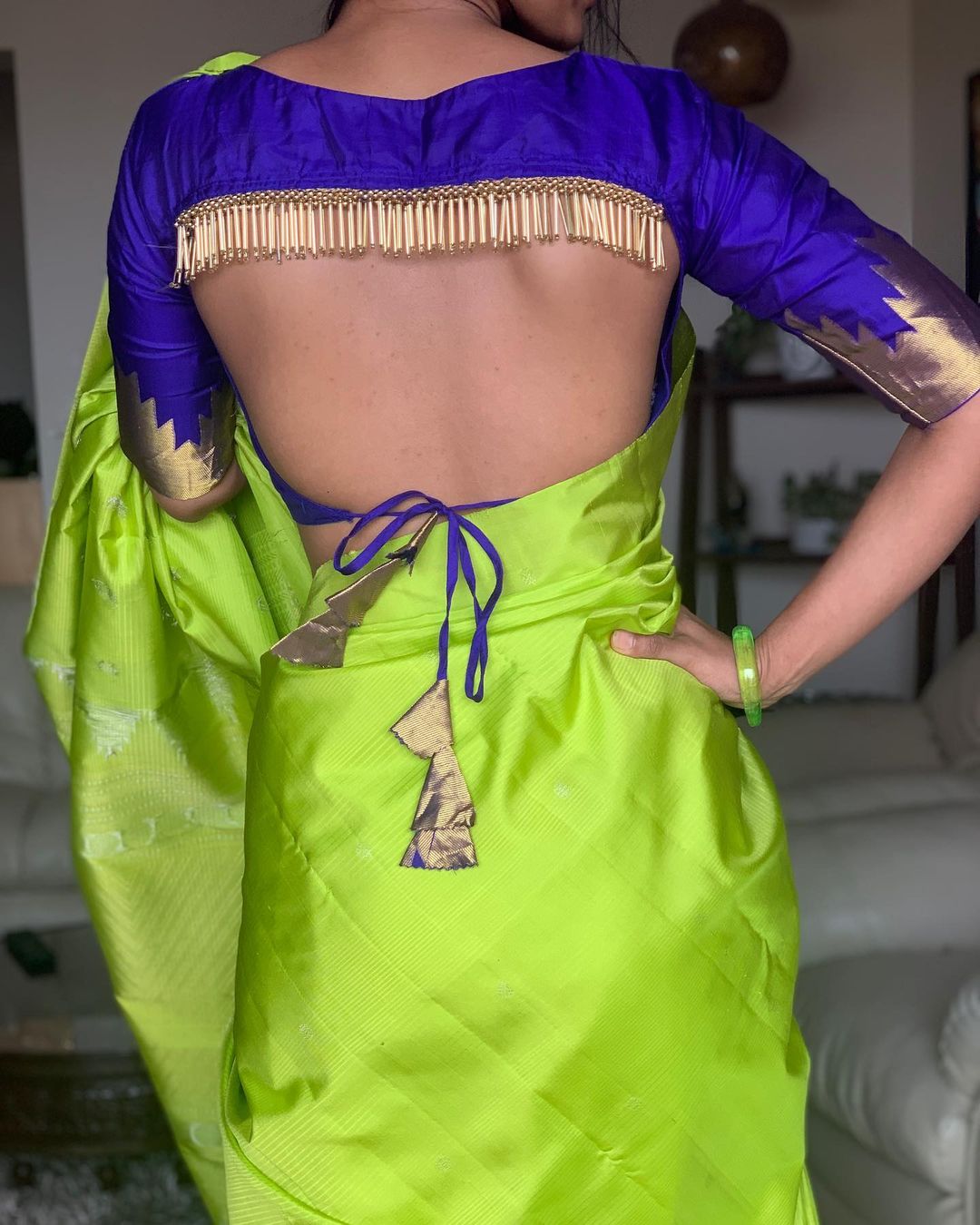 A backless blouse can make your saree look go from basic to sexy! The golden fringes on the back add to the OTT and playful look, making the blouse design stand out.  
Criss Cross Straps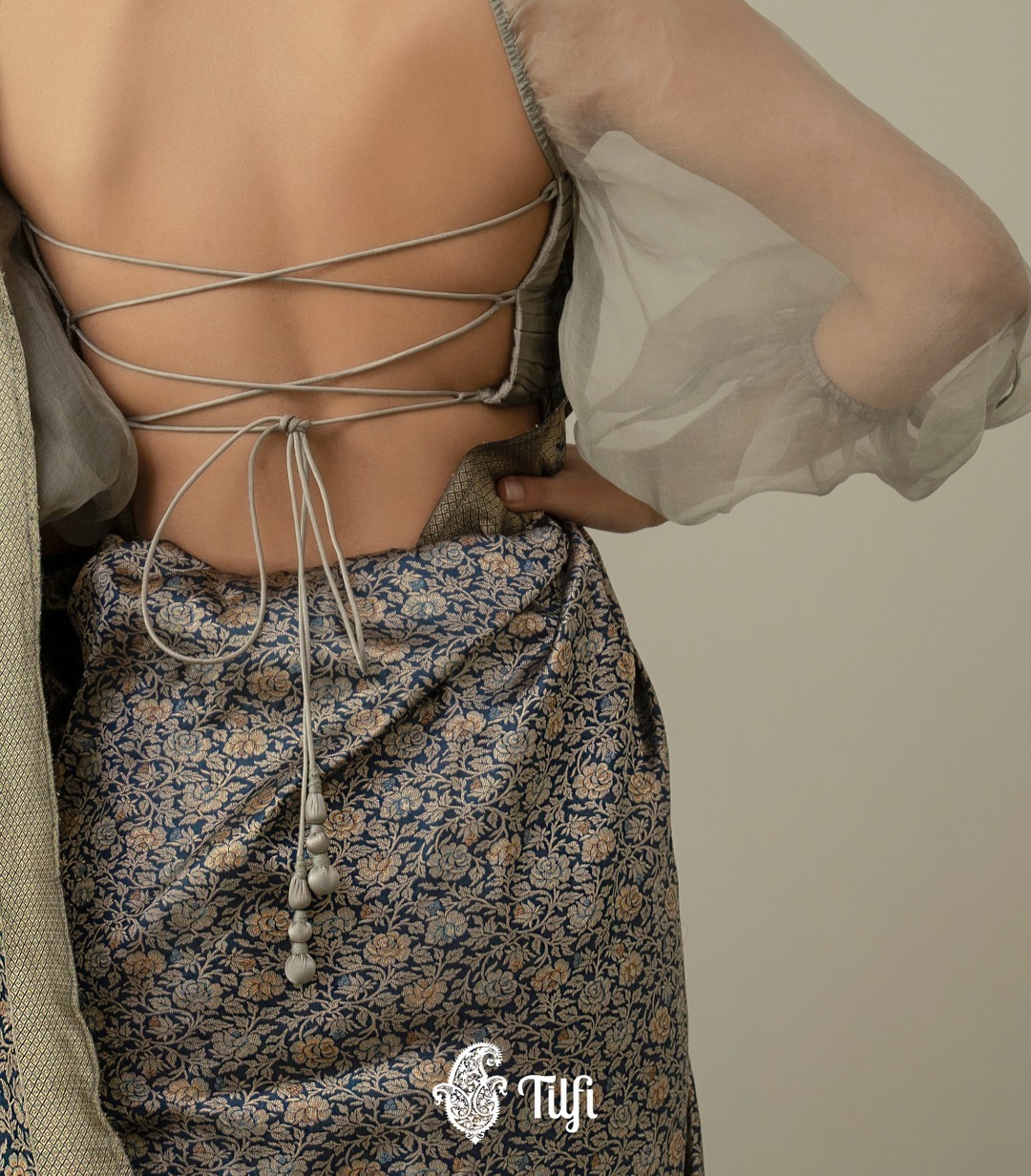 Go bold or go home! If you're looking to add a sexy, contemporary twist to your traditional silk saree, then this blouse design fits the brief perfectly. The criss-cross strap design is sure to grab eyeballs every time you wear it!
Strapless Back Knot Blouse Design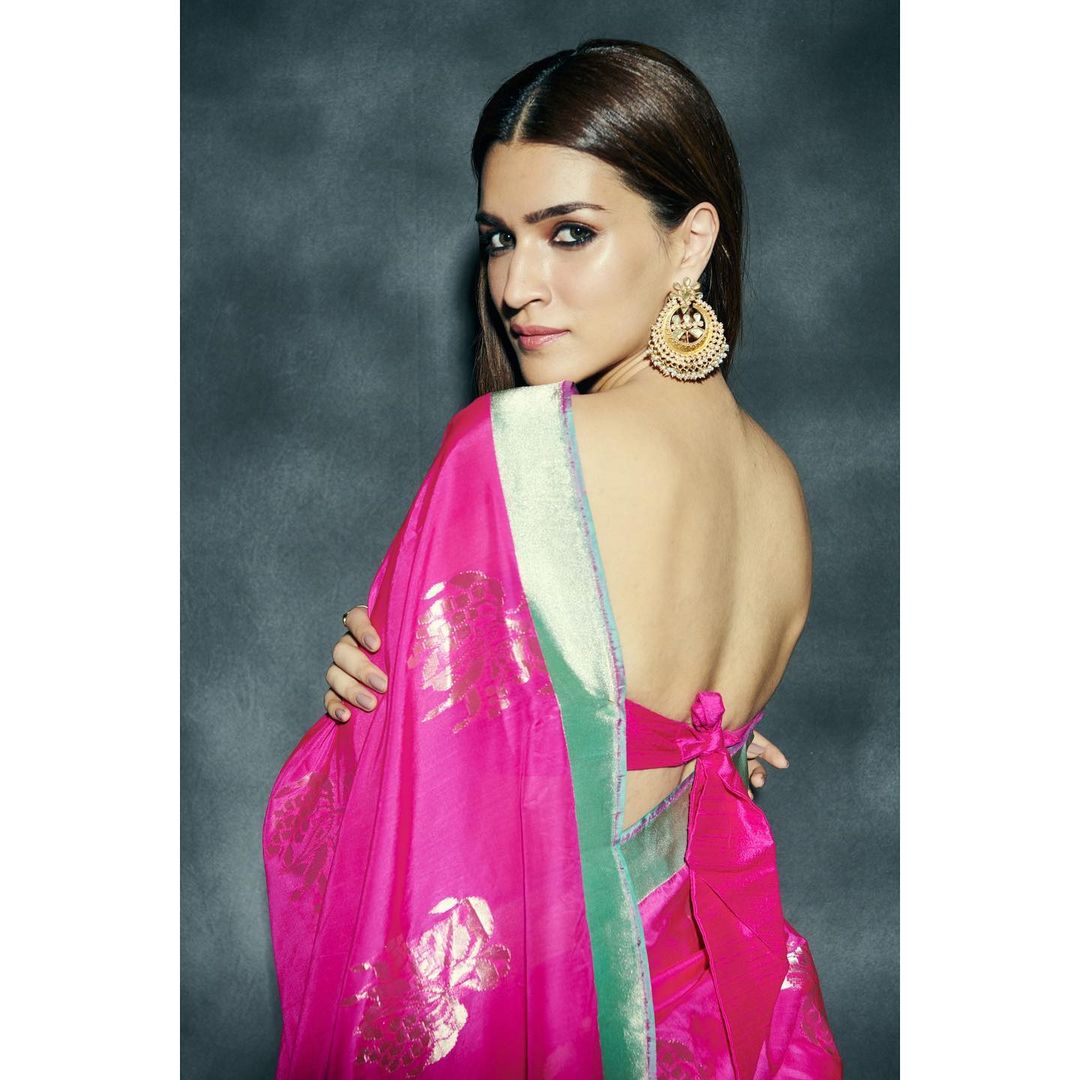 Make a bold statement with a strapless back knot blouse design like this one! Kriti Sanon donned a bright pink silk saree, and what made her look stand out was this eye-catching blouse back design. 
Blouse With Bow Tie Back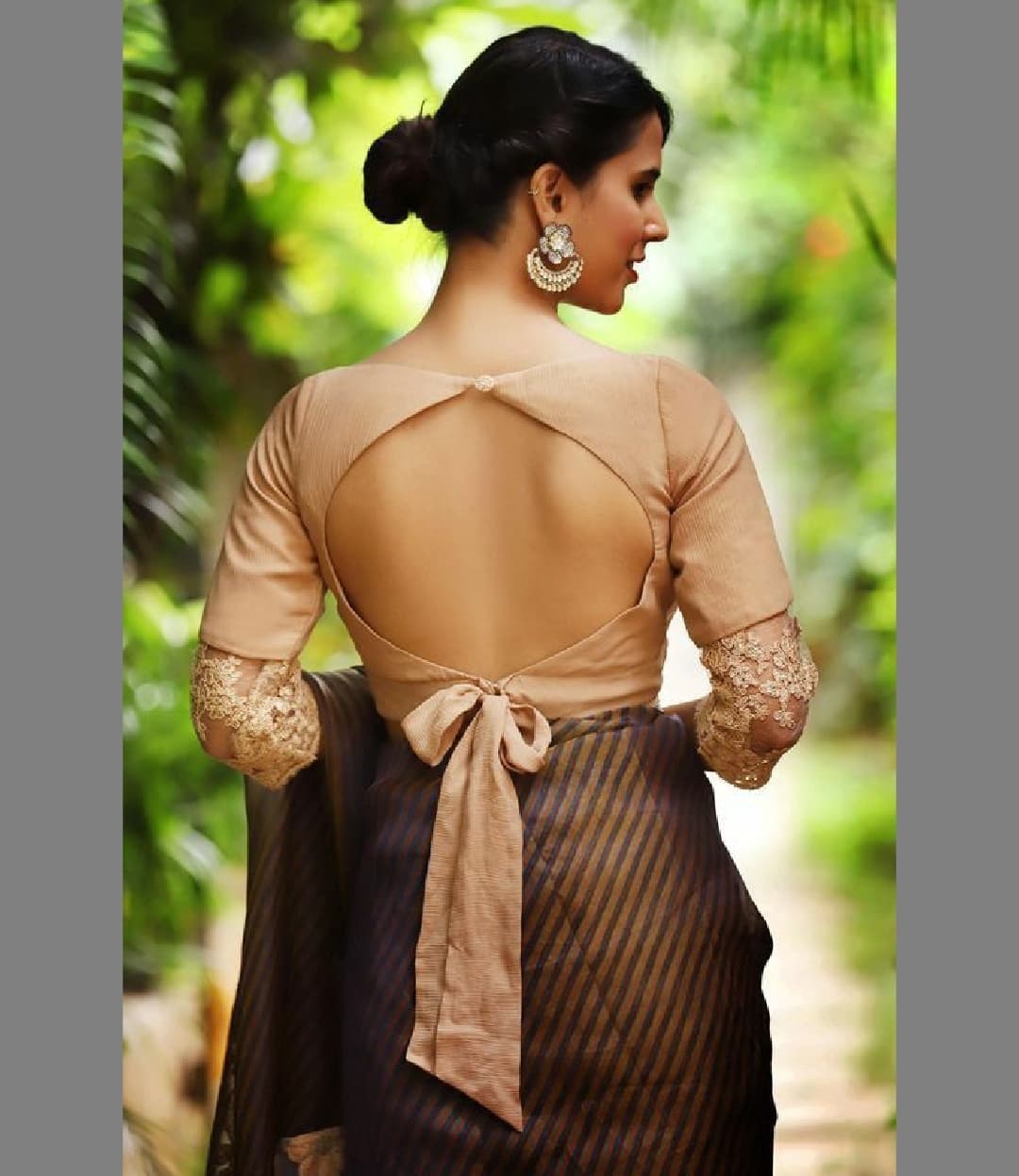 If a strapless blouse design wasn't what you had in mind, you can still achieve the knot look by opting for this blouse design with a bow tie back. Opt for this blouse back design for silk saree if you love all things extra! 
Silk Saree Blouse Designs Back Neck
The back neck design of your blouse doesn't have to be boring. Apart from the sleeves of the blouse, it's the back that garners the most attention, so why not make it interesting? Below are some stunning, trendy back neck designs for silk saree blouses that you're gonna love!  
Simple Round Neck With Dori Tie-Up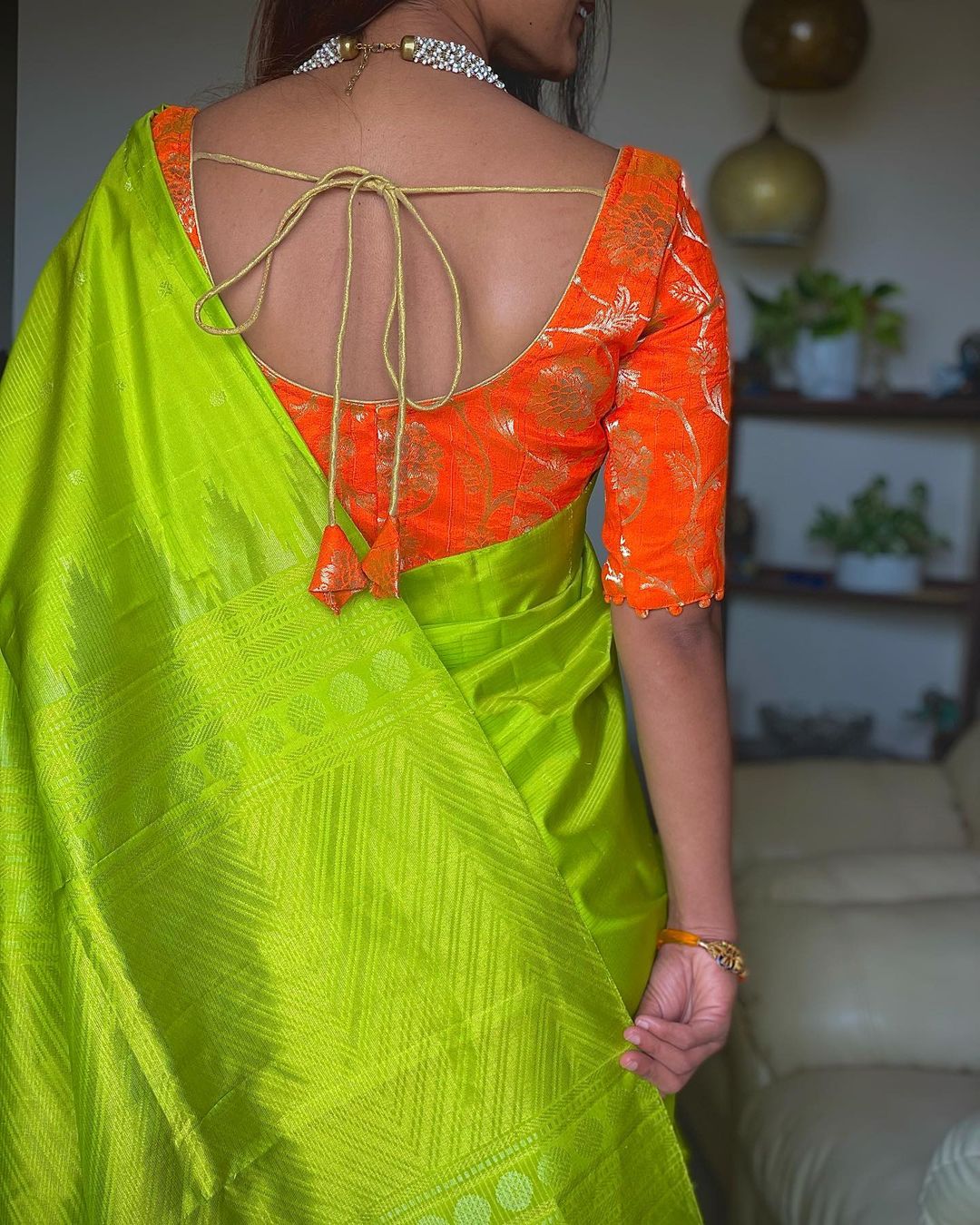 This back neck blouse design for silk sarees is perfect for any festive occasion! The dori will ensure a great fit, and also adds to the beauty of the blouse design. You can also opt for tassels or pom-poms at the end of the strings to add another element to the blouse.
Deep V-Neck With Dori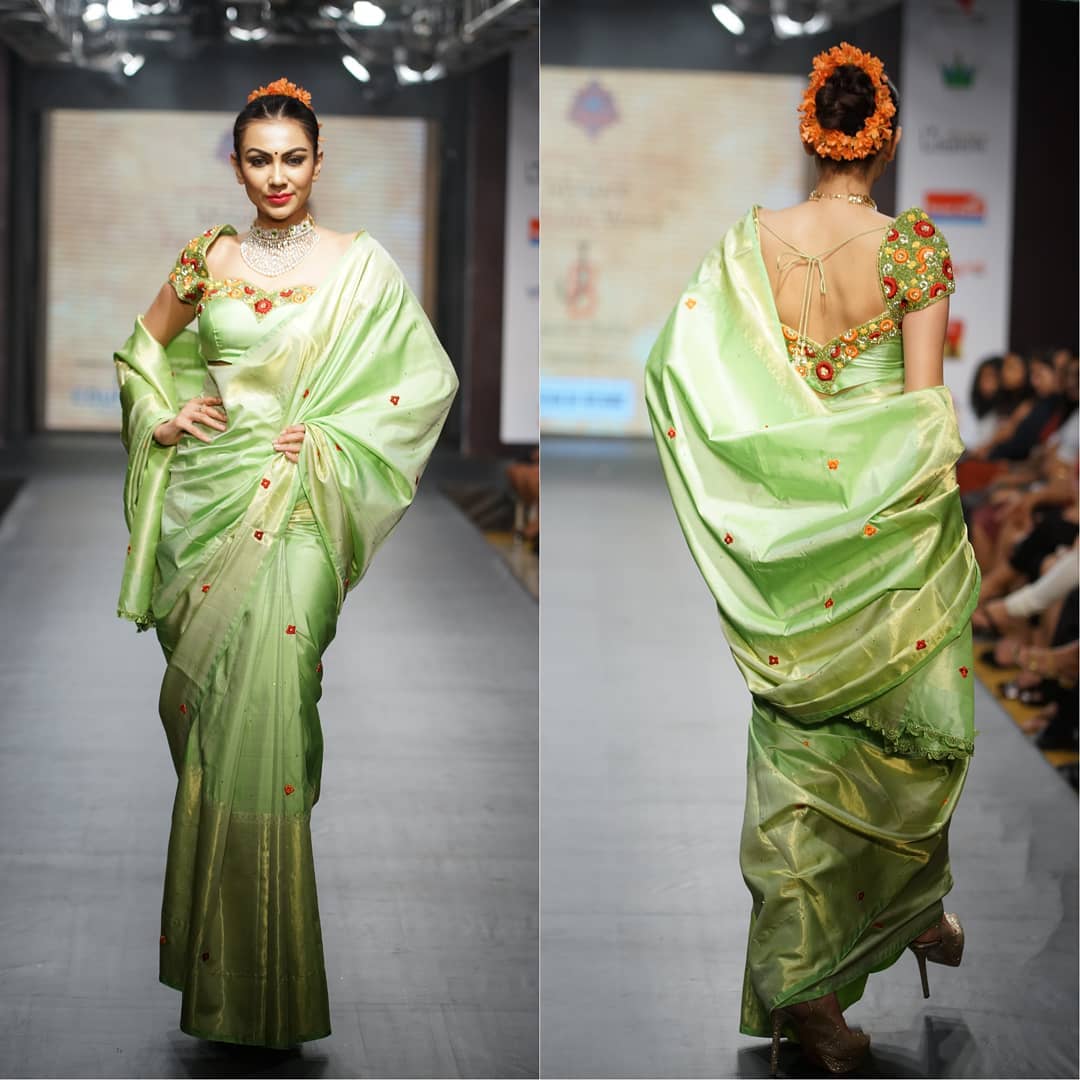 Add a pinch of sass and quirk to your blouse with this deep V-neck along with dori tie-up! We're loving the embroidery work along the back neckline of this blouse. 
Cutout Back Neck Design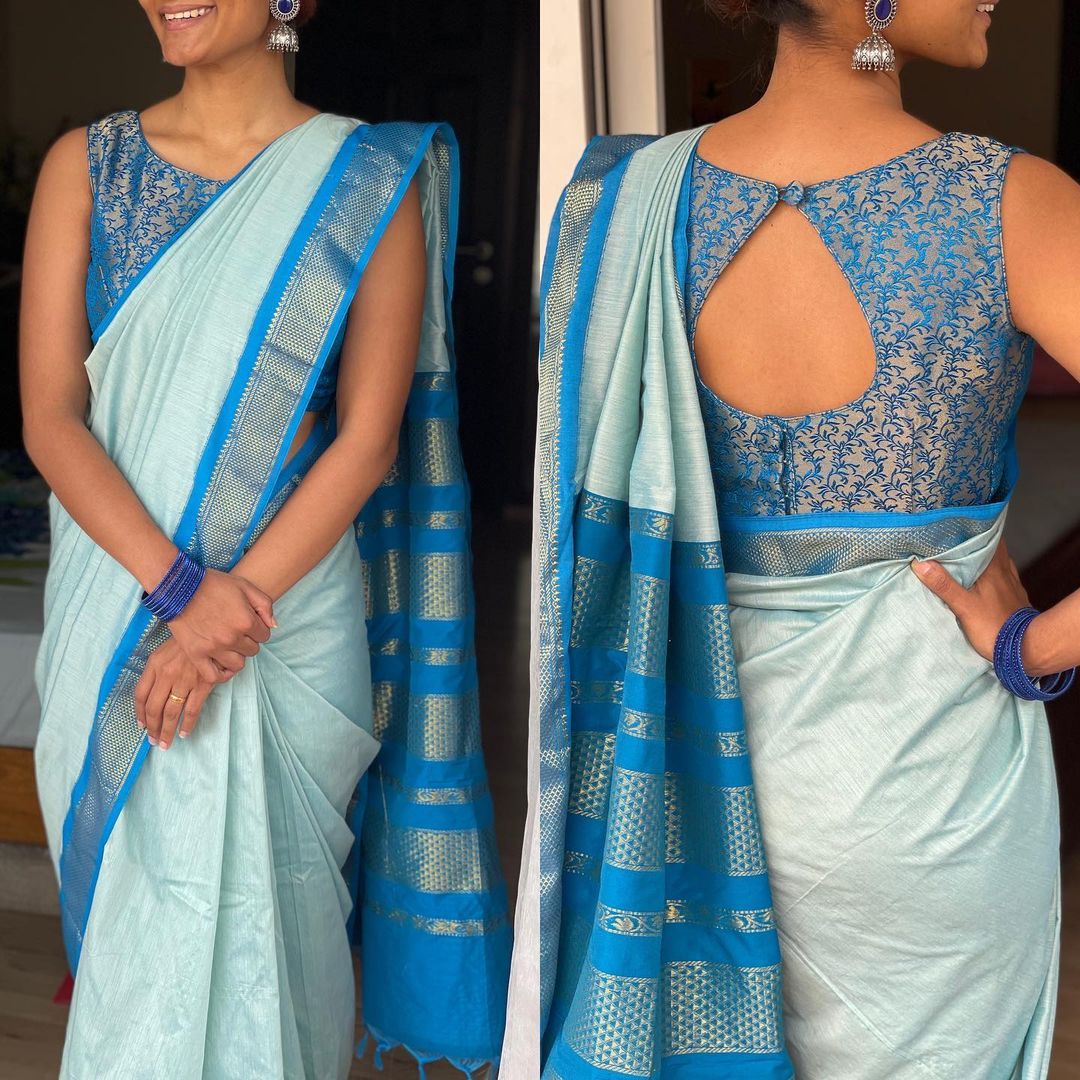 A drop cutout at the back of the blouse can give it a trendy look! You can maximize or minimize the size of the cutout depending on the look you want to achieve. It adds to the feminine appeal of the blouse, and can simply elevate your entire look.
Golden Square Neck Blouse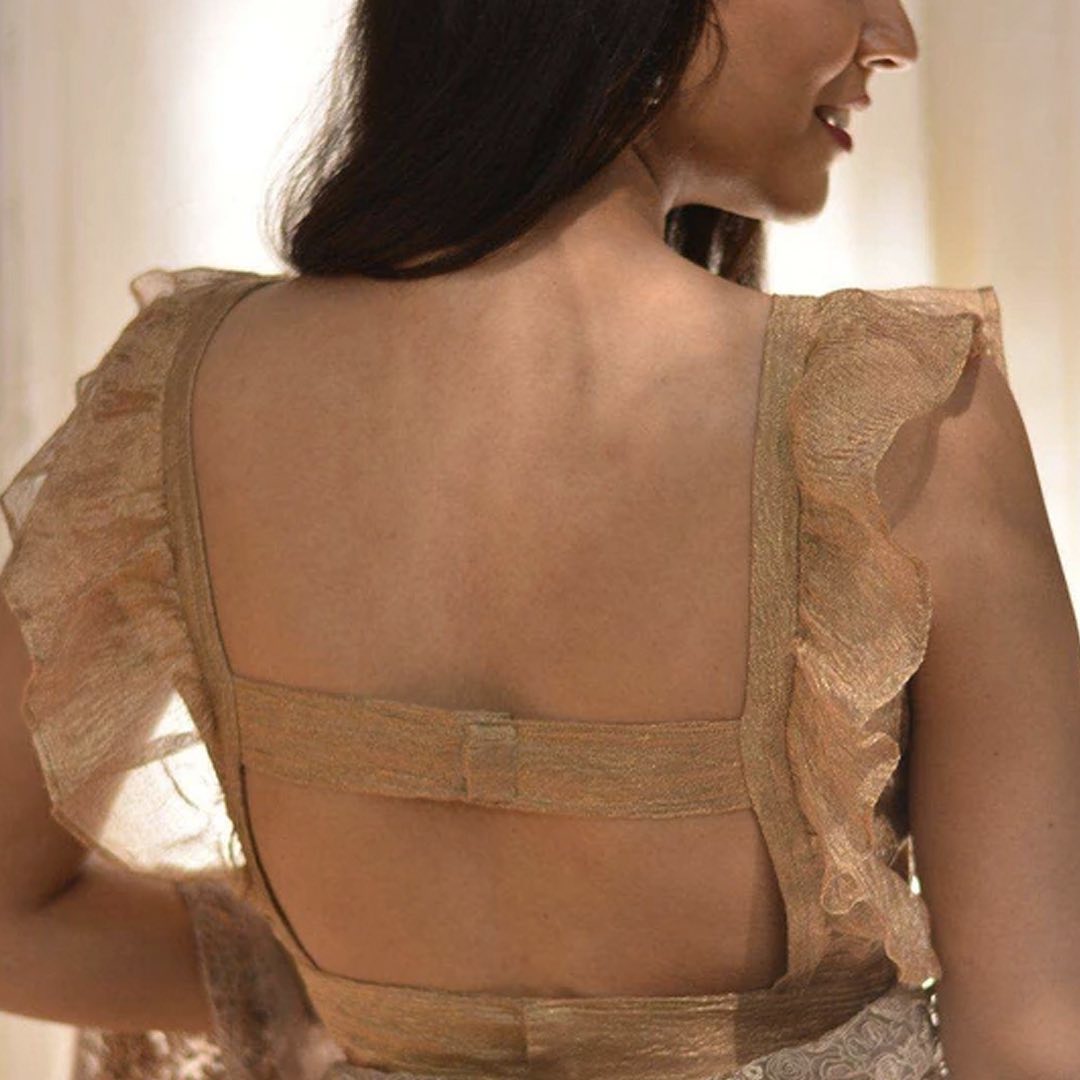 This back neck blouse design for silk saree adds a fun, playful twist to a basic square back neck, and we're loving it. This square cutout back blouse design is sure to bring out the beauty of your silk saree.
High Neck Blouse With Back Cutout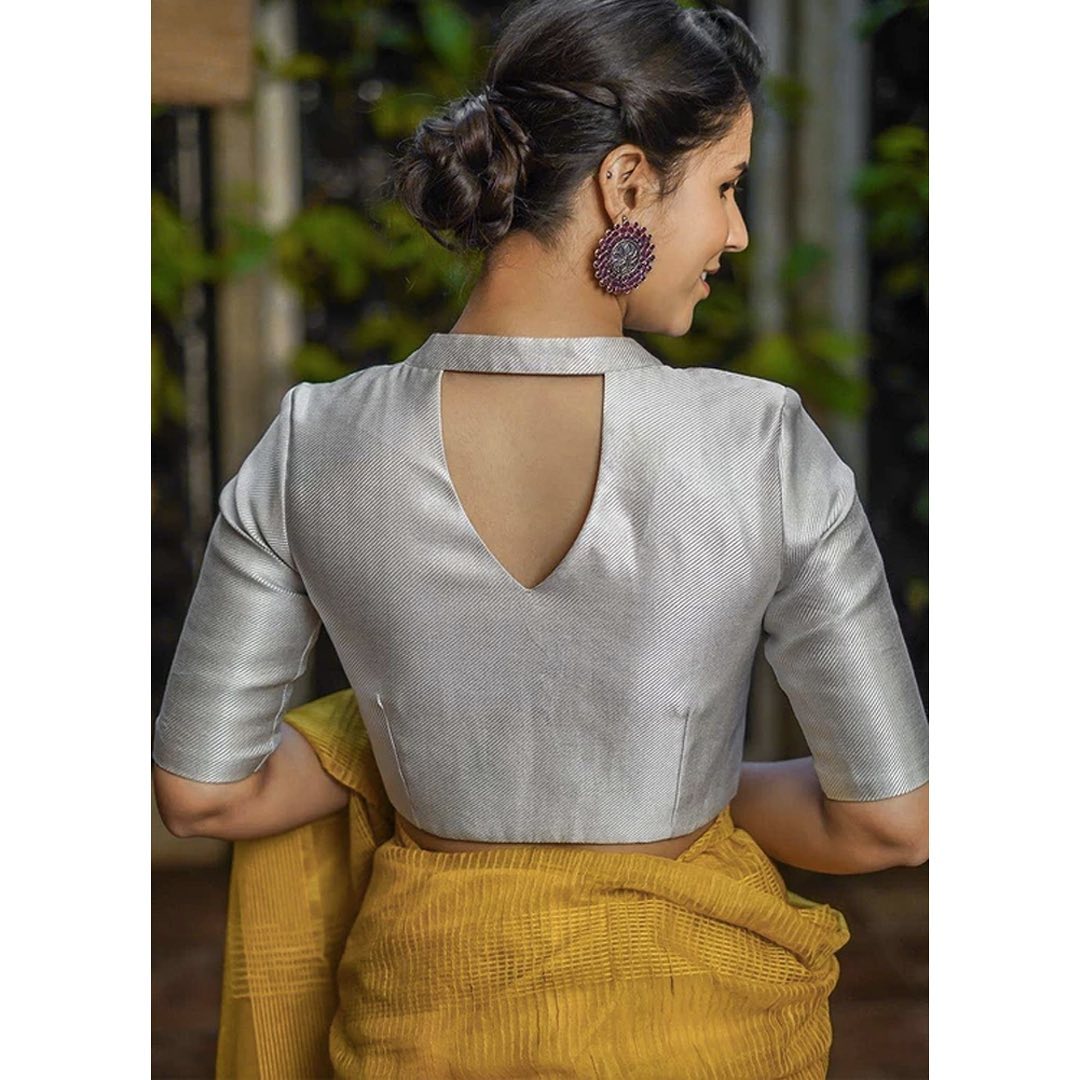 If you want to opt for a high neck blouse, yet give it a sexy element, then opt for a back cutout like this one. It's minimalistic, classy and sexy at the same time.
 Blouse Sleeve Designs For Silk Sarees
Blouse sleeve designs can either make or break your entire look! They are the most important elements that can add to the glam of your saree, so make sure you put some thought into it. If you're looking for ideas, below are some blouse sleeve designs for silk sarees that you gotta check out. 
Off-Shoulder Blouse Design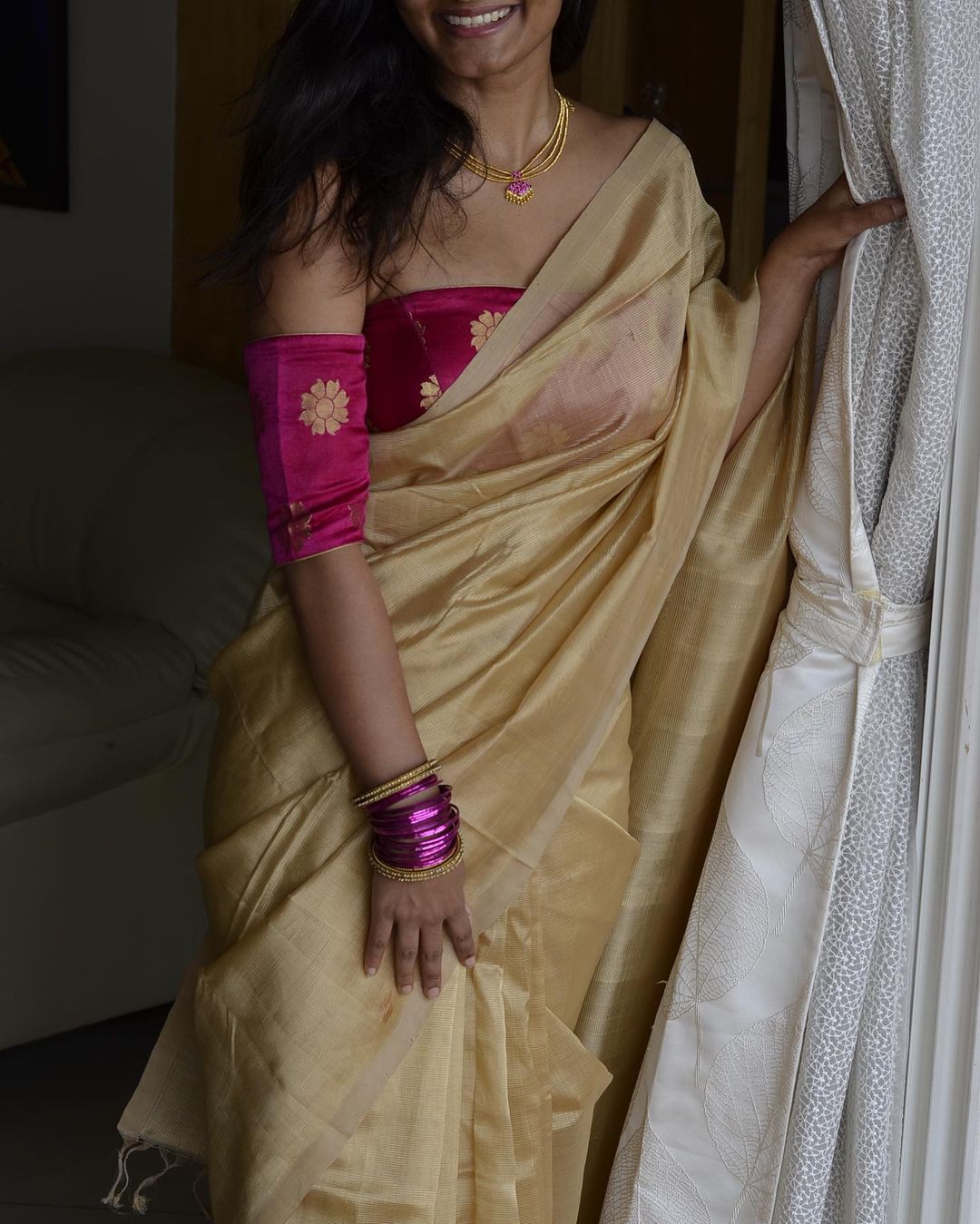 An off-shoulder blouse sleeve design can instantly add that oomph factor to your look! This is a great blouse design option if you wanna achieve a modern, contemporary look with your silk saree. 
Balloon Sleeves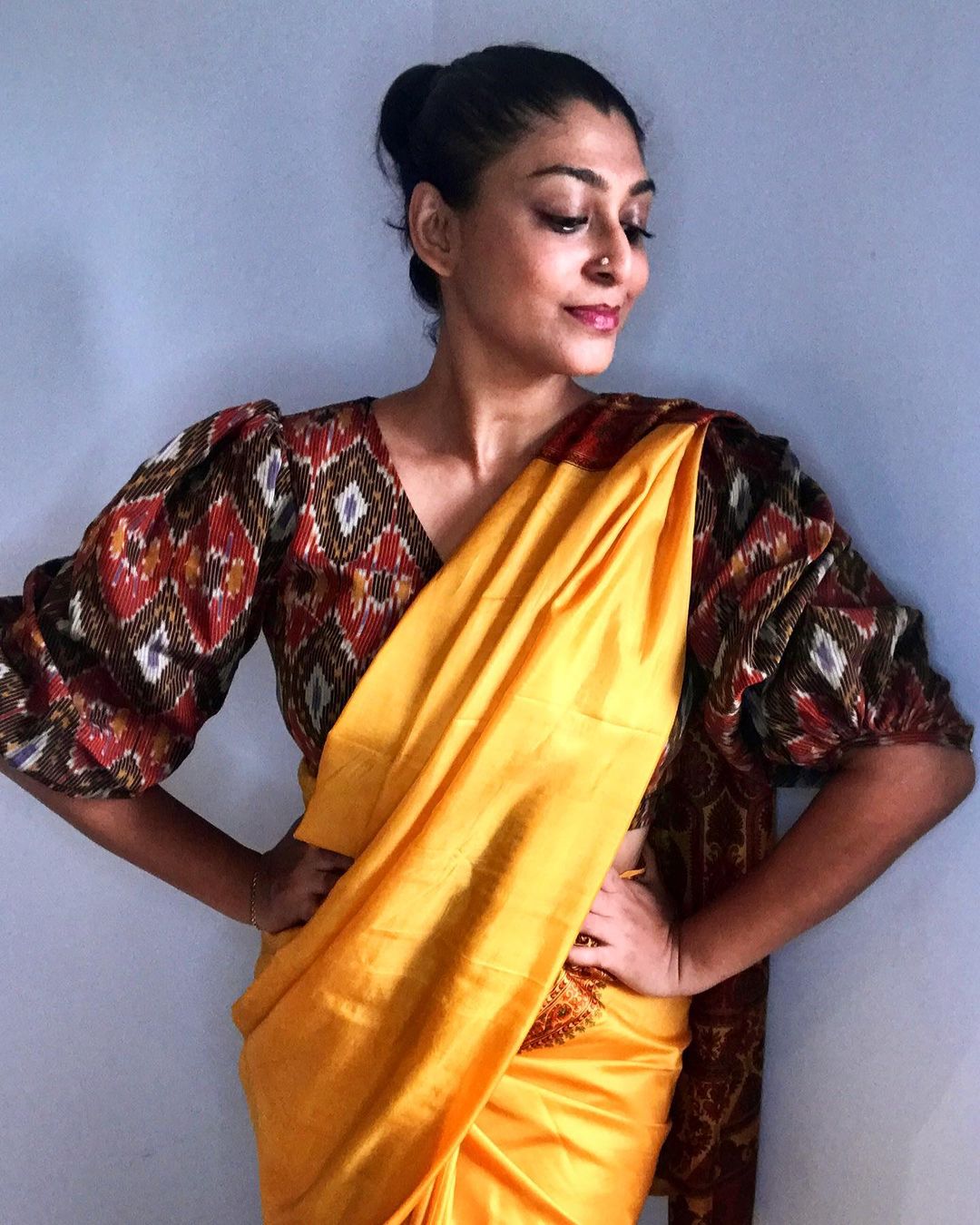 Balloon sleeves may not be for everyone, but if you can pull it off, these sleeves can look really stunning! Opt for a printed fabric in a complementary colour, if you are going for a plain silk saree. 
Puff Sleeves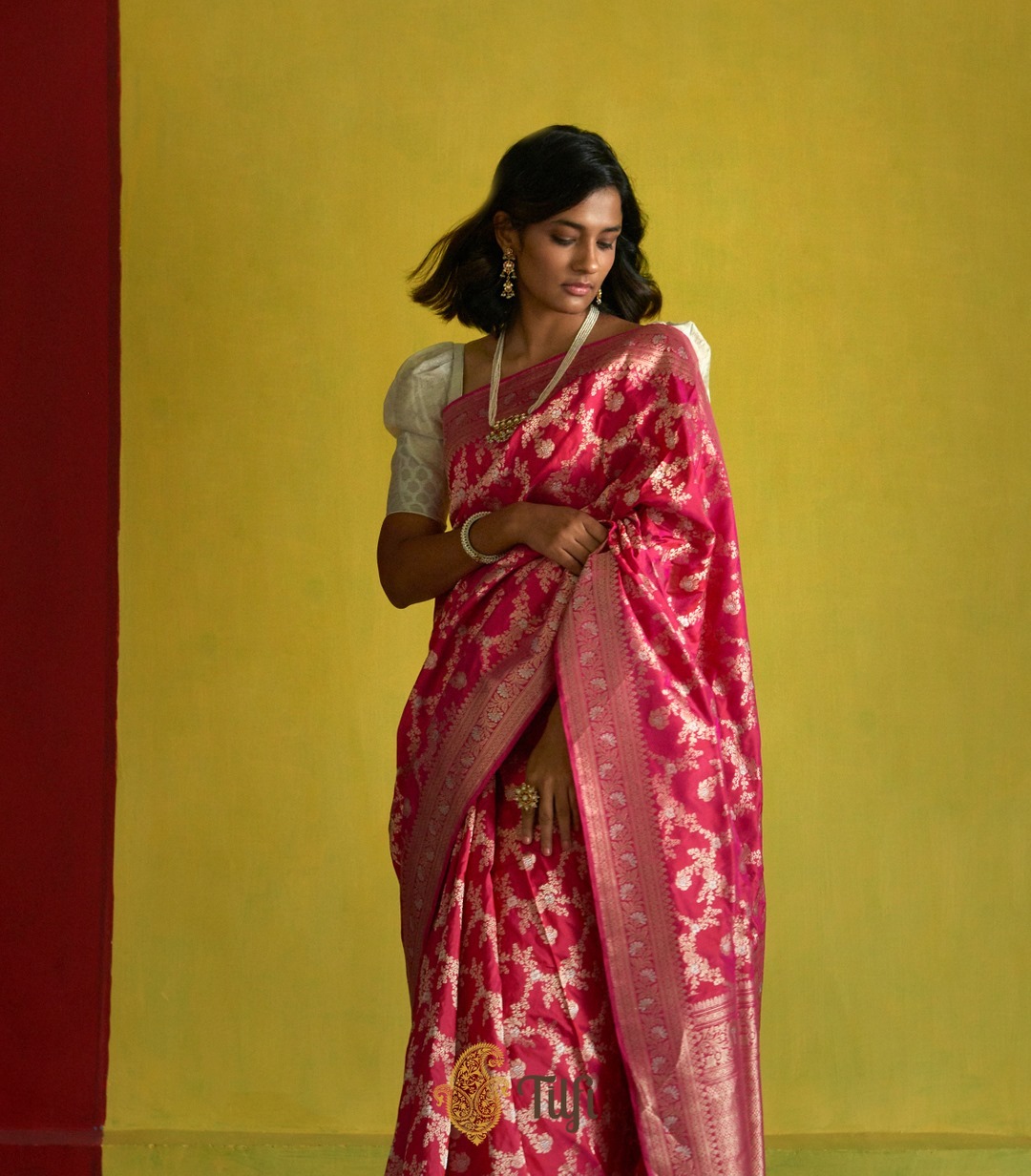 A puff-sleeve blouse design can add a regal and traditional touch to your saree look. This blouse sleeve design for silk sarees can also be incorporated with full sleeves.
Long Bishop Sleeves Silk Blouse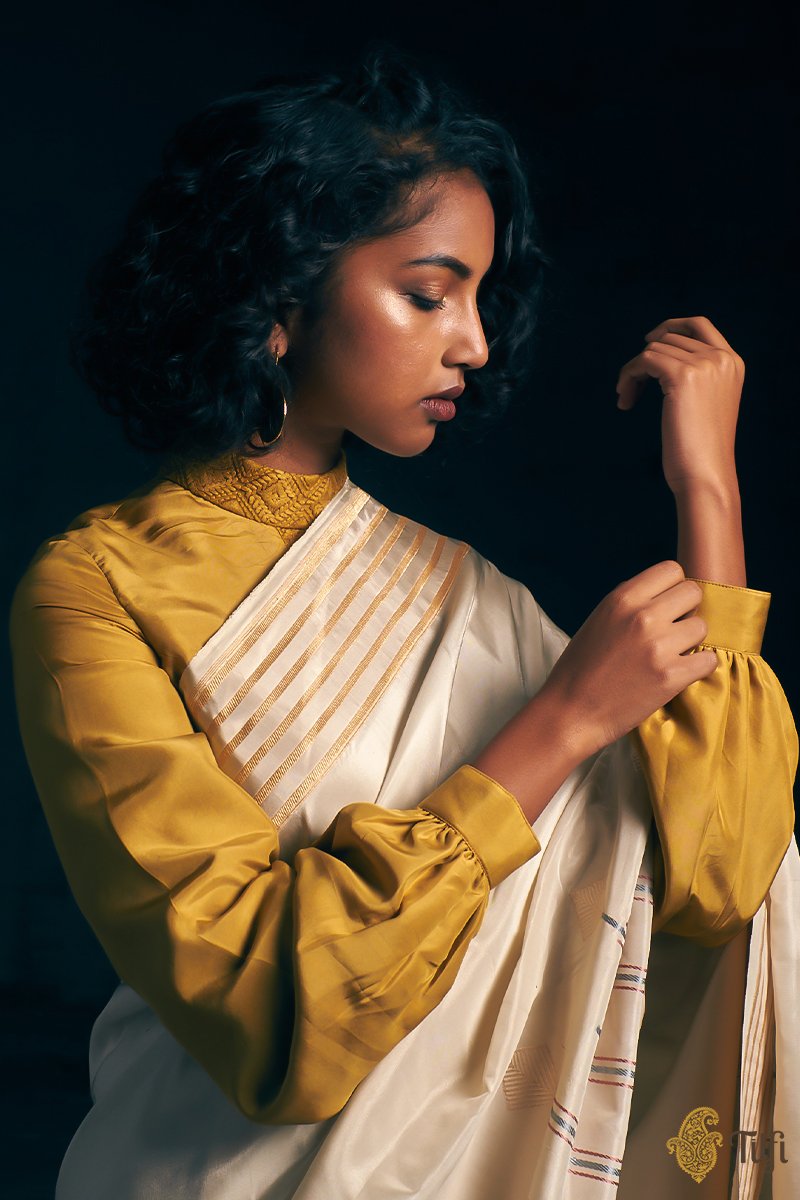 Make an effortless style statement with this gorgeous Bishop sleeves silk blouse! Its understated mustard colour, the lace pattern on the collar give it a classy look. 
Flared Sleeves Silk Saree Blouse Design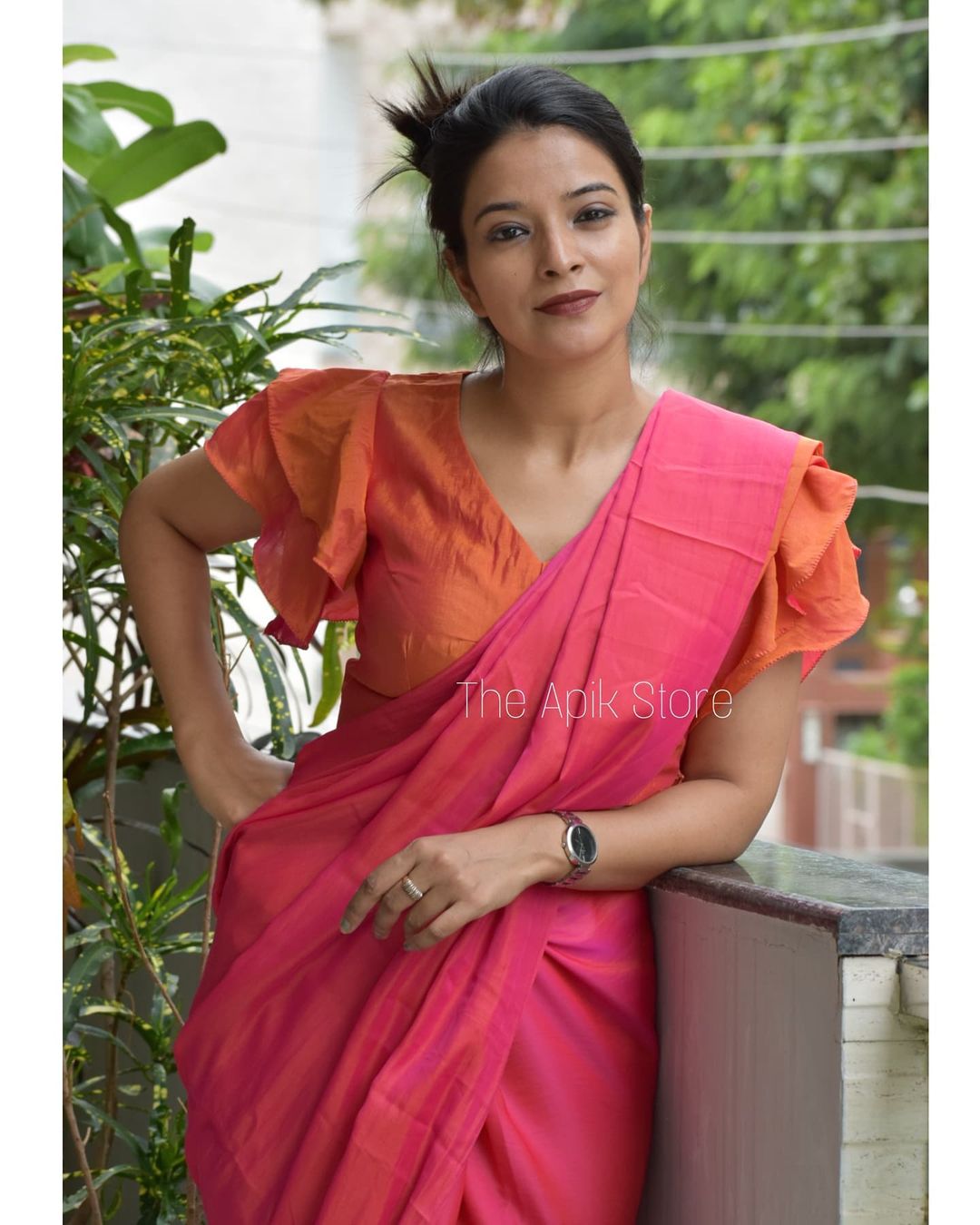 This stylish blouse design for silk sarees is a show-stealer! The layers of silk on the sleeves give the blouse a voluminous look. Deep neck blouse design goes well with dramatic sleeves like these.
Cold Shoulder Blouse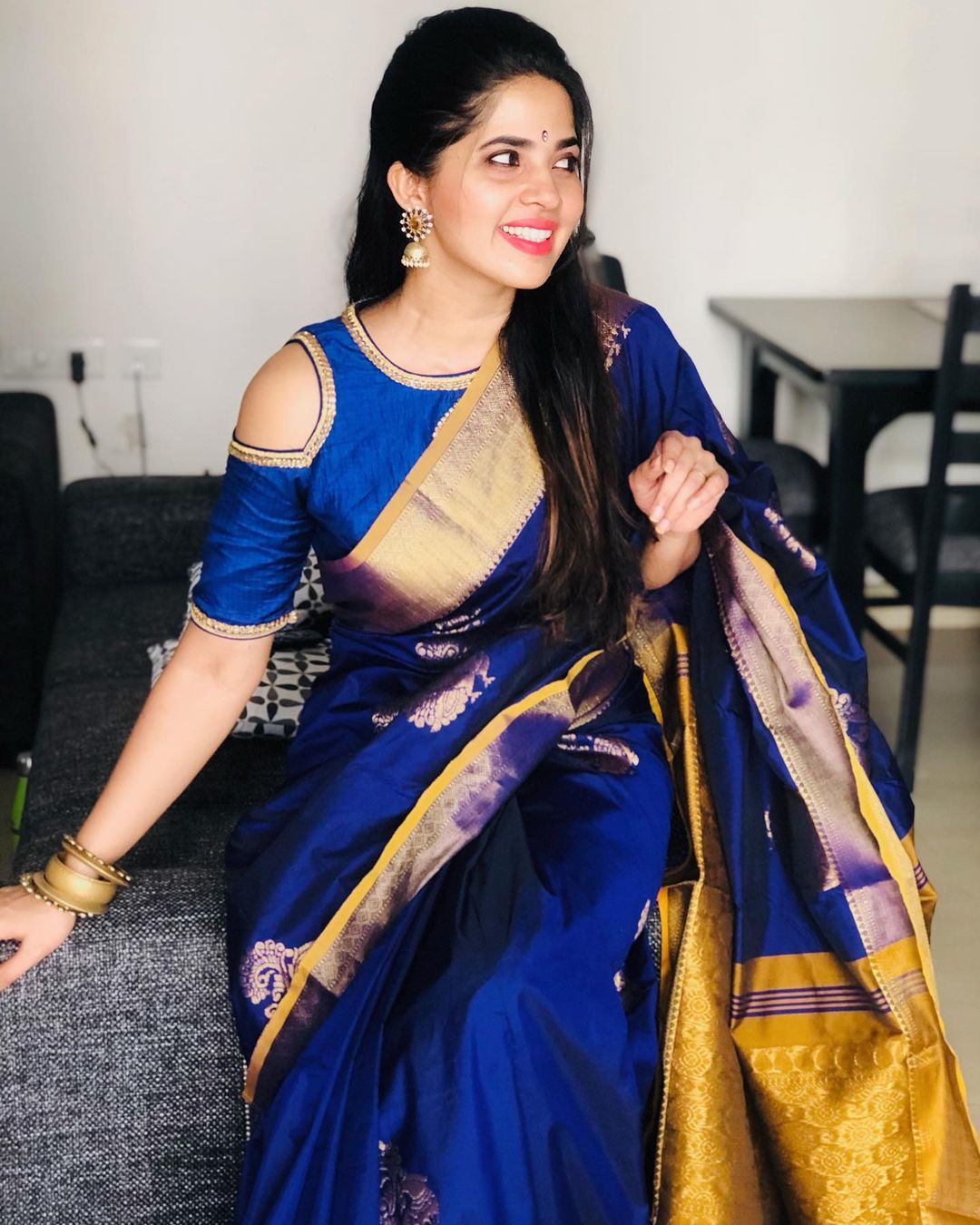 Ethnic cold shoulder designs have a feminine appeal. They look really stylish and modern, and aren't going out of trend anytime soon.  
Blouse With Tie-Up Sleeves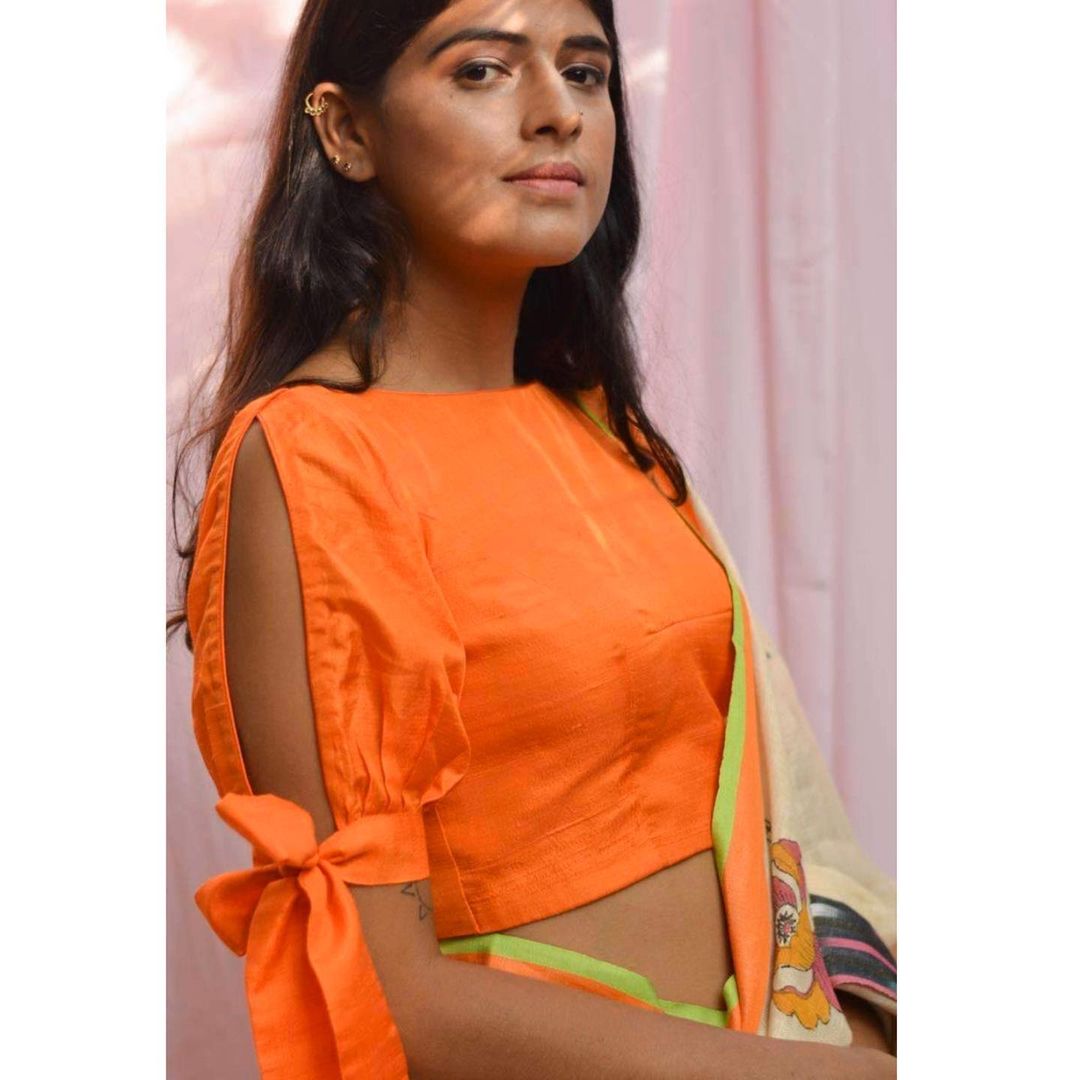 The slit and the knot tie-up at the end of the sleeves can add a dramatic flair to your saree look! It's a unique blouse design for silk sarees that you gotta try once!
Organza Frill Sleeves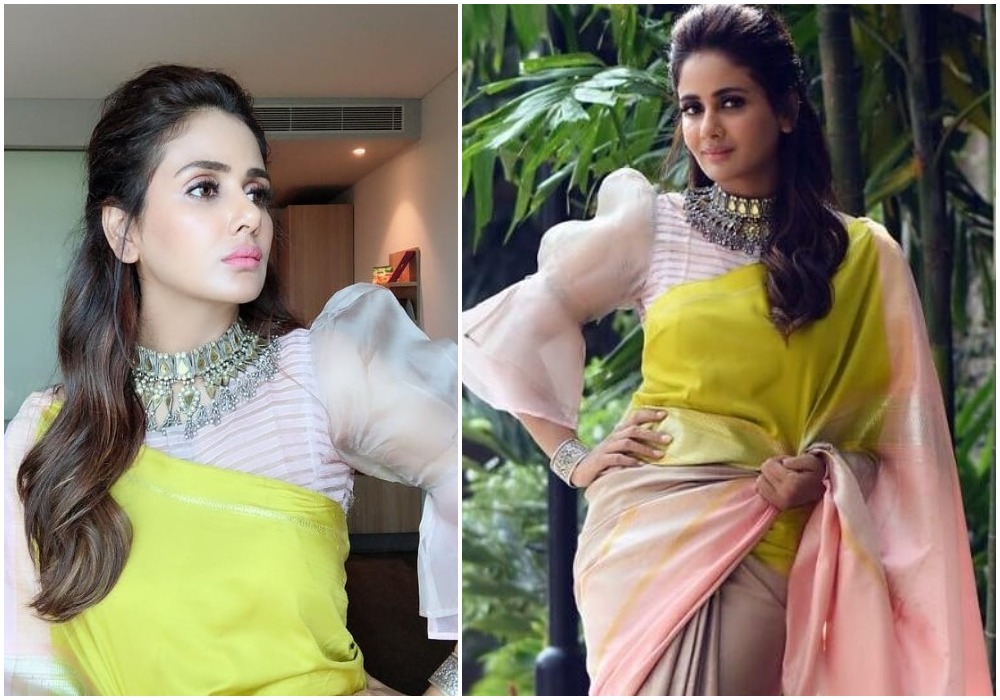 Parul Yadav once wore a Kanjeevaram saree with a high neck organza frill sleeve blouse. It adds just the right amount of drama to the look, and looks stylish and elegant. This silk saree blouse design gets a huge thumbs up from us! 
Bell Sleeves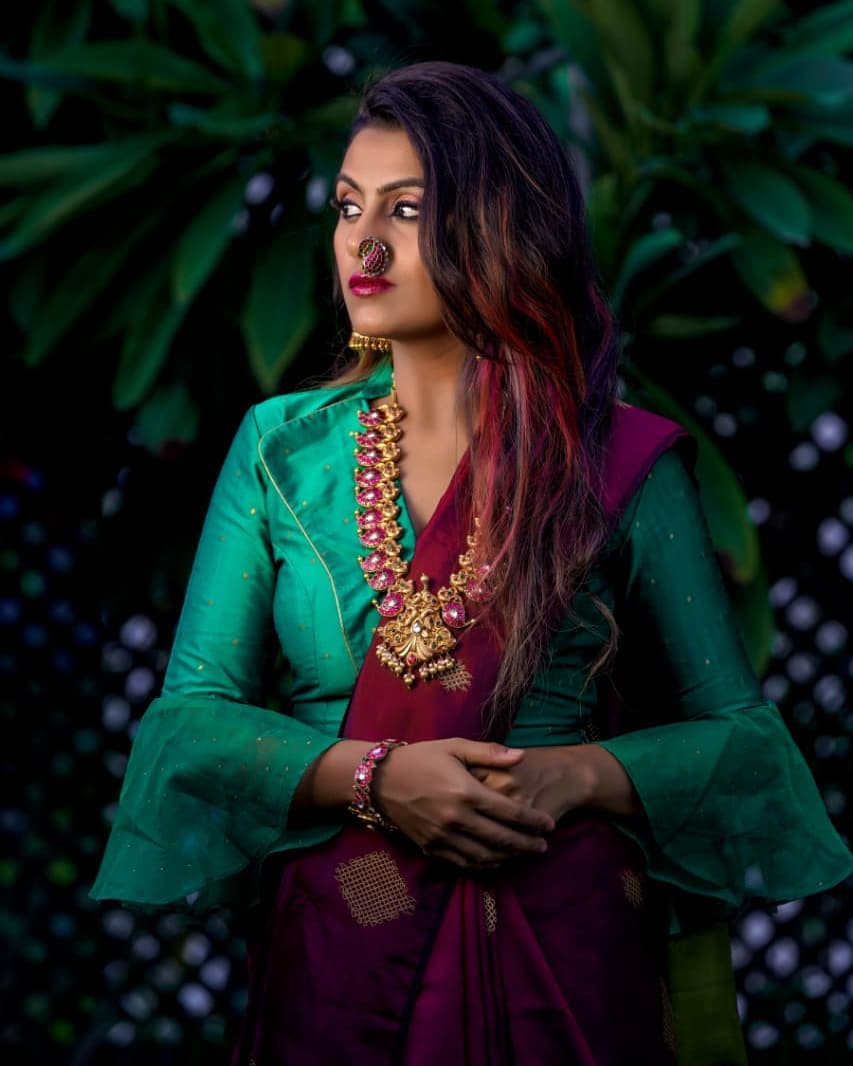 While classic full sleeves blouse designs look great with silk sarees, you can also opt for bell sleeves like these to add some more glam to your look.
Net Blouse Designs For Silk Sarees
The best thing about net blouses is that they go well with just about any saree fabric! Net blouses are really versatile, and can be styled in various ways to add to the glam of your silk sarees. Check out some amazing net blouse designs for silk sarees below. 
Ruffled Sleeve Net Blouse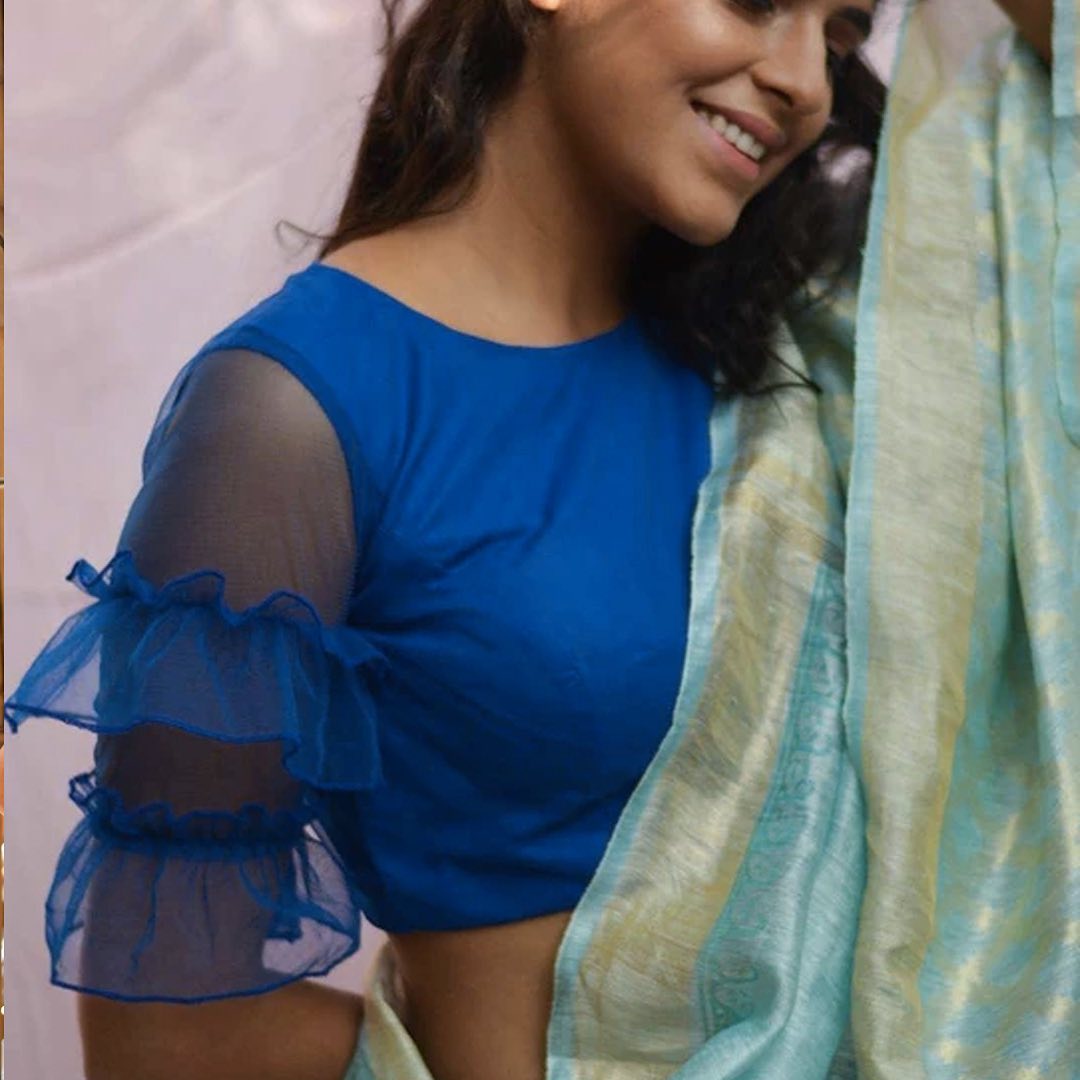 Ruffled sleeve net blouse design adds a fun and playful element to your look. We're especially loving the colour of this blouse, and the modern look it gives to a traditional silk saree.
Embroidered Net Sleeves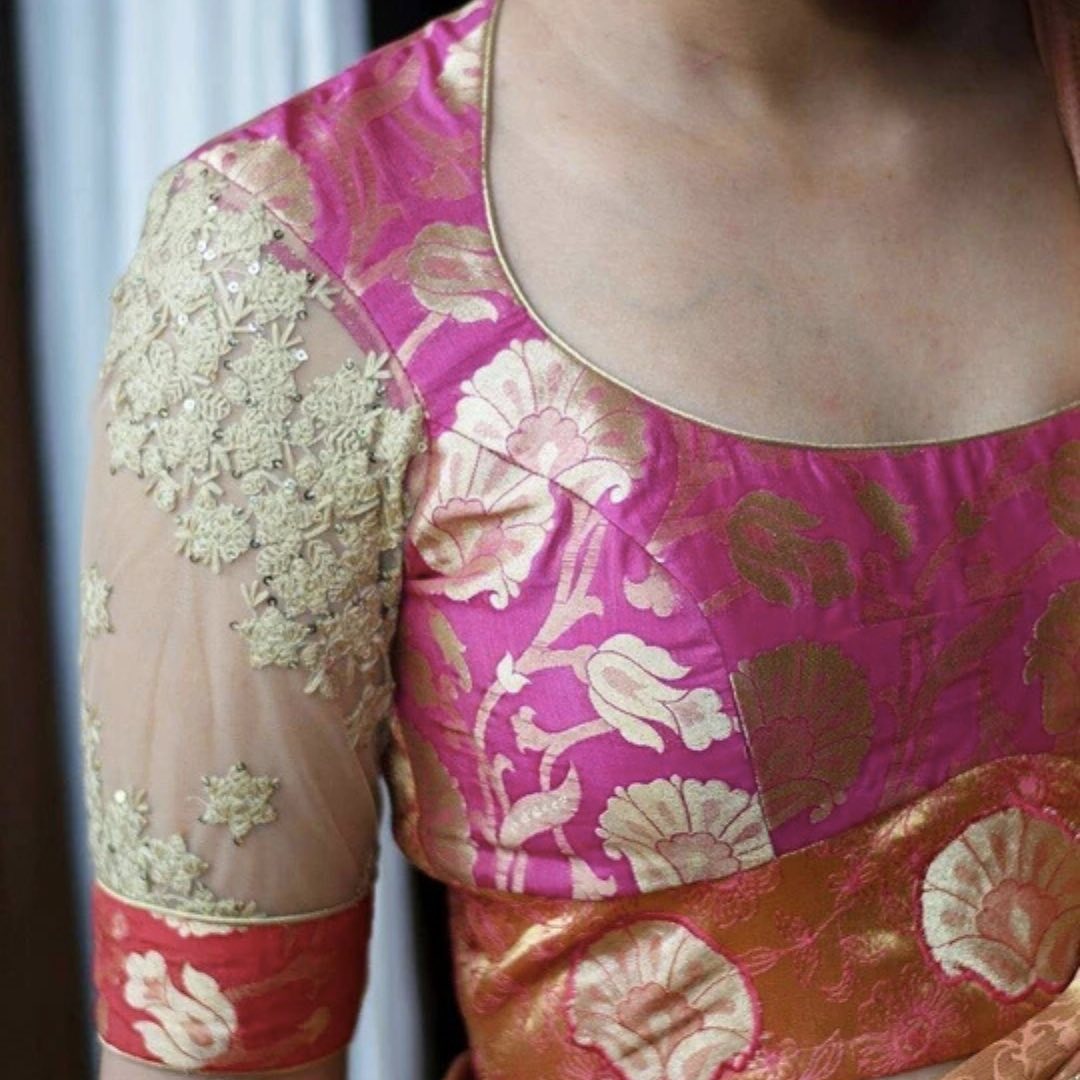 You can also opt for a fusion of silk and net blouse! This patchwork blouse consists of beautiful brocade work, and features embroidered net sleeves that add a sheer component to the blouse.
Net Blouse With Ornamental Back Design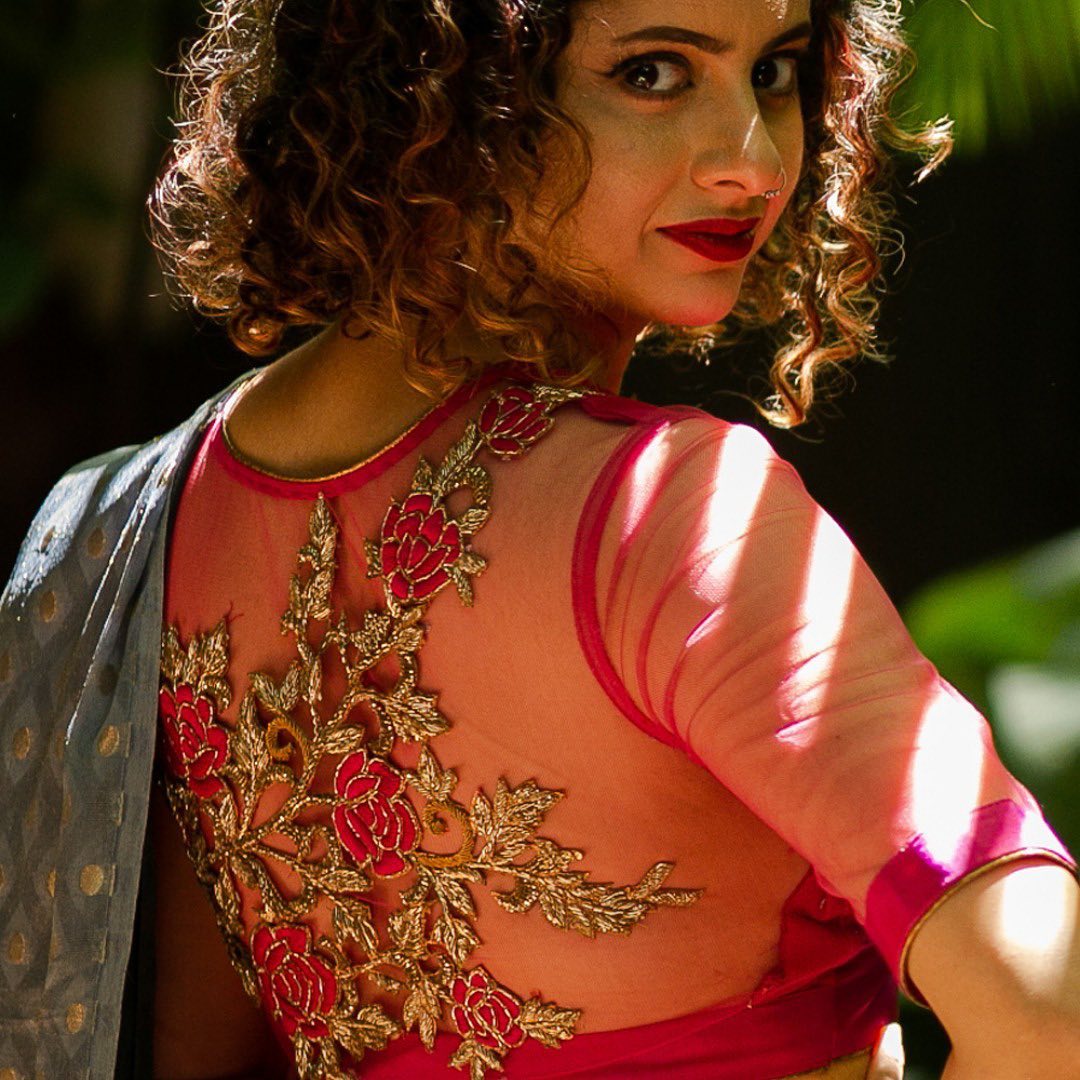 This net blouse design for silk saree looks absolutely stunning! It features gold-hued yokes and appliques that highlight the back design of this blouse.
Embellished Net Full Sleeve Blouse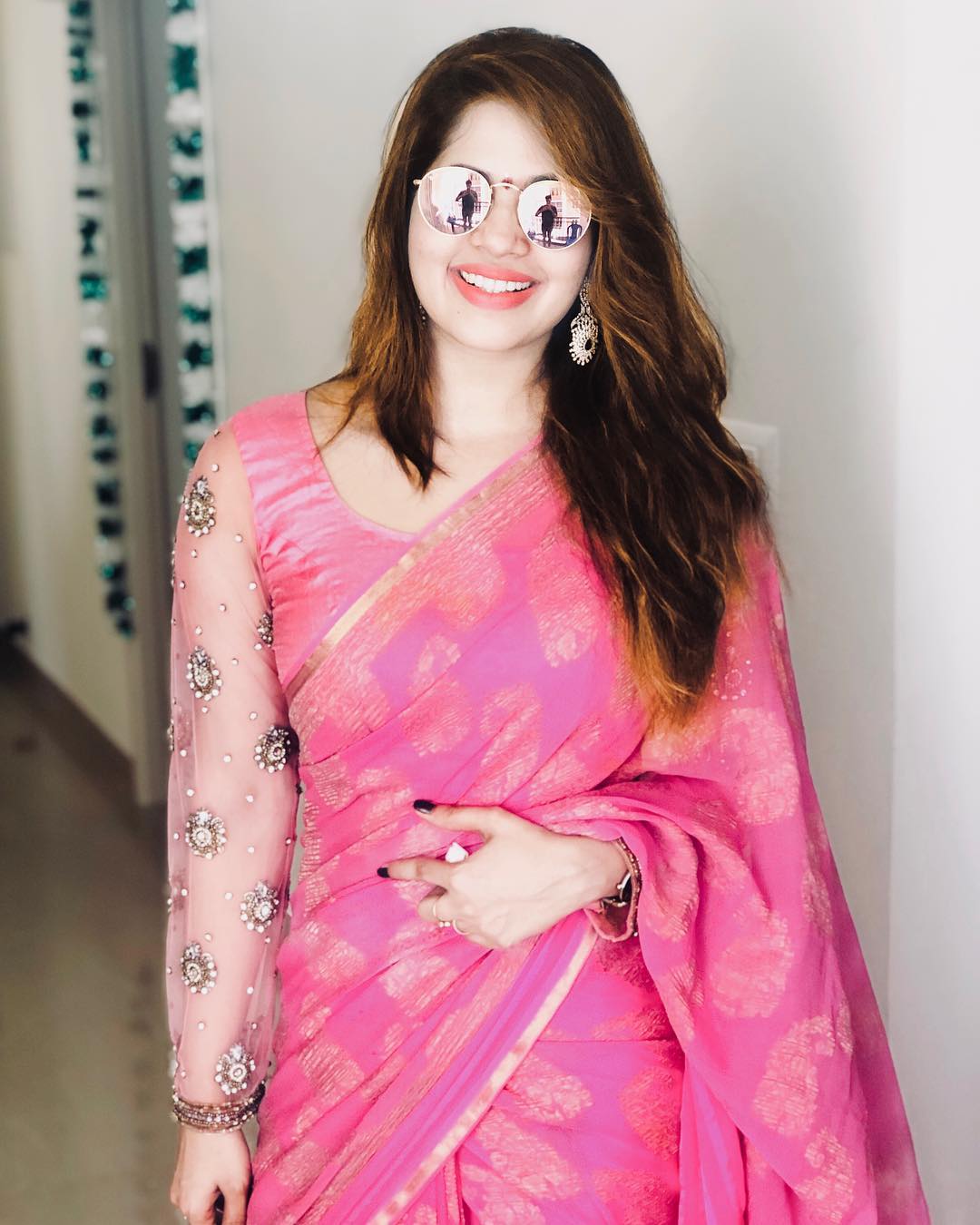 Full sleeve blouse designs look great with silk sarees. You can also choose to spice it up by opting for embellished net sleeves such as this one. They can give a light, delicate feel to the blouse, and elevate your entire look.
Mysore Silk Saree Blouse Designs
Mysore silk sarees are known for their extraordinary sheen, zari work, and lightweight fabric that clings beautifully when draped. When paired with the right blouse, Mysore silk sarees look exceptional! Blouse designs for Mysore silk sarees can be traditional or contemporary, depending on the look you wish to achieve. Take a look at some Mysore silk saree blouse designs below.
Silk Blouse With Golden Border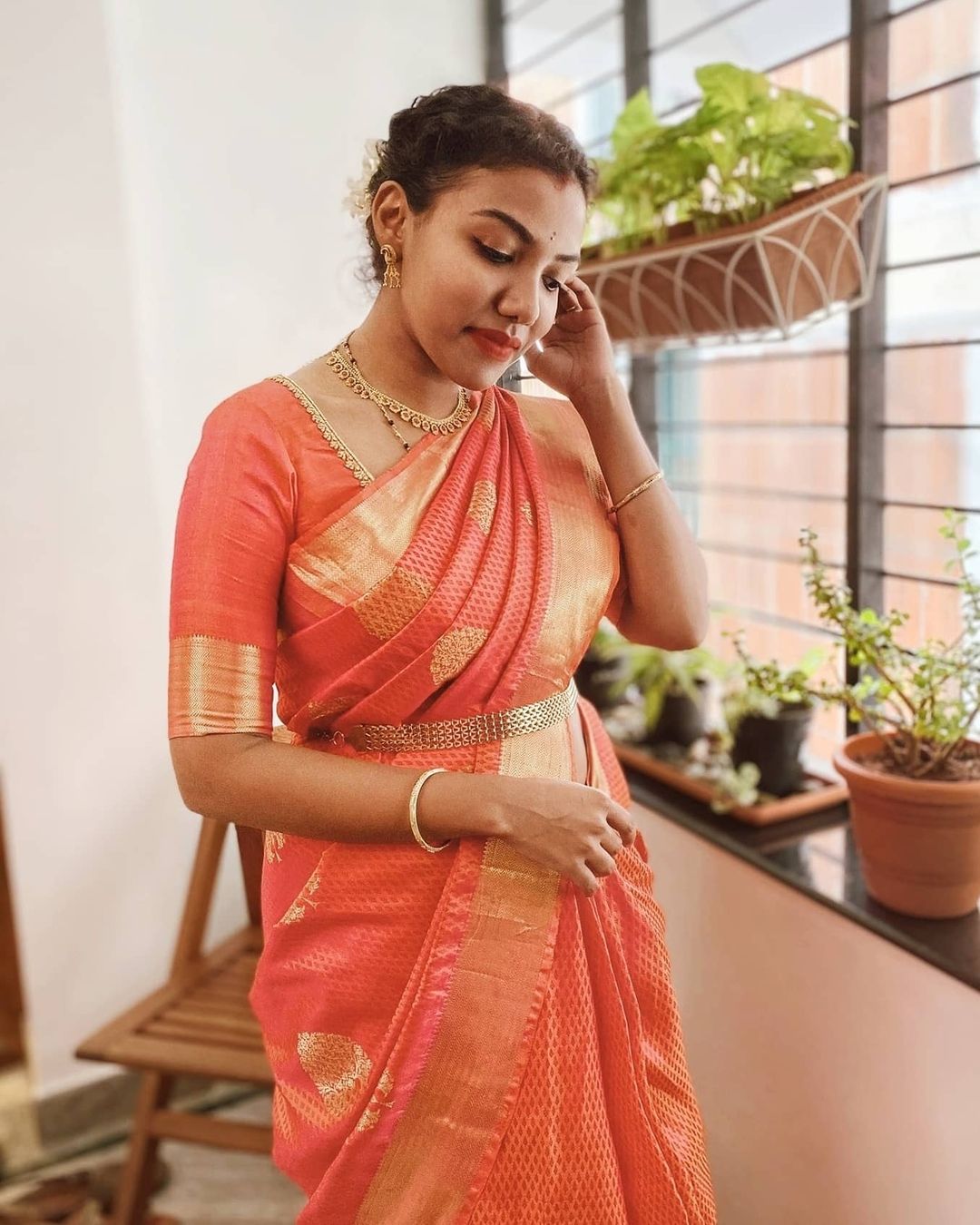 There's a reason why golden border blouses are all-time favourites with silk sarees! Their classic, timeless elegance is unmatched and it makes for an excellent choice if you're attending a wedding.
Ruched Puff Sleeve Blouse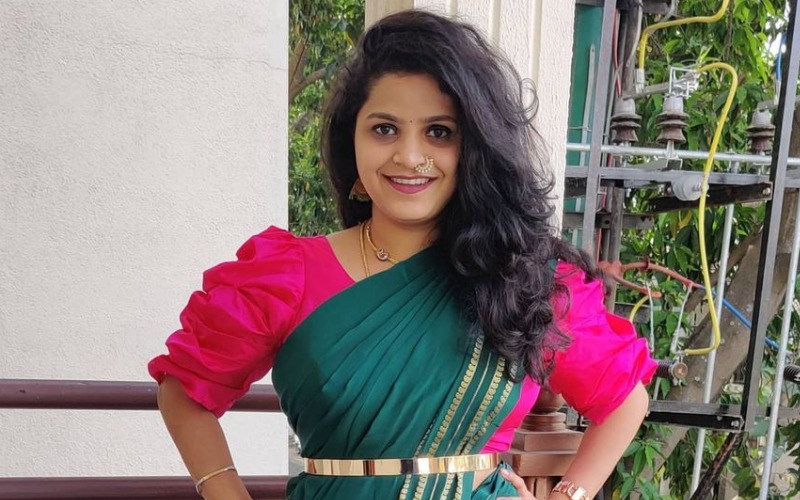 You can also choose to style your Mysore silk saree with this modern blouse design that consists of ruched puff sleeves. It can add a dramatic flair to your look, and is for people who love all things extra! 
Flared Cold Shoulder Blouse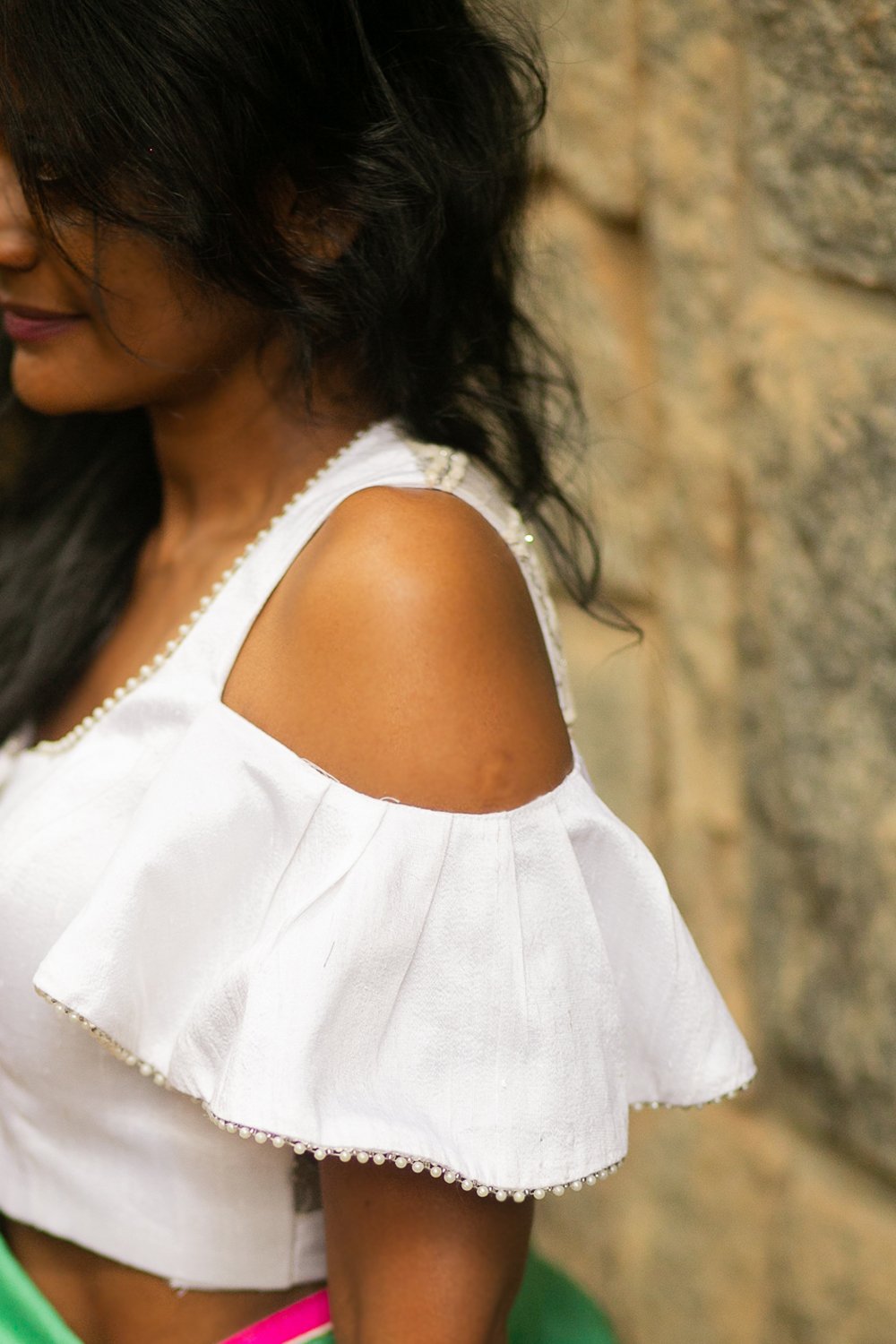 Add a fun twist to your Mysore silk saree with this playful, flirty blouse design that will elevate your look! 
Bustier Blouse With Puff Sleeves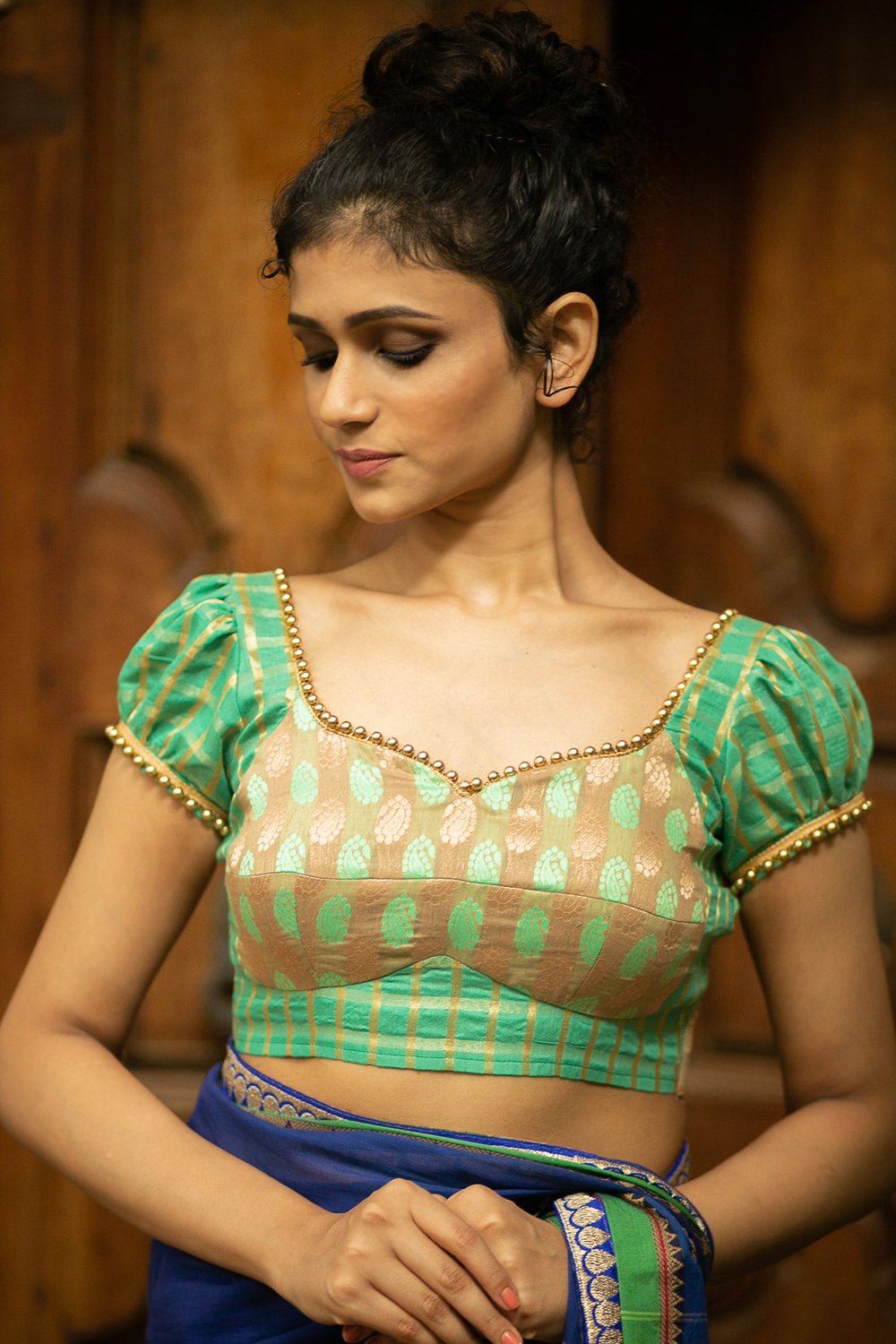 This gold brocade puff sleeve blouse with gold bead edges will add to the traditional look of your Mysore silk saree. It gives a royal, princess-y vibe! 
Banarasi Silk Saree Blouse Designs
Banarasi silk sarees exude pure elegance and their charm is unmatched. Banarasi sarees generally feature beautiful floral and leafy motifs, goldwork, figures with small details, and much more. It's because these sarees are so full of motifs and designs already, that blouses of Banarasi silk sarees are usually made of plain fabrics. However, that doesn't mean you can't make a statement with your blouse design. Below are some Banarasi silk saree blouse designs that you might wanna check out!
Complementary Colour Full Sleeve Blouse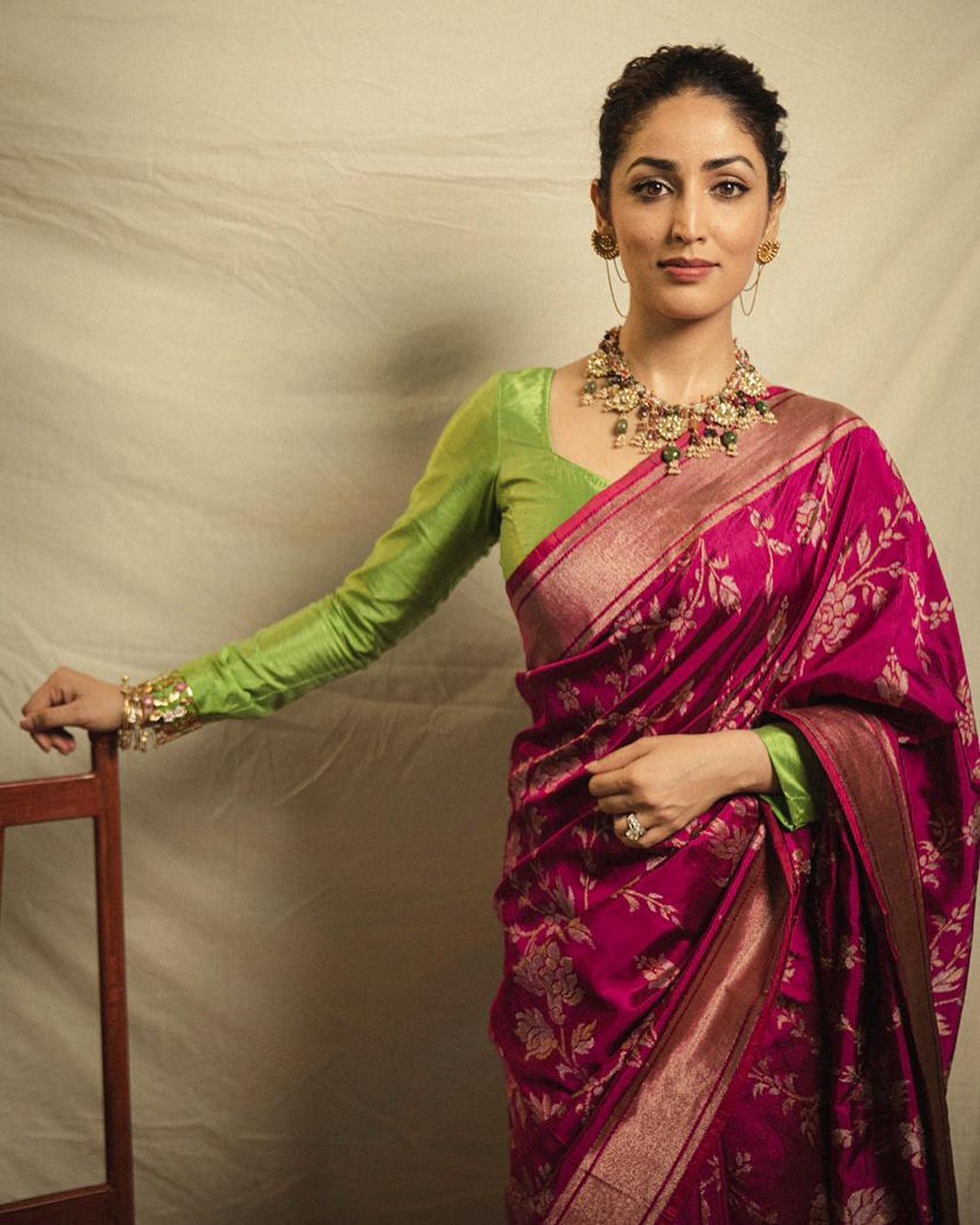 We are loving how Yami paired her magenta Banarasi saree with this simple yet beautiful blouse! The green blouse adds a vibrant pop of colour, and complements the traditional saree perfectly. The full sleeves, diamond neckline make the blouse look classy and sophisticated. You can achieve this look by opting for a blouse in bright, complementary colours.
Organza And Tissue Bishop Sleeve Blouse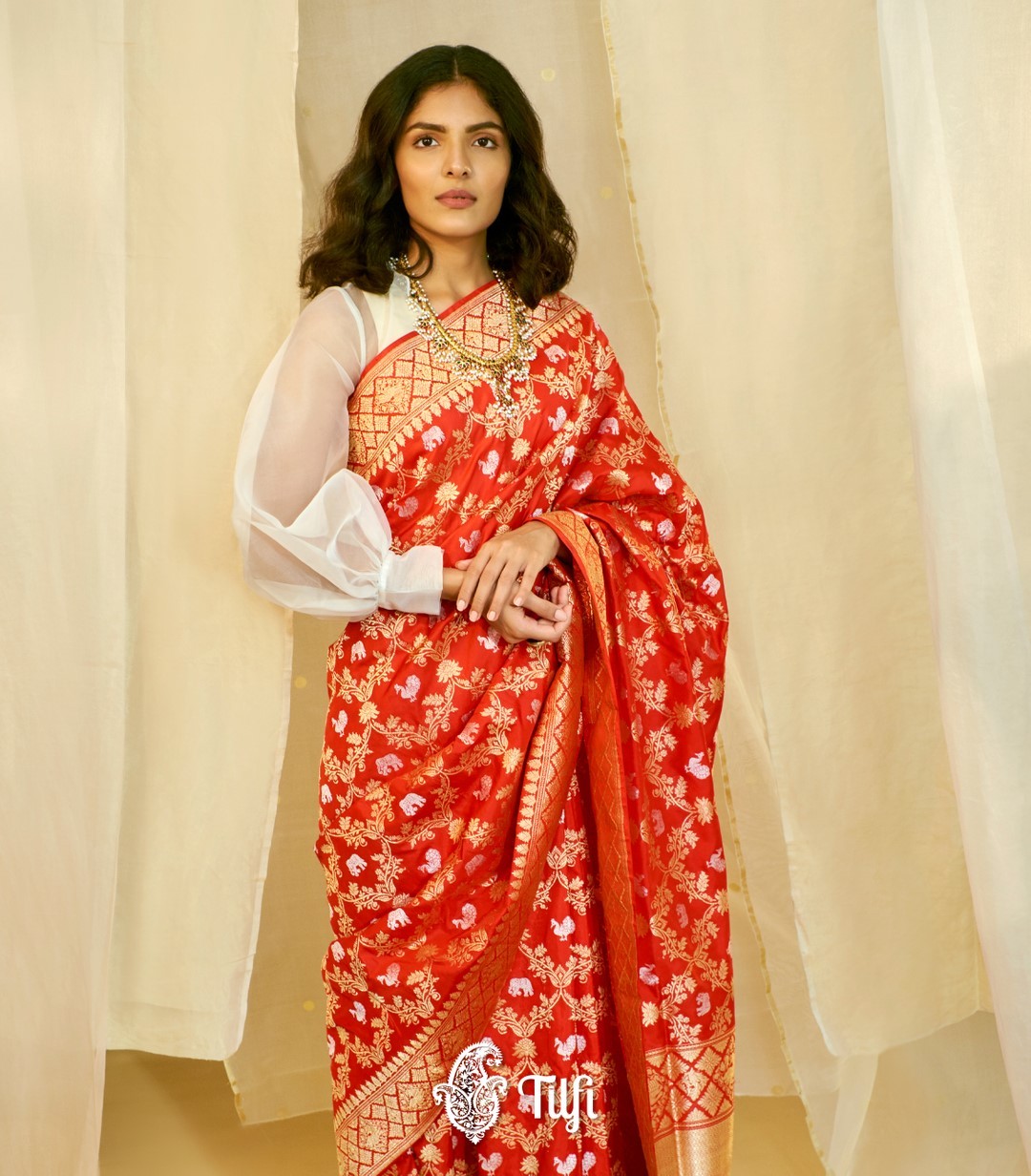 This exaggerated organza Bishop sleeve blouse is perfect if you're looking for something unconventional yet glam to go along with your luxurious Banarasi silk saree. 
Boat Neck Golden Blouse With Elbow Sleeves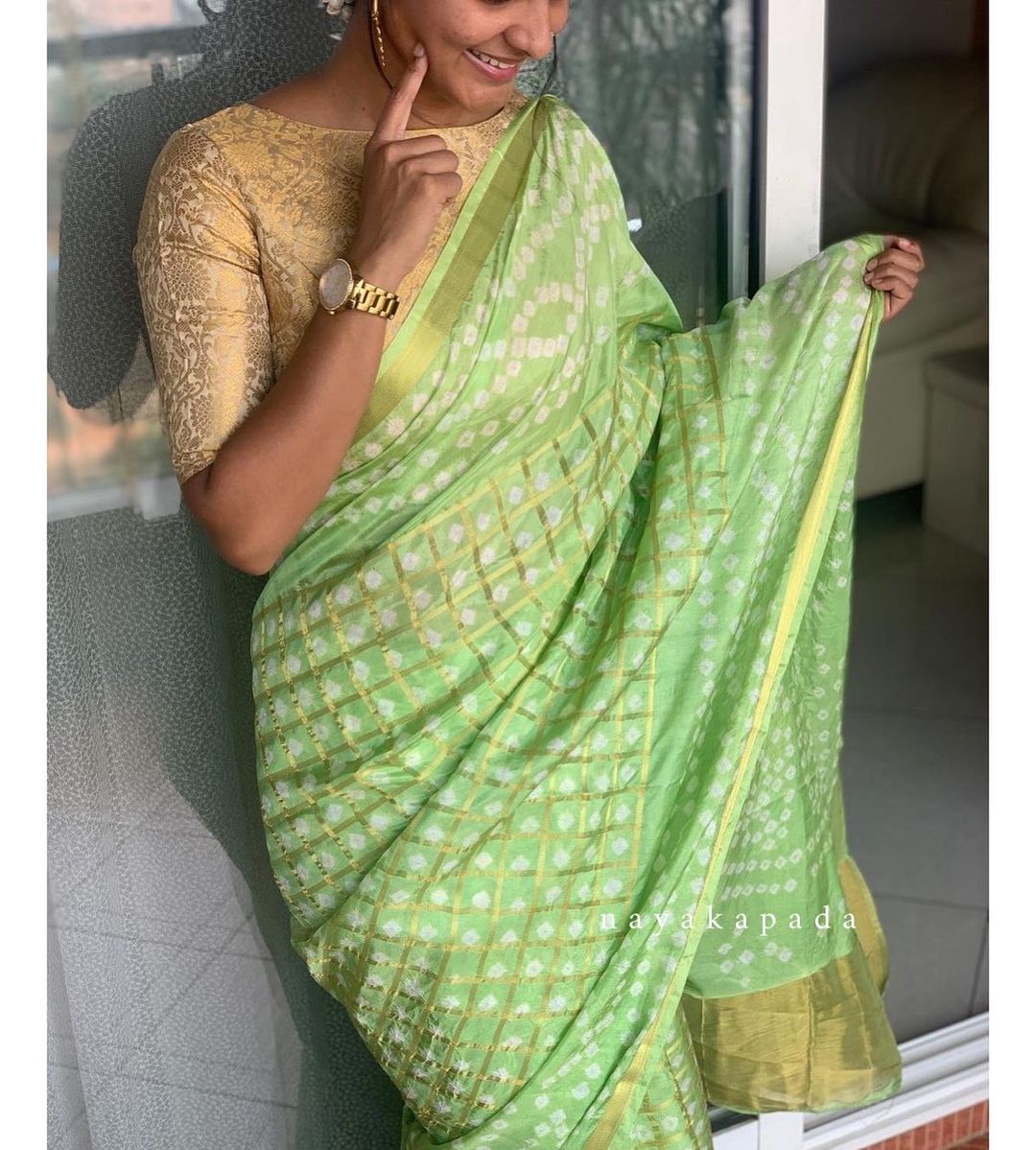 This boat neck blouse design for silk saree looks simply stunning! Elbow-length sleeves look classy, especially when paired with a boat neck. Golden blouse designs work well with most Banarasi sarees, so a golden blouse such as this one is a must-have for your wardrobe.
Satin Silk Organza Blouse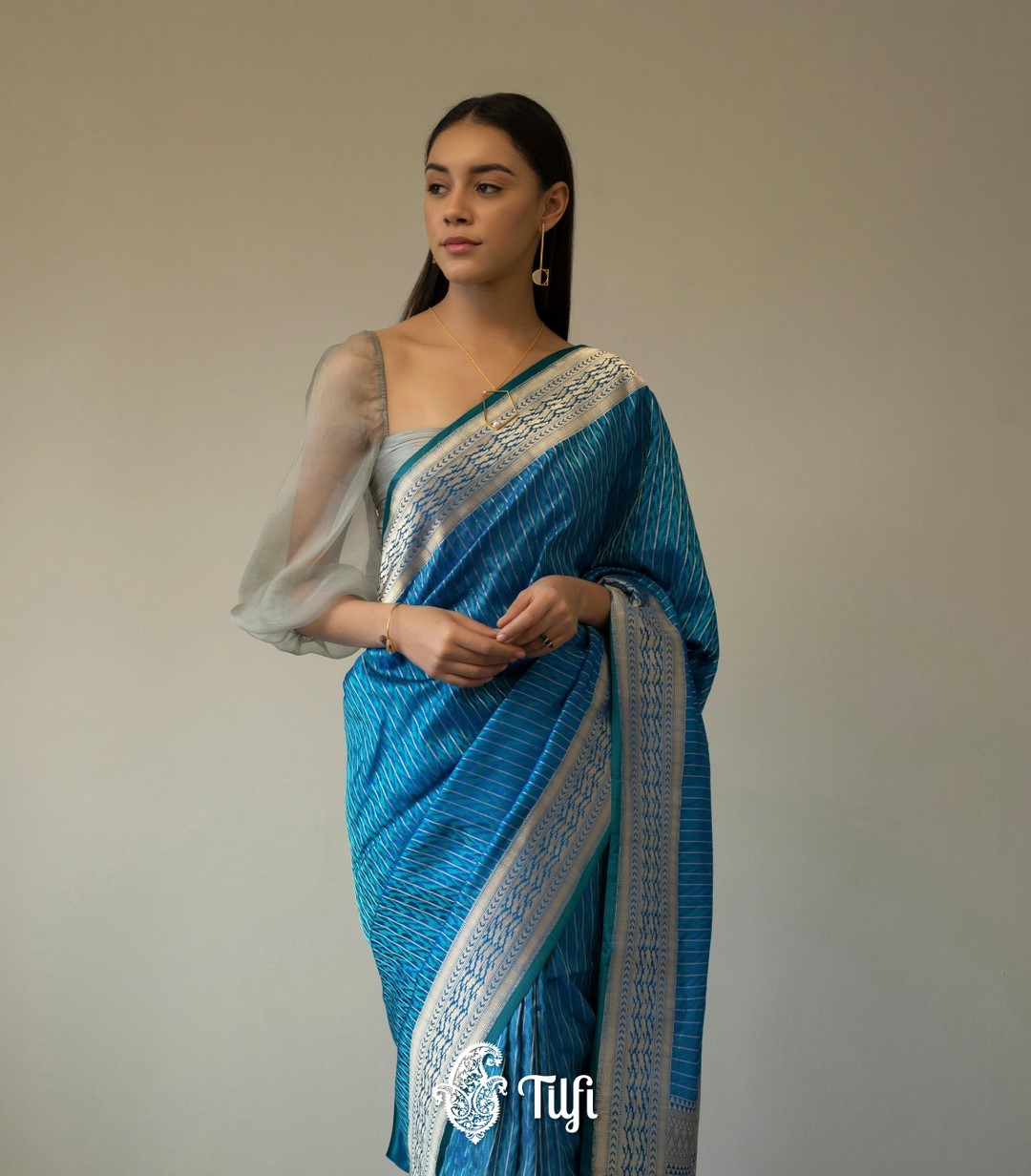 This balloon-sleeved organza blouse looks really delicate, and adds to the graceful beauty of the Banarasi saree. This Banarasi silk saree blouse design is sure to make a statement at every occasion!   
Satin Silk Ruffled Blouse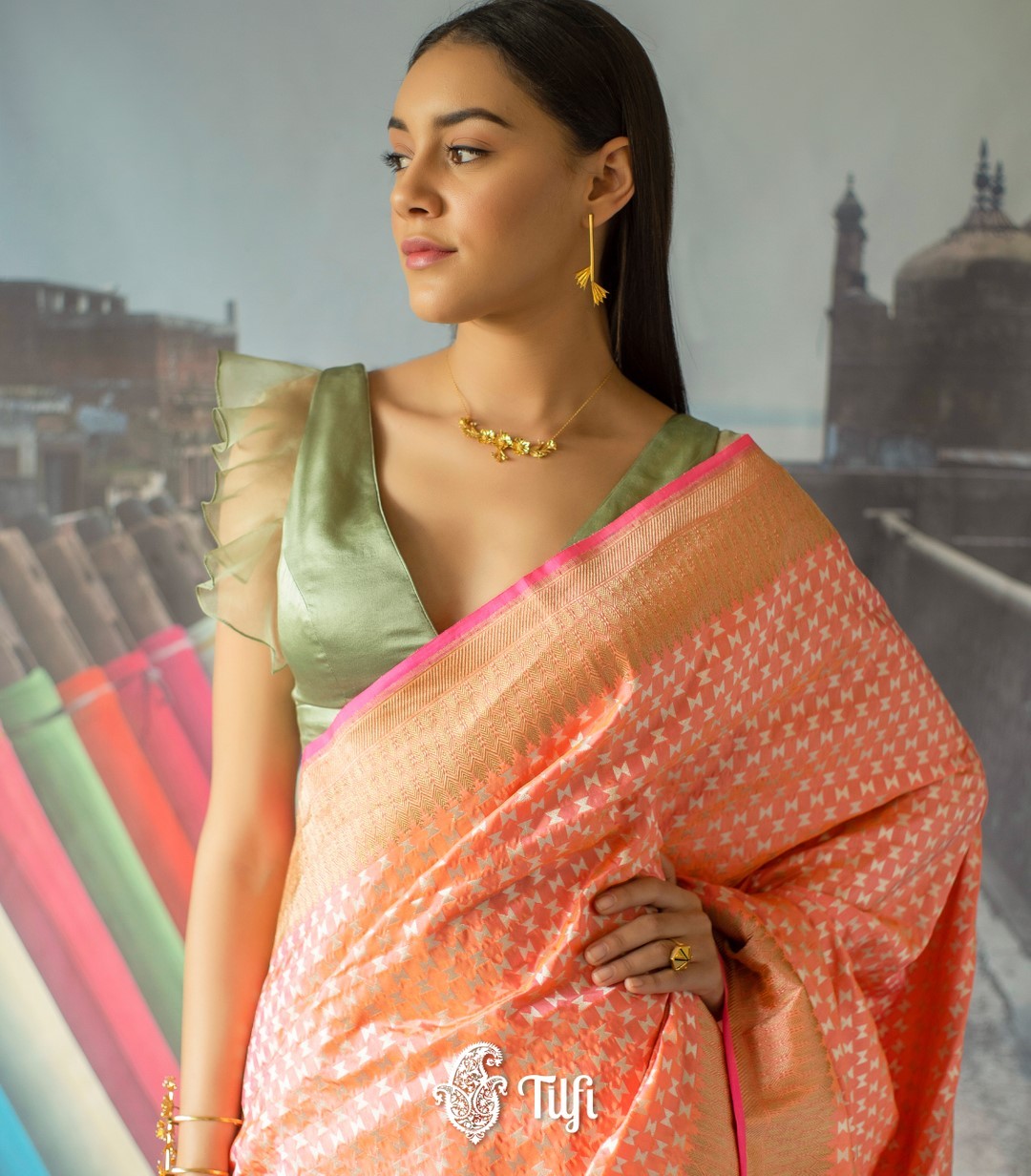 Ruffles always add a fun look to your outfit. This satin silk ruffled blouse perfectly complements the Banarasi silk saree, and gives a delicate look.
Blouse With Intricate Brocade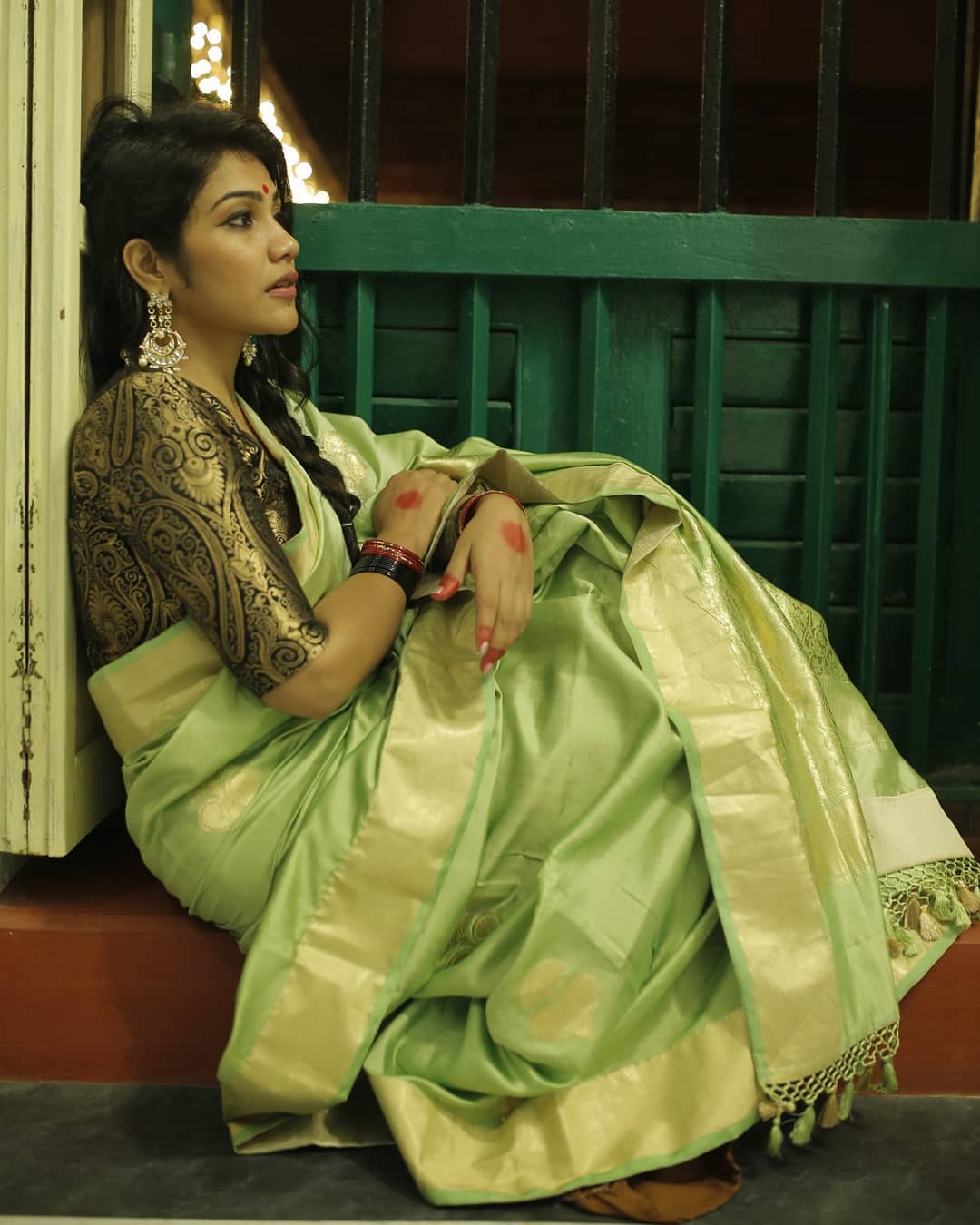 Elbow-length brocade blouses also look great with Banarasi sarees. The more intricately detailed they are, the more beautiful they look! 
More Blouse Designs
Blouse Sleeve Designs: Finding the right blouse design to go with your beautiful saree or lehenga can be a challenging task. For your ease, we have compiled some contemporary, stylish, and latest blouse designs. Check them out here! 
High Neck Blouse Designs: There's no doubt about the fact that high neck blouses look really stylish! However, they don't' have to be basic. Check out these stunning high neck blouse designs that you need to stay in vogue. 
Bridal Lehenga Blouse Designs: From sheer blouse to dori blouse designs, check out 130 stunning lehenga blouse designs! 
Saree Blouse Designs: Whether you're looking for sexy blouse designs or classy and modest blouse designs for sarees, you'll surely find something that you're gonna love! 
Net Blouse Design: We have compiled some of the best net blouse designs that you can take inspiration from.
Now that you have so many silk saree blouse designs to choose from, go ahead, pick the one you liked best for the next occasion! 
Featured Image: Twitter, Instagram
© 2023 THE GOOD GLAMM GROUP