Parineeti Chopra's Mom Gave An Emotional Speech At Her Engagement & Made Her Cry
It has been days since Parineeti Chopra and Raghav Chadha exchanged rings in a dreamy engagement ceremony. However, I am yet to get over the pictures and videos from the bash. As much as I loved Pari and Raghav's posts, it was the actress' mom Reena Chopra's emotional speech that left me teary-eyed.
On the day of her daughter's engagement, Pari's mom took to the stage and spoke about her love for Raghav. Reena's happiness was evident on her face as she said, "To know that your daughter is actually going to a person who looks after her better than her father, even good. I mean, we love you Raga. Thank you so much. Thank you so much for getting an award in London."
Click here for the video.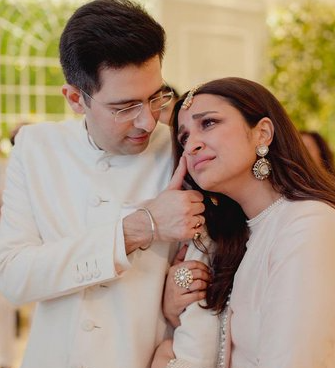 Watching a mom feel happy about the next step in her daughter's life is the sweetest thing. As someone who is planning her own wedding, this is exactly what I am manifesting.
This wasn't the only speech that caught my attention. Parineeti also mentioned an "Engagement contract" which went like, "Raghav, you have to say yes to all, and then we'll see if this roka still stands tomorrow. I, Raghav Chadha, agree to the following. Number one, accept that Parineeti is always right." Raghav happily accepted the conditions.
BRB, watching their video on repeat and shedding happy tears!
Feature Image: Instagram
© 2023 THE GOOD GLAMM GROUP