Kiara Advani Gets Trolled For 'Not Dressing Up As A Newly Wed'!
People love to comment on how celebs walk, talk, and dress. The judgement is tenfold when it comes to women. Take, for instance, a comment that was recently made on Kiara Advani's outfit!
A Twitter user shared two pictures of the actress in which she could be seen dressed in jeans, a tank, and a grey stole. She captioned her post, "What compels a newlywed bride to dress like this?" Here's the full tweet: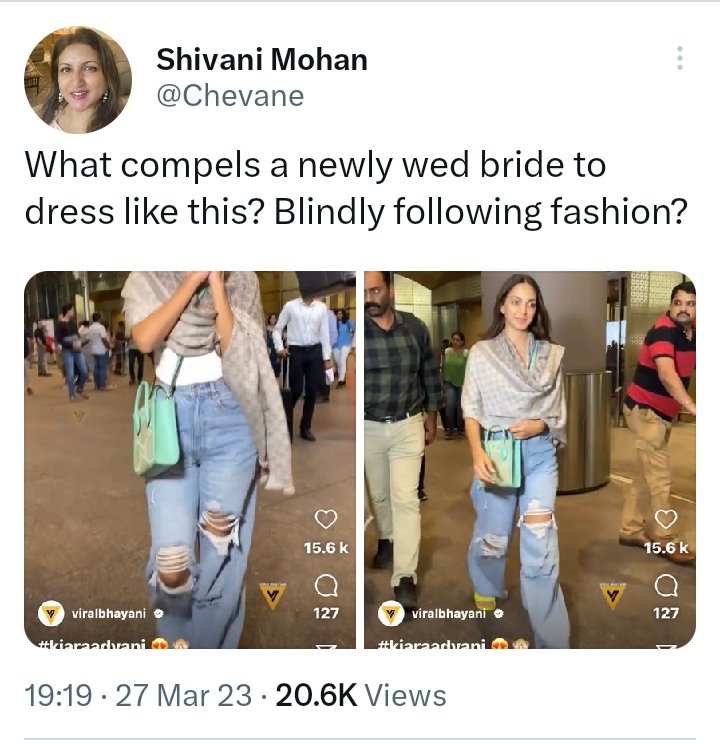 Imagine living in 2023, being educated enough to have a Twitter account, and then writing this! I want to ask—How does a "newlywed bride" dress up? And what "compelled" this user to make this sexist comment? 'Coz last time I checked, Sidharth was dressing up as casually as Kiara but no comments were made on his look as a "newlywed". But guess what, it gets worse.
Many people started calling out the user for her problematic comment. "What does she want her to wear at the airport? Her wedding trousseau?," one wrote. Another Twitter user added, "It is exhausting being a woman. Everybody always has some shitty opinion or the other on how they should behave."
This riled up Shivani even more who then went on making some more problematic comments instead of realising her mistake.

Well, who is telling this Twitter user that they are called "distressed" jeans! But more importantly, Also, she didn't have to add "newly wed bride" if she was just commenting on Kiara's look.
Lastly, can we stop expecting women to change who they are and what they do right after they get married?
Featured Image: Twitter
© 2023 THE GOOD GLAMM GROUP