So, you've finally booked your flights to visit your dream destination. Congratulations, you are in for the vacay of a lifetime! The next obvious step would be to look for a comfortable place to stay, but the myriad of options can confuse a lot of travellers. Should you stay close to the beach or the city centre? Should you book a luxury five-star or a charming boutique hotel? If these questions have been plaguing your mind, you've come to the right place. We're here to help you find the perfect home-away-from-home during your trip to Dubai. Scroll down to see the options!
Atlantis, The Palm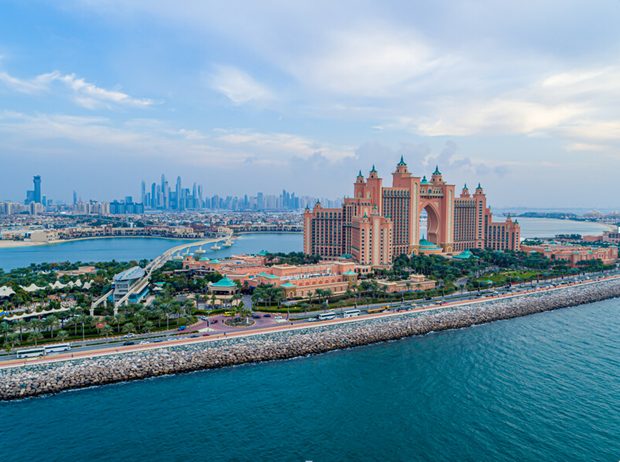 If you're looking for a luxurious stay at a premium property, look no further than Atlantis, The Palm. The sprawling resort is spread over several acres at Palm Island, offering some of the most exquisite rooms in the world and a breathtaking view of the Persian Gulf. The best part? You don't even need to step out to indulge in some fun activities with your fam! The pervading aquatic theme ensures that you remain transfixed by the evocative beauty of the interiors and its regal ambience. You get a taste of the exquisite decor right at the entrance with an intricately gilded door that stands beaconing with the promise of a memorable stay. For a truly immersive experience, we recommend that you opt for the underwater room.
Once you have sufficiently soaked in the beauty of Palm Island's crowning jewel, discover the marine life through the glass tunnels of the Lost Chambers Aquarium. You can even witness the ruins and shipwrecks of the lost civilization of Atlantis and the experience is equal parts surreal and magical. Following this, you can book a session at ShuiQi Spa, shop your heart out at the numerous boutiques and stores, and grab a scrumptious bite at one of the many restaurants, including Gordon Ramsay's Bread Street Kitchen. Their English pea soup with spiced curried lobster is a must-try but you can also explore any inviting iteration of their Scottish Salmon. They are all equally delectable.
Bab Al Shams Desert Resort & Spa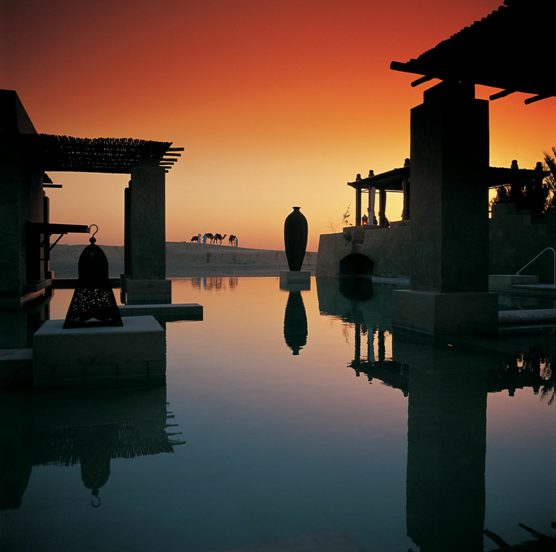 If it's an authentic desert experience you're after, a stay at Bab Al Shams is mandatory! The resort's name translates to 'gateway to the sun', and it will give you a taste of old Arabia. Located half an hour away from the main city centre, the report introduces you to the joy of living in the middle of the Arabian desert! Nestling peacefully in the heart of the Dubai desert, the property will blow your mind with its unique ambience. Designed after the traditional Arabic villages, the Earthy interior is a reflection of the surrounding desert and charms you with a sense of peace and calm. But that's not all—there's a flurry of activities you can enjoy with your friends and family.
Adventure loving folks can head to a desert dune drive, while those with little ones must experience a camel ride. Once you return from your adventures, you can relax at the spa and indulge in an authentic meal at Al Hadheerah restaurant. You'd be treated to the magic of Arabian Nights with live bands, falconry displays, and dancers as you indulge in some al fresco dining at the restaurant.
Anantara The Palm Dubai Resort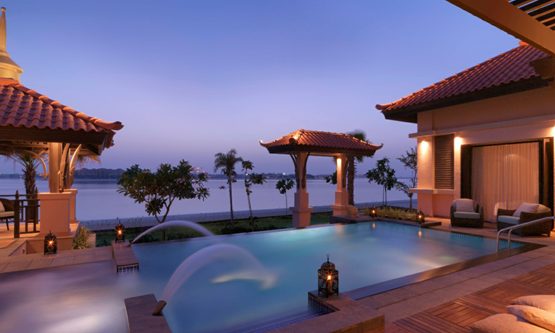 This resort is the perfect pick if you and your fellow travellers want to enjoy a laid back, beach-side holiday. Located on the picturesque beach of Palm Jumeirah and built around a balmy lagoon, this is the only property in the area that offers luxurious water villas. With Thai-inspired architecture and ambience, the resort has a very calm, beach-holiday vibe to it. To make things better, the resort holds a Green Growth Certificate which makes it one of the most sustainable stays in Dubai.
To truly relish your sea-inspired vacay, don't miss out on the authentic Turkish hammam experience at the Anantara Spa. You'd get an extensive range of pampering rituals to select from as you marvel at the tranquil beauty of the venue. Crystal steam rooms, aroma, bamboo sauna, liquid sound pool, ice grotto and an Arabian pearl facial are some of the experiences that we recommend at this serene spa.
You can follow your rejuvenating spa session with an indulgent meal at the Mekong restaurant. Savour their authentic East Asian recipes while soaking in the eclectic interiors. Do try their regional specialities like som tam mala kor with spicy soft-shell crab and Chengdu spiced lamb. Once satiated, add on to your unforgettable experience by raising a glass at Lotus Bar while you marvel at the picturesque property and equally picture-perfect sunset.
SLS Dubai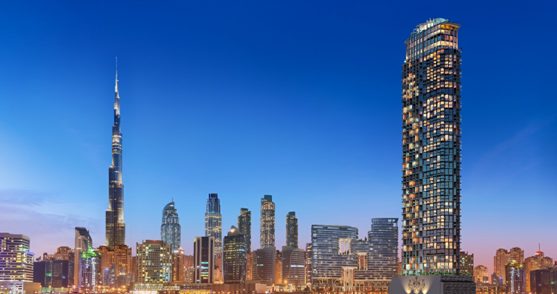 Providing an unobstructed view of Burj Khalifa and Dubai Creek, this is one of the tallest hotels in Dubai's Downtown district. A wondrous landmark itself, the 75-storey tower is redefining luxury living with an upscale aesthetic, theatrical interior, and romantic accents that'll make you wish to live at this property forever. All you have to do is stand on your spacious balcony and look at the azure Creek and the twinkling Burj Khalifa to really experience this hotel. To take it a notch higher, don't miss out on the magnificent infinity pools' experience that gives you an incomparable 360-degree view of Dubai.
That said, the hotel offers a unique array of curiosities that ensure a delightful stay and is perfect for visitors who are down to party. You can have a major rager at SLS's in-house nightlife venue, Privilege or visit EllaMia to experience the Los Angeles coffee culture in Dubai. Bookmark 12 Chairs Caviar Bar if an exclusive dining experience is on your mind. Highly exclusive, the bar remains reserved for just 12 guests and offers you the authentic Caviar tasting experience complete with non-reactive spoons and speciality cocktails. You'd get a taste of classic caviar along with epic Margherita style pizza in a meal that is going to be truly unforgettable.
Caesars Palace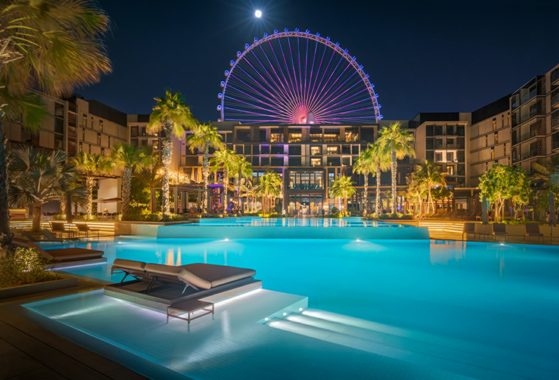 Caesars Palace is perfect for those travelling with kids. The hotel is located in Bluewater, Dubai's most coveted island oasis and is perfect if you seek a beach holiday experience. It is just a stone's throw away from tourist attractions like Ain Dubai. However, with its pristine, private beach and decadent dining experience, you might not even feel like leaving the property.  A mix of two hotels and a luxury beach club, the property is evocative of its original Las Vegas counterpart owing to its Roman Empire theme further elevated with contemporary execution.
Upon entering, you'd be welcomed with a comforting ambience that is equal parts luxe and airy. The interior is a work of art with arresting details and imagery that bring out its Roman leanings with a quirky touch.
The hotel houses a dedicated kids club which would be the perfect opportunity to let the little ones have some fun while you indulge in Bacchanal's French Brasserie style dining experience with your partner. However, do take the kids along when visiting chef Gordon Ramsay Hell's Kitchen. It's an experience unlike any other. Serving up an interesting combination of theatre and world-class cooking, Hell's Kitchen takes inspiration from Gordon Ramsay's reality TV show. You will literally feel like you are the show's set while relishing some of the chef's signature dishes including the Beef Wellington, Eggs in Purgatory and Sticky Toffee Pudding.
25hours Hotels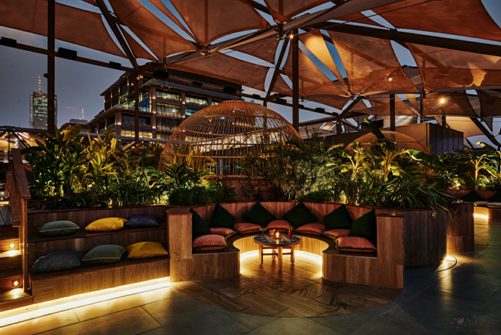 Art enthusiast's paradise, the 25Hours Hotel lets you discover the magic of the Bedouin and Hakawati heritage. Overlooking the stunning Museum of the Future, the hotel is located right next to the World Trade Center station on the red line of the Dubai metro. This is a brand-new property that promises a full-fledged touristy affair. Blending nomadic and contemporary design, the Glamping rooms at 25Hours Dubai offer a unique stay with roll-top baths and rainfall showers in select rooms. That said, the experience starts in the lobby itself where you are welcomed by the 'Fountain of Tales', a stately water structure that offers seating spaces as well as bookshelves featuring a plethora of books. A rotating lit-up globe has been fixed at the top of the fountain to showcase artwork created by local artists.
As part of its unique experience, the hotel always has a fleet of e-bikes at the ready should you feel like experiencing Dubai on wheels while clocking in some workout. If that sounds like too much effort, you can ask for a free test drive at the front desk and you'd be immediately issued a MINI to explore the locality.
The Dubai EDITION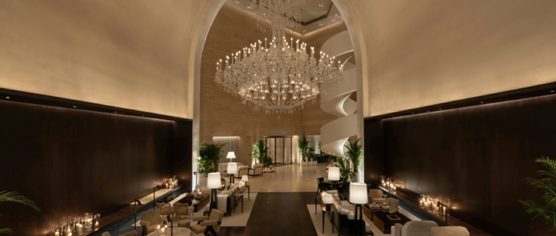 The Dubai EDITION is perfect for those looking for a truly indulgent Dubai trip. If shopping is on your mind, book this property right away. It is located in one of Downtown Dubai's most famous locations overlooking the Dubai Mall. The guests also get to enjoy a magnificent view of Burj Khalifa and The Dubai Fountain from the hotel. With easy access to Sheikh Mohammed bin Rashid Boulevard, the hotel is situated within a walking distance from most of Downtown Dubai's iconic attractions including Souk al Bahar and Dubai Metro. Among other amenities, the hotel offers you complimentary use of the 24-hour fitness centre and dedicated halls and banquets for private events.
Designed under the supervision of the world-renowned Architects Ian Schrager Company, the stylish boutique hotel offers you a decadently luxurious stay with its exquisitely crafted facade and equally immersive interiors. There is an organic simplicity nicely fused with the glitzy accents that make you feel right at home. The hotel is home to a bevy of heady experiences with upscale dining experiences like Jolie and Duomo. The restaurant presents authentic Italian cuisine embedded within an extraordinarily designed restaurant.
*This is a sponsored post for Dubai Tourism