Everyone has access to the same fashion these days. But individuality is the new wealth. It's the new luxury. – Anonymous
Deepika Padukone and Kriti Sanon are two of the biggest fashionistas in Bollywood. Every time they step out, their outfit shows sheer effort and speaks volumes. Both the leading ladies have a tall silhouette and are blessed with long legs, hence, they have been seen donning the same or similar outfits quite a few times. Don't believe us? Scroll down for proof!
The Pearl Affair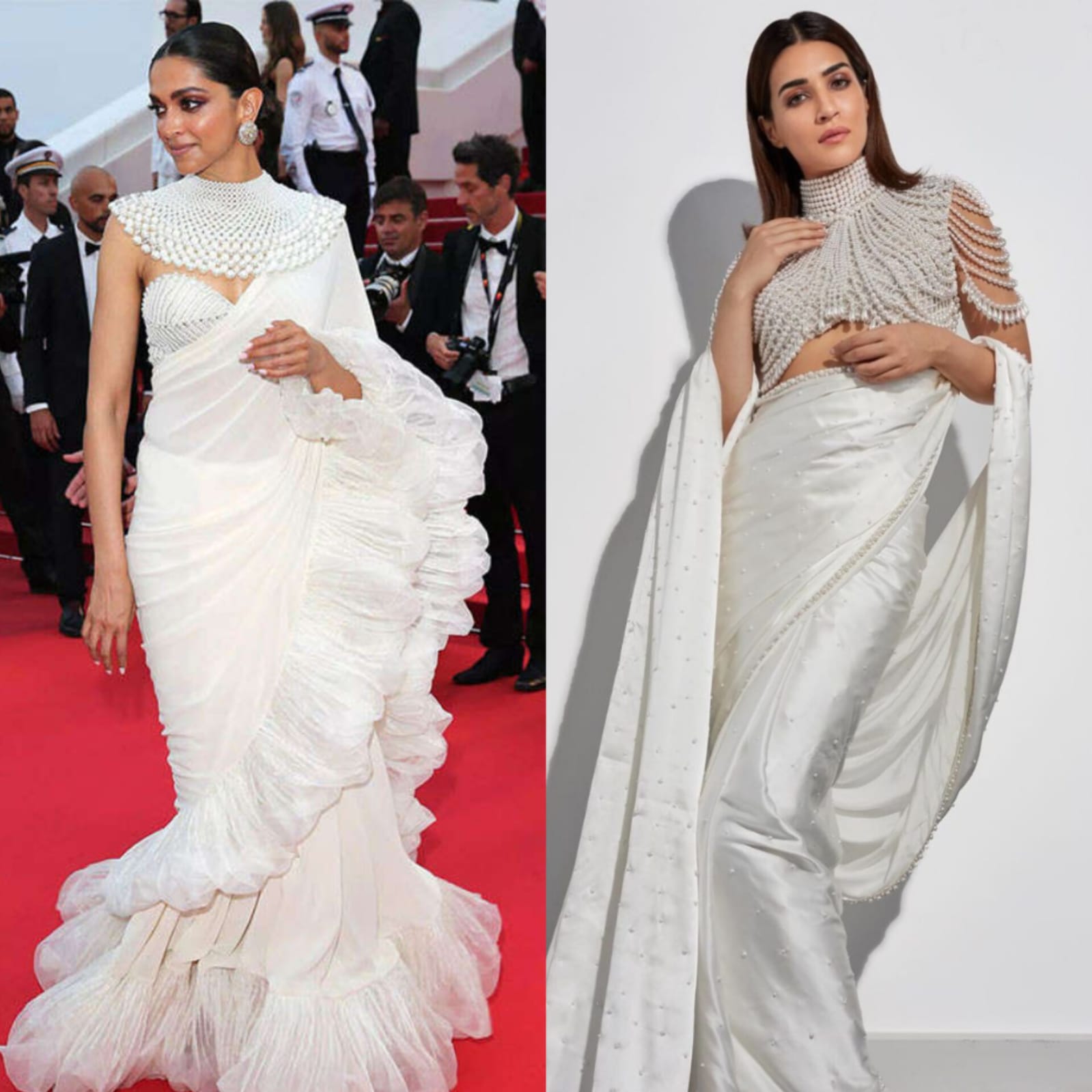 When it comes to her sarees, Deepika Padukone does not mess around. At the 2022 Cannes Film Festival, DP signed off the event in an Abu Jani Sandeep Khosla white ruffle saree that was paired with a strapless blouse. However, the winning factor was the hand-embroidered pearl collar! Just recently, Kriti Sanon also stepped out in a strikingly similar outfit by Manish Malhotra. Her white satin-silk saree was also paired with a pearl-embellished blouse that reminded us of DP's Cannes look. 
Sharing The Greens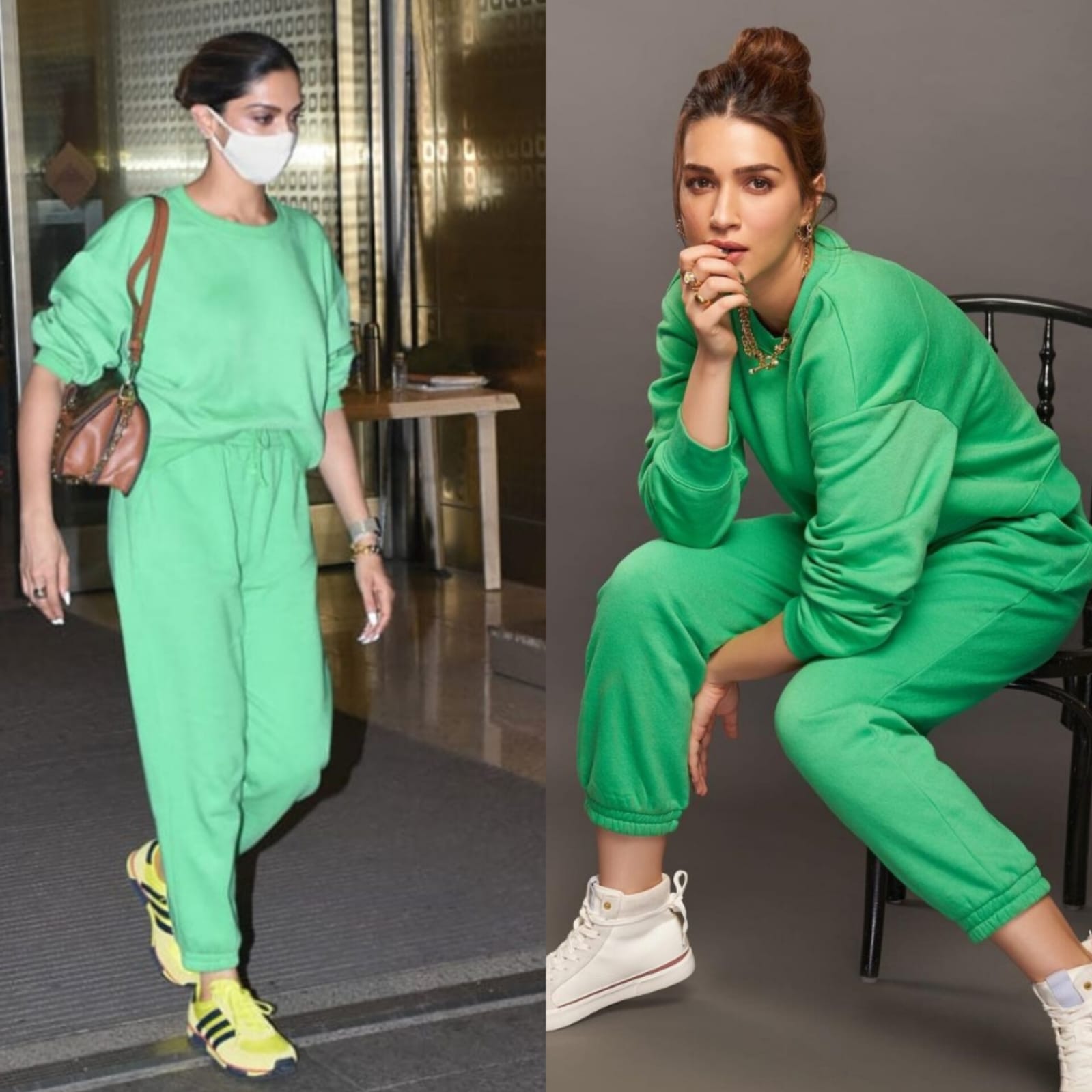 Someone's airport look is another's photoshoot outfit. We all know that tracksuits are Deepika's go-to airport attire. She stepped out to catch a flight in a bright green Zara sweatsuit teamed with yellow sneakers. Just a few days later, Kriti Sanon wore the exact same outfit, but for a photoshoot! Kriti showed us how to make athleisure glamm as she paired the sweat suit with white sneakers and loads of gold accessories!
The Lilac Ladies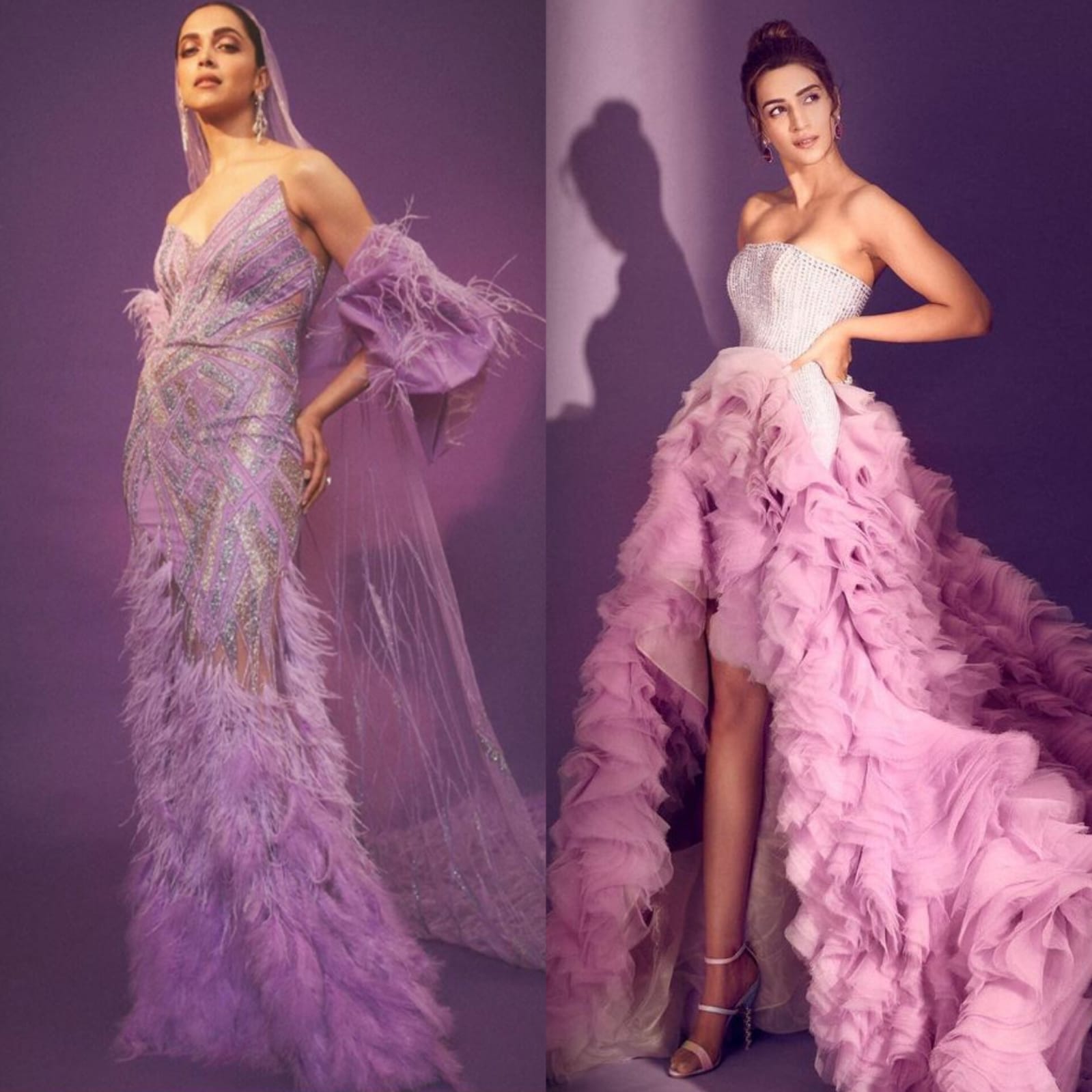 When it comes to red carpet aesthetics, Deepika and Kriti appear to be on the same page. DP chose an OTT Gaurav Gupta lilac gown covered in feathers and with puffy sleeves for an award event. Not long after, we saw Kriti wearing a similar outfit to an award ceremony. She, too, donned a lilac gown by Atelier Zuhra. Her strapless gown was embellished with tulle ruffles and had a long train. Although the gowns were designed differently, the colour was far too similar to be overlooked. 
Always Right In White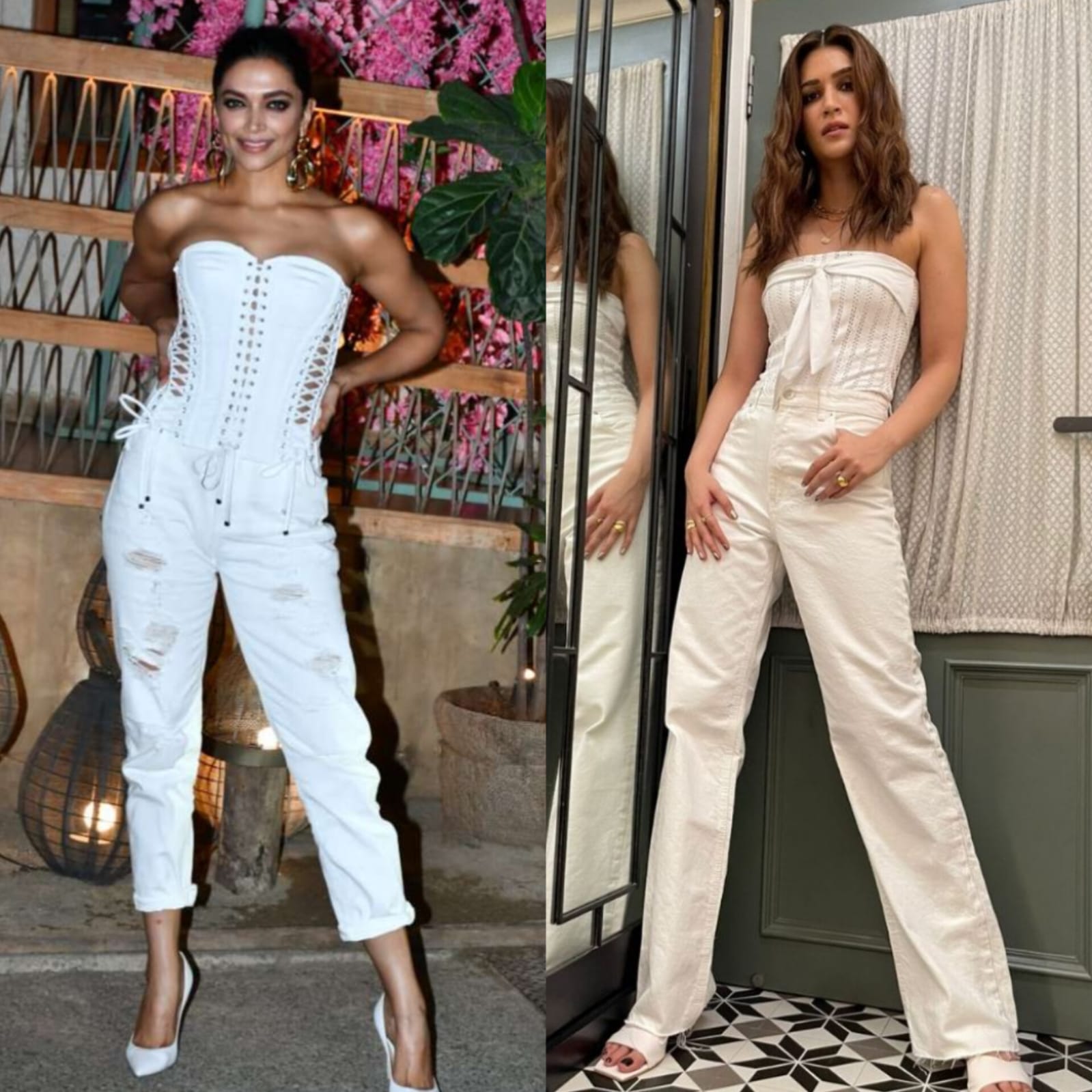 It has happened way too many times when DP and Kriti have worn similar-looking outfits around the same time. This is one such instance. Deepika opted for an all-white look with a strapless corset and white denims, just a few days later, Kriti also wore her strapless corset with flared white pants. Coincidence, much? 
Checkmate!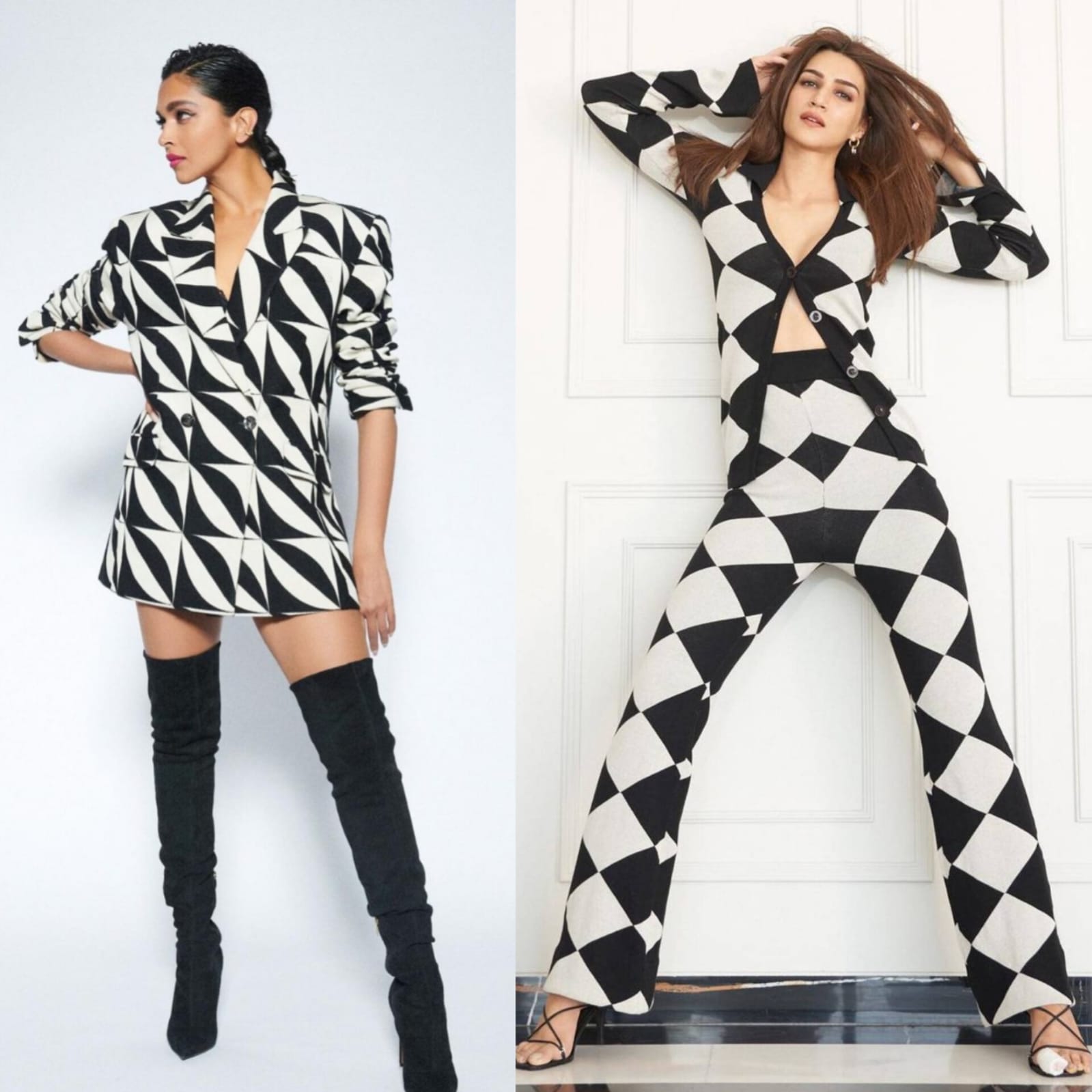 For one of her promotional looks, DP opted for a zebra-printed blazer dress from David Koma, bringing back the black-and-white trend. Around the same time, even Kriti chose a co-ord set from the brand Lovebirds that came with a cardigan-like top and matching pants. While Deepika completed the look with thigh-high boots, Kriti went with strappy black heels. But both the divas looked absolutely stunning!
These parallels between Deepika Padukone and Kriti Sanon are either coincidental, or Kriti is clearly drawing fashion cues from DP. Regardless, both divas are definitely doing something right in terms of fashion. 
Feature Image: Instagram