7 Times Deepika Padukone Gave Comfort A Miss At The Airport!
Believe it or not, sometimes even the biggest fashion divas make a mistake. 
Deepika Padukone's red carpet looks are always on point. She looks fab at promotional events too. But the airport is certainly not the fashionista's runway. She often drops the ball with her airport looks. An ideal outfit is one that checks the 3 Cs: chic, comfy, and contemporary. When it comes to the airport, comfort is the most important factor, and DP frequently overlooks it. 
Here are a few times when Deepika Padukone's airport looks made absolutely no sense: 
Try Again Leather!
DP recently took a flight to Paris. While I'm extremely excited to see what she wears at Paris Fashion Week, her airport look most definitely did not pass the vibe check. The actress wore an oversized brown leather jacket from Louis Vuitton over a black turtleneck, teamed with loose denims. This year, Mumbai experienced the hottest February, and March is only worse. The boots made the outfit even more winter-appropriate and so unsuitable for Mumbai's garmi!
(Mono)Tone It Down!
Deepika's favourite looks have always been monotone, and she knows how to nail them. So I know she could've done better with this outfit! DP was dressed in a mustard yellow hoodie, matching leggings, an oversized trench coat, and tan boots. While the outfit did not match the weather in Mumbai, the hideous colour made matters worse. While some netizens commented that she appeared to be wearing a spacesuit, others wondered if she was going to prison.
Trench-ed In Sweat! 
Deepika should either give her trench coats a rain check at the Mumbai airport or simply pack them in her suitcase! Recently, the actress wore a thick pink checkered trench coat over a black sweatsuit. While the look would have been appropriate in Europe, it makes no sense in Maharashtra. Even my ganjis aren't keeping up with the heat, so a trench coat is a far cry.
These Denims Deserved Better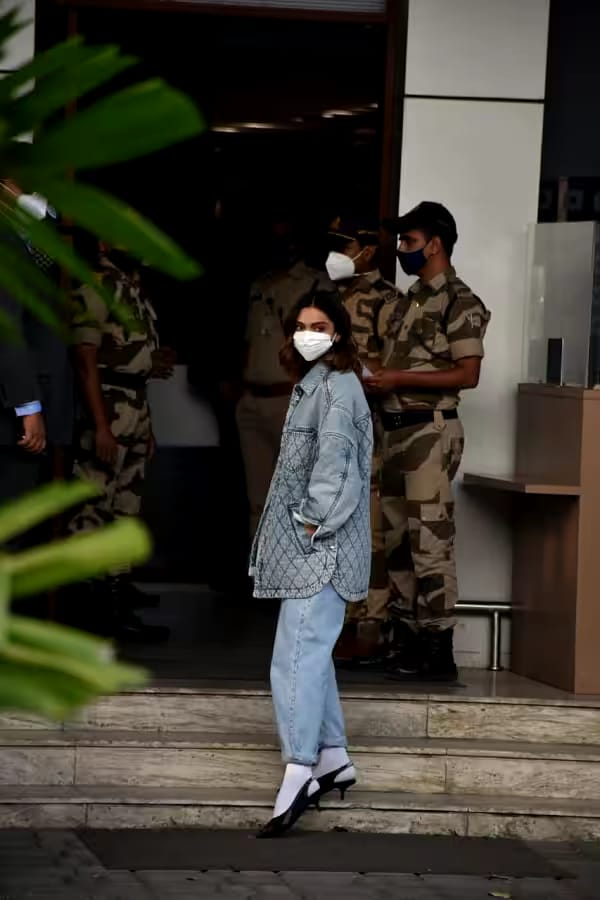 While a trench coat is a no-no at the Mumbai airport, denim jackets can still be acceptable. Deepika was ready to fly in an oversized denim jacket paired with mom jeans. The look would've passed the test, only if it was styled better. It not only looked sloppy, but the black pumps with socks appeared to be a cry for help.
Laal Is Not Mere Dil Ka Haal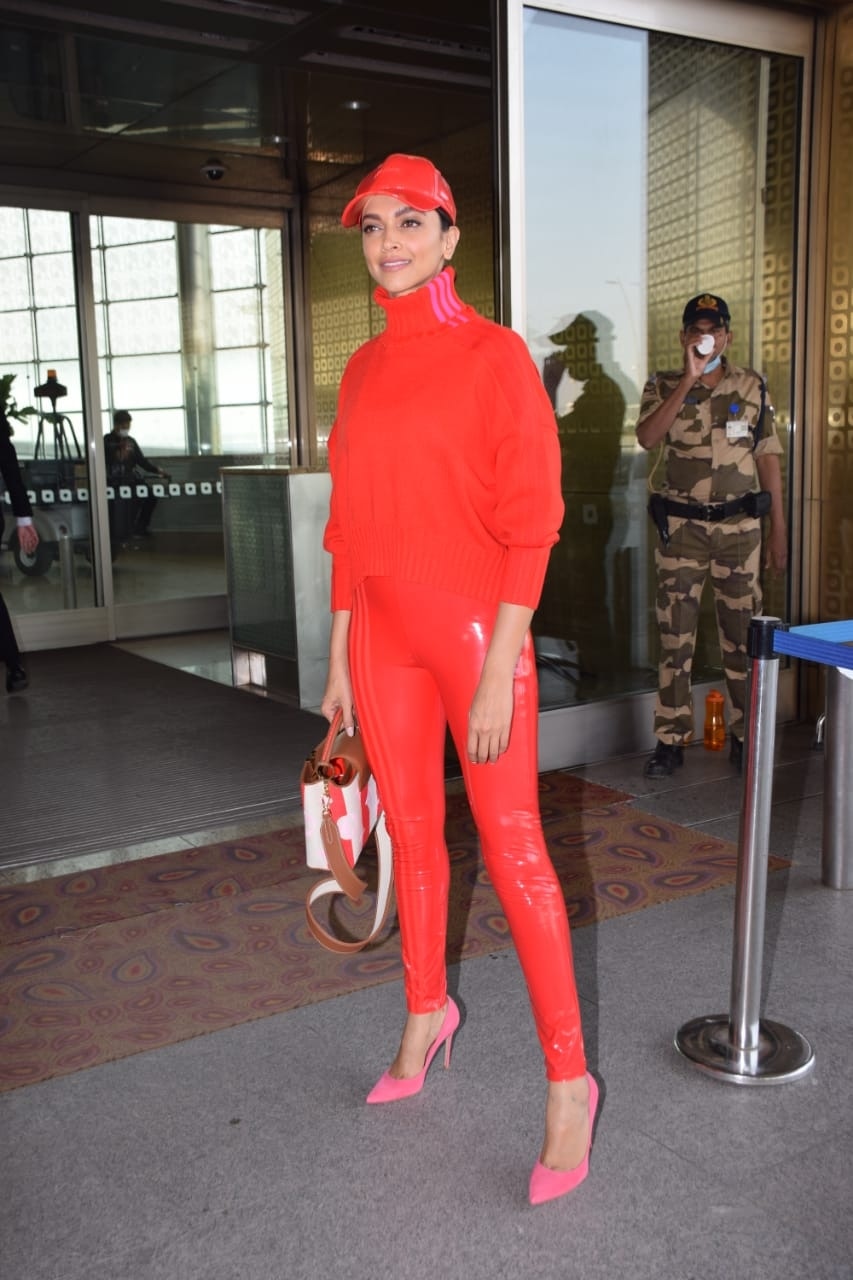 This head-to-toe red ensemble by Deepika is always going to give me nightmares. This outfit is a prime example of what not to wear to the airport. The skinny latex pants paired with the thick hoodie and high heels? No, just no. I can literally feel the pants sticking to my leg, so I can't imagine travelling for hours in them. Also, when did baseball caps make a comeback?
The Bell That Didn't Ring Right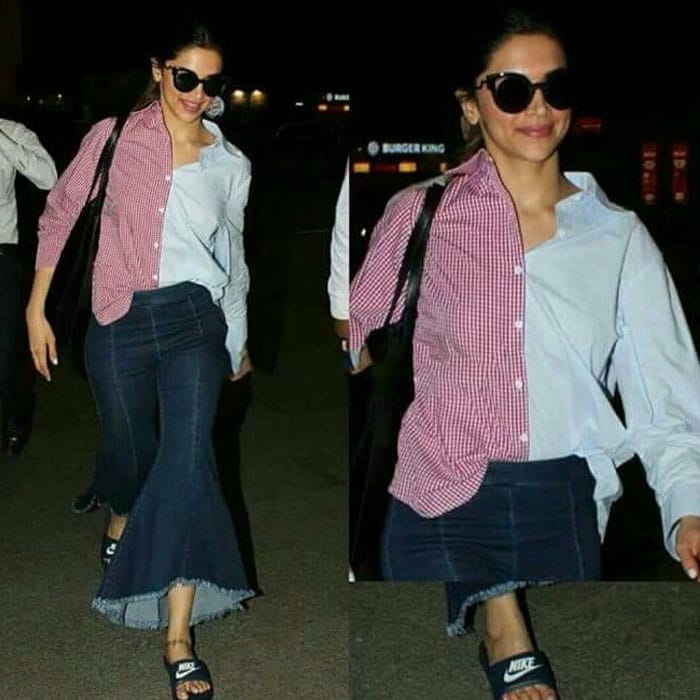 Okay, I agree that bell bottoms are back in style, but what was DP thinking with those enormous bell bottoms at the airport? The half-and-half shirt would have looked so much better with more normal-looking jeans. I'm hoping it's the first and last time I see DP in this!
What In The Co-ord Is Happening?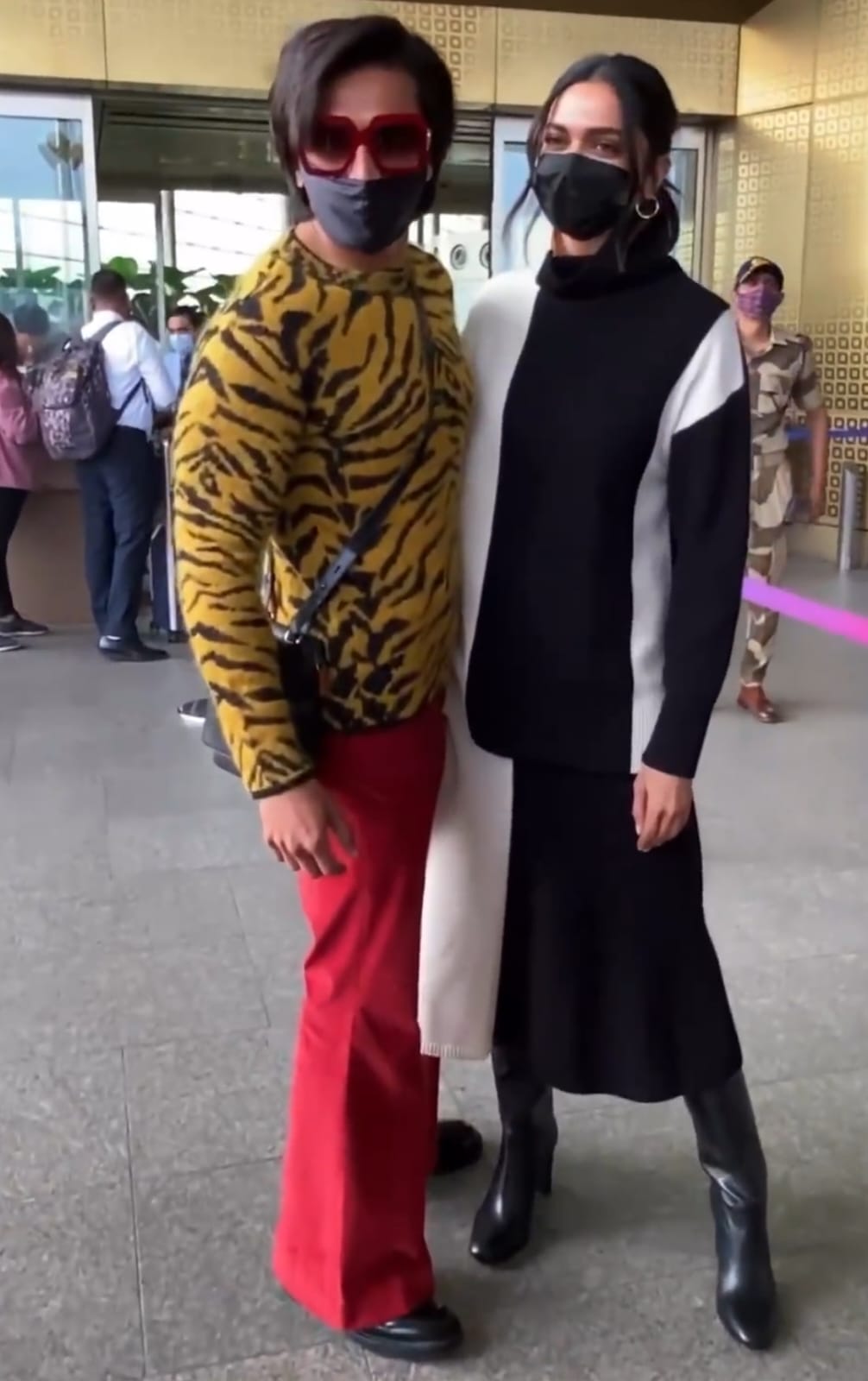 Deepika made an appearance at the airport with her husband Ranveer Singh, and the couple gave us an airport look I'd rather forget. While I won't even get into Ranveer's attire, DP largely disappointed. The actress wore a half-and-half black-and-white co-ord set that included a sweatshirt and a matching skirt. The look was not only inappropriate for Mumbai's heat, but it also appeared gimmicky. The black boots exacerbated the situation. An absolute fail!
Deepika Padukone is well-versed in fashion, as evidenced by many of her looks. Hence, it's all the more disappointing when the actress fails to understand the assignment at the airport. Let's hope we see DP in more realistic airport looks!
Feature Image: Instagram
© 2022 THE GOOD GLAMM GROUP