Anyone still wearing pastels in monsoon is definitely not making the most of their fashion-gworl life. This season asks for colour—vibrant hues that shine brilliantly against the overcast sky. And guess which B-town diva got the memo just right? She is always ahead of the curve when it comes to her fashion game and sits snug in our Insta save folder, courtesy of her flamboyant wardrobe. Why, of course, we are talking about Malaika Arora who graced our feed in a juicy orange mini recently.
For the unversed, Malaika has joined hands with Ahikoza founder Namrata Karad to bring her globally renowned bag brand to India. Last night, the brand went live and Malaika was the party's cynosure in a sequinned orange mini. The pictures are all over the internet and all I want to do is lay my hands on an orange outfit stat. All glamm and grace, Malaika has me convinced! And guess what, I have already shortlisted some picks.
Keeping Up With Malaika Arora & Her Minis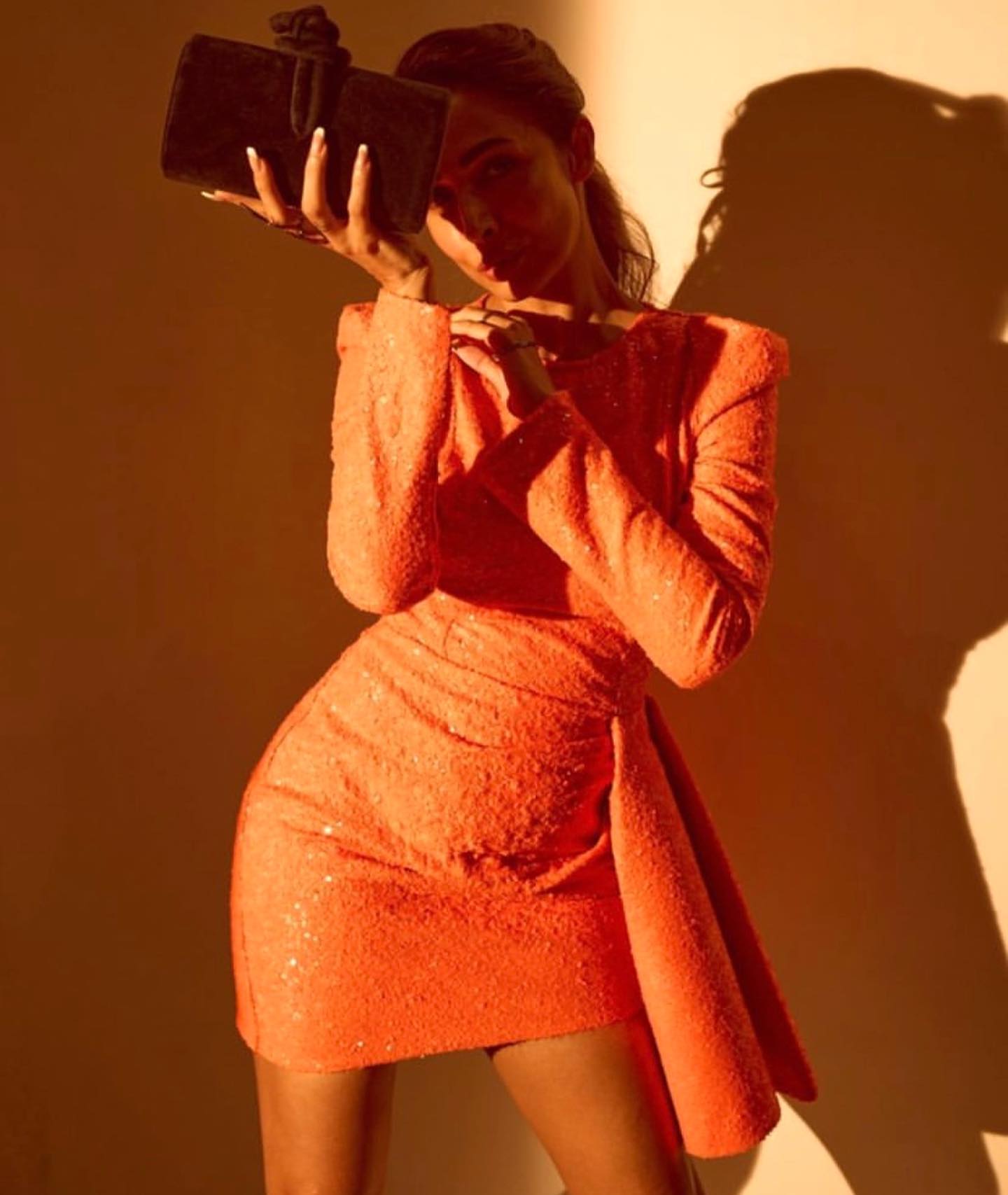 If I were to take a shot for every time Malaika Arora inspired me to buy a dress, I would be too tipsy to write this story. For Ahikoza's India launch party last night, she showed up in a fitted orange mini with long sleeves and a gathered detail on one side. The sequinned dress featured strong, padded shoulders and made for a power-packed look. The actress kept it simple for the rest of the look with a cutesy ponytail and her Ahikoza bag.
This is a dress perfect for a showstopper. It is glitzy, it is sharp, and such a head turner. Plus, that hue! I am sold and if you are too, follow through for POPxo's curation of equally interesting orange dresses that I found on Amazon Fashion:
Gimme Glitter
Orange? Check. Flamboyant? Check. Glittery? Check. Here's a dress that comes super close to Malaika's orange mini in terms of the glamm factor. This rust-orange beauty is a winner and paired with emeralds, you can be sure of turning heads in this number!
Drama Mama
Here's another orange dress that packs ample drama. I love the fit and think this will be a great pick for those who want to show off their curves. Oh, and did you notice that exaggerated bow on the shoulder. Fun, right? The best part about picking this dress is that it requires little to no styling. It is the whole package in itself!
'Sexy' Is My Middle Name
Here's another bodycon that has my attention for its asymmetric shoulders and the exaggerated balloon sleeve. This is impactful albeit simple and a great option for someone who likes to accessorise. You can go for statement earrings, a Malaika-inspired ponytail, and a pair of glitzy pumps.
Keeping It Comfy
Not too comfortable wearing minis? I have got ya covered! This bodycon on Amazon Fashion will make you look like a bomb while ensuring that you stay comfy and confident. And don't we keep telling you that confident girls are the sexiest?
Malaika-Inspired But Take It To The Streets
Love the aesthetics of Malla's look but have no party to look forward to? You can still wear orange this season while sauntering down your city streets. I have picked the perfect one for you. Ribbed outfits are raging hot at the moment and I love the slit and cutout detail on this one. Style it with a pair of chunky sneakers and let the compliments pour in.
Tell me fam, which one of these orange dresses best suits your vibe?
Featured Image: Instagram