After waiting for months, Koffee With Karan Season 7 is finally here and we know you are equally excited. The first hour-long episode featured Alia Bhatt and Ranveer Singh and we have all the highlights from the KWK couch. From Alia and Ranveer's take on their married lives to getting real about vilification of the film industry, this episode had it all. Karan Johar made sure he touched all the bases with his favourite two actors and we couldn't be happier!
Koffee With Karan 7 Ep 1 Highlights: Here's Everything That Happened On The Koffee Couch
Pandemic, Anxiety & Loss
KJo started the show with a serious conversation about the impact of the pandemic on the film industry. During the conversation, Alia opened up about how she was actually grieving the loss of Rishi Kapoor at the time. The actress revealed that she and Ranbir were spending most of their time with Neetu Kapoor to make sure that she wasn't feeling alone. 
The Relationship That They Have With Their In-Laws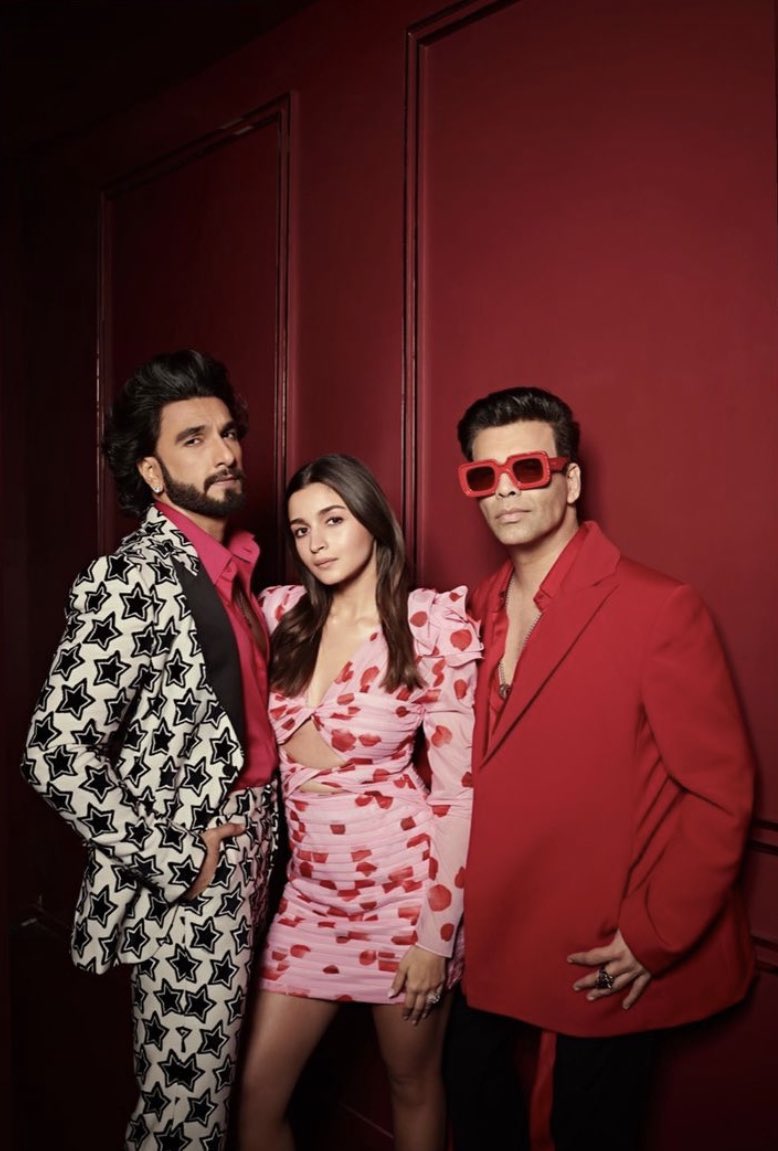 Karan is not the one to hold back when it comes to asking questions, and this time was no different. He straight up asked Ranveer and Alia about what it is like to adapt to a new family and both the stars had an interesting take on it. The 83 actor revealed that he has a different wardrobe for when he goes to meet DP's parents. Meanwhile, Alia shared that she has discovered a 'new layer' about herself, thanks to Ranbir's family. 
Also Read: Koffee With Karan Season 7 Episode 1 Highlights
Jab Ranbir & Alia's Met
For the longest time, we were waiting for Alia to spill the beans about her relationship with RK and we finally got to know all about their love story. Karan asked the actress about how she met Ranbir on a flight to Israel and sparks flew between the two. Alia said, "We both were seated together, he was supposed to sit next to me. He sat next to me and something got stuck in his seat. He moved somewhere else, but then his seat got fixed and we sat together." NGL, this is the perfect meet-cute moment one can wish for, right?
Alia's Dreamy Proposal Story
We truly believe that Karan heard our prayers when he asked Alia about her dreamy proposal story and finally we got to know what went down that day. The actress shared, "He (Ranbir) totally blew my mind away because I was not expecting it because we weren't even talking about it. We were talking about it for a very long time but then there were so many delays so we were like we won't talk about it. We will just go with the feelings."
Alia revealed that Ranbir proposed to her in Massia Mara as they have a strong connection to the place. "After it was over, I didn't expect that he had planted our guide to take pictures. I was still dealing with the shock and he was taking pictures. It was too special."
All About The 'Sakhiness'
Alia and Ranveer got real about how their friendship evolved over time and they turned into sakhis. The Highway actress revealed that even though Ranveer and Alia worked together in Gully Boy, they weren't so close. Alia said, "I actually got to sit down with you when we were promoting Gully Boy. We used to have long conversations in the car. I saw an extremely sensitive and caring person and I really liked that about him."
Ranveer revealed that at the time Alia was going through a tough time working on Gangubai Kathiawadi and he helped her to understand the style of Sanjay Leela Bhansali. The actor said, "Before she started the process we had a sit-down and I prepared her for all the curve balls he throws at you."
Sex Secrets Spilled
During KWK Season 7 game sesh, Ranveer revealed that he has sex playlists according to his mood. From rough sex to sensual lovemaking, the actor has every mood covered. NGL, we think Deepika is a lucky lady!
Ranveer Singh Or Pammi Aunty?
We got to know all about Ranveer's secret 'aunty' side on KWK and it is hilarious. Alia shared that whenever she fights with someone, it is Ranveer who loves to hear all about it. The actress further added even when she was picking bangles for herself, the Gully Boy actor was the one helping her out. Well, to be fair, who wouldn't want a friend like Pammi aunty around?

NGL fam, we loved Alia and Ranveer's chemistry on Koffee With Karan Season 7! BRB, we are just going to watch the episode all over again on Disney+ hotstar.
Featured Image: Disney+ Hotstar
GLAMM Up Like a Star with a FREE gift: https://bit.ly/3HV6ATb
Also Read: 5 Gen Z Stars We Would Love To See On The Koffee With Karan