Kim K's Nails Are Daydreaming About Christmas, And It's So Obvious
Kim Kardashian's a fan of stilettos. PSA: That statement was not a reference to the high-tapering heels. The socialite has finally divorced the neutrals and nudes and evolved her lacquers into ten small-size canvases for experimentation — graduating them from their minimal, no-tipped glory to something bold…and so green. Not once. But twice.
While Kylie and Kourtney have a reputation for burying their nails underneath layers of whimsical nail art, Kim has never joined in on the bandwagon. Now that she has — you know she is making headlines. If you're looking for some inspo for the season (hint, hint: Christmas), keep scrolling. Ahead — the manis in question.
Here's Kim Kardashian's Xmas Spirit We Never Thought We'd See
Kim Kardashian recently ditched the neutrals for a heavy-handed flick of green — and not on short, neatly-filed nails. She modelled the display of colours on stiletto-shaped lacquers, and the result was poppy. While the multihyphenate almost always disqualifies the tips from the aesthetic, she let them headline the look to the Baby2Baby Gala this year. But the socialite's star-studded affair with the colour did not end there. Thank god because we're loving Kim K's nails.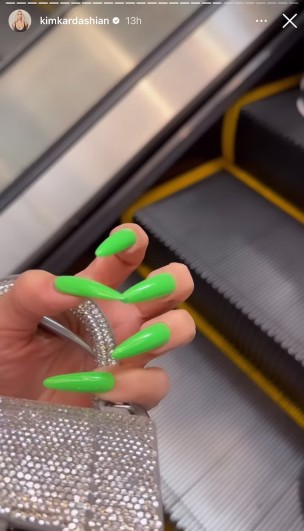 Kardashian arrived at an SKKM pop-up drenched in splashes of silver and green. The mogul had whittled her nails into ultra-long, super-fine tips, and drenched them in a bright hue of green. Kim claimed via her stories on Instagram that they're just press-ons that she'd casually glued to the nails, and credited her daughters for painting them. Wow. Someone ask North and Chicago to do my nails too. Because they're clearly maestros already.
While most of us loved the transformation, Khloe Kardashian was mortified by her sister's press-ons. Check it out: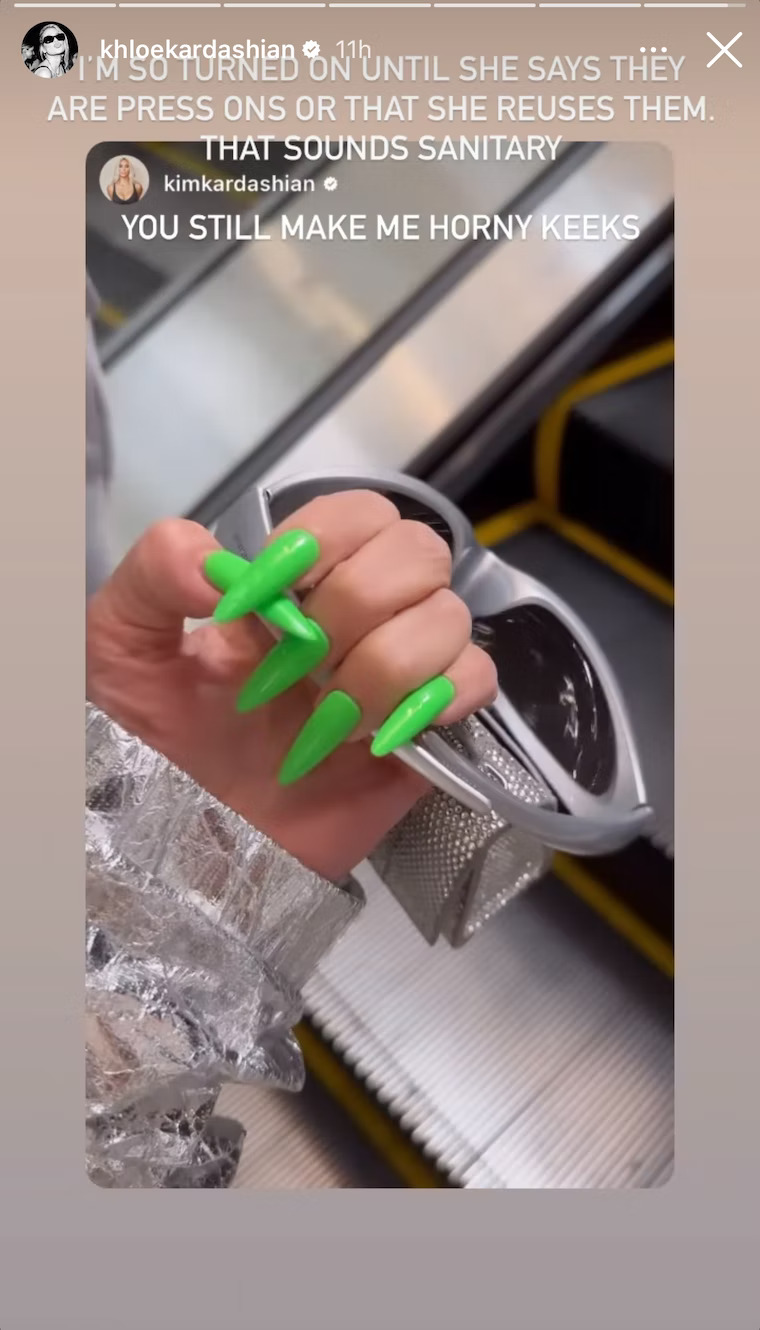 Kim recently admitted to a bias toward shorter lengths because of how convenient they are to manage. The ultra-long claws favoured by the rest of the clan don't quite like the idea of this Kardashian doing her law-school homework…or even texting. Yup. But now that she's experimenting, what's next? Is she planning on retiring her lacquers to the neutrals and nudes? Or will she surprise us with yet another set of Christmas-themed nails? BRB. Gotta keep up with this Kardashian.
Featured Image: Instagram
© 2022 THE GOOD GLAMM GROUP