Khushiyon Wali Diwali: The Only Gifting Guide You'll Need This festive Season
Got so busy with Diwali preparations that you forgot to buy gifts for your loved ones? Take a deep breath, sit back, and relax. Sounds like bad advice? Well, we have got you covered. We just made a list of last-minute festive gifts that will keep you fully covered. From your fashionista friend to hard-to-please cousins, we have got something for everyone. Just scroll down and start shopping:
Save
Here are affordable Diwali gift options that are sure to bring a big smile to their face without weighing heavy on your pocket:
Kamal Earrings By Roma Narsinghani
These gold-plated lotus earrings are just the perfect jewels for gifting this Diwali.
Sterling Silver Lavender Slide-On Earrings By Mikoto
Made with lavender and white round zircons, these studs will go beautifully with their everyday fits.
Golden Embellished Bataua Bag By Artflyck 
Embellished with gleaming cutdana tassels, this versatile potli can be styled with all their festive wear picks. 
Silver Brown Full Rim Square Sunglasses By Lenskart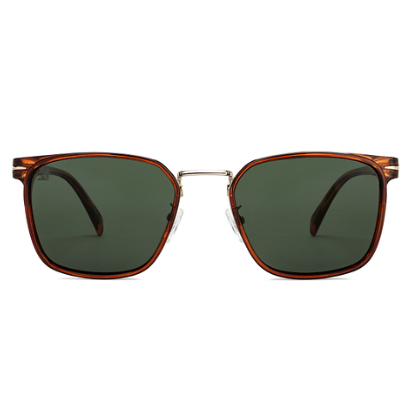 This pair of sunnies by Lenskart has all the qualities of being spotlight worthy and will help your loved ones channel their inner superstar
Varuna Light Blue Saree By Saaki
Here's a dreamy drape that catches the glimmer of the serene blue sky.
Cotton Silk Embroidered Short Kurta By Fabindia
Crafted in comfortable cotton silk, this Fabindia kurta is a classy gift that she is sure to appreciate this festive season.
Purple Yoke Design Silk Blend Suit Set By Libas
Purple is having a moment right now and your fashion-forward friend is sure to appreciate this Libas suit set. 
Brocade Shift Dress By FableStreet
Equal parts festive and understated, this luxe shift dress will be a great gift for those who love fusion wear.
Chanderi Leheriya Kurta Set With Dupatta By Marigold
This beautiful leheriya print kurta set will get everyone asking "kahaan se liya"?
Paisley Park Embroidered Jacket By Ancestry
Help them paint the city red in this bright bohemian jacket by Ancestry.
Purple Textured Silk Angrakha Kurta Pant Set By trueBrowns
The bright hue and unique silhouette of this angrakha will stand out on every festive occasion.
JWA Merino Blend Turtleneck Sweater By Uniqlo
A must-have this winter, this turtle neck sweater combines UNIQLO's focus on functionality with JW Anderson's focus on innovative designs.
Short-Sleeved Dress By United Colors Of Benetton
This casual round-neck dress is perfect for a fun picnic or brunch.
Embellished Potli By Fizzy Goblet
These dazzling bags feature Fizzy Goblet's iconic embroidery. You can carry your phone and all the festive essentials in it.
Playfit Champ 2
Buy it here
PLAYFIT CHAMP2 is the perfect blend of style, performance, and comfort. 
Petit Pique Effect iPhone 14 Pro Case By Lacoste
Combine style and protection with this case and its iconic details. The bonus? Its eye-catching pique texture.
Assorted Reversible Formal Belt Gift Pack By Woodland
Here's a sleek belt crafted from luxurious leather that comes with two different buckles.
Amber Vase Reed Diffuser By The Juen Shop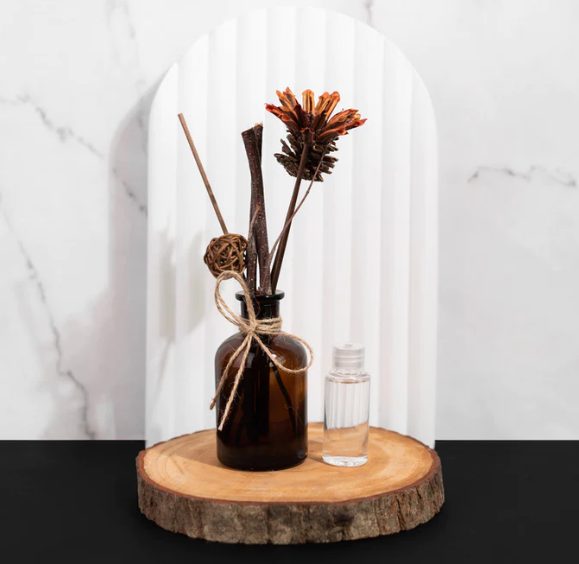 This aromatic reed diffuser will that the festive fragrance spreads to every corner of their home.
MyGlamm Festive Glow Makeup Kit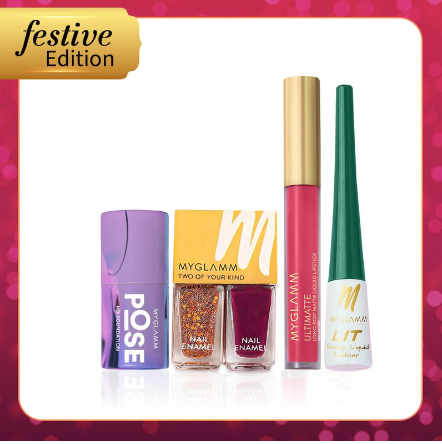 Help them get your festive glow on with MyGlamm Festive Glow Makeup Kit.
Just Married Kit By Sirona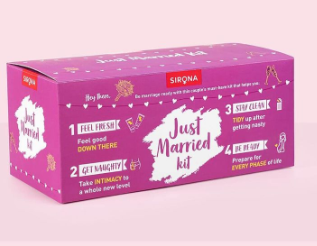 Here's a gift set of interesting products that a newly married couple can use for intimate hygiene and sexual wellness.
Go Long Shampoo+Conditioner By St. Botanica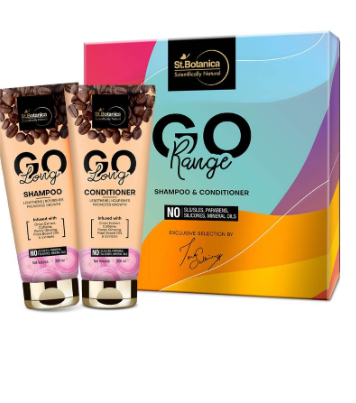 St.Botanica's GO Long Hair Shampoo and Conditioner are created with essential ingredients that help your hair grow longer and healthier. 
Not Your Boo Kit By POPxo Makeup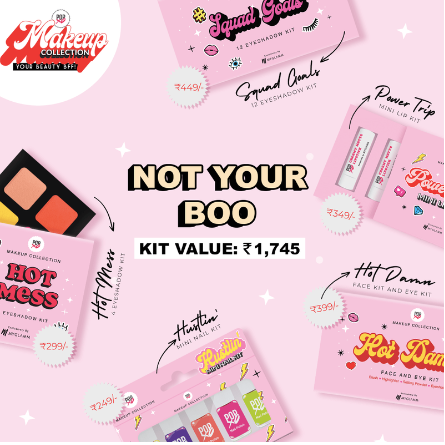 Are you the boss lady of your group? The go-getter? Then we have the perfect makeup combo for you! It will take you from day to night sans any hassles.
Mini Clean-Up Kit By bhu botanicals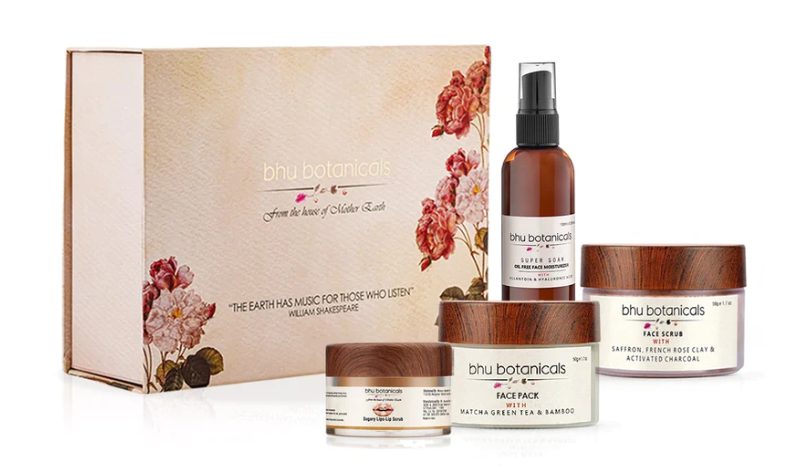 This Mini Clean Up kit will help in removing dead skin and reducing sun tan. Regular use can help in reducing pigmentation. This regime will help you achieve brighter and glowing skin.
Bewitching Eyeshadow Palette By Colorbar
The palette consists of four pigmented, long-lasting eye colours which are perfect for a party look.
Neal's Yard Remedies Body Butter Duo Set
Ultra-moisturising, these organic butters are a great addition to anyone's winter skincare deck. 
Skincare Set By Ayouthveda
Here's a hamper that'll take care of all their winter skin care needs. 
Skin Hydration Combo By Finite
Buy it here
The Finite Skin Hydration regime has been meticulously curated for healthy, glowing skin. 
BeHappier Diwali Gift Box
This beautifully designed box comes packed with brightening heroes that nourish, clarify, and illuminate skin. 
Prosperity Diwali Gift Set By Nat Habit
Every single product in this hamper is freshly prepared, all-natural, and toxin-free. 
Skivia 24K Pure Gold Mini Facial Oil Serum with Sandalwood & Saffron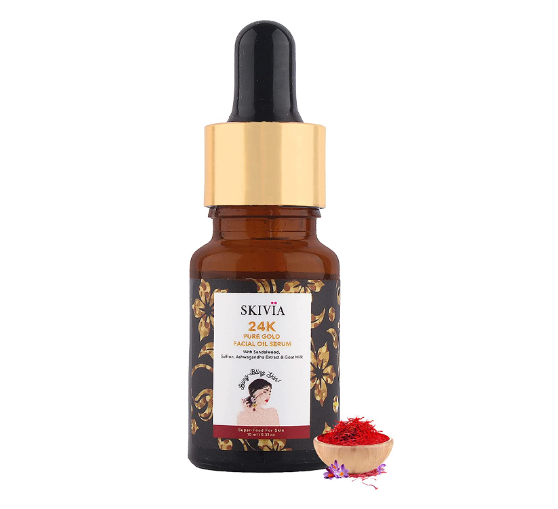 Skivia 24K Pure Gold Facial Oil Serum is packed with actives & super ingredients that work like magic.
Coffee Mood Gift Kit By mCaffeine
Coffee's for every mood and so is this gift kit. Uplift their mood and skin with this four-step rejuvenating regime! 
Special Editon Gift Combo By The Lip Balm Company
A combination of two nourishing lip balms in a keepsake box, this box will remind your loved ones to invest some in self-care. 
Eye On Fleek Combo Faces Canada
Reveal the true magic in your eyes with this glamorous combo of Magneteyes Kajal.
'Blip' Brow-Vo! Eyebrow Pomade By amág Beauty
Whether they like their eyebrows naturally groomed or remarkably bold, this brow pomade's supple and buildable texture is sure to win their heart.
The Body Shop Smooth & Soothe Shaving Kit
Packed with the goodness of maca root and aloe vera, the stubble-smoothing products will provide a cooling and refreshing shaving and after-shave experience. 
Argan Biotin Hair Combo By WishCare
Infused with Vitamin B7 Biotin + Moroccan Argan Oil, this hair care helps restores the mane to its natural beauty.
Skin Detox Combo By Nua
This skin detox combo is the perfect answer to skin acne and stubborn pimples that suddenly appear during the festive season.
Brightening Serum + Retinol & Peptide Serum By Deconstruct Skincare
This power-packed duo fights pigmentation, dark spots, marks, and signs of ageing.
Clogged Pored Regime Kit By Acne Squad
Launch an attack before your clogged pores get infected with this heavy-duty kit by Acne Squad. 
Leg & Foot Massage Heat Gel By Orimii Skincare
A healing balm created with rejuvenating oils that warms up during application to soothe tired cankles and reduce swelling.
Arata Tone Perfecting Shampoo
Give your loved ones the gift of glorious hair with this tone-perfecting shampoo by Arata. 
Proarte's Mini Brush Set 7 in 1
Buy it here
Silky soft and gentle on all skin types, each makeup brush in this set is designed for maximum precision.
Jazzy Pouf By The Rug Republic
Made from recycled fabric, the "Jazzy" pouf is a sure-shot eye-catcher. 
Tea kettle Mate Gift Box By Thevasa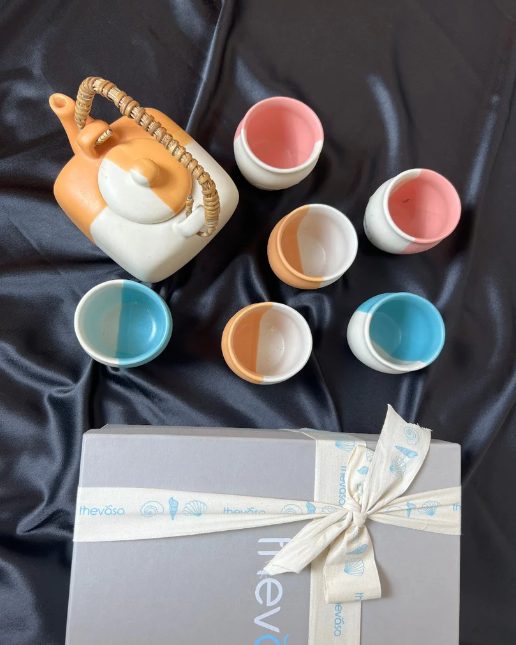 Get the par-tea started with this absolutely elegant gift set from Thevasa! 
Honeycomb Patterened Vases By Wrapping Happiness
Here are the perfect festive accents for your living room corner table.
Westside Home Trio Gold Lotus Pattern Candle Stand
Bolster your settings with a touch of elegance by opting for this candle stand from Westside Home. 
Mix Herb Cheese By Cremeitalia 
This aged mozzarella with tantalising flavours from mixed herbs will be an excellent gift for any cheese connoisseur. 
Indulgent Gift Hamper Soco By Seven Seas
Soco's exquisite Diwali gift hampers are the epitome of sophistication, style, and taste.
Glow, Assorted Diwali Teas Gift Set By Vahdam
A signature assortment of six delectable tea blends packed in gold embellished tin caddies.
Gourmet Snack Box By Sorrentina
Serve an Italian experience this festive season with Sorrentina's Gourmet Snack Box.
Grandeur Starry Combo By Floweraura
Buy this luxurious hamper for all those loved ones who are a tad challenging to please.
Barista India Gift Box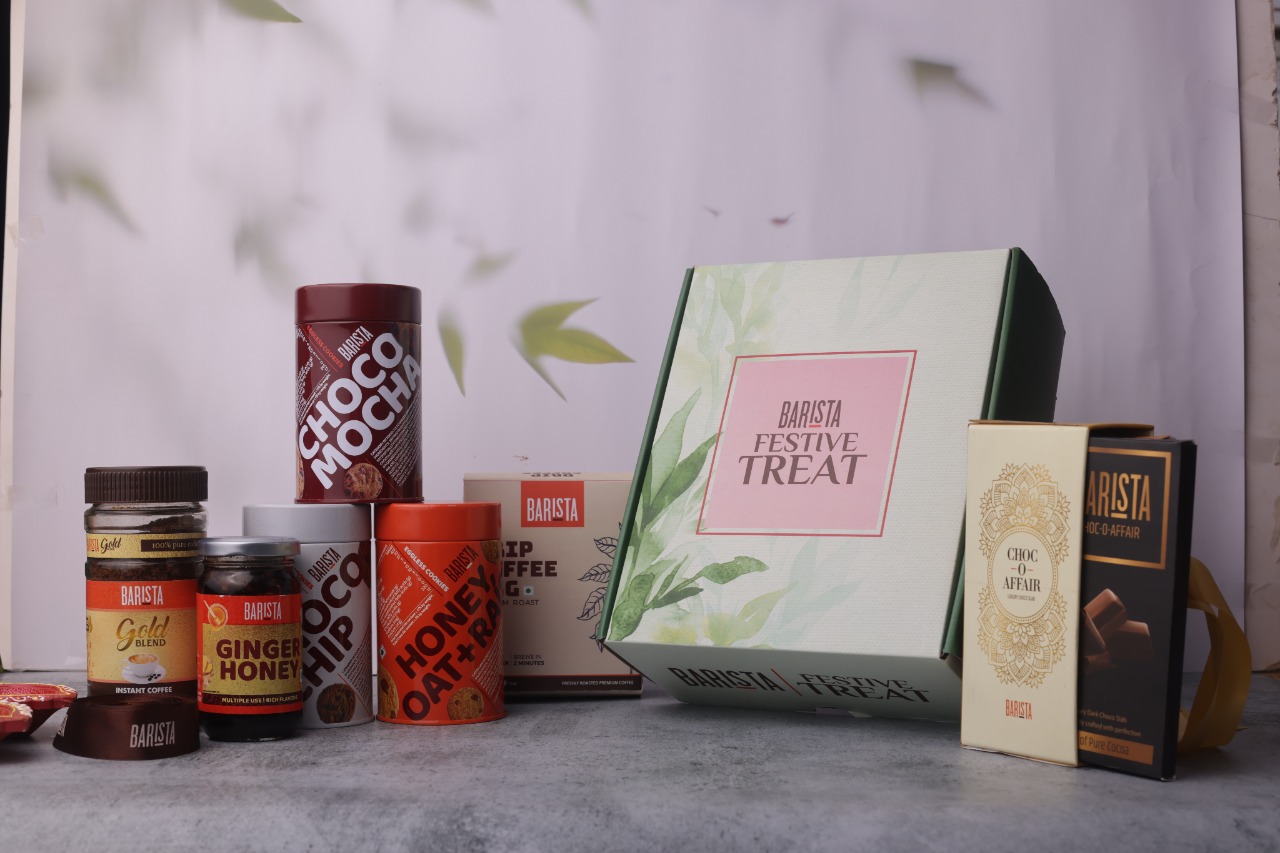 Barista's hand-picked cookie selection of three delectable flavours makes it the perfect gifting option for your near and dear ones.
A Basket Full Of Celebrations By Wellness Forever
Buy it here
This, hands down will be one of the best gift hampers they receive this Diwali.
Diwali Resplendence By The Westin Gurgaon, New Delhi
The Westin, Gurgaon's collection of gourmet treasures has been carefully curated to suit all taste buds. 
Prosperity Gift Set By Isvara
This gorgeous "Prosperity Gift Set" is an aesthetically pleasing gift that celebrates Indian culture in a traditional yet stylish way.
Power Gummies Combo Box 
Give them the gift of good health and blissful sleep with this Power Gummies combo. 
Nutriherbs Brain Tea Relieves Stress & Anxiety
The Nutriherbs Brain Tea contains high-potency herbs that sharpen memory and improve focus. 
Bioactive Plant Protein By OZiva
OZiva Bioactive Plant Protein improves muscle growth, facilitates optimal athletic performance, and helps you achieve your fitness goals.
Rani Pink Set Of 4 Votive Candles By RAD Living
From the Rajputana times, Rani Pink colour has been favoured by the Indian royalty. Finding inspiration in the colour's royal grandeur, RAD living presents to you this set of four votive candles embellished with gold plating.
Set Of 3 Tea Light Candle Holder Premium Gift Combo By Archies
This Diwali, gift this magnificent tea light candle holder which is hand-embellished with meenakari accents. 
Wild Pomegranate Premium Soy Wax Candle By Ekam
EKAM's Fruity Series scented candles have been created with soy wax, a green alternative to paraffin. 
Spend
Scroll down for the perfect curation of gifts if you wish to do a little extra for your loved ones this Diwali:
Versatile Bag By Aldo
Neutral hues like beige, black, and white are always a safe choice when you are confused while investing in accessories for your loved ones. Take, for instance, this nude Aldo bag!
Block Heels By Aprajita Toor
This pair of multi-colour block heels by Aprajita Toor is perfect to evoke a celebratory mood.
'In Full Bloom' Short Tiered Dress By Drawn
The perfect way to bid farewell to summer, the 'In Full Bloom' print creates an enchanted garden of fantastical florals in full bloom. 
Darkha One Shoulder Black Dress By Saundh
Light up their cocktail evenings with Saundh's black printed one-shoulder kaftan style dress. How chic!
Pine + Tusk Colorblock Crewneck By Reverce
This crewneck sweatshirt is made with premium French terry cotton fabric and will make for a rather stylish gift.
Limited Edition Rare Scents By Rare Scents
A whiff of the exotic, this iridescent blend of rare Indian Oud and spices will keep them company during special occasions.
An Indulgent Meal By Misri K'la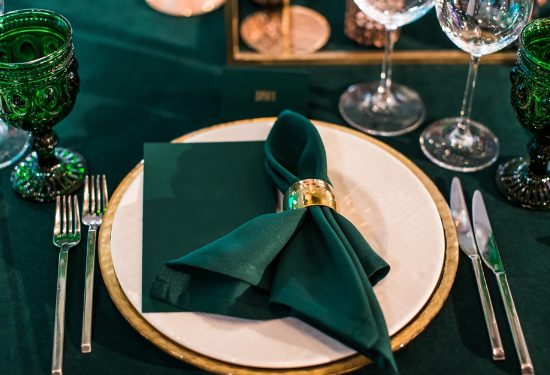 Looking for a hatke gift? Lend a helping hand to your friend and arrange for their Diwali party's catering with Misri K'la gourmet services. They won't stop thanking you!
Goddess Lakshmi Decorative Plate By Lladro
In this decorative plate, Goddess Laxmi is represented in matte porcelain and embellished with a golden lustre.
Splurge 
Wish to go all out for your loved one this Diwali? Scroll down for our curation of luxe gifts:
Numisma Rings By Aulerth
This stackable jewel piece is sustainable and can be worn effortlessly by both men and women.
Midas Chest Box Dates Gift Box By Bateel
Buy it here
The refined leatherette finish and brilliant bronze colouring of this gift box make it a fashionable choice suitable for all occasions. When packed with organic dates from Bateel, this gift packaging transforms into a thoughtful gift.
Chowki Tray Set By Ikkis
 Here's an ideal presentation for divine prayer/puja rituals that also works as an elegant tray.
TUMI Accents Kit
Add a touch of personal flair to your favourite travel or business cases with this accent kit.
Dyson Airwrap™ Multi-Styler
Behold the hottest hair styling tool in the beauty industry!
Shoulder Duster Emerald Drop Earrings By SimSum Fine Jewellery
Add a touch of glamm to their festive look with this pair of semi-precious emeralds and fine diamond earrings.
Red Kanchipuram Silk Saree from Saundarya By Nalli 
Handcrafted in pure silk for auspicious occasions, this Nalli saree features parrot motifs, floral manga, and barfi patterns.
Dolly J Lehenga On Saritoria
Give them a sustainable and elegant gift with this pre-loved lehenga set by Dolly J.
Opal Snow By Izzhaar
Got friends who love art? This Izzhaar offering will be the perfect gift!
Aura Hand Woven Wool Rug By Rugberry
The winter is coming and we advise you to keep your loved ones covered with this classy albeit understated rug by Rugberry.
All covered, fam? Happy Diwali!
Featured Image: MyGlamm and Nat Habit
© 2022 THE GOOD GLAMM GROUP