A lot of debate has happened over Alia Bhatt's risqué blouse from Anushka Ranjan-Aditya Seal's sangeet night in the past couple of days. Some think that it is an absolutely rad look and a gamble that has surely paid off for the star. There are also netizens who believe that it might be a tad too much, almost lurking on the verge of ugly if not entirely in that zone. However, if you were to ask us, we surely belong to the former category and have actually sworn allegiance with the bold blouse bandwagon. How can we not? In a fashion milieu where the celebs and movie stars like to keep it highly diluted in fear of taking it too far, Alia has dared to tread uncharted territories and left us mighty impressed in the wake. Plus, the basic Indian traditional blouse has long awaited an update, and now that the actress has ushered in a wave, there is no way we are going to resist it. Neither should you and here are eight Alia Bhatt-inspired bold blouse designs that need to be on your radar this shaadi season:
Structured Halter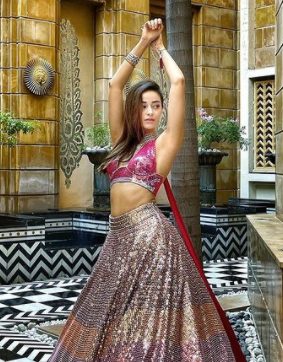 With an array of plunging U necklines and dramatic backless beauties, Manish Malhotra surely deserves the credit for starting the bold blouse movement this season. Of course, Alia's viral blouse is from the designer as well and he has a lot more iterations to offer in the latest installment of his Nooraniyat collection. Top on our wishlist is this halter neck sequinned blouse that stands out owing to its for its structured cuts.
Bikini But Make It Festive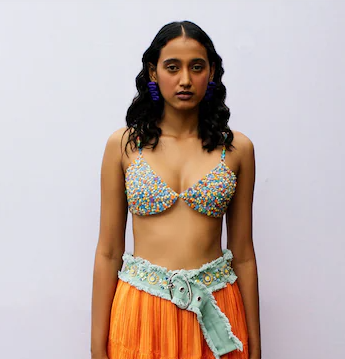 From the confetti-inspired embellishments to the denim tie-on detail at the back, everything about this Nirmooha blouse is sheer glamm. We love it for the bold cuts as well as the party vibe. Plus, it is very versatile and can be literally worn with EVERYTHING.
Plunging Halter Neck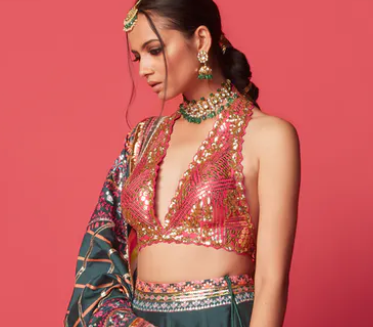 This glitzy iteration of the classic halter neck blouse by Mayyur Girotra has our attention for its scalloped detailing and the plunging neckline. This is a great piece to wear with a solid saree in a subtle hue. The idea is to let the blouse do all the talking and from the looks of it, you will know that it will.
Itty Bitty To The Core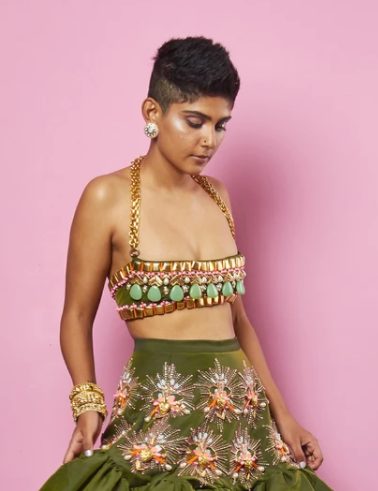 This Papa Don't Preach blouse is custom-made for some high-octane drama. We are amazed by how so much is going in that itsy bitsy piece of fabric without making it look crowded. That said, it is definitely the braided neckline and the tasseled stones that appeal to us as the standout features of this separate.
Full Sleeves But Make It Risqué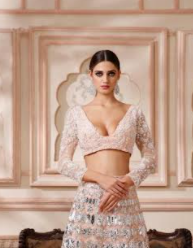 Oh, but you don't really have to ditch the sleeves to take the risqué route. Case in point? This full sleeves blouse by Soshai. The trick is to risk it all and opt for a steep plunge neck to get a push-up effect.
Cap Sleeves
This cap sleeve blouse by Cherie D is another example of how you can go for a bold blouse without doing away with the sleeves. The magic, of course, lies in the neckline and the memo is clear–the deeper the better.
Bustier Babe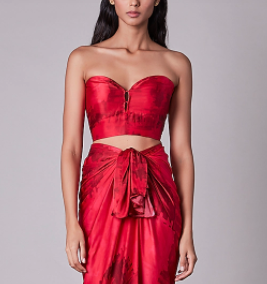 A bustier is an inherently sexy piece of clothing and this scarlet Saaksha & Kinni beauty more than lives up to that reputation. We love the hook buttons at the top that add an extra sensual touch to the blouse.
Strappy V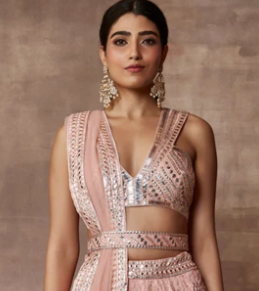 A deep v always does the trick when it comes to bold blouse designs and here is an update on the classic neckline that will more than win the show. The idea is to ditch the sleeves and go for a strappy v neck that can be as embellished as you please.
So fam, all set to risqué with our curation of bold blouse designs this wedding season?
Featured Image: Manish Malhotra, Papa Don't Prach, Aza
You Might Also Like