Aishwarya Mohanraj has been maintaining a low profile on social media. The stand-up comedian has been struggling with some health issues and rarely posts these days. Recently, she posted a reel after a gap of three long weeks and that too was a paid ad. Her fans didn't mind it though and were just happy to see the comedian back in action. Sadly, there were some people who couldn't see beyond Aishwarya's recent weight gain.
Aishwarya's reel was bombarded with comments on her "double chin" and unsolicited advice. Some didn't even shy away from asking if Aishwarya was expecting:

Others gave some muft ka gyaan:

Some made random assumptions:

And then there was this guy with the most awkward/insensitive question to ask:

Shortly after posting the reel, Aishwarya took to her Instagram stories and wrote "uploaded a new reel and the comments are obviously about my obvious weight gain".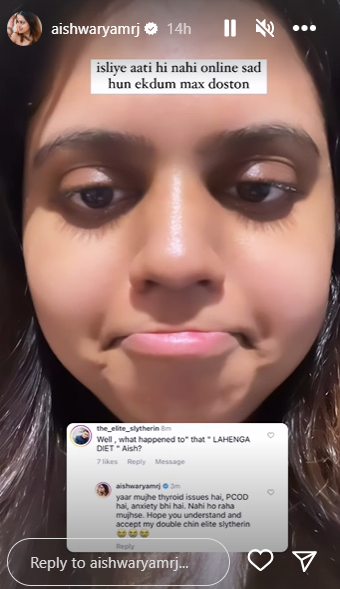 She wrote about how all the comments have made her sad and that's exactly why she has been MIA from social media lately. The comedian also posted her reply to the "LAHENGA DIET" comment. Here, check out what she had to say:

Imagine struggling with health issues and then getting reminded of them every time on social media.
Well, this is exactly why you should think twice before leaving a random comment on someone's profile when you don't even know what's going on in their life. Or just follow this thumb rule—if you don't have something nice to say, don't say anything at all. Seriously, doesn't cost a penny to be a decent human being!
Featured Image: Instagram