If we're being honest, we're fully invested in the dhoom-dhaam shaadi celebrations of stand-up comedian Aishwarya Mohanraj with beau Aakash Shah. It all started earlier this year, when the two proposed to each other in the most adorable way. This lead to a three-day long marriage ceremony full of love and laughter. And soon after, they've given the Internet several reasons to believe in true love with their wholesome yet hilarious wedding content.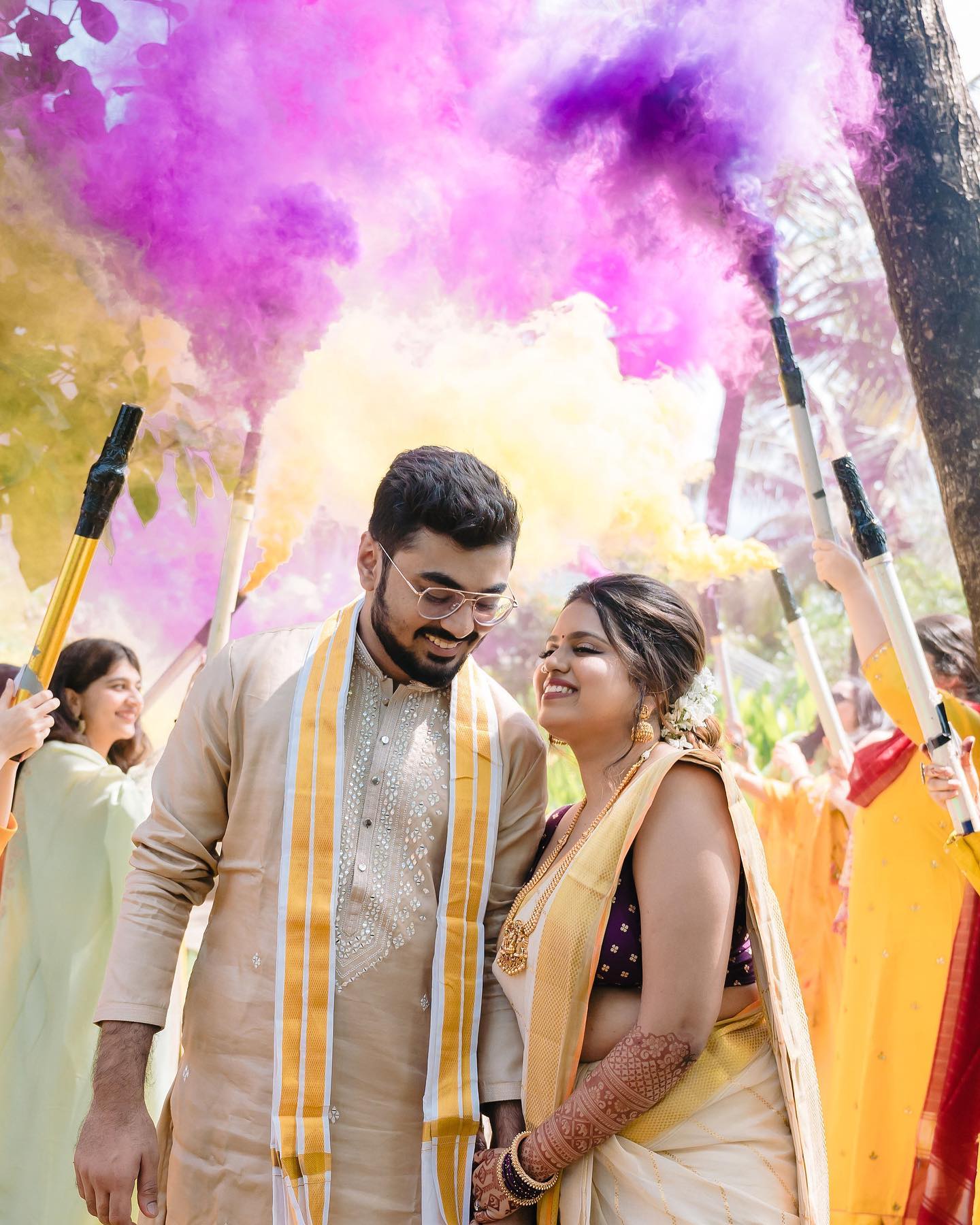 Now, once again making our day, Aishwarya just took to her 'Gram and uploaded the cutest video from her haldi day. The couple decided to take the South Indian route, as the men were all seen wearing mundus, a garment worn mostly by men in Kerala. While the women were seen donning ceremonial kasavu sarees, the sarees that adorn a beautiful, thick golden border. Also worth mentioning is the beautiful decor. They had massive globes under which chairs were placed for seating and the entire place was decked with colours of pink, white, and tons of yellow and orange.
Breaking the stereotype of the shy and coy bride, Aishwarya was seen enjoying the festivities to the fullest. Apart from loads of giggles with her soon-to-be-hubby, she was also spotted singing along to Bollywood hits that were playing in the background. However, the highlight for us was when she said "Not on my face," when someone was about to put haldi on her face. Well, isn't that the most modern bride thing to say ever?
It's safe to say that this video from Aishwarya and Aaksh's wedding had us falling in love all over again. We were happy to see the two love birds enjoy every bit of their wedding festivities. And although we're satisfied at the moment with this heartwarming clip, we can't wait to see more emotional videos from the wedding festivities.
Featured Image: Instagram