Your wedding day is probably the most special moment of your life and the pictures serve as cherished memories for a lifetime. No wonder then that finding a great photographer is right on top of every couple's wedding to-do list. But while professionals can guarantee happy pictures, they certainly can't guarantee a happily ever after! 
Lance Romeo, a wedding photographer, recently took the internet by storm after he shared a bizarre request made by one of his clients. Lance took to his Twitter account to share a screenshot of his conversation with a South African woman who demanded a refund for her wedding pictures after 4 years. But what was so bizarre about her request you ask? Well, the woman claims she's entailed to a refund as she's divorced now and doesn't need the pictures anymore. 
At first, Lance thought it was a joke but as the conversation progressed, he realised that the woman was serious about getting a refund. So much so that she threatened to involve her lawyer too. 
UPDATE : pic.twitter.com/u66kMHqIPj

— LanceRomeoPhotography (@LanceRomeo) April 11, 2023
Soon after his tweet went viral, the woman's ex-husband even reached out to Lance and apologised. he said, "I read the articles. I apologise on her behalf." And not just Lance, the netizens couldn't believe the woman's unusual request either. Take a look at some of the comments: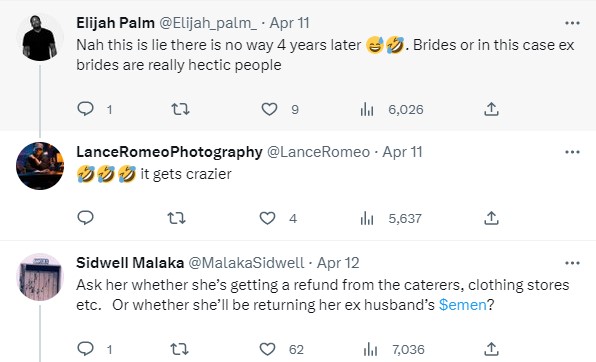 In all honesty, getting a divorce is certainly heartbreaking and her unusual request looks like a repercussion of that. 
Featured Image: Pexels