Bole Chudiyan: 12 Types Of Bangle Designs That'll Have You Spoilt For Choice
For someone who is obsessed with all things Indian when it comes to fashion, jewellery sure plays an important role in my style aesthetics. From jhumkas to anklets, I am constantly hoarding them all. Among all these jewels, there is a certain something that I can never get enough of. Can you guess what that is? Hint– Mere haaton mein nau nau chooriyan hain! Well, yes it bangles of course. I am a sucker for all types of bangles that exist. From the silken glass beauties to the more adorned gold wonders, I love them all. Today, I am sharing my love for bangles with you all. In case you want to know about the different types of bangles out there, read on:
Different types of bangles in India
From the Punjabi choora to Bengali Sankh pola, there are almost as many types of bangles in India as there are cultures. Here is a curation of the different types of bangles with images: 
Glass Bangles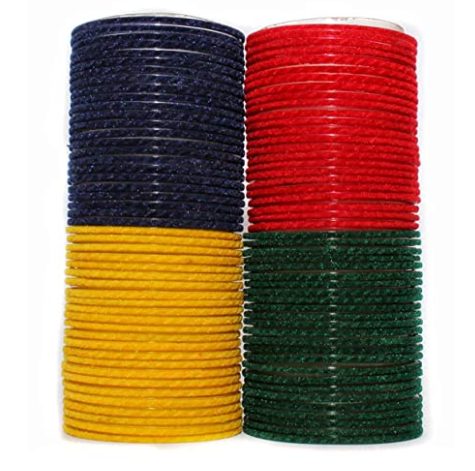 Affordable, minimalistic, and every bit gorgeous, it is the glass bangles that reign supreme as the most preferred type of bangles in India. They are elegant and certainly have a classic allure. That said, even among this category there happen to be types of glass bangles. From meena studded beauties to classic resham ones each one is beautiful in its own way.
Metal Bangle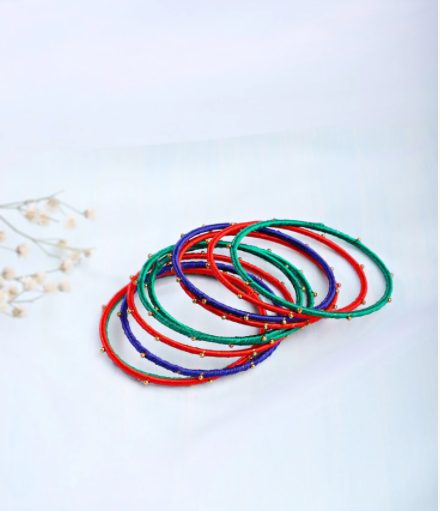 Every girl who grew up in an Indian household knows all about these metal bangles. They literally used to be the substitute for glass bangles while we were growing up. That said they have their own distinctive beauty and come in a variety of beautiful bangle designs. 
Thread Bangles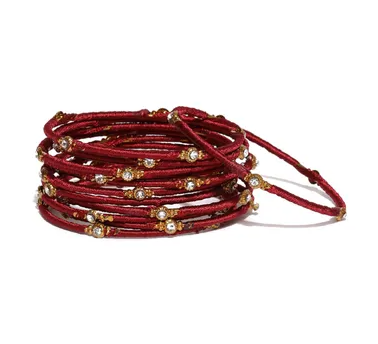 If comfy, delicate bangles are what you are looking for, then the thread ones would be an amazing choice. These are relatively new type bangles that have managed to garner popularity in a very short period of time. 
Bangles With Screws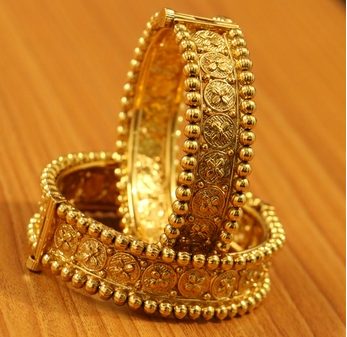 Owing to their unique design, screw-type bangles are pretty popular in North India. These bangles are generally heavy, go with festive Indian wear, and come with a screw closure. 
Cuff Bangles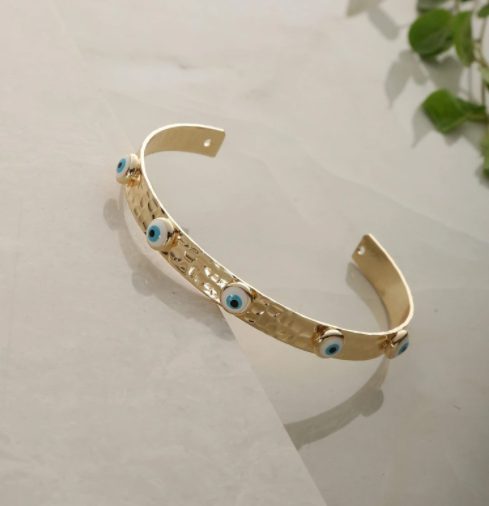 Of late, this type of bangles have become a favourite. They are fun, minimal, and very versatile. You can pair them with your Indian wear and western wear both. Take for instance this evil eye cuff by Klissaa. From the understated evil eye detail to the base design, everything about this bangle spells effortless elegance.
Kada style bangles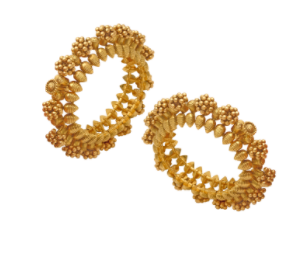 If you have a thing for all things heavy and opulent then these kada style bangles by Mahesn Notandas will surely catch your attention. Fit enough to be worn with your wedding finery, the bangles feature a unique beady design. 
Kundan Bangles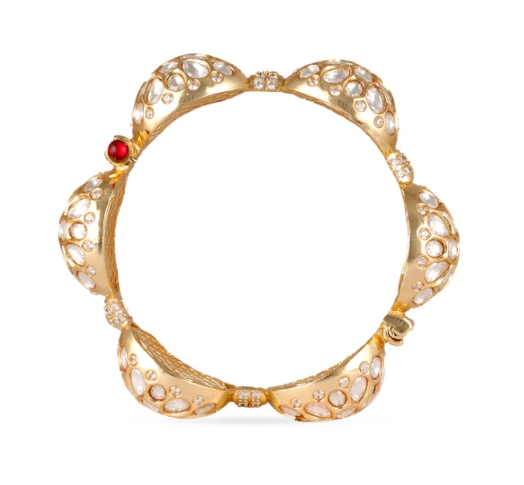 This kada style bangle by Anayah Jewellery is unique for its uncut diamonds or kundan. This craft of bangle making is practiced in Rajasthan and enjoys huge popularity across the country for its striking appeal. 
Mesh Bangles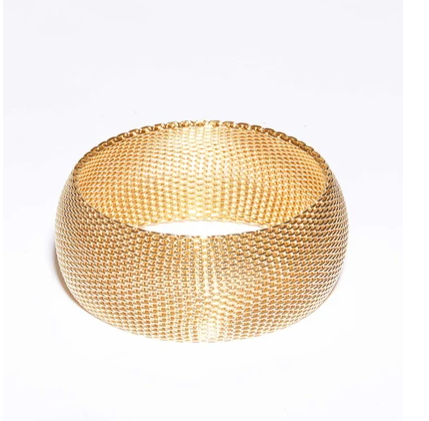 This again is a new type of bangle that has gained popularity owing to its flexibility. From its intricate pattern to uniquely flexible mesh design, this beautiful jewellery piece will make a great gift. 
Polki Bangles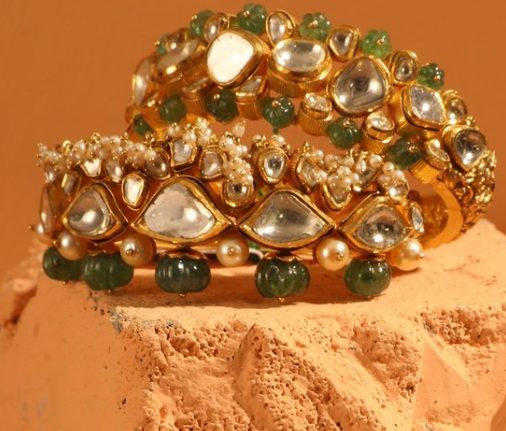 A finer version of the kundan bangles, these polki beauties are every bit exquisite and breathtaking. This is the type of bangle that is fit for royalty and finds a coveted space in every Indian wear enthusiast's festive vanity. This gorgeous pair by Virraya for instance can take any look from drab to fab in no time.  
Enamel Bangles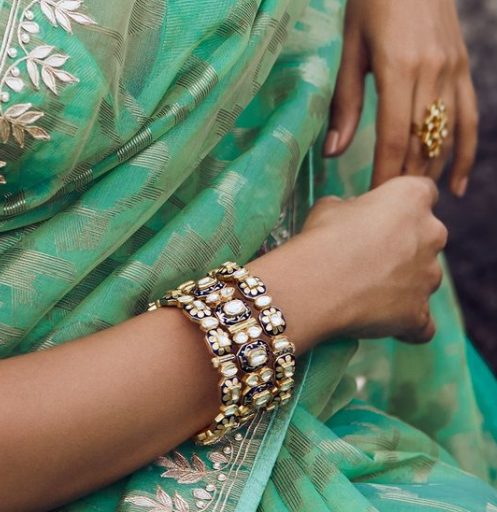 Enameling gained popularity in fashion circles during the 1920s and has seen its many iterations in jewllery since then, enamel bangles being one of them. Featured here is Anita Dongre's Kalaka bangles with blue enamel detailing and a striking floral design. 
Precious Stones Bangles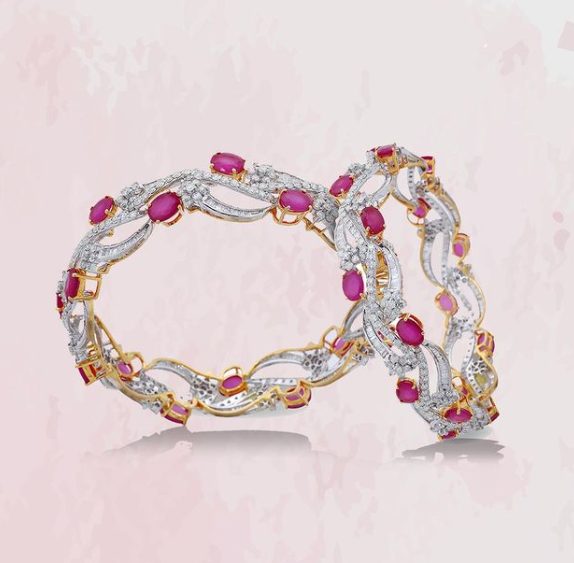 Precious stones have always been an integral part of jewellery all over the world and bangles done in these stones are as beautiful as they are exquisite. Featured here is the type of bangles that you will find in every precious stone collector's arsenal. 
Diamond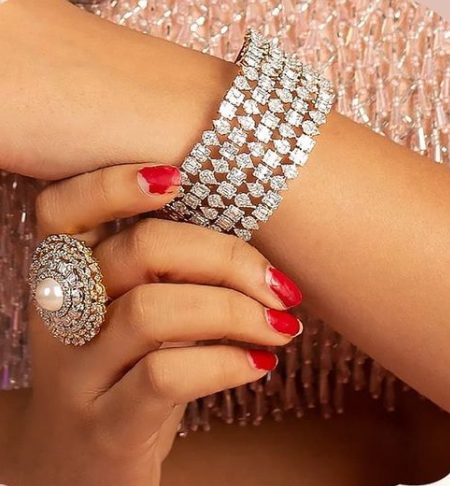 They say that diamonds are a woman's best friend and well, there was no way they were not finding a place in the beautiful bangles. This unique kada style bangle by Citrine will have you transfixed the moment you set eyes on it. 
Also Read
Silk Thread Bangle Designs: Check out our compilation of silk thread bangle designs so you have a better idea of which design to choose.
Best Evil Eye Jewellery Designs: Here's POPxo' edit of the most striking evil eye jewellery to shop right now.
Type Of Gold Bangles: Gold bangles are an integral part of every Indian bride's trousseau. They are precious and a great investment and this is why it is important that you make no mistakes while choosing your perfect pair. In case you are torn with the choice, this story will help you with some much-needed inspo. 
Indian Jewellery Designs For New Bride: We have curated a list of 50 Indian jewellery pieces with the latest Indian jewellery designs to go with your outfits. From earrings and necklaces to bangles and mangalsutras, there's plenty for everyone, and they serve all budgets.
Neutral Ethnic Accessories: We've rounded up some ethnic accessories for the wedding season, which you can use as many times as you please. Trust us when we say that this is your ultimate wedding survival guide!
Stores To Buy Bridal Choora: Delhi markets like Lajpat Nagar, Karol Bagh and Chandni Chowk are full of bangle shops and you are in luck in case you happen to be a bride-to-be. Here are our top picks. 
Silk thread bangles designs: Do you want to add a special touch to your ethnic wear? Try these silk thread bangles designs.
So fam, which one is your favorite pick from our bangle design catalog?
Featured Image: Mehrasons and Mahesh Notandas
© 2022 THE GOOD GLAMM GROUP