While stepping out with your baby, you must ensure to protect their skin from the harsh rays of the sun. This is because a newborn's skin is highly sensitive and more susceptible to skin conditions like sunburns, and allergies. Applying sunblock can protect their skin from exposure to UV rays, thereby reducing the risk of sun rashes.
However, when it comes to sun protection for babies, many new parents may consider this question, "When can my baby wear sunscreen safely?" Moreover, parents also question whether they need to put sunscreen on their baby's skin or not.
Talking about whether sunscreen is safe for babies, Dr. Pooja Marathe, Nutrition and Lactation Expert, BabyChakra stated, "Few minutes of sun exposure during high radiation can lead to sunburn to the extent of first degree burns.

So if you're still wondering whether babies need sunscreen, the answer is a resounding yes. Babies' skin may not be able to keep out the chemicals in sunscreen as effectively as older children and adults. Reapply sunscreen about every two hours if it's waterproof and more often if you're outside for long periods of time, if your baby gets wet, or the sunscreen isn't water-resistant."
When Can Babies Wear Sunscreen?
Sunscreen recommendations differ for younger and older babies. So you may want to consider your little one's age before slathering the product on their skin.
For newborns and babies under six months: According to the American Academy Of Paediatrics (AAP), babies under the age of six months should be kept away from direct sunlight. However, if you have to venture out, use the stroller canopy to protect them from exposure to direct sunlight and use minimal amounts of sunscreen (specifically with an SPF of 30+) to areas like their face, back of the hands, and the top of their feet. 
For babies who are six months of age and older: You can safely apply sunscreen on older babies (six months and above) with your paediatrician's recommendation. Use a nourishing sunscreen, specially designed for babies with an SPF of 30 to all the exposed parts of their body.
How Much Sunscreen Should Your Baby Wear
You should apply a thin layer of sunscreen (with SPF 30 or higher) on your baby's skin to prevent UV exposure and skin irritation. However, you should first conduct a patch test on your baby's wrist to check for signs of allergy. If there isn't any adverse reaction, you can continue using it. In case you notice irritation, consult your child's paediatrician immediately.
Additionally, make sure to apply the sunscreen at least 30 minutes before heading outdoors and reapply every 2-3 hours for maximum protection. If your baby is going to be near a water body such as a swimming pool, use a water-resistant sunscreen to prevent sun exposure.
7 Helpful Tips To Choose The Right Sunscreen For Your Baby
Your baby's skin is delicate and therefore you should be extra cautious while choosing a skincare product, like sunscreen for them. Make sure all the ingredients in the sunscreen are natural and plant-based and gentle on your munchkin's skin. The following tips can help you choose the right sunscreen for your baby.
Choose a sunscreen that has a sun protection factor of 30+ and PA +++ ratings.
Make sure that the sunscreen offers broad-spectrum coverage to protect from both UVA and UVB rays.
Choose a sunscreen that deeply moisturises your baby's skin and doesn't leave any greasy residue post-application.
Avoid using sunscreens that contain para-aminobenzoic acid (PABA) and oxybenzone as they may cause skin allergies.
Use a sunscreen blended with natural and protective ingredients like organic carrot seed oil, organic almond oil, organic rosehip oil, chamomile oil, and beetroot extracts. All these plant-based ingredients offer antioxidant properties and help protect your little one's skin against free radical damage and visible sun damage. Additionally, the nourishing ingredients rejuvenate and hydrate your baby's skin and soothe skin irritation. 
Make sure the sunscreen is water-resistant, especially if your child swims in an open environment.
Most importantly, choose a mineral-based sunscreen containing zinc oxide and titanium dioxide to moisturise delicate and irritated skin and provide effective protection against the harsh UVA and UVB rays. 
Some Other Ways To Protect Your Baby From The Sun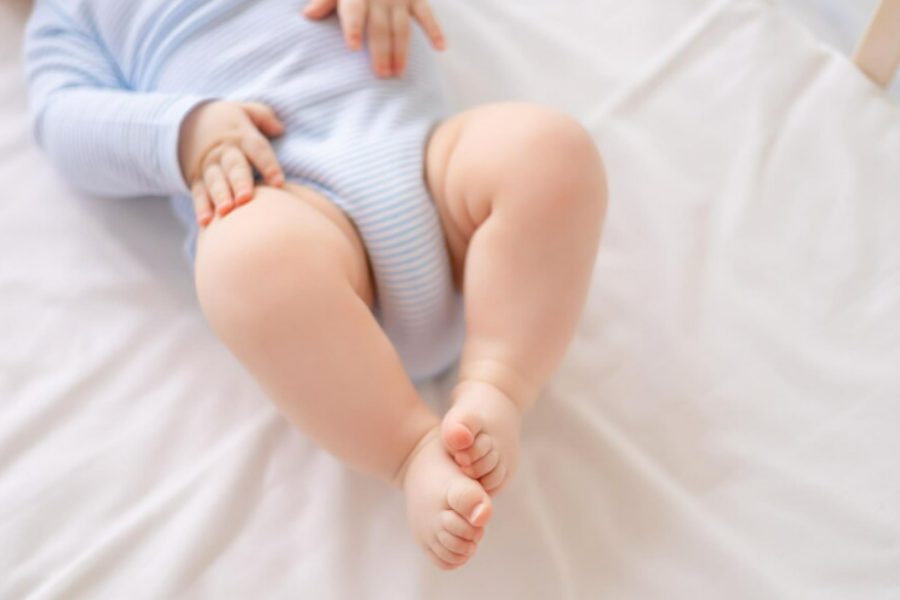 Don't let the summer sun stop you from enjoying some quality time with your little bub outside. Follow these tips to protect your little one's skin from sun exposure while heading outdoors for some fun family time.
Dress your baby appropriately: Dress your little one in lightweight, long-sleeved clothing. Cover their head with a wide hat and put sunglasses on them for added protection.
Keep them away from excessive sunlight: Avoid direct exposure to the sun. If possible, don't take them outside during the peak hours of the day. Also, use the stroller's hood or an umbrella for shade.
Look for signs of irritation: If your baby turns fussy and starts crying, take them indoors as the sun is irritating their skin and making them uncomfortable. Also, look out for sunburns or rashes and use a mild lotion to treat them.
Keep your baby hydrated: Ensure your baby is well-hydrated at all times. Give them enough water and other fluids on sunny and humid days.
Sun protection is crucial at all stages of life, but more so for babies, as they have delicate skin which is more prone to skin concerns like sunburns and rashes. If sun exposure is unavoidable, you should apply a thin layer of sunscreen on their skin. Make sure the sunscreen is baby-safe, mineral-based, and designed with all-natural and organic actives. If your baby experiences any skin issues due to exposure to the sun, consult your paediatrician immediately.