Did you really make the most of an occasion if you wore a saree but didn't click pictures? We think not! Clicking pictures is a must every time you drape those six yards of elegance. However, after trying a few saree poses at home, it's likely that you'll run out of posing ideas. That's why we have compiled some of the best saree poses for photoshoot at home so that the next time you don a beautiful saree, you already have a fair idea about posing, lighting, and backgrounds.  
Saree Photo Poses At Home
The right pose can add to the beauty and grace of your entire look. It's the way you carry the saree in the pictures that makes all the difference. Try these beautiful saree poses at home that can easily turn your photos from basic to extraordinary, without having to try too hard. 
Accentuate The Curves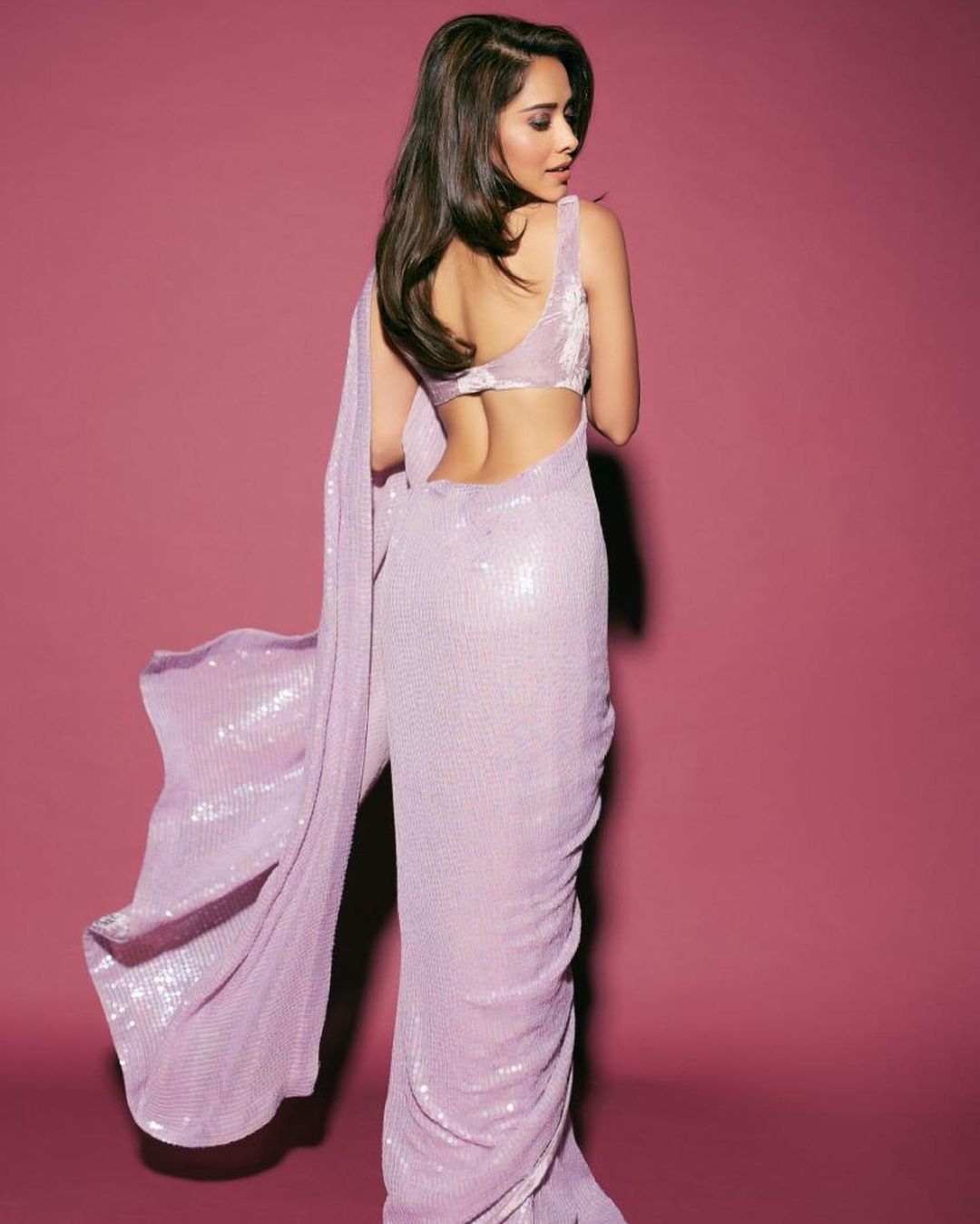 When draped well, sarees can really highlight your curves. Why not make the most of it and flaunt those curves for your sexy saree pictures? This pose is sure to add an oomph factor to your gorgeous saree photo. 
 Fix Your Hair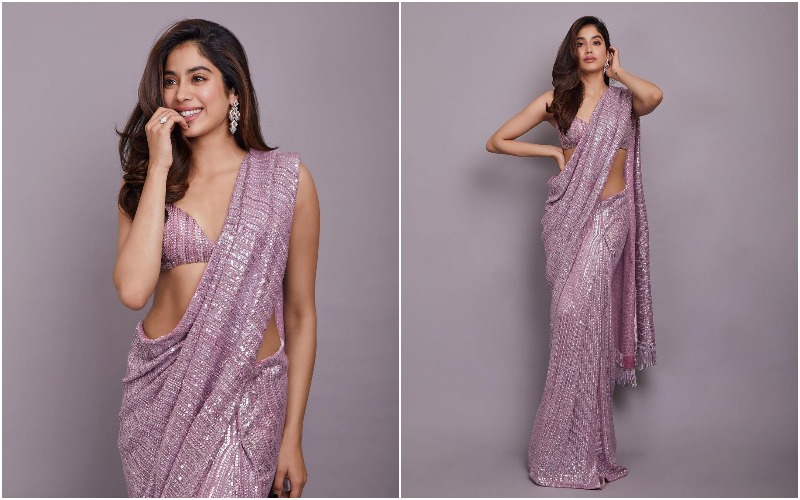 Ever been in an awkward position where you don't know what to do with your hands while posing? Well, we've all been there. Getting the hand poses right might seem tricky, but you can't go wrong with a pose wherein you're playing with your hair! It adds an element of interest and can also help draw attention to your hair. You've gotta try these saree photo poses at home. 
Open Pallu Saree Pose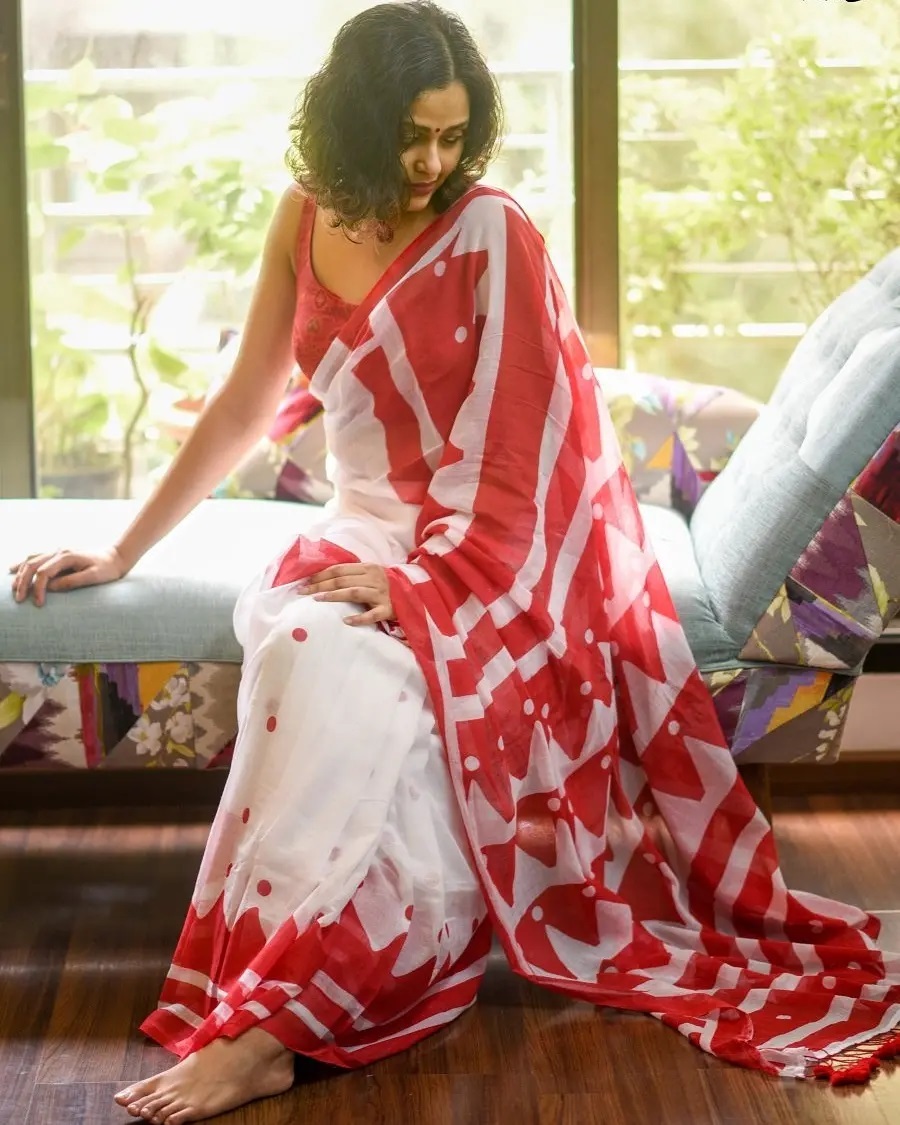 Another way you can flaunt the design of your saree is by being seated while letting the pallu flow down. This can only be done if your saree has been draped with an open pallu, and looks best with sarees that have printed or embroidered pallu.
Nora Fatehi's Sultry Saree Pose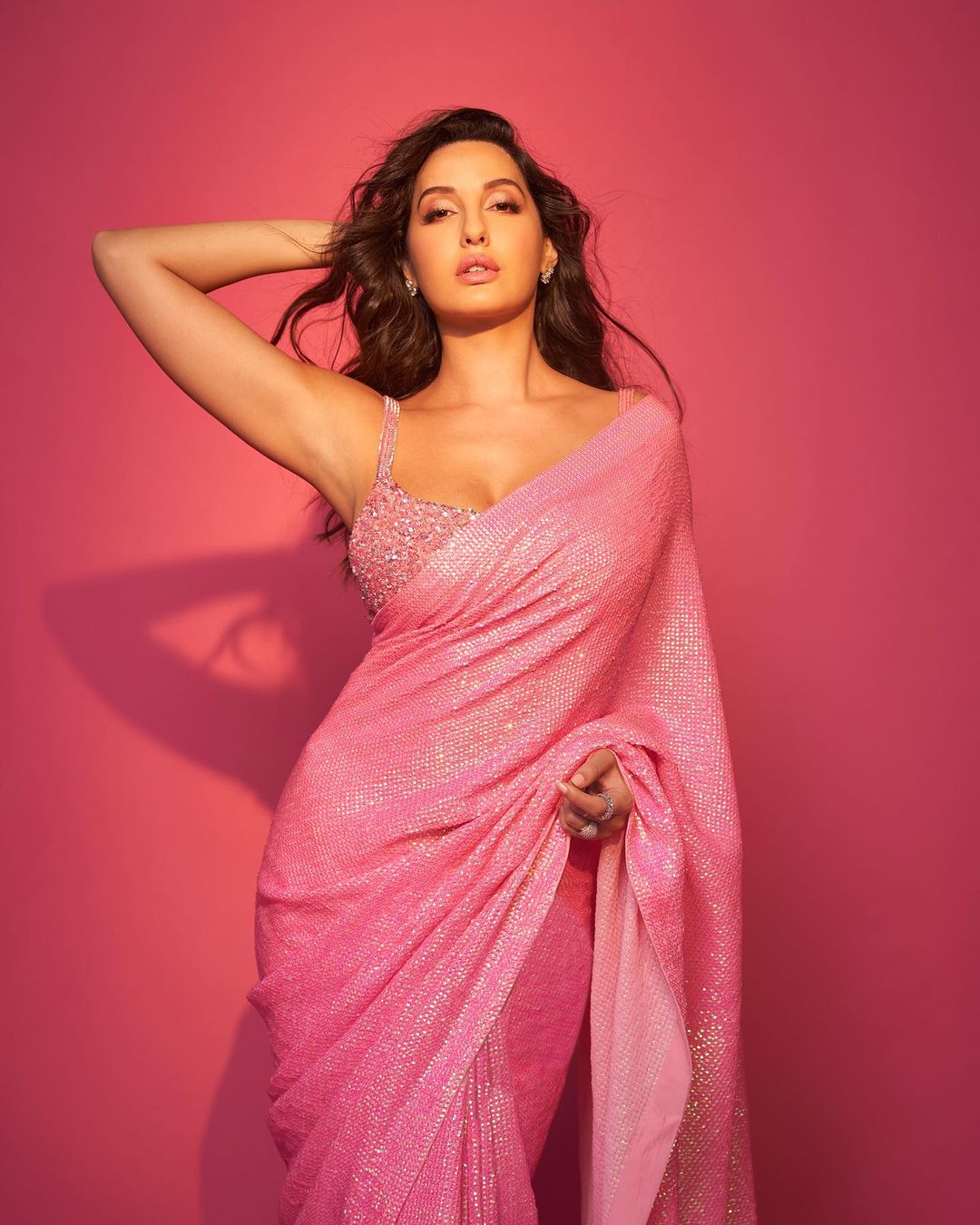 If sexy is the look you're going for in your saree pictures, then try this saree pose at home!  
Show Off Your Statement Earrings!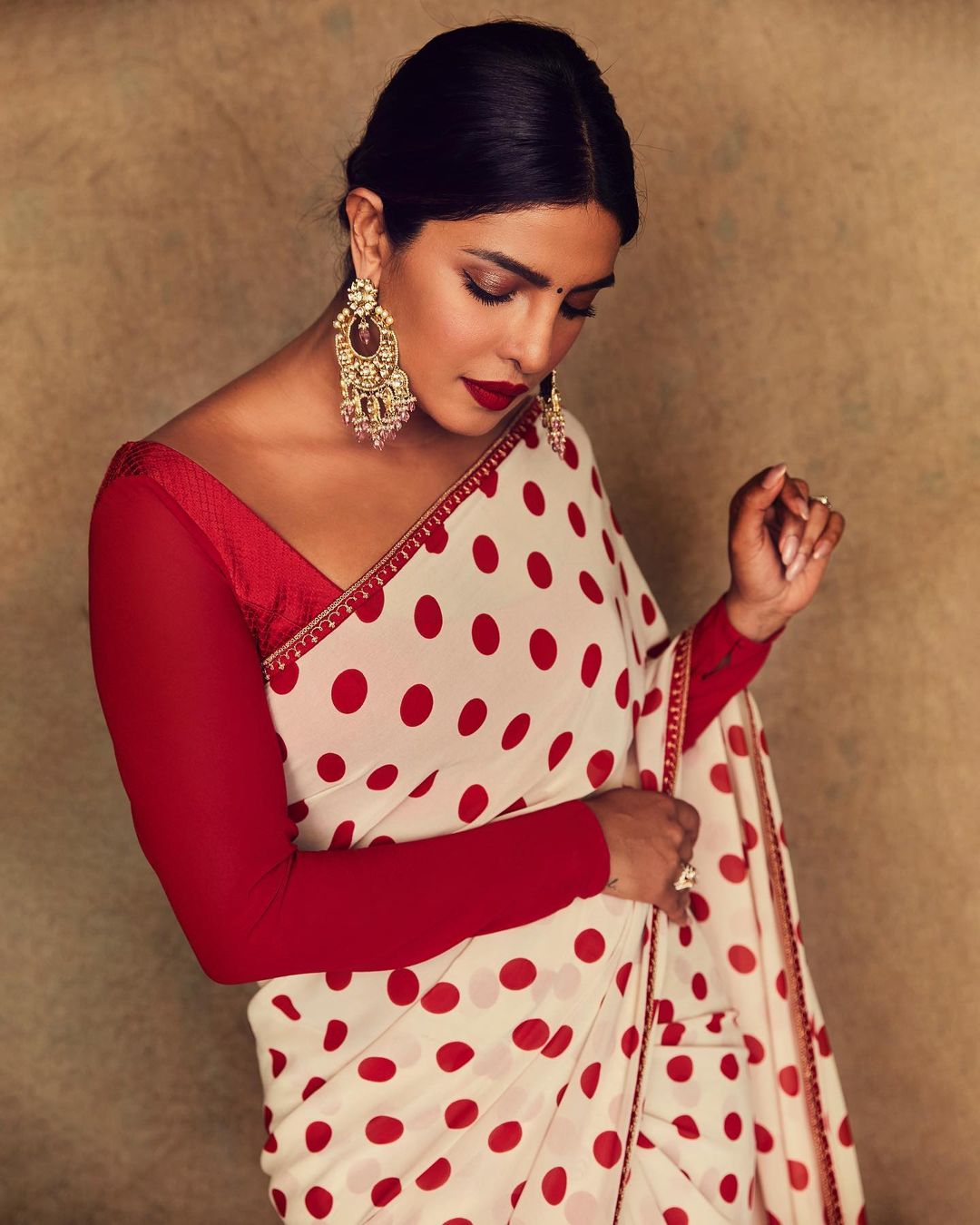 Priyanka Chopra looks stunning as she poses in a Sabyasachi saree. Not only does she flaunt her saree beautifully, but she also manages to show off her huge earring, thanks to this pose. You can try this saree pose at home, especially when you've paired statement earrings along with your saree. 
Simple Saree Poses At Home
Sometimes, it's the simplest poses that look the most beautiful. Just a normal pose along with a change in lighting, backgrounds, or addition of props can make your photo stand out. Below are some simple saree poses that you can easily replicate at home! 
Simple Classic Side Pose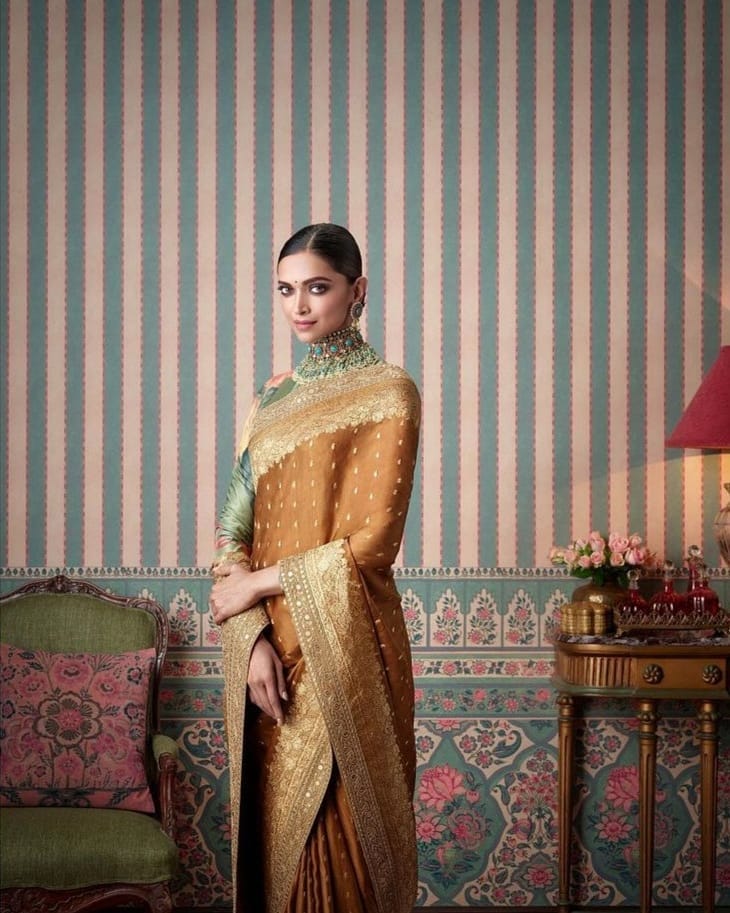 Even the most basic poses in a saree can make you look effortlessly beautiful. Just flash your million-dollar smile, pose sideways, and stare into the camera while flaunting your saree. Deepika Padukone exudes a royal vibe in this picture and her simple classic side pose only enhances the beauty of the picture. 
Lean By The Window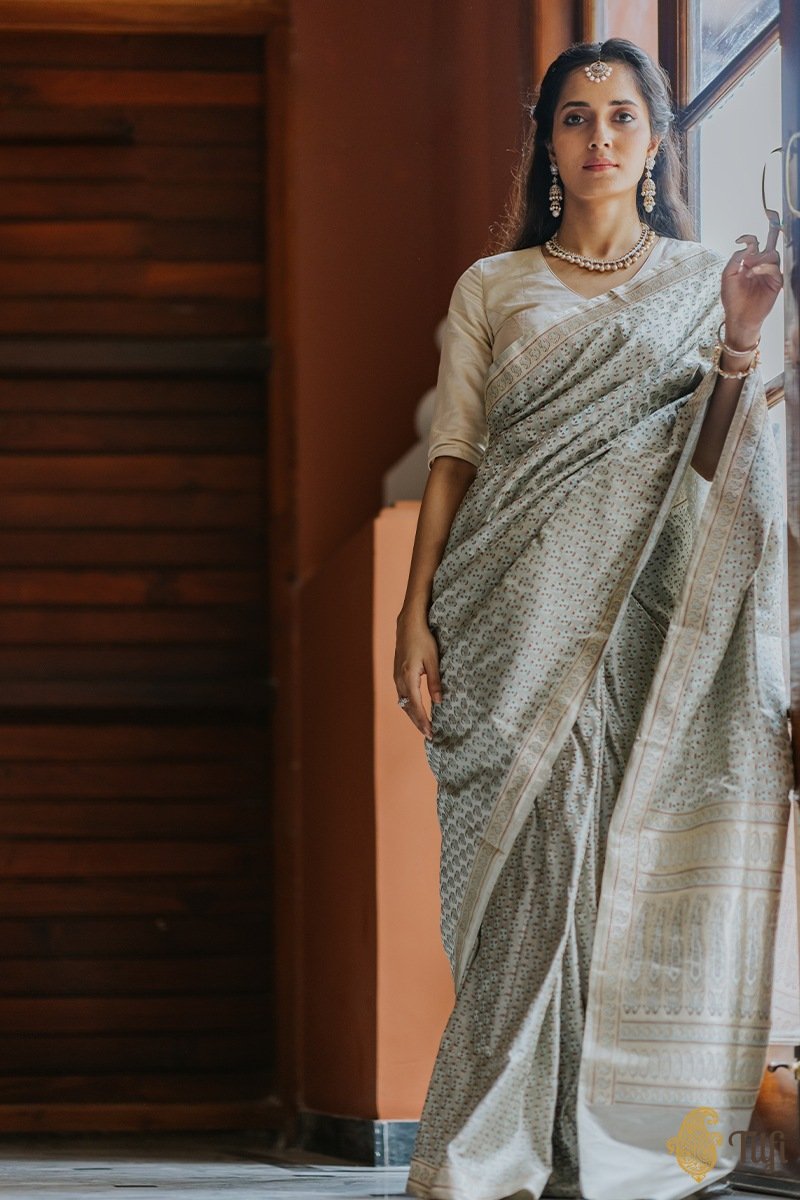 This is one of the simplest saree poses to recreate at home. While wearing a saree already makes you look like a million bucks, you can enhance the beauty of the picture by adding some brightness and glow to it by simply posing next to a window.  
Exude Elegance Like Alia Bhatt!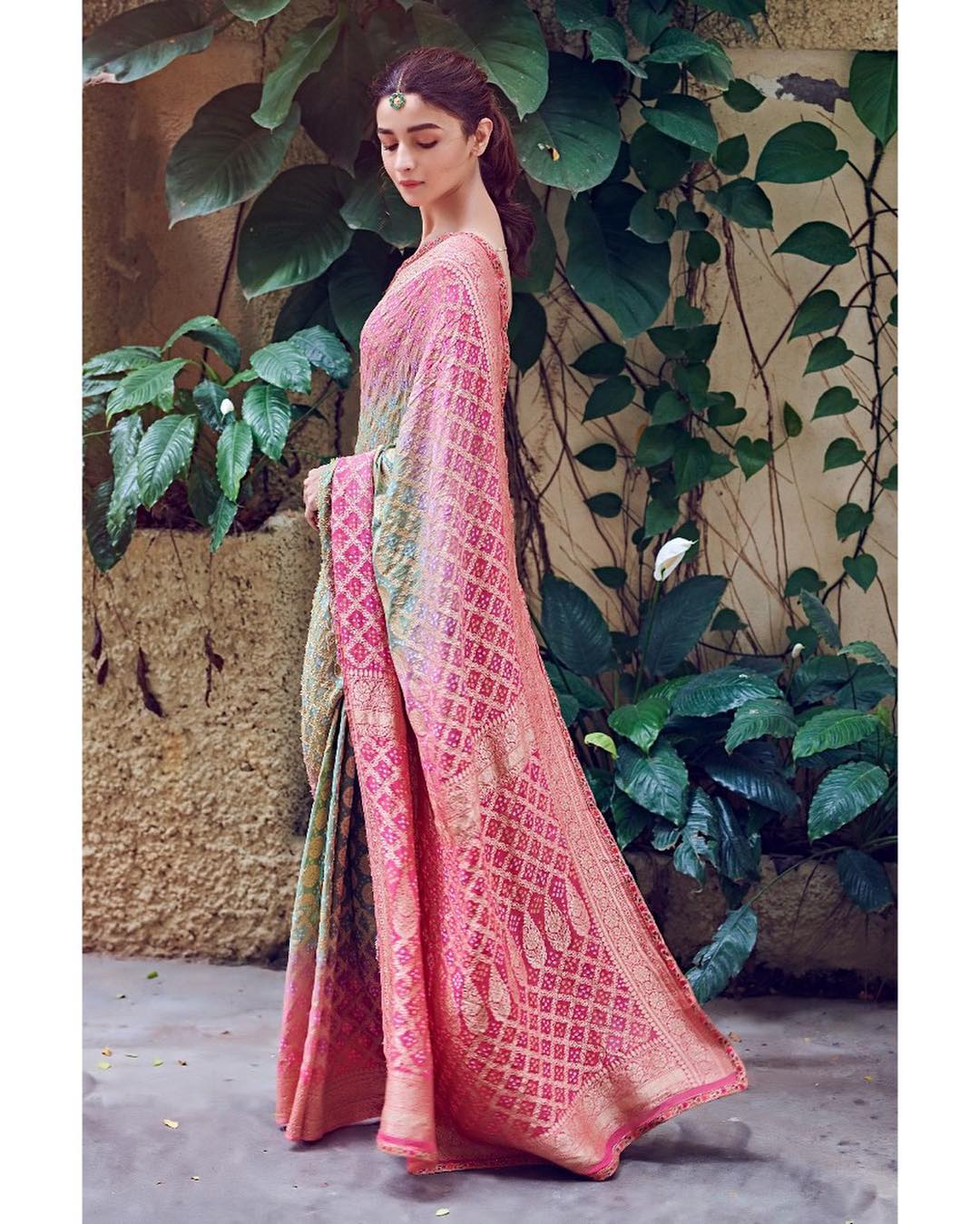 There's nothing over the top about this pose, but its beauty lies in its simplicity. Alia Bhatt looks gorgeous as she flaunts the beautiful pallu of her saree by posing sideways, while simultaneously gazing down. Try this saree pose at home for some mesmerizing pictures!
Hand On Chin Pose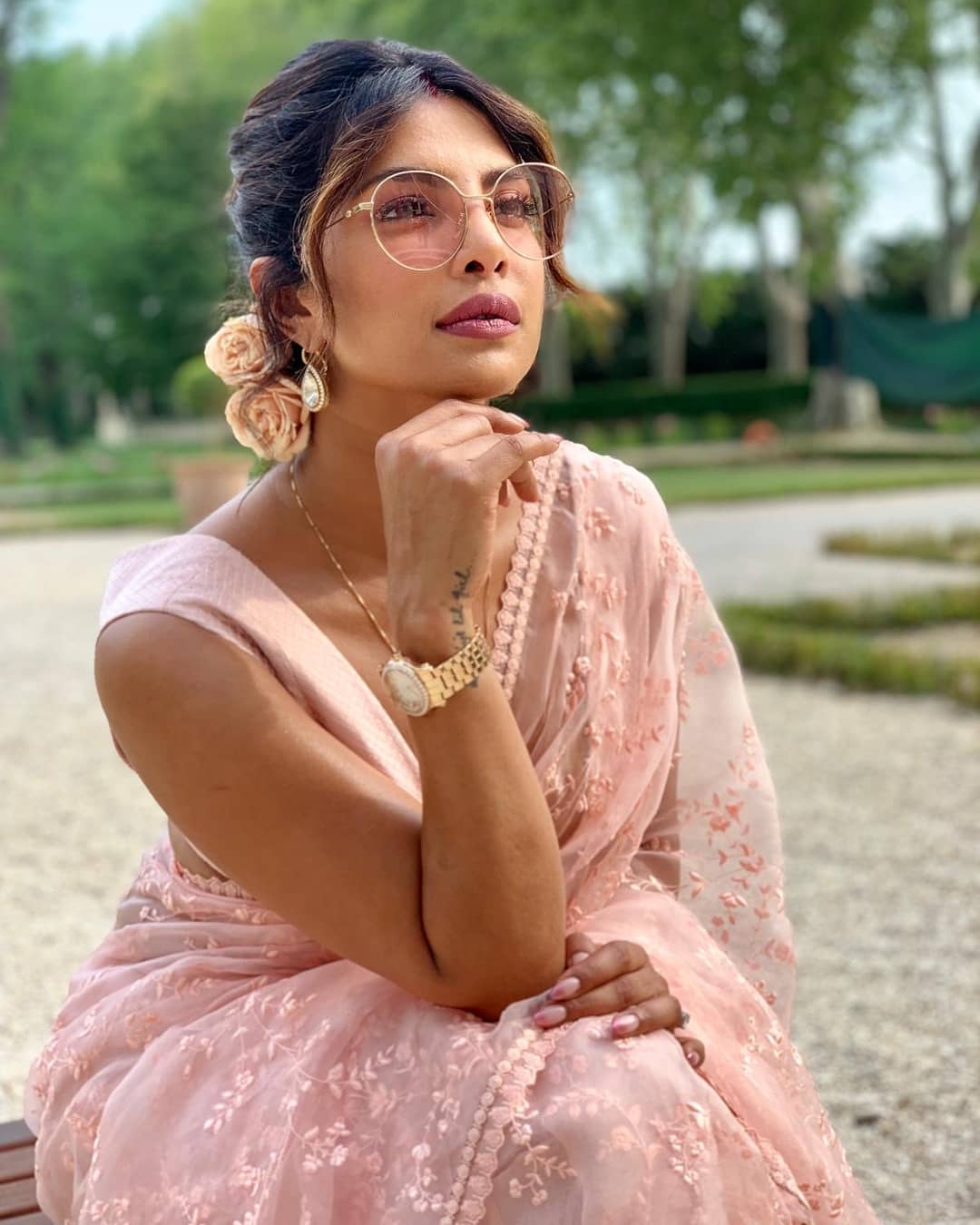 This one is a classic pose for saree pictures. The pose makes you look really stylish and elegant while flaunting the saree at the same time. Try this simple saree pose at home for your next photoshoot!
Traditional Saree Poses At Home
Traditional sarees look graceful and elegant, and usually have intricately detailed work on them. For traditional saree poses at home, make sure the prints and patterns on the saree remain in focus and are highlighted. After all, something so beautiful must be flaunted! Check out some traditional saree poses that you can try.
Candid Side Look Pose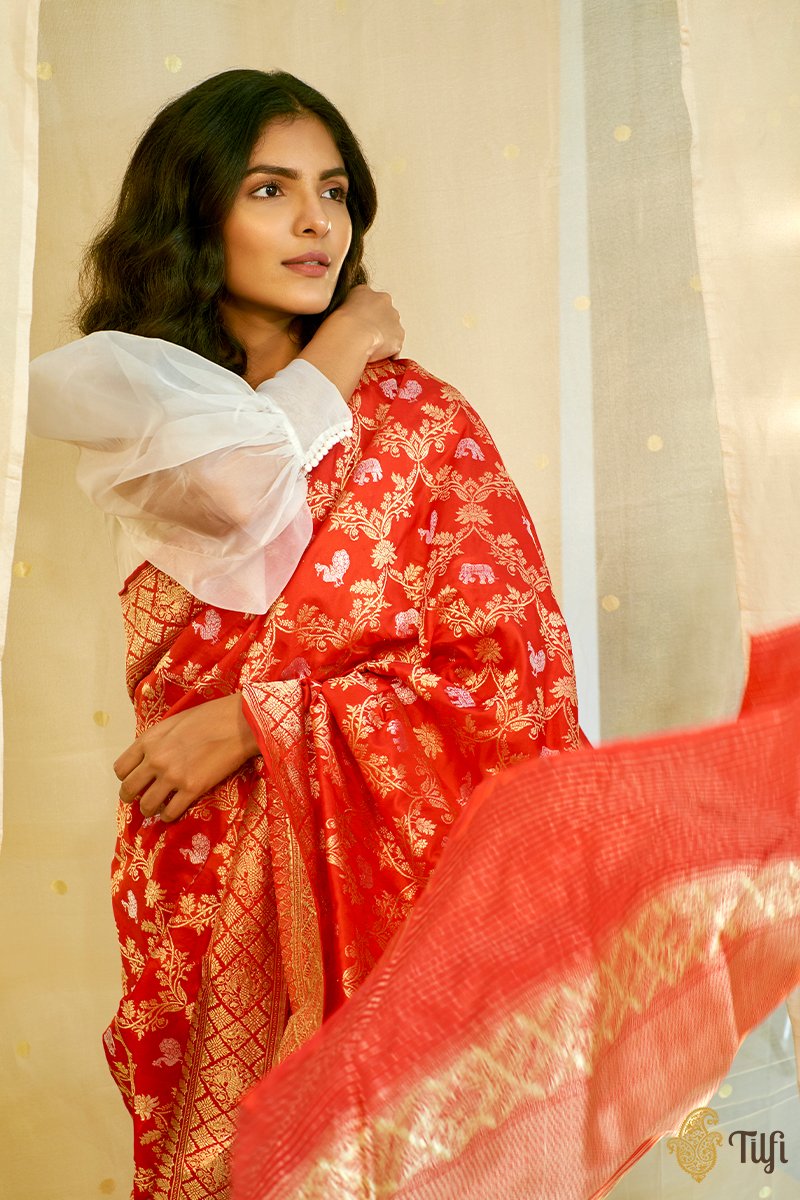 Candid poses will always be in vogue. We especially love this one, which helps you flaunt not just the saree, but also the blouse sleeve design. You can recreate this saree pose at home quite easily.
Bengali Saree Back Pose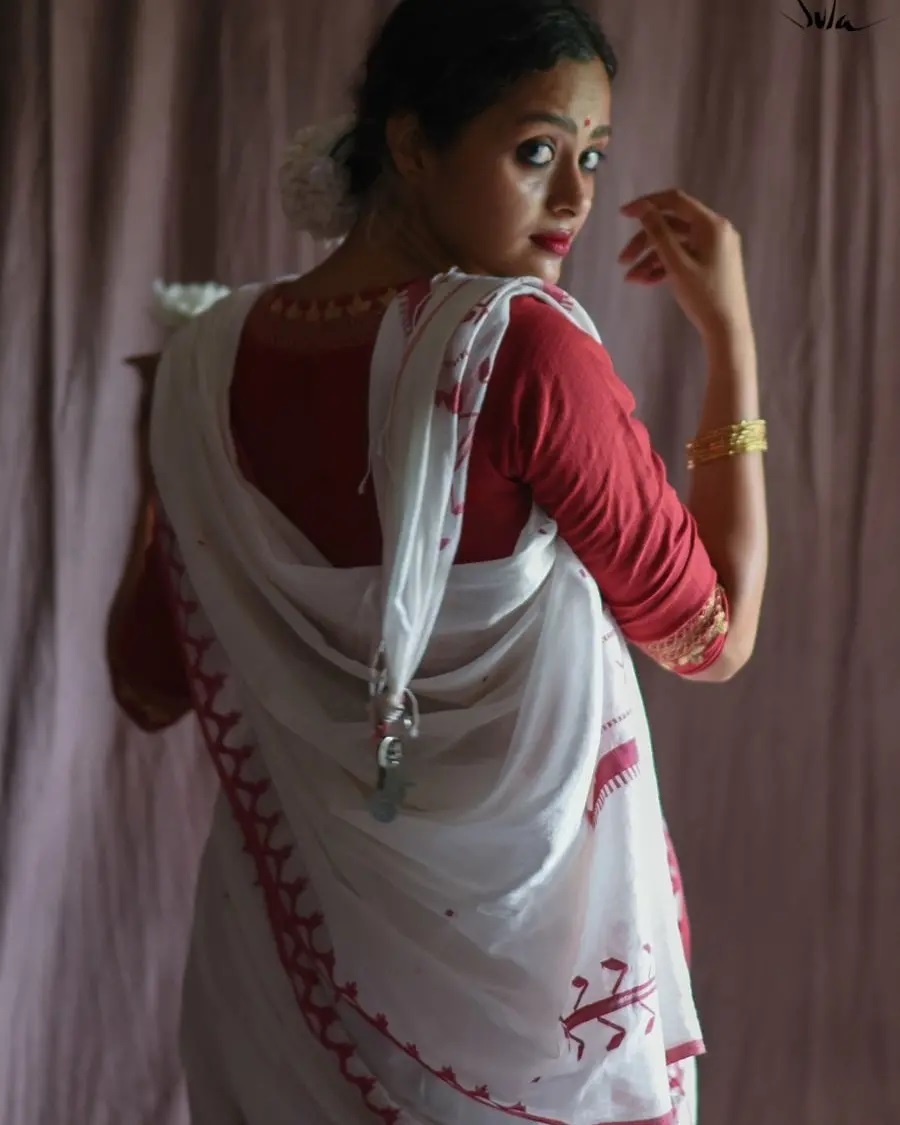 Bengali sarees look simply beautiful, and to enhance their beauty, you can strike a back pose like this one so that your blouse design is prominently visible too! Face your back to the camera while you stand in front of a wall or a curtain. Just make sure that your hair is either tied up or gathered at the front so as to get a clear glimpse of the saree and blouse. 
Pose In Front Of A Mirror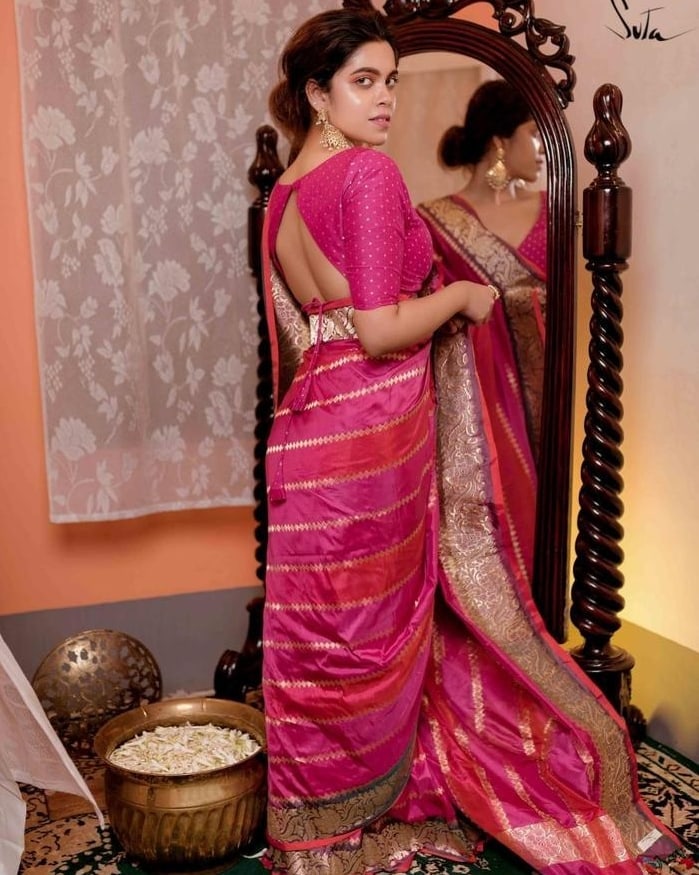 Wondering how to flaunt your saree as well as the blouse back design simultaneously? It's simple, really. Just pose in front of the mirror with your back facing the camera in such a way that the front is visible in the mirror! 
Selfie Poses In Saree At Home 
Clicking pictures in a saree usually requires the help of another person, especially if you have to take a full shot from head to toe. However, if there's no one to take your pictures, you can also opt for taking some stunning selfies instead! Below are some selfie poses in saree that you can try replicating at home.
Stylish Mirror Selfie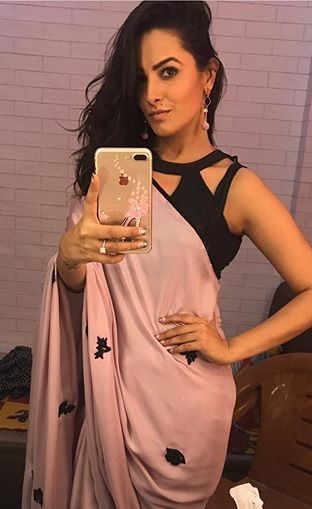 While showing off your saree completely may not be possible with a normal selfie, a mirror selfie can help you get a full picture! Just pull your hair on one side so that your blouse design is visible, place your hand on your waist, flash a smile, and voila! You have a stunning selfie in a saree. 
Side Selfie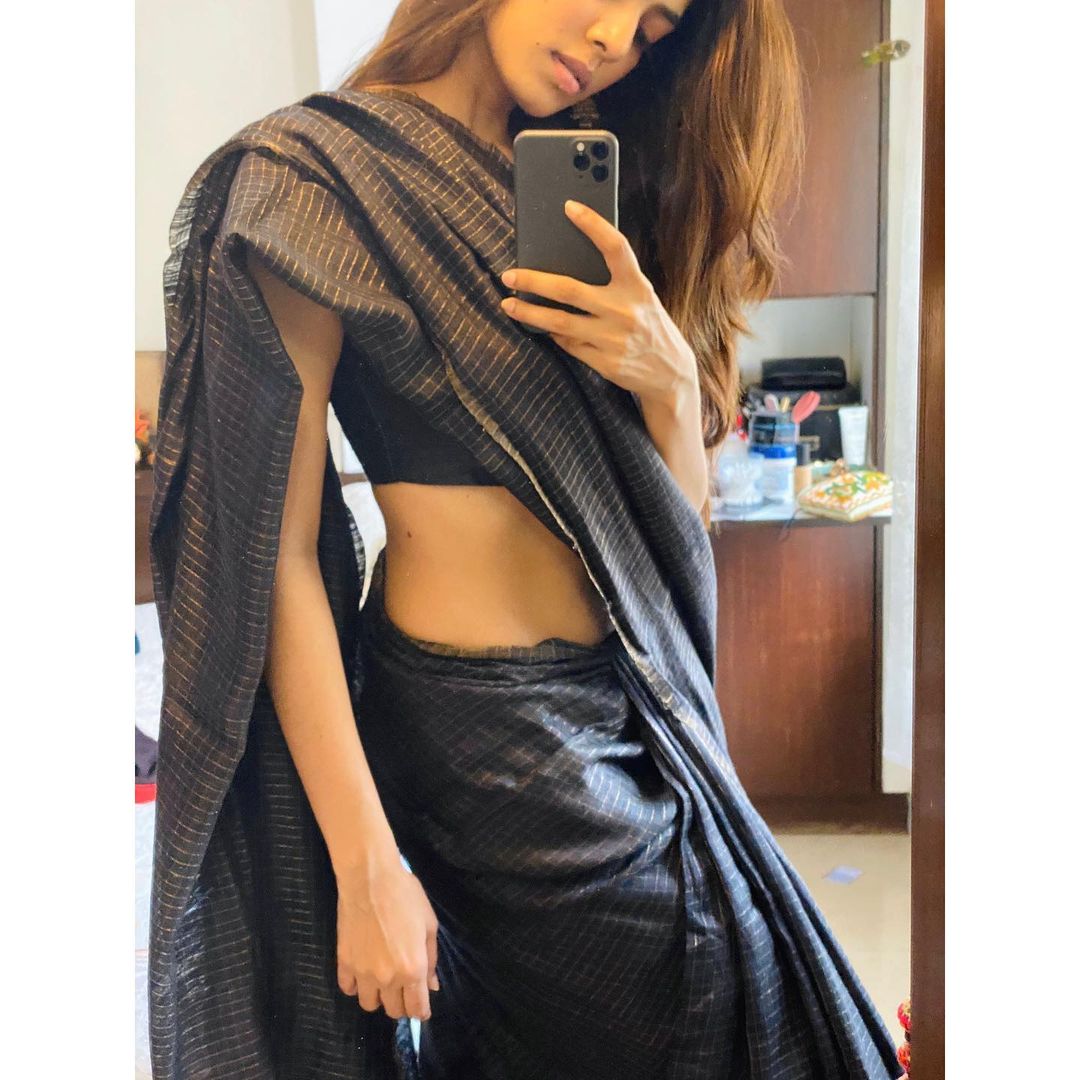 Add a little bit of oomph to your saree selfie by clicking a side profile. Malavika Mohanan aces this sexy pose effortlessly, and we're loving it! 
Top Angle Mirror Selfie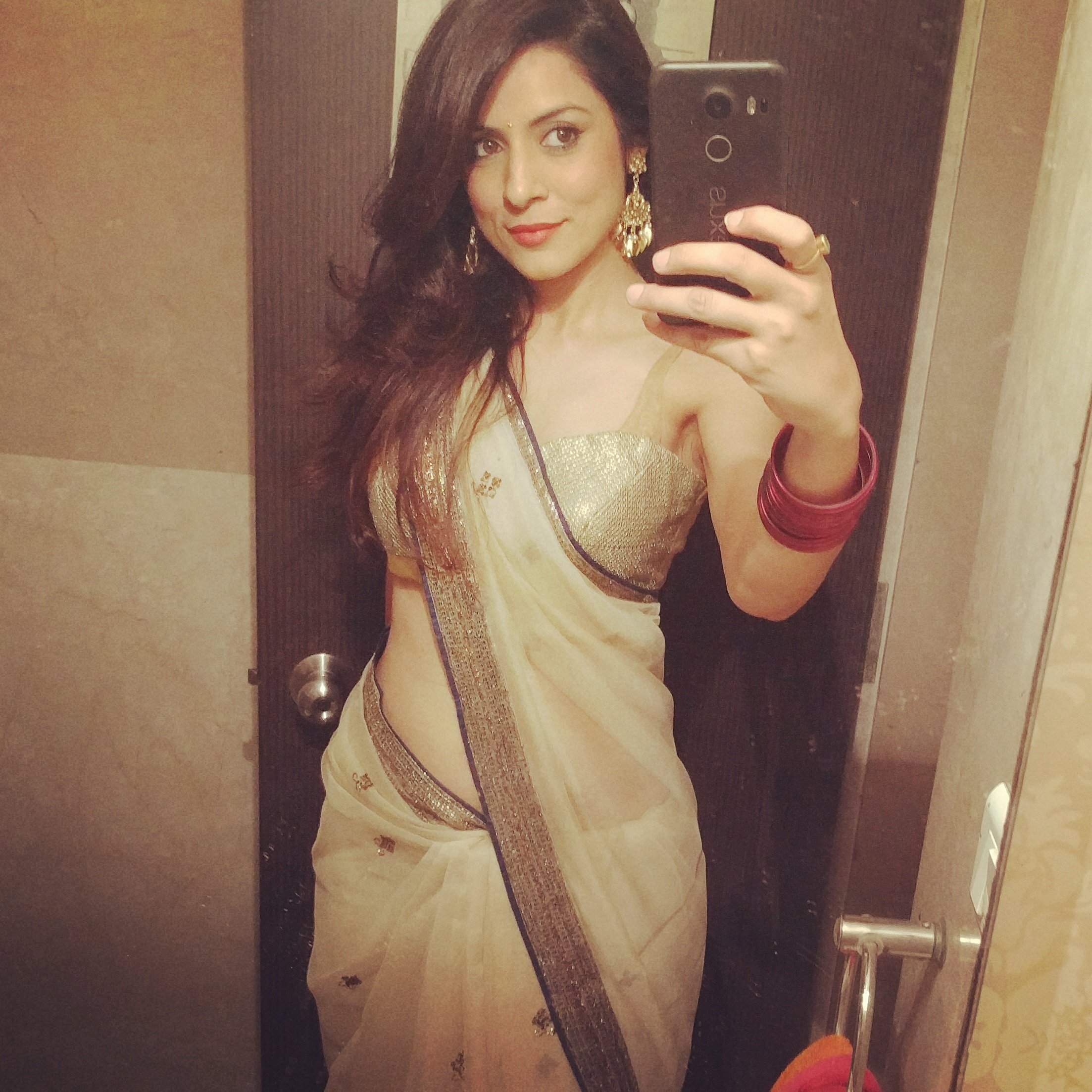 Try this selfie pose in a saree at home if you want to have a picture that doesn't hide your blouse or saree design. The idea is to hold the camera at a top angle so that your hand doesn't cover up any part of your attire.
Instagram Saree Poses at Home
Need some inspiration for Instagram saree poses at home? Take cues from these amazing poses, and amp up your social media game!
Let It Flow!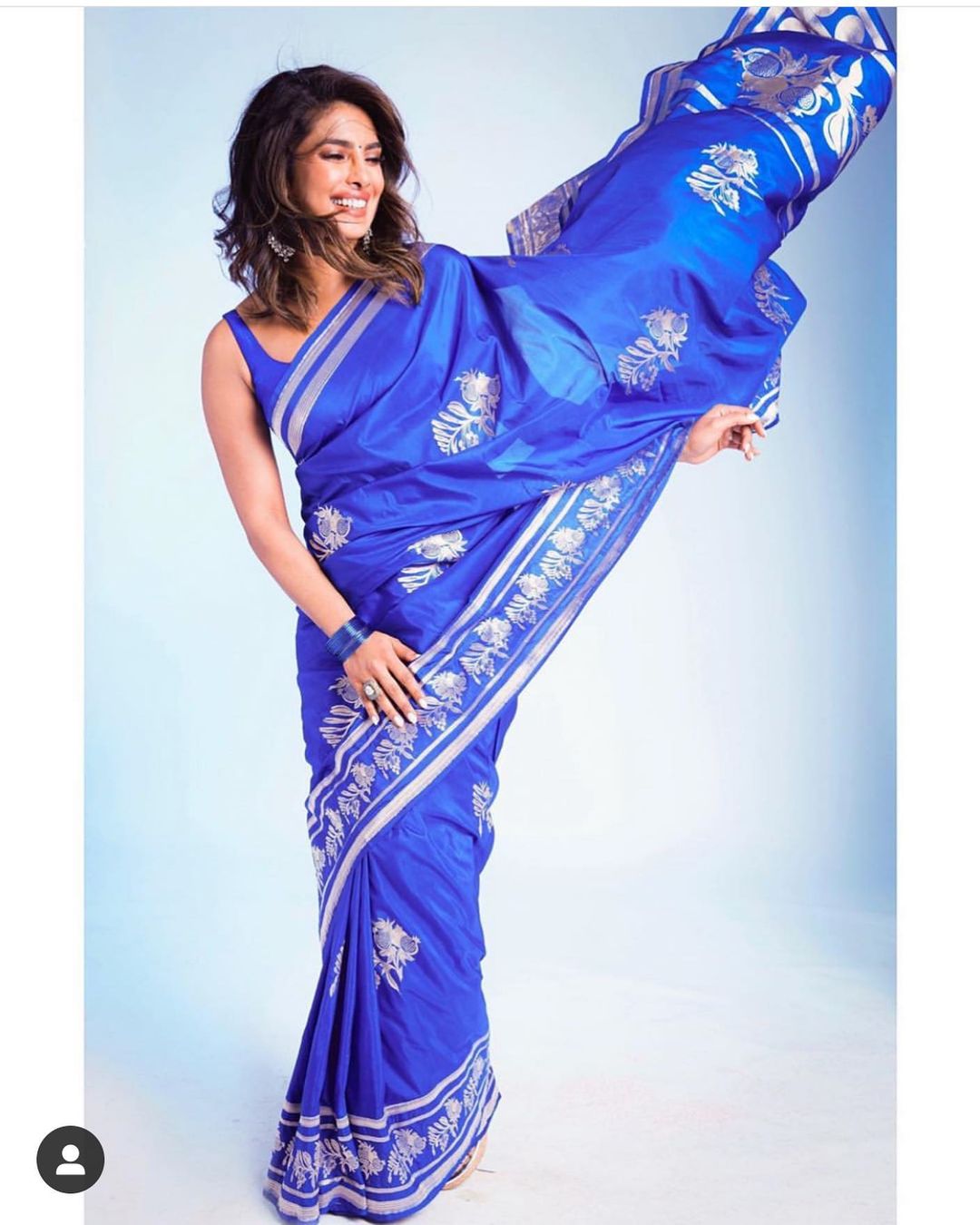 Desi girl Priyanka Chopra knows how to carry a saree gracefully! This photo of PeeCee in a blue saree had gone viral because of how stunning the actress looked in it, and her fun, cheerful pose had garnered a lot of attention. You can easily try this saree pose at home!
For Backless Saree Blouse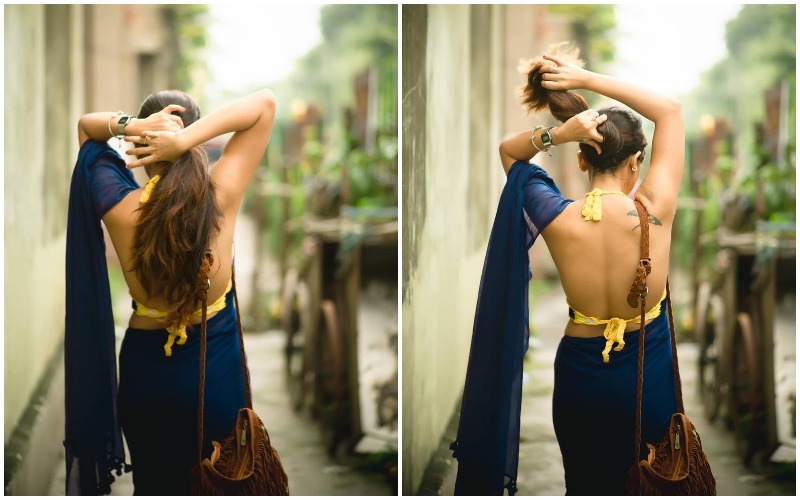 Who said saree poses have to be boring? If you're opting for a backless blouse with your saree, you can choose to flaunt it! To ace this sexy saree pose at home, just stand with your back facing the camera, and pretend to tie up your hair in a ponytail.
Kareena Kapoor Khan's Movement Pose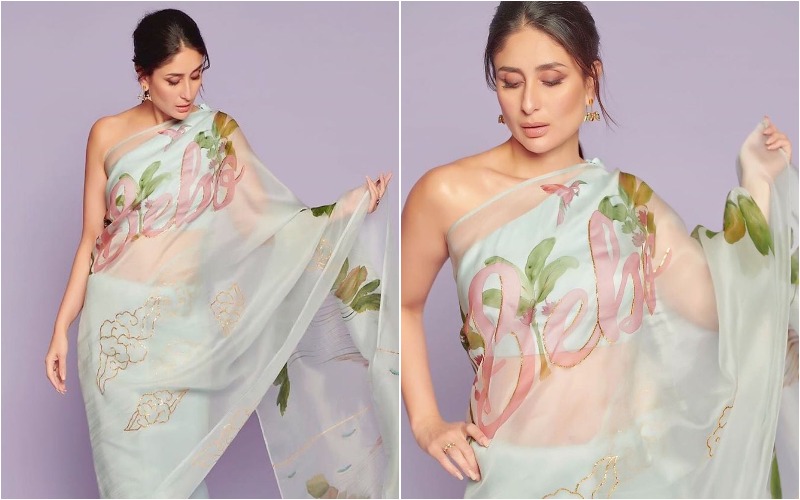 Leave it to Bebo to rock a saree with such elegance and grace! Kareena knows how to carry her saree effortlessly and strike some stunning poses while at it. You can try replicating this Instagram saree pose at home quite easily.  
Deepika Padukone's Elegant Pose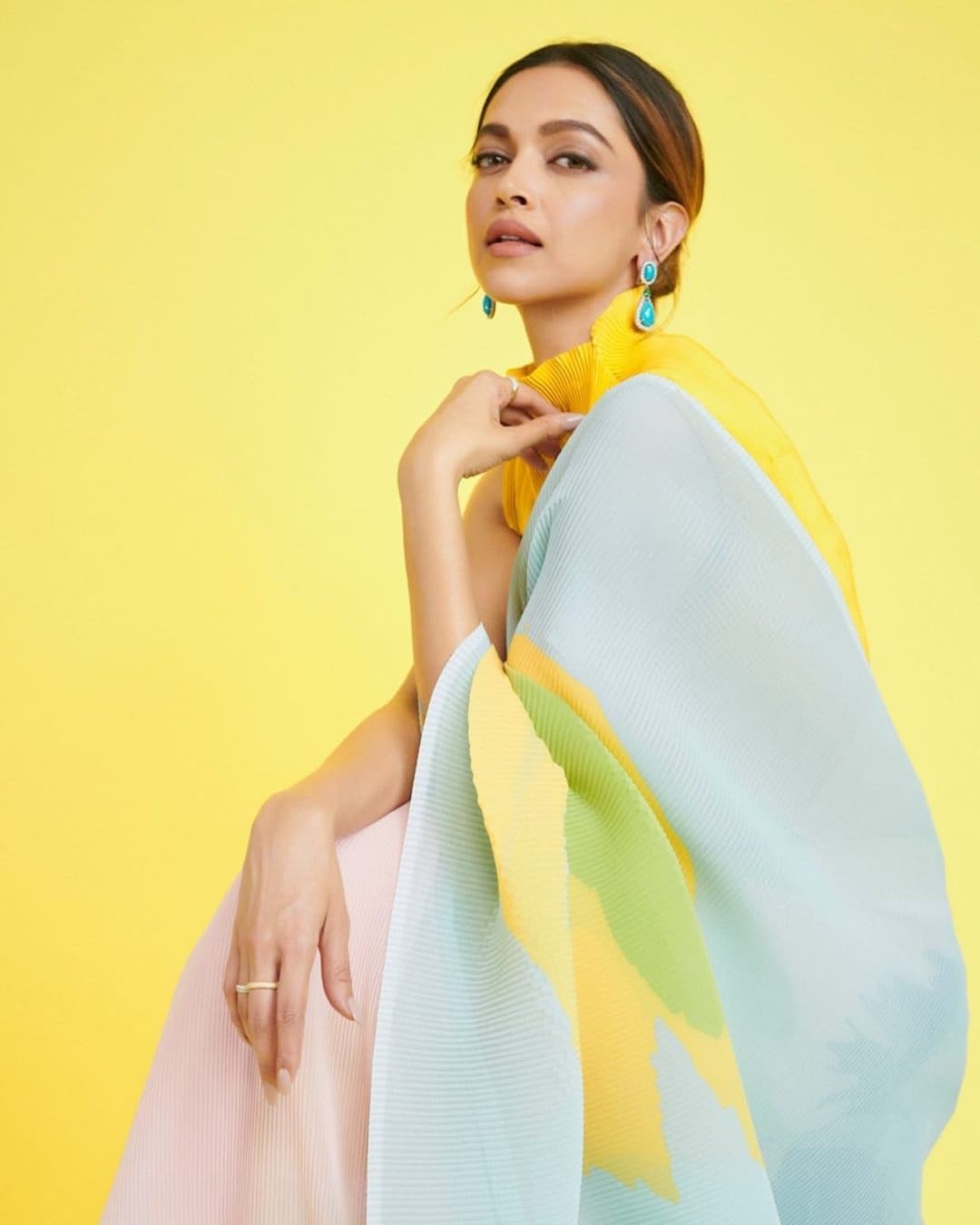 We're in love with Deepika Padukone's stylish pose that you can also try and recreate for your next photoshoot. Just tilt your head up, imitate Deepika's hand placements, and stare intently at the camera, and you're all set! 
Also Read
Saree Designs For Diwali: Diwali is just around the corner, and in case you still haven't decided what you're gonna wear, check out our list of new saree designs that will surely amp up your festive look.
Saree Quotes And Captions For Instagram: Found the perfect saree pose? The next step after clicking that gorgeous saree pic would be to post it on Instagram! If you're looking for some captions to go along with your saree pictures, check out this article.
Types Of Sarees: From Bandhani to Kanjeevaram and Chanderi sarees, here are 7 types of sarees that you need to know about!
South Indian Wedding Sarees: Are you a bride-to-be who is looking for some stunning South Indian sarees to wear at your wedding? You've come to the right place! Check out these South Indian wedding sarees that you'll fall in love with.
Famous Sarees From Bollywood For Farewell: Want to buy a saree for your high school or college farewell? Take inspiration from these amazing farewell saree designs!  
Take your social media game up a notch by trying out these simple saree poses at home! Which ones did you love the most?
Featured Image: Nushrratt Bharuccha, Kareena Kapoor Khan and Priyanka Chopra on Instagram