Everybody is aware of the rivalry between Mumbai and Delhi about being the fashion capital of India. They constantly try to get a  one-up in some form or the other, whether it's bringing in the big brands or the residents showcasing their varied styles. The competition is real. The two cities have played the catch-up game in the global fashion capital rankings for awhile now.
But let's leave that discussion for another day. Fashion is what's in yes, but the style is what you are! The extremely subjective nature of personal style is what drew us to try and decode the women's fashion scene of these two cities using two uber-cool Plixxo super bloggers.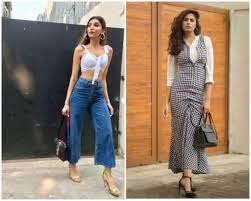 Representing the Mumbaikars is resident cool girl Juhi Godambe and the super fun Mehak Ghai shall be filling in for the Delhiites. Our blogger style file is based on the effortless style of Mumbai vs the well-thought-out ensembles of Delhi. We are also going to focus on the more mainstream approach taken by Bombay girls as compared to more individually unique looks of the Delhi girls.
1. A Case For The Casuals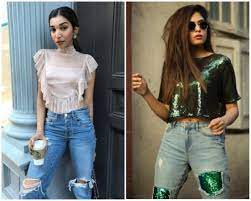 Juhi – A blush ruffled sheer top paired with basic ripped jeans makes for a trendy casual outfit on a day out.
Mehak – A shimmery emerald green top matched with glitter-patched blue jeans is a quirky look you can opt for a statement look.
POPxo Recommends: Round Sunglasses for Rs 799. Buy it here
2. The Street Style Aesthetic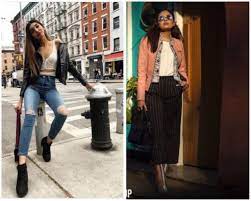 Juhi – The Bombay girl street style is solid fitted-jeans, a sexy bralette top, leather jacket and ankle boots. Biker chic, anyone?
POPxo Recommends: Suede Ankle Boots for Rs 2,799. Buy it here
Mehak – Delhi girls, on the other hand, take the cake when it comes to layering. Their body-heavy street style look includes at least four different articles of clothing, plus an offbeat footwear choice.
3. The Errand Girls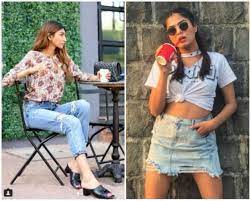 Juhi – On an average day, a busy Bombay girl will be seen in comfy jeans, a pretty blouse and agile footwear. Frankly, nothing else can manoeuvre through the crowd than this effortless ensemble!
Mehak – Oh how Delhi girls dare to dress fancy, regardless of the occasion! Even on a coffee run, Ms Ghai is at her finest with a ripped mini denim skirt and chic braids.
4. Stepping Out For A Quick Drink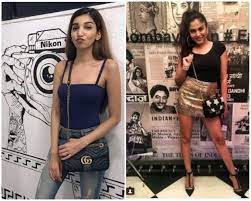 Juhi – Mumbai girls at the bar are usually dressed down. Juhi's paring of a fitted slip, high-waisted jeans and fresh-faced look is the best way to unwind with friends, right?
Mehak – Meanwhile stepping out for a quick drink, Mehak slipped into a sequin skirt, killer heels and a cute bag. This look proves that hoops are definitely her thing!
POPxo Recommends: T-Strap Heeled Shoes for Rs 1,399. Buy it here
5. The Festive Garbs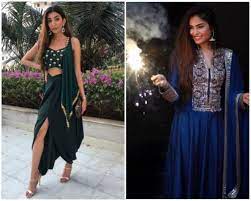 Juhi – Juhi's choice for Diwali is a contemporary twist on the ethnic look with dhoti pants, an elegant blouse and statement danglers.
Mehak – Staying true to tradition, Mehak picked a pretty embroidered Anarkali for her Diwali outfit.
6. The Vacay Looks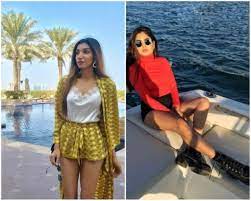 Juhi – Juhi's vacation ensemble sure drops hints about the headspace she is in, fey, flowy and at maximum leisure.
Mehak – So what if you are on vacation, Mehak chose to ride the waters in her chunky boots absolutely slaying the rocker chic(k) look!
POPxo Recommends: Lace-Up Heeled Boots for Rs 1,889. Buy it here
7. Playing Dress Up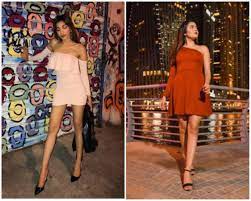 Juhi –  Tulip cuts and blush hues, Juhi chose to dress up in subtle pastels for a glitzy night out. Her only standouts? Killer heels and hefty danglers.
Mehak – For a glam night out, Mehak went or a rustic orange feminine dress, matching her make-up to the look, she looks like a million bucks indeed!