Mouni Roy knows how the get the world talking with her killer outfits and her recent Cannes Film Festival looks were evidence of that. Now the Brahmāstra actress took the internet by storm after she posted some new pictures. But as they say, kuch to log kahenge, logo ka toh kaam hai kehna,
Mouni Roy took to her 'gram to drop in some new hot and sizzling pictures of her in a risque two-piece swimsuit. Flaunting her curves in a rustic orange swimsuit by Marks & Spencer, Mouni literally made our jaws drop to the floor. Her look was styled by Mohit Rai, who added OTT gold-plated accessories to complete her look.
While Mouni looks drop-dead gorgeous, people on the internet had some very disgusting things to say about her outfit and we are appalled. One user wrote, "Full kpdo me Pic daloge to kya like km aate h kya kiu nange hue ho..( does posting pictures in full clothes get you lesser likes is thatwhy you are nude)"
Take a look at some of the other comments.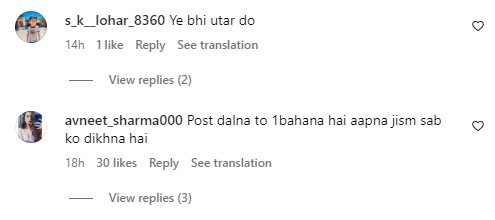 A word for these people. This is not the first time that Mouni has posted pictures in a bikini and it definitely won't be the last. It's her choice to wear what she likes and you have the option to unfollow her if that makes you so uncomfortable!
Featured Image: Lifestyle Asia India