The truth is—any sex advice can run the gamut between legitimately helpful, totally bizarre, and shockingly harmful. While the world has moved in a much more sex-positive direction, there is still a lot of misinformation about the art of lovemaking. Unfortunately, most women are conditioned to stay mum on the subject of sex. That's why they end up falling victim to terrible sex advice.
Now, whether you are a newbie in the world of sexual freedom or an old-timer, there is no harm in brushing up on the facts. We are here to talk about terrible sex advice that you should ignore right away. Scroll down:
Sex Is Supposed To Hurt
Okay ladies, no matter what you watched in porn, heard in the streets or read in erotica, sex isn't supposed to be painful. Sex is not about the man's pleasure only. You must have fun too. In case you are frequently having painful sex, try using a lube or a longer foreplay sesh. However, if the pain isn't going away, it is time to consult a doctor. 
Men Have To Make The First Move
Tring, tring! Hello? This is 2022, we would like to return sex advice from the 1950s. Women are often told that the worst thing they can be is someone who wants sex 'coz that makes them appear 'slutty' or 'characterless'. Just a word of advice—your character is not between your legs and sex has nothing to do with it. It is about time that we all let go of the notion that men are supposed to make the first move 'coz it honestly doesn't matter. If you want it go get it, girl. Psst…Remember consent is always required before you make any move!
"Guys Love This, Guys Love That"
No two humans are alike, so how can their sexual preferences be? Just because a guy likes getting his balls tugged during the blow job, doesn't mean this is the norm. When it comes to sex, there is no one size fits all. You have to pay attention to your partner's response to your moves and then take things forward. There is no magic formula here apart from the age-old classic—hit and trial.
You Gotta Swallow Always
One of the worst pieces of advice that a woman can get about sex is to swallow her partner's semen always. Unfortunately, the porn industry has made swallowing the big finale of the act. Just remember you don't 'owe' anyone anything when it comes to sex, perhaps least of all when it comes to what to do with bodily fluids. Whether you want to spit or swallow, is your choice and no one should tell you otherwise.
Women Shouldn't Masturbate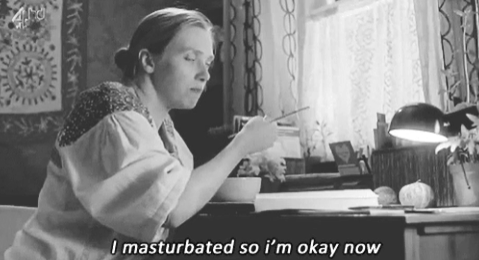 There's no reason for female masturbation to be a forbidden topic. Masturbation—or sexually pleasuring yourself—can bring a lot of good into your life and make you feel better about yourself. If you don't know what you like and what you don't, how can you guide your partner?
Lastly, let's not forget most of the sex advice women get is incredibly sexiest and full of slut shaming. The only advice that matters is the one that suits you and your partner.
Featured Image: Unsplash