Price Of These 7 Accessories Owned By Kiara Advani Will Shock You!
Kiara Advani is definitely a fashion gworl and a proud one! Her personal style may appear relaxed, current, and relatable, as it does for most millennial actors, but her pricey luxury accessories set her apart. I wouldn't be surprised if Kiara spent half of her salary on fashion accessories. After all, the girl has got her priorities straight! 
The price of these bags, stoles, and shoes owned by Kiara Advani will shock you!
Gold Prada Crossbody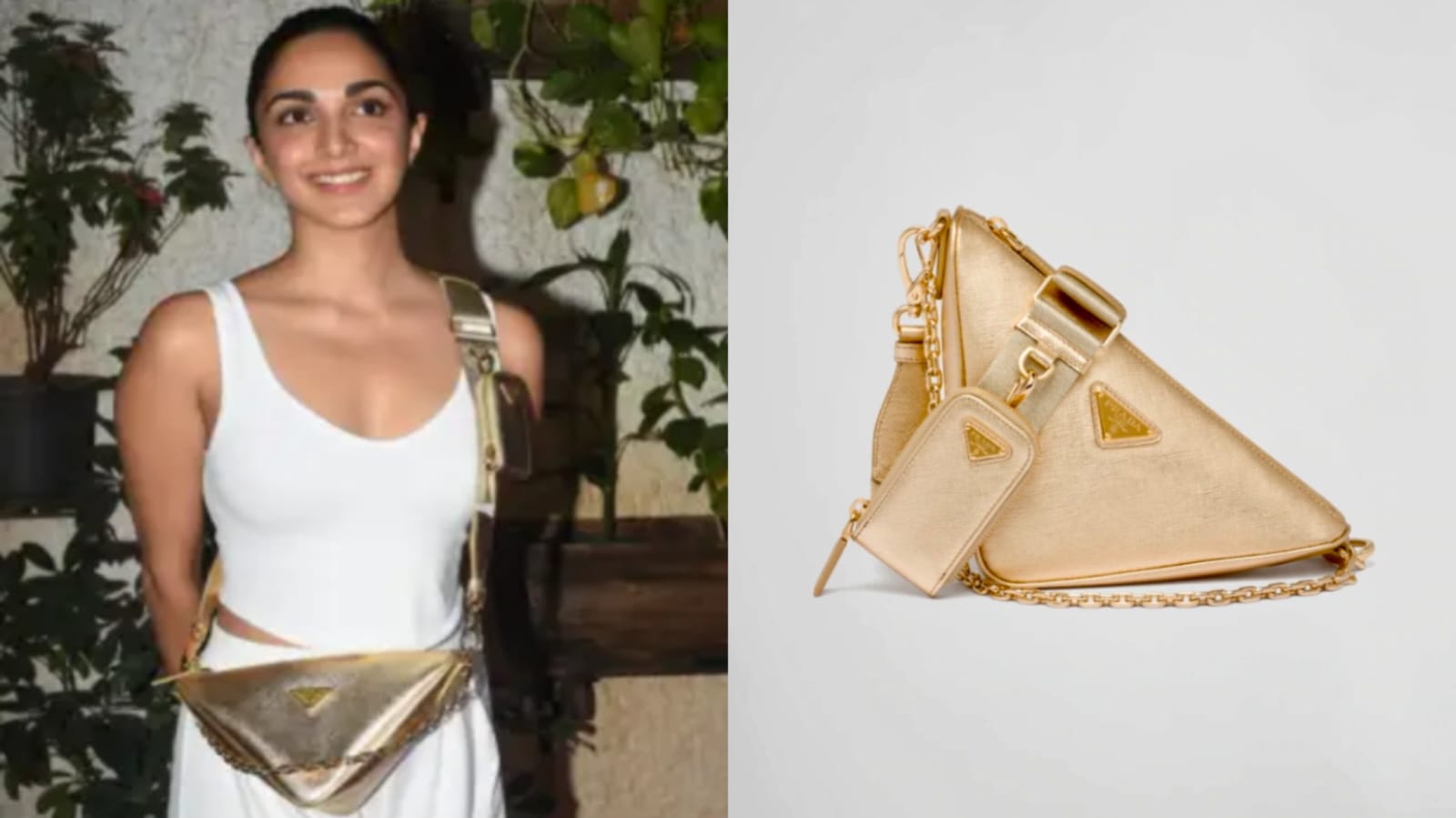 This is without a doubt Kiara's favourite bag out of all the ones she owns! The actress has been seen carrying this golden beauty from Prada on numerous occasions. Because of its metallic sheen, this one-of-a-kind triangular bag can spruce up even the most basic outfit. The tiny bag is worth Rs 2.3 lakhs! Yes, almost as much as a second-hand car.
Pink Hermès Stole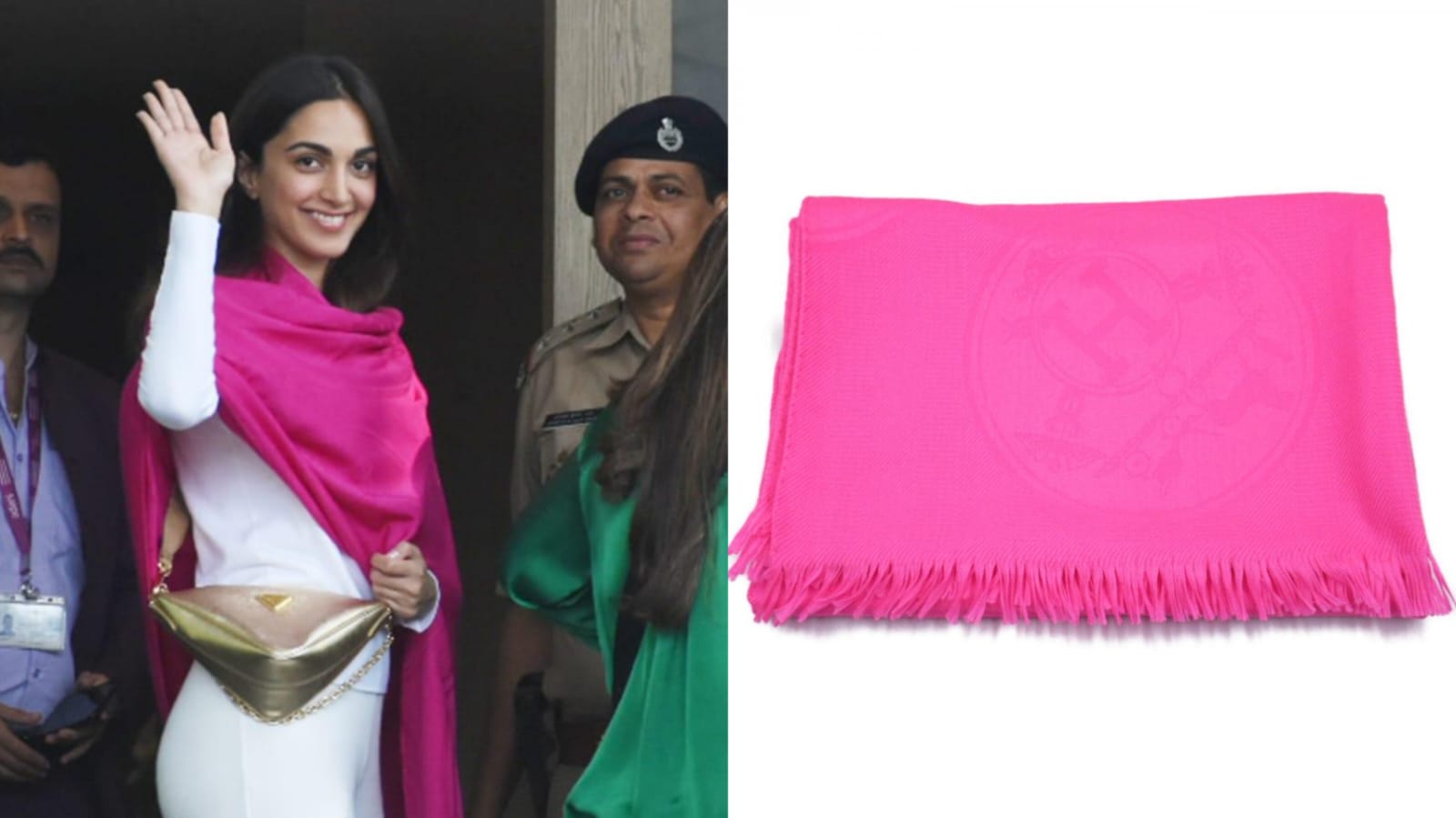 Kiara can make even a basic white-on-white outfit look expensive by simply adding a stole. This look may appear to be very simple to recreate. I mean, you only need a white top, white pants, and a hot pink stole from Sarojini Nagar. Kiara's look, however, not only "stole" our hearts but also our sleep when we discovered the price of her fashion accessory! The stole is from the luxury brand Hermès and costs Rs 86,000!
Grey Dior Shawl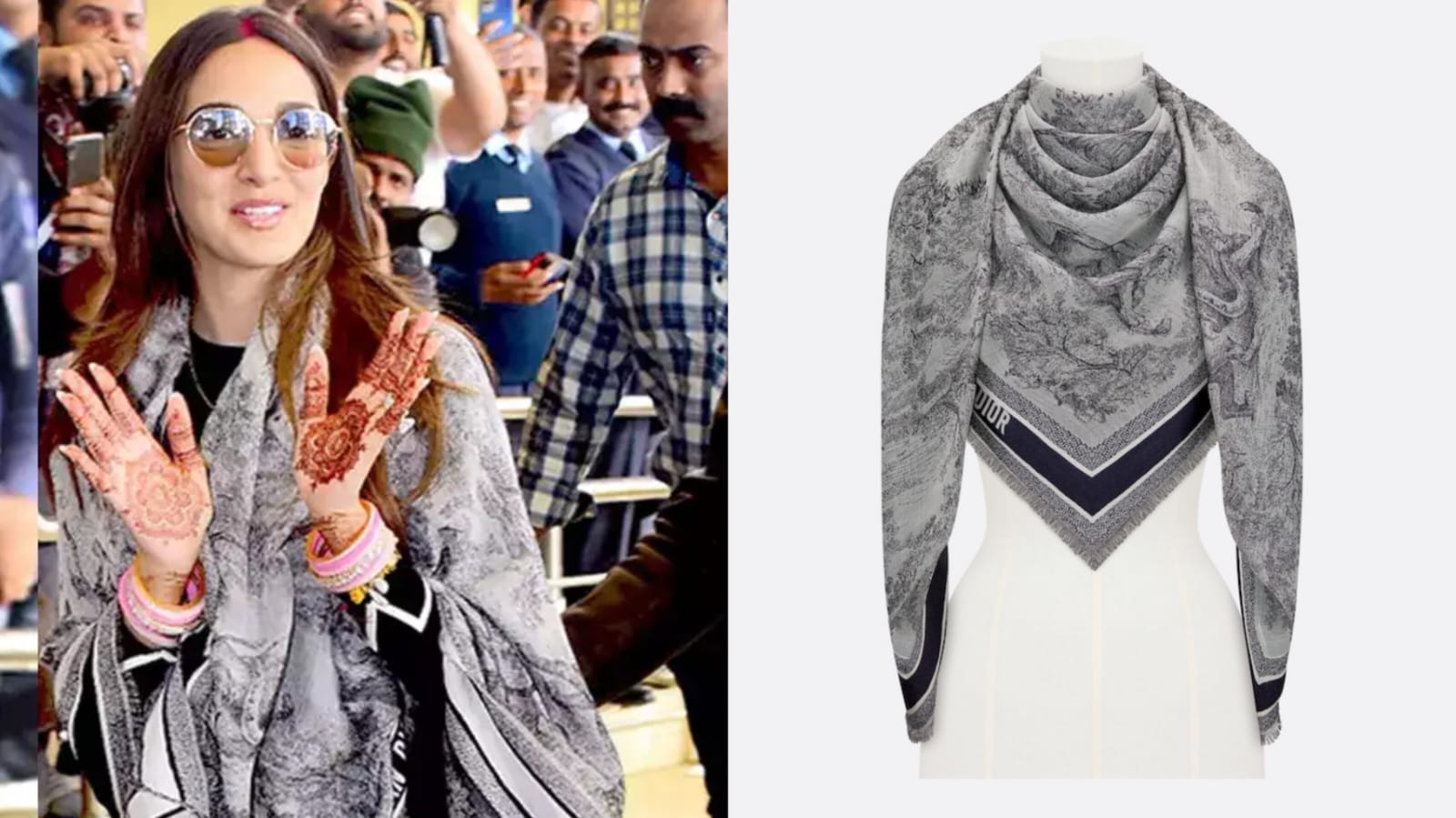 The Shershaah actress certainly has a knack for stoles and shawls. She chose a printed shawl to elevate her airport look as she made her first public appearance since her wedding. While everyone was talking about her choodas and bridal glow, I couldn't stop thinking about her "simple" grey shawl from Dior, which can be yours for only Rs 75,000. No, I didn't add any zeros by mistake. 
Dior Saddle Bag 
This is one of Dior's most famous bags, and it has been seen on many celebrities. With so many knockoffs available online, few people know the true cost of this well-known crossbody. So, if you want to own the OG bag, it will cost you around Rs 3 lakhs! I guess I'll make do with the dupe.
Prada Ankle Booties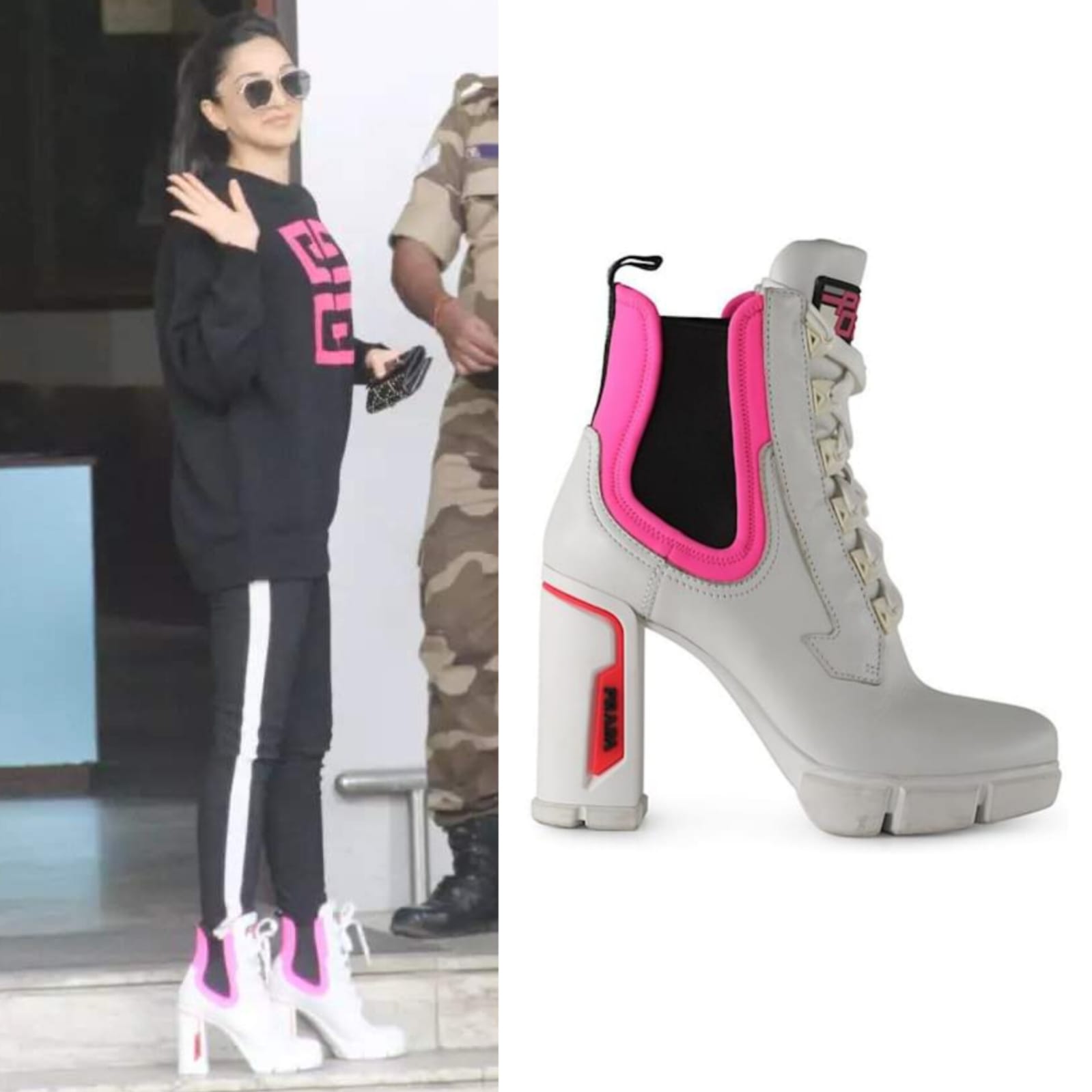 Kiara made quite a statement when she stepped out in Prada's white leather neoprene pink ankle booties. The hiking style colour block ankle boots had a chunky lugged sole and were the brand's ode to the good old 80s neon colour pops. These eye-catching cool booties are almost worth Rs 70,000. Not only the footwear, but even Kiara's Givenchy sweatsuit comes at a price tag of Rs 80,000. 
White Balenciaga Sneakers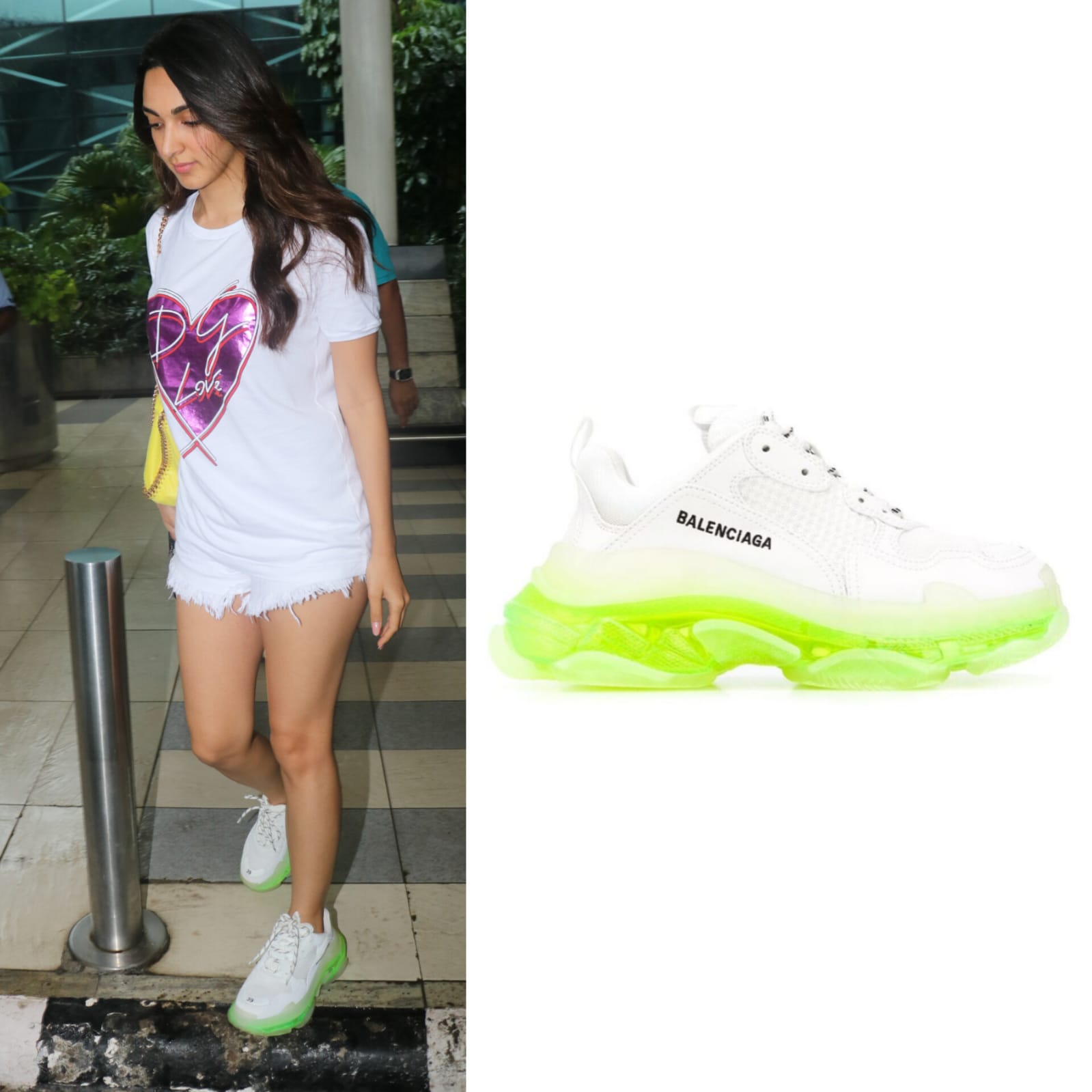 Last monsoon, the actress took quite a risk by wearing an all-white ensemble with chunky Balenciaga Triple S sneakers. They had a green outsole and cost around Rs 88,000. Would you dare to wear such an expensive pair of shoes in the rain? Also, that Dolce & Gabbana basic white tee would set you back Rs 42,000!
Gucci X Balenciaga Handbag 
Oh, what I wouldn't give to just once raid Kiara Advani's bag collection! The Kabir Singh actress knows how to dress up an athleisure look in the most luxurious way. Kiara was spotted wearing a black ganji and joggers and carrying a bag from one of the most iconic collaborations. The Gucci x Balenciaga Hacker Project bag costs Rs 2.5 lakhs!
Anyone else want to swap closets with Kiara Advani, or is it just me?!
© 2023 THE GOOD GLAMM GROUP