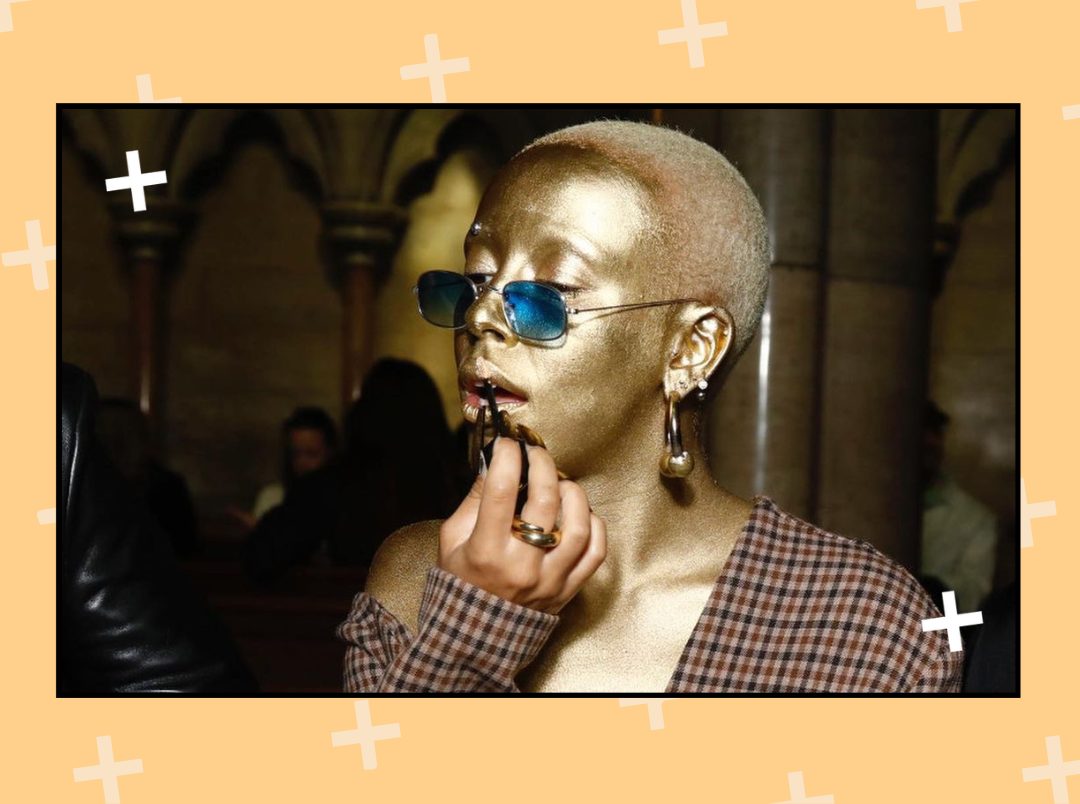 If You Thought Bella's Spray-On Dress Surprised The Internet, You Haven't Seen Doja Cat Yet
Urvi Shah
The Internet has notified everyone of Paris Fashion Week's show-stopper. Carpets have unraveled for her, and ramps have cradled her strides. Brows have no real-estate, and colours have announced themselves dramatically on the face. Lacquers have been promoted to coffin-shaped manicures, and drama has struck the the lips in jet-black stripes. Dojaaaa Cat, everyone.
Doja Cat has delivered literal head-turning looks at this year's edition of Paris Fashion Week. The singer has doused her face in shades of Avatar-like blue; enriched her newly-shaved brows with rhinestones; and traced bolts of lightning around the eyes over the past couple of days. This riot of colour and experimentation recently translated into another drama-packed aesthetic for Doja — who drenched her skin in gold body-paint for one of her appearances. Ahead — the look.
Get Into It, Yuh — She Really Took Her Own Advice
MUA Laurel Charleston bathed the singer's skin in splashes of gold for P.F.W. While Cat's skin didn't display any evidence of cat-eye flicks or bolder-than-ever lipstick, she looked like a human-sized award: glistening and glimmering like a glorious, gold-drenched statue. One of her newly-shaved brows was encrusted with a stud — the only embellishment informing the look. While her face, neck, and chest boasted the sheen, her hands remained untouched.
Notice how a little bit of the gold trickled down to her coffin-shaped lacquers. Her nail artist channeled the aesthetic onto the nails effortlessly. The singer is seen embellishing her lips with a heavy-handed flick of gold-hued lipstick in one of the videos.
Detractors flourished on Twitter. One user claimed that the paint made her look 'ugly'; but Doja responded with, "I wasn't trying to look sexy or attractive. All of my makeup has a story, and there are absolutely 0 rules, and if there were you wouldn't be the one making them." We love a queen who stands up for herself.
You might think of unleashing all that heavy-duty drama on your face. But remember that you're introducing your skin to copious amounts of product. After-care is non-negotiable. Here's what you can do to avoid encountering flare-ups and inflammation before, during, and after Halloween.
Make sure you're going over your skin — especially the under-eye area — with lots of moisturiser.
Don't forget to prime — while primer extends the longevity of your makeup, it adds an extra layer of protection between your skin and the makeup.
After you're back, cleanse your skin thoroughly, and spritz some toner onto your face to soothe and cool.
Apply a hydrating moisturiser, and indulge in a sleep-treatment to restore and repair.
Cat continues parading never-seen-before aesthetics on the body — further cementing beauty as experimental and fun. We cannot wait to see what she does next.
Featured Image: Instagram