There's a thin line between cultural appreciation and appropriation. Hollywood celebs often fail to understand this. While many of these celebs try to embrace a foreign culture just for fun, there is only a handful who understand the assignment. Oscar-winning actress Lupita Nyong'o is definitely from the latter category.
Recently, the Black Panther actress attended the opening of Mira Nair's musical, the Monsoon Wedding, at St. Ann's Warehouse. She took to her 'Gram to share pictures and videos of her desi OTTD and let's just say, she nailed the look. To honour and celebrate Indian culture, Lupita wore a stunning multi-hued saree which she borrowed from a friend. She added a pair of traditional Indian jhumkas to complete her look. However, it was the intricate mehndi design by Sabeen on her shaved head that stole the show. 
Lupita also shared the interesting story behind her look. She wrote, "I met @hennabysabeen last year at a wedding in Pakistan. She did the #HennaDesign for the bride and I was ASTOUNDED by the INTRICACY and BEAUTY of her work. There was something unique about the way she expressed herself in henna art. And I promised myself, "One day I will have a reason to work with Sabeen." 1.5 years later, when I got the invitation to attend the opening night of my dear friend, Mira Nair's @monsoonmusical, I was scrambling at the last minute to find something to wear. I borrowed a sari and jewelry from @mishajapanwala, the bride from Pakistan, but the look didn't feel complete…"
The actress also talked about how she wanted to do something different and special to celebrate the culture using the canvas aka her head. She wrote, "And then, in the middle of the night, an image SHOT into my mind of a henna design covering my bald head!!! I could do something special and different, to celebrate the culture using the canvas readily available to me! I was so excited by the idea that I could not go back to sleep. Misha connected me to Sabeen, and we were ON OUR WAY."
People on the internet couldn't stop gushing over her look. One person wrote, "Y'all see this?! THIS IS WHAT YOU CALL CULTURAL APPRECIATION." Whereas, another user commented, "I applaud this, multiple layers of culture baked in here." Here, take a look at some of the comments: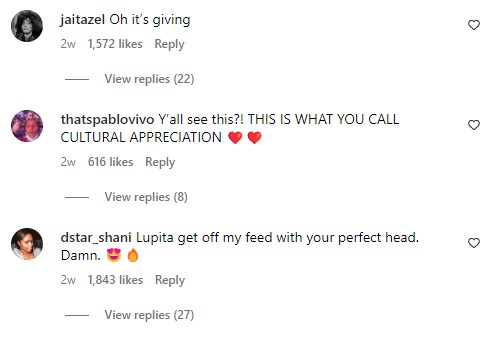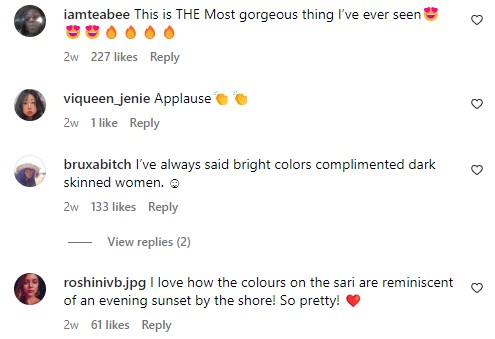 Here's a huge shoutout to Lupita for putting in so much of effort and nailing the look!
Featured Image: Instagram