We at POPxo love a few things as much as a fun bridal entry. The dolis and chaadars are all in the past. We now look forward to brides who know how to take it up a notch. And we recently came across one such bride who had us impressed with her performance. Meet Saba Kapoor, who got hitched earlier this year and decided to claim the day (as she should have) with her internet-breaking entry. Here's everything that we loved about this bindass bride:
The Mother Of All Bridal Entries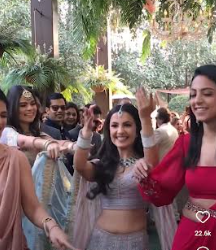 Saba decided to kickstart her wedding festivities with a surprise dance performance. The bride entered the wedding venue dancing with her entourage on 'Sau Aasmaan' and left everyone charmed with her killer moves. As soon as the groom saw his gorgeous bride, he joined in too but the best was yet to come!
Right before her performance ended, Saba was seen digging into her lehenga pocket (yessss!) and pulling out a ring. She then went down on her knee to propose to her hubby-to-be and the moment left us gushing.
Here, check out the adorable video:
And now that we are done playing the video on loop, can we please take a moment to discuss Saba's perfect outfit? We love the pretty lilac colour and how it looks in the daylight. Our favourite detail here is how the bride ditched her dupatta and swapped it with cape sleeves. This is a great hack, perfect for the brides who like to dance to their heart's content and hate the heavy dupattas. We have already mentioned the lehenga pockets but no harm in doing it again because that's how epic they are!
Here's hoping that this adorable video made your day as much as it made ours!
Featured Image: Instagram