BRB, Sobbing! Sushmita Sen & Rohman Shawl Called It Quits & We're Heartbroken
NGL, when Sushmita Sen and Rohman Shawl announced their relationship, we fell in love with the couple. Unfortunately, today we have a heartbreaking update for all their shippers—it is over for Sushmita and Rohman!
Earlier today, the entire social media was buzzing with the speculations of their separation and now Sushmita's post has confirmed it. The Aarya actress shared an adorable snap of the two and wrote, "We began as friends, we remain friends!! The relationship was long over…the love remains!! nomorespeculations #liveandletlive #cherishedmemories #gratitude #love #friendship I love you guys!!!😍 #duggadugga"
BRB, we need a moment to wrap our heads around this breakup! Can we pretend this is not happening?
According to the grapevine, Rohman has moved out of the actress' home in Mumbai. The two have also unfollowed each other on the 'Gram.
Just yesterday, Sush posted a cryptic message about love and heartbreak on her Instagram. The post reads, "When people fall in love with someone's flowers, but not their roots, they don't know what to do when the autumn comes. Your relationships need to be built on deep alignment on values, character, and morals (the roots) not just "love" appearance, hobbies & status (the flowers)"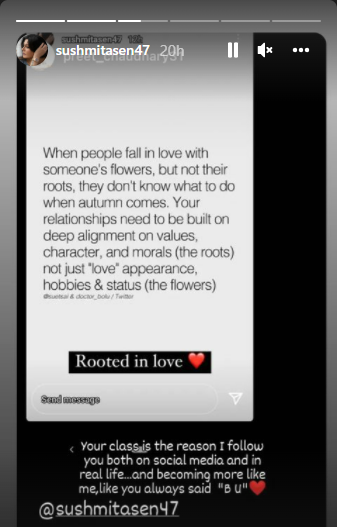 Sushmita and Rohman met in the most Gen Z style possible. The model slide into the actress' DM and the two started talking. In an old interview, the Biwi No 1 actress shared, "He sent me a direct message on Instagram and I didn't check direct messages because I wasn't sure if you check it you may be allowing that person to start communicating with you. I opened one of the DMs and it was a message from him and I was like 'Oh my god, how did I do that? " Sushmita added, "And then, I got to know him and that too was an open offer to come play football with him."
We don't know about you but we are sobbing. They had such a cute modern-day love story.
While we wish things were different for the two, we are proud of Sushmita and Rohman for handling the situation with maturity. All the best, you two!
Feature Image Credit: Instagram
© 2023 THE GOOD GLAMM GROUP