The most impressive thing about Suhana Khan's style? She never tries too hard! The star kid has consistently shown us that sometimes, quality basics is all we need. And she just did it again.
Suhana recently posted a picture of her on Instagram and it is going viral now. The netizens are going gaga after her look and so is Ananya Panday. "How do you do it," the Liger actress asked her bestie. Read on to find out what's so special about Suhana's look:
Laal Pari…!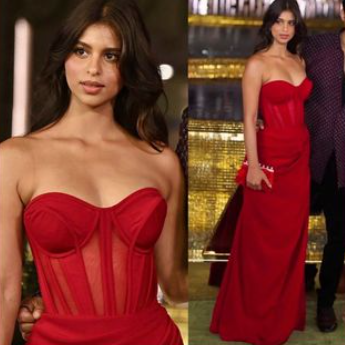 The world knows about Suhana's love for fitted garments and she just posted a picture of herself in another one. This dress has our attention for the minmal styling. Except for the tiny matching clutch, there isn't a single accessory in sight and that's where Suhana has won. She knew that no distractions were required. This killer dress was enough to make a statement. As far as the dress is concerned, the lethal combination of the vibrant red and the corset bodice has done the task. We are in awe of the striking hue and the see-through panels on the corset. Take this from us—this is as sexy as it gets.
We don't know anything about you but Suhana has convinced us to invest in a sexy corset stat. Top on our wishlist is this red satin beauty by Bunny Corset gorgeously enhanced with black lace.
Just in case, you are looking for a slightly more conservative option, here's the perfect fit:
Here's a shoutout to Suhana for always inspiring us to invest in timeless separates.
Featured Image: Instagram