The general rule of weddings state that it doesn't matter how early you start prepping for your D-day, something or the other will defs go wrong. The only thing we can really do is, accept that things will not always go as planned and make the best out of the given situation. That's what textile designer, Jean Mason, and architect, Anamika Goyal, did at their wedding. The couple had a beautiful minimony in the backyard of a coastal home in California, and it was every bit dreamy. Surprisingly, it was not their initial plan and as a matter of fact, it wasn't even their backup plan. It was something that they came up with when they decided that it really didn't matter where they tied the knot, as long as they were together.
Jason and Anamika's intimate wedding was all about love in more ways than we can imagine. Here's why their special day will have a special place in our hearts.
The 'Gold Lining Wedding'
While talking to an international publication, Jean said that she and her partner call the intimate ceremony their 'gold lining wedding.' It was not something she had initially imagined for herself, but it turned out better than her dreams. They had planned a grand wedding on a blueberry farm in Maine. When that didn't work out, they decided to tie the knot in Yosemite National Park, California. Once the pandemic hit, the pair dropped the plan of hosting a large event and went ahead with a minimony at the backyard of a coastal home, by the Pacific Ocean.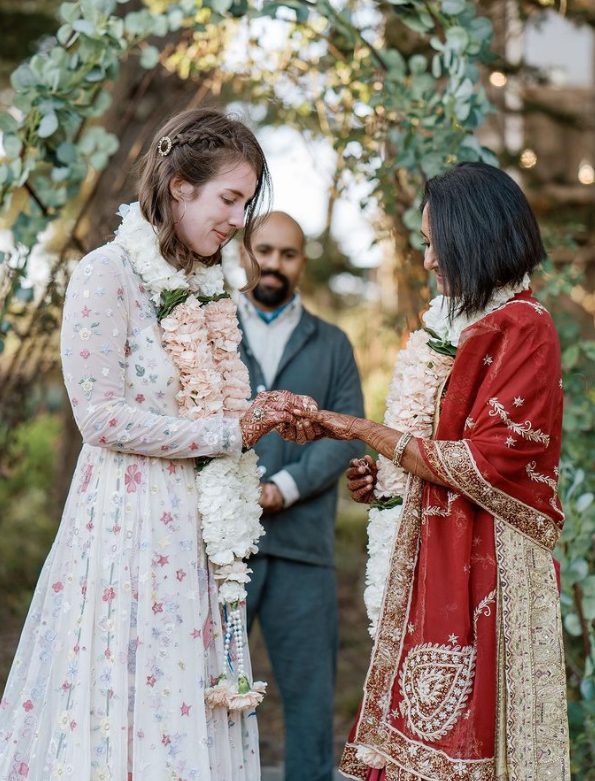 "We had to make so many changes and compromises, but in exchange, we received the most unique and personal jewel of a wedding that wouldn't have been able to exist without the strange circumstances," said Jean. The theme of their wedding was 'California nature meets Indian tradition meets handmade' and it was simply lovely. They decorated the venue with beautiful marigolds, and crane and hummingbirds' motifs.
All About Love
We would think that planning details of the wedding would have been easy for Jean and Anamika as they both are designers. Nope, that wasn't the case. While it was a creative experience for them, they had to change and re-change their plans time and again. But, every element of the day was executed perfectly and was extremely thoughtful. Major credit for that goes to the fact that most of the things were designed and planned by the couple's loved ones personally.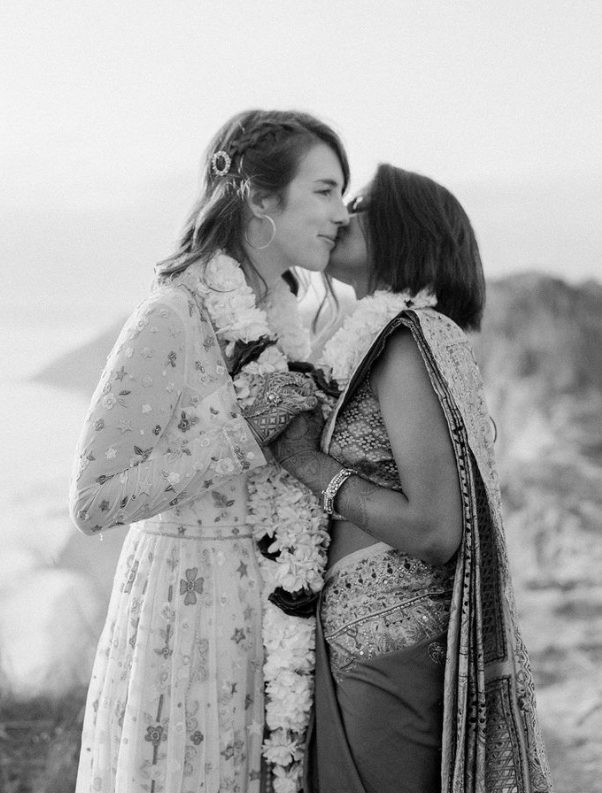 While expressing her love and gratitude, Jean said, "The planning experience was a testament to the power of our community—many things provided were thanks to the generosity, talent and creativity of our friends." The place cards were made by her father, who's an amateur calligrapher. One of the guests surprised the couple by playing some voice recordings from their friends and family.
The Ghar Wala Pyaar
Jean and Anamika's parents couldn't attend their ceremony, but their presence was felt at every moment. Anamika's little sister hosted a virtual sangeet ceremony for the two on a zoom call. Her mother taught her how to tie a saree on video calls and by the time of the D-day, both Anamika and Jean had become pro at it. Instead of following the tradition and waiting until the first look to see each other, the couple helped one another get ready. While Jean wore a beautiful white gown with colourful embroidery and hummingbirds' motifs on it, Anamika draped a gorgeous pink saree with a golden border. The most special bit was her chunni, which was once her mom's wedding dupatta.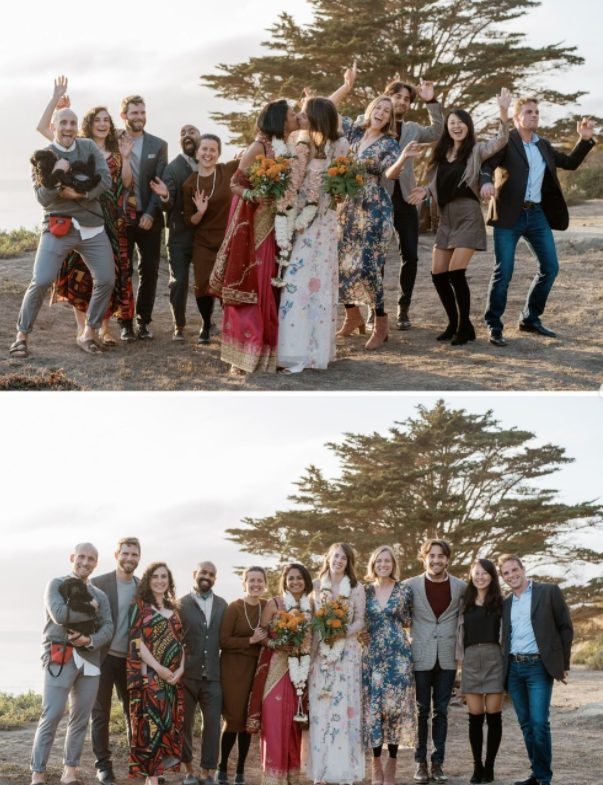 The couple's half-day and nine-person wedding may not have been their first option, but it's definitely one of the most romantic shaadi we've witnessed in a while. Congratulations, Jean and Anamika…cheers to love!
Featured Image: Instagram