Celebrate our country's 73rd Republic Day by showing your patriotism through those digits. Republic Day nail art can be inspired by the tricolours of our national flag and you know how we love to rock those shades any chance we get. If you love the idea of rocking celebratory nail art for Republic Day, these ideas are going to get those creative juices flowing.
Republic Day Nail Art Designs
Get your digits detailed with the tricolours and more. Whether you like to keep your nails long or short, you are sure to find a Republic Day nail art design worthy to rock from this list.
Dotted Flag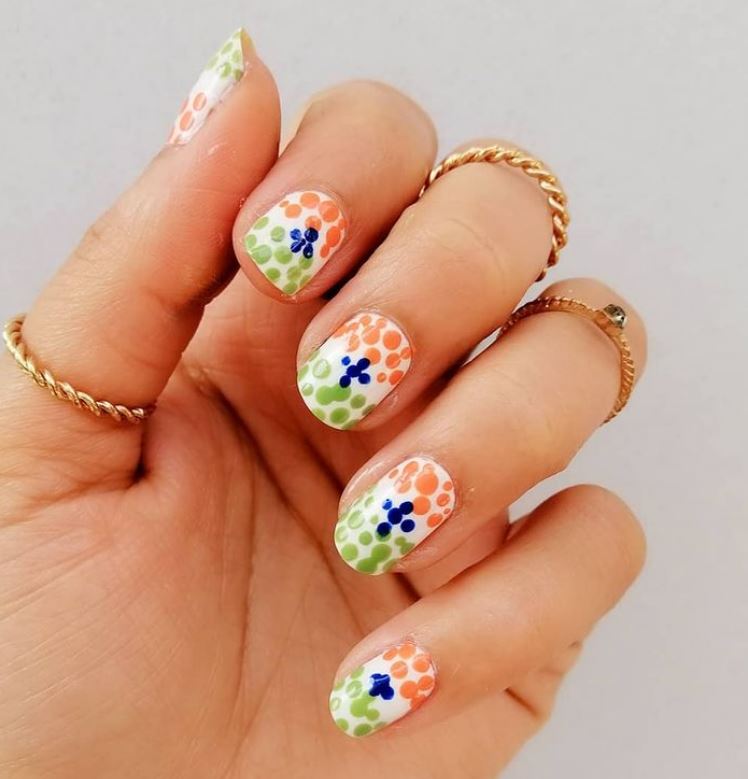 This dotted tricolour republic day nail art design is perfect for short nails and is quite chic to sport. It features a white base nail polish with dots of orange, blue, and green placed vertically to mimic the Indian flag.
Colour Wheel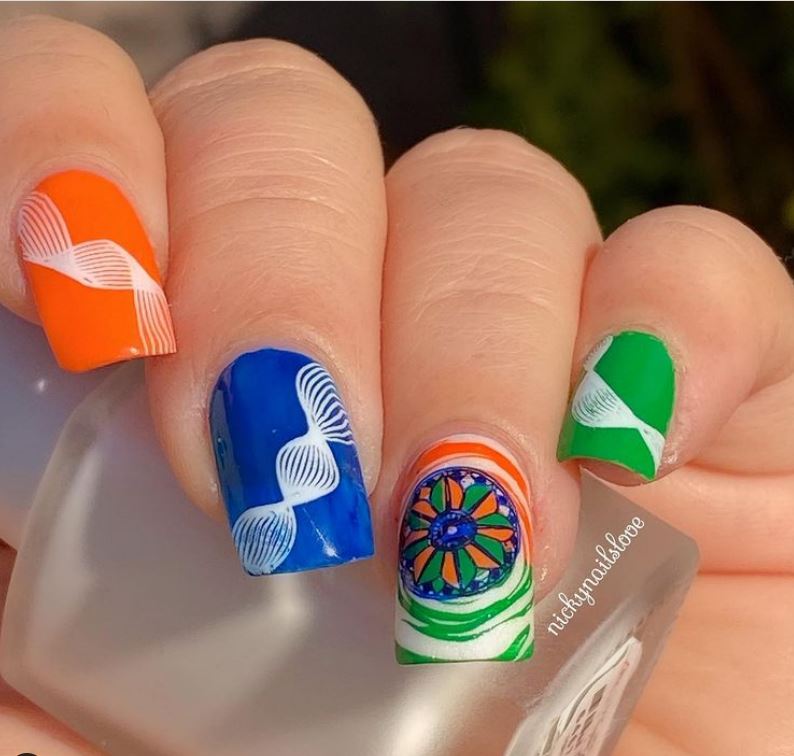 This Republic Day nail art design has each nail painted in a colour from the Indian flag and it has a white striped sash-like design on each of them. One nail even has a cool mandala design with the tricolours.
Indian Accent Nail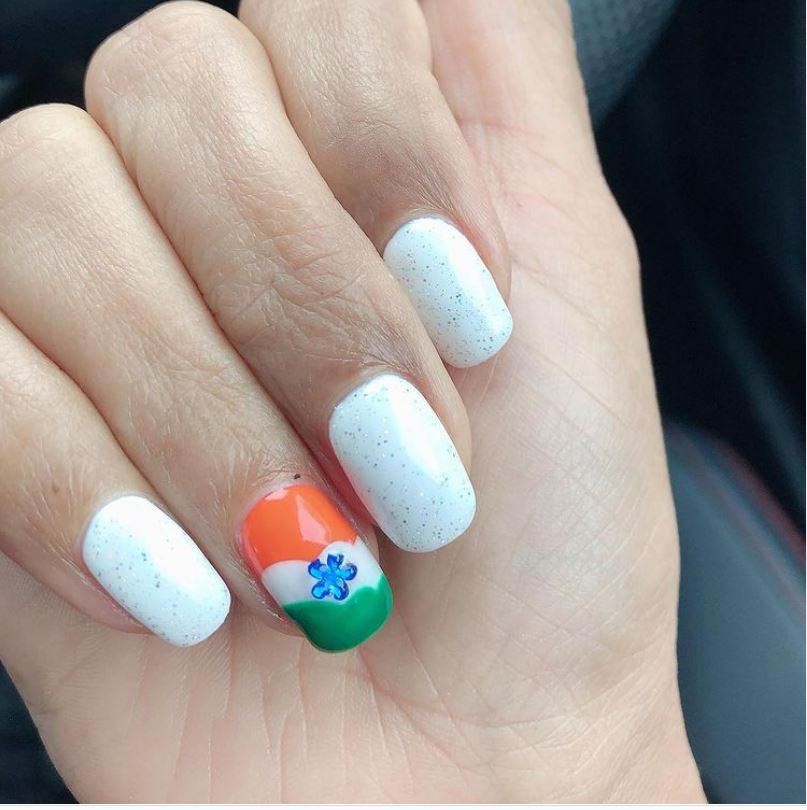 A sophisticated way to rock the Indian flag, this Republic Day nail art design features white nails with specs of blue and only one Indian flag nail accent that also features a 3D blue embellishment.
Artistic Nail Art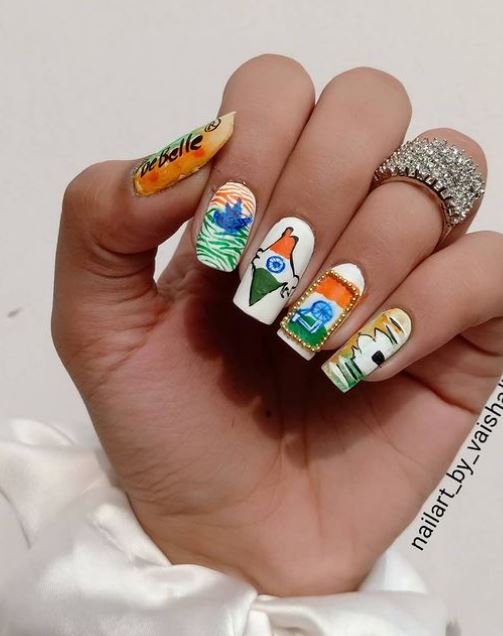 One way to go all out with your Republic Day nail art designs is to rock different elements that define India to the world on your nails. This nail art features the map of India, the Taj Mahal and more.
India Flag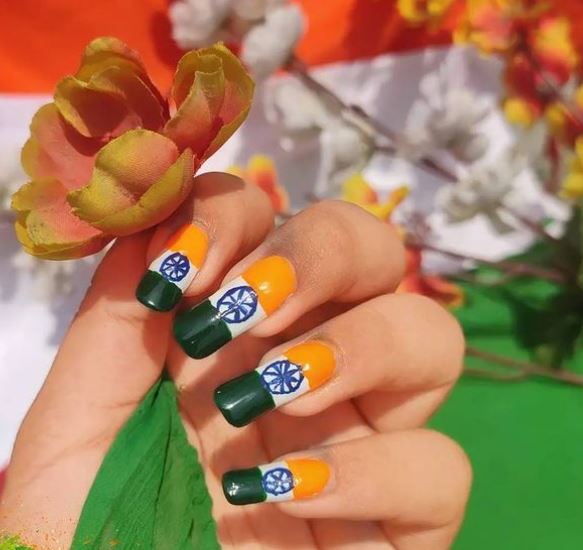 This republic day nail art look replicates the Indian flag in all its glory and it looks absolutely stunning. It is paired with a squared nail shape for bold impact.
Tricolour Swirl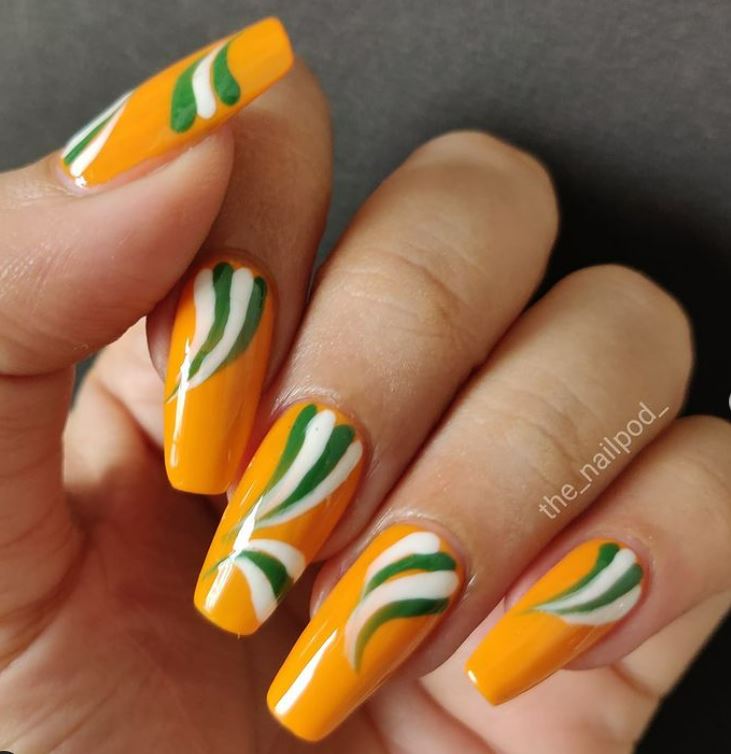 Orange base with green and white swirls is a unique Republic Day nail art design that you can try to make a chic statement. It is created on coffin shaped nails making it even more trendy.
Ombre Flower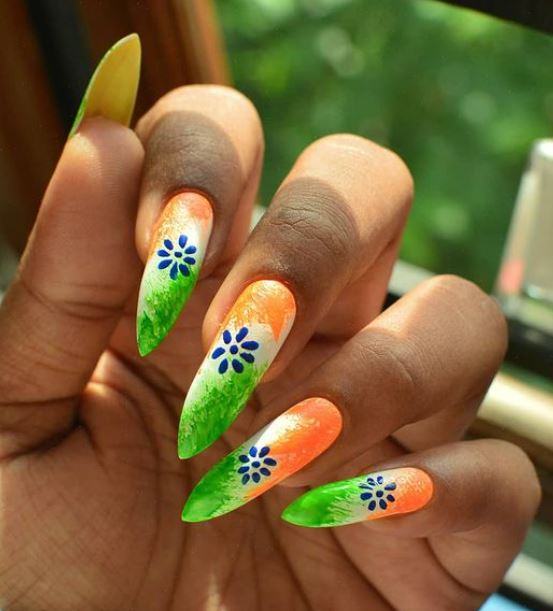 Stiletto shaped nails are painted in tricolour ombre for a stunning Republic Day nail art look. We love how a blue flower is added to the centre of each nail to make it resemble the Indian flag more closely.
Indian Eye Flag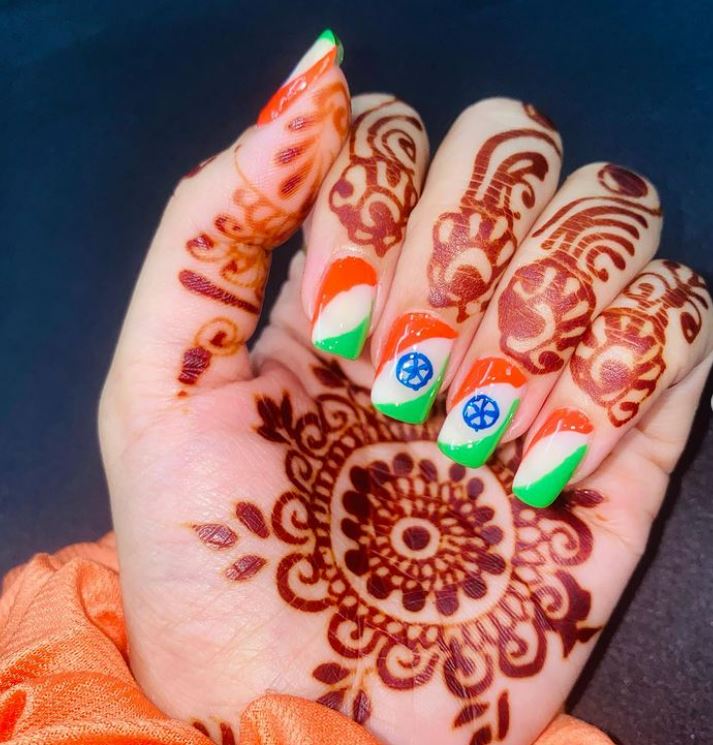 Square shaped nails are designed with curvy green and orange polish strokes on the angles, leaving negative space at the centre to look like an eye shape. Two of these nails feature the blue chakra to closely resemble the Indian flag and maintain balance in this cool Republic Day nail art look.
Marbled Tricolour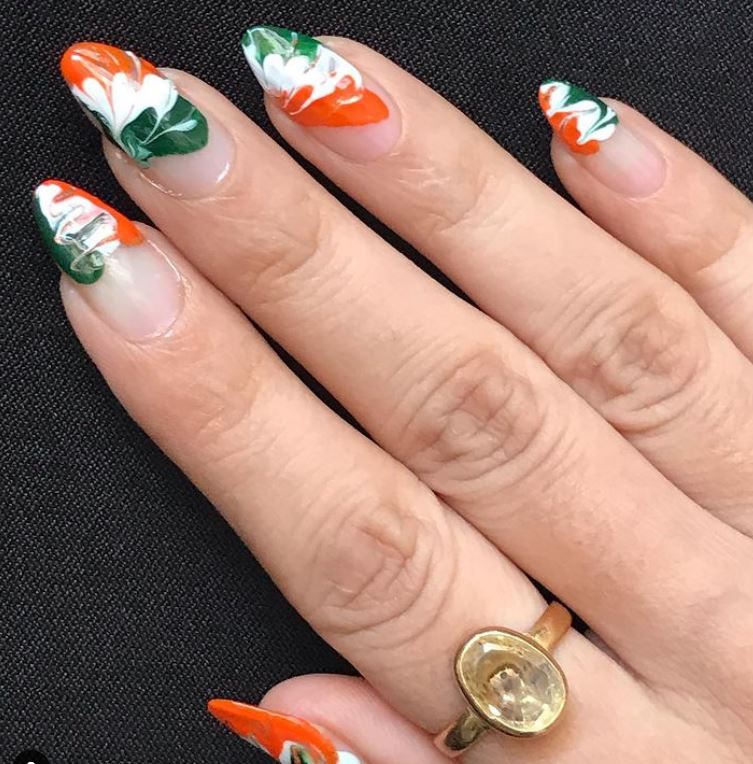 This marbled tricolour republic day nail art design is for all the cool girls out there. It showcases almond shaped nails with the marbled tricolour polish at the tips. 
Sophisticated Flag Art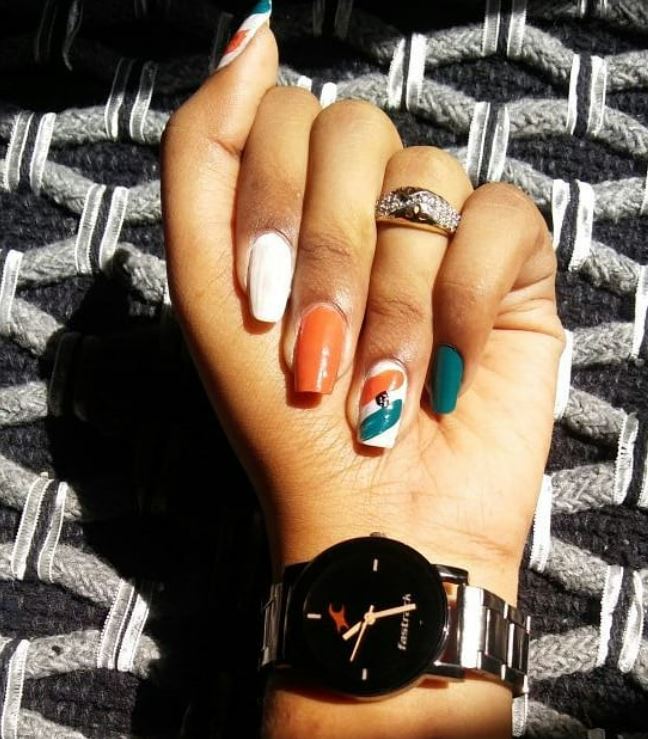 This Republic Day nail art is very straightforward, clean, and truly sophisticated. It has solid colours on each nail with just two Indian flag accent nails that are displayed by the ring finger and the thumb.
Also Read
Captions For Republic Day If you are excited for republic day, these captions and quotes will rile you up even more and also give you some ideas for your social media posts. Check them out now!
Patriotic Republic Day Quotes Resonate with the idea of Republic Day by going through these historic quotes that will boost your sense of patriotism. 
Party Nail Art Ideas Dress up your nails for the party season with the biggest trends. Here's a list of the best nail art ideas for the party season.
Festive Nail Art Ideas When the festive season is upon us, it is time to bring on the bling. These nail art ideas are all the inspo you need to ring in the festive season.
Republic day nail art never looked this trendy. Hop on board and show off your love for your country through these amazing nail art designs for republic day.
Featured Images: Instagram