Looking back at the past, The Cannes Film Festival, one of the world's topmost red carpet events, has catalogued some coolest copy-worthy makeup looks. One such contributor has been Gehraiyaan actress, Deepika Padukone, who was recently declared as Louis Vuitton's new House Ambassador. The gorgeous actress (who is a part of the eight-member jury at the Cannes Film Festival) took the internet by storm on day one with her gasp-worthy makeup looks.
In a beige and green Sabyasachi bagh print shirt and flared high-waist trousers, the 'Om Shanti Om' actress exuded Shantipriya's vibe with the retro-style headscarf. We vouch for DP's makeup choices as she can never go wrong with her beauty looks. With making waves in the west, she wears everything with a dash of pizazz and oomph. You can take cues from this stunning diva to clone her makeup look. Scroll down for a quick run through and get ready to rock 'n roll.
How To Recreate Padukone's Makeup Look From The Cannes Film Festival 2022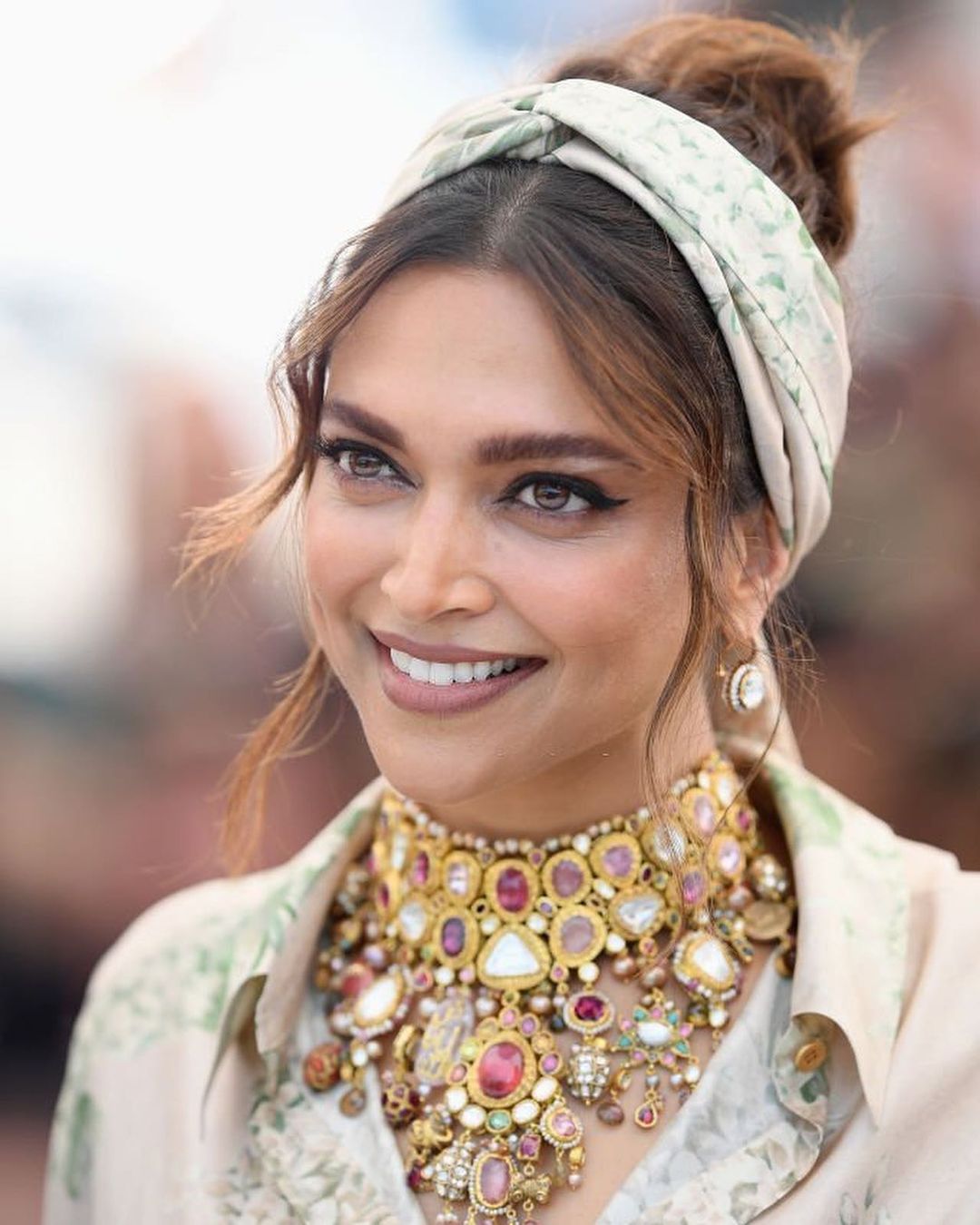 Step 1: Ace Your Base!
Applying an unbudgeable makeup base is the need of the hour. Get your basics right! Prepping your face an hour before you wear makeup will give you that healthy glow (follow a healthy skincare routine). Just apply a foundation infused with SPF on your face by patting it with the beauty blender. Remember, blending is the key. Use a highlighting concealer to bury your nemesis (dark circles, spots and uneven skin tone). Perfect that base using a translucent powder to ensure that it doesn't shift places with this supporting star.
A Fa-Brow-Lous Affair
Brows can either make or break your look. DP's well-shaped tamed brows highlighted her makeup look. Simply, fill in your brows using a spoolie and brown shade. Don't dare to leave any gaps. Tame the unruly hair with a brow gel. And you're good to go!
Wing It, Girl!
Wing it while we sing our fave track! Begin by stretching the eyelid and applying eyeliner to the centre of the lid, keeping your brush steady and at an angle. Apply it to the outer corner of your eye and keep going. Begin lining the inner corner of your eye as well to join the outer corner and form a sleek, soft line. Make sure there are no gaps between your lash line and the liner.
Monochrome Magic
Monochrome makeup is the most eminent look of this era. And, the 'gram has witness to this trend. Simply sweep some terracotta coloured blush on the highest points of your cheeks and eyelids (yes, the key is to use the same product). This makeup looks cohesively sophisticated. Next, highlight your brow bone and nose.
Lips Don't Lie!
Hey, you! Yes, you can manipulate your lips by overlining them to play up the cupid's bow. Start by lining your lips with a brown lip liner closest to your natural lip colour. Then, fill your entire lip with the nude pink liner. This will act as a base and elongate the wear of your lip colour. Do not forget to exfoliate and moisturise to say hello, juicy lips!
Now, are you with us on how that's done? Deepika Padukone is solid proof that we need to try this minimal makeup look ASAP!
Featured Image: Instagram