What does it take for something to become a 'national issue'? For Ranveer Singh, all it took was a nude photoshoot! Since the actor has bared it all for a magazine shoot, social media has been abuzz with different opinions on the pictures. While some have lauded Ranveer for being courageous, others have condemned him for 'vulgarity'.
Recently, People for the Ethical Treatment of Animals (PETA) India joined the discussion about Ranveer's pictures. In the letter shared by PETA on Twitter, Vice President Sachin Bangera asked Ranveer to take a cue from their previous celebrity photoshoots like Anushka Sharma, Kartik Aaryan, and Natalie Portman to promote veganism.
A part of the letter reads, "Greetings from People for the Ethical Treatment of Animals (PETA) India, the country's best-known animal rights group, with more than 2 million members and supporters. We saw your head-turning Paper Magazine photo shoot – and we hope you'll ditch the pants for us, too. To promote compassion for animals, will you consider appearing in a nude PETA India advertisement with the tagline 'All Animals Have the Same Parts – Try Vegan'? "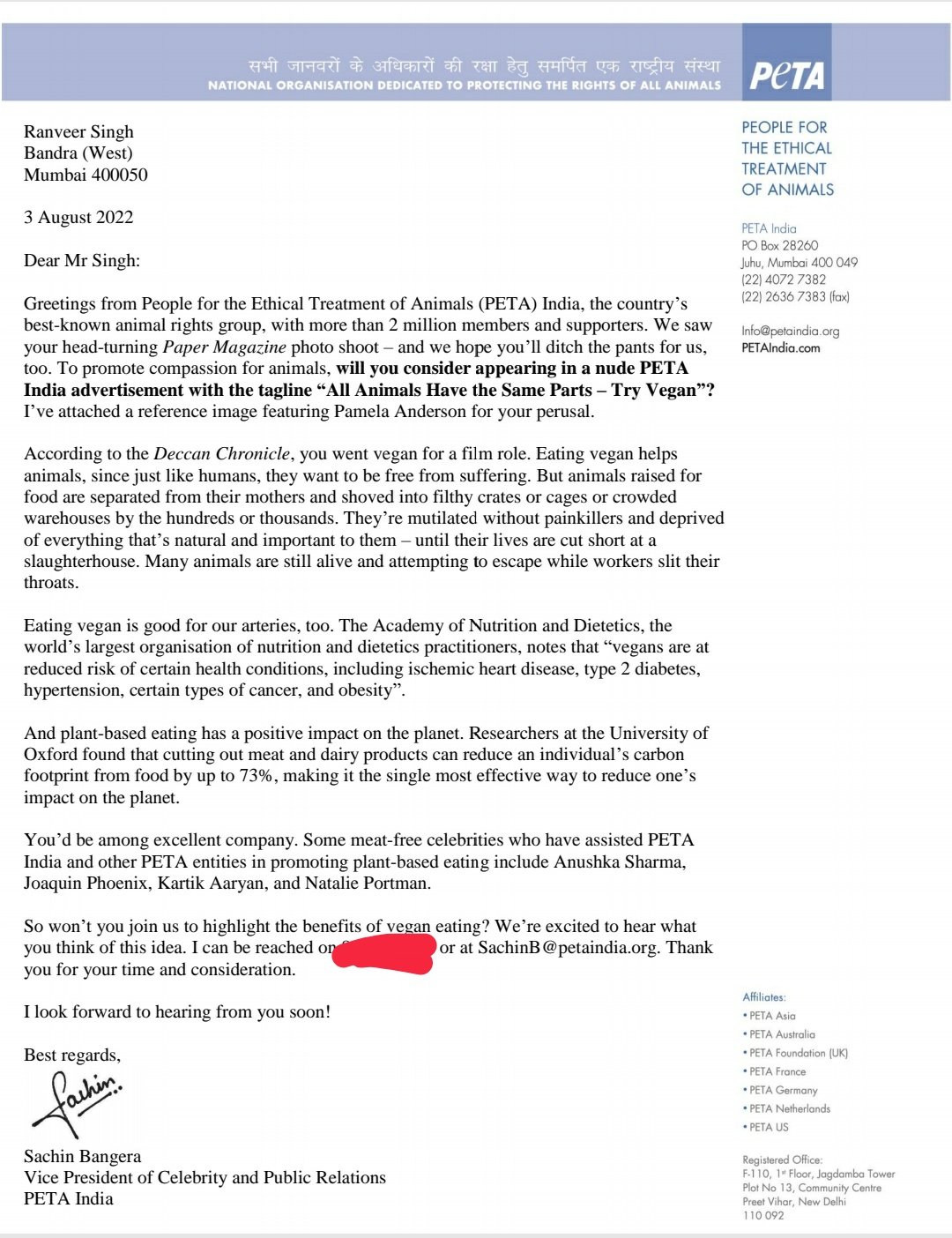 Now we are wondering if Ranveer will take up their offer and strip for a cause. 'Coz honestly, we won't be complaining.
Following the controversial shoot, Ranveer opened up on his decision to bare it all in an interview with a leading magazine and said, "It's so easy for me to be physically naked, but in some of my performances I've been damn fucking naked. You can see my fucking soul. How naked is that? That's being actually naked. I can be naked in front of a thousand people, I don't give a shit. It's just that they get uncomfortable."
The ball is now in Ranveer's court (no pun intended) and all we can do is wait and watch. BRB, just checking our feed for the new updates from PETA.
Featured Image: Instagram