Priyanka Chopra took the saying 'when in Rome, do as the Romans do' quite literally. For her Citadel movie promotions in the Eternal City, Priyanka made a statement by channeling the one and only Sophia Loren through her hair and makeup and it was a treat to the eyes.
There's no doubt that Priyanka looked absolutely phenomenal. But it's beauty cues from the Hollywood icon Sophia Loren that made Priyanka look so damn iconic.
So who is Sophia Loren and how did Priyanka recreate her beauty look? Read on to find out.
Who Is Sophia Loren?
Sophia Loren is an Italian actress who is recognised as one of the greatest stars of Classical Hollywood cinema. In her prime, Sophia was deemed Italy's most beautiful woman and she was and still is as iconic and impactful as stars like Marilyn Monroe, Audrey Hepburn, and Elizabeth Taylor in pop culture.
Priyanka Chopra's Look Inspired By Sophia Loren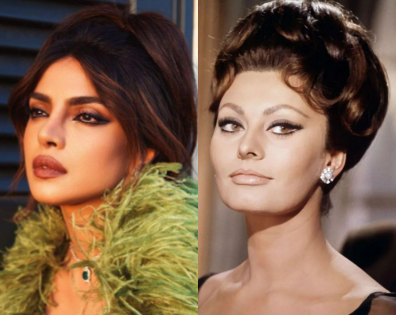 Priyanka Chopra may have intentionally or unintentionally taken inspiration from Sophia Loren for her movie promotions in Rome. But to me, it doesn't seem like a coincidence. Sohpia's signature use of white eyeliner is one of the main highlights of Priyanka's makeup look and even that updo is similar to a hairstyle Sophia wore. Priyanka tweaked this with a fringe, though.
Sophia Loren's Signature Makeup Look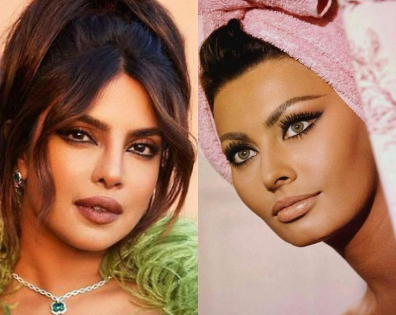 The Hollywood star's makeup look recently went viral for being simply transformative. Sophia used to wear white eyeliner on her lower lash lines and would then outline the white eyeliner with black eyeliner. This would create an illusion of bigger eyes with a feline effect.
Priyanka mimicked the exact eye makeup look of Sophia Loren. This eyeliner trick has stood the test of time and makes Sophia truly influential even today.
How To Recreate Priyanka Chopra's Rome Makeup Look
Priyanka's Sophia-Loren-inspired makeup is a classic look that you don't want to miss out on.
The first step is to apply a nude eyeshadow on the lids and then carve out the crease by blending a brown eyeshadow along the crease lines. The POPxo Makeup Collection 4 Eyeshadow Kit – Drama Queen is perfect for this step.
The next step is to apply white eyeliner on the lower lash lines and extend it slightly at the outer corners to form a wing. The Lakme Absolute Explore Eye Pencil – Ethereal White is my favourite white eyeliner to get the job done.
Once the white eyeliner is placed, use a black eyeliner on the upper lash lines and just below the white eyeliner on the lower lash lines. My go-to eyeliner for this look is the dual-ended Gush Eye Like Options Black Felt Tip Liner & Kohl Pencil.
A swipe of mascara and the eye makeup is complete. But one element that should not be overlooked is lip makeup. Sophia would usually wear a milky nude lipstick but Priyanka chose a nude that complemented her skin tone. The Charlotte Tilbury Matte Revolution – Pillow Talk is one shade of nude that's perfect for every skin tone.
It's clear to me, Priyanka definitely had Sophia's look in mind while prepping for her look!
Featured Images: Instagram