POPxoReviews: This Argan Hair Oil Transformed My Dry & Damaged Hair
Organic Argan Hair Oil - 150ml
In This Article
The Organic Argan Oil For Hair by Organic Harvest is like a deep conditioning treatment for your mane. A cold-pressed oil derived from the nut of argan trees, it adds life to your locks by softening the texture of your hair and making each individual strand silkier, and bouncier.
Why We Love It: Ingredients, Formulation, etc.
The Organic Argan Oil is super lightweight and smells unbelievable. Since the product comes with a comb applicator, it's easy to distribute the oil evenly onto your scalp without getting any on your hands. With a moisturising formula, it's not too heavy like coconut oil and does wash off your hair with one round of shampoo!
Often dubbed "liquid gold," Organic Argan oil offers a myriad of benefits. It's rich in essential nutrients and antioxidants, as well as vitamins E and F. These properties ensure that it deeply nourishes the scalp, promoting hair growth.
Furthermore, the lightweight oil's moisturising properties combat dryness, frizz, and breakage, imparting a natural shine no matter the weather. Furthermore, its anti-inflammatory qualities can soothe scalp conditions, ensuring healthier hair roots and strands.
How To Use It: It's So Simple!
Screw on the comb applicator cap and run it through your scalp and lengths. You can also use the bottle without the cap to drop the oil on your scalp. Massage with your fingers and let it sit overnight or for an hour minimum. Wash it off with shampoo and conditioner.
The Product Looks Like: A Sneak Peek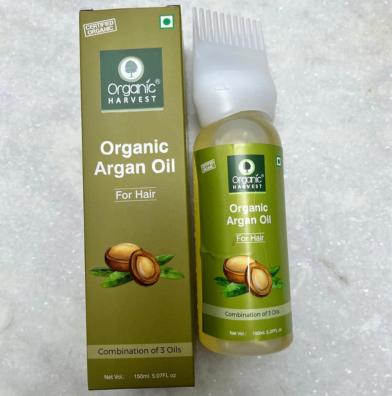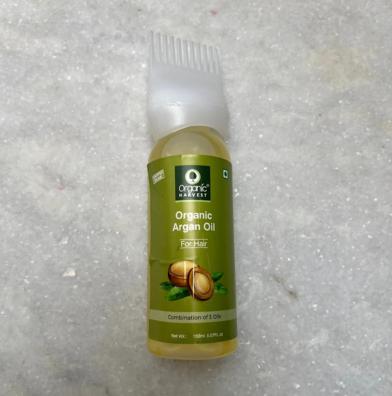 Free of:
Parabens, silicons & sulphates.
In Conclusion
This organic argan oil has been a game-changer for my hair. From lifeless, dull strands, it rejuvenated and restored my hair's natural lustre and bounce. The transformation has been remarkable! And for anyone looking to elevate their haircare routine, this argan oil is unquestionably a staple that deserves a prime spot in your haircare kit.
Recommended For You
The MyGlamm LIT Creamy Matte Lipstick Doesn't Smudge Or Bleed & Lasts Forever
Everyone's Obsessed With The Clinique Almost Lipstick Black Honey, But I Just Don't Get The Hype
Here's Why I Won't Be Repurchasing The Body Shop Chamomile Cleansing Balm
The Simply Nam Hydrating Lip Butter Gets Me Compliments, Even From Strangers!
Flossy Cosmetics' Get Glazed 24k Lip Gloss Has Travelled With Me On Every Single Flight, Here's Why
Eye Creams May Be A Scam But Trust Me, The Ordinary's Caffeine Solution Eye Serum Actually Works
---
© 2023 THE GOOD GLAMM GROUP