#POPxoReviews: This After-Sun Lotion Is All I Needed After A Pool Day
The POPxo Sun Soother After Sun Lotion
In This Article
When sun damage does have the knack of making my skin act up, I usually put my faith in cooling night gels. This calms my acne-prone skin after a long day outside. But my skin needs something more soothing designed to moisturise immediately after exposure to the sun.
This Kit Includes: A Post Sun Soothing Lotion
The POPxo Sun Soother After Sun Lotion is your sensitive skin's newest BFF. After-sun skincare is specifically designed to moisturise your skin after exposure to the sun. The goal of this lotion is to rehydrate your skin and reduce any potential redness or inflammation. The soothing ingredients found in these creams also helps stimulate collagen production which makes you glow and protects your skin barrier!
Why We Love It: Formula, Ingredients, etc.
The POPxo Sun Soother After Sun Lotion is a body lotion with a thick, creamy yet non-greasy formula that aims to calm and heal any irritation you experienced from the sun or, in some cases, your sunscreen. The cream is infused with the goodness of aloe vera that stimulates cooling properties as well as ceramides and vitamin E that tirelessly work to repair your skin.
My skin tends to really resist heavy sunscreens which leads to a lot of unnecessary breakouts that honestly ruin my day. But with regular use of the POPxo Sun Soother After Sun Lotion, I have seen a difference in how my skin reacts to the sun. It's much more hydrated and less likely to get irritated.
How To Use It: It's So Simple!
Squeeze some of the POPxo Sun Soother After Sun Lotion on every part of your skin that was exposed to the sun and gently rub it in. It can be used over light sunburns and is recommended for sensitive skin!
The Product Looks Like: A Sneak Peek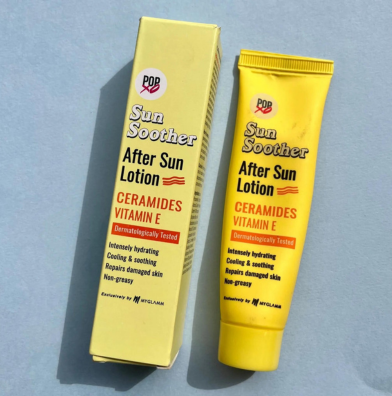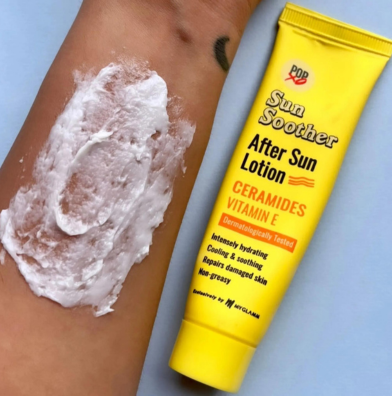 Super Ingredients:
Vitamin E, Jojoba Oil, Sunflower Seed Oil, Coconut, Aloe Vera
In Conclusion
Remember all the girls wear sunscreen, but the cool girls do after sun skincare! For smoother, softer, less irritated skin the POPxo Sun Soother After Sun Lotion should be the next addition to your skincare wardrobe.
Recommended For You
The MyGlamm Jet Set Eyes Kajal Eyeliner Won't Budge Till You Want It To
The POPxo Glow Goals Illuminating Sunscreen Gave Me Glazed Skin + SPF Protection!
Want Buttery Smooth Skin? Try The Bath & Body Works Gingham Ultimate Hydration Body Cream
Nothing's Set In Stone, Except Your Makeup After The MyGlamm POSE HD Setting Powder!
The MyGlamm LIT Liquid Matte Lipstick Is Shraddha Kapoor's Go-To & I See Why
The MyGlamm LIT Lipliner Pencil Is The Best Lipliner I Tried In 2023
---
© 2023 THE GOOD GLAMM GROUP